Find a Boat
LIVE
Pricing & Availability
Search NOW
https://plainsailing.com/blog/med-vs-bvis-what-s-the-difference
Med vs BVIs - What's the difference?
Tuesday, 5th July 2022
We asked our experts to explain why you'd want to choose to sail the BVIs instead of the Med, and whether they're worth flying long-haul for…
We all know that the British Virgin Islands, or BVIs, are one of the coolest places to sail in the world, but what are the main differences between sailing there versus Greece, Croatia, Italy or elsewhere in the Med? (in no order)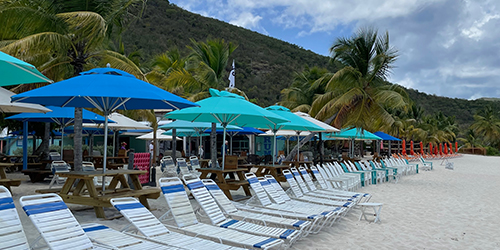 Tropical Caribbean islands
A picture says a thousand words. If you put BVIs into a search engine, you'll get thousands and thousands of photographs of the most idyllic islands, with turquoise seas, and white sandy beaches lined with palm trees. And in real life, they're honestly just as impressive. You'll be bowled over by the sheer natural beauty of the BVIs, which are all largely untouched.
Sure, Greek fishing villages are wonderful, Croatian castles are damn fine, fancy Italian marinas are pretty swish – but for genuinely stunning scenery, the BVIs simply cannot be matched. It's almost impossible to get bored of the view, and swinging down the anchor to swim to the beach is epic.
So if you want those sorts of views, head to the BVIs - it's worth the flight.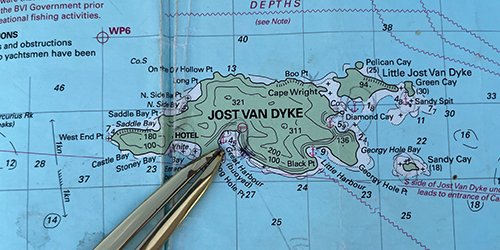 Closer than you think
Considering its reputation amongst sailors, you expect the cruising ground to be a lot bigger than it actually is – but in actual fact, it's possible to sail around most of the area, and get a good flavour for it, in a week or ten days (whereas Croatia will take you about 6 weeks, and you could spend literally months exploring Greece and still come across new areas to sail).
You can find a nice amount of variety for a week or so of sailing here, and with the weather and the views, it is quality sailing. Of course, you could take things slower and spend more time on the exceptional beaches here – but it is a sailing holiday after all.
The BVIs should definitely be on every sailors' bucket list to sail here at least once - and whilst on paper it might seem that you can tick off sailing in the BVIs, there is a big chance that you'll love sailing here so much that you'll return year on year.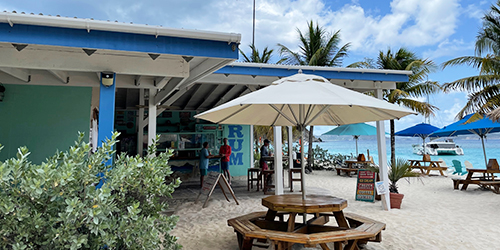 Holiday spirit
The BVIs are not massively developed, so one of the key differences between the BVIs and the Med is that, with the absence of ancient harbours or old fishing villages, destinations are geared to bars or restaurants on the various islands.
The 'Soggy dollar bar' on Jost Van Dyke is possibly the most popular - where you'll be able to sample their iconic 'Painkiller' cocktail (which is a lot tastier than it sounds) – but other key destinations include the Beach Bar and Restaurant (complete with its own micro-brewery) on Cooper island, Trellis Bay (for the Full Moon party!), the Leverick Bay or Saba Rock resorts, I could go on.
Whilst in Greece and Croatia you'll arrive in a working marina, and find the locals going about their normal business, in the BVIs almost everyone is on holiday, so there's more of a carnival atmosphere and it's a fun and happy place to sit and rest.
(It also means that there's no danger of being dragged to look at some crumbling ruin or other 'culture'…!)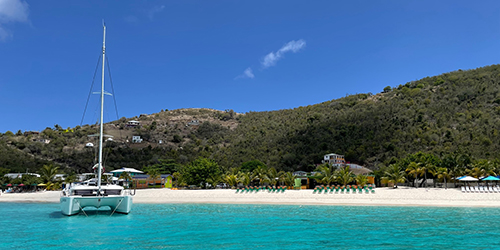 Unseasonal weather - in a good way!
Aside from avoiding the hurricane season (in August and September), then there is no real sailing 'season' in the BVIs. Prices creep up around the Christmas and Easter holidays, and there's certainly more interest in sailing there when the rest of the world are in the midst of the darkest days of winter, but because they're near the equator, the sun shines on the BVIs all year long.
Whenever you sail here, you'll find glorious (and, at 25 degrees, not too hot) sunshine coupled with reliable winds - sail in June or November for lower prices and quieter waters, or can you imagine how epic Christmas or New Year would be if you were out on a boat in the sunshine?
Given you'll need to have long-haul flights, it means you can maybe tack on a week of sailing to a trip to New York, on the way to a holiday in South America, or just at a time when you can get a decent price on flights – the BVIs will be ready to welcome you, whenever you come!
Sold it you yet?
Be sure to check out our destination guides to find out a LOT more about sailing in the BVIs, or search in the pink box for yachts and catamarans available for charter in the BVIs with live pricing and availability, or contact our award-winning Customer team through LiveChat, UK Freephone or email!
Want more like this?
This is part of our 'Destination Highlights' week of blogs focussing on sailing in the BVIs - including What's the difference between sailing in the BVIs and the Med, Top 5 places to sail in the BVIs, and why sailing in the BVIs is all about picking up buoys. You might also be interested in checking out our similar Destination Highlights: Montenegro, Destination Highlights: Croatia, Destination Highlights: Greece, Destination Highlights: Italy, Destination Highlights: Malta, Destination Highlights: Scotland, Destination Highlights: Bahamas, Destination Highlights: Spain and Destination Highlights: France blog series from previous months!
Plainsailing.com
Plainsailing.com