Find a Boat
LIVE
Pricing & Availability
Search NOW
Spain Yacht and Catamaran Charter
We have incredible yachts and catamarans ready to sail from Barcelona, the Balearics & the Canaries.

Sailing around Spain
Whatever you want from a sailing holiday, you can almost certainly find it in Spain. Fine sunshine, brilliant food, happy and hospitable locals, and a massive variety of sailing opportunities - from bobbing around idyllic bays and calas to island-hopping in the Med to embracing the winds out in the Atlantic. There's plenty of wildlife to spot, and you'll never see so many stars in the sky as you can in the Canary islands.
Spain has a long and famous history of sailing (Christopher Columbus sailed for Spain, the world-beating Spanish Armada, etc…) and their islands are perfectly equipped for sea-farers to enjoy today. You'll find excellent marina facilities, cute and historic port towns, and authentic local culture - including local fisherman, flamenco dancers, freshly-cooked paella, and sangria on tap. A blissful week awaits, and we can help you find and book your ideal yacht or catamaran.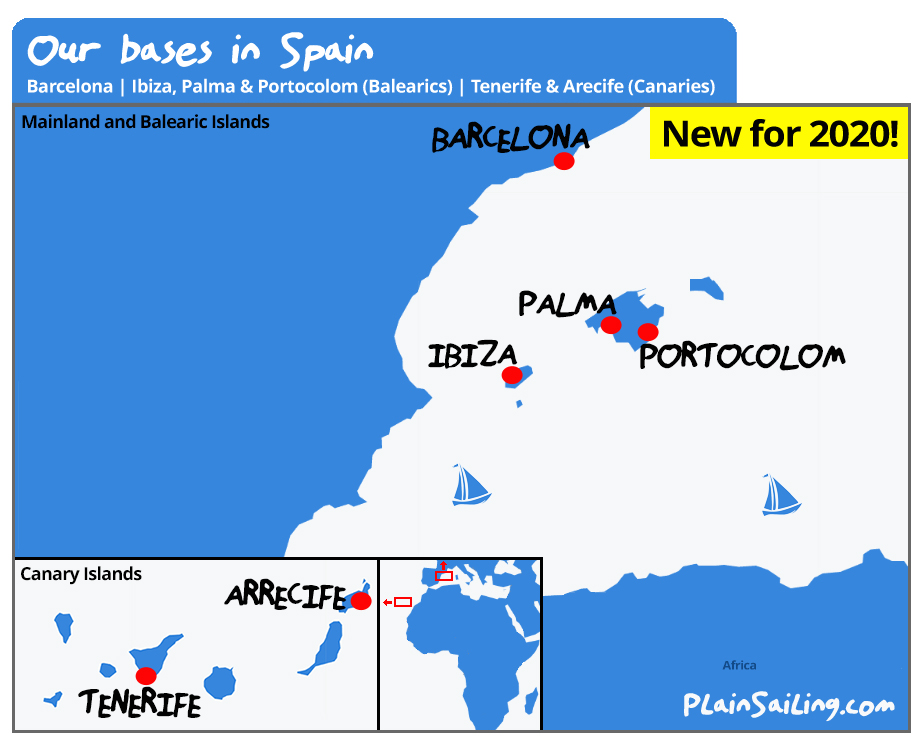 SAILING RATING:  Beginner / Intermediate - The Balearic islands (we have bases in Palma, Portocolom and Ibiza) and Barcelona on the mainland are in the sheltered cruising ground of the Mediterranean sea, and suitable for sailors of all abilities.
The Canary islands (our bases in Arrecife and Tenerife) are based in the middle of the Atlantic Ocean, offer more challenging sailing, with stronger winds, and are better suited for people who have solid experience of how to handle a boat.
 WHEN TO GO:  The sailing season technically runs from March to November, with peak season being in July and August, but there's sunshine for much of the year, and there's great sailing to be had outside of the season.
 MINIMUM QUALIFICATIONS:  You'll need an ICC (which you can convert from an RYA DaySkipper or equivalent) or above to charter a boat in Spain. If you're not qualified, we can find you a professional skipper.
 VISA REQUIREMENTS:  Spain is part of the EU, which means UK and EU passport holders can travel there at will. US and Australian passport holders do not need a visa unless planning to stay in Europe for longer than 90 days.
 GETTING THERE:  There are a number of airports right across Spain and the islands, which are all well connected to the rest of Europe as it is a popular tourist destination. There's also good rail, road, bus and ferry links to get you to our bases. We can help arrange transfers to or from the marina, as well as helping you get provisions on board if your flight arrives late at night.
In the Balearic islands, for Palma and Portocolom it's best to land in Palma International airport, from which you can get to Palma in 15 minutes or Portocolom in 35. Similarly, our base in Ibiza is only a 30 minute transfer from Ibiza airport, which connects all over Europe. There's a choice of three airports near to our base in Barcelona, the closest is the main El Prat international airport (a 25 minute drive away), but it's also possible to land at Girona airport (1h15 away) or Reus airport (1h35 away). In the Canary islands, you'll land practically in the marina if you fly to the main Tenerife airport, and it's just 11 minutes drive away once you've grabbed your bags. And our base in Arrecife is just 14 minutes drive from Lanzarote airport.
 
Charter a Yacht or Catamaran in Spain
We can help you find the ideal yacht or catamaran for your sailing holiday in Spain. We only work with the very best professional charter operators in the area, who we have met, know, and who we trust to give you the same outstanding customer service as you'll get from PlainSailing.com.
Use the pink search box above to look for boats for yourself - they have live pricing and availability and you can filter the results to find your ideal boat - or start a Live Chat with our award-winning bookings team for help, advice, or anything else!
 
Where to sail in Spain
We charter yachts and catamarans from six bases in Spain - Palma and Portocolom in Mallorca and Ibiza in the Mediterranean Balearic islands, Barcelona on the mainland, and Tenerife and Arrecife in the Canary islands. See below for ideas of where to sail when you get there (But be sure to check out our detailed destination guides to find out more).
 PALMA, MALLORCA 
Ideas of where to sail: There's relaxing times to be had in touring the many calas (bays) of Mallorca, and there are over 365 beaches! You can see them all by circumnavigating the 160 nM of Mallorca, or head up the (better) East coast to Menorca and back, visit the wilderness of Cabrera, or, if you're after more of a voyage, it's a 56 nM hop to Ibiza.
 PORTOCOLOM, MALLORCA 
Ideas of where to sail: You're well-placed for exploring the superb East coast of Mallorca, with all it's incredible cliffs, bays and calas. Island-hop to nearby Menorca (less touristy, and even prettier than Mallorca), before returning via the wild islands of Cabrera to the South to get a taste of everything the area can offer.
 IBIZA 
Ideas of where to sail: Ibiza is big enough for outstanding tranquillity, excellent beaches, beautiful calas and historic old towns - as well as late-night parties. A circular trip around the island is 60 nM, so you could expand it by hopping to nearby Formentera, which is largely off the beaten track and boasts pristine white sandy beaches over 6 miles long!
 BARCELONA 
Ideas of where to sail: There's a choice of sailing South along the coast to Tarragona, once the capital of the Roman Empire, and the old town of Sitges, or North to the fortresses of Roses. En-route in either direction are brilliant beaches, cliffs, and coastal towns to explore.
 TENERIFE 
Ideas of where to sail: There's blissful beaches, relaxing old towns and national parks to explore on Tenerife, or hop over to La Gomera to check out where Columbus set sail for America! If you're willing to put in the hours, it's also possible to sail to Gran Canaria or super-remote La Frontera.
 ARRECIFE, LANZAROTE 
Ideas of where to sail: Head to Papagayo bay on the south coast of Lanzarote - arguably the best place to anchor and snorkel in the whole of the Canary islands, then hop to Fuerteventura and the wilderness of Los Lobos, named after the colony of monk seals there. Or sail to the North to the Chinijo archipalego, Europe's biggest national marine park, and play with the dolphins and whales - they love this place as much as you do!
 
Cost of a Sailing Holiday in Spain?
Prices change depending upon what sort of boat you are chartering, and when you would like to charter, and yachting offers great value for money because the fee includes a full-day activity, a means of transport and your overnight accommodation!
Charters are normally in periods of a week, from Saturday (check-in at 5pm) to Saturday (check-out at 9am), though you're required to be back at the charter base on the Friday evening. You can charter a 3-cabin yacht for as little as €1,140/week (including end cleaning), 4-cabin yacht from €1,250/week, or catamarans from €2,800/week - Use the pink box above for live prices and availability.
|   | May / Oct | June / Sept | July / Aug |
| --- | --- | --- | --- |
| 3 Cabins | €1140 | €1300 | €1700 |
| 4 Cabins | €1250 | €1600 | €1900 |
| Catamaran | €2800 | €3300 | €3800 |
 
In addition to the charter fee, there is an end-cleaning fee to be paid, and you'll need to leave a security deposit on check-in (similar to a hire car, and usually placed as a pre-authorisation on a credit card).  You also need to consider fuel and Mooring fees.
You can also add transfers, an outboard motor, early check-in, security deposit insurance or other extras to your booking (if they are not already included) for an additional fee.  We can also arrange for a Skipper, Hostess or Chef to be on board - in Spain, these normally cost an average of €1,260 per week, excluding tips.
 
Our Spain Sailing Destinations
Find out a lot more about each of our bases in these comprehensive destination guides, which also include details about suggested sailing routes, weather conditions, and recommended hotels, amongst a host of other useful information:
Tags: Spain Yacht Charter, Bareboat, Skippered, Yacht and Catamaran Charters, Spain Catamaran Charter, Mallorca, Balaerics, Canaries