Why Book With Us?
Simple, straightforward process
Outstanding customer service
Friendly UK-based team
Pre-order food, kit or WiFi onboard
Join Our Mailing List
Yacht & Catamaran Charter in Kastela, Croatia
Looking to sail from Kastela? Search to find and book your ideal boat, or read everything you need to know: prevailing winds, where to sail, how to get there and more!
READY TO BOOK!
All our yachts have REAL-TIME pricing & availability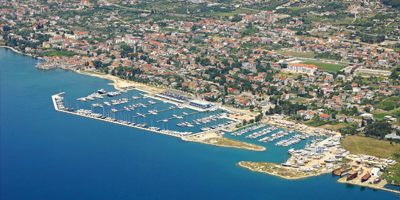 Located between Trogir and Split, Kastela is a brand-new marina which is closest to Split Airport, and is a great place to get your holiday started. There's plenty to explore by boat - from medieval hill-top castles on Hvar, cute fishing villages in Milna, natural phenomena near Vis, plus the sailors paradise of Paklinski Otoci - and that's overlooking the beautiful medieval town of Trogir, which is a UNESCO world heritage site in its entirety!
With dependable sunshine, reliable winds, outstanding natural beauty, and great sailing facilities, it's easy to see why the Split area (which includes Split, Trogir and Kastela) is the most popular place to sail in Croatia. Everyone raves about this place, so isn't it time you chartered a boat here yourself?
---
---
10
---
Sailing from Kastela
Kastela marina was only opened within the last ten years - and the key reason for its development is its excellent location at the edge of one of the best cruising areas in Europe. Culture vultures will love the chance to go to the historic nearby towns of Split or Trogir for their architecture, the popular tourist party-island of Hvar is under a daysail away, and there are a host of beaches, secluded bays and clear waters to explore in-between.
The Split area is blessed with tens of different islands, and the virtually guaranteed sunshine makes them all the more interesting to see.
Top 3 things to see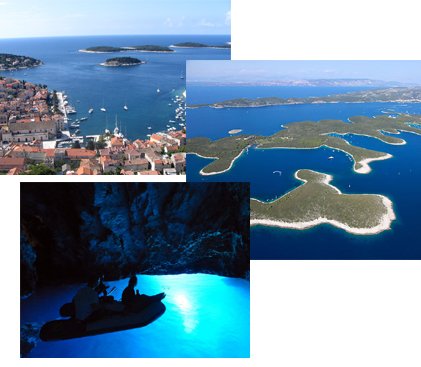 Check out our 6-day itinerary below, or if you're planning your own itinerary, here's our top 3 places to visit in the area:
Hvar (27 nM from Kastela)
A medieval castle perched on top of a hill-top with spectacular views, above a town renowned for nightlife and fine-dining. Perfect!
Paklinski Otoci (28 nM from Kastela)
My favourite port of call – pick up a buoy in paradise: a cute little bay which you can only reach by boat, but which has an impressive six bars and restaurants and a lively atmosphere. The best cocktails can be found at Bacchus bar!
Blue Cave, Bisevo (42 nM from Kastela)
A crazy cave on Bisevo island where the water is a sparkling neon blue, which you have to see to believe. The best way to see it is to take turns in the dinghy to avoid having to moor up!

Suggested 6-day itinerary
We've pulled together a 6-day itinerary which gets around all the highlights of the cruising ground - from the natural phenomenon that is the blue cave in Bisevo, to the very different but equally impressive castle overlooking the medieval town of Hvar, plus the carnival atmosphere at Paklinski Otoci, and pretty islands and fishing villages galore. Over the week, it covers 113 nM. That's an average of about 19nM a day, which, in a boat doing a fairly conservative 4-5 knots, will mean you'll be sailing for something like 4-6 hours a day - which means you should have plenty of time to nip into bays for a break or a swim, find somewhere extraordinary for lunch, or to explore the land around your boat in a little more depth.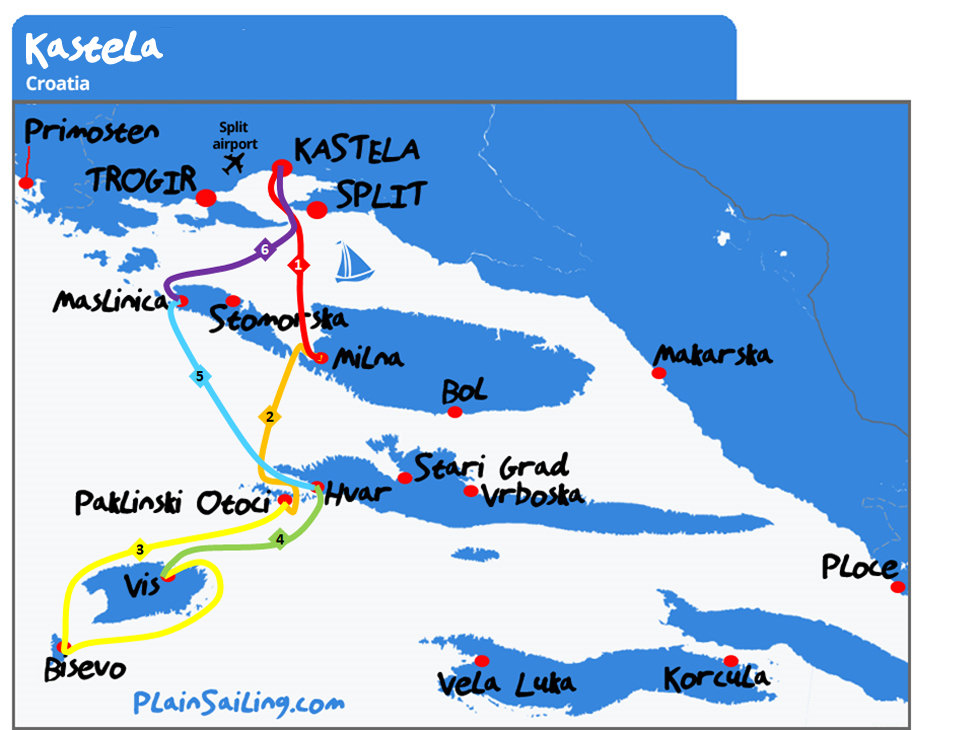 It's only a 6-day itinerary because you're unlikely to do any meaningful sailing on a Saturday - at the start of the week, you'll likely only check-in and have chance to nip to the shops for provisions before the sun sets, and you'll need to return the boat to Kastela on the Friday night at the end of your trip (but you can still sleep on it overnight), so you won't do any sailing on that saturday either, as you'll need to be off the boat at 9am.
Day 1. Kastela to Milna – 14 nM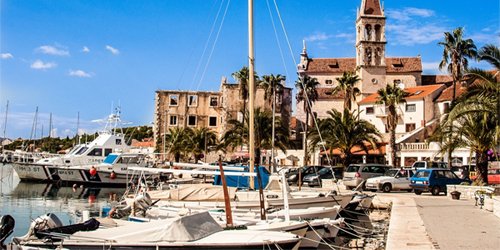 Make sure the crew are on-board and that everything is stowed, then its time to take a deep breath, fire up the engines, and see how this baby moves!
Work your way out of the marina, whip out the sails, and then it's a fairly straightforward sail to the first port of call. It's pretty much due south, only 14 nautical miles, and it should be the first patch of land that you can spot on the horizon. Assuming it's a normal prevailing wind, you should be beating up into it for the duration of this short hop, which means you should be able to teach any crewmembers who are new to sailing how to tack, and to get them licked into shape. You should also take the time to do a man overboard drill, just in case.
Milna is a small fishing village on Brac island which was once a key strategic port for the Venetian empire - hence the grand buildings you'll find around the harbour which date back to the 16th century. It has a good range of bars and eateries.
Day 2. Milna to Paklinski Otoci – 15 nM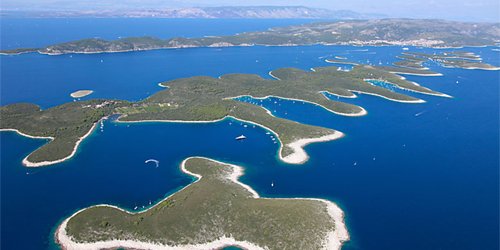 From Milna, we're heading in pretty much the same Southerly direction to our next resting place, a bay of Paklinksi Otoci which you can only reach by boat, but is also home to an amazing number of bars, restaurants and cocktail bars (and a bit of a party atmosphere). It's one of my favourite places to stay in the whole of the Med, and is a real sailor's paradise.
As with yesterday, you should be beating pretty much close-hauled and tacking your way up the prevailing wind. Our route takes you past the island of Hvar (don't worry, we'll be back to see Hvar in a few days), before nudging round to the bay on the south of the island, nudging East and then weaving through the islands to get to one of our favourite places to stay in the whole of the Med.
If you don't get there early enough to grab a mooring buoy in the bay itself (it fills pretty quick in peak season), then you could berth at the nearby ACI Palmezana and walk across the island (it's a ten minute up-and-down walk, but it's not quite the same, and you won't feel as much of a part of the action).
Day 3. Paklinski Otoki to Vis – 37 or 10 nM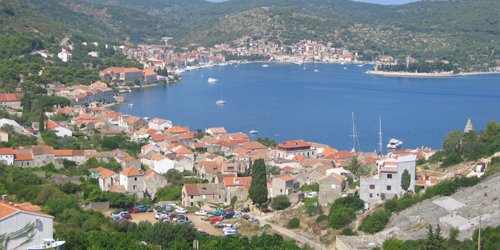 There's two options for the sailing today - either waking early to do a long days of 37 nM to take in the natural phenomena that is the blue cave of Bisevo - where you'll be able to bathe in mind-blowing neon-blue luminescent water - before heading round to Vis town, or having a lie-in and just making a simple and short traverse directly to Vis town.
From Paklinski Otoci, you'll need to head South-west towards the island of Vis (which should be just about visible on the horizon), likely having to reach across the prevailing wind. This is decision time - where you can head into Vis town, or onwards to the Bisevo.
If you opt for the cave, you're in for a treat! There's nowhere to moor nearby, so it's easiest to split the crew in two, and one half take to the dinghy to explore the cave whilst the other mans your own boat, before switching over. Since a year ago, you'll also have to pay a small entrance fee for the cave. You're allowed to swim in it, and don't forget to take your camera to get some crazy looking shots.
Once everyone has had a look, you should bear North-east and work your way along the South coast of Vis island. The nearest marina is back in Vis town, which is such an historic port that it has been part of everything from the Roman, Ottomans, and even the British empire! If time gets the better of you, there are options to anchor in bays (most notably Rukovac bay) on the South of Vis.
Day 4. Vis to Hvar – 13 nM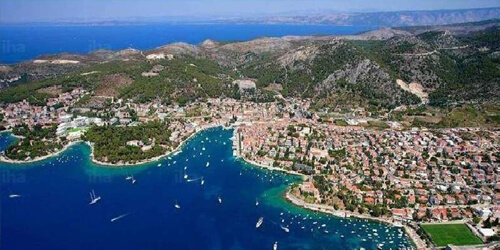 If you opted for the longer journey via Bisevo yesterday, you'll be pleased that our next destination, the medieval town of Hvar, is only a 13 nM passage, which should give you plenty of time to have a good look around Vis in the morning, and Hvar in the afternoon.
Heading back in the direction we came from means that the prevailing wind should likely be filling your sails from behind, and you'll be running with the wind.
Hvar is an old town which is notable for two things - one is that it used to be an Ibiza-type party capital (things have toned down since it was one of the coolest places to go in the mid 1990's, and many of the wildest bars have now been transformed into fancy restaurants), and second is the beautiful medieval castle on the hilltop above it, or, better, the incredible panoramic views you get over the surrounding islands from up there. It's a bit of a slog up the hillside, but you will be glad you made the effort when you get there.
If you can't find a berth in Hvar, then you could moor up in ACI Palmezana (across the channel) and grab a water taxi from there to Hvar.
Day 5. Hvar to Maslinica – 18 nM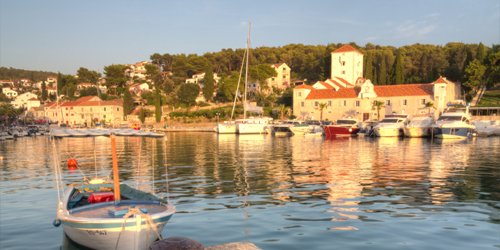 From the town of Hvar, we're heading to the village of Maslinica - famous for having the best honey in Croatia, and for making the best schnapps and the fruitiest wine. It has also won awards for being the best tourist spot in the Med with fewer than 1,000 inhabitants!
Maslinica was originally a holiday retreat for a super rich family - they were so rich that they built their own castle and church in their grounds?!
Tourists flock here for the slow and tranquil pace of life, and the picturesque-ness of the unspoilt beaches surrounded by forests of the greenest pine trees.
From Hvar, it's a North-western traverse to reach across the prevailing winds. After rounding the top of Hvar island, it's possible to do it all on a single tack, so today is a good day to get stuff done - like reading, sun-bathing or preparing a fabulous five-course 'last night at sea' meal.
Day 6. Maslinica to Kastela – 16 nM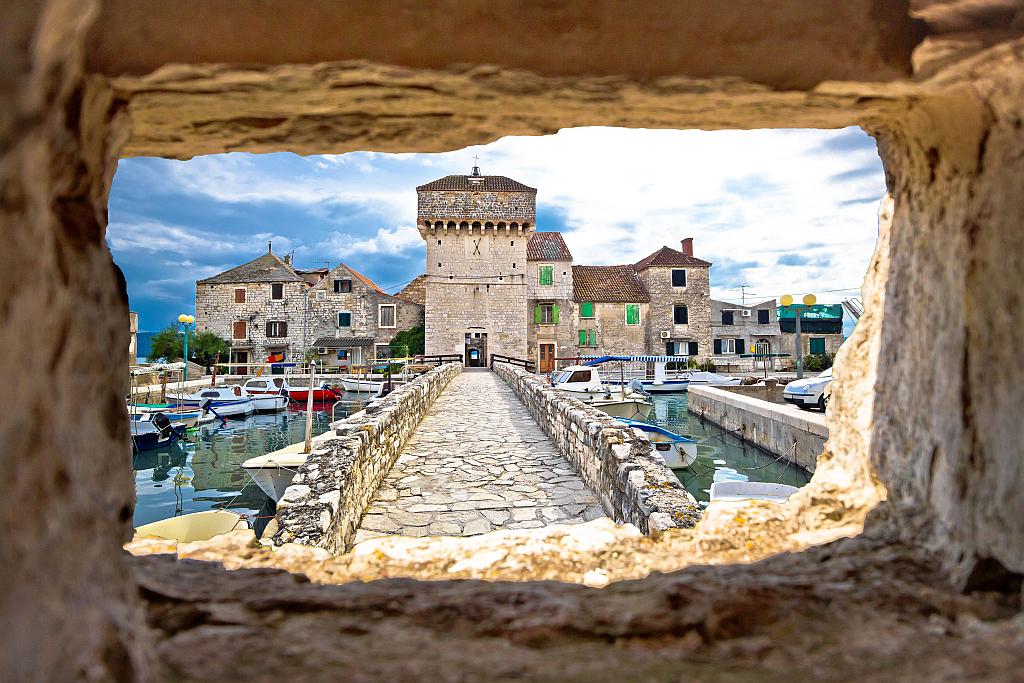 Oh no. It's the last day, already? How did that happen? That means you'll need to get the boat back to Kastela by 5pm tonight. But don't let it get you down - there's still a whole day of fun to be had, and it's always better to go out with a bang than a whimper.
It'll only take you about 2-3 hours to sail from Maslinica to Kastela, which means you've got time to chill out a bit and bimble around the bays and beaches of the area before setting course for home. From here, you'll need to reach across the prevailing wind in a North-easterly direction, heading straight towards Split. A quick chicane or a couple of tacks and you'll have Kastela on your bow and you'll get a better sense of how Kastela is less a town and more a coastal sprawl covering 17 km and including seven castles (bonus marks if you can spot them all).
You'll need to get the boat refuelled at the fuel berth (just inside the marina, where there will likely be a bit of a queue on a Friday afternoon), and someone will be along to inspect the hull to make sure it's all in one piece. You'll still be on the boat for one last night, and, if you've already been out in Kastela on the first night, it might be worth grabbing a 20 minute taxi to the pretty medieval island-town of Trogir, where you'll find a strip of bars along the riva, plus plenty of places to eat, and there's even a nightclub to dance the night away. The whole town should be choc-full of other sailors on the last night of their charter, so you could even share some of your favourite stories from the week (If you're heading to Trogir, why not check out our Trogir destination guide).
And then it's time to check out, leaving your skippering responsibilities on the water as you return to your other life on land. Hopefully you will've had an absolute blast of a week with your yacht or catamaran, and you'll be returning home with more friends than you arrived with. It will take some time to come to terms with not being out at sea, but. when you're ready, you can head to PlainSailing.com to start planning your next big adventure!

---
Sailing Conditions
What temperature will it be?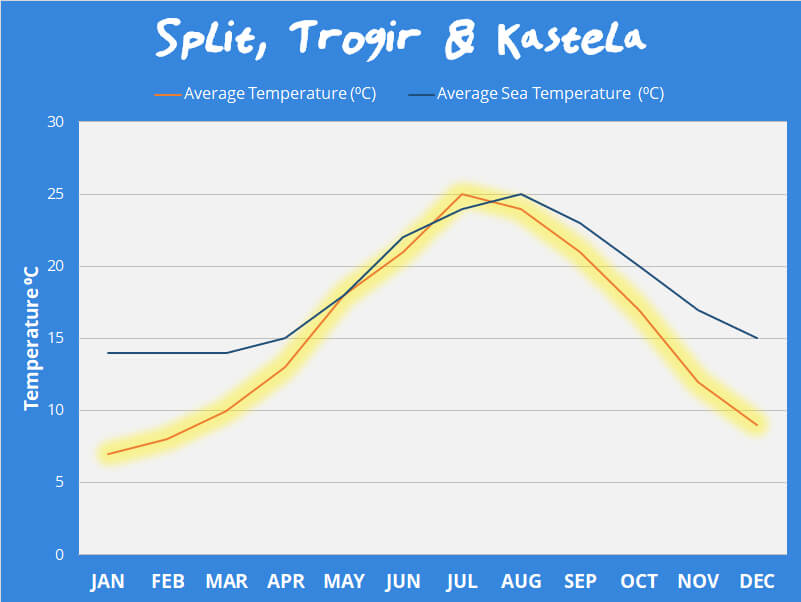 Being in the Mediterranean, Croatia is blessed with fine weather pretty much all year round.  In summer, its weather is pretty much perfect - hot and sunny, but not so hot and sunny that the weather feels stifling, or that you can only exist by dodging from one patch of shade to another.  Even in winter, the weather is mild and pleasant - though there are occasional cold winds which spill down from the nearby alpine mountains.
Croatia is virtually guaranteed sunshine right the way from May to September, and, given the reliable winds in the region (see below), it's not difficult to work out why sailors are flocking to Croatia to see what it's all about.
 
How warm is the sea?
The sea is actually warmer than the air for much of the year in Kastela, and it never gets desperately cold - the lowest it gets in mid-winter is 14 degrees, which is a temperature that some resorts in Northern europe struggle to get in the summer.  The sea temperature rises to a comfortable but refreshing 20 degrees at the start of the season, and hits the temperature of a warm swimming pool for July and August (which is the perfect respite from the sunshine).
With these temperatures, and with the sea being so crystal clear along the Croatian coast, then there really are no excuses for diving in!
 
What is the wind like?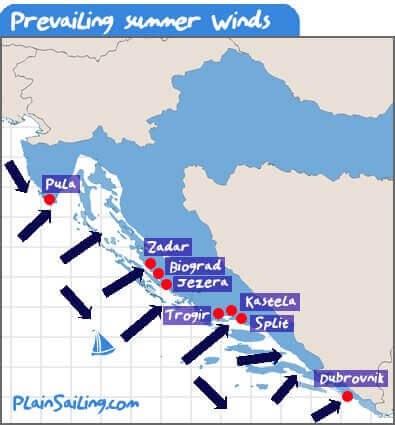 The Split area (including Kastela, Split and Trogir) is popular because it has dependable winds througout the summer season.  The winds are so reliable and predictable, in fact, that you can almost set your watch by them. 
There's a morning wind which blows from 9am to mid-day, then the wind drops for a few hours (local sailors say that the wind is having its lunch), before returning much stronger after 2pm for the afternoon and until sunset.
In summer, the wind tends to blow landward – as the land is heated by the sun, the air above it warms and rises, which, in turn, sucks colder wind in off the sea.  There's also a loose correlation to the heat of the sun and the strength of the wind, but they tend to be between Force 3 to Force 6 during daylight hours, before disappearing to a light breeze (or less) after night falls.
From October to April, the winds' speed and direction are more unpredictable - weather systems can arrive from the mountains in the north, as tropical storms from the south of the Med, and everything in-between.  However, the very fact that there isn't any prevailing wind direction means that most weather systems tend to pass within a few days.
 
What is the Current Weather in Kastela?
If you're off sailing in a couple of days, you might be interested to know what the 7 day forecast is - our handy widget below should give you a good idea, though once you're out there we recommend using windguru.cz. 
---
Our Guide to Kastela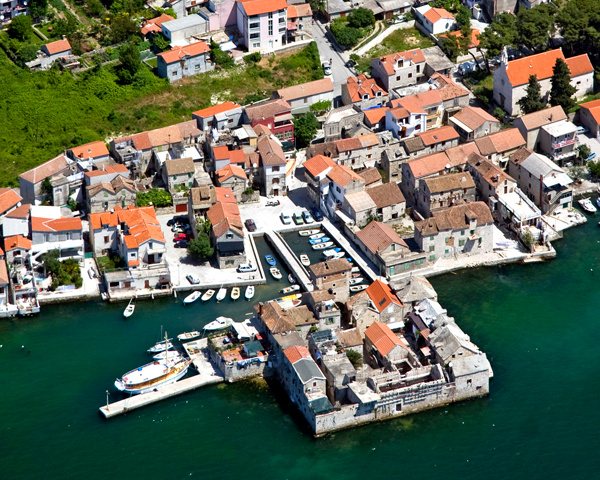 Kastela itself is actually a collection of seven villages, and, as the name suggests, a collection of castles. In the distant past, it was a Roman port, but the villages today were founded when the well-to-do of Trogir and Split moved out to the countryside to build mansions as big as castles, and castles even bigger than that!
Aside from being within a 10 - 20 minute drive (or an hour or so of sailing) of the historic towns of Split and Trogir, Kastela is a place which you could gladly spend a couple of days.
As you'd expect, there are many castles to explore – the best of which being Kastel Stafilic, which houses a 1,500 year old olive tree, and Kastel Novi, which is also near the ancient Roman port area.
The area boasts a beautiful coastline with cliffs, forests and delightful beaches to the south, and mountains to the north – the stunning view over the castles and coastline from the top of mount Kozjak is well worth the walk.

Local Events / Festivals
Kastela has a carnival in February, when the locals take to the streets for a bit of a parade.
They also have a summer festival which runs from June to September, which, in 2017 saw over 100 live performances across the town. There is no official website, so check with the local tourist information or at the marina for more information about what's on. It might be worth checking out the local tourist board website.

Eating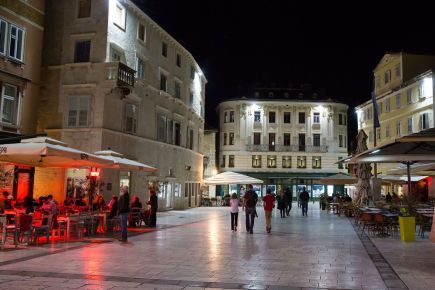 Kastela Gomilica is part of a long strip of old towns that line the coast between Spilt and Trogir. each more beautiful and more historic than the last. There's a place for cheap eats near the marina, but our other two picks are a little further afield (but well worth the stroll or taxi, believe me!). The local food is naturally seafood, and, being so close to Italy (and having been part of the Venetian empire for so many years), expect things to have an Italian twist:
Zeus fast food - the name gives you a hint of the food they serve, but there's not really much link to the greasy unhealthy stuff that usually bears that name – everything they serve is super fresh and delicious, and servings are generous and well priced (Cesta Franje Tudmana, 440, Kastel Gomilica, Kastela).
Restoran Odmor – 1.5 km from the marina, this place is the best grill for miles around, and does all the local standard dishes with aplomb. Highly recommended, and totally worth the short walk. (Cesta Dr. Franje Tudjmana 62, Kastel Kambelovac, Kastela)
Stracija Restaurant – 4km away from the marina (and about 50 minutes walk along the coastal path, according to Google), the restaurant at the Stracija hotel serves exceptional food at moderate prices, and is well worth a visit. The chef here rightly gets rave reviews, and their pear dessert is to die for (Setaliste Miljenka I Dobrile, 34, Kastel Luksic, Kastela 21215)

Nightlife
Kastela is not famous for its nightlife, and, whilst there are bars which line the coast, most of these are quiet places or for people away on romantic holidays, though you might stumble across some atmosphere if you stroll about the town.
But being in-between Trogir and Split, then there are plenty of option to find more lively bars, and even nightclubs - they're both within 20 minutes in a taxi.
In terms of bars in Kastela, we'd recommend:
Caffe bar Shpitza - a short walk from the marina in nearby Kastel Kambelovac, this bar has friendly staff, a decent range of drinks, an outdoor terrace, and big-screens when there big sporting events taking place (Cesta Dr. Franje Tuđmana 63, 21214, Kaštel Kambelovac)

Places to Stay
Yacht charters are traditionally Saturday to Saturday, particularly in the peak season. However, we know that airlines don't follow the same rules, so there's a chance you might need to spend some time on land before or after your charter. We'd recommend these places:
Hotel Ballet School *** - c. £50/ night for a double room. This hotel is the closest to the marina (just a couple of kilometres away, along a pleasant coastal road), as well as being close to a fine beach. Rooms with balconies offer a sea-view, and the hotel restaurant is well rated in the area.
Hotel Stacija *** – c. £90/night for a double room – the best hotel in the area, with super-modern facilities, a brilliant chef, and outstanding location.
---
Marina Kastela
Kastela marina only became an idea in 2002, and the vast majority of the marina has been built within the last ten years – which means that the facilities are super-modern, and that they cater for every whim a sailor might have.
With 420 berths, it's bigger than the nearby sailing hubs of Split and Trogir, and, being only 7km from Spilt airport, Kastela is fast becoming a big player in the nautical revolution in Croatia.

| | |
| --- | --- |
| Website: | marina-kastela.hr/en/ |
| Address: | Marina Kastela, |
| Long / Lat: | N 43° 32' E 16° 24' |
| Telephone: | 0038 52120 4010 |
| Email: | marina@marina-kastela.hr |
| VHF: | Channel 17 |
| Berths: | 420 |
| Facilities: | Bottled gas, Café / Bar, Electrical supply, Fresh water, Fuel: Diesel, Fuel: Petrol, Laundry facilities, Nautical shop, Parking, Pub / Restaurant, Sailmaker, Shop / Supermarket, Showers, Supermarket, Toilets, Telephone, Visitors berths, Wi Fi |
Address:
F. Tuđmana, 21213 Kaštel Gomilica
Getting there:
Kastela is just 15 minutes from Split International Airport - the easiest way to get here is to hop into a taxi, or we can assist with pre-arranging a transfer direct from the airport to the marina.
If you have time to spare, you might consider getting the 37 bus from the airport towards Split instead, as it goes within 200 metres of Kastela Marina.
Fuelling at end:
There is a fuelling berth in the Marina - head there before you head back to your home berth (there might be a queue...)
Loading Map Co-ordinates...
---
Getting to the Marina
Kastela is just 15 minutes from Split International Airport - the easiest way to get here is to hop into a taxi, or we can assist with pre-arranging a transfer direct from the airport to the marina.
If you have time to spare, you might consider getting the 37 bus from the airport towards Split instead, as it goes within 200 metres of Kastela Marina.
This page last updated: March 2019
We do our best to keep this information as up-to-date and accurate as possible, but obviously we can't be everywhere at once. If you are aware that any information on this page is incorrect, please let us know by emailing marina@plainsailing.com.
---
---