Find a Yacht
No need for quotes - search now for boats with LIVE pricing and availability
Why Book With Us?
Simple, straightforward process
Outstanding customer service
Friendly UK-based team
Pre-order food, kit or WiFi onboard
Never beaten on price!
Join Our Mailing List
Yacht & Catamaran Charter in Kastela, Croatia
Looking to sail from Kastela? Search to find and book your ideal boat, or read everything you need to know: prevailing winds, where to sail, what to see, where to eat or sleep, how to get here and more!
READY TO BOOK!
ALL our yachts have REAL-TIME pricing & availability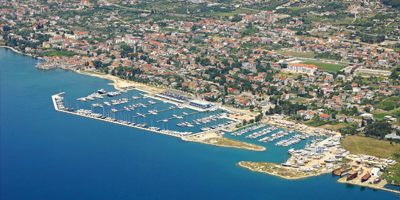 ---
---
Our Guide to Kastela
Kastela Marina
Kastela marina only became an idea in 2002, and the vast majority of the marina has been built within the last ten years – which means that the facilities are super-modern, and that they cater for every whim a sailor might have.
With 420 berths, it's bigger than the nearby sailing hubs of Split and Trogir, and, being only 7km from Spilt airport, Kastela is fast becoming a big player in the nautical revolution in Croatia.
Kastela
Kastela itself is actually a collection of seven villages, and, as the name suggests, a collection of castles. In the distat past, it was a Roman port, but the villages today were founded when the well-to-do of Trogir and Split moved out to the countryside to build mansions as big as castles, and castles even bigger than that!
The area boasts a beautiful coastline to the south, mountains to the north, and forests, cliffs and beaches in between.
Things to see and do
Aside from being within a 10-20 minute drive (or an hour or so of sailing) of the historic towns of Split and Trogir, Kastela is a place which you could gladly spend a couple of days.
As you'd expect, there are many caslte sot explore – the best of which being Kastel Staficlic, which houses a 1,500 year old olive tree, and Kastel Novi,which is also near the ancient Roman port area. There are also delightful beaches, and the stunning view over the castles and coastline from the top of mount Kozjak is well worth the walk.
Local Events / Festivals
If you know of, or would like to advertise, an event, please let us know at marina@plainsailing.com
Eating and Drinking
Coming soon... :)
Your Recommendations
No recommendations yet – if you have a recommendation for a place to drink, eat or visit, that you know others will love too, please email it to marina@plainsailing.com! :)
Where to Sail
Kastela was only opened within the last ten years, and the key reason for its development is its excellent location at the edge of one of the best cruising areas in Europe. Culture vultures will love the chance to go to the historic nearby towns of Split or Trogir for their architecture, the popular tourist party-island of Hvar is under a daysail away, and there are a host of beaches, seculuded bays and clear waters to explore in between.
There are many islands to explore, and virtually guaranteed sunshine makes them all the more interesting to see.
Your Recommended Journeys
Where have you set sail to from Kastela? Email us at marina@plainsailing.com
Marina Details
| | |
| --- | --- |
| Website: | www.marina-kastela.hr/en/ |
| Address: | Marina Kastela, F. Tuđmana 213, 21213 Kaštel Gomilica, Croatia |
| Long / Latitude: | N 43° 32' E 16° 24' |
| Telephone: | 0038 52120 4010 |
| Fax: | 0038 52120 4070 |
| Email: | marina@marina-kastela.hr |
| VHF: | Channel 17 |
| | |
| Walk-ashore berths: | 420 |
| Rates: | |
| | |
| Facilities: | Bottled gas, Café / Bar, Electrical supply, Fresh water, Fuel: Diesel, Fuel: Petrol, Laundry facilities, Nautical shop, Parking, Pub / Restaurant, Sailmaker, Shop / Supermarket, Showers, Supermarket, Toilets, Telephone, Visitors berths, Wi Fi |
Marina Reviews
No reviews yet – if you have a review of this marina please email it to marina@plainsailing.com
We do our best to keep this information as up-to-date and accurate as possible, but obviously we can't be everywhere at once. If you are aware that any information on this page is incorrect, please let us know by emailing marina@plainsailing.com.
Marina Map
Getting to the Marina
Loading Map Co-ordinates...
Kastela is just 15 minutes from Split International Airport - the easiest way to get here is to hop in a taxi, or pre-arrange a transfer with the charter company. It will cost around 20 euros.
If you have time to spare, you might consider getting the 37 bus from the airport towards Split instead, as it goes within 200 metres of Kastela Marina.
---