Find a Boat
LIVE
Pricing & Availability
Search NOW
Sailing in the Dodecanese Islands
Perfect for island-hopping, with over 150 of them in the Dodecanese!

The Dodecanese islands are a collection of over 150 islands located furthest from mainland Greece - with so many islands to explore, strong and reliable winds, guaranteed sunshine, a good range of places to stay, and very welcoming locals, the islands are something of a sailor's paradise./strong>
You've probably already heard of the two most popular holiday islands here - as well as having beaches which landlubbers flock to, Kos is the birthplace of modern medicine (and you can still sit under the same tree that Hippocrates taught from) and Rhodes once held one of the seven wonders of the ancient world (The Colossus of Rhodes) and is dominated by medieval castles which date back to the crusades.
There's scores of harder to reach beaches that are largely unspoilt but just as brilliant as the ones that attract millions of people to the area each year, and there's more to the Dodecanese than these two major beach-holiday destinations – for example, the Cave of Revelation on Patmos where St John wrote chunks of the Bible, the volcano of Nisyros, the stunning town and monastery on Symi, the best olives in the world on Kalymnos, the nature reserve of Marathos, and much more besides.
We currently have two bases to sail from in the Dodecanese. Rhodes (nearest airport: Rhodes) and Kos (nearest airport: Kos) are both excellent jumping off points for really exploring these islands.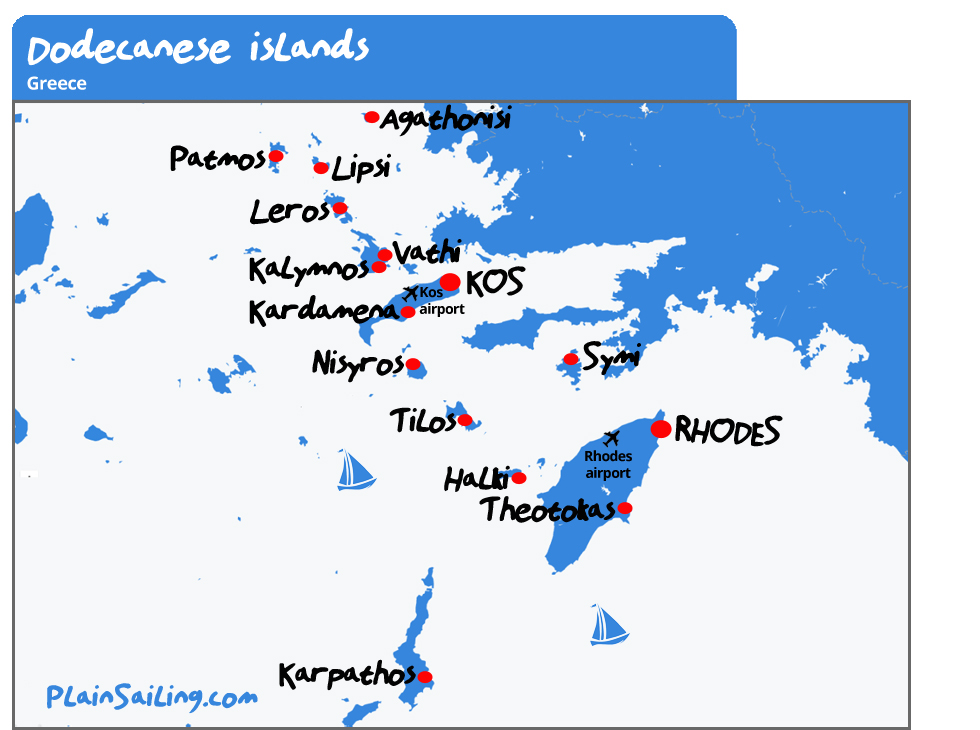 You can read a lot more about what it's like to sail from Rhodes and Kos in our super-comprehensive destination guides which cover everything from wind and weather conditions and recommended sailing routes, to what to see and do, and even where to eat or sleep, amongst all sorts of other useful information:
If you need to know anything else, just grab us on Live Chat, give us a call, or get in touch via our contact form.
 
Tags: Dodecanese Islands Yacht Charter, Catamaran Charter in Dodecanese, Rhodes, Kos