Find a Boat
LIVE
Pricing & Availability
Search NOW
Yacht & Catamaran Charter in Arrecife, Lanzarote
We can help you find the perfect yacht or catamaran to sail from Arrecife, Lanzarote!

Sailing from Lanzarote
Lanzarote has it all: great beaches, lots of cute villages to sail to and explore, good marina facilities, plenty of wildlife, and, of course, good sailing weather all year round – the sailing literally never stops here. Throw in some sunshine, fantastic Spanish cuisine, and regular flights to mainland Europe and you have an outstanding place to sail.
From our base in Arrecife, near to the airport, you can hop south to the neighbouring party-island of Fuerteventura, north to find dolphins and seals and other wildlife in the remote Chinijo islands, or even do a full three-sixty of the island. They call the weather here 'the eternal spring' and the season runs from January to December, with the peak being in the summer months. We can help you find and book your ideal yacht or catamaran, with one of our trusted Charter Partners - just get in touch or search in the pink box with live prices and availability!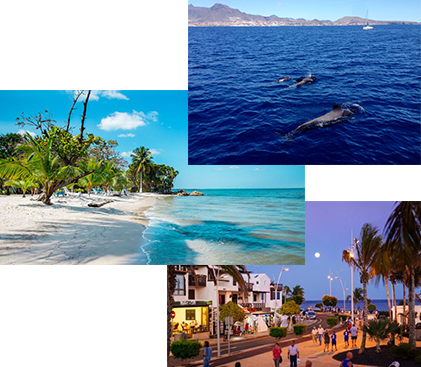 SAILING RATING: Intermediate / Advanced - unlike the Mediterranean, the Canary Islands have tidal water, so you'll need to be comfortable with tides to sail here. It's also less sheltered than the Med, so winds can be a little strong - we'd recommend Lanzarote for sailors with some experience.
MUST-SEE: Check out our full suggested itinerary below. We'd highly recommend taking in the remote tranquillity of La Graciosa, the beaches of Playa Blanca, and the lively nightlife of Puerto del Carmen.
WHAT WE CAN OFFER: We have a great range of yachts and catamarans available for charter from our trusted Charter Partners, all available bareboat or Skippered. We can also arrange a Hostess, Personal Chef and other crew.
GETTING THERE: From Lanzarote airport to our base in Arrecife it's just a 15 minute drive. We can help arrange private transfers.
WHY BOOK WITH US? We only work with the very best professional charter operators, who we have met, know, and trust to give you the same outstanding customer service as you'll get from PlainSailing.com.

WHAT NEXT? Use the pink box to search for yachts or catamarans with LIVE pricing & availability - if you have any other questions or requests, get in touch via Live Chat, the Contact Form, or by phone.

Why book with PlainSailing.com?
We're yacht and catamaran charter experts, and can find you the best boats in Greece, Croatia and anywhere else in the Med or Caribbean - yacht, catamaran or superyacht-bareboat, skippered or crewed

We're UK based, only work with the best Charter Companies, offer exceptional customer service from start to finish and will match any price!

Independent Service Rating based on
431
verified reviews.
---
6-day Sailing Itinerary from Lanzarote
From Arrecife you're well positioned to head north to the remote wilderness of the Chinijo islands in search of dolphins and other wildlife, head south to neighbouring Fuertaventura, or just bimble up and down the better (East) coast of Lanzarote, enjoying the beaches and marvelling at the volcanic landscape.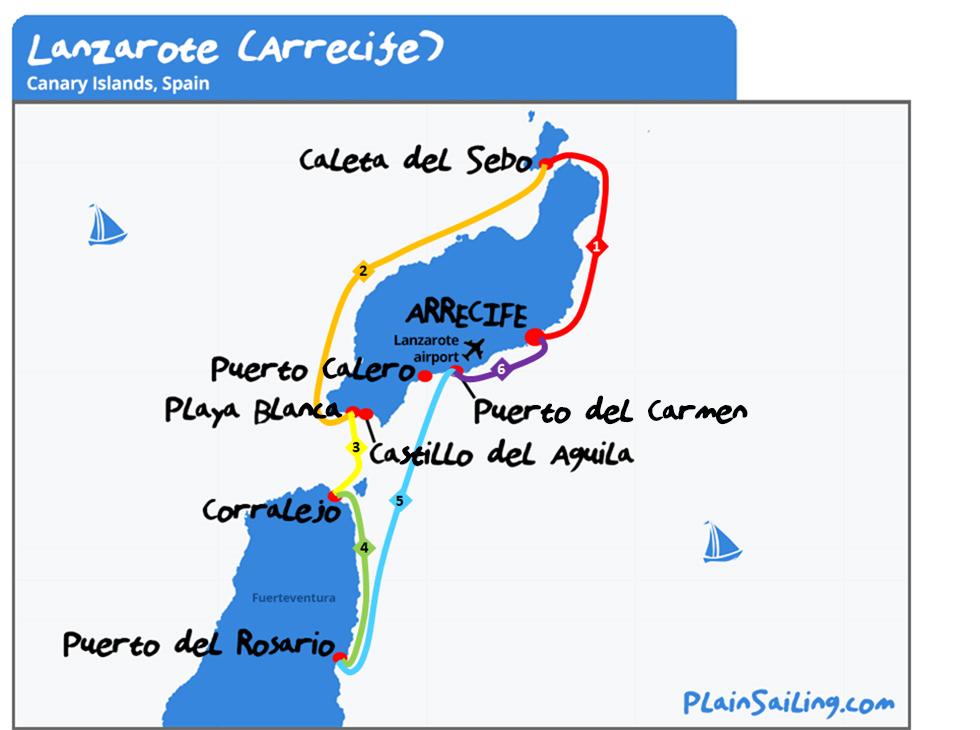 Our six-day itinerary from Arrecife does a mixture of all of those options, circumnavigating the island in its entirety, heading north to find nature on La Graciosa (the largest island of the Chinijo achipalego) before heading south to Puerto del Rosario, the capital of Fuerteventura, and back up to Arrecife, taking in the best stops along the way. It covers 120 nM, an average of 20 nM a day, which should take you about 4-5 hours of sailing a day, leaving lots of time for exploring each stop in a little more depth, and travelling at your own leisurely pace.
The itinerary is only a six-day itinerary because you likely won't get on the boat until late on Saturday afternoon, so it makes sense to get provisions in and to be familiar with the boat (and to see a little of Arrecife before setting sail on Sunday morning. At the other end of the week, you'll need to return the boat to Arrecife on the Friday night, before overnighting in Arrecife and disembarking on Saturday morning - which gives you six days of fantastic sailing.

Day 1. Arrecife to Caleta del Sebo – 23 nM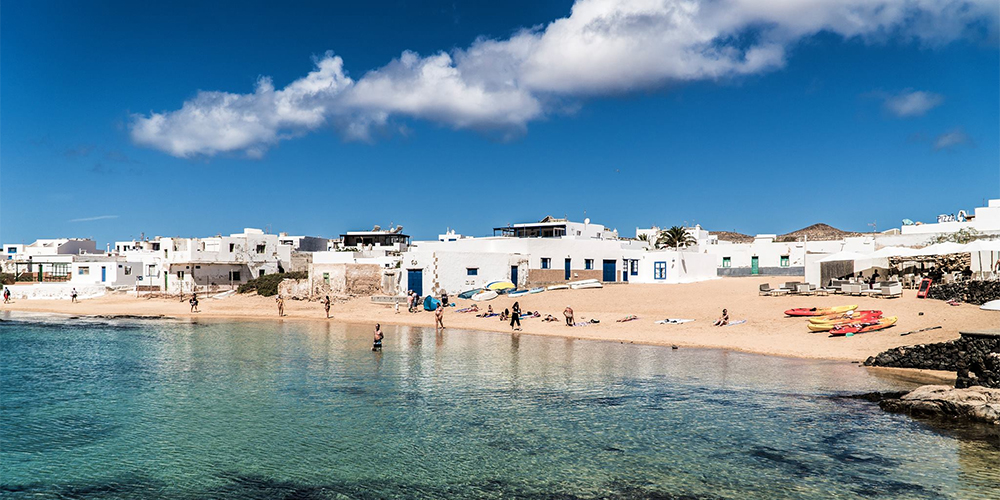 Hola, mi Capitan! Welcome to the Canary Islands, the lands of the eternal spring. 'Discovered' by Jube II on behalf of Caesar Augustus, it has changed hands over the years, and we're now officially sailing in Spanish European waters, even though we're only 70 nM from Africa – in fact, in the 1960's there were calls for the Canary islands to be granted independence from Spain and to become a recognised member of the continent of Africa.
We could talk about continents and self-autonomy all day, but we've got some sailing to do, so let's get the crew and the provisions on board, drop the lines, and let's get out there! Today we're sailing north, likely close-hauled against the prevailing northeasterly winds.
Today we're off to Caleta del Sebo, the capital of La Graciosa island, and the Chinijo islands as a whole. We're some way off the beaten track - the island has a population of 700, and the village is very basic (but has a few shops and a restaurant) so you'll feel a bit like Robinson Crusoe when you arrive here.
Without human interference, the island is thriving with wildlife - including dolphins and seals, all sorts of aquatic life, and many birds, including flamingos and, as you might expect, canaries (but beware, the Canary islands names was derived from Latin 'Canaria' - meaning dog). Life moves at a slower pace around here, so it's the ultimate place to stop at on the first day of the holiday.

Day 2. Caleta del Sebo to Playa Blanca – 34 nM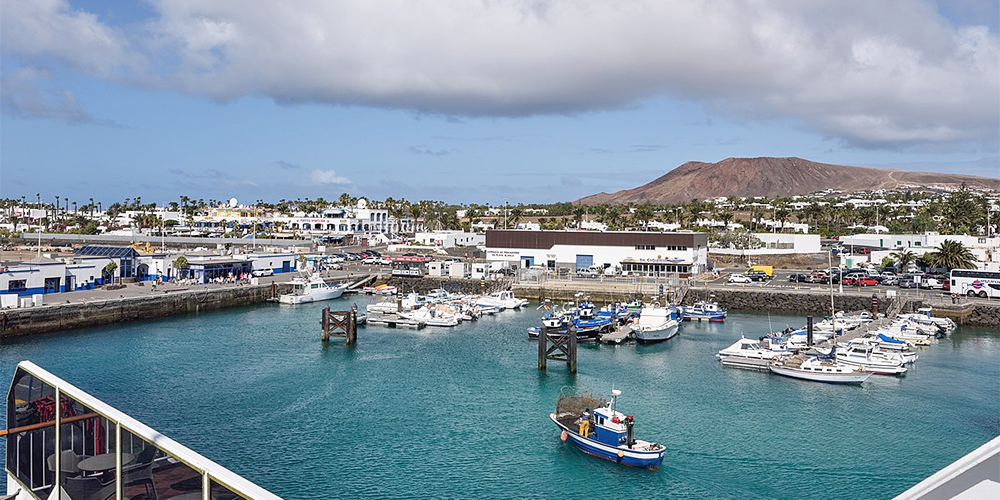 After a no doubt tranquil nights' sleep, today is the longest leg on our voyage, principally because there aren't that many good places to overnight on the west coast of Lanzarote, so we're on a mission to sail the length of it today – though 34 nM is not too much of a slog, and you should be able to make good time running with the prevailing wind.
You'll start to appreciate the vast barren and volcanic terrain of Lanzarote as we sail along it, with craggy cliffs along much of the coastline. This is the side of the island which faces the Atlantic, so waves come literally thousands of miles to crash against these cliffs. The highest point on the island (which is before Caleta da Famara) is Peñas del Chache, is 671m above sea level and is one of the best places in the world for stargazing.
Keep following the coast down and around to reach Papagayo bay on the south coast, which is a sprawling beach and (quiet) tourist resort area, and a return to civilisation. There's a choice of marinas here, and whilst the Rubicon marina offers a more comfortable place to stay, Playa Blanca is closer to the old town and feels a bit more authentic. There's plenty of choice of places to eat and drink here, some with stunning views.

Day 3. Playa Blanca to Corralejo (via Isla de Lobos) – 9 nM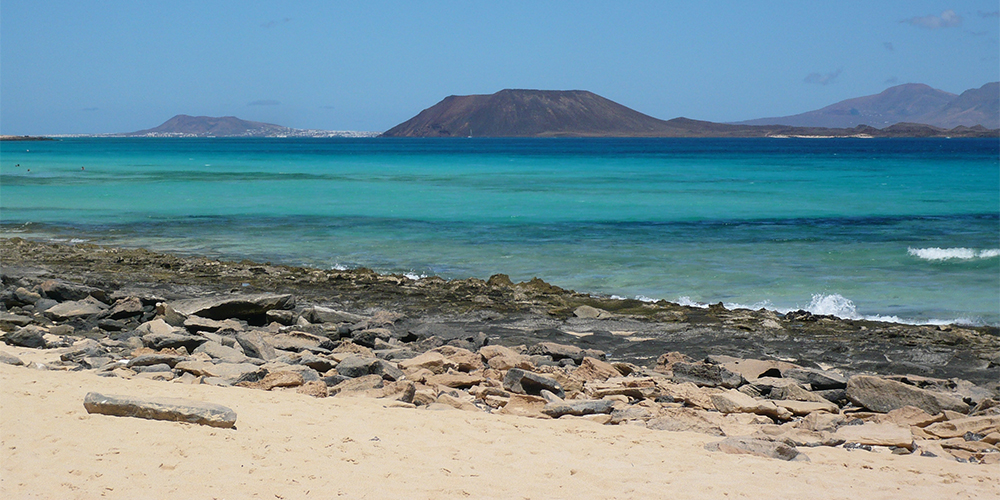 After the long leg yesterday, you can let the crew rest awhile today as we're on a short leg today, hopping 9 nM to the island of Fuerteventura, and the town of Corralejo. When you've had your fill of Playa Blanca we're sailing pretty much due South, reaching across the prevailing wind.
Assuming you have time, sail over and round the Isla de Lobos on the way to Corralejo. It's now a nature reserve to protect the species that live here – people can visit during the day, but there's no accommodation on the island. You can walk up to the crater on the island if you fancy a hike.
Isla de Lobos means 'Isle of Seals' and it was named when explorers first arrived at the island in the fifteenth century. Sadly, there isn't a single seal left here, after they were all killed for their meat, blubber and skin. And then on to Corralejo. In the 1960's it was just a handful of fishermans houses, but it has grown massively into a mecca for land-lubbing tourists. It's the second largest town on the island of Fuerteventura and has a lively nightlife, fine beaches, and even a water-park.

Day 4. Corralejo to Puerto del Rosario – 17 nM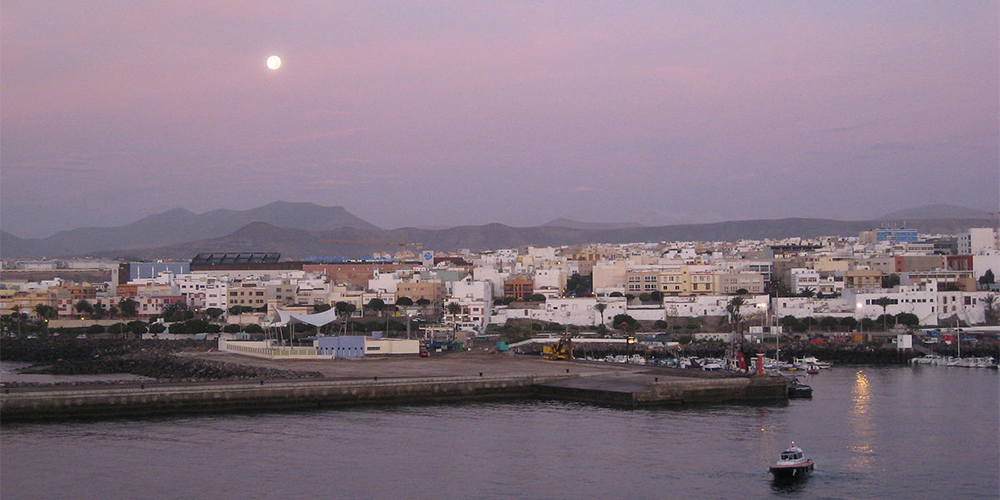 We're leaving the tourists behind as we sail further south on Fuerteventura, to the capital of the island. Puerto del Rosario was actually called the 'Puero del Cabras' or 'Port of Goats' until 1957, when it was decided that they needed a more romantic and attractive name to entice people to the visit the island. Goats are still very much prevalent on the island, but more on goats later.
In contrast to the rest of the island, Puerto del Rosario is still an authentic working town, and the main harbour of the island – it's been used for centuries as a stopping point for ships traveling across the Atlantic, including those shipping sugar cane, bananas, cotton and, gruesomely, was involved in the very first Spanish shipments of slaves from Africa to the Americas.
Nowadays, there is also some tourism trade, including a few beaches and pleasant places to stroll along the waterfront. There's also a good range of tapas joints and places to eat – if you want to eat like a proper local, then you need to try the local speciality: goat stew.

Day 5. Puerto del Rosario to Puerto del Carmen – 29 nM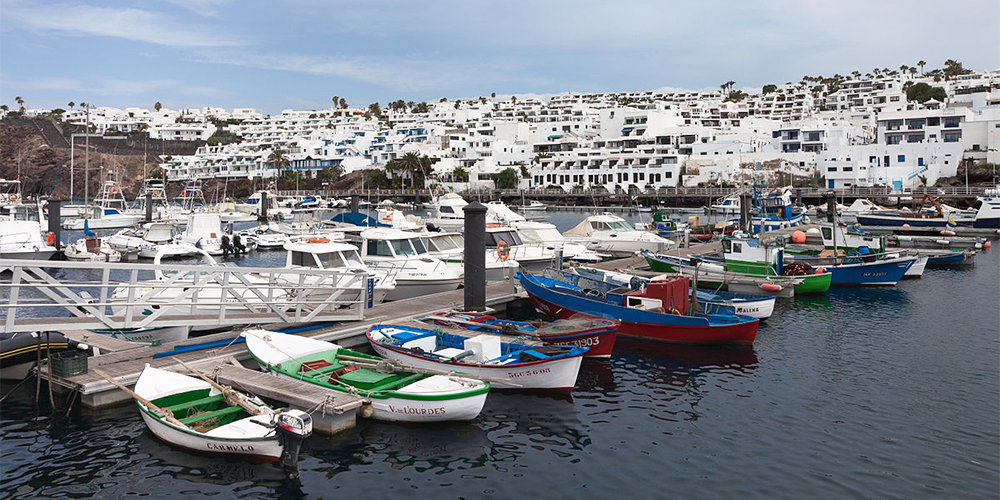 We're continuing our adventure and hopping back to the island of Lanzarote, with Puerto del Carmen our next port of call. Don't be put off by the fact that this is the biggest tourist destination on Lanzarote because there is a fine old town located next to the old harbour, which is well worth spending some time exploring.
To get there, we're sailing northwards – in the prevailing wind conditions, it should just about be possible to make it on a single tack, close-hauled all the way – but it's more fun to keep the crew active anyway. If you're making good time, you can hit the beach at Playa Quemada, but it's almost not worth heading into the coast for.
The main road or strip of Puerto del Carmen is 7km long and has something for everyone – from beaches to sunbathe on or architecture to marvel at, from fine dining to McDonalds, from quiet tavernas to pulsating dance clubs, and pretty much everything in-between. There's a real holiday atmosphere in the air, and it's a nice place to sit and watch how other people choose to enjoy themselves. Particularly if you're sat in the sunshine with a nice cool drink. Bliss!

Day 5. Puerto del Carmen to Arrecife – 8 nM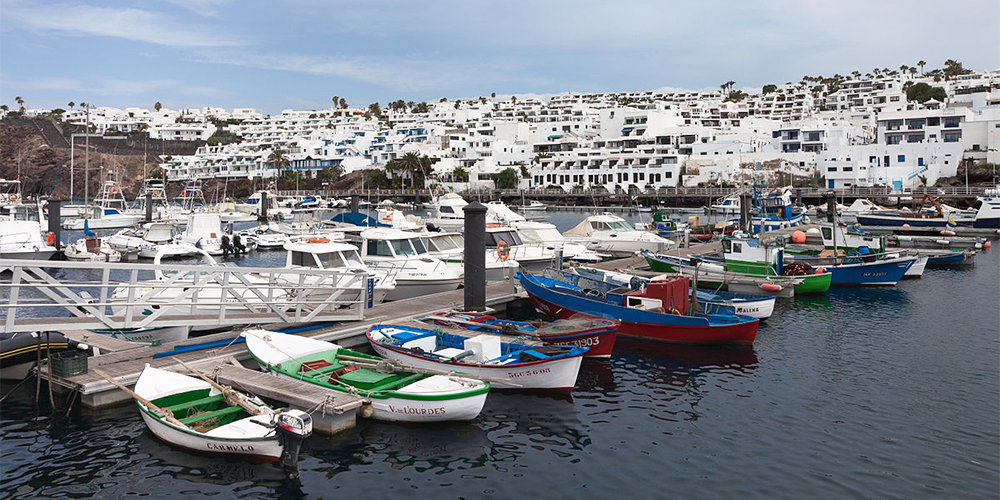 And wow. Can you believe it is the last day already? Time has flown whilst we've been having fun. That means that tonight you have to return the boat to Arrecife, though you can stay on it overnight and you'll formally check-out tomorrow morning.
It's only a short sail around the coast to Arrecife, so you can take your time to explore more of Puerto del Carmen to see what your land-lubbing friends were raving about, particularly if the longer leg of sailing yesterday meant you didn't get to see much of it. If you want to look super-slick, you can sail the yacht around the corner and throw the anchor down on Playa Grande, which is THE main beach on Lanzarote (and the one you will see on the front of all the brochures).
Once you get sailing, then you could also consider stopping at Playa Honda, where you can watch the aeroplanes landing nearby whilst you enjoy the beach, or head to Castillo de San Gabriel, which used to be the main castle protecting Arrecife from pirates. There's a walkway back from the castle to the island, and it certainly looks impressive (the other castle to protect Arrecife from pirates was built of wood in 1573, but was burnt down a few years later, by pirates…).
And then it's time to refuel and to moor up the boat one last time. Hopefully you've had a wonderful time in the sunshine, both on-board and exploring the islands, and you're returning home with better friends than you arrived with. Enjoy one more night in Arrecife, and have a safe flight home. Come to PlainSailing.com when you're ready to start planning your next adventure. See you online soon :)

---
Sailing Conditions
 WHAT ARE THE WINDS LIKE?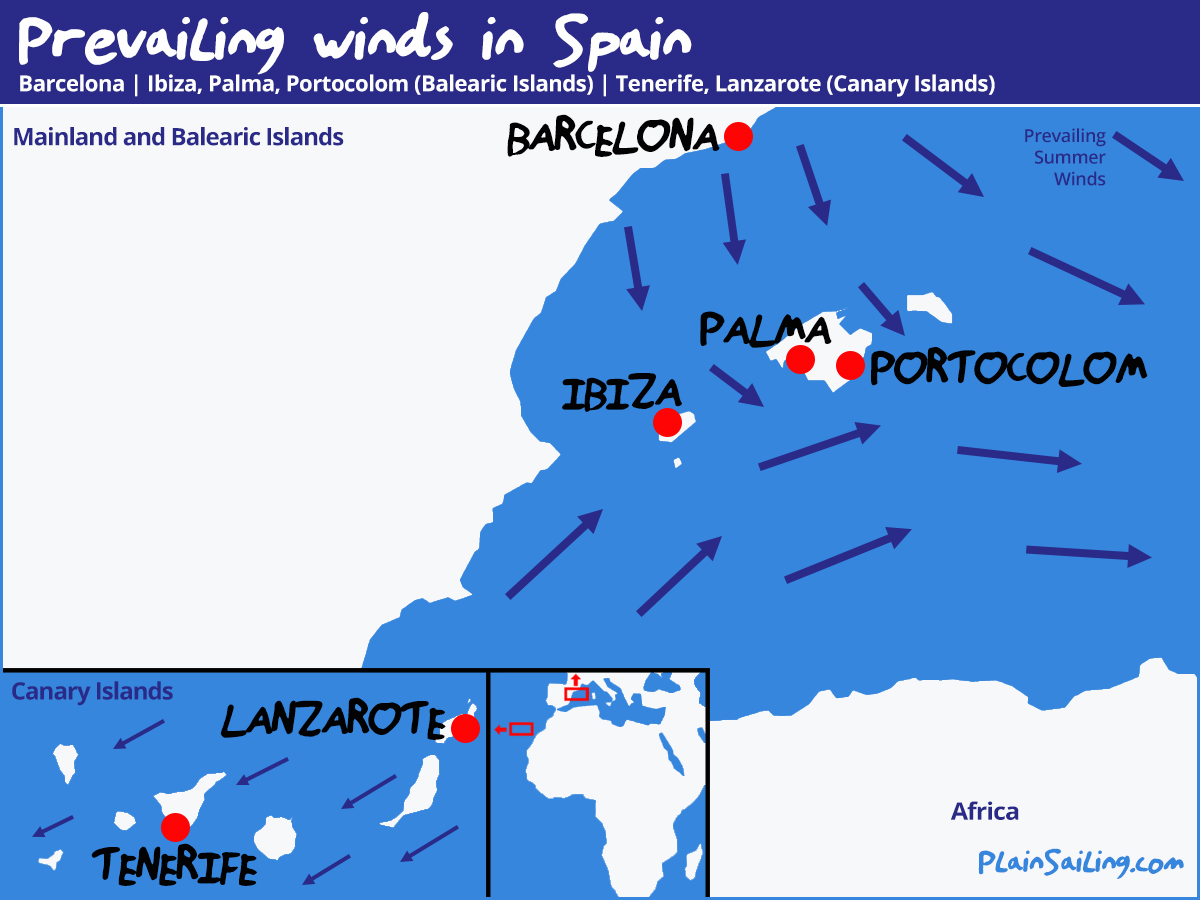 The prevailing winds in the Canaries arrive from the north-east, and are part of the wider trade winds that sailors have been using for centuries to get across the Atlantic (which is why so many transatlantic crossings, including the ARC, start from the Canary Islands).
The winds are reliable pretty much all year long, which make getting around by boat quite quick and easy. Be aware that there are spells when they will be quite strong – which, coupled with the boisterousness of the Atlantic seas and the tidal waters means that this is a challenging (and exciting) sailing area that we'd recommend for intermediate sailors and above.
 HOW HOT WILL IT BE? 

Lanzarote sells itself as a place where you can go sailing all year round, and the temperatures stack up – it's as warm and sunny in the middle of winter as Northern Europe (like the UK) is during summer, so whenever you arrive, you won't need a heavy jacket. The island is at its hottest in August and September, when you'll be glad of the sea-breezes to avoid the heat.
 HOW WARM IS THE SEA? 


The main complication with the sea is that it is tidal (which requires extra thinking when planning your sailing) – it is warm enough to swim in all year round. At its coldest, the sea around Lanzarote is 18 degrees, which is a little on the fresh side, but still very much bearable for a plunge. In June to November, the water hits a very pleasant 21 or 22 degrees, inviting and warm temperatures which are roughly in line with the temperature you'll find in your local swimming pool.
---
Marina Details - Marina Lanzarote
Marina Lanzarote is a brand new purpose-built marina built within walking distance of Arrecife, the capital of Lanzarote island. It has all the mod cons, including an array of fancy boutique shops and multiple bars and restaurants (including a Burger King!). Everything is new and shiny.
If you're looking for somewhere to spend the night near-ish to the marina, then we recommend the El Charco Aparthotel hotel.
WEBSITE:
caleromarinas.com
|
ADDRESS:
Marina Lanzarote, Capitanía Av. Olof Palme, Lanzarote, 35500
GETTING THERE: Marina Lanzarote is based in Arrecife, and is just a ten minute taxi from the main Lanzarote airport - we can help arrange a private transfer. If time is on your side, you can also take the #23 bus from the airport, which eventually winds its way past the marina.
FUELLING AT END: There's a fuelling berth in Marina Lanzarote, so head there before returning your boat on the final day.
Loading Map Co-ordinates...
---
---
WHAT NEXT? Use the pink box to search for yachts or catamarans with LIVE pricing & availability - if you have any other questions or requests, get in touch via Live Chat, the Contact Form, or by phone.