Why Book With Us?
Simple, straightforward process
Outstanding customer service
Friendly UK-based team
Pre-order food, kit or WiFi onboard
Join Our Mailing List
Yacht & Catamaran Charter in Dubrovnik, Croatia
Looking to sail from Dubrovnik? Search to find and book your ideal boat, or read everything you need to know: prevailing winds, where to sail, how to get there and more!
READY TO BOOK!
All our yachts have REAL-TIME pricing & availability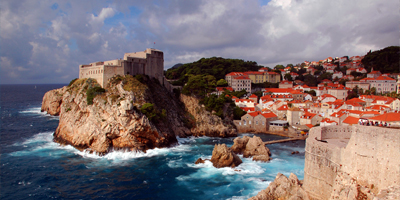 Dubrovnik is a beautiful town which is now a UNESCO World heritage site and the unofficial home of the Game of Thrones (which is filmed here), but it's also a brilliant place to set sail from. The reliable sunshine and prevailing winds make it easy to skip up and down the Dalmatian coast, stopping at cute villages and secluded bays along the way.
There's natural beauty, grand palaces, award-winning vineyards, impeccable tavernas and more to explore, and plenty of great places to throw down the anchor and take a dip in the warm sea.
Be aware that Dubrovnik is a very popular place to sail from, and yachts and catamarans are usually fully booked for the peak season, so don't delay - whether you're looking to charter with a skipper or bareboat, on a Yacht or a Catamaran, we can find you a great option, with 5-star Customer Service as standard!
---
---
10
---
Sailing from Dubrovnik
The Dalmatian coast in general offers an outstanding (and beautiful) playground for a sailor. There are clear blues seas, reliable winds and dependable sunshine, and many off-shore islands to explore. From fishing villages, coastal castles, secluded bays, and lavish marinas, there really is something for everyone here.
From Dubrovnik, Sipan and Polace make natural destinations to get away from the crowds and find your own private beach.
Top 3 things to see
Check out our 6-day itinerary below, or if you're planning your own itinerary, here's our top 3 places to visit in the area: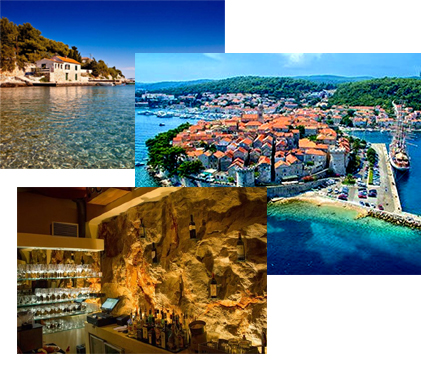 Sipan (14 nM from Dubrovnik)
One of the Elaphiti islands which are north of Dubrovnik and a little off the beaten track. All the islands offer stunning scenery and pristine beaches, but the rocky coast of Sipan is the place to head if you're into snorkelling and gawping at colourful fish.
Korcula (52 nM from Dubrovnik)
An ancient walled town that is smaller and more remote than Dubrovnik, but just as beautiful. With its narrow streets and impressive marble architecture, plus surrounding countryside laced with olives, figs and vines, Korcula is a joy to behold. It makes you wonder why famous explorer Marco Polo (born here in 1254) ever left…?
Trstenik (41 nM from Dubrovnik)
Croatia isn't somewhere you'd normally associate with wine, but their local Plavac Mali red wine is very drinkable, and the grapes involved can only be grown along the Croatian coast. Head to Trstenik to observe the famous Grgic winery and try free samples!

Suggested 6-day itinerary
Dubrovnik is a brilliant place to go sailing, so good choice! From this itinerary, you'll see mountains, lakes, beaches and bays, plus islands, cliffs, caves and super-cute villages a world away from the hustle and bustle of the big city.
This has been designed as a 6-day itinerary because you might not get to the boat until late on the Saturday, and after getting food and drinks on board and briefing the crew, there's often not enough time to get the boat out beyond a quick tour of the sea nearest the marina.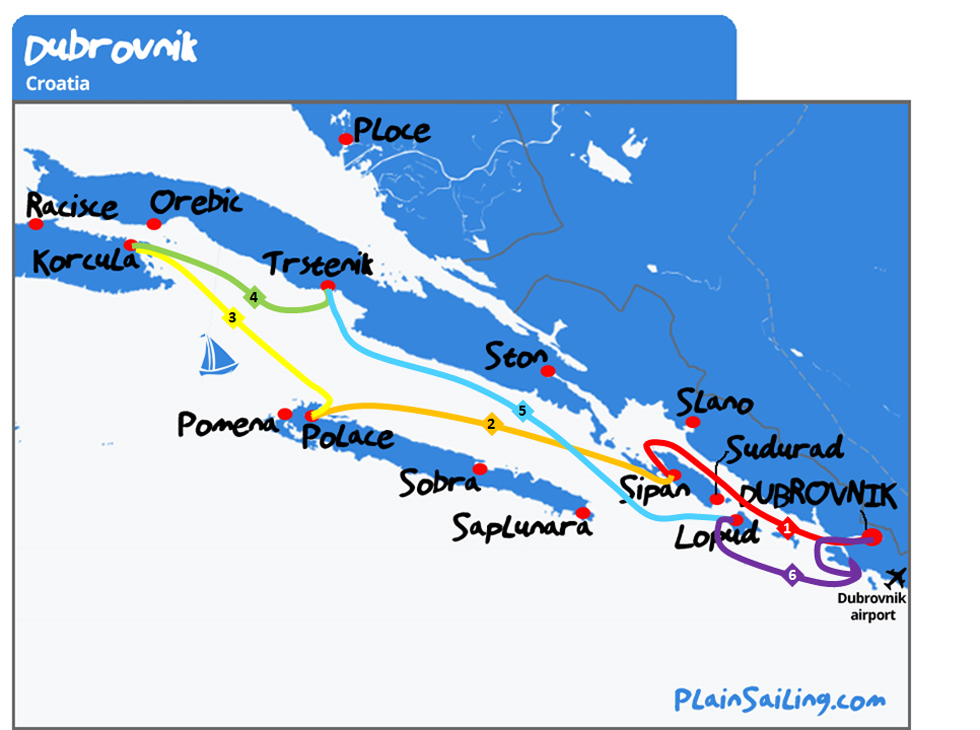 In total, our voyage will be around 116 nautical miles, which means an average of just under 20 nM a day – with the longest day being 28 nM. In a yacht you should be able to make about 5 knots (Nm/hour), so we're talking about 3-5 hours of sailing time a day, which should leave ample time to explore the places where you start and stop, to nip into cute looking bays for lunch, or to throw down the anchor so you can have a swim. You'll return to Dubrovnik next Friday evening, so if you haven't been to explore it yet, there is still time.
Day 1. Dubrovnik to Sipan – 18 nM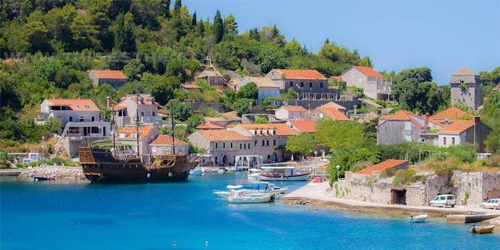 Once you've completed all the check in procedures and got your crew warmed up and ready to go, then we can start to make way. By now you will've realised that the marina is a fair way from Dubrovnik old town, but we have plans to visit it by yacht on the last day, as it is an iconic sail.
From Dubrovnik, you need to beating into the wind (the prevailing wind for the summer season is a south-westerly from the sea to the shore. Once out of the channel, bear north-westerly and follow the coast, admiring the landscape (and expensive houses) along the way. Our first port of call is Sipan, on the island of the same name.
Sipan is notable for both its exceptional unspoilt beaches and its snorkelling, with a pretty old town and very welcoming locals.
Day 2. Sipan to Polace – 22 nM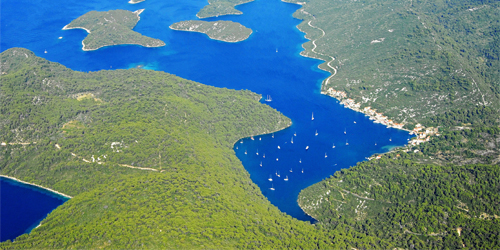 From Sipan, wind your way through the smaller Elaphiti islands, point your bow in a West-north-westerly direction, and your destination, Polace, should be about on the nose of your boat. It's not very technical sailing, and there's cliffs on either side of the channel (so nowhere to swim), so if you wanted to make things more exciting, today is a good day to practice some man overboard manoeuvres. In any case, things get more interesting sailing-wise when you approach Polace, as there's a number of small islands to keep you on your toes.
Polace is a naturalist's dream – it is part of a national park and conservation area, so the whole area is full of lush vegetation and is a haven for wildlife. It's a tranquil and serene place to spend the night, and there are some nature trails to be explored and a beautiful lake to be discovered if you have the time. The name 'Polace' is derived from the Italian word for palace, so called because there used to be a magnificent building overlooking the bay (from 100 to 600 AD). Unfortunately, the palace has long since disappeared, but you can still explore its ruins.
During the summer season, the local town includes a couple of bars and a restaurant to help to keep your spirits up, but the population dwindles to below fifty people in the winter.
Day 3. Polace to Korcula – 17 nM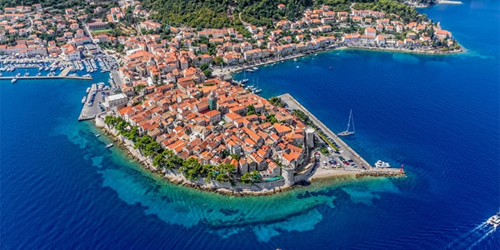 From the apparent jungle of Polace, we're heading to the idyllic island town of Korcula. If you've seen any pictures, you'll be pleased to know that the town is as mesmerising in real-life as it is in the photos – with the whole town seemingly crammed onto an island which juts out into the sea. The voyage itself is a straight-forwards island hop across the prevailing summer wind, and Korcula is basically the next major island to the North-west of Polace.
Korcula is an ancient Greek town, which has developed over the years, gaining fortifications and a giant wall along the way. There are crazy atmospheric narrow steets and stacks of architecture to be admired, including the Cathedral of Saint Mark, which has an interior lined with works of art from Italian masters, collected from when it was part of the Venetian empire. The town is perhaps most famous for being the birthplace of the great explorer (and sailor) Marco Polo, who was one of the first Europeans to find China (and certainly the first one to document his travels) and the book he wrote helped to inspire a certain Christopher Columbus. You'll find a plaque that marks his birthplace in the old town.
Aside from Marco Polo, Korcula is the home to some fine wine and olive oil, and the figs here are supposed to be the best figs in the whole of Croatia.
Day 4. Korcula to Trstenik – 13 nM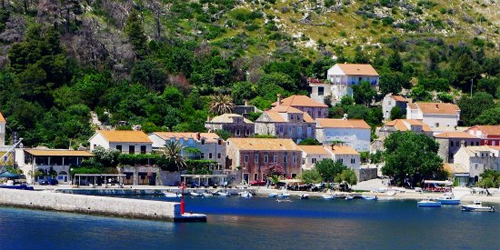 Sailing out of Korcula, it's strange to think that you're following in the footsteps of Marco Polo, who himself would have left the same marina many years ago. It actually doesn't take too much imagination to wonder what it would have been like for him, because the surrounding islands and coastlines are still undeveloped, so they must be pretty much the same as they were for Mr Polo.
Leaving Korcula, it's time for a change of direction and another island, which is only 13 nautical miles away. Bearing pretty much due East takes you to Trstenik. It's a small town which is technically on a peninsular from the mainland, but it has the look and feel of a small fishing village.
As it's only a short sail today, you'll pass a couple of bays on the port side where it is possible to stop for a quick dip, or you can head straight to Trstenik to enjoy what it has to offer. Trstenik is the main town in one of the key wine regions in Croatia and there's a number of local vineyards – including the famous Grgic winery – where you can indulge in sampling the local produce. The most well-known wine from the region is a Plavac Mali, which is very, very drinkable.
Day 5. Trstenik to Lopud – 28 nM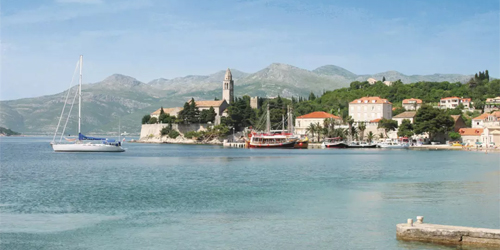 The longest sail of the week is from Trstenik to Lopud, at 28 nM, and taking you back past Polace and Sipan. Follow the coast in a South-easterly direction, going across the prevailing summer wind, which should mean you can eke out a good few knots from the ship.
Lopud is covered with pine trees and has a delightful sandy beach. Some people say it's the most beautiful island in Croatia, but it's hard to say – there are so many beautiful islands. Despite being so close to Dubrovnik, it has traditionally been an island that was frequented only by the local aristocrats, so it is never crazy busy, even in the peak season, and you shouldn't feel as though you have to elbow your way through crowds in the town. There's no cars here, and if you can't relax here, you can't relax anywhere.
Restaurants-wise, you should be able to find what you're looking for in Lopud, and there's a good mix of bars to help the evening go serenely.
Day 6. Lopud to Dubrovnik – 18 nM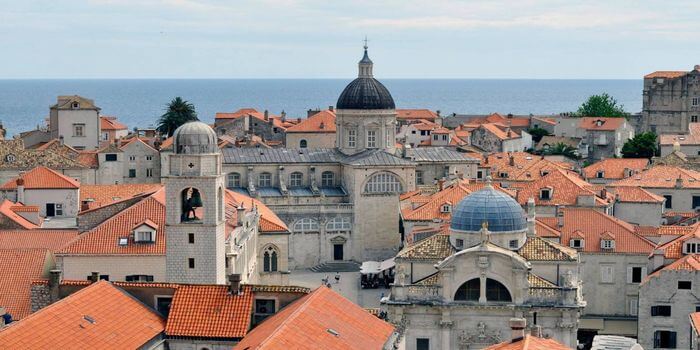 And so to the final leg of the voyage. Sad face. From Lopud, it's only a short sail back to the marina in Dubrovnik, running inland pretty much with the prevailing wind, but it would be a shame to come all this way without seeing Dubrovnik itself from the water, even if you only stop in the harbour long enough to turn around. Dubrovnik was built by sailors, and it's only by entering the harbour properly – by sea – that you can begin to understand and appreciate it's magnificence – it's towering walls, the giant superstructures, and it's olde worlde narrow stone streets and towers – so we'd recommend sailing South-east from Lopud and entering the main harbour.
Don't worry if it suddenly feels like you've stepped back in time - Dubrovnik is one of the key filming locations for Game of Thrones, and they sometimes dress up the whole city for filming!
After drinking in the atmosphere in Dubrovnik – and getting the same feeling as thousands of other sailors have had down the years – it's time to head back around the headland and inland to the marina. You should aim to be back in the marina before 5pm so that the boats can be inspected ready for the changeover day tomorrow.
Hopefully you will have enjoyed a fun week, taking in some fine views and really enjoying the sun, sea and sailing, but also enjoying the company of your crew – you'll likely miss them when you are sat at work next week *sigh*
Enjoy your last night in Dubrovnik, have a safe trip home, and then we'll see you soon on PlainSailing.com to start planning your next adventure!
---
Sailing Conditions
What temperature will it be?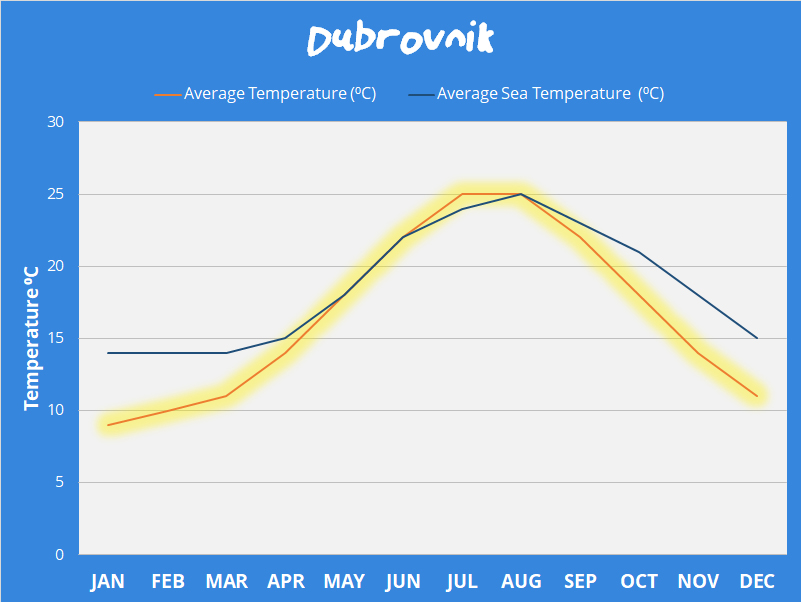 The summer in Dubrovnik lasts from mid-April to late September - which roughly coincides with the sailing season and means you should get warm sunny days when you are out and about on the boat. At the height of summer, in August, temperatures can reach the low 30's, but with wind in your hair, you shouldn't need air conditioning.
In winter, whilst temperatures do drop, it's still very rare to see frost, snow or ice in Dubrovnik, and the you aren't likely to see many locals wearing thick, heavy coats.
 
How warm is the sea?
The sea around Dubrovnik is actually hotter than the air for much of the year. The start of the sailing season will see sea temperatures of around 15 degrees, which is a bit on the cold side for most people, but temperatures quickly rise to a comfortable 20 degrees in June, and by August, the sea will be about the same temperature as a swimming pool – making jumping straight in off the boat seem like a brilliant idea.
 
What is the wind like?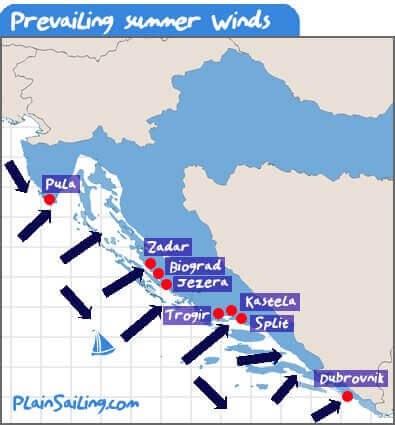 During the summer sailing season, the winds are pretty much driven by the sun, as it is the sun, heating the land, which causes cooler air to be pulled in off the sea.
Along the whole of the Adriatic coast, the wind flies towards the land, which, for Dubrovnik, means it arrives from the South-west.
Winds are usually between Force 3 and Force 6 – which are ideal sailing winds - and the hotter the sun is, the stronger the wind. Oddly enough, you'll find that winds rise between 9am and mid-day, then there's a few hours lull (the local sailors say that the wind has 'gone to lunch'), before picking up stronger from around 2pm to 6pm. At night, there's light breezes back towards the sea as the air cools, or no breeze at all.
Outside of the sailing season, winds can arrive in any which direction, and at unreliable speeds – they can be strong and brutal winds from the mountains, icy winds from across Russia, tropical storms from across the Mediterranean, or gentle breezes from Italy. Most weather systems pass in a few days though, and it makes for some challenging sailing.

 
What is the Current Weather in Dubrovnik?
If you're off sailing in a couple of days, you might be interested to know what the 7 day forecast is - our handy widget below should give you a good idea, though once you're out there we recommend using windguru.cz. 
---
Our Guide to Dubrovnik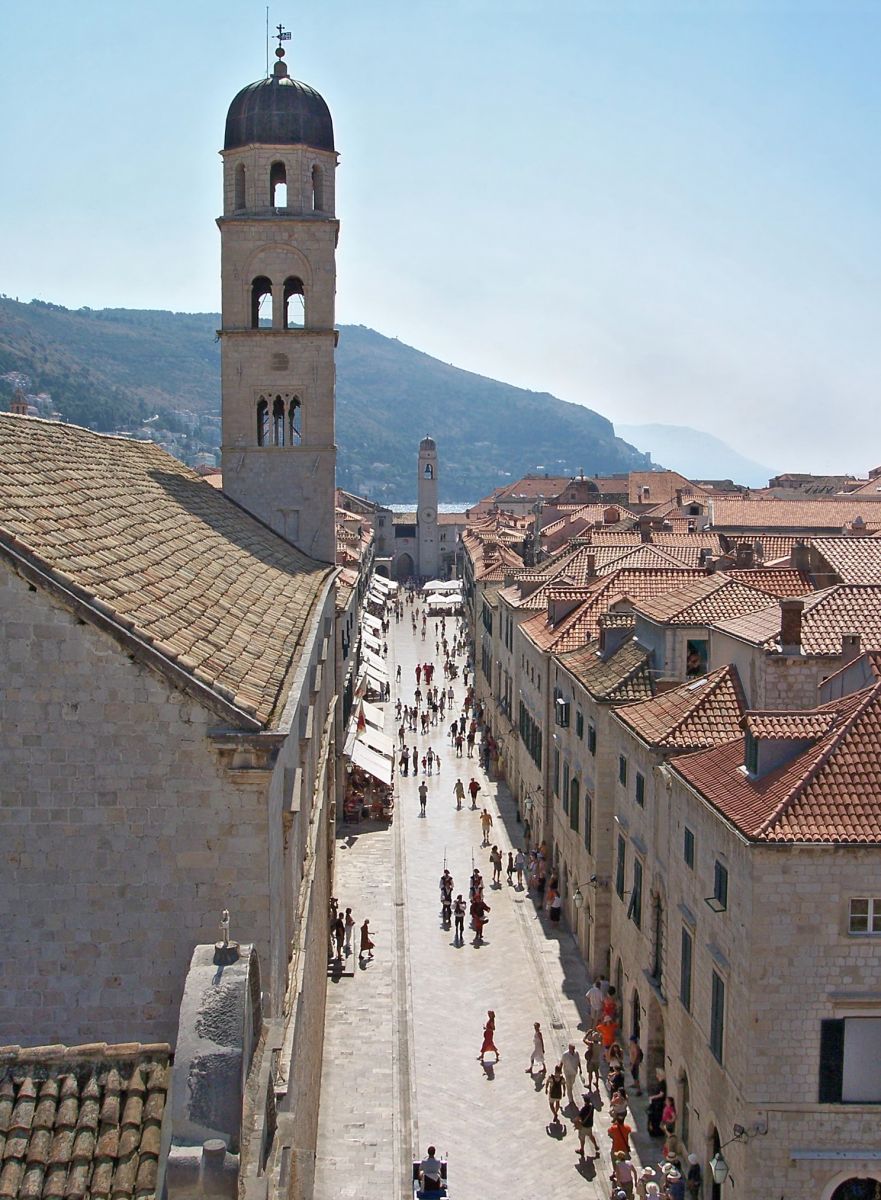 It is worth visiting Dubrovnik to see the delightful walled UNESCO world heritage site old town and stunning architecture – but it is the outstanding coastline, dependable weather, impeccable hotels, long white beaches, and diving and snorkelling grounds which tempt many holiday makers to the city.
As one of the prettiest cities in the Mediterranean, Dubrovnik has long been a place to see and be seen (it became very famous with celebrities in the 1970's, but Popes have been visiting the city for many years), and it remains the most popular place to visit in Croatia – and one of the main stops for cruise liners.
Dubrovnik is most famous for ancient stunning architecture, coupled with delightful piazzas from which to sit and enjoy the view – and it genuinely is a joy to behold. The city also offers some idyllic beaches which scoop top awards for crystal clear seas, despite being heavily used throughout the year.
In recent times, the city has become most famous for being the home city of 'Game of Thrones' – with much of the US TV series filmed here on location. Look out for local guides who can take you to places you will recognise from the TV.

Local Events / Festivals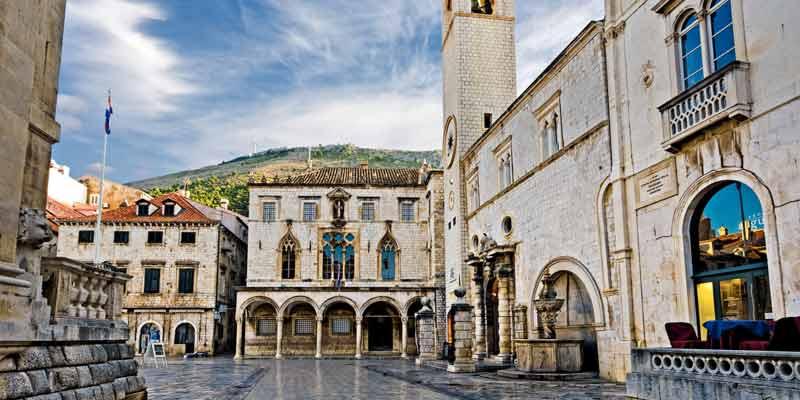 Although the New Years' celebrations are growing in importance, Dubrovnik can be a cold and lonely place outside of the summer. Thankfully, is also outside of the main sailing season, so it's unlikely you'll be in Dubrovnik either.
Eating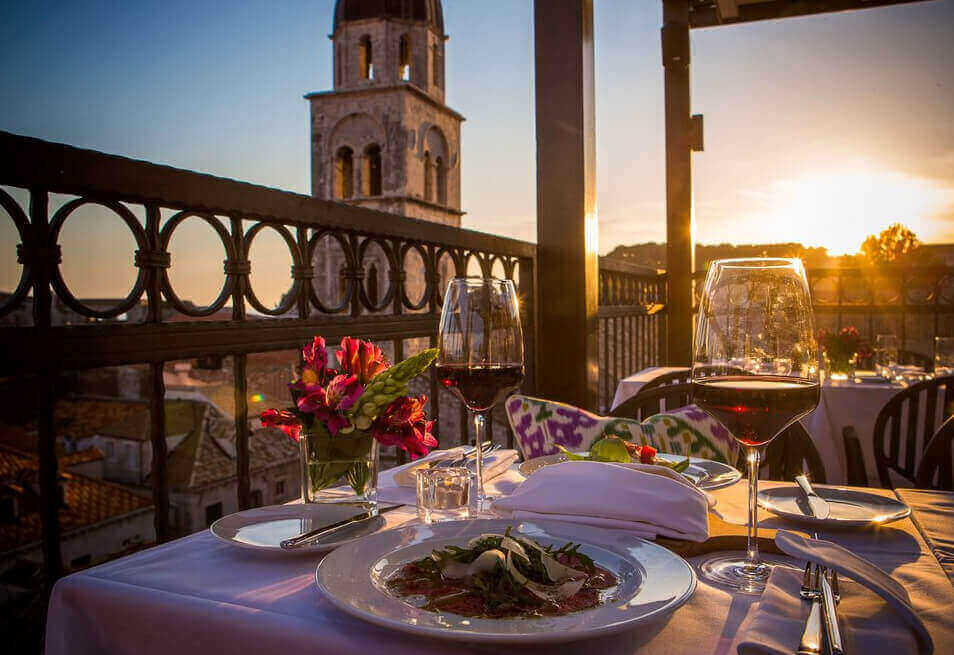 Being a major tourist town, there's plenty of options for eating and drinking, from the very cheap to the very expensive. Given the shared history, many of the local dishes have an Italian flavour about them, but you'll also be able to try more local delicacies, like frog soup. Yum, yum. Here's a few of our top picks about the town:
Above 5 – A bit lavish, and better suited to couples than a crew of rowdy sailors, but the views from this rooftop restaurant are incredible, the food is delightful, and there is no better place to be at tea-time in the whole of Dubrovnik – plus you're on holiday, and only likely to be here once…! (Od Sigurate 4, Dubrovnik 20000, Croatia)
Otto Taverna – the best restaurant for trying out the local cuisine, with a decent range of meat and locally caught fish at very reasonable prices and with a jovial atmosphere, overlooking the waterfront at the north of the city. (Nikole Tesle 8, Dubrovnik 20000, Croatia)
Vita Bella – Just outside the old town, this place will sort you out with a decent pizza in no time. Be prepared to book or to wait as Vita Bella is also popular with the locals (Bana Josipa Jelachica 37, Dubrovnik 20000)
Restoran Vimbula – If you don't have the energy or the inclination to head into town (but you really should do at least once!), then this is the best restaurant within a (very) short walk of the marina. It serves fresh fish and calamari amongst other treats, is in a fine spot overlooking the river, and is usually crammed with fellow sailors (Tenturija bb, Mokosica | Tenturija 55, Komolac 20236)

Nightlife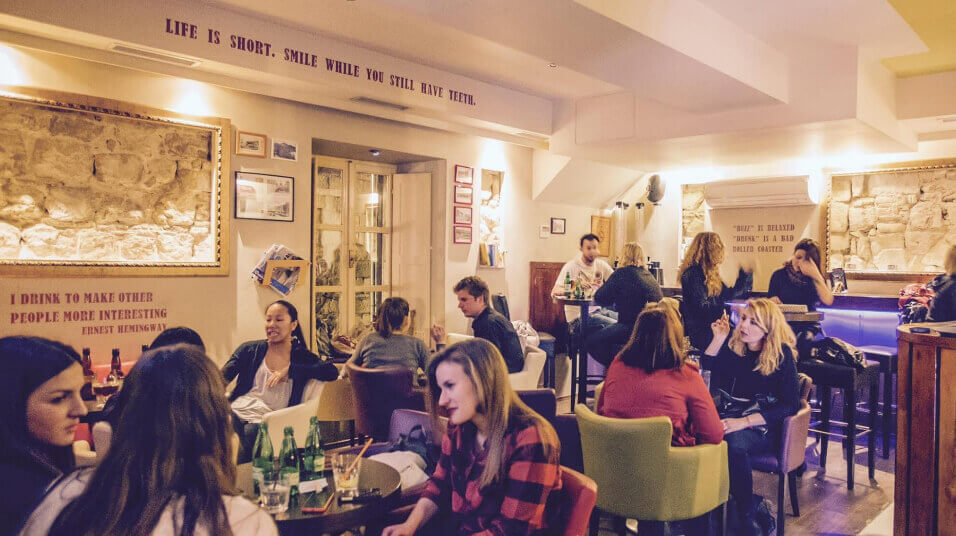 Dubrovnik old town's narrow streets are full of small bars and restaurants which can help you while away the hours and put the world to rights, and there's a cosmopolitan and international air about the place once darkness descends. The city is perfectly suited for strolling around and stumbling across nightlife, but if you're the sort of person who likes to plan, here's a few of our favourite haunts:
Buzz Bar – a laid back bar which is usually full of holidaymakers having fun, and isn't too expensive. It's a great place to sit back and watch the world go by (Prijeko 21, Dubrovnik 20000)
D'vino – if you're a wine connoisseur, or even if you're not, this wine bar and cellar is the place to come to sample the best wines that Croatia has to offer. (Palmoticeva 4a, Dubrovnik 20000)
Beer Factory – if you want more than Karlovacko or Ozujsko beers, then the Beer Factory will help you get a taste of what the local craft brewers have been getting up to. It's a friendly place, and they almost certainly have the right beer for you – you just have to find it! (Miha Pracata 6, Dubrovnik 20000)
Revelin – the best nightclub in Dubrovnik, and one which regularly gets world class DJ's and is ranked #49 in the world by DJ magazine! Being Dubrovnik, it's not just any old club – it's an historic 16th century stone tower with three different dance halls, each pumping with energy after about midnight (Sv.Dominika 3, Dubrovnik)

Places to Stay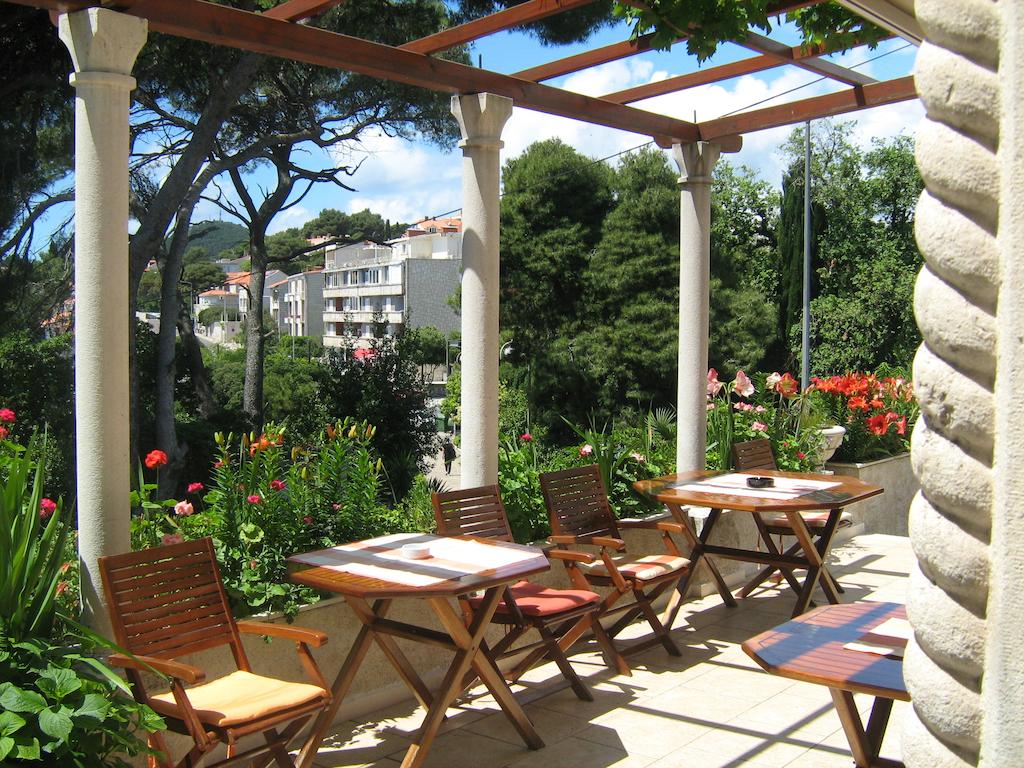 If your flights don't land or take off on a Saturday, you might need a place to stay in Dubrovnik. Because of its beauty, some rooms in the old town can set you back over £400 a night, but more affordable options are available, including the hotels we recommend below. One of these is also near the marina...
House Boninovo *** - c. £60/ night for a double room in this excellently located hotel near the old town of Dubrovnik. It prides itself on providing an excellent breakfast for even the heartiest sailor.
Hotel Vimula - c. £80/night for a double room. This is the closest hotel to the marina, which makes it super-easy for getting to the boat at the start of the week, or off it at the end. Well rated, and breakfast is included.
---
ACI Marina, Dubrovnik
The main ACI Marina in Dubrovnik is 6km (which translates into a decent hour-long coastal walk or a short (and cheap) fifteen minute taxi ride) away from the stunning Dubrovnik city centre, which has an Old town which is, in its entirety, a UNESCO world heritage site, and a major tourist destination.
The 380 berth marina was voted 'best marina in the Adriatic' for 2010-12 and features not just the usual restaurants, bars, and shops, but a swimming pool, football and tennis courts, hairdresser and bureau de change.
| | |
| --- | --- |
| Website: | www.aci-marinas.com |
| Long / Lat: | N 42° 40' E 18° 7' |
| Telephone: | 0038 59839 8813 |
| Fax: | 0038 52045 1922 |
| Email: | m.dubrovnik@aci-club.hr |
| VHF: | Channel 17 |
| Berths: | 380 |
| Facilities: | Bottled gas, Electrical supply, First aid, Fresh water, Fuel: Diesel, Fuel: Petrol, Internet café, Laundry facilities, Parking, Pub / Restaurant, Shop / Supermarket, Showers, Swimming Pool, Toilets, Tennis Court, Telephone, Trolleys, Visitors berths, Wi Fi |
Address:
ACI Dubrovnik, Na skali 2, 20236 Mokošica-Komolac, Dubrovnik
Getting there:
Dubrovnik's Cilipi airport is about 15 miles away from the Marina - on the other side of Dubrovnik. The easiest way to get to the Marina is to organise a transfer in advance, which we can help to arrange for you.
For charterers on a budget, there are regular buses from the airport to Dubrovnik bus station near the Old Town, and from there you can get the 1A or 1B bus to the Komolac (where the marina is).
Provisioning:
The biggest supermarket in the area is the Konzum which is located just outside the marina and which basically exists to keep sailors well supplied with all the essentials. The address is actually in the marina
ACI Marina, 20236, Komolac, Croatia
Fuelling at end:
There is a fuelling berth in the Marina - head there before you head back to your home berth (there might be a queue...)
Loading Map Co-ordinates...
---
Getting to the Marina
Dubrovnik's Cilipi airport is about 15 miles away from the Marina - on the other side of Dubrovnik. The easiest way to get to the Marina is to organise a transfer in advance, which we can help to arrange for you.
For charterers on a budget, there are regular buses from the airport to Dubrovnik bus station near the Old Town, and from there you can get the 1A or 1B bus to the Komolac (where the marina is).


This page last updated: March 2019
We do our best to keep this information as up-to-date and accurate as possible, but obviously we can't be everywhere at once. If you are aware that any information on this page is incorrect, please let us know by emailing marina@plainsailing.com.
---
---