Find a Yacht
No need for quotes - search now for boats with LIVE pricing and availability
Why Book With Us?
Simple, straightforward process
Outstanding customer service
Friendly UK-based team
Pre-order food, kit or WiFi onboard
Never beaten on price!
Join Our Mailing List
Yacht & Catamaran Charter in Dubrovnik, Croatia
Looking to sail from Dubrovnik? Search to find and book your ideal boat, or read everything you need to know: prevailing winds, where to sail, what to see, where to eat or sleep, how to get here and more!
READY TO BOOK!
ALL our yachts have REAL-TIME pricing & availability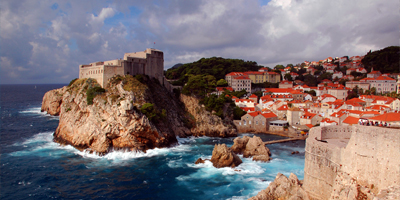 ---
---
Our Guide to Dubrovnik
Dubrovnik Marina
The main ACI Marina in Dubrovnik is 6km (which translates into a decent hour-long coastal walk or a short (and cheap) fifteen minute taxi ride) away from the stunning Dubrovnik city centre, which has an Old town which is, in its entirety, a UNESCO world heritage site, and a major tourist destination.
The 380 berth marina was voted 'best marina in the Adriatic' for 2010-12 and features not just the usual restaurants, bars, and shops, but a swimming pool, football and tennis courts, a swimming pool, hairdresser and bureau de change.
Dubrovnik
It is worth visiting Dubrovnik to see the delightful walled UNESCO world heritage site old town and stunning architecture – but it is the outstanding coastline, dependable weather, impeccable hotels, long white beaches, and diving which tempt many holiday makers to the city.
As one of the prettiest cities in the Mediterranean, Dubrovnik has long been a place to see and be seen (it became very famous with celebrities in the 1970's, but Popes have been visiting the city for many years), and it remains the most popular place to visit in Croatia – and one of the main stops for cruise liners.
Things to see and do
Dubrovnik is most famous for ancient stunning architecture, coupled with delightful piazza's from which to sit and enjoy the view – and it genuinely is a joy to behold. The city also offers some idyllic beaches which scoop top awards for crystal clear seas, despite being heavily used throughout the year.
In recent times, the city has become most famous for being the home city of 'Game of Thrones' – with much of the US TV series filmed here on location. Look out for local guides who can take you to places you will recognise from the TV.
Local Events / Festivals
If you know of, or would like to advertise, an event, please let us know at marina@plainsailing.com
Eating and Drinking
Coming soon... :)
Your Recommendations
No recommendations yet – if you have a recommendation for a place to drink, eat or visit, that you know others will love too, please email it to marina@plainsailing.com! :)
Where to Sail
The Dalmatian coast in general offers an outstanding (and beautiful) playground for a sailor. There are clear blues seas, reliable winds and dependable sunshine, and many off-shore islands to explore. From fishing villages, coastal castles, secluded bays, and lavish marina's, there really is something for everyone here.
From Dubrovnik, Sipan and Kolucep make natural destinations to get away from the crowds and find your own private beach.
Your Recommended Journeys
Where have you set sail to from Dubrovnik? Email us at marina@plainsailing.com
Marina Details
| | |
| --- | --- |
| Website: | www.aci-marinas.com/aci_marina/aci-dubrovnik/ |
| Address: | ACI Dubrovnik, Na skali 2, 20236 Mokošica-Komolac, Dubrovnik, Croatia |
| Long / Latitude: | N 42° 40' E 18° 7' |
| Telephone: | 0038 59839 8813 |
| Fax: | 0038 52045 1922 |
| Email: | m.dubrovnik@aci-club.hr |
| VHF: | Channel 17 |
| | |
| Walk-ashore berths: | 380 |
| Rates: | |
| | |
| Facilities: | Bottled gas, Electrical supply, First aid, Fresh water, Fuel: Diesel, Fuel: Petrol, Internet café, Laundry facilities, Parking, Pub / Restaurant, Shop / Supermarket, Showers, Swimming Pool, Toilets, Tennis Court, Telephone, Trolleys, Visitors berths, Wi Fi |
Marina Reviews
No reviews yet – if you have a review of this marina please email it to marina@plainsailing.com
We do our best to keep this information as up-to-date and accurate as possible, but obviously we can't be everywhere at once. If you are aware that any information on this page is incorrect, please let us know by emailing marina@plainsailing.com.
Marina Map
Getting to the Marina
Loading Map Co-ordinates...
Dubrovnik's Cilipi airport is about 15 miles away from the Marina - on the other side of Dubrovnik. The easiest way to get to the Marina is to organise a transfer in advance, which cna be arranged for around 40 euros.
For charterers on a budget, there are regular buses into Dubrovnik bus station in the Old Town, for where you can get the 1A or 1B bus to the seafront.
---