Find a Boat
LIVE
Pricing & Availability
Search NOW
Yacht & Catamaran Charter in Antigua, Caribbean
We can help you find the perfect yacht or catamaran to sail from Antigua!

Sailing from Antigua
Antigua is a superb place for a sailing holiday: super-reliable trade winds traverse the Atlantic Ocean to blow across the islands to offer exhilarating sailing conditions, it's almost constantly sunny, and the seas are delightfully warm. Add in the vast range of anchorages, stunning beaches, superlative bars, tasty restaurants, some welcoming locals and outstanding rum, and you have yourself a thrilling holiday destination.
Based in the northern 'Leeward islands' of the Caribbean (warmer, drier, and better developed than the southern Windward islands), the sailing season in Antigua runs from October to June (you can charter out of season, but the 'Hurricane season' in August and September is best avoided! We can help you find and book your ideal yacht or catamaran, with one of our trusted Charter Partners - just get in touch or search in the pink box with live prices and availability!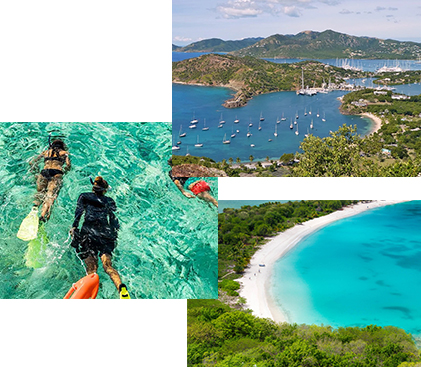 SAILING RATING: Intermediate - the trade winds offer excellent sailing conditions. Navigation is easy, but there are swells, tides and the winds arriving from across an ocean can be challenging at times – particularly when funnelled between the islands - so we'd recommend Antigua as a destination for reasonably experienced sailors. You'll also need to be comfortable on the anchor overnight.
MUST-SEE: Check out our full suggested itinerary below. We'd highly recommend taking in the wonderful UNESCO world heritage site of English Harbour, the tranquillity and wildlife of Green Island, and the outstanding beach at Deep Bay.
WHAT WE CAN OFFER: We have a great range of yachts and catamarans available for charter from our trusted Charter Partners, all available bareboat or Skippered. We can also arrange a Hostess, Personal Chef and other crew.
GETTING THERE: Our base in Jolly Harbour is about a 30 minute drive from the main VC Bird airport. We can help arrange private transfers.
WHY BOOK WITH US? We only work with the very best professional charter operators, who we have met, know, and trust to give you the same outstanding customer service as you'll get from PlainSailing.com.

WHAT NEXT? Use the pink box to search for yachts or catamarans with LIVE pricing & availability - if you have any other questions or requests, get in touch via Live Chat, the Contact Form, or by phone.

8
6-day Sailing Itinerary from Antigua
It's possible to sail from Antigua to other Leeward islands like Barbuda (31 nM away), St Kitts & Nevis (39 nM) or even Guadeloupe (44 nM), but if you're only chartering for a week, then slogging across such distances not once, but twice in six days is probably a bit much – the whole point of sailing here is to relax, pick up a Caribbean vibe, and enjoy yourself in the sunshine.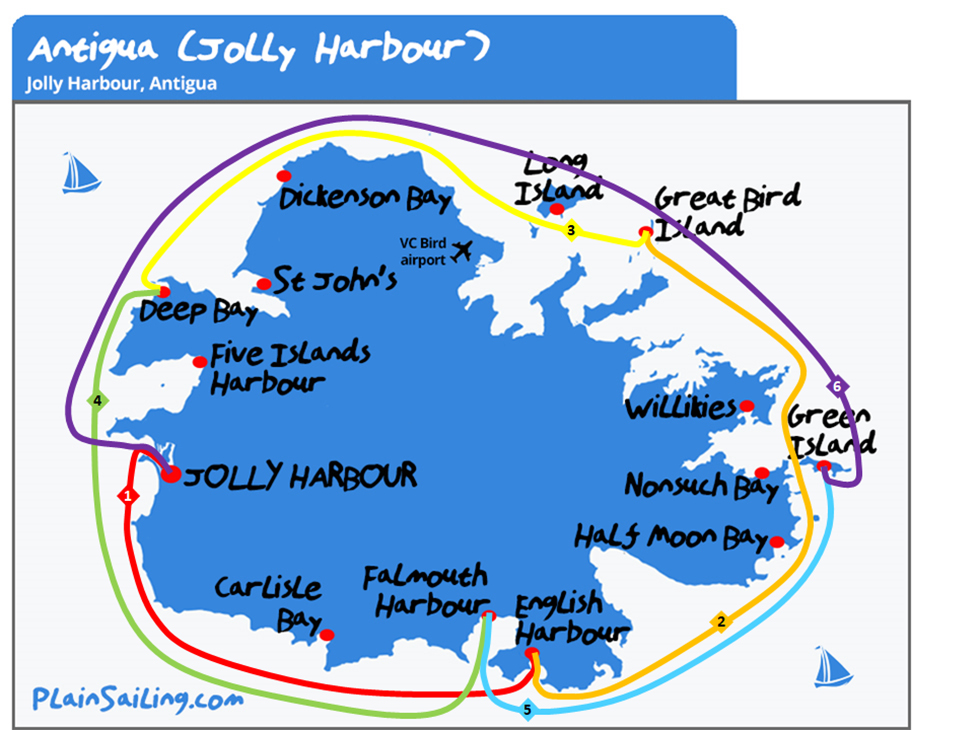 That said, circumnavigating the whole island is only around 40 nM - which is also too little sailing for a sailing holiday, particularly with such fine winds to play on – so our suggested six-day itinerary sees you sailing not once, but twice around the island, which means 81 nM of sailing, and the chance to find and explore the whole island in some depth – by the end of the holiday you'll be an expert on Antigua.
Over six days, that's an average of 14 nM of distance to cover a day, or 2-3 hours of meaningful sailing a day, which leaves plenty of time to explore your start or end points, spend time tinkering with the sails, or stopping-off for breaks at the beaches or towns along the way. It's only a six-day itinerary because you won't normally be able to board the boat until late on Saturday afternoon, and you have to return the boat to base on the Friday evening (but you can stay on-board in the marina for one last night), which means sailing from Sunday to Friday (or 6 glorious days).

Day 1. Jolly Harbour to English Harbour – 11 nM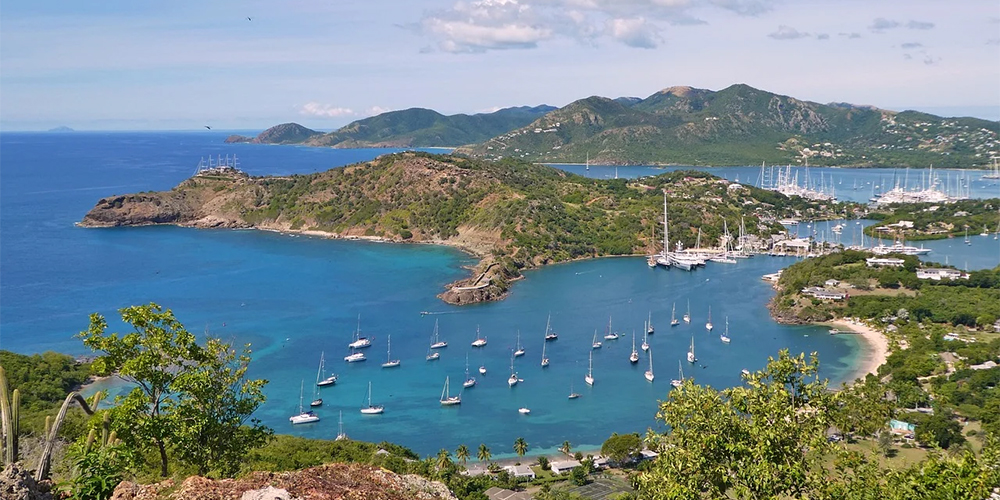 Good day, Captain, and welcome to Antigua. It's another fine day for sailing, so get the crew aboard, stow your provisions, and then let's make way. Antigua was first mapped by Columbus himself (who named it after a church in Seville) in 1493, and colonised by the English in 1632.
Nose out of the marina, then head to port and we're reaching across the prevailing winds as we head south around the island, before beating into the wind as we make our way East towards our destination for the night – the historic English Harbour. It's only a short jaunt around the island, so take your time to get familiar with the boat, check out the beach at Carlisle Bay, or do a few man overboard drills – the water is 26 degrees, so there should be no shortage of people wanting to be saved.
English Harbour, as the name suggests, was an English Royal Navy base in the 1700's, and Lord Admiral Horatio Nelson (the most famous British Seaman, and who has a statue in Trafalgar Square in London) was based here for three years when he headed up the West Indian operations. The English also built fortifications here, and the whole 'Nelsons Dockyard' area is now a UNESCO world heritage site.
One of the fortifications is Shirley Heights, which is a short walk away and offers incredible views back over the harbour area (if you know anyone that has been to Antigua, they almost certainly will have a photo of themselves here). On Sundays then there is a weekly party here from 4pm, with local Caribbean music and dance to complement watching the sunset. It makes a fine start to a superb week away.

Day 2. English Harbour to Great Bird Island – 14 nM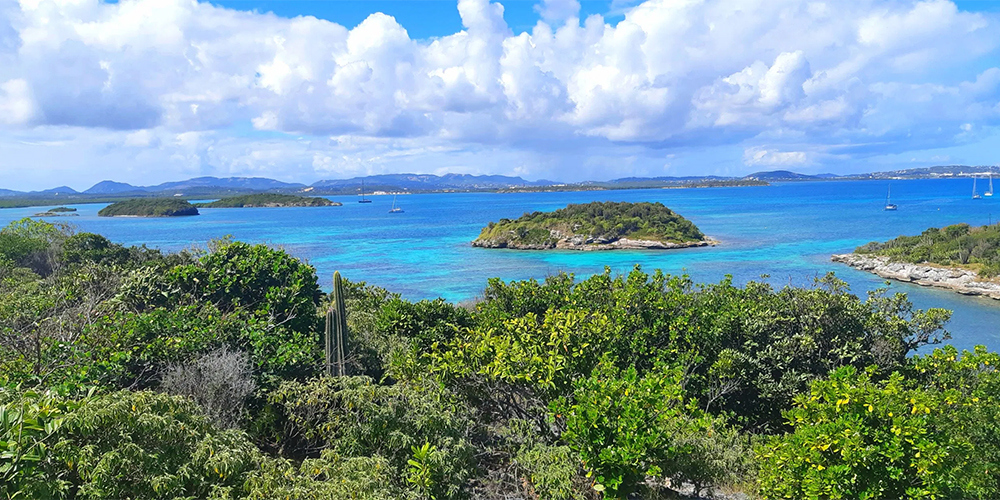 There might be a temptation to go and explore nearby Falmouth Harbour, but we're going there on the second circuit around the island, so there is no need – just relax and enjoy checking out the historic boats and boathouses nearby.
On the way out of English Harbour, you'll notice the 'Pillars of Hercules' which are the giant rock formation 'soldiers' which you'll sail past on your way back out to the Atlantic Ocean, and which are best viewed from a boat. Once past the pillars, we're bearing to port again and continuing our journey anti-clockwise around the island, tacking our way up then reaching across the prevailing wind for the majority of this leg.
After the music and dance of last night, we're seeing another side of Antigua tonight as we overnight on Great Bird Island - an uninhabited paradise island which is, as the name suggests, home to a variety of birds, including the endangered brown pelican, west Indian whistling ducks and the red billed tropicbird. It's also the only place on earth where you can spot an 'Antiguan racer' snake (and it is harmless if you do).
Great Bird Island is a bit like how you'd imagine a desert island to be, so you can imagine you're a real life Robinson Crusoe. There are some fine white sandy beaches here, and it's an excellent place to snorkel and check out the colourful tropical fish.

Day 3. Great Bird Island to Deep Bay – 12 nM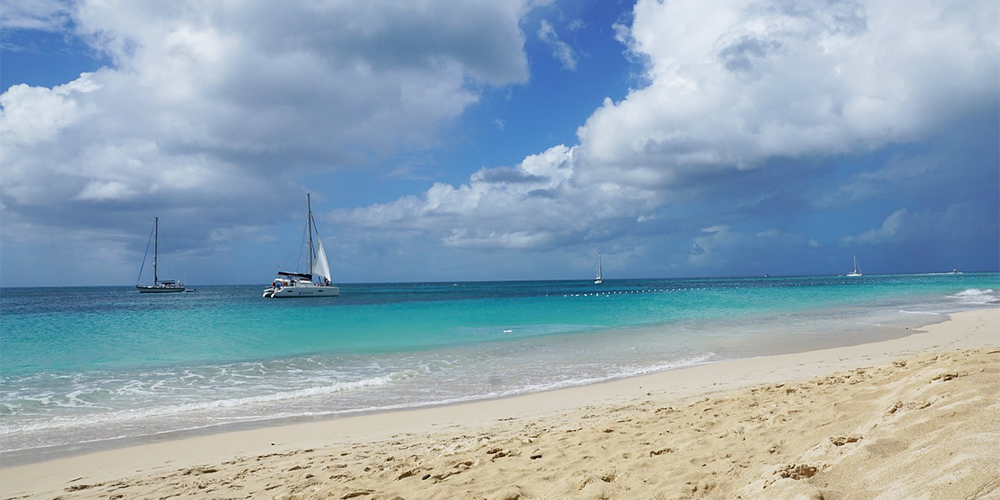 Great Bird Island is a tranquil place to spend the night, so no doubt you had a peaceful nights' sleep. Today we're starting to turn around the island, and you'll feel the wind in the back of your sails for the first time as we head past Long island (with some incredible beaches), past Dickenson Bay (with more incredible beaches, but also a sail-thru beach bar) and down to Deep Bay, near to Five Islands village, which, as you've probably guessed, has an incredible beach.
There's plenty of places to stop on the way, but I'd recommend Prickly Pear Island - which is a tiny island just north of Antigua, which is best described as paradise on earth - and St John's, the capital of the Island, which is notable for its pastel coloured buildings, Rum distillery (the only one on the island) and the Cathedral (you'll spot it), as well as plenty of high-end shops.
We're heading to the next bay down from Saint Johns, which is the sheltered Deep Bay. The beach here may well end up being your favourite beach of the holiday - it offers pristine palm-lined sands and a magnificent sunset – the only downside to it being a bit of a hidden gem is that there isn't a beach bar here.
On the northern side of the bay there's Fort Barrington, which was built in 1779 to protect the island from the French – it's a bit of a scramble to get to the ruins, but you do get a fine view out to sea and back to St John's.

Day 4. Deep Bay to Falmouth Harbour – 14 nM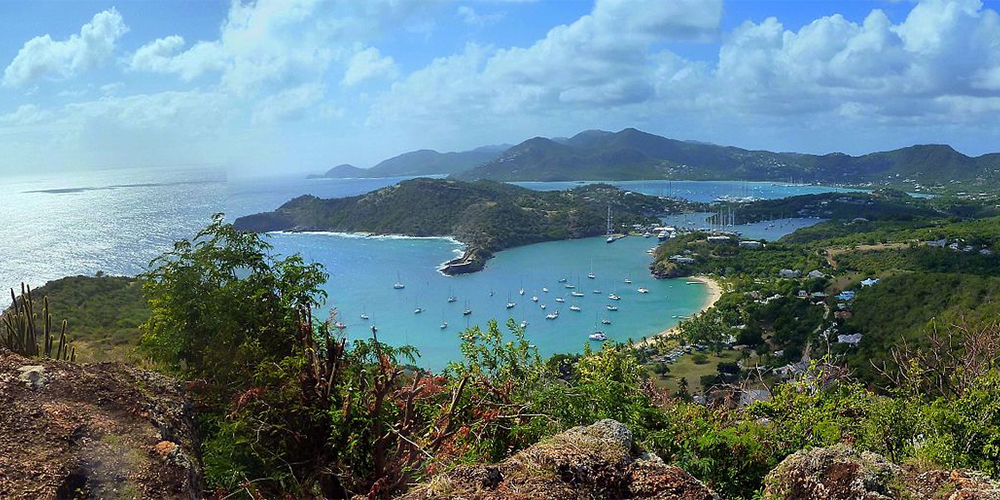 You should be getting into the habit of hopping around by now, and mastering trimming your sails as you head around the island. We're continuing anti-clockwise past Jolly Harbour to complete our first lap (you could stop to celebrate at Jolly beach, but nearby Ffryes beach and Darkwood beach are even better. Or stop at all three?) before sailing onwards to Falmouth Harbour.
As you're sailing down the coast, on your left you should be able to spot the highest point on the island (402m high) which was formerly called 'Boggy Peak' but was renamed in 2009 to Mount Obama in honour of the US president when he visited here.
Falmouth Harbour is a large natural harbour on south of the island which was the original settlement that the English founded when they arrived on the island - so the buildings here are some of the oldest. There's a good range of places to eat and drink - if you haven't yet sampled the local cuisine, then the national dish is 'Fungee and Pepperpot', a spicy meat stew that's served with polenta-style dumplings which has origins in Africa (many emancipated slaves settled here).
As on previous stops, if you climb the nearby Monks Hill (where there is also the ruins of Fort George), you'll get spectacular views overlooking the harbour below, and out to sea – on a clear day, you can see as far as Guadeloupe.

Day 5. Falmouth to Green Island – 10 nM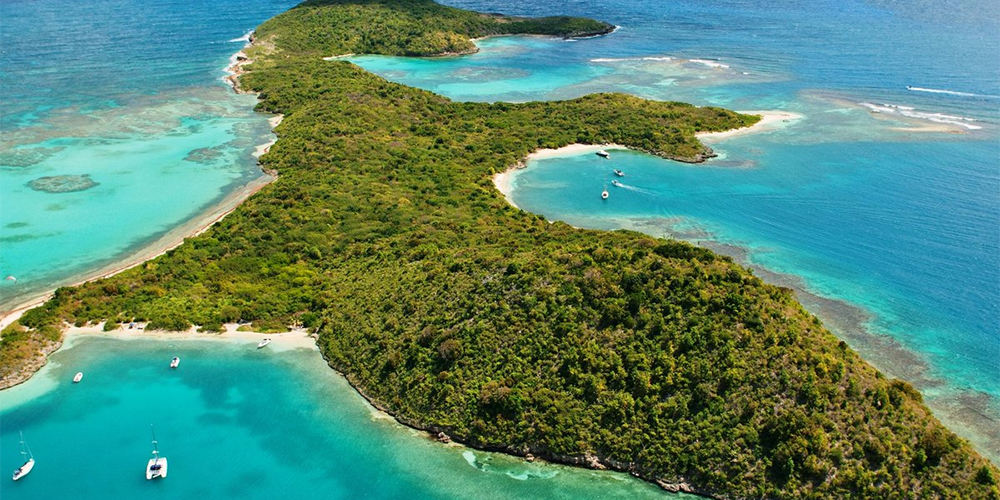 If you preferred Falmouth Harbour to English Harbour, then you are not alone - Nelson did too, and once described the latter as an 'infernal hole'!
Today is all about beauty, with the first stop being half-moon bay, a superbly beautiful crescent shaped white beach which, if you hadn't also seen some other brilliant beaches this week, would probably blow you away. Grab a rum punch and enjoy the sunshine.
And then tonight we're heading to another idyllic island for the night - Green Island is only 350m off the east coast of Antigua, but it could honestly be a world away. It's an uninhabited island famous for its white beaches, turquoise seas, and fantastic wildlife. There's coral reef here which makes for some outstanding snorkelling, and if you're lucky, you'll be able to get up close and personal with one of the local sea-turtles.
The island is also one of the best places in the world for kite-surfing.

Day 6. Green Island to Jolly Harbour – 23 nM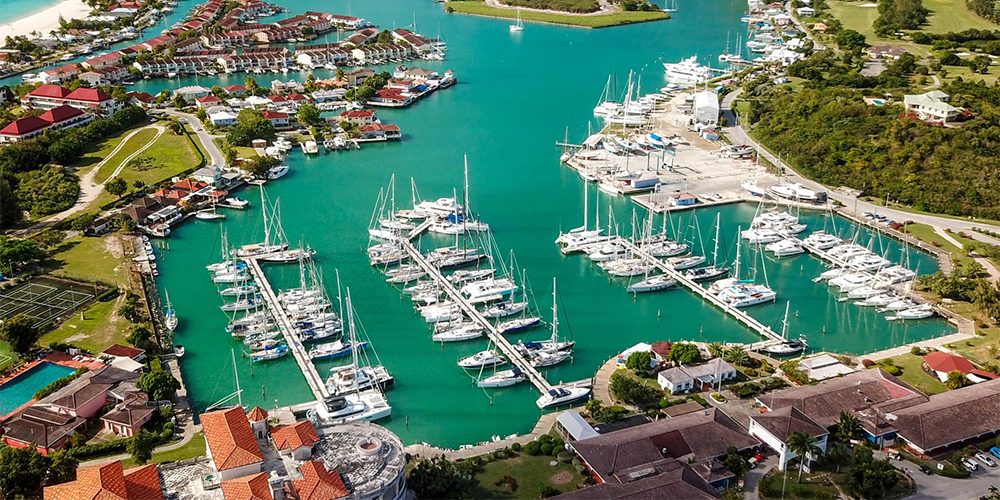 And all of a sudden it's somehow the last day of our voyage. This evening, the boat will need to be returned to Jolly Harbour, (though you can stay on it one last night before checking out on Saturday morning). How time has flown.
Whilst the last few days have been all about finding exceptional places on the islands, today is very much about the sailing – today is the longest leg on the itinerary, though at 23 nM it isn't exactly a marathon. Green island is roughly on the other side of the island to Jolly Harbour, which means you get the choice of following our itinerary northwards to complete a second lap, or you might prefer to sail back south and pop into the English Harbour area one last time. Don't forget to take a group photo whichever way you go.
Heading North means you can pop into pretty Nonsuch bay or Willikies village, visit Guiana island (which used to be owned by the fraudster Allen Stanford), or take another stop at Long island, Prickly Pear island or St John's, or wherever else takes your fancy. Then onwards, round and down to coast back to Jolly Harbour, where you'll need to refuel the boat before mooring up on last time.
If you haven't yet seen much of Jolly Harbour, then there's a few local bars and restaurants, but if you're after a livelier night then you might be better grabbing a taxi to St John's, which is only a few kilometres away. There should be plenty of other sailors out tonight who you can compare notes with and share tales of your voyage this week.
Hopefully you've had an absolutely blissful week in the Caribbean sunshine, and you and the crew have had a blast exploring the idyllic islands, beaches and anchorages that Antigua has to offer. Have a safe trip home, and we'll hopefully see you at PlainSailing.com when you are ready to plan your next adventure!
---
Sailing Conditions
 WHAT ARE THE WINDS LIKE?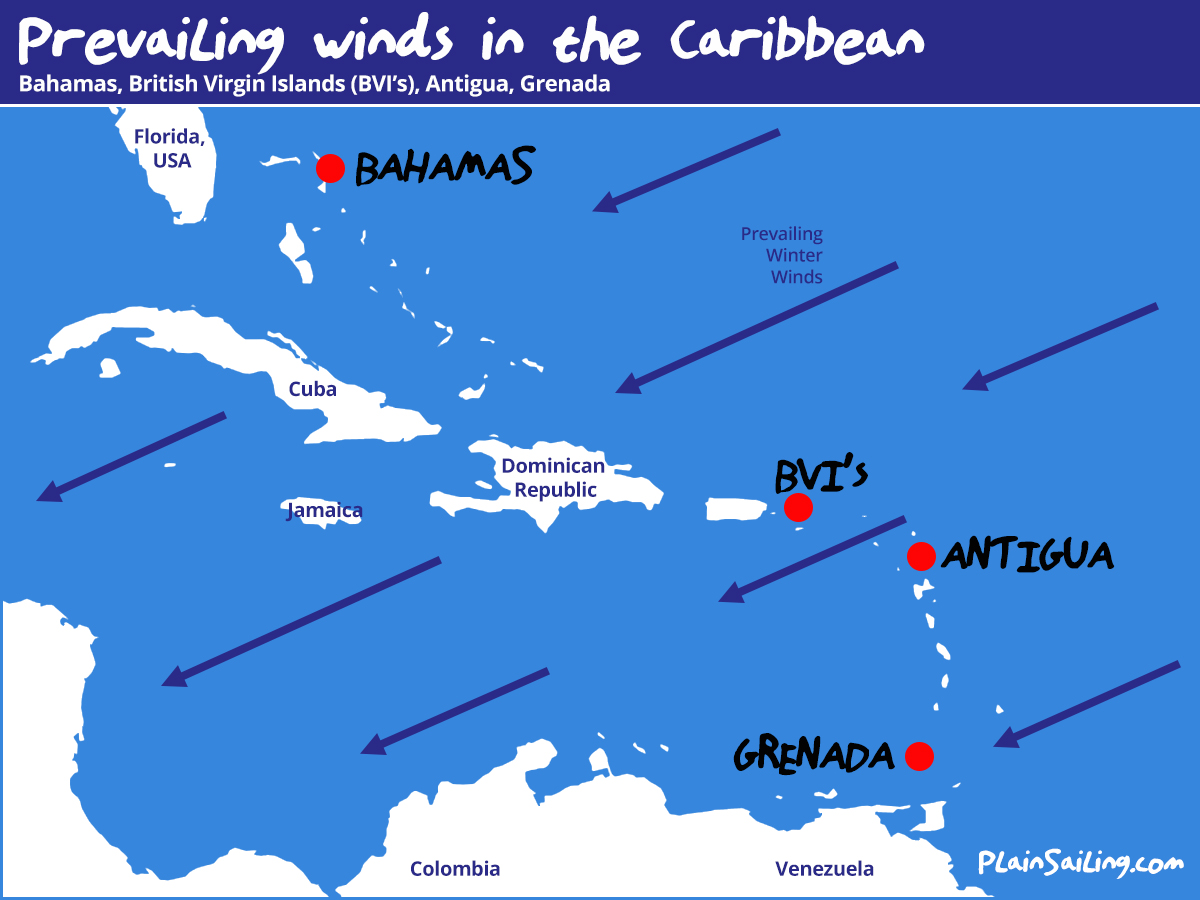 The Bahamas are on the receiving end of some serious trade winds which have been blowing reliably for hundreds of years, so you need to get the timing of your visit right, especially if you don't fancy trying to out-sail a hurricane!?
The winds around Antigua have been blowing reliable for centuries, if not longer – it's the trade winds, which arrive in the Caribbean from right across the Atlantic Ocean, and are what bought the first European explorers, including Christopher Columbus himself, over to discover the Americas.
They arrive from the East or North East all year round, and are consistently force 4 (11 to 16 Knots) throughout the year, except during late December, when they pick up for the 'Christmas Trade winds', and in August and September, or Hurricane season, when the winds can be extremely strong (Hurricane Irma in 2017 saw wind speeds of over 185 mph) – conditions which are best avoided with a boat.
The sailing season in the Caribbean runs from October to June, with peak season being late December to early April.
 HOW HOT WILL IT BE? 


Along with the wind, the weather in Antigua is also very predictable – whenever you are here, it will be delightfully warm and sunny. The extended sunshine throughout the year means that the beaches seldom get crowded and beach bars are always open – which contributes to the relaxed Caribbean way of life. There's more tropical rain later in the sailing season, and there's a chance of hurricanes in August and September.
 HOW WARM IS THE SEA? 


If you're the type of person who likes to dive in off the boat for a swim in the sea, then you are in for a treat in Antigua – the water only ever gets as low as 26 degrees, which is warmer than both an indoor swimming pool and the Mediterranean at its warmest! The tropical fish enjoy swimming around here because of the warmth, and, I suspect, you will too.
---
Marina Details - Jolly Harbour, Antigua
Jolly Harbour is the largest purpose-built yacht marina on the island and offers all the usual facilities you'd expect from a modern sailing marina (as well as being part of a luxury tourist resort for land-lubbers).
It's very well sheltered and is a great place to start and end a sailing adventure.
GETTING THERE: Jolly Harbour is around a 30 minute drive from the main Antigua VC Bird airport. We can help with arranging private transfers – just ask).
PROVISIONING:
There's an Epicurean Fine Food supermarket located on the corner of the marina complex, which is big enough to supply everything you'll need for a week away (
Show on map
)
FUELLING AT END: There's a fuelling berth in Jolly Harbour, so be sure to head there before returning your boat on the final day.
Loading Map Co-ordinates...
---
---
WHAT NEXT? Use the pink box to search for yachts or catamarans with LIVE pricing & availability - if you have any other questions or requests, get in touch via Live Chat, the Contact Form, or by phone.
---