Find a Boat
LIVE
Pricing & Availability
Search NOW
Yacht & Catamaran Charter in Marsala, West Sicily, Italy
We can help you find the perfect yacht or catamaran to sail from Marsala, Sicily!

Sailing from Marsala, Sicily
Located at the heart of the Mediterranean, our base in Marsala is ideal for exploring the extraordinary Egadi or Aegadian islands - complete with resplendent beaches, turquoise blue seas, magnificent cliffs and caves, unspoilt mountainsides and historic villages. The whole archipelago is some way off the beaten track for normal charter traffic, and you'll find easily peace and tranquility in the secluded bays.
The key islands of Favignana, Levanzo and Merettimo are all included within a marine nature reserve and is teeming with colourful fish and sea wildlife, which makes it an amazing place to snap on a snorkel and dive in. With glorious sunshine practically guaranteed, reliable and good-strength winds, and plenty to see and do, then you're certain to have a memorable holiday if you cruise around the Egadi islands. We can help you find and book your ideal yacht or catamaran, with one of our trusted Charter Partners - just get in touch or search in the pink box with live prices and availability!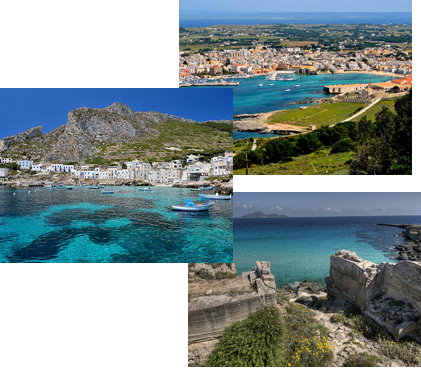 SAILING RATING: Intermediate - Italy offers more exciting sailing conditions than Greece and Croatia, but there are some places where it's useful (and a lot cheaper) to be comfortable using the anchor. Peak season is July & August, but you can sail here from March to October.
MUST-SEE: Our full suggested itinerary is further down the page, but we'd highly recommend taking in the spectacular cliffs and caves of Favignana, the cave paintings of Levanzo, and unspoilt beauty of Marretimo.
WHAT WE CAN OFFER: We have a great range of yachts and catamarans available for charter from our trusted Charter Partners, all available bareboat or Skippered. We can also arrange a Hostess, Personal Chef and other crew.
GETTING THERE: The Marina is c. 20 minutes from Trapani airport. We can organise transfers for you - a 4 person taxi is c. €50.
WHY BOOK WITH US? We only work with the very best professional charter operators, who we have met, know, and trust to give you the same outstanding customer service as you'll get from PlainSailing.com.

WHAT NEXT? Use the pink box to search for yachts or catamarans with LIVE pricing & availability - if you have any other questions or requests, get in touch via Live Chat, the Contact Form, or by phone.
6
6-day Sailing Itinerary from Marsala
Marsala is on the West coast of Sicily and is ideally located for exploring the Egadi or Aegadian islands - a set of three beautiful remote and largely unspoilt islands, with white sandy beaches, crystal clear turquoise waters, majestic white cliffs, and cute and hospitable villages. There's also mountains, caves, grottos and secluded bays to be found around the islands, giving you plenty to explore, either on land, in the sea, or even with a snorkel on.
Further up the coast, you can visit Trapani, and there's a number of marinas dotted along the coast to Palermo, each offering beaches, churches, and excellent food. You could also head further north to Palermo, the capital of Sicily, or south of Marsala to Sciaccia, a town based on a cliff-top some 176 steps above the marina - the exceptional views are worth the climb.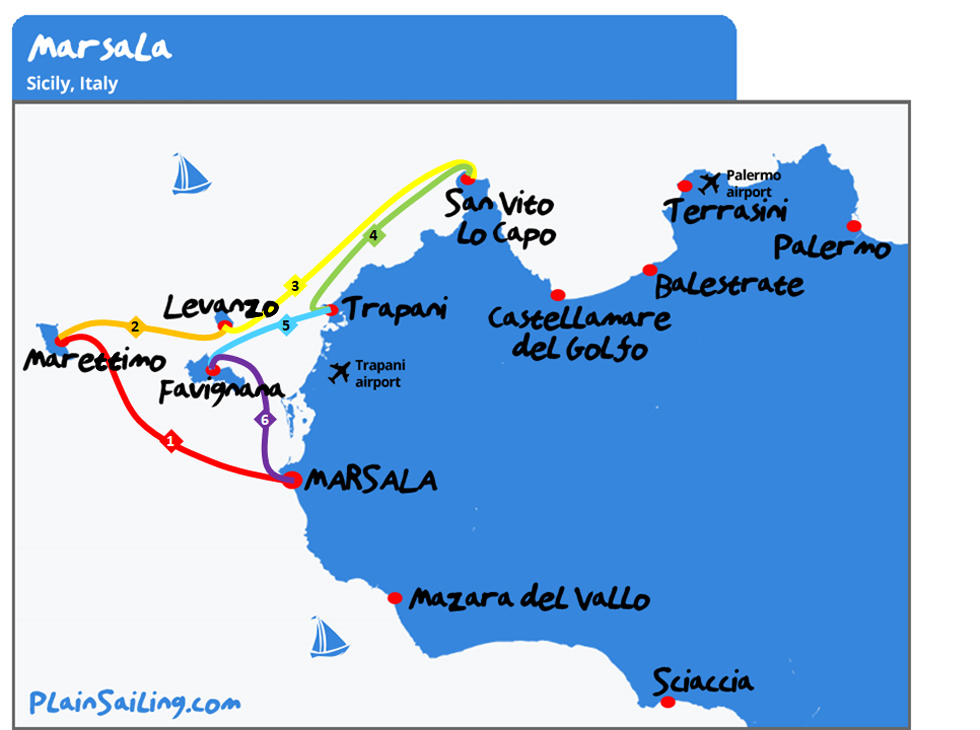 Our six-day itinerary covers 96 nM and heads west to take in all three of the glorious Egadi or Aegadian islands - the rugged cliffs of Marettimo, the beaches of Favignana, and the ancient cave paintings of Levanzo - as well as the quintessentially Italian town of San Vito lo Capo to get some sea miles in, and the delightful old town of Trapani. It's only a six day itinerary because, whilst you have the boat for a week, you'll normally check-in on Saturday afternoon, so once you've sorted out kit and provisions you won't be able to set sail properly until Sunday morning. And at the end of the week you'll have to return the boat to the marina on Friday night (and sleep on-board one more night) before checking out on Saturday morning.
The relatively short distance of 96 nM means it should be a leisurely week of sailing – you'll only to sail for 3-5 hours a day, which leave plenty of time to relax, play, eat and explore.

Day 1. Marsala to Marettimo – 21 nM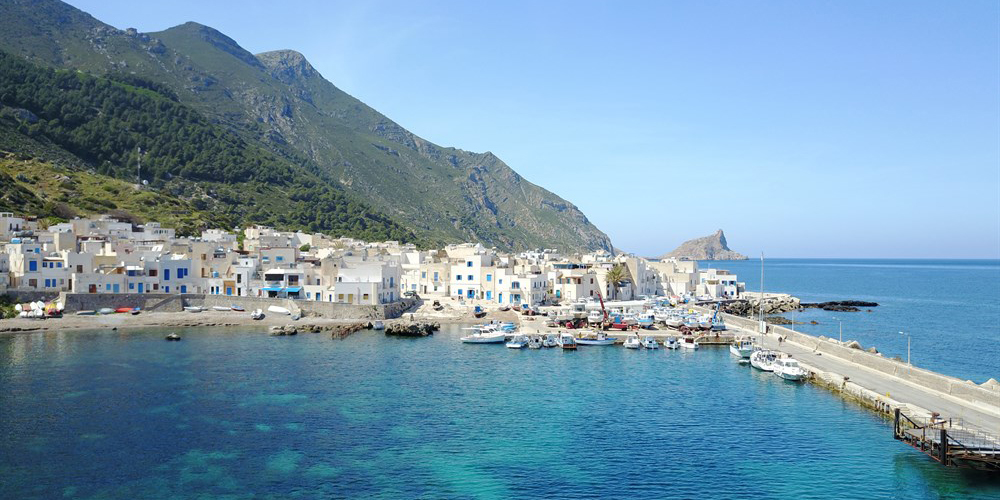 Good morning, Captain! The sun is shining and the winds are picking up, so it's time to get out there and play! Make sure that the crew are all on-board, along with all the vital provisions you need for the week, and then let's fire up the engines and get out of here! So that we can avoid the majority of Sunday day-trippers to the Egadi islands, today we're sailing to the furthest away, Marettimo, which means plotting a north westerly course, giving the crew plenty of tacking practice as you beat up the prevailing summer wind.
Being furthest away, Marettimo is the wildest of the Egadi islands, with dramatic mountainous terrain, rugged white cliffs that contrast with the turquoise blue seas, and spectacular bays, beaches and caves. It seems odd that the island has been inhabited for over 2,000 years, but you can find traces of ancient Greek and Roman history here. The main harbour is surrounded by a cute and welcoming village.

Day 2. Marettimo to Levanzo – 12 nM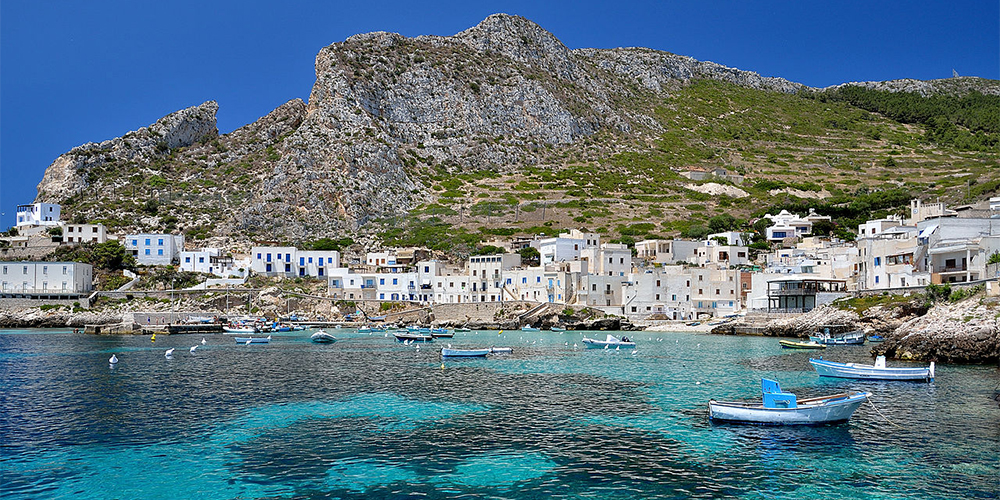 If you're sailing in the Egadi to get off the beaten track, you got it: tonight we're bound for Levanzo, the smallest of the Egadi islands. It has a population of just 450 people, and there's one main road, and a handful of shops and restaurants here – but a plethora of fine views, bracing walks, and perfect beaches. It's only a short broad reach or run with the prevailing wind away from Marettimo.
You'll fall in love with Levanzo town on the south of the island, but the island is probably best known for the 'Grotta del Genovese' cave paintings which date back to the Neolithic age and which are well worth a visit if you're in the area: they're right across on the other side of the island, but luckily that is also only 3km away. There's also the wreck of a Roman cargo ship in Cala Minnola, but at 27m deep, you need scuba gear to get a proper look. What a place to sail to!

Day 3. Levanzo to San Vito lo Capo – 24 nM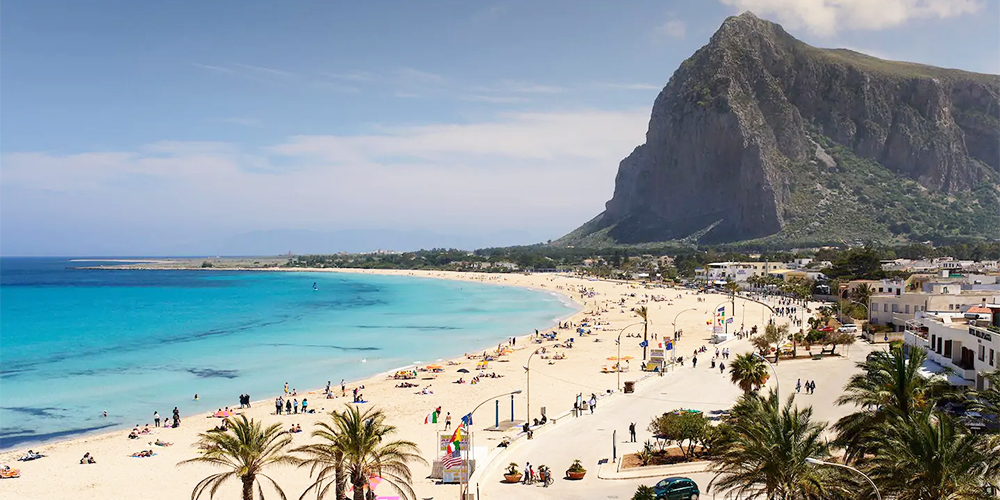 If you wanted to, you could easily spend a few days bobbing around the quiet pristine bays of the Egadi marine national park, but since this is a sailing holiday, we figured we'd better get some more sailing miles on the itinerary, and a change of scene. And where better to strike out to than the best beach in Italy?
We're sailing north-east, reaching across the prevailing wind to San Vito Lo Capo on Sicily, which wins awards year on year for being, well, simply amazing. As you'd expect, there's more tourists than in the Egadi islands, but there's a back-drop of mountains (very popular with rock-climbers) and the marina is literally right next to the famous long sandy beach, which comes complete with palm trees and a turquoise sea.

Day 4. San Vito lo Capo to Trapani – 17 nM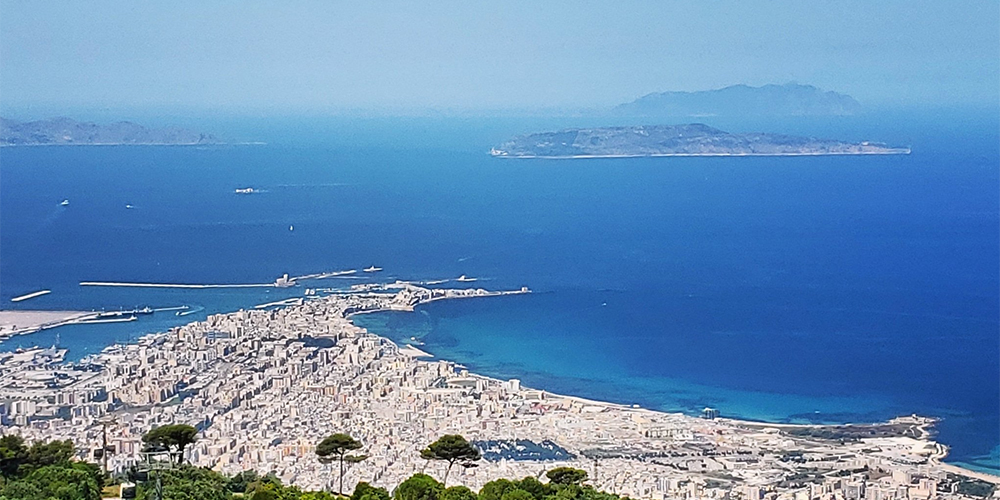 We're sticking on Sicily today as we head back down the coast to Trapani, one of the biggest towns in the area, and naturally (like all towns here) it has a long and interesting history. The main sights are the cathedral, lighthouse and the beaches, and the old town is a wonderful place to stroll, quaff some local wine or eat some traditional Sicilian cannoli.
If you have the time, it's totally worth getting on the cable car from Trapani to Erice, a small walled medieval town some 800m above sea-level (you can also walk there, but it is a bit of a slog). From there, you get incredible views back over Trapani and out to the Egadi islands. They're waiting for you to return tomorrow!

Day 5. Trapani to Favignana – 10 nM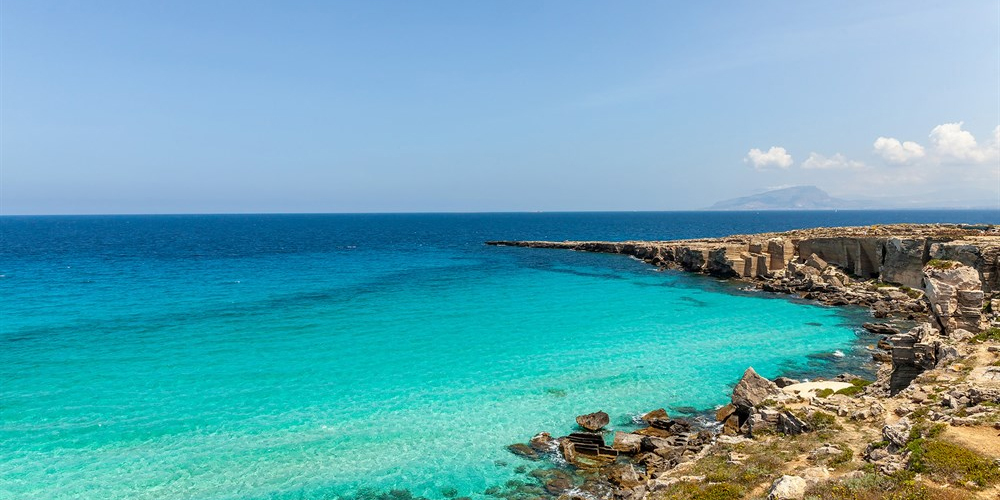 There's still one Egadi island left to visit, and we have left the biggest – Favignana – till last. The 'capital' of the islands offers much the same pristine beaches and slow pace of life as the other two, and has just as interesting a history: the island was the setting for a great naval battle between the Romans and the Carthaginians in 241 BC – the cala rossa or 'red bay' got its name because so much blood was spilt there (it is now one of the best beaches on the island, so not one to be avoided!)
More recently, the island was bought in its entirety in 1874 by Mr Florio, who actually wanted exclusive use of the waters nearby for his fishing empire. After building a mansion, (the Palazzo Florio, which is the giant building which overlooks the harbour) he realised his view was spoilt by his Tuna processing factory (opposite, now a museum), so dragged an esteemed Architect out here from Rome to rebuild it and make it look pretty. There's also superb beaches, a fort-cum-prison to spot, and you simply have to try the seafood here.

Day 6. Favignana to Marsala – 12 nM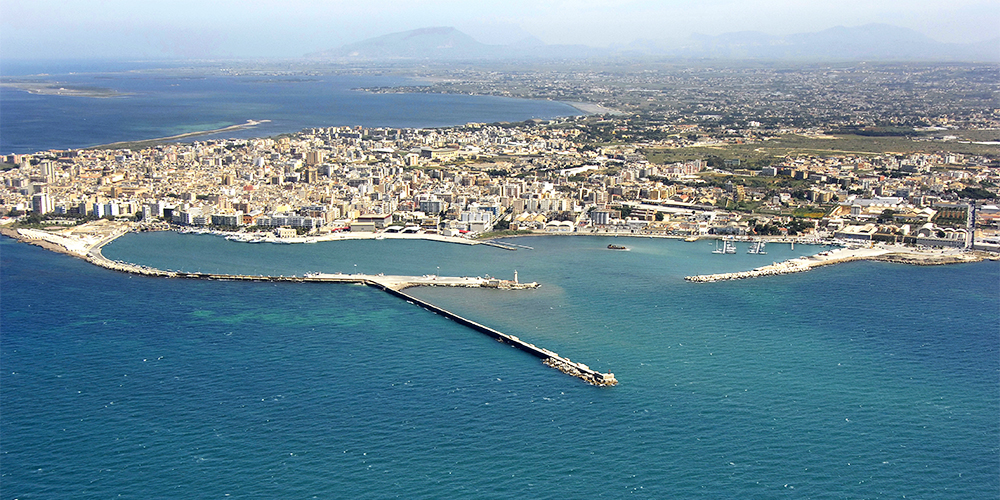 All of a sudden, it's the final day. Sad face. The sailing isn't finished quite yet, but it's only a short hop back across to Marsala today (so there is plenty of time to do more of your favourite part of the holiday – finding secluded beaches, snorkelling, hiking, etc…).
You should be able to run with the prevailing wind to arrive back in Marsala marina. Head to the fuel berth to refill the tanks (they have to be returned full) before mooring the boat up for one last time, returning her pretty much where you found her. You can stay on board for one last night, before checking-out in the morning.
If you haven't yet had chance to explore Marsala, then it is an ancient town which was founded by the Carthaginians, fought over by the Greeks and Romans, and was the starting point for Giuseppe Garibaldi to conquer and unify modern-day Italy. It's obviously most famous for its sweet dessert wine, which is best enjoyed after a good meal, and, as it happens, was invented by an Englishman (who needed stronger wine to survive crossing the sea back to Liverpool).
Hopefully you and your crew have had a blast and thoroughly enjoyed a week of sunshine and sailing together, and you're departing with great memories of a week in the Egadi islands. Get home safe, and head to PlainSailing.com when you are ready to start planning your next sailing adventure.
---
Sailing Conditions
 WHAT ARE THE WINDS LIKE?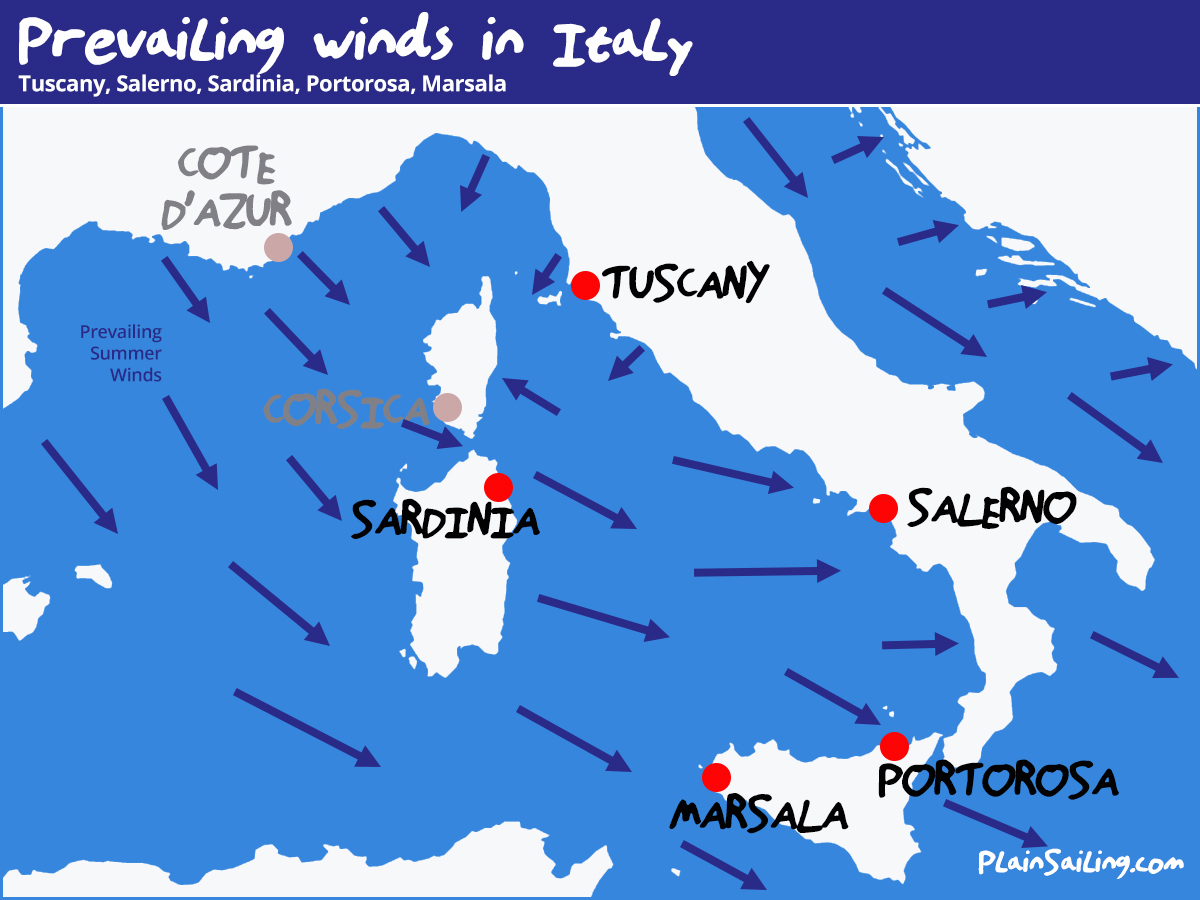 Wind conditions in Sicily are ideal for sail-cruising. The prevailing wind arrives from the North-west, and is usually reliably around force 4 (11 - 16 knots), although it can arrive a little stronger for a couple of days when the Mistral wind picks up over the South coast of France towards the end of the season.  In general the wind is very managaeable for an intermediate sailor.
Marsala, on the Western coast of Sicily is slightly more exposed to the elements than Portorosa, on the Northern coast, but there can obviously be some advantages to that - and certainly some extra speed over ground!
From October to May, the winds are a lot less predictable and reliable in terms of both direction or strength, which can make for some challenging sailing. In general, most weather systems will pass after two or three days, though.
 HOW HOT WILL IT BE? 


The weather starts to heat up in the Med from April, with the temperatures climbing quite quickly from needing to wear a jumper, to basking in the sunshine in just a t-shirt.  By July, it's a comfortable 24 degrees, riding higher in August, when you'll appreciate the extra breeze as you cruise around the coastline, though you obviously need to keep one eye / ear out for the local weather forecasts..
 HOW WARM IS THE SEA? 


Given that the sea doesn't ever drop below 15 degrees, you could make the case for Marsala being a place you can swim in the sea all year!  The sea temperature rises nicely, coinciding nicely with peak sailing season, with August peaking at 27 degrees - about as hot as a heated swimming pool!  It's perfect for a pre-lunch dip.
---
Marina Details - Marsala
Marsala was originally named 'Marsa Ali' or 'Massive port' by the Carthaginians in 200 BC, and, in its time, it has been a principle port in the Mediterranean. The marina is only about 100m from the town, there is still easy access to everything you could want - including fine dining (and some of the best seafood you'll ever eat!) The marina is undergoing another massive €50m transformation which will redevelop and renew the marina into a marina resort' complete with 5 star hotels, fine dining, and berths big enough for Super Yachts. It's just six nautical miles from the beautiful Egadi islands. You should be happy here.
If we're staying in the area and need a place to rest the night, we normally head to the Welcome Inn Marsala or the Guest House Porto Marsala, which are both comfortable, reasonably priced, and within a short walk of the marina.
WEBSITE: No website | ADDRESS: Marina Altamerea, Porticciolo Turistico, TP, 91025
GETTING THERE: Trapani airport is the nearest airport to Marsala, and is served by a number of budget airlines (including Ryanair). The airport is situated between Trapani and Marsala, and it's only about a 15 - 20 minute journey by road to get to the Marina - PlainSailing.com can help with arranging transfers (please ask). There are sporadic bus/coach transfers from the airport to Marsala (about 4 or 5 times a day), or you can also get to Marsala by train (which is more frequent, but the nearest station is about a 1km walk from the airport). You could also land at Palermo airport, which is about a one and a half hour transfer away from Marsala (we can help arrange transfers). There is a bus service that links to Palermo town, Trapani town, Trapani airport and then on to Marsala if you have the time and the patience (it spends a number of minutes at each stop).
PROVISIONING: There are plenty of shopping options in Marsala centre, but the nearest supermarket to the marina is the Conad on Via Mazara - about 400 metres away.
FUELLING AT END: There is a fuelling berth in the Marina - head there before you head back to your home berth.
Loading Map Co-ordinates...
---
---
WHAT NEXT? Use the pink box to search for yachts or catamarans with LIVE pricing & availability - if you have any other questions or requests, get in touch via Live Chat, the Contact Form, or by phone.
---