Why Book With Us?
Simple, straightforward process
Outstanding customer service
Friendly UK-based team
Pre-order food, kit or WiFi onboard
Join Our Mailing List
Yacht & Catamaran Charter in Marsala, West Sicily, Italy
Looking to sail from Marsala, Sicily? Search to find and book your ideal boat, or read everything you need to know: prevailing winds, where to sail, how to get there and more!

Located at the heart of the Mediterranean, our base in Marsala is ideal for exploring the extraordinary Egadi or Aegadian islands - complete with resplendent beaches, turquoise blue seas, magnificent cliffs and caves, unspoilt mountainsides and historic villages. The whole archipelago is some way off the beaten track for normal charter traffic, and you'll find easily peace and tranquility in the secluded bays.
The key islands of Favignana, Levanzo and Merettimo are all included within a marine nature reserve and is teeming with colourful fish and sea wildlife, which makes it an amazing place to snap on a snorkel and dive in. There's also neolithic cave paintings to be mesmerised by, castles and ruins to discover, and mountains to hike for incredible panoramic views.
From Marsala, you can also hop up and down the fantastic Sicilian coastline, being sure to try some of the fresh Tuna (still caught the old fashioned way) and the sweet dessert wine for which the region is most famous for.
With glorious sunshine practically guaranteed, reliable and good-strength winds, and plenty to see and do, then you're certain to have a memorable holiday if you cruise around the Egadi islands.
---
---
4
---
Sailing from Marsala
Marsala is on the West coast of Sicily and is ideally located for exploring the Egadi or Aegadian islands - a set of three beautiful remote and largely unspoilt islands, with white sandy beaches, crystal clear turquoise waters, majestic white cliffs, and cute and hospitable villages. There's also mountains, caves, grottoes and secluded bays to be found around the islands, giving you plenty to explore, either on land, in the sea, or even with a snorkel on.
Further up the coast, you can visit Trapani, and there's a number of marinas dotted along the coast to Palermo, each offering beaches, churches, and excellent food.
You could also head further north Palermo, the capital of Sicily, or south of Marsala to Sciaccia, where the town is based on a cliff-top some 176 steps above the marina - though the exceptional views are worth the climb.
We have exclusive rates on the local Imray Charts or you can check out our very own sailing distance calculator to check distances and easily plan your route before you go.
Top 3 things to see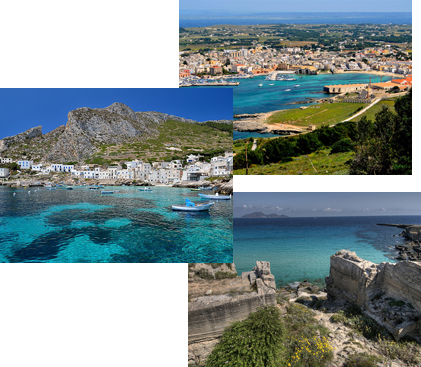 Check out our 6-day itinerary below, or if you're planning your own itinerary, here's our top 3 places to visit in the area:
Favignana (12 nM from Marsala)
Famous for it's splendid beaches and spectacular cliffs and caves. The island is also famous for its delicious freshly-caught Tuna fish (and they have a Tuna festival every May).
Levanzo (13 nM from Marsala)
Levanzo has been inhabited since the neolithic ages - and there are cave paintings to prove it in the Grotta del Genovese. Also home to great places to snorkel, with some surprising coloured fish.
Marettimo (21 nM from Marsala)
The most unspoilt of the Egadi islands - take a hike up the Monte Falcone for fantastic panorama of the whole archipelago, or visit the ruins of the Spanish fortress at Punta Troia.
Suggested 6-day itinerary
Our six-day itinerary covers 96 nM and heads west to take in all three of the glorious Egadi or Aegadian islands - the rugged cliffs of Marettimo, the beaches of Favignana, and the ancient cave paintings of Levanzo - as well as the quintessentially Italian town of San Vito lo Capo to get some sea miles in, and the delightful old town of Trapani.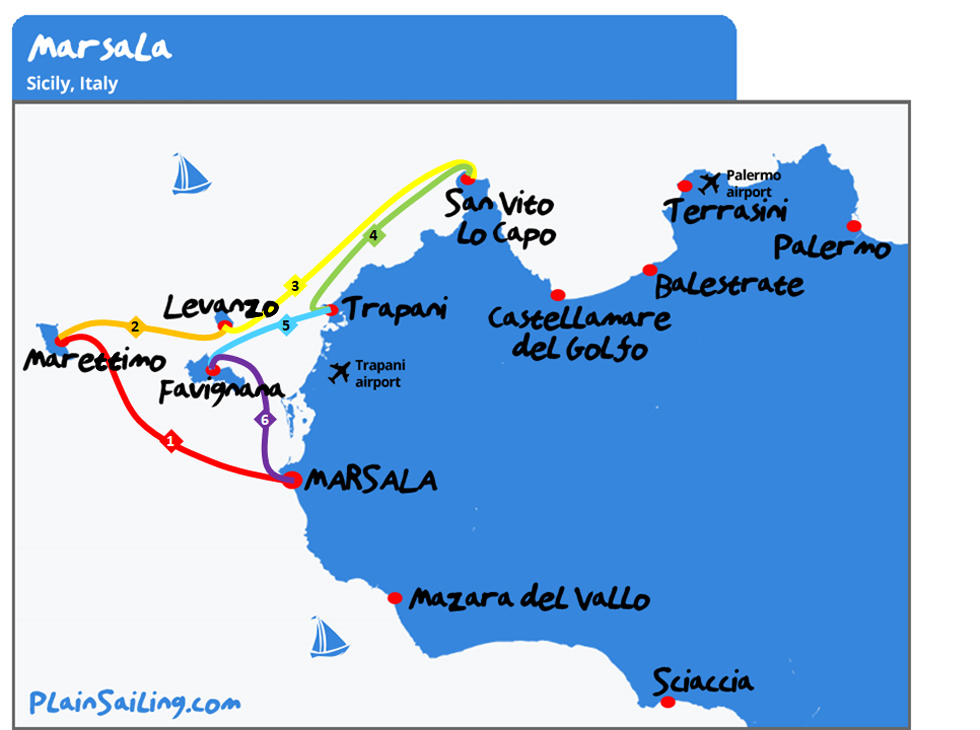 Day 1. Marsala to Marettimo – 21 nM
Day 2. Marettimo to Levanzo – 12 nM
Day 3. Levanzo to San Vito lo Capo – 24 nM
Day 4. San Vito lo Capo to Trapani – 17 nM
Day 5. Trapani to Favignana – 10 nM
Day 6. Favignana to Marsala – 12 nM
---
Sailing Conditions
What temperature will it be?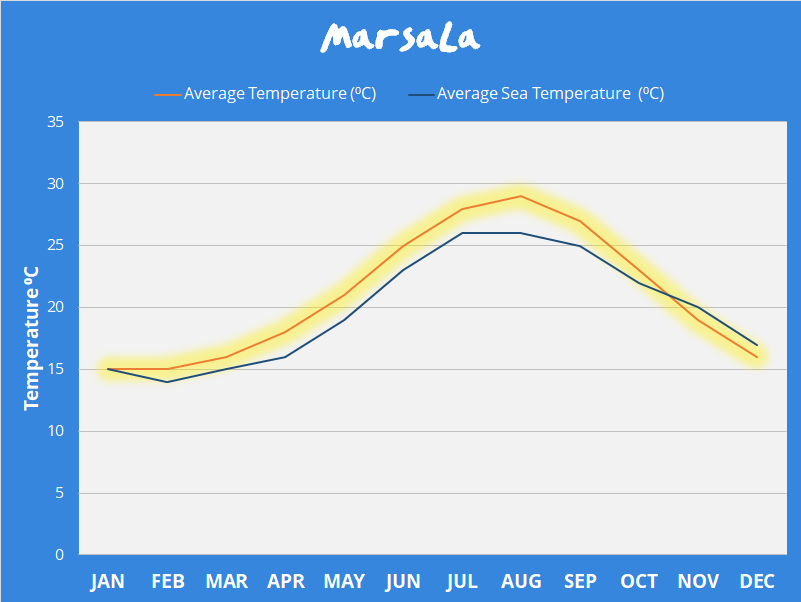 See the graph for weather averages.
What is the wind like?
Wind conditions in Sicily are ideal for sail-cruising. The prevailing wind arrives from the North-west, and is usually reliably around force 4 (11 - 16 knots), although it can arrive a little stronger for a couple of days when the Mistral wind picks up over the South coast of France.
From October to May, the winds are a lot less predictable and reliable in terms of both direction or strength, which can make for some challenging sailing. In general, most weather systems will pass after two or three days, though.
What is the Current Weather in Marsala, Sicily?
If you're off sailing in a couple of days, you might be interested to know what the 7 day forecast is - our handy widget below should give you a good idea, though once you're out there we recommend using windguru.cz. 
---
Our Guide to Marsala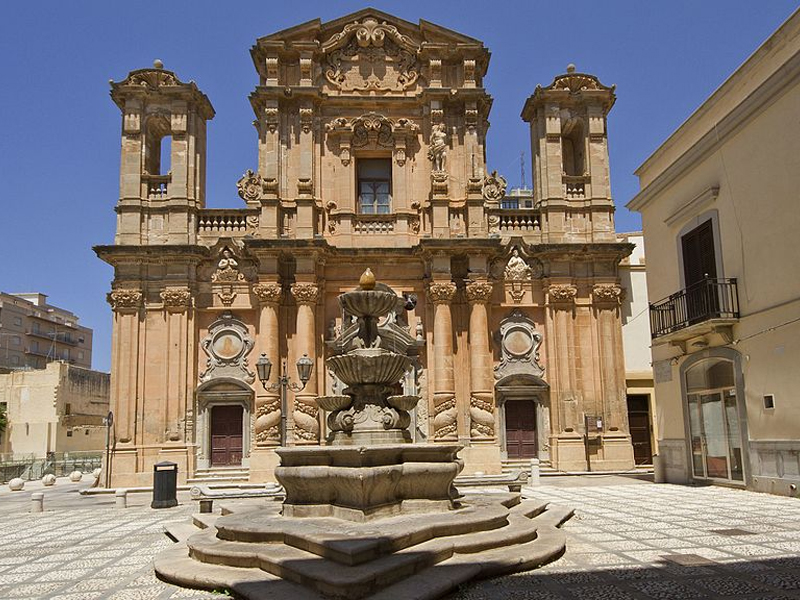 < Perhaps most famous for the sweet dessert wine which is named after the town, Marsala is an ancient Mediterranean port which has a long and lustrious history. There are vineyards and wineries which you can visit, or, if you wander the streets of the old town, you're seldom more than a few metres away from someone offering samples.
If you're not such a fan of wine, then there is still plenty to get excited about: there is practically perma-sunshine, there are some brilliant beaches to bathe on, there is the old town to explore (complete with churches, museums, cobbled streets, and fountains), there's exceptional seafood (and gelato) to taste, and, if you're prepared to travel a short distance, there's even Roman and Greek ruins to explore.
The town is small enough to be easily navigated on foot, but big enough to have pretty much everything you'll need to start or continue your holiday.
---
Marina Details
Marsala
Marsala was originally named 'Marsa Ali' or 'Massive port' by the Carthaginians in 200 BC, and, in its time, it has been a principle port in the Mediterranean. The main marina is now undergoing another massive €50m transformation (due to be completed in 2020) which will redevelop and renew the marina into a marina resort' complete with 5 star hotels, fine dining, and berths big enough for SuperYachts.
In the meantime, normal service is resumed, and, given the marina is only about 100m from the town, there is still easy access to everything you could want - including fine dining (and some of the best seafood you'll ever eat!). The old marina is operated by the 'Cantiere Nautico Polaris' and can handle 200+ boats). There's fuel, electricity, water and wifi on supply, decent toilet and showering facilities, and it's just six nautical miles from the beautiful Egadi islands. You should be happy here.
AWAITING MARINA MAP
| | |
| --- | --- |
| Address: | Marina Marsala, Via Vincenzo Florio 29, Marsala, Sicily |
| Long / Latitude: | N 37° 47'27. E 12° 26'39 |
| Telephone: | 0039 (0) 923 999 222 |
| VHF Channel | 16 |
| Walk-ashore berths: | 200 |
| Facilities: | Boatyard, Chandler, Electrical supply, Fresh water, Fuel: Diesel, Fuel: Petrol, Parking, Pub / Restaurant nearby, Shop / Supermarket nearby, Showers, Toilets, Telephone, Visitors berths, Wifi |
---
Getting to the Marina
Loading Map Co-ordinates...
Trapani airport is the nearest airport to Marsala, and is served by a number of budget airlines (including Ryanair). The airport is situated between Trapani and Marsala, and it's only about a 15 - 20 minute journey by road to get to the Marina - PlainSailing.com can help with arranging transfers (please ask). If you're not interested in private transfers, then there are sporadic bus/coach transfers from the airport to Marsala (about four or five times a day), or you can also get to Marsala by train (which is more frequent, but the nearest station is about a 1km walk from the airport.

You could also land at Palermo airport, which is about a one and a half hour transfer away from Marsala (we can help arrange transfers). There is a bus service that links to Palermo town, Trapani town, Trapani airport and then on to Marsala if you have the time and the patience (it spends a number of minutes at each stop).
This page last updated: September 2018
We do our best to keep this information as up-to-date and accurate as possible, but obviously we can't be everywhere at once. If you are aware that any information on this page is incorrect, please let us know by emailing marina@plainsailing.com.
---
---