Find a Boat
LIVE
Pricing & Availability
Search NOW
Yacht & Catamaran Charter in Largs, Scotland
We can help you find the perfect yacht or catamaran to sail from Largs!

Sailing from Largs
Largs is our favourite place to charter in Scotland because it offers brilliant sailing conditions, and is a superb jumping off point to the beautiful and tranquil islands and bays of the Clyde – you're already some way off the beaten track so you'll find stunning scenery practically from the word go!
There's plenty of places to sail to and explore – the Holy Loch, Lochranza, Tarbert, Portavadie, Campbeltown, to name a few - and there are mountains, whisky distilleries, local pubs, and fine dining restaurants to find along the way. The area is non-tidal and benefits from being somewhat sheltered from the Atlantic weather - but it can still offer some interesting and challenging sailing conditions, particularly around the start or end of the season, which runs from April to October.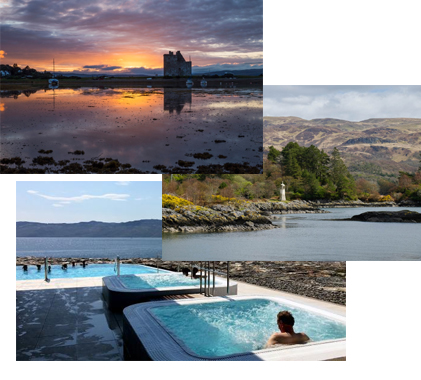 SAILING RATING: Intermediate / Advanced - there's interesting and changeable weather conditions, plus tides, so some experience is useful before sailing in Scotland. Beware that two members of crew are required to hold qualifications, and you will need an RYA Yachtmaster or equivalent to sail outside the Clyde area.
MUST-SEE: Check out our full suggested itinerary below. We'd highly recommend taking in the tranquillity (and whiskey) in Lochranza, a sail around the Kyles of Bute, and a night spoiling yourselves a little in Portavadie.
WHAT WE CAN OFFER: We have a great range of yachts available for charter (sadly no catamarans yet!) from our trusted Charter Partners, all available bareboat or Skippered. We can also arrange a Hostess, Personal Chef and other crew.
GETTING THERE: The Marina is c. 45 minutes from Glasgow's airports. We can organise transfers for you - a 4 person taxi is c. £ 50 - 60.
WHY BOOK WITH US? We only work with the very best professional charter operators, who we have met, know, and trust to give you the same outstanding customer service as you'll get from PlainSailing.com.

WHAT NEXT? Use the pink box to search for yachts or catamarans with LIVE pricing & availability - if you have any other questions or requests, get in touch via Live Chat, the Contact Form, or by phone.
Why book with PlainSailing.com?
We're yacht and catamaran charter experts, and can find you the best boats in Greece, Croatia and anywhere else in the Med or Caribbean - yacht, catamaran or superyacht-bareboat, skippered or crewed

We're UK based, only work with the best Charter Companies, offer exceptional customer service from start to finish and will match any price!

Independent Service Rating based on
428
verified reviews.
---
6-day Sailing Itinerary from Largs
Largs is a great place to sail from to find tranquillity and peace. There's remote and secluded bays, cosy fishing villages, and unspoilt coastlines bursting with wildlife to be found. There's the odd ferry that connects the various islands, but in the main, you'll have large chunks of the water to yourselves.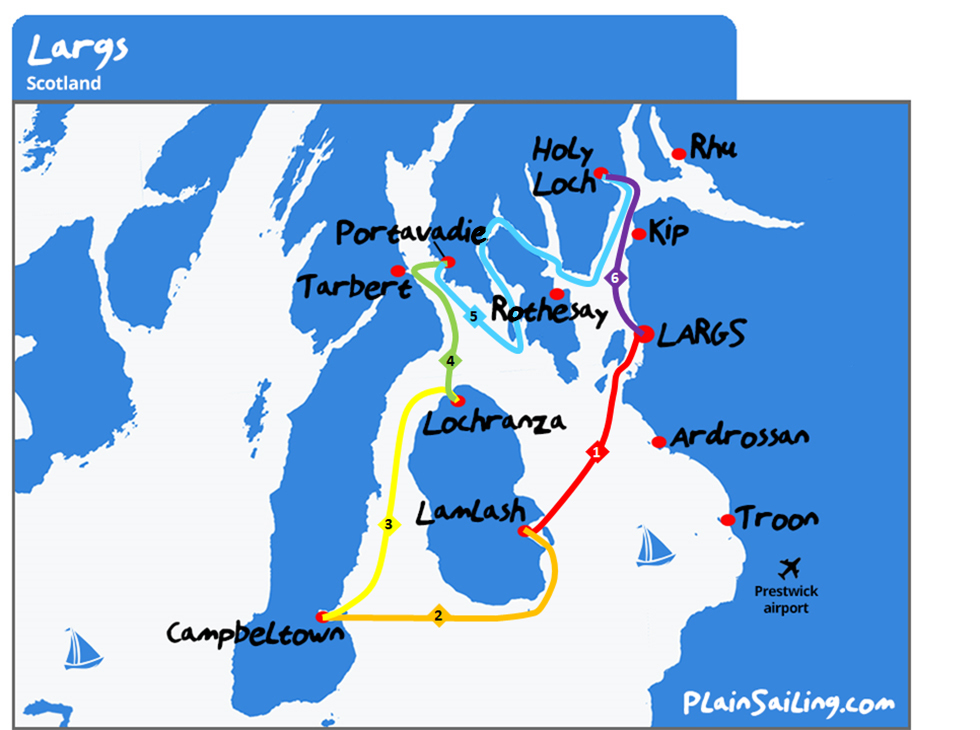 Our six-day itinerary of the Clyde area takes in some of the highlights of the area – including Lamlash and Lochranza on Arran, modern and luxurious Portavadie, and the Holy Loch. It covers 121 nM, which means an average of 20 nM or 4-5 hours of leisurely sailing a day, leaving plenty of time to check out the start and end points in more depth, to hike a mountain, visit a Whisky distillery, or just take your own sweet time.
It's only a six day itinerary because you'll only get on board on Saturday afternoon, and need time you get provisions sorted and get familiar with the boat, so you likely won't make way until the Sunday. The boat needs to be returned to Largs on Friday evening (but you can stay on it and check out on Saturday morning), which gives six days of glorious sailing.

Day 1. Largs to Lamlash – 18 nM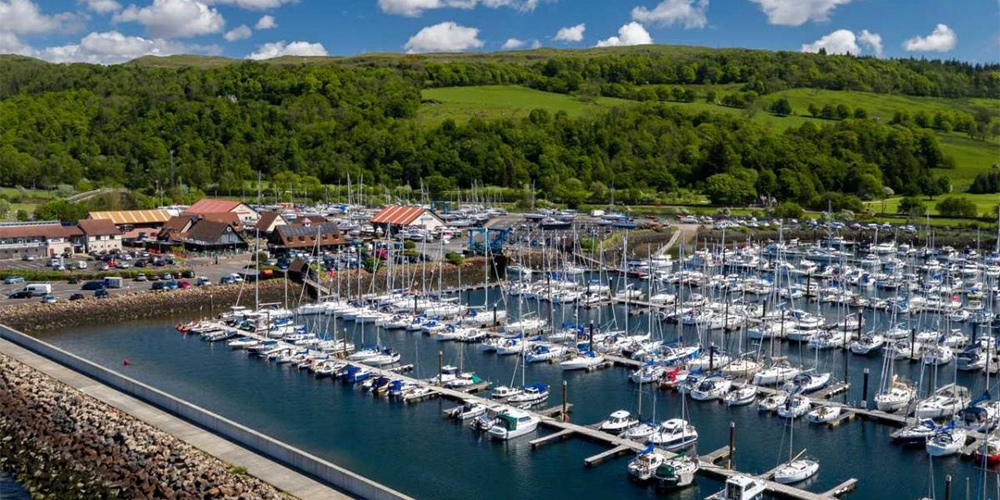 Halloo, and welcome to Bonny Scotland, Captain! Get all the crew on board and then we'll nose our way out of the marina (aiming at the fairway buoy), and get out of here. The giant pencil on your starboard side is a monument to the Battle of Largs in 1263, which saw the Scots defeat a fleet of Viking boats right here. Just imagine – this place was once teeming with a mighty naval Viking fleet, headed by the King of Norway himself!
Today we'll hopefully avoid the Vikings as we beat our way south west down to Arran, or, more specifically, the cute town of Lamlash on its east coast. The wind will be hitting you square on the face as we tacking our way up the prevailing summer winds.
Lamlash is the biggest village on Arran (which gives you an idea of the size of the others) and is notable for once being the training base of the Scottish Commando unit during WWII. The 'Holy isle' opposite was once the home of the hermit-monk Saint Molaise, who lived in a cave here. Amongst the more unusual stories about him (apart from living alone in a cave on an island in remote Scotland) is that he died after pulling out an eye-brow hair of Saint Sillan: anyone who saw the eye-brow hair would die instantly, so Saint Molaise;s selfless actions saved the rest of humanity. No, actually.

Day 2. Lamlash to Campbeltown – 24 nM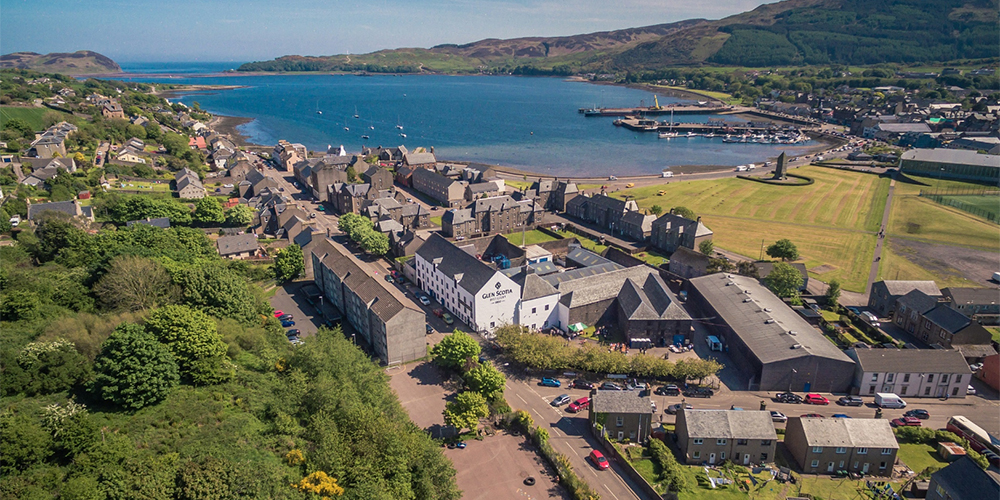 We're sailing out past the Holy Isle today, which is now a Buddhist centre for world peace – the previous owner had a vision in 1992 and was told by God to give the island to a group of Tibetan monks, who now use it as a place for spiritual retreat. Watch out for wild ponies, sheep and goats on your way past.
We're headed around the coast and then hopping west to Campbeltown on the isle of Kintyre. You'll likely have heard of the 'Mull of Kintyre' because ex-Beatle Paul McCartney had a big hit with a song of the same name in 1977 – he actually wrote the song when he was staying at his farm here (which he still owns today) after a messy break-up.
Campbeltown has 4,000 inhabitants, three whisky distilleries, plenty of shops and places to eat, and even a cinema, swimming pool, and its own airport. Obviously, you being sailors, you'll know that Campbeltown was also the birthplace of Gerald Tait, who won a gold medal in Sailing at the 1908 Olympics (as part of a 10-man team in the 12-metre keelboat class).

Day 3. Campbeltown to Lochranza – 21 nM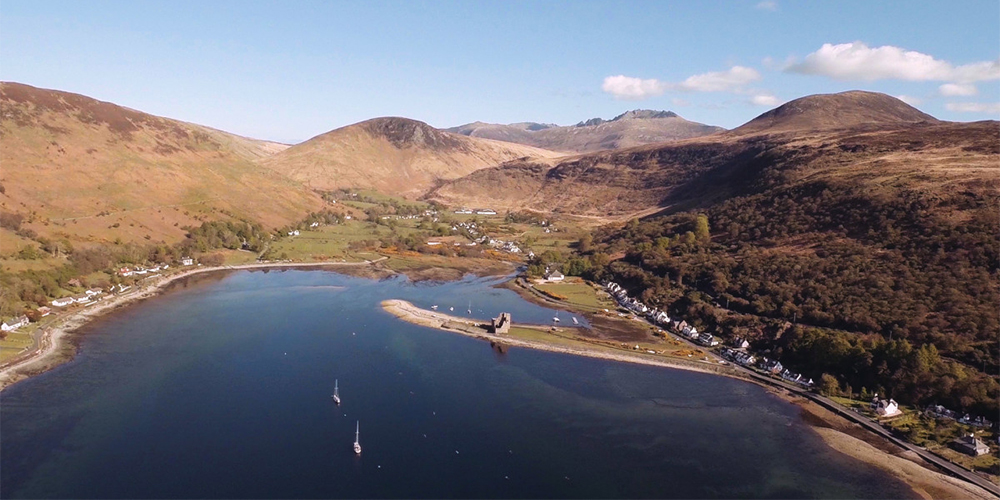 After two days of heading into the wind, it's time to feel the wind on the back of your head for a change, as we head back north to the other side of Arran. We're running with the wind towards Lochranza, a remote bay where we'll pick up a mooring buoy (and make a donation in the honesty box on the nearest jetty).
The village here is reputed to have the least hours of sunshine anywhere in the UK (as it is on the north side of the mountain Goat Fell). There's a ruined castle here to explore, where you'll often find wild Red Deer, and nature lovers should also be able to spot Grey Seals, Otters and, if you're lucky, Golden Eagles.
If you're feeling energetic, you can hike up Goat Fell to get spectacular views of the whole cruising ground (you can even see Ireland some days), or if you're not, you can head to the Arran Distillery and Visitor centre at the far end of the village, where you can see how they make their famous whisky, and give it a taste!

Day 4. Lochranza to Portavadie (via Tarbert) – 13 nM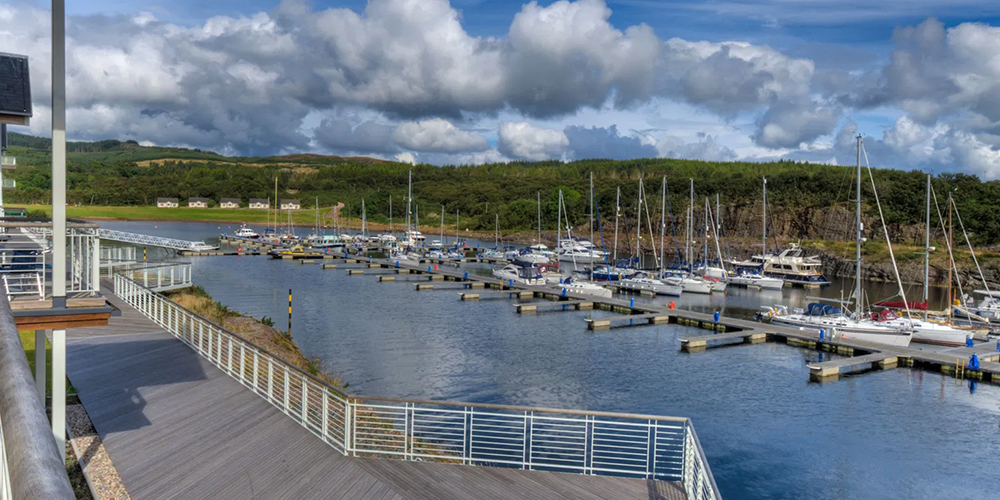 There might not be much sailing to do today (we're just hopping 13 nM to Portavadie, but it could be quite busy as we're also aiming to make a stop in Tarbert along the way. From Lochranza, we're heading North and running or broad-reaching with the prevailing wind to get back to a place which is technically the Scottish mainland, but is arguably better connected to Glasgow by sea than it is by road.
Tarbert was a location of strategic importance in these parts which is why find three castles here. It's now most famous for selling the best seafood in Scotland (The Starfish restaurant is the best in Tarbert), including hosting a seafood festival each year. If you check you charts, you can see that the island is thinnest here – in 1098, Norwegian King Magnus Barefoot couldn't be bothered wasting days sailing around Kintyre, so had his longboat carried across the 1 mile instead!
But we're heading over Loch Fyne to finish the day in Portavadie, a multi-million pound marina development where you can pamper yourselves and enjoy the high life after all these days at sea. The marina is just part of a luxury development which includes brilliant toilet facilities, a fine restaurant, and a spa complex complete with an infinity pool with views back out over the water. Bliss!

Day 5. Portavadie to Holy Loch – 30 nM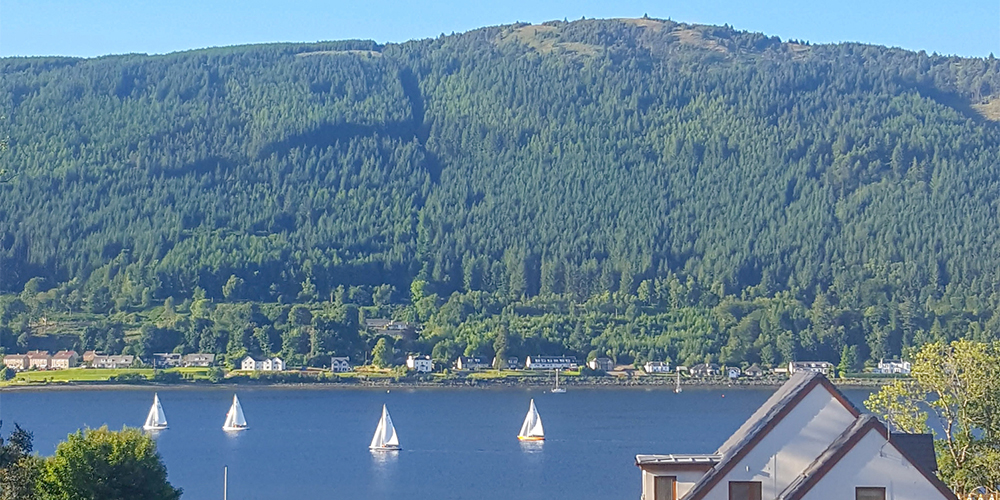 Technically, at 30 nM, this is the longest leg of our itinerary, but there's a joy to sailing around the Kyles of Bute that somehow makes the passage feel much shorter. The Kyles are narrow waterways which separate the island of Bute from the mainland and can get as narrow as 300m at times.
The 'Burnt islands' at the top of Bute supposedly get their name because they were the place where Viking Kings were cremated back in the day. It seems an odd place to go for a royal funeral. We're following the Kyles as we sail in pretty much every direction, before sailing onwards and upwards to Holy Loch for the night.
Holy Loch is so named because Saint Munn arrived and set up a monastery here in the 6th century (on the site where the church currently stands today). The church also has a mausoleum for the Clan Campbell (when the Dukes of Argyll used to reign over these lands), and Elizabeth Blackwell (the first woman to get a medical degree) is also buried here. Perhaps more unbelievably, this loch was also a US Naval base during for three decades (until the end of the Cold war).

Day 6. Holy Loch to Largs – 15 nM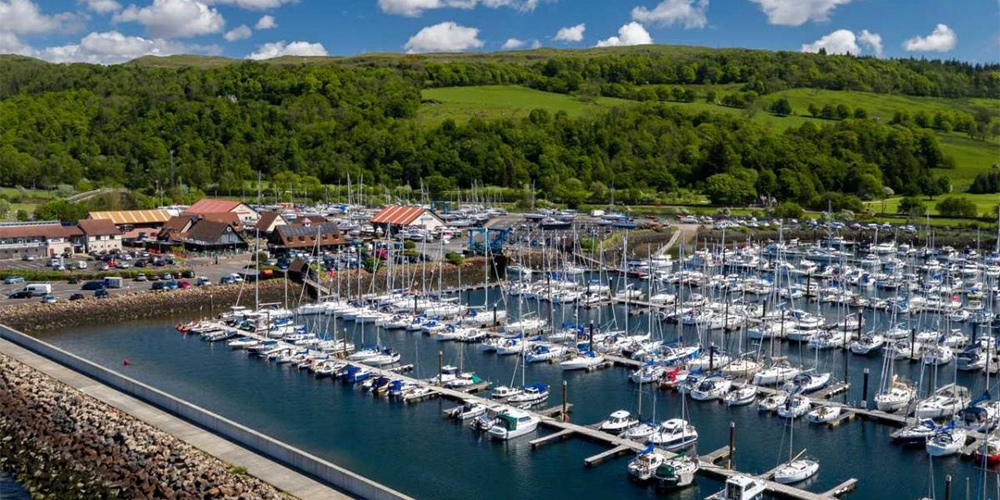 How is it the last day of sailing already? Didn't we only start sailing a couple of days ago? Sadly, it's time to return to Largs, heading pretty much due south and beating our way back up the prevailing wind. If you've got time, you could stop by in Rothesay, which was a very popular tourist destination for well to do people based in Glasgow in the 1800's.
And then we're heading back down and past Largs town centre and to Largs marina. Don't forget to head for fuel before you return the boat back where you found her, and moor her up for one last time. Hopefully you've had a fantastic week, the crew have all got on, and you've enjoyed sampling the best that Scotland has to offer, in terms of tranquillity, sailing, and whisky!
The restaurant and bar in the marina is great, but if you haven't yet been to Largs, then it is worth a short stroll, and Nardini's ice cream parlour there has been serving ice-creams and fish and chips for over 80 years! Enjoy reminiscing about this holiday over a glass or two of whisky, and head to PlainSailing.com when you want to start planning your next sailing adventure!

---
Sailing Conditions
 WHAT ARE THE WINDS LIKE?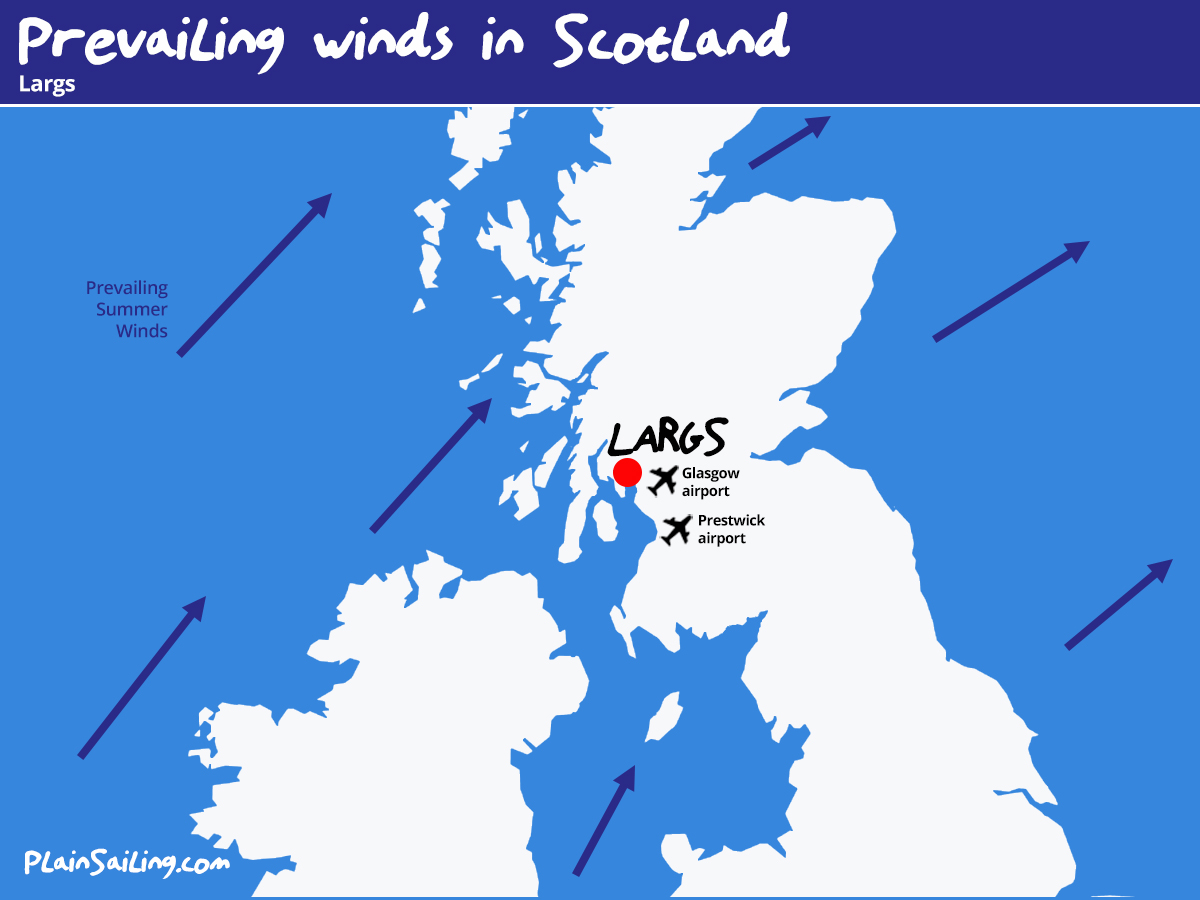 Scotland has dependable, interesting, and relatively strong winds, which make it an ideal place to get some sailing in. Winds around Largs are usually Force 3 to 4, often gusting higher, and make the sailing exhilarating, fast, and fun – which goes some way to make up for the lack of guaranteed sunshine.
The prevailing summer winds arrive from the south-west, and have travelled right over the Atlantic to greet you on your boat, and help you power yourself across the Clyde.
In spring and autumn (but to a much lesser extent in summer) then you can also get cold winds and weather systems arriving the north, so it is certainly worth checking the forecasts before you set sail.
If you sail outside of the Clyde area, then you will also need to start to think about tides, (but thankfully the area around Largs is relatively non-tidal).
 HOW HOT WILL IT BE? 


Scotland has cold winters and mild summers, which means that you might need your thermals and to be prepared to wear a few layers (particularly at night or when you're out at sea, when there might be added wind chill). The weather can be changeable in April/May and September/October, but most days are pleasant from June to August, when you'll also find more sunshine than rain.
 HOW WARM IS THE SEA? 


Being so far north, Largs and Scotland are not known for their beach weather, and it's probably no surprise that sea temperatures this far from the equator are also a little on the cold side. In winter the water hits a low of 8 degrees and it's not really at a comfortable temperature for swimming until June and July (though even then, you will certainly notice when you arrive in the water), and peaks at 15 degrees in August – which is roughly equivalent to a cold bath.
---
Marina Details - Largs Yacht Haven
Largs Yacht Haven boasts a huge marina with over 700 berths and full support services - including a warm welcome at all hours of the day from their 24 hour staff. The marina is accessible regardless of tide and dry berthing is available. The fuel and waste disposal services are excellent and free wi-fi is available. There is a free car park just across the road to all berth holders.
If you need somewhere to stay before or after your charter, then we recommend the Brisbane House Hotel and Haven House Bed and Breakfast, both located in Largs.
GETTING THERE:
The nearest airports are Glasgow Prestwick and Glasgow International airports, which are 85km away. Taxi's can be arranged to take you directly to the marina, or you can use public transport - trains run from Glasgow to Largs every hour during the day (Check
www.thetrainline.com
for specific times and prices), and the railway station is a 10-15 minute walk or a short taxi ride from the marina. Largs is approximately one hour's drive east of Glasgow, and can be reached by taking the M8 and A760. Free car parking is available at the marina.
PROVISIONING: There is a Morrisons Supermarket in the centre of Largs that will stock everything you need. It's 2km away, so possible to walk there, but it's worth getting a taxi back.
FUELLING AT END: There is a fuelling berth in the Largs Yachthaven - head there before you head back to your home berth.
Loading Map Co-ordinates...
---
---
WHAT NEXT? Use the pink box to search for yachts or catamarans with LIVE pricing & availability - if you have any other questions or requests, get in touch via Live Chat, the Contact Form, or by phone.