Why Book With Us?
Simple, straightforward process
Outstanding customer service
Friendly UK-based team
Pre-order food, kit or WiFi onboard
Join Our Mailing List
Yacht & Catamaran Charter in Rhodes, Greece
Looking to sail from Rhodes? Search to find and book your ideal boat, or read everything you need to know: prevailing winds, where to sail, how to get there and more!
READY TO BOOK!
All our yachts have REAL-TIME pricing & availability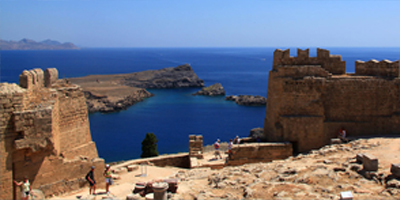 If you haven't yet chartered from Rhodes, then you're missing out - the Dodecanese is choc-ful of interesting places to sail, and Rhodes is perfectly located to explore them all: from the volcanic island of Nisyros, a nature reserve near Symi, tourist resorts on the South of Kos, fishing villages at Tilos, and plenty of other beaches, bays, cliffs and coves which can only be reached if you have your own boat.
Sunshine is practically guaranteed, there's brilliant and changing winds, and the locals are genuinely happy to see people arrive and to join them in their water-side tavernas and restaurants. The Dodecanese is a wonderful place for a sailing holiday - isn't it time you checked it out?
---
---
9
---
Sailing from Rhodes
There are tens of islands in the Dodecanese, of varying degrees of development: from thriving tourist spots like Kos and medieval towns like Rhodes, to secluded bays that you can only access by boat and which, if you didn't know better, you could imagine you are the first person ever to have visited. Symi is popular on the cruising circuit because it is a very cute and colourful coastal town.
Top 3 things to see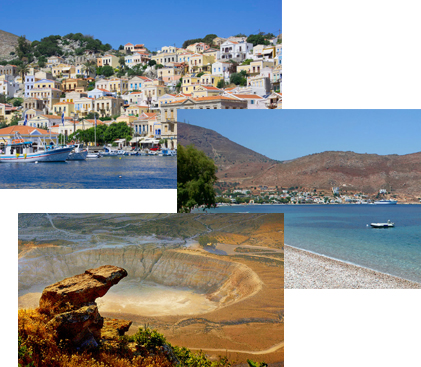 Check out our 6-day itinerary below, or if you're planning your own itinerary, here's our top 3 places to visit in the area:
Symi (25 nM from Rhodes)
An outstandingly beautiful Greek village. Stunning colourful and elegant buildings surround the town harbour, making it a mesmerising place to spend the night.
Tilos (41 nM from Rhodes)
This is a remote and largely unspoilt fishing village, just a short walk from the abandoned ghost town of Mikro Chorio. The island also runs entirely on renewable energy.
Nisyros (54 nM from Rhodes)
Walk in the crater of an active volcano, bathe in the secluded beaches, or visit the picturesque town of Mandraki, which features a 17th century monastery overlooking the town.

Suggested 6-day itinerary
If you're only chartering for one week, then the most obvious itinerary from Rhodes are the islands immediately north of it, with Symi and Nisyros obvious destinations. If you had longer, or like longer days on a boat, it's certainly possible to head out to Karpathos or Astipalea, or even right across to Crete.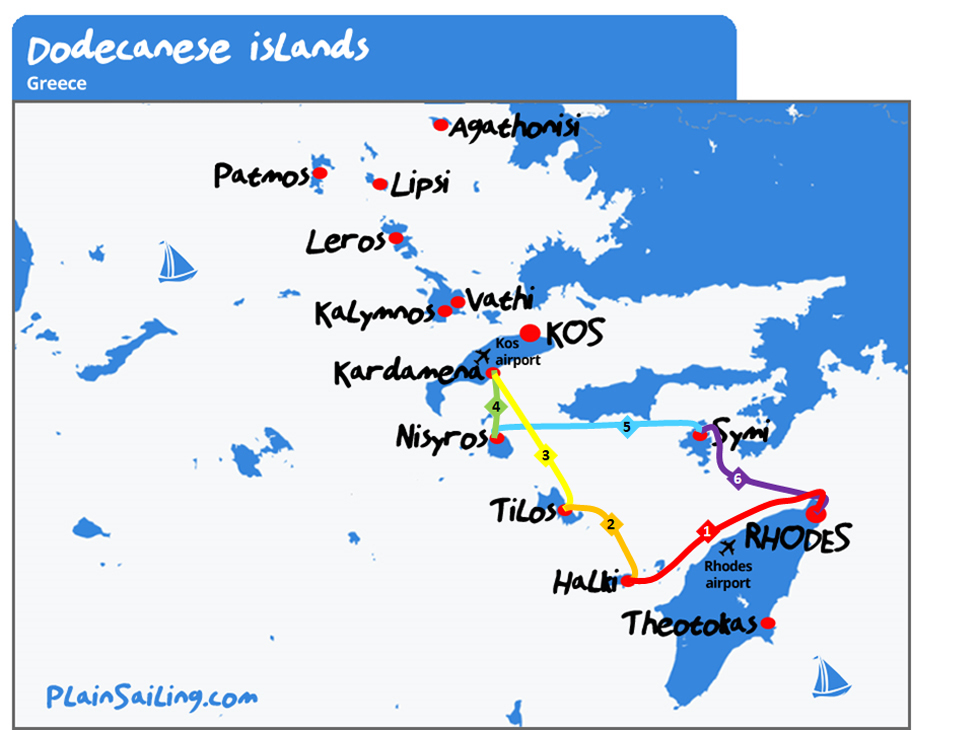 The suggested itinerary below is a six day itinerary which covers 148 nautical miles. Although you'll charter for seven days, this itinerary is only for six days because you'll usually struggle to do any meaningful sailing on the first day – you might not be able to check in until after 4pm, and you'll be busy getting supplies on board for the week – or the last day (you have to return to the home base on Friday night, and won't be sailing at all on the Saturday you check-out). That means you'll be sailing on average about 25 nM a day, and, with an average speed of at least five knots, should mean only four or five hours of making way (but shorter if you kick out more knots).
That means you the pace of your holiday should be quite leisurely, and you'll have time to get to know each of the places you visit, or spend time playing at sea, or throwing in extra stops, as the mood takes you – after all, this is your holiday. Enjoy.
Day 1. Rhodes to Halki – 33 nM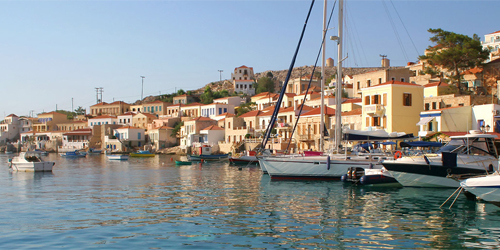 Once you're certain you know which ropes are which, you've stowed all your kit, and you've checked that the crew are all on board, it's time to slip the lines and away. Gently bob your way out of the marina, point into the wind, and get the sails up! Then head North, taking the time to admire Rhodes from the sea – the medieval scene is a sight that has been like this for hundreds f years, so imagine leaving from here to go to war to fight for your religion!
Thankfully, we're not going to battle on this itinerary. After getting past Rhodes, we're heading South-west, following the northern coastline of Rhodes island (and past the airport) as we make our way to the small island of Halki. You'll likely be beating or close-hauled in the prevailing wind, so you should be seeing exactly what sort of crew you've assembled. But don't worry – you'll have a week to lick them into shape.
Halki is a tiny island with a population of fewer than 500 people at the last census, in one village. There used to be more people here, but the whole island was abandoned in the 1850's after people got so fed up of being ransacked by local pirates that they just left, with many emigrating to the USA.
Of course, one of the things that made life difficult on the island is that there was no water source – until 2014, when they opened their first water desalination project, water had to be shipped in from nearby Rhodes. No, actually.
It's a sleepy island which is pretty much off the beaten track, and life moves at a different pace here, but there are a number of taverna's or places to eat. Outside of the village, there's still signs of derelict white-washed buildings and the beaches and nature are pretty much unspoilt.
Day 2. Halki to Tilos – 19 nM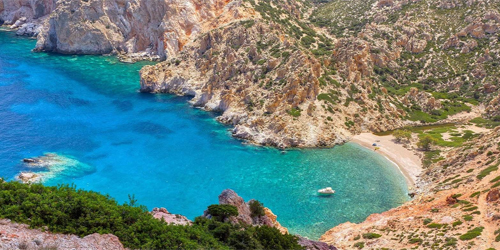 After a relaxing night in Halki, we're heading north-west to the slightly bigger island of Tilos and the town of Lividia – it's capital. From Halki, this could be reaching against a wind from the West or beating into a wind from the North-west, which are the two options for prevailing winds in summer in this part of the world. It's only 19 nM, so there is even time to explore a few of the secluded bays on the South side of Tilos if you are inclined.
Tilos is about double the size of Halki, but given how small Halki is, that doesn't say too much! There are also more facilities for tourists – including a hotel – but in general, this is a place which will feel a world away from all the passengers you shared an aeroplane with on the way to Greece.
This itinerary is honestly not just about abandoned former towns of Greece, but in Tilos there is the creepy ghost-town of Mikro Chorio, which was abandoned just after the second world war. The people left with all their roofing tiles, but the stone walls are still standing and it's a quirky place to wander around (and it's only a short walk from the marina).
Tilos is also notable for being the first island in the world to run off green energy (wind and solar), and for the exceptional quality and privacy of its nudist beaches – so keep an eye out for those.
Day 3. Tilos to Kardamena – 26 nM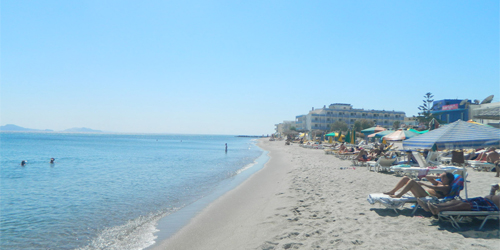 From quiet beaches and taverna's, our next destination offers long and lustrous sandy beaches, as well as a lively night-life with strips of bars and even a few nightclubs. Kardamena, on the island of Kos, is a popular tourist destination in its own right, and people flock here to spend beautiful holidays on the beach here, and bathing in the crystal-clear waters.
If you're getting good speed or would prefer a longer sail, then you could head to the historic old town of Kos instead of Kardamena (check out our destination guide for Kos if you want to find out more about it), but we didn't want too many long legs on this itinerary, and the change of pace at Kardamena shows the other side of holidays in Greece - it might be what your crew need before we head back out to remote islands. Plus it means there is more time to spend on the volcanic island of Nisyros tomorrow.
The prevailing wind beyond Tilos is likely to ne North-westerly, which means you'll likely be beating up the wind as you work your way to Kardamena. Close-hauled is actually the fastest of all sail trims, and it's not impossible that you'll be able to make the distance in a single tack if the wind is blowing from the right angle of the North-west.
Enjoy the sunshine, the beach, and your evening of being a land-lubbing tourist.
Day 4. Kardamena to Nisyros – 10 nM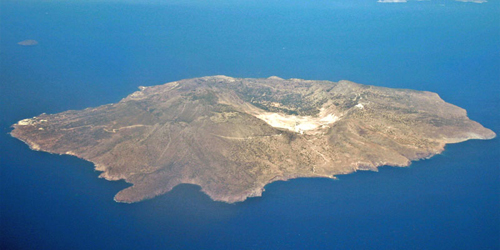 It's an easy sail from Kardamena to the volcano island of Nisyros, and it the shortest leg on this tinerary. That means you can spend more time on the beach in Kardamena, or, better, more time on land in Nisyros, where you probably have time to explore the youngest volcano in Greece, on one of the newest islands in the world (Nisyros is only 150,000 years old). It's possible to walk around in the 3km-wide caldera or crater of the volcano, or, if that's not your idea of fun, to bathe in the naturally warmed 60 degree thermal waters.
The sail is pretty much due South, so you'll likely be broad-reaching to run with the wind, but bonus points are available (and bonus street cred for the skipper) if you throw in a Goose-wing on your way down.
In Nisyros, you can choose to moor up in the picturesque village of Mandraki, which is the largest village on the island, and which has a brilliant monastery overlooking the village, or to berth at nearby Pali, which is even smaller, though there is still a bakery and a taverna there, and it's only a few kilometres down the coast. If you opt for Mandraki, you might be surprised to find out it has it's very own bar area – head to 'Little Venice' beneath the monastery, where you'll find four or five lively bars.
Oh, and you'll need to buy a piece of local pumice for good luck when sailing away from the island.
Day 5. Nisyros to Symi – 35 nM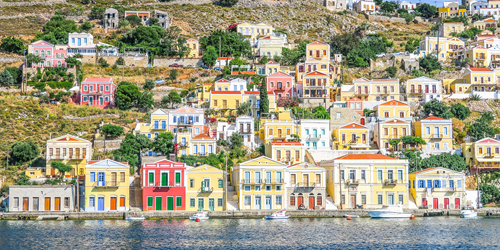 And now for something completely different. Whatever you're expecting from a sailing holiday in the Med, it's almost certain that Symi will surprise you. It's stunning, and impossible to put into words, but I'll try: it's picture-postcard town made up of a mass of bright and colourful elegant neo-classical buildings which surround the port, and which cover the surrounding hillsides. By day it's incredible, and by night, it's mesmerising (and the port is the best place to be to see it). Wow!
The town has a good mix of shops (leather goods are the local product), and there's plenty of taverna's and restaurants to sit and enjoy the evening with. You could also join the locals with a stroll along the promenade in the town.
Aside from the beautiful town, Symi is a haven for wildlife, and everywhere on the island you'll find tranquillity and unspoilt beauty. You can hike around the walking trails in the countryside and really feel like you are on another planet to your desk or computer.
Sailing-wise, you're heading due East, so you should be reaching or broad reaching against the prevailing North-westerly wind, as you make your way below the Turkish coastline, and across to Symi. You'll spot a few idyllic beaches on the Turkish coast - technically you'll need to get the right paperwork in place before you're allowed to visit – before nosing between Symi and the island of Nimos and heading South to the well-protected bay and Symi.
Day 6. Symi to Rhodes – 25 nM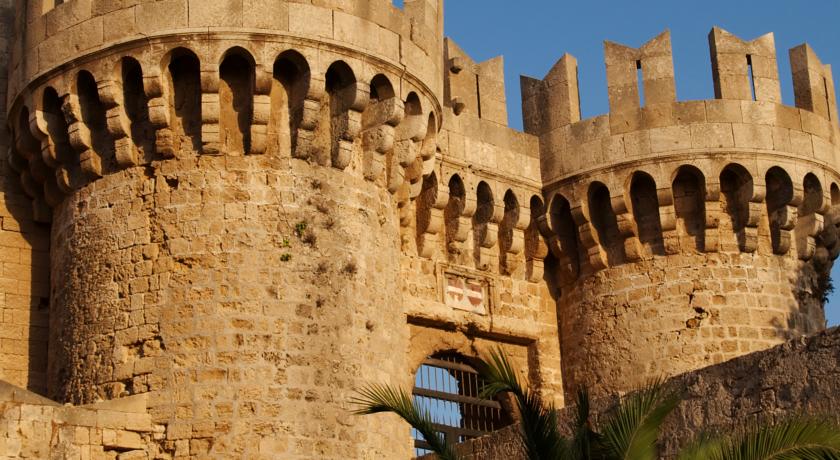 Oh no! How is it already time for the final leg of the voyage? This trip has gone so quickly, but it's already time to head back to Rhodes, I'm afraid. From Symi, it's a case of going North out of the bay, then following the coastline of Symi South. If you have time to pop back up and round the other side of Symi, the monastery of Panormitis is a very grand and impressive building which seems out of place with the small bay and remote island it occupies.
Heading further South (and in this direction, you should be running or broad reaching with the prevailing winds) the island on the nose of your boat will be Rhodes, so set your sails for the furthest land you can see on the port side, as Rhodes town is just around that headland.
Hopefully you've had a brilliant week of sailing, and have enjoyed island-hopping. The views are tremendous, the Greek weather makes it super-relaxing, and I'm sure everyone onboard has had a big smile on their face. If you haven't already got one, don't forget to get a team photo of the crew on deck!
Arriving back to your marina in Rhodes, head to the fuel berth to fill up on diesel, before returning to the vague area you picked up the yacht or catamaran from. Someone will be along to inspect the yacht tonight, but you'll still be able to sleep on her, before checking out in the morning.
If you haven't had chance to visit Rhodes, then now is a great time to see what it is all about, and it should be lively in town tonight (particularly near the marina) as all the sailors return from a week at sea and exchange all their tales and blow off steam!
Have a safe flight home, and hopefully we'll see you next year – come and visit PlainSailing.com to read more destination guides and to plan your next voyage!
---
Sailing Conditions
What temperature will it be?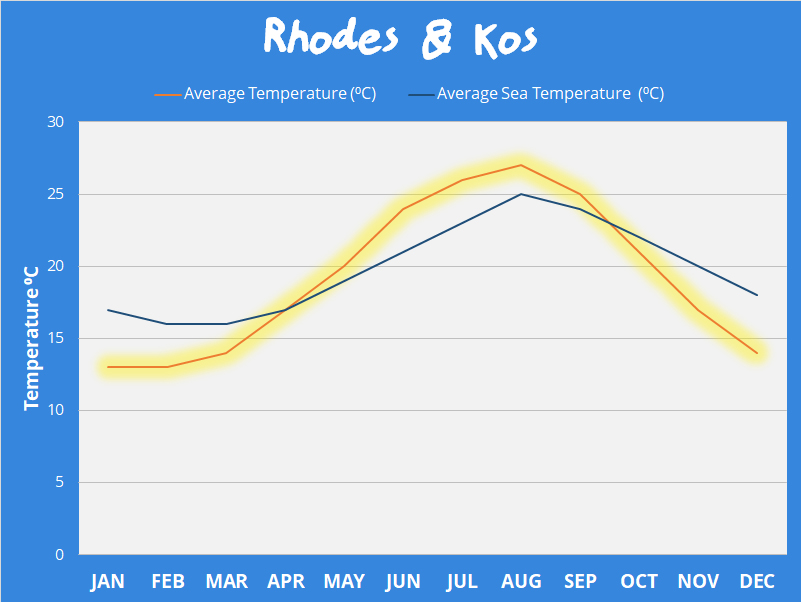 Rhodes has beautiful weather practically all year round, with sunshine on 300 days a year, and temperatures very rarely getting below 12 degrees Celsius, even at the height of winter. That means there's pretty much no chance of snow and ice, so you can leave your ski-gear at home.
From March onwards, the weather is above 15 degrees, which is t-shirt weather, and by the time the sailing season arrives in May to September, temperatures are usually above 20 degrees. When the peak temperatures arrive in July and August then, whilst on average the temperature is in the high twenties, there will almost certainly be days where the mercury pushes past 30 or even 35 degrees – which is hot enough to get you sweating in the shade, and when you might want to consider air conditioning. Every few years, it reaches over 40 degrees, which is hot, even for those who like the heat.
 
How warm is the sea?
There is seldom rain in Rhodes, so you'll be needing to take dips in the sea to cool down, even if you're the sort of person who can't stand swimming in the sea.
Even in winter, the sea here doesn't get below 15 degrees (which will feel a bit fresh). For the sailing season, it's around 20 degrees, which is plenty cold enough to be refreshing, it's also bearably warm. And by August, the sea will hit 25 degrees, which is similar to the temperature you'll find at a swimming pool – so it will be easy to get in and out of (particularly in 30 degree sunshine), but the sea will have lost its cold shock factor when you jump in.
 
What is the wind like?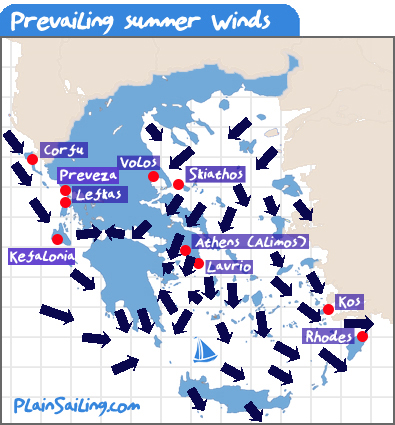 In summer, the winds in the Med tend to sweep across and down to exit the Med on its Eastern side somewhere around Turkey and Lebanon. Rhodes, and the Dodecanese islands of which it is a part, gets some interesting winds as a result: the prevailing winds race from the North-west, but it's possible that you'll get winds arriving from the West or North which you'll need to consider, particularly in July and August, when the Meltimi winds blow.
The winds in the Dodecanese are the best and most reliable winds in Greece – if you're sailing in June to August you can expect Force 4 or 5 winds (11-22 knots) throughout the day, which is absolutely perfect sailing conditions - though be sure to check the weather forecasts as at the height of summer, winds have reached Force 8 before.
At night, the winds usually reduce considerably to a light breeze, but you'll want to keep your lines nice and tight as they can pick up again in the early hours, and there's nothing worse than a clanking rope to wake you up!
In winter, there are no real prevailing conditions, with weather and winds as likely to arrive from any direction, and in any strength – that makes for some challenging sailing conditions, but part of the fun of sailing is testing yourself against the elements.
 
What is the Current Weather in Rhodes?
If you're off sailing in a couple of days, you might be interested to know what the 7 day forecast is - our handy widget below should give you a good idea, though once you're out there we recommend using windguru.cz.
 
---
Our Guide to Rhodes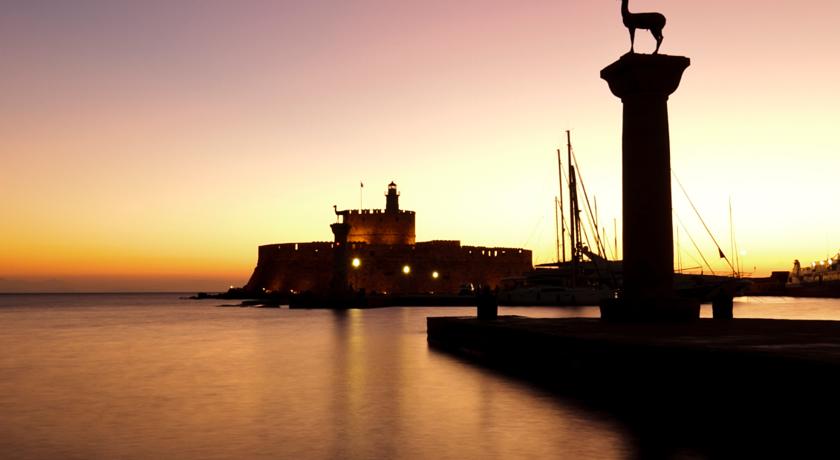 Like most of Greece, Rhodes has a long and brilliant history. It was inhabited in the Bronze age (1300 BC), and has been an important trading post ever since – with the harbour being a focal point for the town throughout.
To celebrate victory in a war against nearby Cyprus, the ancient Greeks built the Colossus of Rhodes (one of the seven wonders of the ancient world) in the marina – the statue was taller than the Statue of Liberty, but was built in 300 BC! Rhodes also appears in ancient Greek mythology.
Since then, Rhodes has been visited by Saint Paul, was a Roman capital of the Mediterranean, was developed into a medieval stronghold by crusading knights (who built castles here), was sacked by the Ottomans, and has been fought over by countless peoples through the years.
Nowadays, it is a very popular tourist island owing to its fine weather and outstanding beaches, and that it has something to offer to everyone – from crazy (but less so in recent years) nightlife in Faliraki for wild youngsters, resorts of outstanding beauty for more sedate travellers, and historic relics to unearth for those that enjoy culture over sunshine.
Rhodes is most famous for its medieval centre, with the narrow cobbled streets, gothic architecture and street of the knights and Palace of the Grand Master the most notable sights to see. But there's also an ancient Olympic stadium and, further afield, you'll find temples and acropolises in remarkable condition which are older than you can imagine.
Aside from the great history, there are long and sandy beaches around the whole of the island, sometimes quiet and private, or sometimes with jet-ski hire, water-skiing, wind-surfing or banana-boats. There's also plenty of great tavernas, bars and almost guaranteed sunshine which make Rhodes a desirable place to spend the day and night.
Along with sailing, there are other beach and water sports to try, rustic villages to peruse, and reefs to snorkel.

Local Events / Festivals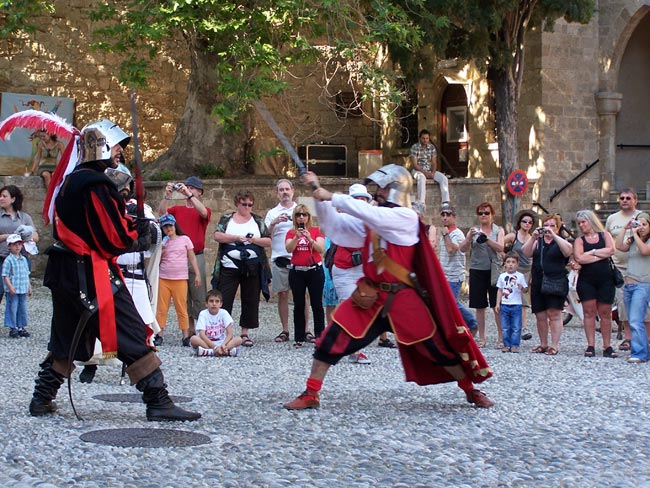 There's usually something going on in Rhodes, even if it's just the tourist street performers who serenade passers-by with folk and international covers (albeit sometimes to horrendous effect), particularly during the summer months. The local tourist board also pay for local performing arts groups to take to the streets to entertain the tourists, but they don't seem to publish much information online, so it's worth heading to the tourist information if you'll be in town for more than a night or so.
One of the key highlights of the year is the Medieval rose festival, when the whole of the old town is dressed up to how it would look in medieval times and there are street parades, mock re-enactments of battles, and other traditions, games, songs and dance related to bygone days. It's usually held in mid to late May.
May also sees the Flower festival, including a parade of floats dressed spectacularly and entirely in flowers, and everyone has flowers in their hair.
In June, there's the Rhodes International film festival, with a range of new and old films in English, German, Greek and Italian languages – often in open air venues late at night.
In September, you'll find a number of stages are set up around the town for the open-air music festival.

Eating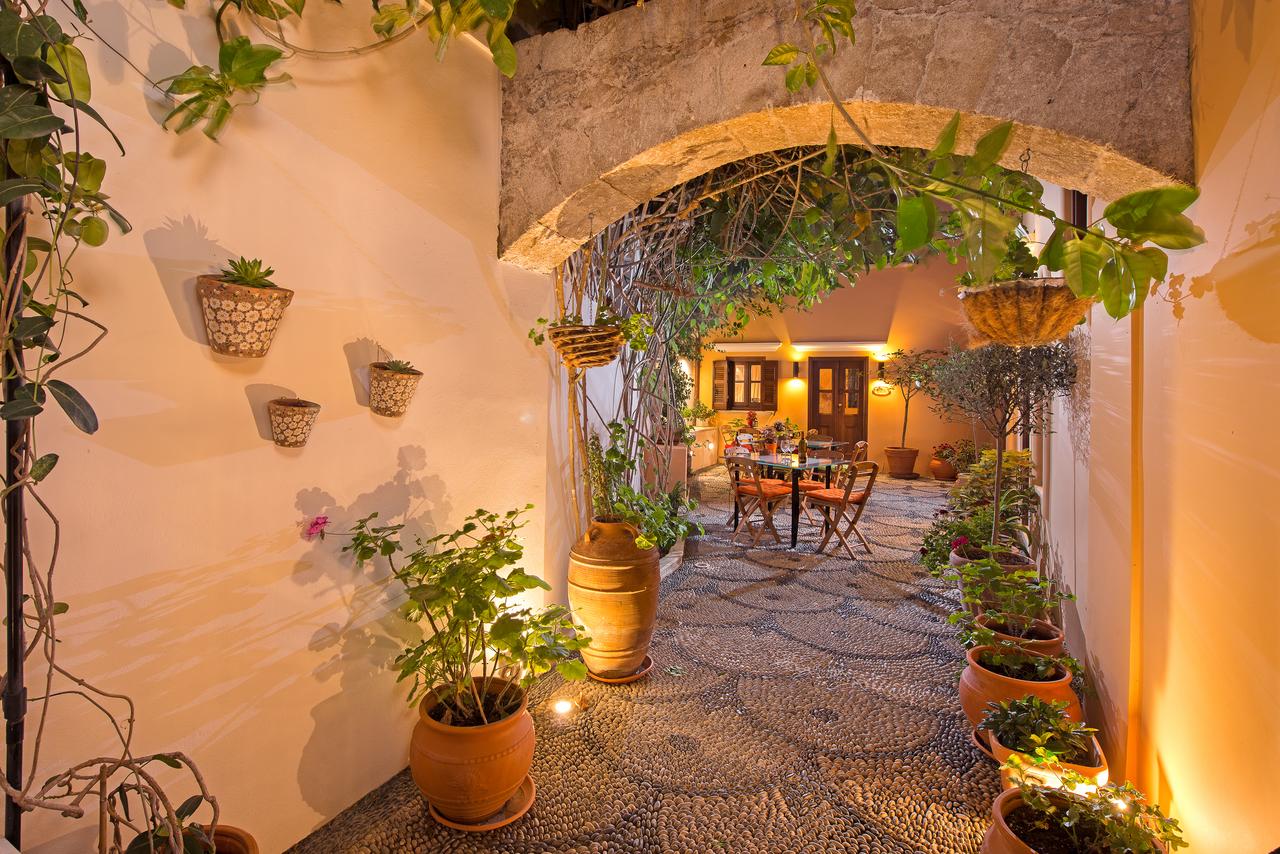 Rhodes town is a big tourist centre, so the streets are lined with literally hundreds of places to sit for a coffee or stop for something to eat, from all sorts of different cuisines, and in all sorts of locations – from places with seafront panoramas, next to ancient monuments, or more normal side-streets. Being tourist central means that the standard can be mixed, but when we're in the area, we head to:
Dromos Street food – one of our team swears by this unique sandwich venue, and seems to have fallen in love with the owners. Probably the best place to stop for a quick lunch, or an inexpensive but tasty snack. Located just near Mandraki marina (Papagou 4, Rhodes).
Fortuna Pizzeria – Like pizza? This is where you'll find the best pizza in town. Their stone-baked, thin and crispy Italian style pizzas are delicious, and they even serve gluten free versions! Located on the western side of the old town, but worth the walk (16 Leodos Georgiou, Rhodes)
Niohori – our top-pick for Greek cuisine. These guys know their flavours, and their menu is jam packed with Greek cuisine classics. They also own the butchers opposite, and their lamb, in particular, is outstanding. It's down a back-street, and you can tell it's exceptional because most of the clientele are locals. (Ioannou Kazouli 29, Rhodes)
Christos o Vlachos – The best little Greek place you'll find near to Rhodes marina, this place has authentic home-made Greek dishes that will get you licking your lips and asking for more. It doesn't look special, but believe us, the food is. Decent portions, amazing flavours, great prices (Nik. Mavrou, Rhodes)

Nightlife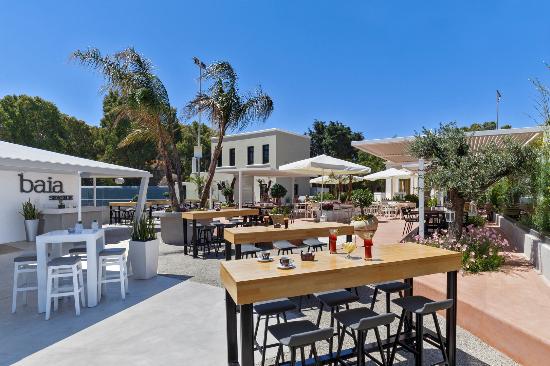 If you're after wild nightlife, then you might prefer to get a taxi 15km down the East coast of Rhodes island to the party town of Faliraki, where you'll find hundreds, maybe thousands of predominantly British revellers on bar crawls along the lively strip until very, very late.
But you'll still find a lively nightlife in Rhodes town too, as there are lots of people on their holidays, and the local restaurants tend to give out the local drink Raki for free. The atmosphere changes by the day, so wander through the town and follow the crowds, or try this places:
Mod Café bar - a lively place to watch the sunset with a relaxed vibe and decent music. They also make a range of cocktails, but be careful – they are strong.
Baia Seaside – a super-swish beach bar on a beach between the two marinas, and offering an amazing view out to sea and an incredible place to sit and lap up the holiday feeling. They serve (expensive but average) food as well, but it's mainly worth heading here for drinks in the evening sun.
Arena Sports bar & Grill – Notable because this is where we watch the football if we're in Rhodes pre-season. They have lots of screens for sports, and do a pretty mean burger or chicken wings. Not very Greek, but sport is sport.
Cellar of Knights – The people who run this place seem to know everything there is to know about local, and Greek wines. If you like wine, you shouldn't miss this place. If you don't like wine, you go there anywhere anyway and learn something!

Places to Stay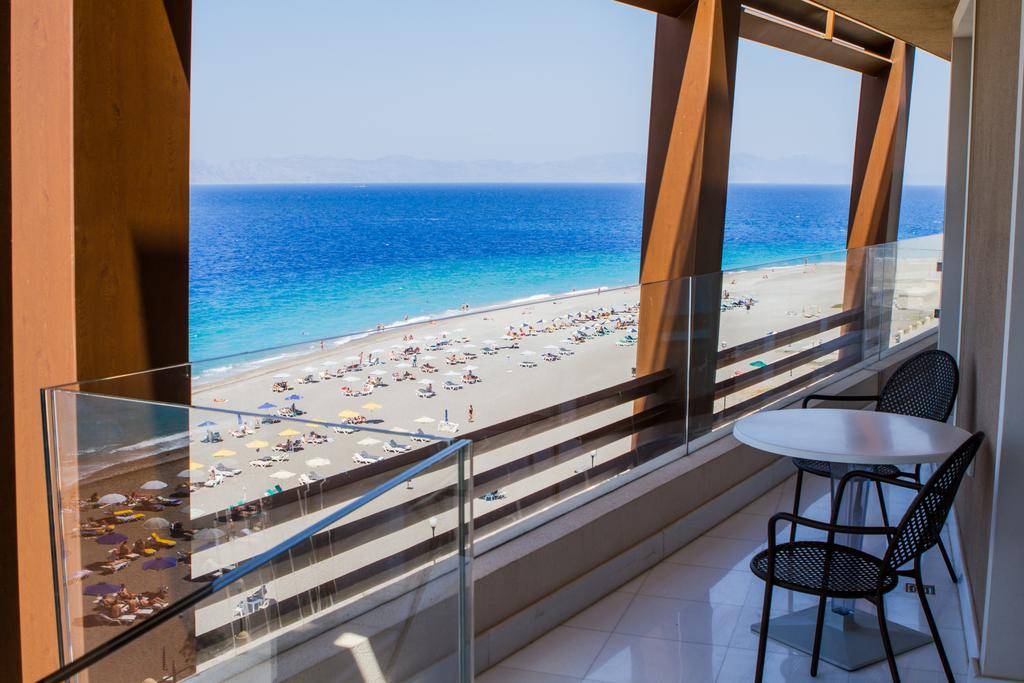 Typically, charters run from Saturday to Saturday, so if that doesn't quite match the available flights from near where you live, you might need a place to stay for the night – we can recommend the following places in the area:
Moschos Hotel ** – c. £45 for a double room – superbly located for the old town and Mandraki marina (and, therefore, not so far from the new marina either), as well as the beach, this hotel isn't spectacular, but is clean and comfortable and offers incredible value for money – the cheapest 'nice' hotel you'll find in the centre.
Congo Hotel ** - c. £45 for a double room – the best cheap and cheerful hotel near to the new Rhodes marina, this hotel has smart but basic rooms, a small swimming pool and a sun terrace, and the marina is literally 60m around the corner.
Hotel Hermes ** - c. £75 for a double room – located right next to Mandraki marina, this is a fairly modern and minimalist hotel, but has balconies that look out to sea, free wifi and a decent breakfast included.
Bellevue Suites ***** - c. £165 for a double room suite – Located on the beach front and within easy reach of the old town and both marina's, this hotel will give you the VIP treatment and this is a luxurious place to start your holiday. There are balconies overlooking the beach, two swimming pools, a fitness centre. kitchenette's in rooms, and a superb and delicious free breakfast.
---
Marina Details
We operate out of two marinas in Rhodes: Mandraki marina, and the new Rhodes marina. Both are superbly located for exploring Rhodes town, and the Dodecanese islands.
Mandraki Marina
The historic Mandraki marina was once the site of the Colossus of Rhodes, one of the seven wonders of the ancient world. It's just a short walk from the old town of Rhodes, where there are a mix of castles, museums, shops, bars, restaurants, and ice-cream parlours. Ships have been sheltering in Mandraki for literally centuries, and now has 250 berths, and the usual toilet facilities.
Nearest supermarket
There's a number of mini-markets throughout Rhodes town. Whilst not massive, the biggest supermarket in a walkable distance (with heavy bags) to Mandraki marina is the Tanagra supermarket on Ionis Dragoumi.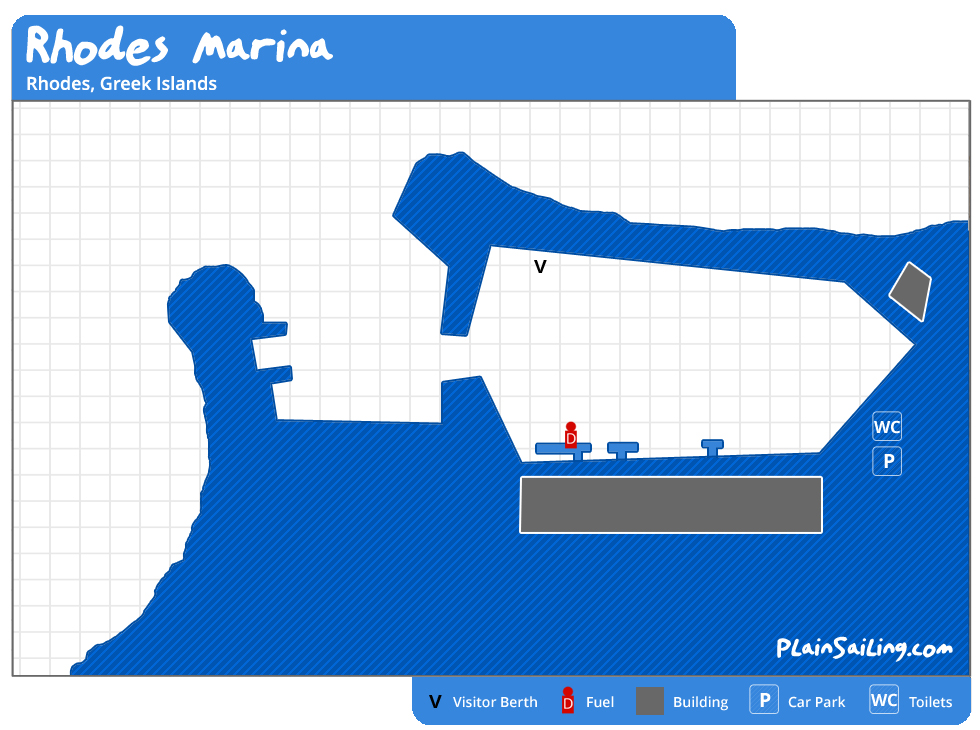 | | |
| --- | --- |
| Website: | rodosmarina.com |
| Address: | Rhodes Mandraki Marina, Limeniko Tamio Dodekanisou, Platia Neoriou 1, 85100, Rhodes, Greece |
| Long / Latitude: | N 36° 27' E 28° 13' |
| Telephone: | 0030 22410 37927 or 0030 69367 95114 |
| Email: | info@rodosmarina.com |
| VHF: | Channel 12 |
| Walk-ashore berths: | 250 |
| Facilities: | ATM, Bottled gas, Electrical supply, Fresh water, Fuel: Diesel, Fuel: Petrol, Internet café, Parking, Shop / Supermarket, Showers, Toilets, Telephone, Trolleys, Visitors berths |
---
Rhodes Marina
Rhodes marina, a tiny bit further down the coast from Mandraki marina, was only built in 2016 after things started to get a bit busy in Mandraki marina. It is beautiful in its own right and boasts 600 berths and all the mod-cons, including free public wifi, multiple shops, bars and restaurants, and even a heliport!
Nearest supermarket
There's plenty of small supermarkets and minimarts around Rhodes, but if you're preparing for a week away from land, you're better off heading to one a bigger supermarkets for a better range of products and better prices - from Rhodes Marina, the nearest decent-sized supermarket is the AB Vassilopoulos about 200m due west of the marina, at 117 Kanada, Rhodes.

< AWAITING MARINA IMAGE >

| | |
| --- | --- |
| Website: | rhodesmarinas.com |
| Address: | Rhodes Marina, Australia str, 85100, Rhodes, Greece |
| Long / Latitude: | N 36° 26 E 28° 14 |
| Telephone: | 0030 22414 40970 |
| Fax: | 0030 22414 40979 |
| Email: | info@rhodesmarinas.com |
| VHF: | Channel 9 |
| Walk-ashore berths: | 600 |
| Facilities: | Bottled gas, Electrical supply, First aid, Fresh water, Fuel: Diesel, Fuel: Petrol, Gym, Helipad, Café, Laundry facilities, Parking, Pub / Restaurant, Shop / Supermarket, Showers, Toilets, Telephone, Trolleys, Visitors berths, Wi Fi |

Marina Reviews
"Rhodes is the best town and island in Greece, and being able to stay in the same marina as where the Colossus of Rhodes once stood is quite exciting. The marina had everything we needed, and there was a very jolly atmosphere. Our crew really liked that it was also just a short walk to an ice-cream shop!" - Marcel G
---
Getting to the Marina
Loading Map Co-ordinates...
Being a fairly remote island, by far the easiest way to get to Rhodes is by air, but it is possible to arrive there by ferry from Kos (and you can get there from Athens) and Marmaris in Turkey.
Rhodes airport is the fourth busiest airport in Greece, and receives flights directly to most of Europe, and indeed, the wider world. The airport is a 20 minute taxi ride from the marina (Our team can help organise a transfer direct to the marina).
As both Rhodes and Mandraki marinas are within easy walking distance of the old town, you could also get a public bus to Rhodes town and work your way to the marina from there - the frequency of services varies during the year, but they tend to be every 30 minutes or so during the summer, and the journey takes about 35 minutes (check out the latest Rhodes island bus timetables).

This page last updated: June 2018
We do our best to keep this information as up-to-date and accurate as possible, but obviously we can't be everywhere at once. If you are aware that any information on this page is incorrect, please let us know by emailing marina@plainsailing.com.
---
---