Why Book With Us?
Simple, straightforward process
Outstanding customer service
Friendly UK-based team
Pre-order food, kit or WiFi onboard
Join Our Mailing List
Yacht & Catamaran Charter in Athens, Greece
Looking to sail from Athens? Search to find and book your ideal boat, or read everything you need to know: prevailing winds, where to sail, how to get there and more!
READY TO BOOK!
All our yachts have REAL-TIME pricing & availability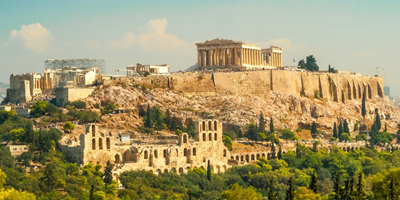 As well as being monumentally historical, Athens is the best place to charter from if you want to explore the Saronic islands - and there's so much to explore: from the pistachio-growing island of Aegina, the ancient ruins at Poros, and the almost mythical Hydra, which is an amphitheatre of a marina that is genuinely a wonder to behold, and where they still transport everything by donkey!
In the Saronic islands you'll also find near-permanent sunshine and reliable winds (not too strong, but not too light either), as well as good sailing facilities: people have been sailing around here for literally thousands of years. Isn't it time you joined them?
---
---
10
---
Sailing from Athens
From Athens you're very well placed to explore the Saronic islands - Aegina is famous for its pistachio nuts, Poros for its vibrant tavernas and the Posedion ruins, and Hydra for the incredible stepped-town which is a joy to behold after a few hours at sea.
Top 3 things to see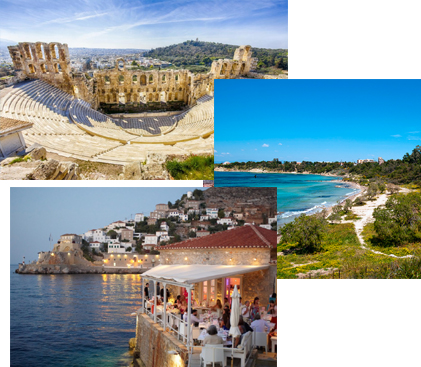 Check out our 6-day itinerary below, or if you're planning your own itinerary, here's our top 3 places to visit in the area:
Athens (0 nM from Athens)
Literally the home of modern civilization, you can't pass through Athens without seeing the Acropolis – up close if you're an enthusiast or from one of the amazing local rooftop bars.
Aegina (22 nM from Athens)
This extinct volcano-island used to be a rival to Athens – now it is most famous for having the best pistachios in Greece, and soft natural sponge. It's also a homely town with friendly locals and excellent (pistachio) ice-cream!
Hydra (43 nM from Athens)
Nothing beats the atmosphere and beauty of entering the hillside fishing village of Hydra after a day of sailing. Cars are banned here – so grab a donkey to help with the shopping - and it's one of our hot tips for the whole of the Mediterranean!

Suggested 6-day itinerary
This itinerary is for 115 nM for the week, which means that, assuming you're travelling at a conservative 4-5 knots, should mean a combined 23-28 hours of sailing time – or 4-5 hours a day, leaving you ample time to explore the start or end point, get some provisions in, have a lie-in, or to stop off at interesting places en-route for lunch, shopping or a swim.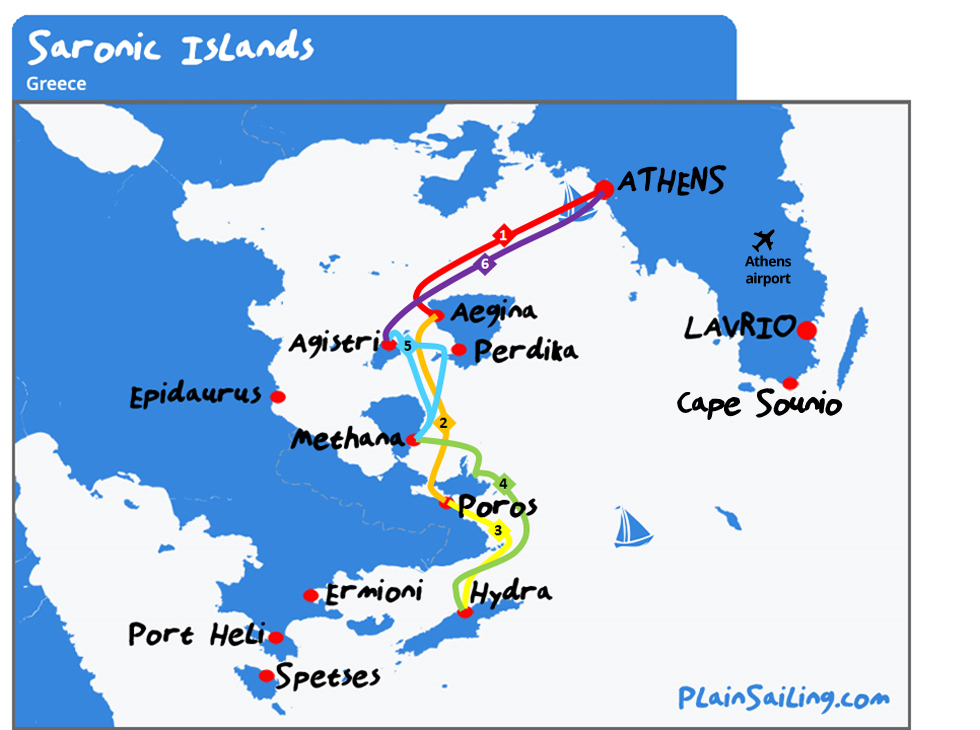 This also assumes that you'll check-in on the boat on the Saturday and either spend the day getting provisions sorted and stowed, or just take the yacht or catamaran out for a quick spin before returning back to the home marina, ready to depart for your voyage bright and early on Sunday morning.
This itinerary also includes getting the boat back to the home marina for 6pm on Friday night, as required by the charter operator (so they can inspect the yacht), and then complete the check-out formalities immediately before you leave the boat (after an exhilarating week) on Saturday morning.
Day 1. Athens to Aegina – 22 nM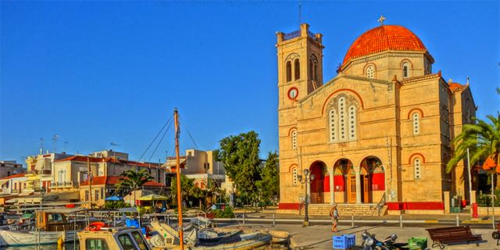 Fire up the burners and motor the yacht or catamaran gently out of the marina (taking care to remember whereabouts the yacht was parked, as you'll likely need to return it to the same general area next week), and you're ready to set sail! The first day is a straightforward sail in a SW direction - which is also the direction of the prevailing summer winds, so you'll likely be running or reaching downwind.
Avoiding the ferries and the massive cargo ships, the island of Aegina will be on the nose of the bow for most of the way, and then you tuck around the north-side of the island to find the pretty fishing village of Aegina, which has bars, restaurants and shops located around the marina to tempt you back on to dry land. Aegina is most famous for its pistachio nuts, so be sure to pick up a handful.
Day 2. Aegina to Poros – 18 nM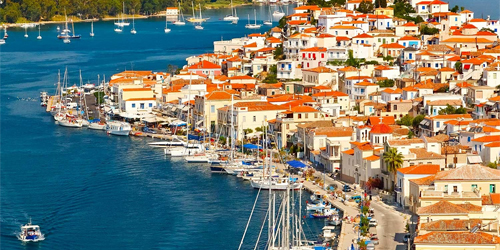 Bearing pretty much due South of Aegina, and down a funky and narrow channel (don't worry – it's plenty big enough for a yacht or a catamaran to navigate down!), you'll find the island and town of Poros. This is situated on both sides of the channel, with local taxi-boats helping to get you from one side to another, which adds a fun dimension to planning your evening entertainment.
The main part of the town is on the northern side of the channel, which offers neoclassical architecture, a town square, and a beautiful blue church tower, as well as plenty of traditional Greek taverna's, almost all of which will serve up excellent seafood. There's also the ruins of the ancient temple of Poseidon, but beware they are just ruins now.
Day 3. Poros to Hydra – 16 nM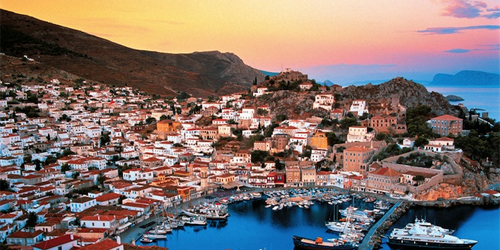 Just as Poros will seem centuries away from modern day Athens, so Hydra, the next port of call, will seem another step backwards in time - Hydra is the furthest that you'll get from Athens on this trip, in more than one sense of the word. This is an idyllic fishing village built up the steep sides of a natural bay marina, and, unbelievably, where they still haven't yet learned about the invention of the motor car! Life moves at a different pace, and Donkeys or scooters are the main form of transport on the dusty narrow roads.
From Poros, you'll bear out of the channel and in a South-easterly direction along the Peloponnese peninsular, before heading South-west to Hydra. The entry into Hydra is spectacular (and one of the high points of the Mediterranean), with the buildings on the steep sides of the bay turning the marina into something of a medieval auditorium. The marina is only small, so get there early if you want to be guaranteed a spot.
Day 4. Hydra to Methana – 21 nM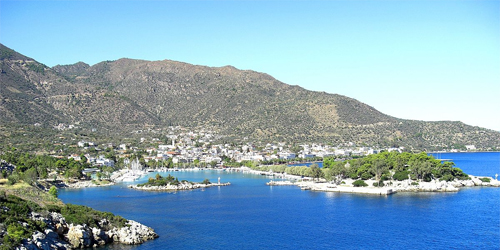 The sail from Hydra to Methana can take you back the way you came (via Poros town) or you can skip the other way around the island and take a dip in the beautiful and largely unspoilt Vagonia Bay or another bay along the East coast of Poros island. From there, it's a short hop in a North-westerly direction to the volcanic island and popular spa town of the Methana.
Formed from intense volcanic activity in around 260 BC, Methana's 25 volcanoes now lie pretty much dormant, save for a few sulphur springs and thermal baths (both inside and outdoors). The baths are said to have mystical healing ability, but, at the very least, they're warm. For those that like to scale volcanoes, there are a number of large craters to be found, but it's an arduous trek from the town. Plus the nearby beautiful beach of Limnionas is well worth a visit, and the view of the surrounding islands is almost just as good from sea-level.
Methana town itself is also a relaxed place to stroll around.
Day 5. Methana to Agistri – 15 nM via Perdika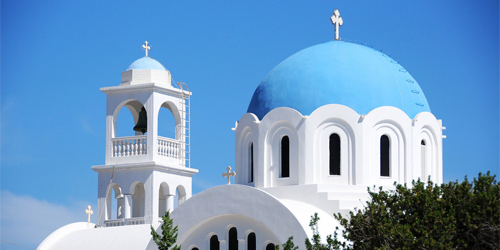 The Northerly journey from Methana to Agistri is only short if you go in a straight line (which would suit if you wanted to spend an extra few hours on land at either end – for instance, in a thermal bath in Methana). If you wanted a longer sail, and now you've honed your mooring skills, you could always head for lunch in the town of Perdika (on the Southern end of the isle of Aegina), or to go snorkelling near the untouched and uninhabited isle of Moni (the small isle opposite Perdika), or to bathe on it's Paradise beach.
Agistri, or, more specifically, the town of Megalochori (or 'Milos') at it's Northern tip, is an idyllic Greek fishing village with enchanting narrow streets. Life clearly moves at a different pace, and it's almost impossible not to relax here. As with most of the Saronic gulf, the seafood is exceptional, and you'll consider money well spent if you visit a local taverna.
Day 6. Agistri to Athens – 26 nM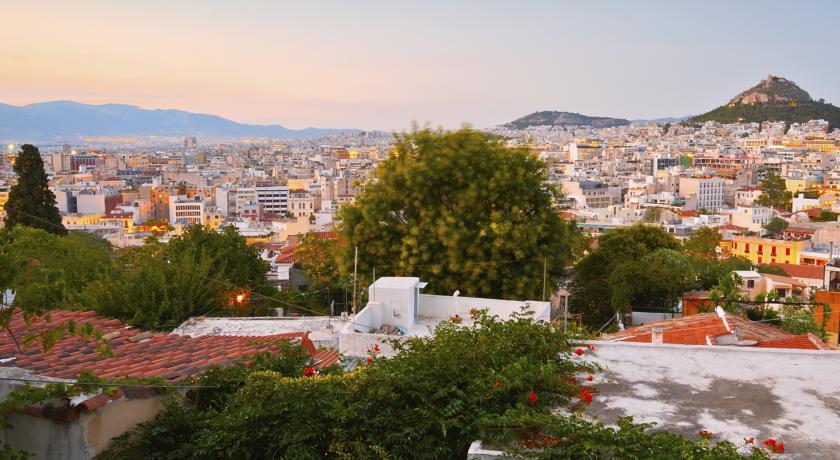 And to the final day. Sad face. From Agistri, you'll be beating into the prevailing summer wind as you work your way North-east alongside the top of Aegina (which you should recognise from the first day) and back across to Alimos.
If you haven't yet been to explore Athens ancient centre, then it really is well worth a visit, and the Acropolis is still a wonder to behold even after 2,000 years. A tram stop just outside the marina makes it easy to connect to the city centre, and then you can join all the other tourists in checking out the home of modern civilisation.
For those with less energy, the best beach bars in Athens are just along the coast, or the marina itself has three bars which should have not only a fun atmosphere, but also plenty of fellow sailors who you can share tales of your adventures with.
And then it's time to check-out to head for home – and to start planning your next voyage with PlainSailing.com for next year (or maybe you can squeeze a quick jaunt in later on in the season…?)
---
Sailing Conditions
What temperature will it be?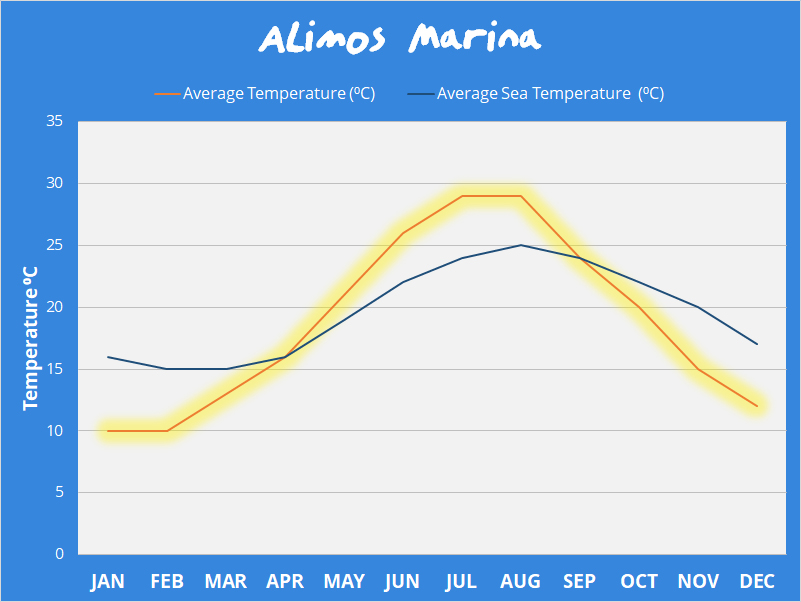 Athens, as with Greece in general, is blessed with glorious sunshine for much of the year. The winter is very mild in winter, with the temperature rarely falling below 10 degrees.
The sunbathing weather begins in late April or early May, when temperatures are consistently above 20 degrees until October (which coincides neatly with the sailing season). July and August are the warmest months in Athens, when temperatures average 30 degrees but often reach up to 40 degrees, which can feel stifling when you are not in the wind or the shade.
 
How warm is the sea?
The sea near Athens ranges from 15 degrees in the winter months, which might feel a little nippy, to over 20 degrees from June to November, and 25 degrees in July and August, when the water will feel positively tropical.
 
What is the wind like?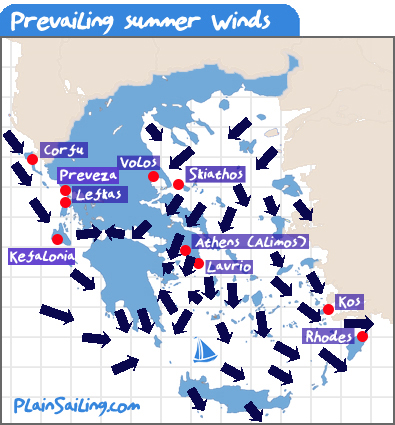 In terms of wind, the prevailing wind in Athens is a North-Easterly, which means you'll likely be going down the wind to nearby Aegina and Poros, or reaching if you stick to the coastline south of Athens. The wind is fairly dependable during the sailing season, with wind speeds of over 11 knots most days offering pretty ideal sailing conditions.
There is a katabatic wind which rolls off the mainland once the ground is heated by the sun, which means that the wind speeds start off slowly in the mornings, pick up in the afternoons, and are virtually non-existent when the sun sets.
During July and August, there are also Melthimi winds, which descend from Hungary and can reach speeds of over 25 knots, and which are probably best enjoyed from land unless you're an experienced sailor.
 
What is the Current Weather in Athens?
If you're off sailing in a couple of days, you might be interested to know what the 7 day forecast is - our handy widget below should give you a good idea, though once you're out there we recommend using windguru.cz.
 
---
Our Guide to Athens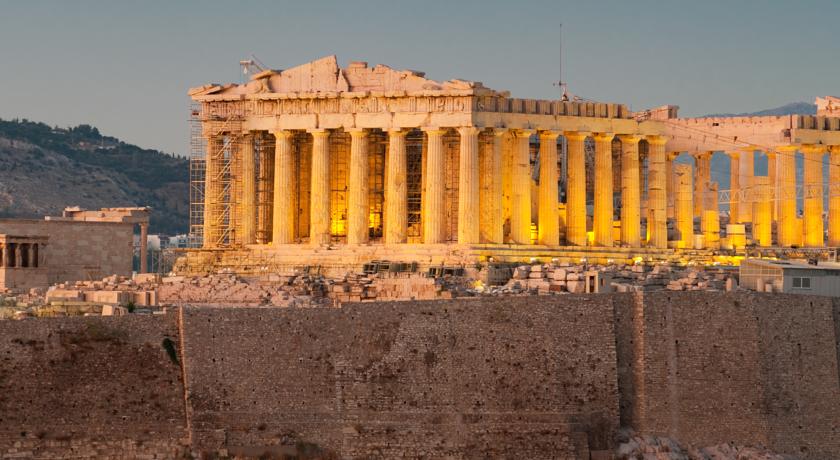 Athens has over 3.7m inhabitants, and is most famous for being the home of, well, civilization. The ancient Greeks essentially invented democracy, as well as gifting so much more to the world - like science, medicine and mathematics. The city centre oozes history and is as impressive as it is vast. The Parthenon, a temple which dates back to 432 BC and was the centre of Ancient Greece, rightly takes centre stage and is visible from almost all of the city centre. It is as beautiful as it is incredible, and is a draw to tourists from right around the globe.
Because of its inimitable history, Athens is ram-packed with tourists during the summer – though dependable sunshine, great hospitality and delicious cuisine also play their part (in my opinion, nothing comes close to a classic Greek salad followed by chicken souvlaki).
If it's your first time in Athens, the city centre of Athens is basically an open-air museum, with many sites being accessible free of charge. The Acropolis (Parthenon) and Acropolis museum are the main highlights, where you'll be able to see the marble statues that Elgin left behind. That covered, the old town is well worth exploring for its narrow streets and tourist markets, whilst the view over Athens from Dionysis rock (near to the Parthenon) is spectacular. For sports fans, the ancient Olympic stadium is still in use for rock concerts and local events (like the Athens marathon), and could claim, quite literally, to be the home of sport.
Modern day Athens is almost as appealing, with a lively nightlife and an eclectic mix of bars right across the city. It's worth starting at Syntagma square, where you'll find a number of rooftop cocktail bars which offer food, drink and splendid views of the city (see the listings below for our favourite). If you're after nightlife, be aware that the party doesn't really get started until midnight in Athens, so be prepared for the long haul!
From Alimos marina, the nearby local town of Alimos and the beach are within a couple of hundred metres of walking and well worth the stroll. There are also some simply incredible beach bars (see listings below), which turn into heaving nightclubs after 1am. From Marina Delta Kallithea, the local Paleo Faliro is equally worth a short stroll.

Local Events / Festivals
Athens is the capital city of Greece, so there is almost always something going on, but here are some of the bigger festivals:
The world-famous Athens & Epidaurus festival lasts for 6 weeks from early June to mid-late July, and is a celebration of Greek music, theatre and dance. If you're looking at this before April, there is a chance you might be able to swing some tickets, but events tend to be very popular and some acts can sell out in minutes.
The Athens & Epidaurus also coincides with the Athens Open Air Film Festival, which displays cinema screens in unusual places between June and September. Many of the films are in English.
And if you're after more mainstream music, there's the ever-popular Rockwave festival which runs for a long weekend in July.
It's worth noting that Easter is always a very big cause for celebration in Greece. Everything is decorated with the colours of spring, and the weekend is filled with church services, candle-light street parades, plate smashing and plenty of food and drink.

Eating
It's easy if you're in Alimos marina as there's three bars/restaurants in-marina, which are all decent enough, and have the benefit of brilliant views of the marina and all the yachts.
If you fancy walking a few hundred metres, there's a reasonable range of restaurants in local Alimos town, including:
O Mpakalis – A traditional Greek taverna (with prices to match) (19 Leoforos Kalamakiou, Thoukididou, Alimos 174 55)
Alimanaki – A seafood restaurant, often accompanied by live Greek music (13 Afxediou Grigoriou, Alimos 174 55)
Castello Pizza – Rated southern Athens best pizzeria (15 Palamidiou, Alimos 174 55).
And our top pick near Marina Delta Kallithea is:
Psipsina – Quite simply excellent seafood, and so, so fresh - well worth the walk! (96 Sidagmatarchi Zissimopoulou, Paleo Faliro 175 64).

Nightlife
Just down the coast from Alimos marina, we love to head to some of the finest beach bars in the land, including:
Bolivar – with a small waterpark and sun loungers to keep you busy during the day, and fine food and beach cocktails and live music or a local DJ during the night (Posidonos Avenue, Alimos 174 55)
Akanthus – a smart and elegant bar and restaurant with views out over their own private beach. Can life get any better than this? (Posidonos Avenue, Alimos 174 55)
If you head into central Athens, try:
The short tram-ride or taxi to Athens city centre is well worth it, even just for a night, when the Acropolis is delicately lit. We'd recommend heading for the Syntagma square area for starters, where there's a number of good bars, including:
A for Athens – a rooftop bar with an amazing view of the acropolis and the old town. Go early if you want to get a table (2 - 4 Miaouli, Athens 105 54, Greece)
Six D.o.g.s – a hidden gem of an outside bar which is magical once you work out how to get in (6-8 Avramiotou str, 10551, Athens, Greece)

Places to Stay
Flights from some destinations might not arrive into – or depart from - Athens on a Saturday, which means you might need to spend an extra night on dry land.
If you're chartering from Alimos marina, we recommend the following local hotels, which are both within a very short walk to the marina:
Hotel Nefeli *** – c. £50/night for a double room - a decent mid-range hotel which offers all the mod cons, plus free wifi and breakfast at a good price.
Hotel Poseidon *** - c. £90/night for a double room – offering sea views, a roof terrace and a swimming pool, you can get the holiday started early in Hotel Poseidon.
And our top pick for Marina Delta Kallithea:
Arma Hotel * - c. £70/night for a basic but comfortable double room near-ish the marina.

---
Marina Details
Alimos Marina, Athens
Alimos Marina is the largest marina in Athens, with over 1080 berths for yachts, and superb facilities - including three in-marina bars/restaurants which can provide a great starting point to your holiday, or a welcome space for rest and relaxation away from your boat.
In the nearby town (also called 'Alimos'), you'll find a mixture of shops - including a small supermarket - but more pleasingly, a gelateria and a number of restaurants of a range of cuisines, and bars, which make exploring the local town worth the short stroll. Just down the coast, there's a public beach to while away the hours, and, heading in the same direction you'll find some of Athens best beach-clubs and most exclusive nightclubs which spill out onto the beach and where cocktails and loud music flow well into the night.
Alimos is well connected to Athens city centre – there is a tram stop just outside the marina, and the tram will whisk you briskly into the beautiful and historic city centre, which is just 15km away.
The marina itself is one of the most important in Greece – if not the most important – and is home to the headquarters of a number of well-established and popular Greek yacht charter companies, who maintain their boats to a high standard.
Nearest supermarket
The nearest supermarket of reasonable size is Sklavenitis on Thoukididou 42, Alimos 174 55, Greece.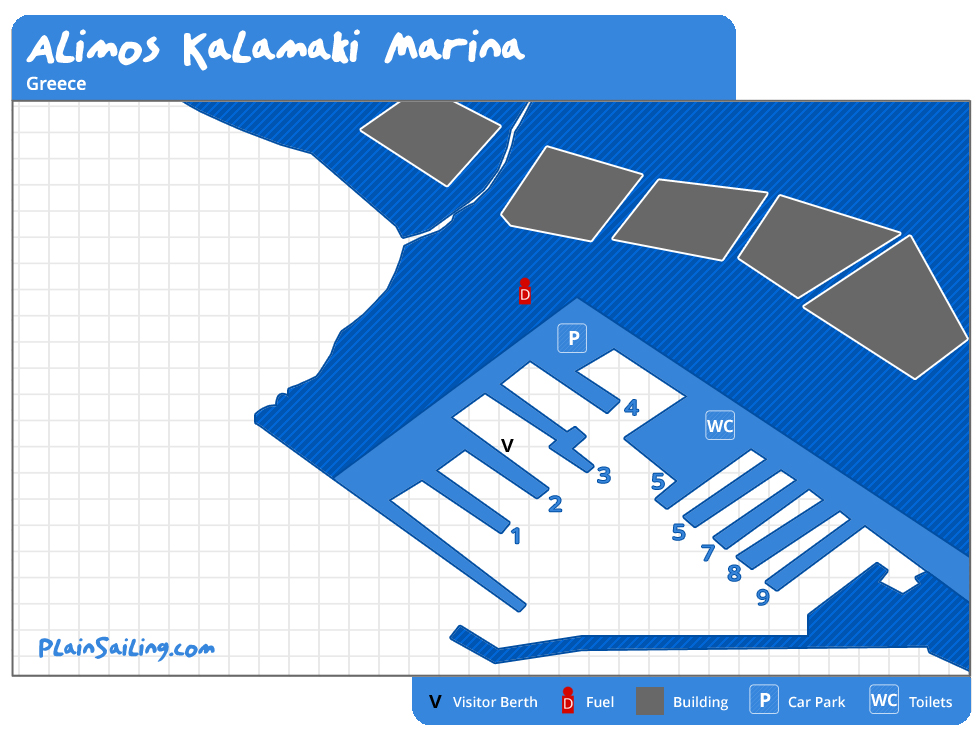 | | |
| --- | --- |
| Website: | alimos-marina.gr |
| Address: | Posidonos Av., 17455, Alimos, Athens, Greece |
| Long / Latitude: | N 37° 54' E 23° 42' |
| Telephone: | 0030 21098 80000 |
| Fax: | 0030 21098 80000 |
| Email: | marinaalimou@etasa.gr |
| VHF: | Channel 71 |
| Walk-ashore berths: | 1080 |
| Facilities: | Bottled gas, Chandler, Disabled facilities, Electrical supply, Electrical repairs, Engine repairs, First aid, Fresh water, Fuel: Diesel, Fuel: Petrol, Hardstanding / Boatyard, Internet café, Laundry facilities, Lift-out facilities, Parking, Pub / Restaurant, Pump out, Rigging service, Sail repairs, Shipwright, Shop / Supermarket, Showers, Slipway, Toilets, Telephone, Trolleys, Visitors berths, WiFi |

Marina Reviews
"Alimos marina is a huge, but well organised marina, with lots and lots of yachts and catamarans, and even more sailors. We were there during July in 2017 - the whole place was a hub of activity and there was a brilliant and excited atmosphere in the bars and restaurants." - Sarah C
---
Marina Delta Kallithea, Athens
Marina Delta Kallithea, the second biggest marina in Athens, is a few kilometres north of Alimos, which means it is also more centrally located for the city centre. It's such a brand new marina that parts of it are still under construction, so the facilities are a little basic (though there is a small cafe and toilet facilities), but it should one day be a top class facility, and the whole area surrounding it is due to become 'the Greek riviera'. There's a sailing club based at the marina, as well as a branch of the International Sea Scouts.
In the local area, you'll find a few different parks, a few museums, and the Olympic Handball and Taekwondo stadium (also named the 'Peace and Friendship stadium'), which overlooks the marina. The coastal walk around the Trocadero area (where they occasionally have live outdoor music events) is very pleasant, and attracts runners, cyclists and roller-skaters. There's also a cinema complex within walking distance.
The nearest tram stop is a few minutes walk away - it's the 'Delta Falirou' stop on the T3 tram.
Nearest supermarket
There aren't many shops that are very close to the marina. The nearest supermarket of reasonable size is the Sklavenitis on Leof. Amfitheas 30, Paleo Faliro 175 64, Greece - you can probably walk there, but it's worth getting a taxi back with all the provisions.
Awaiting Marina Map

| | |
| --- | --- |
| Address: | Posidonos Av 20, 17674, Kallithea, Athens, Greece |
| Long / Latitude: | N 37° 56'17 E 23° 41'12 |
| VHF: | Channel 17 |
| Walk-ashore berths: | 400 |
| Facilities: | Bottled gas, Electrical supply, First aid, Fresh water, Fuel: Diesel, Fuel: Petrol, Cafe/Bar, Hardstanding / Boatyard, Lift-out facilities, Parking, Pump out, Slipway, Toilet facilities, Trolleys, Visitors berths |

Marina Reviews
This is a new marina for 2019 - we're still awaiting reviews.
---
Getting to the Marina
Loading Map Co-ordinates...
The nearest airport is Athens international airport, which is 33km away from the Athens city centre.
To get to Alimos marina, you have the choice of taking a private transfer (which we can help you arrange, and someone will be waiting for you in the arrivals hall), by hailing a normal taxi when you arrive, by bus (The X95 bus will take you past the marina), or by metro (going into the city centre and switching from the blue to the red line at Syntagma square, before disembarking at 'Alimos'), which also gives you the chance to explore the old town if you have time.
Similarly, for Marina Delta Kallithea, the easiest way to get to the marina is via private transfer (which we can help to arrange), but it's also possible to get to the marina using public transport - take the X96 bus from the airport in the direction of Pireus and get off at 'Floisvos' to switch on to a T3 tram - you'll need to get off at Delta Falirou.
If you're already in the city, the best way to get to the either marina is by metro and tram, - 'Alimos' is just eight stops away from the centre of the old town, and Marina Delta Kallithea is located right near the 'Peace and Friendship stadium' on the T4 line, so follow directions for that. Be sure to buy (and stamp) a ticket before getting on the metro.

This page last updated: March 2019
We do our best to keep this information as up-to-date and accurate as possible, but obviously we can't be everywhere at once. If you are aware that any information on this page is incorrect, please let us know by emailing marina@plainsailing.com.
---
---