Find a Boat
LIVE
Pricing & Availability
Search NOW
Yacht & Catamaran Charter in Athens, Greece
We can help you find the perfect yacht or catamaran to sail from Athens!

Sailing from Athens
Everyone knows Athens is monumentally historical, and lays claim to being the birthplace of modern Mathematics, Eonomics, Philsophy and even civilisation, so it should come as no surprise to learn that it is also one of the oldest sailing destinations in the world, with ships setting sail from the Capital centuries ago! It is a classic cruising ground, and has some fantastic marinas to set sail from, all well connected to the ancient centre.
Athens is the best place to charter from if you want to explore the Saronic islands - and there's so much to explore: from the pistachio-growing island of Aegina, the ancient ruins at Poros, and the almost mythical Hydra, which is an amphitheatre of a marina that is genuinely a wonder to behold, and where they still transport everything by donkey! We can help you find and book your ideal yacht or catamaran, with one of our trusted Charter Partners - just get in touch or search in the pink box with live prices and availability!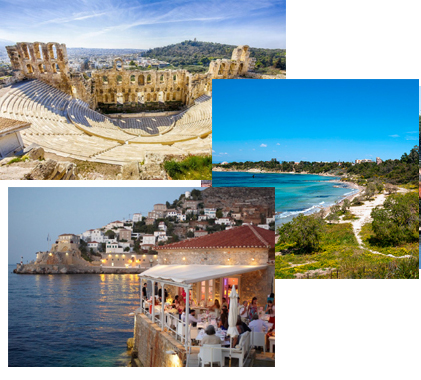 SAILING RATING: Beginner - With easy line-of-sight navigation, clear waters and light winds it's a great start point for sailors (and an easy cruising ground for experienced ones). Peak season is July & August, but you can sail here from March to October.
MUST-SEE: Our full suggested itinerary is further down the page, but we'd highly recommend taking in beautiful (and homely) town of Aegina, the hill-side fishing village of Hydra, and of course the ancient parts of Athens.
WHAT WE CAN OFFER: We have a great range of yachts and catamarans available for charter from our trusted Charter Partners, all available bareboat or Skippered. We can also arrange a Hostess, Personal Chef and other crew.
GETTING THERE: Both Marinas are c. 40 minutes from Athens International airport. We can organise transfers for you - a 4 person taxi is c. €40 - 50.
WHY BOOK WITH US? We only work with the very best professional charter operators, who we have met, know, and trust to give you the same outstanding customer service as you'll get from PlainSailing.com.

WHAT NEXT? Use the pink box to search for yachts or catamarans with LIVE pricing & availability - if you have any other questions or requests, get in touch via Live Chat, the Contact Form, or by phone.
Why book with PlainSailing.com?
We're yacht and catamaran charter experts, and can find you the best boats in Greece, Croatia and anywhere else in the Med or Caribbean - yacht, catamaran or superyacht-bareboat, skippered or crewed

We're UK based, only work with the best Charter Companies, offer exceptional customer service from start to finish and will match any price!

Independent Service Rating based on
431
verified reviews.
---
3
6-day Sailing Itinerary from Athens
From Athens you're very well placed to explore the Saronic islands - Aegina is famous for its pistachio nuts, Poros for its vibrant tavernas and the Posedion ruins, and Hydra for the incredible stepped-town which is a joy to behold after a few hours at sea.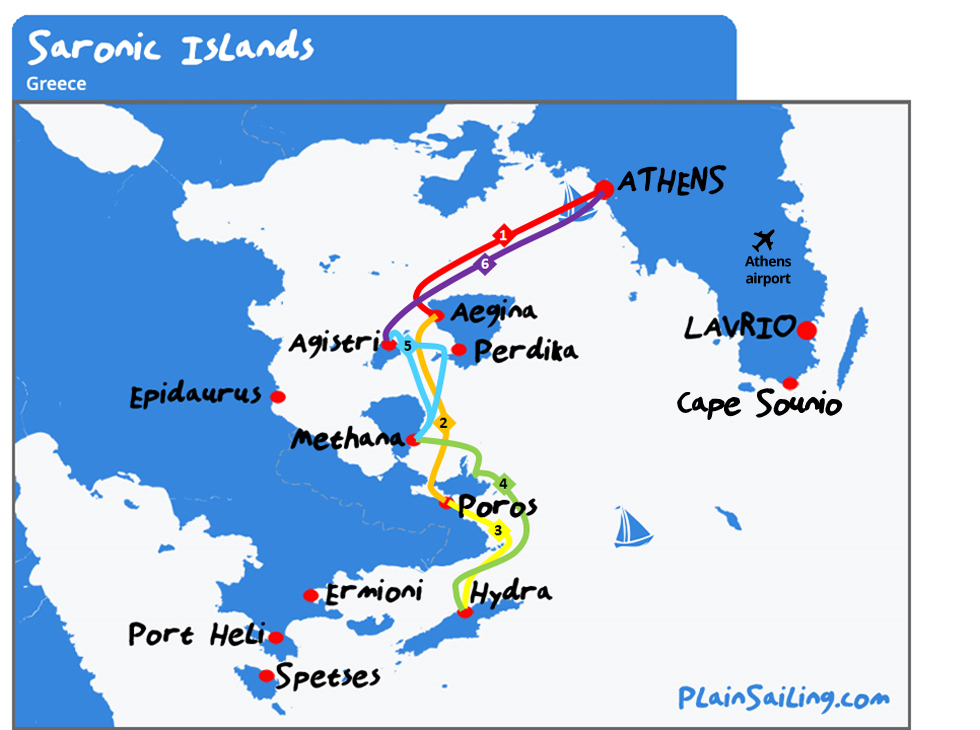 This itinerary is for 115 nM for the week, which means that, assuming you're travelling at a conservative 4-5 knots, should mean a combined 23-28 hours of sailing time – or 4-5 hours a day, leaving you ample time to explore the start or end point, get some provisions in, have a lie-in, or to stop off at interesting places en-route for lunch, shopping or a swim.This also assumes that you'll check-in on the boat on the Saturday and either spend the day getting provisions sorted and stowed, or just take the yacht or catamaran out for a quick spin before returning back to the home marina, ready to depart for your voyage bright and early on Sunday morning.
This itinerary also includes getting the boat back to the home marina for 6pm on Friday night, as required by the charter operator (so they can inspect the yacht), and then complete the check-out formalities immediately before you leave the boat (after an exhilarating week) on Saturday morning.

Day 1. Athens to Aegina – 22 nM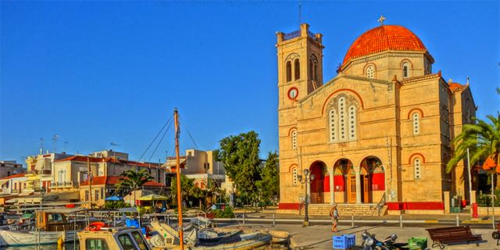 Fire up the burners and motor the yacht or catamaran gently out of the marina (taking care to remember whereabouts the yacht was parked, as you'll likely need to return it to the same general area next week), and you're ready to set sail! The first day is a straightforward sail in a SW direction - which is also the direction of the prevailing summer winds, so you'll likely be running or reaching downwind.
Avoiding the ferries and the massive cargo ships, the island of Aegina will be on the nose of the bow for most of the way, and then you tuck around the north-side of the island to find the pretty fishing village of Aegina, which has bars, restaurants and shops located around the marina to tempt you back on to dry land. Aegina is most famous for its pistachio nuts, so be sure to pick up a handful.

Day 2. Aegina to Poros – 18 nM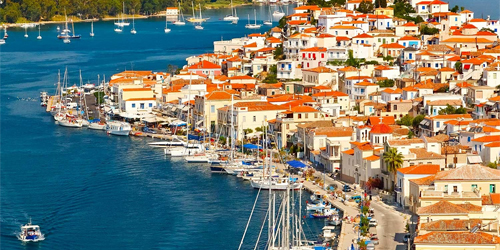 Bearing pretty much due South of Aegina, and down a funky and narrow channel (don't worry – it's plenty big enough for a yacht or a catamaran to navigate down!), you'll find the island and town of Poros. This is situated on both sides of the channel, with local taxi-boats helping to get you from one side to another, which adds a fun dimension to planning your evening entertainment.
The main part of the town is on the northern side of the channel, which offers neoclassical architecture, a town square, and a beautiful blue church tower, as well as plenty of traditional Greek taverna's, almost all of which will serve up excellent seafood. There's also the ruins of the ancient temple of Poseidon, but beware they are just ruins now.

Day 3. Poros to Hydra – 16 nM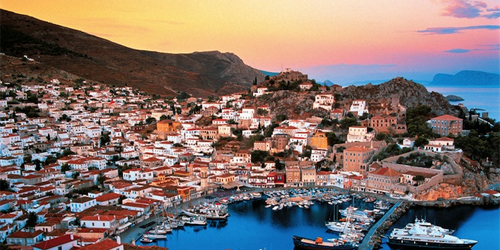 Just as Poros will seem centuries away from modern day Athens, so Hydra, the next port of call, will seem another step backwards in time - Hydra is the furthest that you'll get from Athens on this trip, in more than one sense of the word. This is an idyllic fishing village built up the steep sides of a natural bay marina, and, unbelievably, where they still haven't yet learned about the invention of the motor car! Life moves at a different pace, and Donkeys or scooters are the main form of transport on the dusty narrow roads.
From Poros, you'll bear out of the channel and in a South-easterly direction along the Peloponnese peninsular, before heading South-west to Hydra. The entry into Hydra is spectacular (and one of the high points of the Mediterranean), with the buildings on the steep sides of the bay turning the marina into something of a medieval auditorium. The marina is only small, so get there early if you want to be guaranteed a spot.

Day 4. Hydra to Methana – 21 nM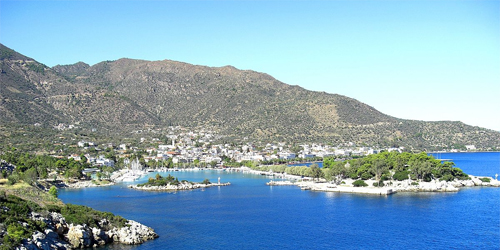 The sail from Hydra to Methana can take you back the way you came (via Poros town) or you can skip the other way around the island and take a dip in the beautiful and largely unspoilt Vagonia Bay or another bay along the East coast of Poros island. From there, it's a short hop in a North-westerly direction to the volcanic island and popular spa town of the Methana, which is also a nice, relaxed place to stroll around.
Formed from intense volcanic activity in around 260 BC, Methana's 25 volcanoes now lie pretty much dormant, save for a few sulphur springs and thermal baths (both inside and outdoors). The baths are said to have mystical healing ability, but, at the very least, they're warm. For those that like to scale volcanoes, there are a number of large craters to be found, but it's an arduous trek from the town. Plus the nearby beautiful beach of Limnionas is well worth a visit, and the view of the surrounding islands is almost just as good from sea-level.

Day 5. Methana to Agistri – 15 nM via Perdika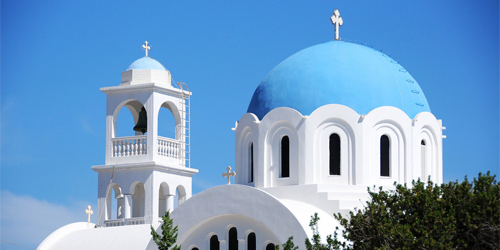 The Northerly journey from Methana to Agistri is only short if you go in a straight line (which would suit if you wanted to spend an extra few hours on land at either end – for instance, in a thermal bath in Methana). If you wanted a longer sail, and now you've honed your mooring skills, you could always head for lunch in the town of Perdika (on the Southern end of the isle of Aegina), or to go snorkelling near the untouched and uninhabited isle of Moni (the small isle opposite Perdika), or to bathe on it's Paradise beach.
Agistri, or, more specifically, the town of Megalochori (or 'Milos') at it's Northern tip, is an idyllic Greek fishing village with enchanting narrow streets. Life clearly moves at a different pace, and it's almost impossible not to relax here. As with most of the Saronic gulf, the seafood is exceptional, and you'll consider money well spent if you visit a local taverna.

Day 6. Agistri to Athens – 26 nM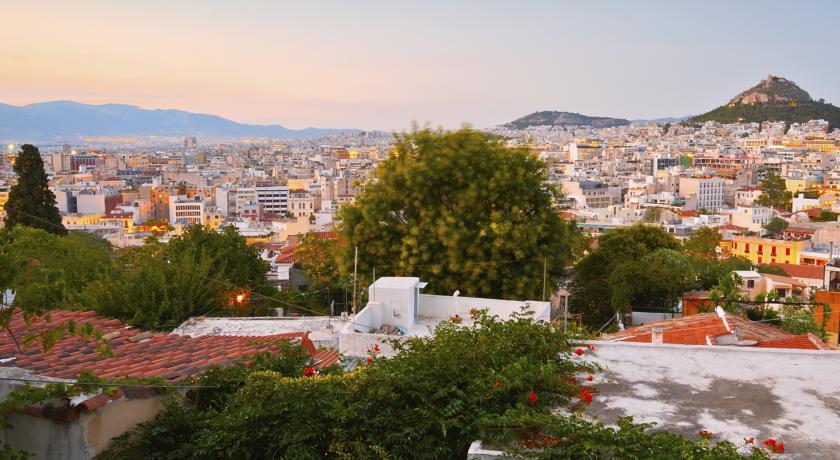 And to the final day. Sad face. From Agistri, you'll be beating into the prevailing summer wind as you work your way North-east alongside the top of Aegina (which you should recognise from the first day) and back to the marina.
If you haven't yet been to explore Athens ancient centre, then it really is well worth a visit, and the Acropolis is still a wonder to behold even after 2,000 years. A tram stop just outside the marina makes it easy to connect to the city centre, and then you can join all the other tourists in checking out the home of modern civilisation.
For those with less energy, the best beach bars in Athens are just along the coast, or the marina itself has three bars which should have not only a fun atmosphere, but also plenty of fellow sailors who you can share tales of your adventures with. And then it's time to check-out to head for home – and to start planning your next voyage with PlainSailing.com for next year (or maybe you can squeeze a quick jaunt in later on in the season...?)

---
Sailing Conditions
 WHAT ARE THE WINDS LIKE?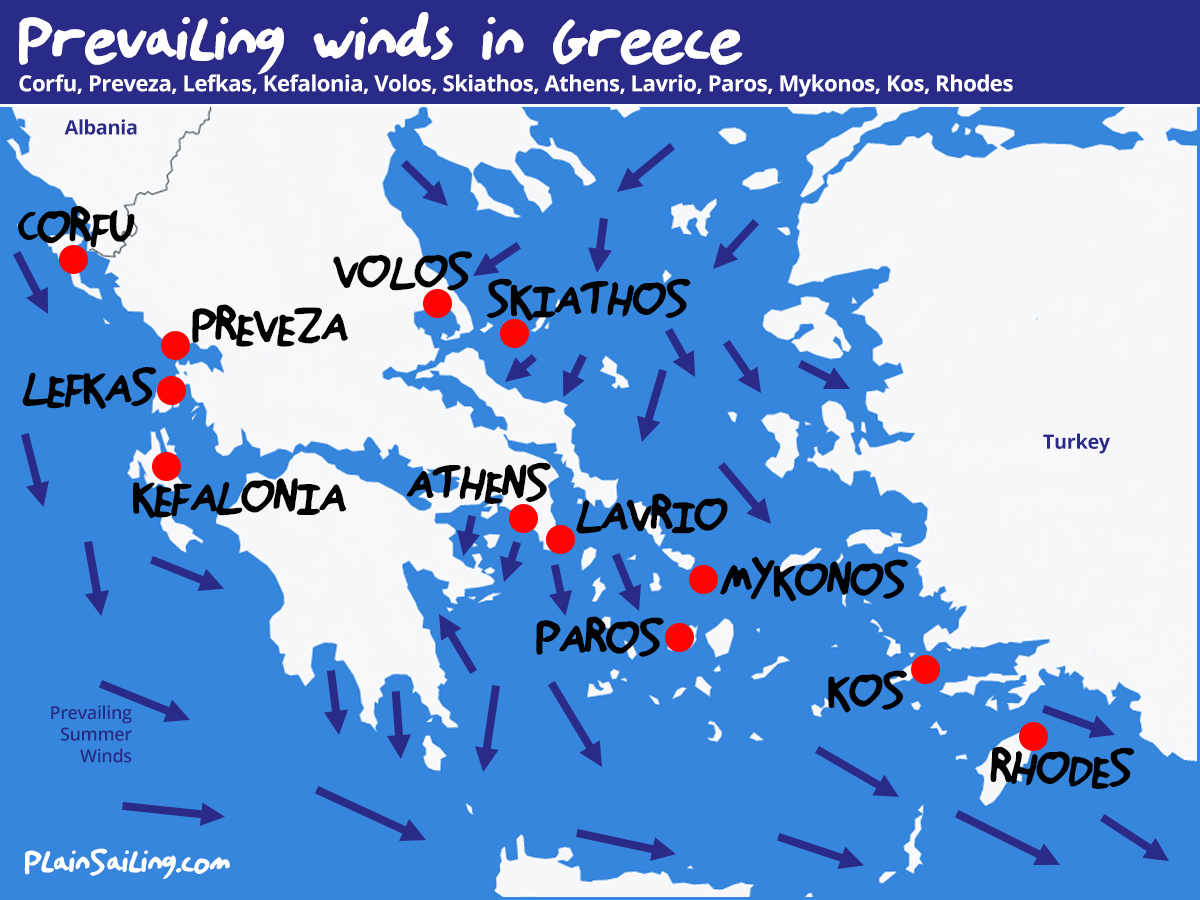 Aside from the great weather, Athens has reliable winds and plenty of islands to explore, which make it a fantastic place to sail!
The prevailing wind in Athens is a North-Easterly, which means you'll likely be going down the wind to nearby Aegina and Poros, or reaching if you stick to the coastline south of Athens. The wind is fairly dependable during the sailing season, with wind speeds of over 11 knots most days offering ideal sailing conditions. It is typically a katabatic wind which rolls off the mainland once the ground is heated by the sun, meaning that the wind starts off slowly in the mornings, picks up in the afternoons, andis virtually non-existent when the sun sets.
In you're sailing in the Cyclades (as opposed to the Saronic Gulf, it's useful to know that during spells of July and August, there are also Melthimi winds, which descend from Hungary and can reach speeds of over 25 knots, and which are probably best enjoyed from land unless you're an experienced sailor.
 HOW HOT WILL IT BE? 


Athens, as with Greece in general, is blessed with glorious sunshine for much of the year. The winter is very mild in winter, with the temperature rarely falling below 10 degrees. The sunbathing weather begins in late April or early May, when temperatures are consistently above 20 degrees until October (which coincides neatly with the sailing season). July and August are the warmest months in Athens, when temperatures average 30 degrees but often reach up to 40 degrees, which can feel stifling when you are not in the wind or the shade.
 HOW WARM IS THE SEA? 


The sea near Athens ranges from 15 degrees in the winter months, which might feel a little nippy, to over 20 degrees from June to November, and 25 degrees in July and August, when the water will feel positively tropical, and will be much more inviting - especially if your only other dip in the ocean is on New Year's Day in England!
---
Marina Details
Our Charter Partners operate out of three different marinas in Athens, and both are easily accessible by public transport.
Most charters at the moment are from Alimos Marina, but we also sail from Agios Kosmas Marina, 8km further to the south of Athens, which hosted the 2004 Olympic sailing events.
If you're staying in the area before or after your charter, we can recommend these places that are close to the marinas: Hotel Nefeli or Hotel Poseidon near Alimos, or the Bomo Palace Hotel near to Agios Kosmas Marina.
---
Alimos Marina, Athens
Alimos Marina is the largest marina in Athens, with over 1080 berths for yachts, and superb facilities - including three in-marina bars/restaurants which can provide a great starting point to your holiday, or a welcome space for rest and relaxation away from your boat. Just down the coast, there's a public beach to while away the hours, and, heading in the same direction you'll also find some of Athens best beach-clubs and most exclusive nightclubs which spill out onto the beach and where cocktails and loud music flow well into the night.
GETTING THERE: From Athens Airport you can either grab a 40 minute taxi (which we can help you arrange) or you can do it in about 90 minutes via public transport - the X95 bus will take you past the marina, or you can go by Metro if you head into the City Centre first, and then switch at Syntagma to the Blue line, getting off at Metro Stop 'Edem'.
PROVISIONING: The nearest supermarket of reasonable size is Sklavenitis on Thoukididou 42, Alimos 174 55, Greece.
FUELLING AT END: There is a mobile fuel truck at Alimos Marina - either watch out for him, or head to the Marina Office to book him to come to you.
Loading Map Co-ordinates...
Agios Kosmas Marina, Athens
Agios Kosmas Marina was the host port for the sailing events in the 2004 Athens Olympics. It has since been converted to make space for 337 berths - including berths for boats as as big as 80m long - and it was awarded a Blue Flag for excellence in 2017.
The nearest town is the upmarket Glyfada, where you'll find one of Greece's only golf coursers. The centre, a pleasant 1km sea-side stroll away has plenty of decent restaurants, and is where Athenians come to relax and recover after a hard day in the city.
WEBSITE: ADDRESS: Agios Kosmas Marina, Leof. Posidonos 18, Elliniko, 16777
GETTING THERE: The easiest way to get to the marina from the airport is via private transfer (which we can help to arrange - the marina also has a heliport if you want to arrive in style), but it's also possible (but much slower) to use public transport. You can either take the X96 bus in the direction of Pireus which will take you directly to the Marina (you'll need to get off at Kollegio stop), or you can get the metro to the city centre and then grab a T5 tram all the way towards Glyfada.
PROVISIONING: There's a petrol station shop near the marina, but you'll have to head further afield for a decent sized supermarket. We recommend the Vassilopoulos on Maragkou 5, Glifada 166 75, Greece - you can probably walk there, but it's worth getting a taxi back with all the provisions.
FUELLING AT END: There is a mobile fuel truck at Agios Kosmas Marina - either watch out for him, or head to the Marina Office to book him to come to you
Loading Map Co-ordinates...
---
---
WHAT NEXT? Use the pink box to search for yachts or catamarans with LIVE pricing & availability - if you have any other questions or requests, get in touch via Live Chat, the Contact Form, or by phone.