Find a Boat
LIVE
Pricing & Availability
Search NOW
Yacht & Catamaran Charter in Barcelona, Spain
We can help you find the perfect yacht or catamaran to sail from Barcelona!

Sailing from Barcelona
Barcelona is a city which is famous for football, the arts and las ramblas market – but it's also a fantastic place to sail - the wonderful Catalan coastline is best explored by your own private yacht or catamaran. People have been sailing here for centuries, so you'll find castles, palaces, cathedrals, small fishing villages, as well as fine beaches and tourist attractions – and of course, majestic Barcelona.
On a multi-week charter, you could hop over to the Balearic islands, but if you've only got a week then there's already an agonising choice of sailing south to historic Tarragona, once the capital of the Roman empire, or north to the Roses and the castles and forts built for keeping the French and Italians (amongst others) at bay. We can help you find and book your ideal yacht or catamaran, with one of our trusted Charter Partners - just get in touch or search in the pink box with live prices and availability!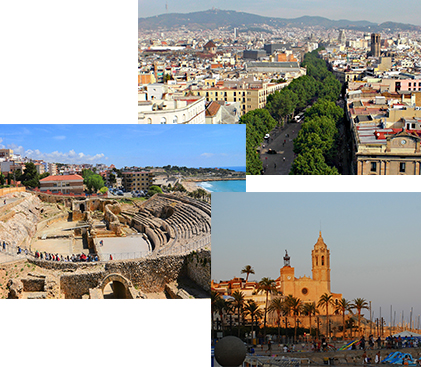 SAILING RATING: Beginner - the Mediterranean offers a largely sheltered cruising ground, which makes it suitable even for beginners to sail here. You'll need an RYA Day Skipper qualification (or equivalent) to sail here.
MUST-SEE: Check out our full suggested itinerary below. The main highlights are historic Tarragona, exuberant Sitges, and, of course, Barcelona.
WHAT WE CAN OFFER: We have a great range of yachts and catamarans available for charter from our trusted Charter Partners, all available bareboat or Skippered. We can also arrange a Hostess, Personal Chef and other crew.
GETTING THERE: The closest airport is El Prat Barcelona international airport, which is a 20 to 25 minute drive from the marina, but you could also land at Girona (1h11 drive away) or Reus airports (1h35).
WHY BOOK WITH US? We only work with the very best professional charter operators, who we have met, know, and trust to give you the same outstanding customer service as you'll get from PlainSailing.com.

WHAT NEXT? Use the pink box to search for yachts or catamarans with LIVE pricing & availability - if you have any other questions or requests, get in touch via Live Chat, the Contact Form, or by phone.

Why book with PlainSailing.com?
We're yacht and catamaran charter experts, and can find you the best boats in Greece, Croatia and anywhere else in the Med or Caribbean - yacht, catamaran or superyacht-bareboat, skippered or crewed

We're UK based, only work with the best Charter Companies, offer exceptional customer service from start to finish and will match any price!

Independent Service Rating based on
415
verified reviews.
---
6-day Sailing Itinerary from Barcelona
Nestled in the heart of the popular Catalan coast, Barcelona is a brilliant place to sail from - with castles and great cathedrals contrasted by small fishing villages, and, of course, the fine beaches, waterparks and other attractions that draw millions of tourists to this coastline each year. There's virtually guaranteed sunshine, largely reliable winds, very friendly locals and some of the finest food on the planet – the more Tapas you try, the more you'll get hooked!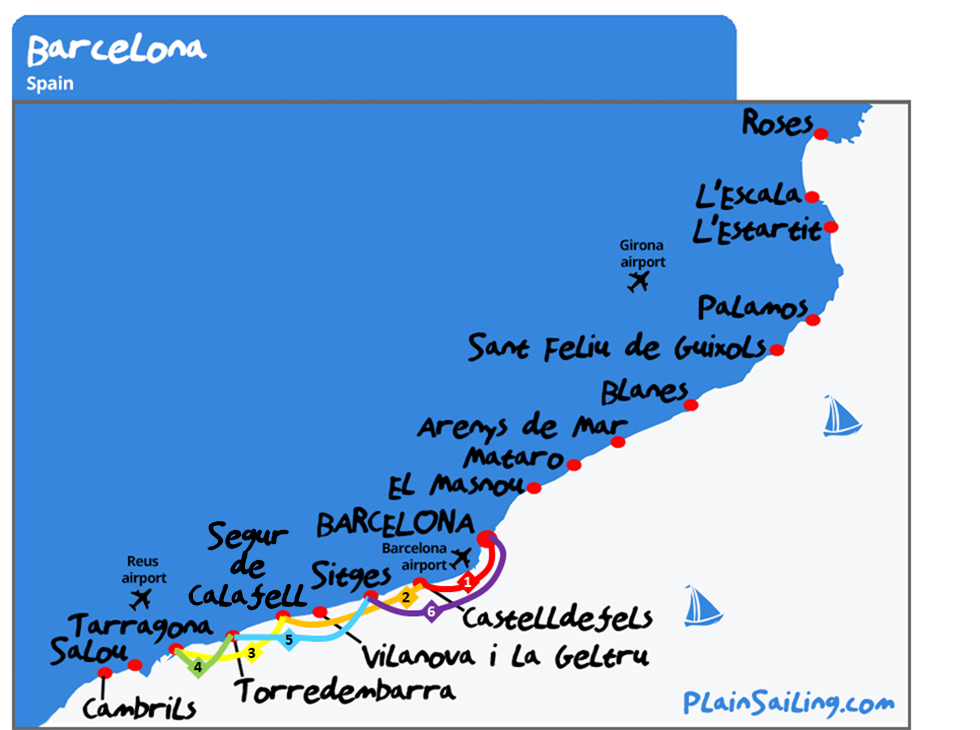 Our six-day itinerary from Barcelona takes the route to the South, and whilst Tarragona and Sitges are the big-hitting destinations, there's every chance that you'll prefer the quiet charm of one of the other stops. In total, it covers 96 nM, which means a leisurely pace of sailing around 15 to 20 nM a day, or about 4 hours purposeful sailing, which gives you time to explore and get to grips with each destination, take long decadent lunches along the way, or pause for plenty of stops to dive in the water.
It's a six-day itinerary because you normally won't get access to the boat until Saturday afternoon, and after spending time getting provisions in and getting familiar with the boat, you'll likely only be able to set sail on Sunday morning. The boat also needs to be back in Barcelona on Friday evening (but you can stay on-board overnight and then check-out and disembark on Saturday morning) – so it's a six day tour.

Day 1. Barcelona to Castelldefels – 17 nM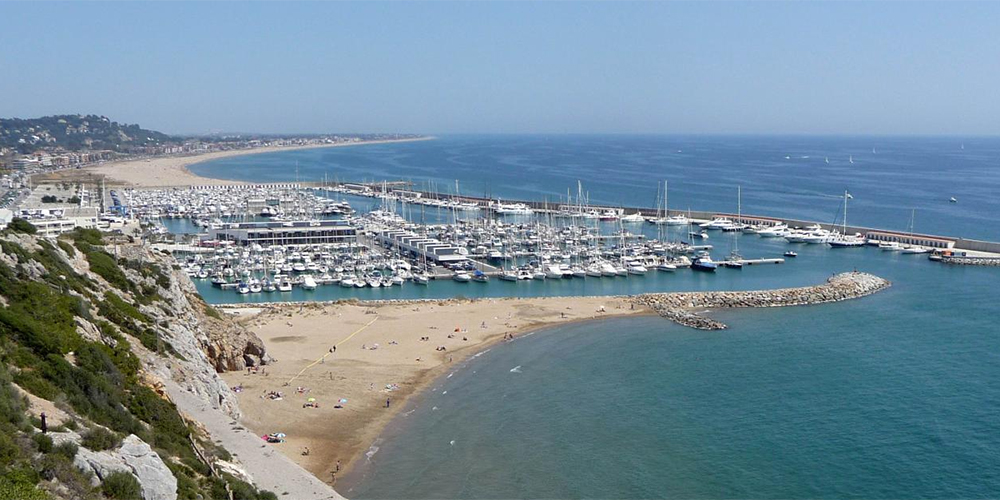 Bienvenidos Capitan! Welcome to Barcelona – it's a great city, but we're here for the wonderful Catalan coastline. We've got a brilliant few days of adventure ahead of us, so I hope you have the crew and the provisions to match! Get everyone on-board, then let's get out of here!
Nose out of the marina and then we're heading South – we're sailing past Barcelona city centre, so don't head too far out to sea if you want a good view of Las Ramblas, then we're sailing onwards South, reaching across the prevailing summer northerly winds to the Castelldefells. It's possible to do it in one tack, but as it's the first day, you may as well get everyone well versed in trimming the sail.
As the name suggests, there's a castle on the highest point here which dates back over a millennium (and it was built on the site of an even older Roman castle), which helped to defend Catalonia from Arab and Barbary invaders, amongst others. More recently, they built an 'Olympic canal' here to host the rowing events of the 1992 Barcelona Olympics, and it is now best known for the 5km of gorgeous sandy beach (which you will sail past) and for being the home of the great and good of Barcelona - including Lionel Messi and Luis Suarez – so watch out for them if you amble around town! There's a great range of shops, bars and restaurants, plus beaches and castles to explore – enjoy!

Day 2. Castelldefels to Segur de Calafell – 15 nM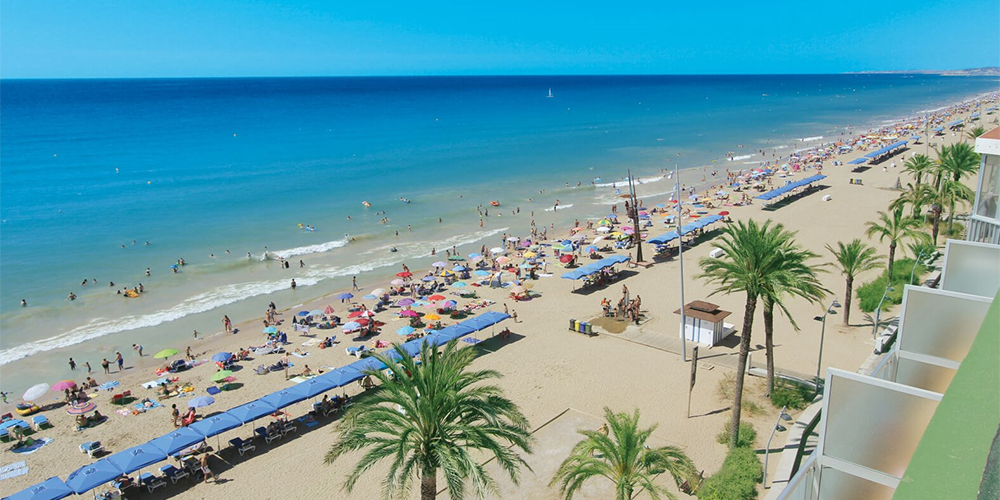 Segur is the last beach before the Garraf Massif mountains, which turns the coastline from sandy beaches to craggy cliffs and rocky terrain. Today we're hopping straight past it as we sail onwards down the coast, likely reaching across the prevailing wind which comes off the land and out to sea. We're sailing past Sitges now, but don't worry - we're planning to visit the town on the return back up the coast in a few days' time.
Today's destination is Segur de Calafell, a suburb of the pretty town of Calafell, which is another town with a splendid beach, an ancient castle and that is reasonably popular with tourists. As well as being one of the best beaches in Spain, this beach claims to be good for you on health grounds because the local sand means that there is five-times as much iodine in the sea-water here than normal.
But there's also more high-brow attractions on offer - the Ciutadella Iberica is a fascinating excavation of the village that was here in 600 BC (and just a short walk from the marina), and the Casa Barral museum celebrates the life works of Carlos Barral, who was, as I'm sure you already knew, one of Spain's finest poets.

Day 3. Segur de Calafell to Tarragona – 16 nM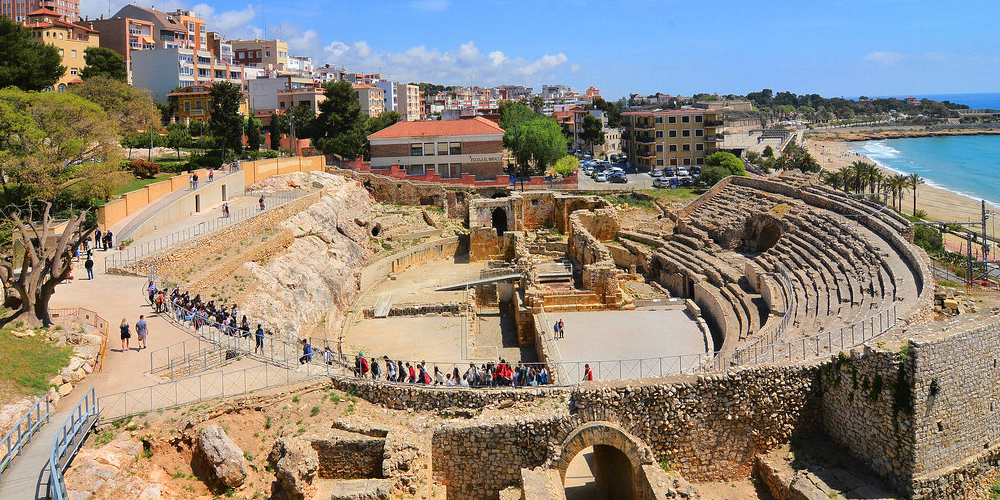 It's more of the same today as we continue reaching down the coast. We've been ramping up our culture in the last couple of days, and Tarragona, our next stop, is where we're going to hit peak culture. This is a city which has existed for thousands of years, and has a long and glorious history to prove it. The main sights here are the UNESCO World Heritage Site of Roman ruins, dating back to 700 BC, including an impressive amphitheatre and an aqueduct - both still in reasonable shape.
The Romans helped transform ''Tarraco' (as they called it) into the wealthiest and most opulent city in Spain, and there was a time when Caesar Augustus himself used to come here for winter, bringing the might and powers of the empire with him. Similar to Rome, the whole town is like a giant museum, with fine buildings and churches in every direction around the old town – so it is worth a stroll around.
If all of the above have you rolling your eyes, then don't worry, because Tarragona also has something for you – notably, Spain's biggest theme park, PortAventura, is located here (alongside Ferrari-land and the PortAventura Aquatic park), and there's obviously also plenty of great beaches to lay down on.

Day 4. Tarragona to Torredembarra – 7 nM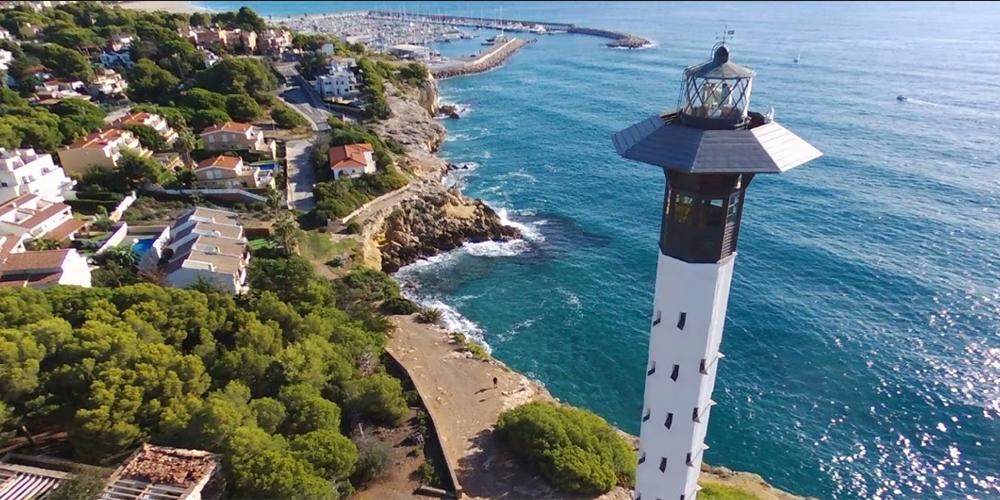 Today is only a short sail because you might not have had much time to check out Tarragona properly yesterday - some of your crew could even spend the day here and make their own way to meet the boat in Torredembarra for the night, if they wanted.
Torredembarra is largely overlooked by tourists because it is so close to Tarragona, but it has the same Roman history, charming cobbled streets and an old town with magnificent architecture - it would be lauded if it was anywhere else in the world. There's also fantastic beaches, and Torredembarra is one of the world's top kite-surfing destinations.
And, of course, there is the tallest lighthouse in Catalonia, which is also the newest lighthouse in Spain (it went live on January 1st 2000), which has a splendid viewing platform at the top of it (if you can manage the 217 steps).

Day 5. Torredembarra to Sitges – 19 nM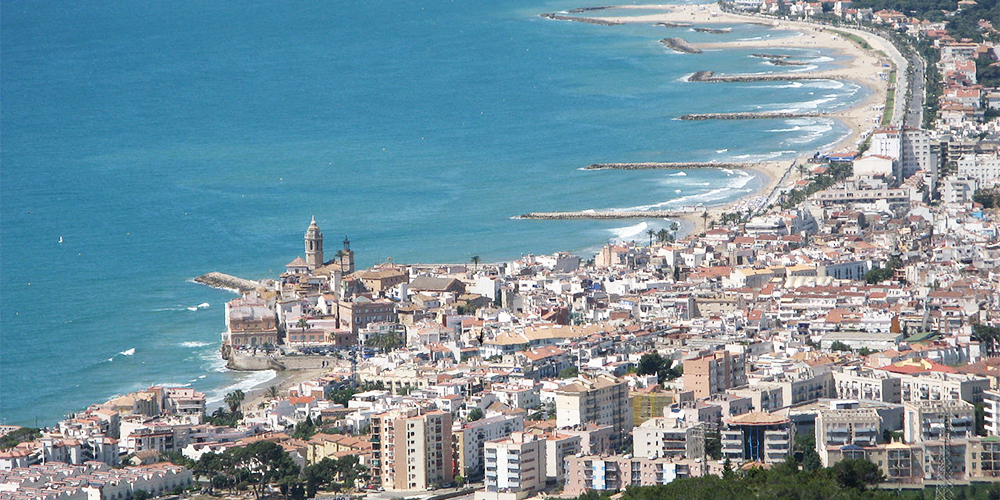 Sailing further up the coast, Sitges, our next port of call, is known as the 'St Tropez of Spain ' for it's fine buildings, upmarket clientele and exuberant nightlife. It is probably most famous for its annual international film festival - which sees the glitterati assemble here every October - but it also has a fantastic old town, 17 different beaches, and one of the best annual 'Carnival' parades in Spain to shout about.
But that's not all – their local dishes of xato (seafood salad) and 'Sitges-style paella' have been exported across Spain and are certainly worth sampling. There's the locally grown Malvasia wine, or, if you prefer something stronger, Sitges is the birthplace of a certain Mr Bacardi who emigrated to Cuba in 1830 and set up a massive rum empire – Sitges is proud enough of him to give him his own museum.
You can also go for a hike on the mountainous Garraf Massif, gape in wonder at the magnificent Church of Sant Bartomeu i Santa Tecla (which you should also be able to see from the sea), or hit the beach – incidentally, three of the 17 beaches here are nudist beaches.

Day 6. Sitges to Barcelona – 22 nM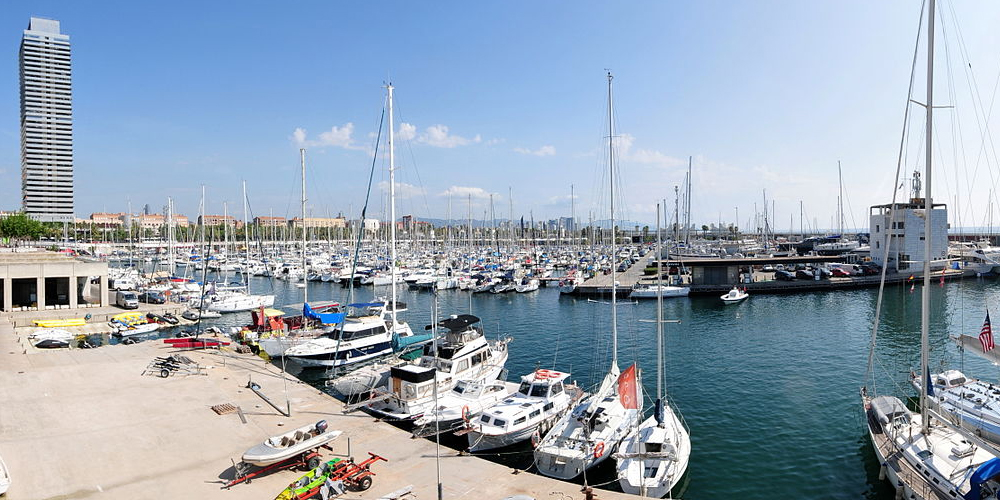 Oh no. Somehow it's already our final day of sailing, which means we'll only get the sails out one more time before we head in to Barcelona – but today is the longest leg on the itinerary, so there is plenty of sailing in the sunshine to be done yet! We're continuing our progress up and East along the Catalonian coast-line, likely reaching against the prevailing summer winds.
You'll pass the Garraf massif, Castelldefels, Barcelona airport and then Barcelona city centre and then we're heading back into the marina. Don't forget you'll need to fill up the fuel tanks on your way back into the marina, before mooring the boat up one last time. You can stay on her overnight before disembarking tomorrow morning. If you got the crew and the boat around safely, then well done skipper, and you have earned your 'Sailing in Spain' badge.
If you haven't explored Barcelona itself yet, then it really is a wonderful city, which is why over 20 million tourists head here each year. There's the Sagrada Familia cathedral, the Olympic parks, or a cable car (Teleferic) which goes across the bay, giving outstanding views of the city. You simply have to wander down Las Ramblas, and there's plenty of trendy bars to check out in the 'Gothic quarter', which is the near-side of the city-centre to the marina.
Hopefully you have all enjoyed the trip, and the crew have been a joy to be around. As you're reminiscing about this voyage over some final tapas, maybe you'll already be thinking about where to sail next year - come and visit us at PlainSailing.com once you have a plan! Have a safe trip home, and hopefully see you online soon! :)

---
Sailing Conditions
 WHAT ARE THE WINDS LIKE?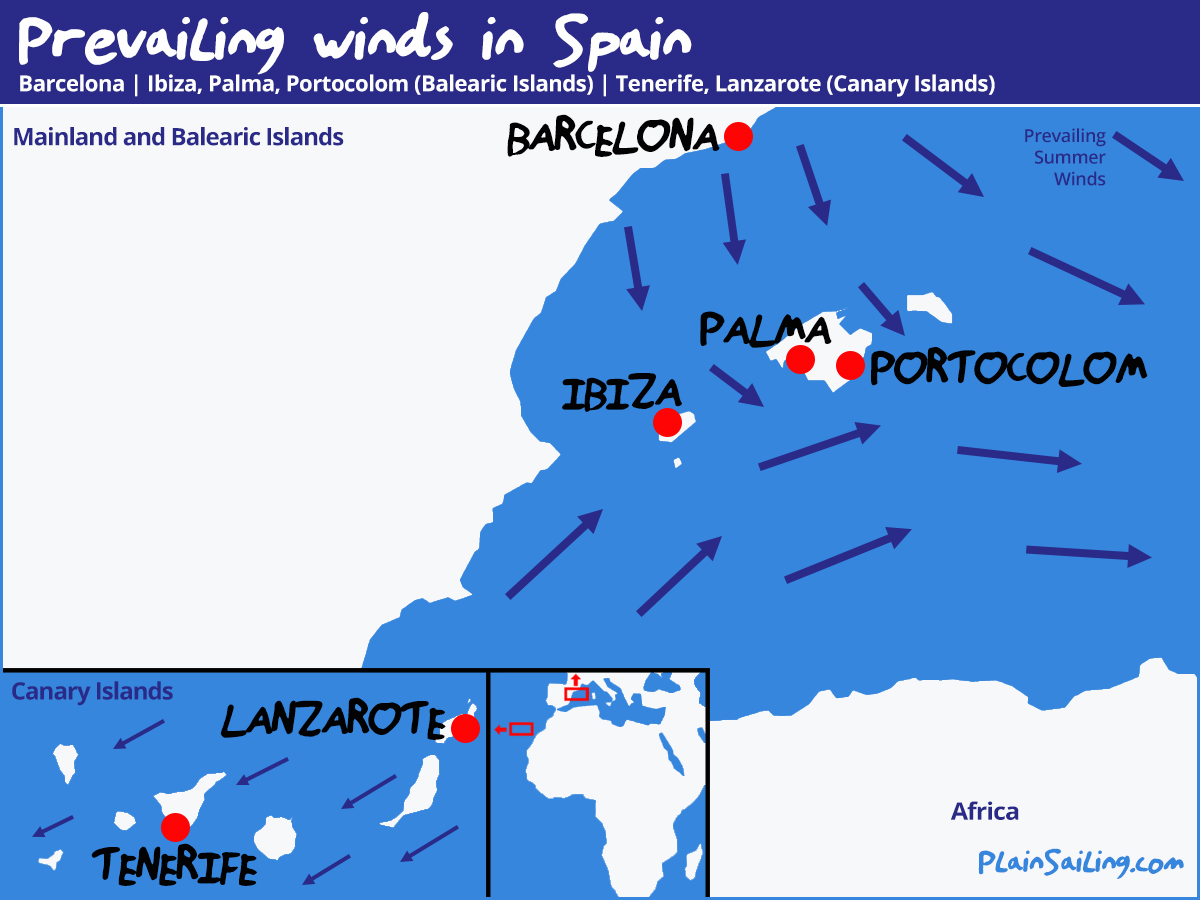 The Catalan coast has quite reliable winds and sunshine – which makes it an optimal place for sailing.
Winds tend to be stronger during spring and autumn, when they tend to arrive from the South or South-west, but as the summer kicks in, the winds swing around so that the prevailing summer winds come from the North, before rushing their way East across the Mediterranean to hit sails on boats in Turkey.
This makes sailing at the tail-ends of the season a little more exciting, though thankfully it is rare for the wind to be too fierce. 
In winter, winds are a bit more unpredictable, and you could be hit by cold winds rolling down from the Pyrenees, or warm winds from Northern Africa – though most weather systems tend to pass over in a few days, and the forecasting in the Med is usually very reliable so you shouldn't be taken by surprise!
 HOW HOT WILL IT BE? 


Barcelona has fine weather pretty much all year round, with perfect sunny beach-weather throughout the summer - it's hottest during July and August, when daytime temperatures can get above 30 degrees, and you'll be glad of a sea-breeze. There's often also sunshine in the mild winter months here - sometimes you can get away with just wearing a t-shirt in December!
 HOW WARM IS THE SEA? 


The Mediterranean never really gets too cold, but the sea water is a noticeably 'fresh' until April, 'bearable' in May, and only really reaches a 'nice' temperature to dive into from June. For July, August and September, the sea becomes a pleasure to be in, and the water is warmer than you'll find in indoor swimming pool, October is still a nice time to swim, but the temperature drops back down in November and December.
---
Marina Details - Port Olimpic, Barcelona
Barcelona is a wonderful city, and the ideal place to spend a day or two at the start or end of the holiday - if you're looking for places to stay on land in the area, then we recommend Hotel Santa Marta, which is ideally located between the marina and Las Ramblas.
Port Olimpic hosted the sailing events for the 1992 Olympics. After years of being unloved, it was brought back under the control of the Local Government and has since been refurbished into a modern and comfortable marina, next to Barceloneta beach, and within a short walk of the city centre.
WEBSITE: No website | ADDRESS: Port Olimpic, Edifici Capitanía, Barcelona, 08005
GETTING THERE: Port Olimpic is just a 20 minute drive from Barcelona international airport, and we can help with arranging private transfers. There's multiple public transport options from Barcelona airport, but the quickest is to get the Metro underground to Collbank, and then the D20 bus (and walking from the 'Hospital del Mar' stop). Alternatively, Reus or Girona airports are within an hour or so drive of the marina.
PROVISIONING:
The nearest decent-sized supermarket is the Consum (
Av. d'Icària, 160, 08005 Barcelona
), which should have everything you need to get stocked up on for a week at sea, and is only 100m away from the marina.
FUELLING AT END: There's a fuelling berth in Port Olimpic, so head there before returning your boat on the final day.
Loading Map Co-ordinates...
---
---
WHAT NEXT? Use the pink box to search for yachts or catamarans with LIVE pricing & availability - if you have any other questions or requests, get in touch via Live Chat, the Contact Form, or by phone.