Find a Boat
LIVE
Pricing & Availability
Search NOW
Yacht & Catamaran Charter in Tivat, Montenegro
We can help you find the perfect yacht or catamaran to sail from Tivat!

Sailing from Tivat
You might be surprised to hear that sailing in Montenegro is one of Europe's best kept secrets. Far from languishing behind Greece and Croatia, the stunning scenery here has long attracted the very rich and the very famous, who appreciated the beauty and splendour of the coastline - and there are now three multi-billion-pound marinas in the region which are purpose built to cater for 100m+ super yachts. (Try getting one of the in a marina in Croatia, or a harbour in Greece!)
With fine Mediterranean weather, reliable winds (particularly outside of the Kotor bay area, when you can head along the coast to Bar and Ulcinj), immaculate facilities, and superlative views, Montenegro really is currently a wonderful secret, quiet and exciting place to go sailing. We can help you find and book your ideal yacht or catamaran, with one of our trusted Charter Partners - just get in touch or search in the pink box with live prices and availability!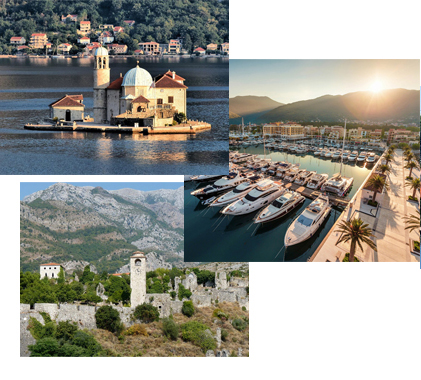 SAILING RATING: Beginner - With easy line-of-sight navigation, clear waters and light winds it's a great start point for sailors (and an easy cruising ground for experienced ones). Peak season is July & August, but you can sail here from March to October.
MUST-SEE: Our full suggested itinerary is further down the page, but we'd highly recommend taking in the wonder of Our Lady on the Rocks, the spendour of the luxury marinas like Lustica Bay and Porto Montenegro in Tivat, and taking a step back in time in Stari Bar.
WHAT WE CAN OFFER: We have a great range of yachts and catamarans available for charter from our trusted Charter Partners, all available bareboat or Skippered. We can also arrange a Hostess, Personal Chef and other crew.
GETTING THERE: The main charter marina is next to Tivat airport, or within 2 hours drive of Podgorica or Dubrovnik airports. We can organise transfers for you.
WHY BOOK WITH US? We only work with the very best professional charter operators, who we have met, know, and trust to give you the same outstanding customer service as you'll get from PlainSailing.com.

WHAT NEXT? Use the pink box to search for yachts or catamarans with LIVE pricing & availability - if you have any other questions or requests, get in touch via Live Chat, the Contact Form, or by phone.
Why book with PlainSailing.com?
We're yacht and catamaran charter experts, and can find you the best boats in Greece, Croatia and anywhere else in the Med or Caribbean - yacht, catamaran or superyacht-bareboat, skippered or crewed

We're UK based, only work with the best Charter Companies, offer exceptional customer service from start to finish and will match any price!

Independent Service Rating based on
415
verified reviews.
2
6-day Sailing Itinerary from Tivat
Surrounded by mountains and with crystal clear waters, Kotor bay is one of the most beautiful places to sail – particularly when the sun is shining and there are a few knots of wind in your sails. It feels majestic to wind your way along this gigantic fjord and out to the Adriatic or Mediterranean Sea. There's so many beautiful old towns to discover – most over a thousand years old – but also remote islands to look over as you sail by, and brand-new sailing facilities which have been built over recent years to turn this place into something of a millionaire's playground.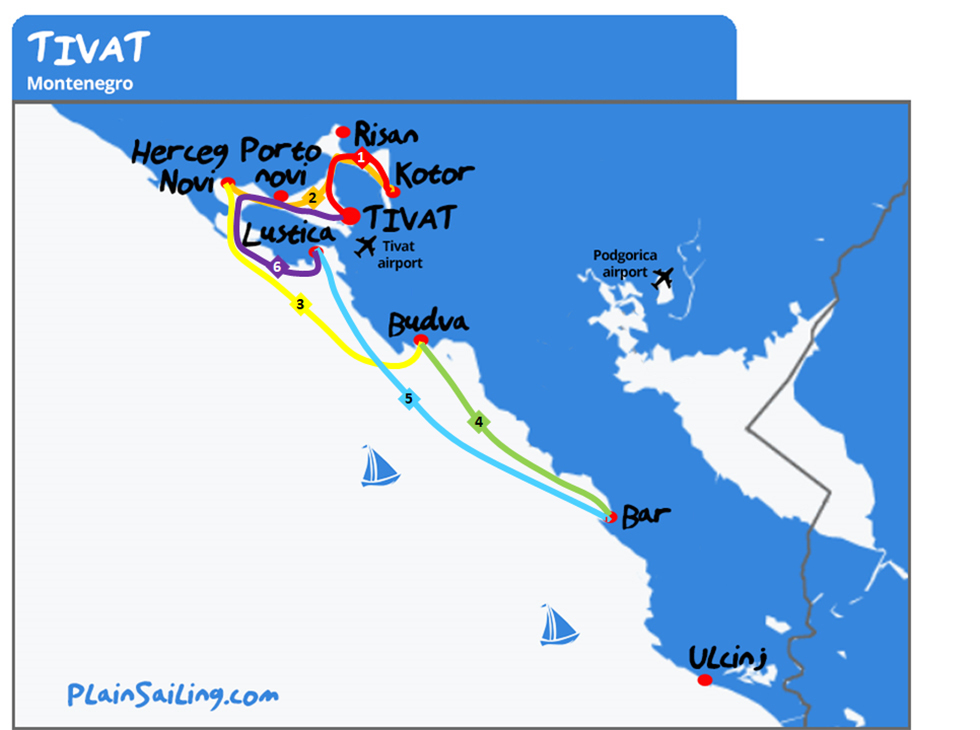 Our six-day itinerary tries to take in it all, with a few days and nights exploring the Kotor bay, but also a few days getting out into the Adriatic, where the real wind is, to fill the sails as you wander down the Montenegrin coastline – accompanied by a spectacular mountainous backdrop all the while.
It's only a six-day itinerary because you're likely only going to check in late on Saturday afternoon, so, after getting provisions on board for the week ahead, you're unlikely to get much purposeful sailing done – so our itinerary sets off on Sunday morning, when you're fresh and raring to get the boat out! You'll need to get the boat back to Tivat on the Friday night, so that you can disembark first thing on Saturday morning to give the team time to clean and changeover the boat before someone else takes her on an another adventure next week. But there's plenty of sailing to be done before then.
This itinerary is 102 nautical miles in total, which means an average of 17 nautical miles a day – which, given that yachts and catamarans can go upwards of 5 knots (nautical miles an hour) means that it should only involve three or four hours of meaningful sailing each day, giving you time to sail at a more leisurely pace, or to spend time exploring the start and end point each day.

Day 1. Tivat to Kotor – 8 nM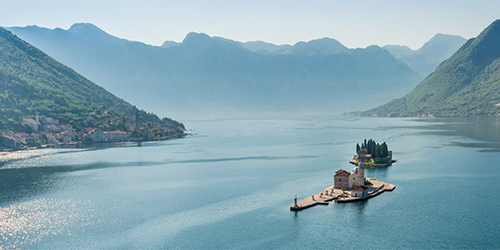 Let's get moving: get your provisions stowed, make sure everyone is on-board, and then it's time to slip the lines and make way. As you nose out of the marina, take a moment to look around and appreciate the splendid views out here. Get used to those great views because today we're really heading to the bottom of Kotor bay as we hop around the headland from Tivat to Kotor. It's not a great distance, which means you can fiddle around and get completely familiar with the boat, practice a couple of man overboards, and get settled in for the week ahead. If you're inclined, some of the other towns around the bay are worth cruising by, there is the Solila nature reserve and bird sanctuary, or you could go and check out Portonovi, pretty much opposite Porto Montenegro - this is the latest multi-million-pound marina development.
From Tivat, you need to head northwards up the fjord, through the narrow channel, to get to the final part of the Kotor bay. Pay attention to big cruise ships before you work your way down the channel, though they generally only travel before 9am and after 4pm, so they shouldn't cause us any problems this week. Once you're through the channel, you'll pass 'Our lady on the rock' (the church with the blue dome). Legend has it that this is an artificial island which has built up over time – it's considered good luck to throw a rock at or on it to thank God for getting home safely. It started as a pile of pebbles from grateful sailors, and has slowly built up what it is today.
From there, head east and then south towards majestic Kotor, where you'll find the marina at the very end of the bay, or you can moor up in Marina Muo, just south and west of the old town. We love Kotor, and it's a brilliant place to explore!

Day 2. Kotor to Herceg Novi – 14 nM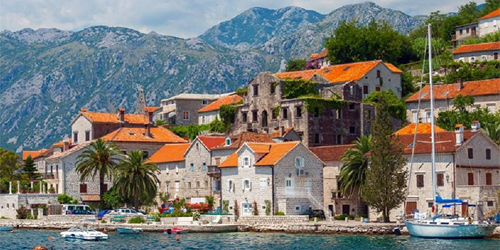 After sailing as far into Kotor bay as possible, today we're sailing pretty much the length of this mountainous fjord as we head out towards the Adriatic sea. Heading north, you'll be able to gaze at beautiful Perast on your starboard side – this is or was the poshest part of old Kotor, where the richest people built palaces and summer houses to enjoy the bay. If you're thinking that it looks a bit Venetian, then you're not wrong – this was part of the Venetian empire for over 200 years, so they imported all sorts of culture and architecture. In fact, Perast was the very last village of the Venetian empire (outside Venice) to fall.
We'll sail back to Our lady on the Rocks for another glimpse, then it's a case of nipping back down the channel towards Tivat, then South-west to the Mediterranean, following the coastline round on your starboard side, passing the monstruous new Portonovi marina, and heading round to moor up in Herceg Novi.
Situated at the opening of Kotor bay, Herceg Novi (meaning 'new castle') is most famous for being the first line of defence for the area – you'll notice as you sail by that there are castles and fortifications galore, as the Ottomans, Venetians, Spanish, French, Russians and Turks (amongst many others) sought to protect the bay from intruders. Given the number of times it's changed hands, the fortifications can't have been all that successful... Nowadays, it's a quiet tourist town which has a bohemian and arty atmosphere, with a number of mud spas, a good range of restaurants, and a livelier nightlife than you might expect.

Day 3. Herceg Novi to Budva – 20 nM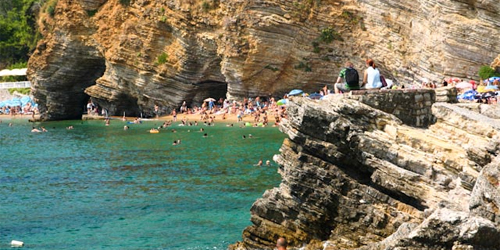 After a couple of days of potentially light winds inside the bay, we're heading out into the Adriatic part of the Mediterranean sea to fill our sails. From Herceg Novi, you should be able to see a gap in the coast-line at South-south-west, which is where we want to squeeze through. From there, we're reaching with the prevailing wind as we travel along the coastline to Budva. But what a coastline!
Budva is the most popular tourist town in Montenegro - it's 35 beaches and 11km of fine sand luring in all the locals, but, nowadays, plenty of international tourists too. There's been a lot of recent developments for tourists – such as ugly hotels and high-rise flats – which have taken some of the sheen off the place, but this is also one of the oldest settlements in the whole of the Mediterranean, and the old town an interesting and exciting place to explore – parts of it are over 2,500 years old!
During high season, there's plenty happening in the evenings in Budva, and the land-lubbing tourists create a party atmosphere which is hard not to get infected by!

Day 4. Budva to Bar – 17 nM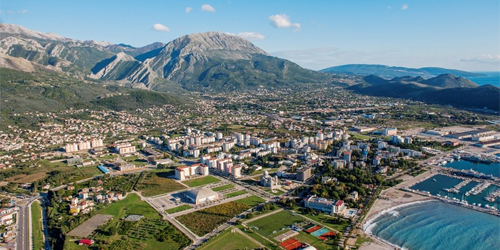 From the beaches and busy nightlife of Budva, we're heading down the coast for something a little bit different. After leaving the marina, we're heading south-west down the coast again, passing the picturesque island of Sveti Stefan (now a six-star luxury holiday resort – hence those big superyachts in the bay nearby) along the way.
If time is on your side, there's an option to stop at Petrovac for a lunchtime excursion (but it depends upon how much you drank last night, or whether you went to the beach or shopping this morning). Petrovac is an idyllic village with a great beach and many, many old and beautiful buildings. It's very popular with the locals because there is a direct road through the mountains to get from the capital city of Montenegro, Podgorica, and it's a place where people come to de-stress. The church on the small island was hand-built by a sailor who was shipwrecked on the island one stormy night, as a 'thanks' to God.
After sun-bathing awhile, it's time to admire the unspoilt coastline and mountains from the boat again as we head down to our stopping point for the night – the important and historic town of Bar. It's important because it's Montenegro's main sea-port, and welcomes ferries and cargo ships from across the Med. It's historic because it has a fantastic old town – this one is slightly different that the other old towns though: it's been uninhabited for centuries, which means that it is a genuine snapshot of how life used to be here. It's certainly worth a look. Bar is also famous for producing the best olives in Montenegro, and for having an olive tree that is over 2,000 years old!

Day 5. Bar to Lustica – 17 nM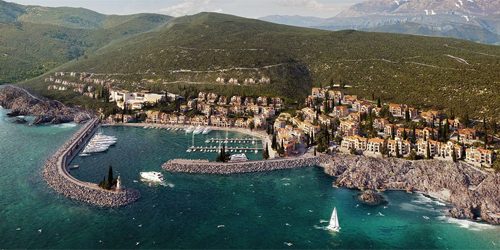 We've visited some fascinating old towns over the last few days, so now it's time for something more modern. You'll have heard that sailing in Montenegro was a bit of a millionaire's playground, but that won't really click until you see the amazing facilities first hand – so today we're returning back up the coast-line to Lustica Bay. From Bar, it's 17 nautical miles back in a North-westerly direction, likely beating up against the prevailing wind, and passing Petrovac and Budva along the way.
Budva is over 2,500 years old - the settlement at Lustica bay is just under 2 years old. It's a giant first-class development near Radovici, which will see the building of roads, houses, hotels, shopping centres, a golf course, a brand-new marina (with all the trimmings), and all sorts of other things a village needs. All from scratch, and on the basis that this is one of the most beautiful bays in the whole of Montenegro. The marina opened in July 2018, and will be fully functioning for the 2019 season.
Lustica bay is a luxurious if slightly artificial place to spend the night, and to mix with the well to do sailors of Montenegro.

Day 6. Lustica to Tivat – 16 nM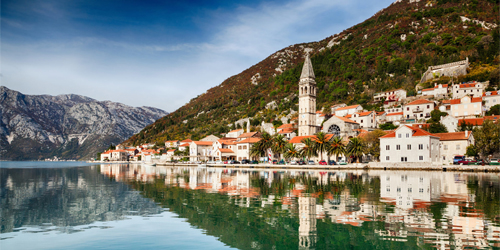 Oh no! It's the last day of the itinerary, which means that it's nearly the end of the holiday. Hopefully you've had a brilliant week away from work, all the crew have gotten on well together (and there is already talk of going sailing again next year), and you've fallen in love with sailing in Montenegro – either for the spectacular views and magnificent old towns, or for the luxurious modern marina developments, or both!
Today is a sail of 16 nautical miles, but, oddly enough, you can make the same journey from Lustica to Tivat on foot in about an hour, because it's only about a 5km walk. Walking is no fun, however, so we'll go by sea. We'll head Southwards out of Lustica bay, then follow the headland round on our starboard side, and re-enter the Kotor bay area, passing the crazy circular Fort Mamula (or Lastavica) on the way in. Fort Mamula takes up 90% of the island and was built in 1853 by the Austrians. Since then, it's been a fort, a military base, and, during World War II, a concentration camp for opponents of Mussolini's fascist regime. After being abandoned and uninhabited, in 2016 planning permission was granted for a developer to transform it into (another) luxury resort, complete with multiple restaurants, a beach club, a spa and a nightclub.
Following the coastline round, we're heading back past Herceg Novi and East towards Tivat, where we'll make ourselves at home again in Porto Montenegro marina. Take the yacht to the fuel berth at the marina to fill up the tanks, then head back to where you found the boat on the first day and berth the yacht one last time. Tie off the lines, then high-five the rest of the crew for a job well done!
The yacht charter company will inspect the hull tonight, so it's important you get the boat back to the marina before 6pm – but you won't have to disembark until 9am on Saturday morning. If you've not yet had chance to explore Tivat or Kotor, then now is a great time to do that – the view from the castle above Kotor will seem especially poignant now that you've conquered the sea below. And then sadly it's time to head back to the airport. When you get home then you can head to PlainSailing.com and start planning your next adventure!

---
Sailing Conditions
 WHAT ARE THE WINDS LIKE?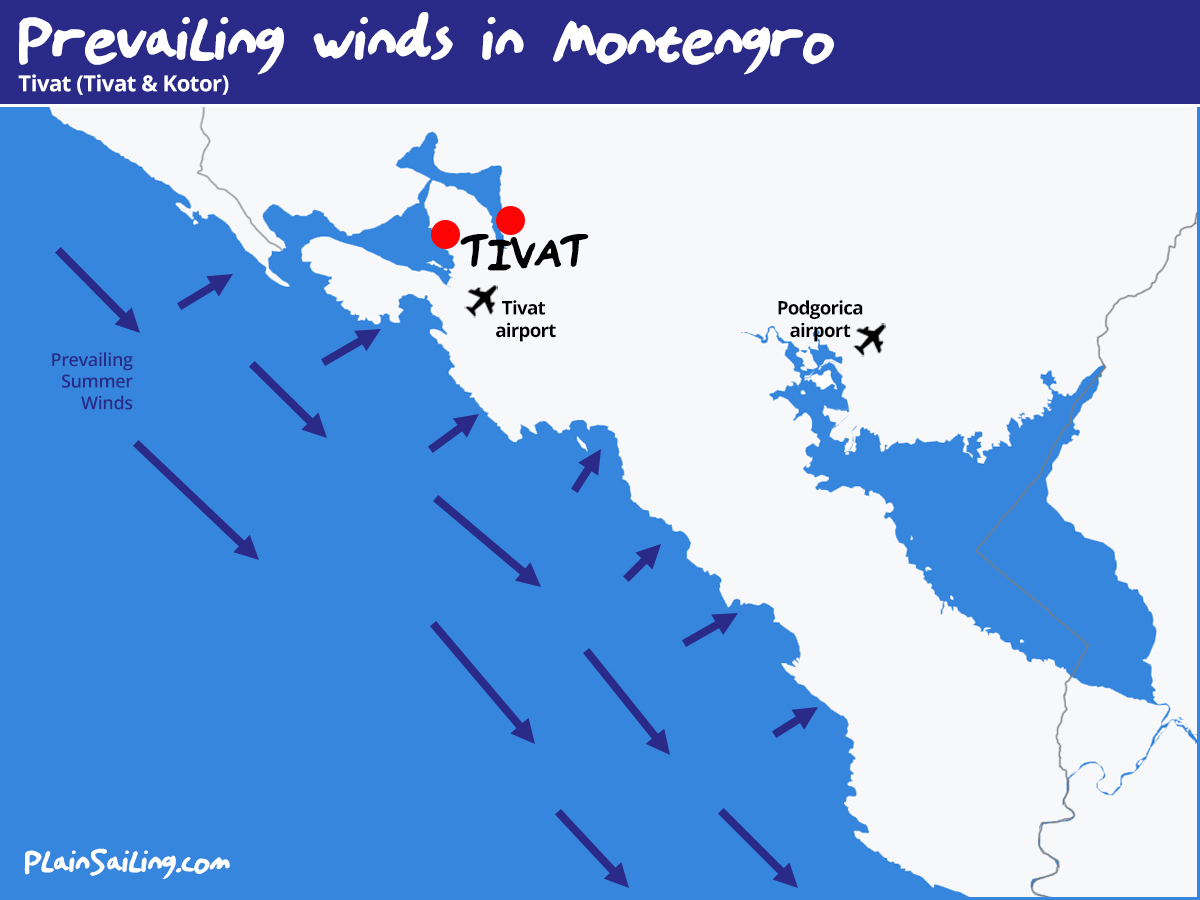 Sailors head to Kotor for the stunning scenery, historic towns, and top-drawer sailing facilities – all of which make for an outstanding holiday on a boat. Being both inland and surrounded by mountains means that there's not a great deal of wind in Kotor bay – there will still be some to play with, but you're not likely to get too much of an adrenaline rush.
Once out in the Mediterranean, you can expect decent Force 3 to 4 winds heading up and down the coast. If you stick close to the mainland, you'll notice the mistral winds which race towards land during the day (the sun heats the land, which heats the air above it, which, in turn, rises, and sucks air in from over the sea), and out to sea at night. Further out from the coast and you'll meet trade winds which rush down the Adriatic towards Greece, and which will ensure you can make quick progress South, before beating your way back up North.
In winter, there's no such thing as a prevailing wind, and you're as likely to meet cold winds from the Alps and the Dolomites as you are the warm tropical stormy winds which arrive from the South of the Med.
 HOW HOT WILL IT BE? 


You might expect Montenegro to have hot summers and mild winters but Tivat, nestled on a fjord and at the foot of giant mountains, gets a little less hot in summer, and little colder in the winter, than say Croatia or Greece. Things warm up from May, when temperatures hit the high-teens, but the sun doesn't really get going until July, when the mercury gloriously hits over 25 degrees, and you can expect over ten hours of sunshine a day.
 HOW WARM IS THE SEA? 


As the bay is well protected, for much of the year the temperature of the sea is warmer than the air, never dropping below 15 degrees. It heats up with the sunshine in May, and hits about 20 degrees (a refreshing temperature), before reaching 25 degrees in July and August, when diving into the crystal clear water will be a delicious way to cool yourself down.
---
Porto Montenegro, Tivat
Porto Montenegro, once a naval marina, now markets itself an 'exclusive marina and yachting paradise'. It has space for over 450 boats, and also boasts the worlds longest berth, able to accommodate superyachts upto 250m in length (if they're still called superyachts when they get to that size?). It was built in 2009 and people flock here to be part of the 'in' crowd. It has a range of fine-dining restaurants, but it is also under a kilometre from the town of Tivat.
If you're staying in the area before or after your charter, we can recommend this place that is close to the marina: Hotel San.
GETTING THERE: The easiest way to get there is to land at Tivat airport, which welcomes flights from across Europe (including Manchester and London in the UK), with flights more frequent during the summer months. From the airport it's a short 10-15 minute transfer to the marina – which we can help to arrange. (The journey is also possible by taking an airport bus to Kotor city centre and changing onto another public bus, but buses are infrequent and the taxi's are almost as cheap). The main international airport in Montenegro is Podgorica, which is a 90 minute transfer away from the mountains and fjords of Kotor. It's better connected, may have better flight times, and we can help to arrange transfers if required. An alternative to landing in Montenegro is to land in nearby Dubrovnik and make your way to Kotor from there. Whilst this is possible, be aware that this may not be the quickest route, as there is often a 2 hour delay at the border to get in to Montenegro. Incidentally, UK and EU citizens do not need a visa to enter Montenegro on holiday for stays of less than 90 days, and the local currency is the Euro (even though they are not formally part of the Eurozone, yet).
PROVISIONING:
Though there are a number of smaller mini-markets near or in the marina, the nearest decent-sized supermarket is the Aroma supermarket, which is about 200m away if you turn left out of the marina, on the main road. It should have everything you need to get provisions for the week. The address is
Aroma Market, Beogradska, Tivat, Montenegro
.
FUELLING AT END: There is a fuelling berth in the Marina - head there before you head back to your home berth (there might be a queue...)
Loading Map Co-ordinates...
---
Marina Solila, Tivat
Marina Solila was only built in 2018, and is a small marina that is easily accessed from the airport, so you can be out sailing in the Bay of Kotor as fast as possible!
WEBSITE: No website | Marina Solila, Tivat
GETTING THERE: Solila Marina is just 3 kilometres from Tivat International Airport, so transfers are usually inside 10 minutes!
PROVISIONING:
The nearest good-sized supermarket is
IDEA
, which is just a 5 minute drive away.
FUELLING AT END: There's a fuelling berth in Solila Marina, so head there before returning your boat on the final day.
Loading Map Co-ordinates...
---
---
---
WHAT NEXT? Use the pink box to search for yachts or catamarans with LIVE pricing & availability - if you have any other questions or requests, get in touch via Live Chat, the Contact Form, or by phone.