Find a Yacht
LIVE
Pricing & Availability
Search NOW
https://plainsailing.com/blog/top-5-places-to-sail-to-in-montenegro
Top 5 places to sail to in Montenegro
Thursday, 12th May 2022
Our experts pick out their Top 5 places to sail to and see in marvellous Montenegro!
Chartering a yacht or catamaran in Montenegro gives you a unique sailing experience – you get access to both a traditional Mediterranean coastline, complete with welcoming villages of white-washed houses built around the harbourside, AND to sailing in the Kotor bay area, a 90km fjord which allows you to sail in-land between towering mountains.
But what are the top 5 places to sail to? We asked our sailing experts to help us out: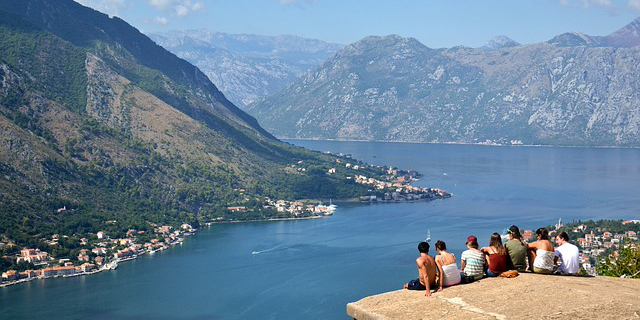 Kotor (& San Giovanni Fortress)
Undoubtedly THE standout view (and the one you'll find on the front cover of any brochure about Montenegro) is the view from San Giovanni castle, looking out over Kotor old town and into the Kotor bay area. The ruins of the medieval fortress are interesting enough, but it's the truly magnificent view that makes this place well worth the hike.
Moor up in the Old Town and then follow the path as it winds its way up and up to 280m above sea-level. And don't forget your camera! If you enjoyed the hike, the view is also pretty cool at night-time, when there's twinkling stars overhead and Kotor town is a patch of glittering lights.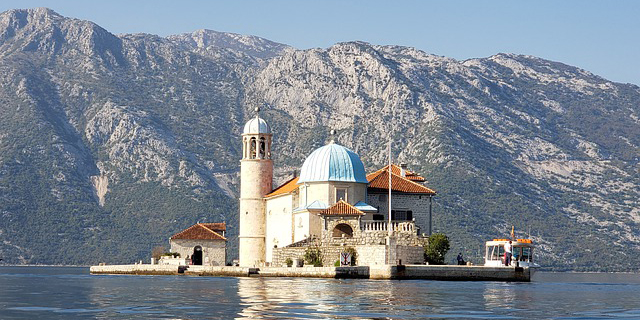 Our Lady on the Rocks
Wow. This 400-year old church which sits on an island in the middle of the Kotor bay fjord is both picturesque and thought-provoking. It's not just built on any old island – legend has it that sailors returning to Kotor from tempestuous seas had a vision of Our Lady at this spot in 1452. Since that night, it became a tradition for sailors to cast a rock into the sea every time they returned home safely – and slowly, slowly, an island was built (they still throw rocks at the island to this day, so the island is still growing!). The majestic church was added in the 1700's.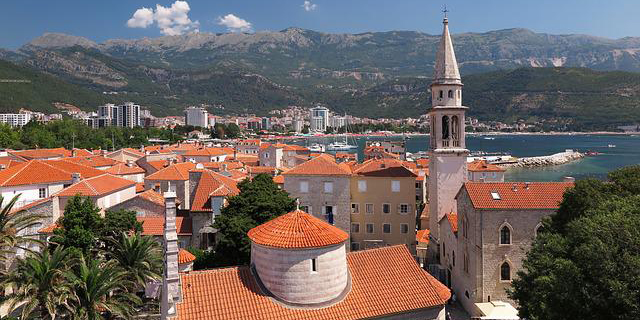 Budva
Like Trogir, Korcula and Dubrovnik in Croatia (just to the north of Montenegro), Budva is an exceptionally beautiful walled town. The original town of Budva is over 2,500 years old, making it one of the oldest known settlements in the Med, but much of the fortifications relate back to medieval times, when the Venetian empire wanted to protect their people and their assets from marauding invaders.
Within the walls are a maze of ancient streets and buildings, you get a sense of how life was like way back when – though with added gelato, to help you keep cool. Budva is also close to a number of fine beaches, and the nearby new-town is a very popular seaside town with the locals (there is a direct motorway from here to the capital city, Podgorica).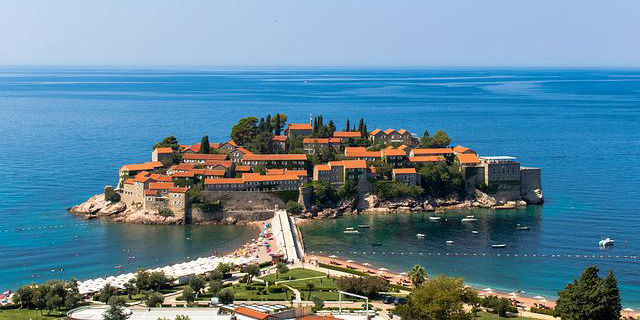 Sveti Stefan
Another of Montenegro's most-photographed sights is Sveti Stefan, a small walled village which is connected to the mainland by a narrow isthmus. The blue of the sea contrasts delightfully with the ancient stone buildings with terracotta rooves. It certainly does look like an idyllic place to stay – but then so it should, as it is now (in its entirety) an exclusive luxury holiday resort.
You can enjoy some time on the public beaches on the isthmus, or just sail on by.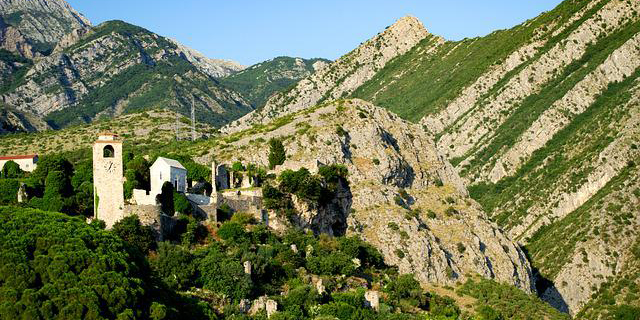 Stari Bar
Stari Bar is slightly different to your usual 2,000 year old settlements – in that it was abandoned many years ago, and is now a collection of ruins, including an ancient fortress, bath-houses, clock-towers and local residences. It used to be quite an important and respectable city, but now the place is like a ghost town, with eerily quiet streets. It's quite a cool place to go though.
All the residents from here moved down the hill to establish the nearby Bar town (where you'll find a marina) where there was better access to water and food.
Sold it you yet?
Be sure to check out our destination guides to find out a LOT more about sailing in Montenegro, or search in the pink box for yachts and catamarans available for charter in Montenegro with live pricing and availability, or contact our award-winning Customer team through LiveChat, UK Freephone or email!
Want more like this?
This is part of our 'Destination Highlights' week of blogs focussing on sailing in Montenegro - with more to come this week. You might also be interested in checking out our similar Destination Highlights: Croatia, Destination Highlights: Greece, Destination Highlights: Italy, Destination Highlights: Malta, Destination Highlights: Scotland, Destination Highlights: Bahamas, Destination Highlights: Spain and Destination Highlights: France blog series from previous months!
Plainsailing.com
Plainsailing.com