Find a Yacht
LIVE
Pricing & Availability
Search NOW
https://plainsailing.com/blog/paparazzi-4-places-to-be-seen-sailing-in-italy
Paparazzi - 4 places to be seen sailing in Italy
Wednesday, 31st March 2021
Our experts pick out the uber-luxury destinations in Italy to take your charter yacht or catamaran.
Italy is stylish, sunny, and full of beautiful people and places – so it's no wonder that it's popular with the rich and famous. Papparazzi is an Italian word, and the Italians have long welcomed the great and good from all over the World – from Byron, Shelley and Keats in the 1800's through to Taylor Swift and Leonardo di Caprio today – so it's perhaps no surprise that you can find six-star luxury and VIP guests today.
If you've not got pockets deep enough to stay in the luxury hotels in these exclusive places, you can still spend a night in some of these epic Italian locations by the sea: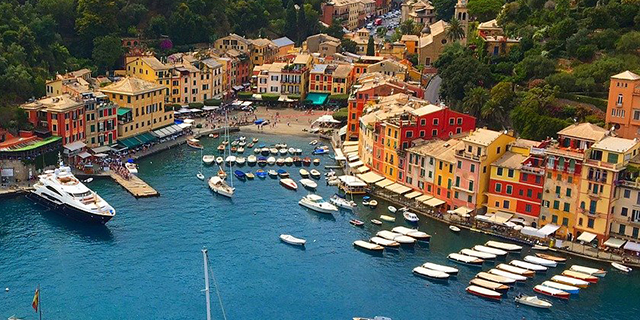 PORTOFINO (Charter from Tuscany)
THE place to go on the Italian Riviera. Sir Winston Churchill holidayed in Portofino, and there's a chance you'll spot George Clooney, Rod Stewart or Barbra Streisand wandering the narrow streets, or sat along the waterfront enjoying pizza or pasta. It's a beautiful and charming village centred around the marina. Sit and watch the boats come and go – often there is even a superyacht moored up out at sea (the marina isn't big enough to house them, so the high rollers have to arrive by dinghy!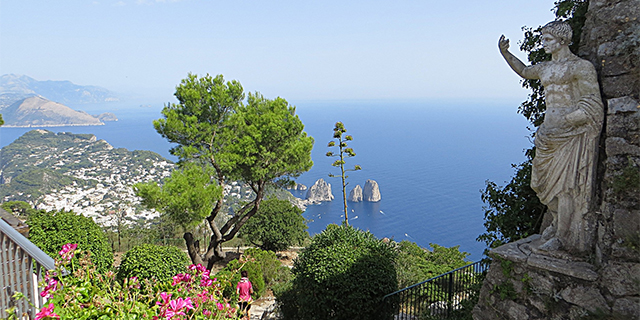 CAPRI (Charter from Salerno)
Capri is a beautiful island which has been an exclusive holiday destination for millennia – the Roman emperor Augustus bought the island and was sent summers here when the weather in Rome became a bit stifling! Nowadays, it is still a beautiful place to perch and look out to sea – even more so once the day-trippers return to Naples and there is space to breathe on the island again. Watch out for Cristiano Ronaldo, as he seems to have his photograph on the wall in most restaurants here!
You can pay extortionate fees to moor up in the Marina Grande, or, if weather conditions allow, anchor here for free near Marina Piccola on the South side of the island.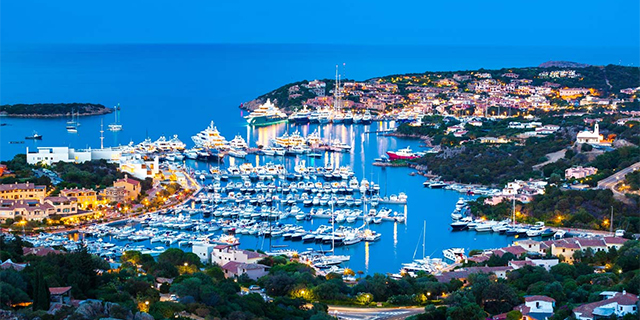 PORTO CERVO (Charter from Sardinia)
Porto Cervo is known as a Billionaire's playground – and it has the most expensive addresses in Europe (with prices starting from €300k per square metre!), and recently boasted the 2nd, 4th and 6th most expensive hotels in the world to prove it. But then, Orlando Bloom and Katy Perry don't mind spending €20k a night for a hotel room.
Purpose built as a luxury resort in the 1960's, it now has a super-luxury marina with space for 100 MegaYachts, a multitude of fine dining restaurants and designer clothes stores, and has even featured in a James Bond film. The local Yacht Club Costa Smeralda has also competed in the America's cup!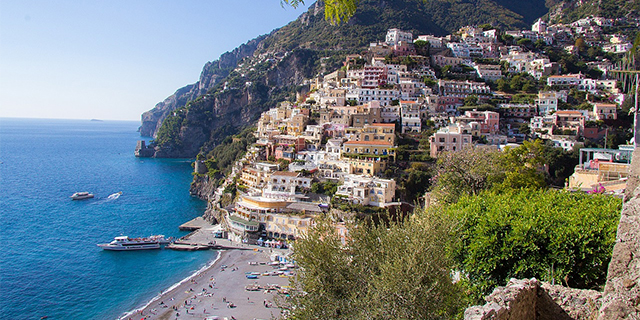 AMALFI COAST (Charter from Salerno)
Probably the most mainstream of all the places listed here, the stunning cliff-climbing villages of Amalfi and Positano here are accessible by road and are visited by literally millions of visitors every year. They come to enjoy the splendour of the architecture, the fine beaches, and the chance to say that they have been to the gorgeous Amalfi coast. It's better in the evenings, when there isn't the bustle of the day-trippers and you can soak up the atmosphere. There's a few places to park your boat, and the marina fees are a lot, lot cheaper than forking out for a night in a hotel here!
Want more like this?
This is part of our 'Destination Highlights' week of blogs focussing on sailing in Italy - so check back here this week for more, like Reasons you'll LOVE sailing in Italy, Places to sail to in Italy that will make you say "Wow!", Where YOU should sail in Italy, and Paparazzi! 4 places to be seen sailing in Italy. You might also be interested in checking out our similar Destination Highlights: Croatia and Destination Highlights: Scotland blog series from previous months!
Plainsailing.com
Plainsailing.com