Find a Boat
LIVE
Pricing & Availability
Search NOW
Yacht & Catamaran Charter in Ibiza, Spain
We can help you find the perfect yacht or catamaran to sail from Ibiza!

Sailing from Ibiza
Ibiza is perhaps best known for its party scene and for having the best nightclubs and DJs in Europe, but it's also a small island in the middle of the world's best sailing area (the Mediterranean), and, away from the crowds of partygoers, there's plenty of natural beauty to find, quiet villages and scenic bays and beaches to explore. You can also island-hop to the idyllic white beaches and wilderness of nearby Formentera.
The Balearic Islands are blessed with reliable winds and sunshine for the duration of the sailing season - which runs from March to November – which makes for some exceptional sailing conditions. We can help you find and book your ideal yacht or catamaran, with one of our trusted Charter Partners - just get in touch or search in the pink box with live prices and availability!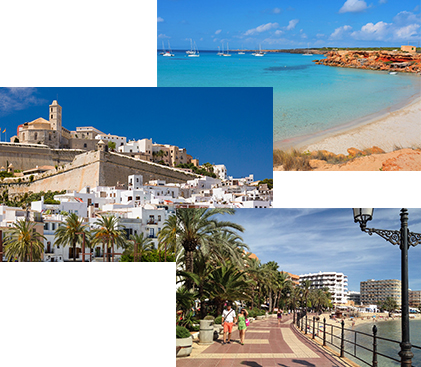 SAILING RATING: Beginner - almost all of the Mediterranean is suitable for beginners, due to simple line-of-sight navigation, winds that are reliable and not too strong, and because water levels are largely non-tidal. All the above is absolutely true for sailing around Ibiza. Being comfortable at anchor will allow you more places to stop, but it is not essential.
MUST-SEE: Check out our full suggested itinerary below. We'd highly recommend taking in the incredible beaches on Formentera, the lively Ibiza Town, and getting something tasty to eat in Eularia.
WHAT WE CAN OFFER: We have a great range of yachts and catamarans available for charter from our trusted Charter Partners, all available bareboat or Skippered. We can also arrange a Hostess, Personal Chef and other crew.
GETTING THERE: Our base in Sant Antoni is about a 30 minute drive from Ibiza airport. We can help arrange private transfers.
WHY BOOK WITH US? We only work with the very best professional charter operators, who we have met, know, and trust to give you the same outstanding customer service as you'll get from PlainSailing.com.

WHAT NEXT? Use the pink box to search for yachts or catamarans with LIVE pricing & availability - if you have any other questions or requests, get in touch via Live Chat, the Contact Form, or by phone.

5
6-day Sailing Itinerary from Ibiza
Whilst it's technically possible to sail to Mallorca or the Spanish mainland from Ibiza, they're both a bit of a slog away, and there are plenty of great places to discover closer to home, so they're not worth the effort. The whole coastline of Ibiza is only 60 nM, and there is plenty enough places to explore.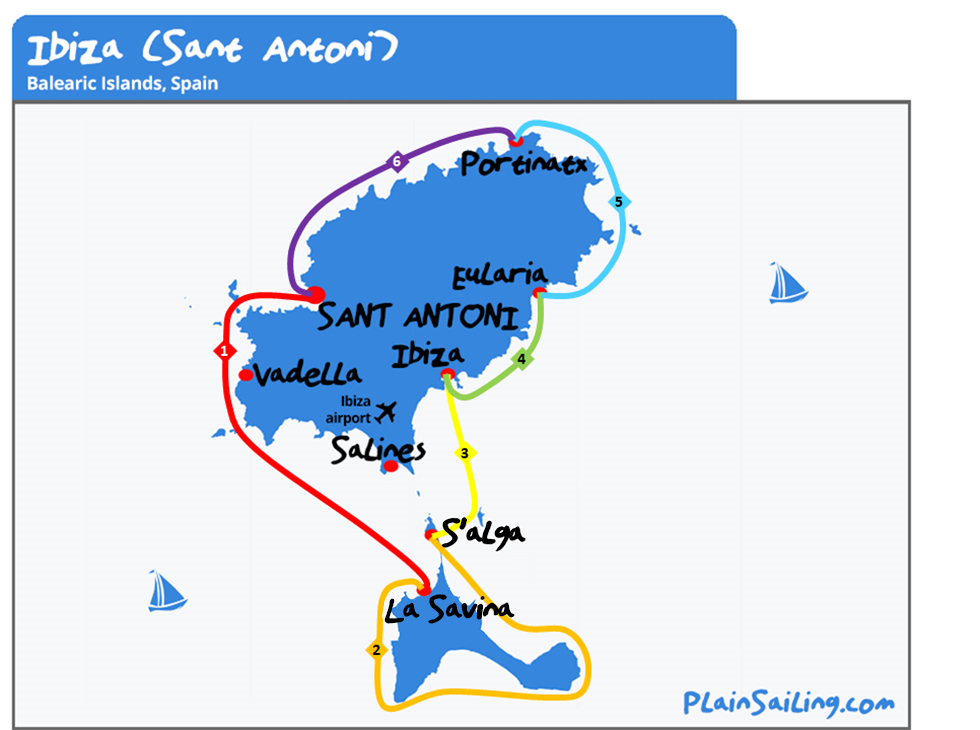 Our six-day itinerary from Ibiza gives you a full 360 degree tour of the area, as you'll circumnavigate both Ibiza and nearby Formenera islands, enjoying the beaches, calas and towns along the glorious coastline. In total, it covers 101 nM, which means you can travel at a leisurely pace – you'll be able to sail an average of 15-20 nM in 4-5 hours of sailing a day, so you'll have time to explore the start or end points, find places to pause for a quick dip in the sea, and have a relaxing holiday travelling at your own pace.
The itinerary only covers six days because it's likely you won't sail on the day you arrive (you'll normally only get on board in the late afternoon, and will need some time to get provisions on board and get familiar with the boat. And the boat needs to be returned to Sant Antoni on Friday evening (but you stay on-board overnight and check-out and disembark on Saturday morning). That means you'll get six days of sailing in the sun, from Sunday to Friday.

Day 1. Sant Antoni to La Savina – 23 nM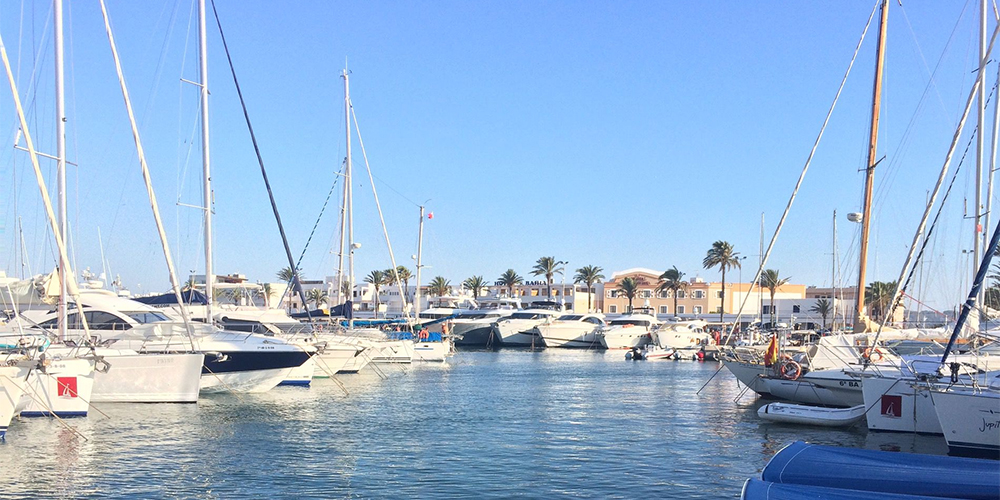 Buenos Dias, Capitan! Hopefully you and your crew have woken with clear heads after a night on Ibiza! Get the crew briefed on their positions, stow the provisions safely below deck, and then let's get drop the lines and make way. Head out of Sant Antoni bay, get the sails up, and then we're heading south, keeping the coastline on our port side.
The winds around Ibiza tend to come either from the north or the South-west, so you'll be running with or reaching across the wind depending upon which direction is dominant today. Ibiza is probably remote and relaxing compared to where you live and work, but we're heading even more remote and sailing to Savina, on the north coast of Formentera for the night.
Formentera is virtually entirely white sandy beaches and turquoise seas, and we'll explore that tomorrow. La Savina is an important town here, and the main port for the island – it used to be used for exporting salt, but is now mainly used for welcoming land-lubbing tourists from Ibiza. There's plenty of bars and restaurants and an afternoon market to check out, or nearby Punta de Sa Pedrera has one of the best sunsets in the Mediterranean.

Day 2. La Savina to S'Alga – 29 nM **BUOY**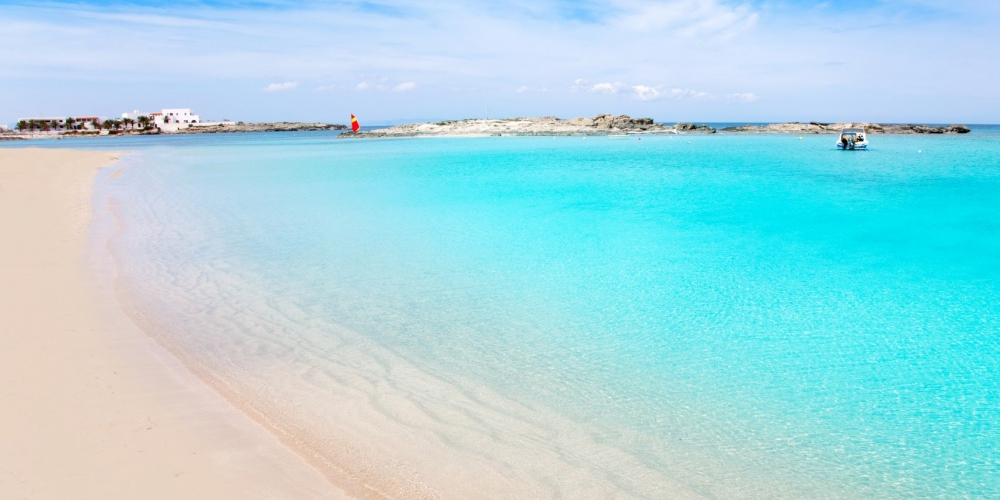 There is evidence that people lived on Formentera around 3,000 BC, but the island has been largely uninhabited throughout its history, and is now a protected area for nature. Similar to Ibiza, Formentera was somewhat colonised by hippies in the 1960's, who sought a life away from the modern capitalist world – it's easy to understand why they chose this remote island as a place to get away from it all.
Today we're circumnavigating the whole island, enjoying the miles and miles of white sandy beaches: sailing around here feels a lot like sailing in the Caribbean. And there is no better way to explore than on your own private boat – prepare yourself for some envious looks from the land-lubbers on the beaches when you rock up in your boat! Of particular note, Es Migjorn beach on the south is long and beautiful, there's a chance of spotting celebrities in or around Es Pujols in the North-east (which is where you'll also find all the fanciest hotels), and in 2016, the Ses Illetes beach, on the spur at the North of the island, was named the best beach in the world on TripAdvisor!
Our suggested itineraries try to finish up in a marina each night, but there aren't that many marinas here, so we're recommending you pick up a mooring buoy in S'Alga and enjoy the tranquillity here, assuming the weather allows – but you'll need to make sure you have provisions on board as there isn't a restaurant or bar here. You could also anchor somewhere on Formentera for the night, or return to La Savina.

Day 3. S'Alga to Ibiza Town (via Espardelli islands) – 10 nM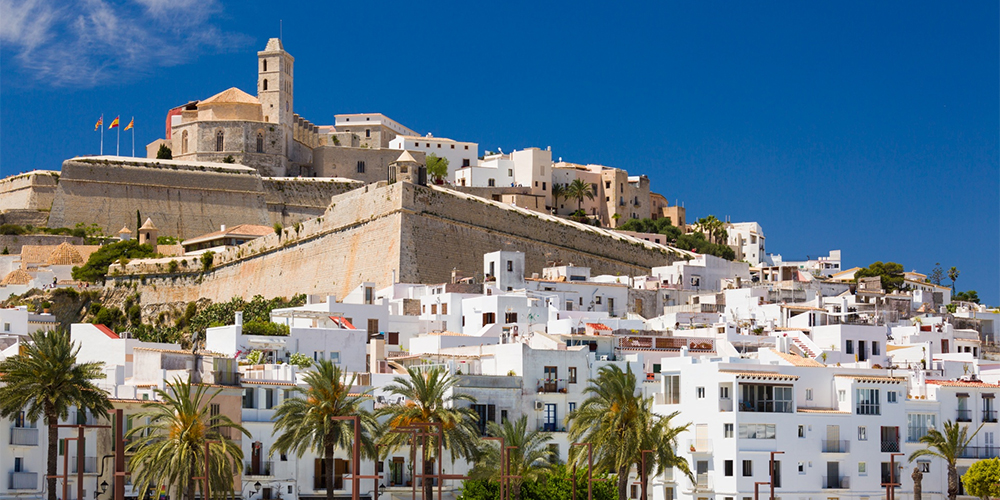 After two days in the wilderness, we're heading back to shops and civilisation today as we head back to Ibiza, and Ibiza Town itself. It's only a short hop of 10 nM back, so you have time to head back to your favourite beach on Formentera if you wanted to – it's not that often that you will be moored up right next to the best beach in the world. When you're ready, we're sailing northwards, past the small Espardelli islands (a nature reserve) and on upwards to Ibiza Town, either tacking up or reaching across the prevailing wind.
Ibiza Town itself is a fascinating place to visit. The Carthaginians founded a town here around 635 BC and the island has been conquered plenty of times over the years (by Romans, Moors, Catalans, etc…). The giant walls of the old town – which, in its entirety is now a UNESCO world heritage site - are a direct result of having been attacked and sacked relentlessly by pirates through the ages.
The high point of the town, literally and metaphorically, is the fantastic cathedral at the top of the old town, which dates back to the 14th century, but there's history and fine architecture throughout the town – each conquering army has made their mark, and added to the charm, so it's a fine place to stroll around with an ice-cream. For those so inclined, the biggest and best nightclubs are called Pacha, Amnesia and Ushuaia, all within a short taxi-ride of the marina, but beware that entry is likely to set you back upwards of €60!

Day 4. Ibiza Town to Eularia – 8 nM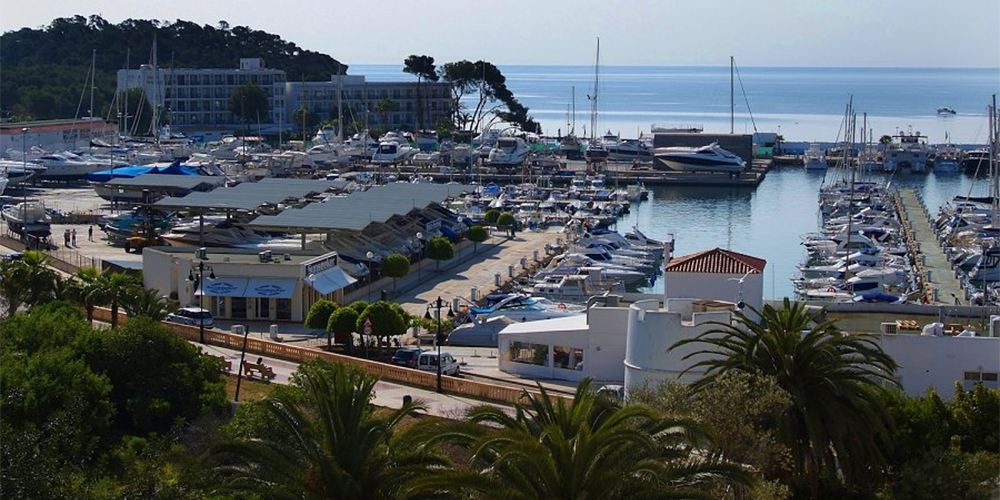 Today is another light day of sailing so that you can spend more time in Ibiza Town, perhaps wandering around the high-end shops or admiring the superyachts which are also moored in the harbour.
Once you've had your fill of this lively, VIP lifestyle, then we're heading somewhere different up the coast – Eularia, or Santa Eularia des Rue to give it it's full title, is a (much) quieter village which is best known for being the gastronomic and artistic centre of the island. While Ibiza Town has nightclubs and dancing, this place is more about family strolls along the waterside, paddling on the beach, and enjoying a nice meal in the sunshine, ideally with a brilliant view.
The local cuisine here is, obviously, very much seafood based. If you're after trying some traditional Ibizan food, then you'll probably want to try some 'Zarzuela', which is a kind of fish stew, followed by Greixonera pudding for dessert. You can drink Sangria during the meal, but you'll need to order a shot of the local Hierbas Ibicenca (an aniseedy-type shot, using locally grown herbs – hence the name) as a traditional finale to the meal.

Day 5. Eularia to Portinatx – 15 nM **BUOY**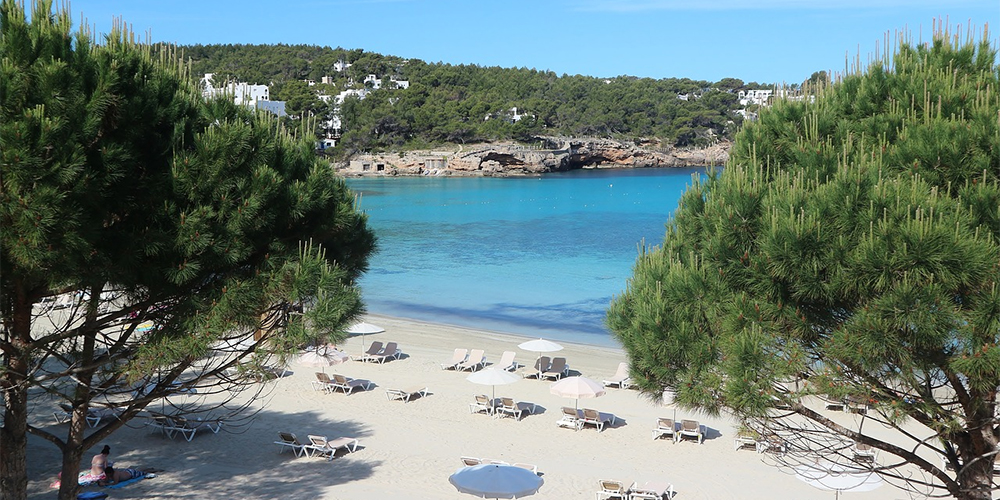 From Eularia, we're continuing a tour of the quieter – but no less beautiful - part of the island as we head around the island to the pretty town of Portinatx, which has three golden beaches complemented by a number of very cute restaurants and bars and a supermarket.
To get there, we're sailing north-east and then following the rugged coast line around. You'll sail past the island of Tagomago, which markets itself as Europe's 'most exclusive private island' – there is just one villa on the island which is rented out to the super-rich, and the weekly rental includes a 108-foot superyacht to go and explore Formentera with.
There's no marina here, but there are a small number of mooring buoys to hook up to, or you can anchor here (or in the bigger Cala Xarraca in the next bay along). It's a fun place to explore, the water here is crystal clear, there is still a bit of a holiday atmosphere in the nightlife.

Day 6. Portinatx to Sant Antoni – 16 nM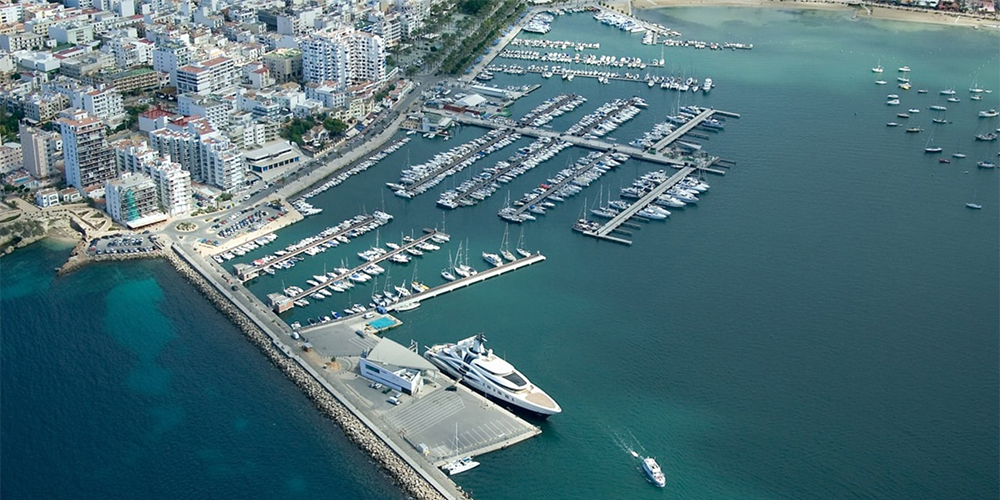 Oh wow. Somehow it's apparently already the last day of our voyage, and the boat is due back in Sant Antoni this evening. How did that happen?! But don't panic – we still have one last day of sailing in the glorious sunshine. If you haven't already, don't forget to get a team photo of you and the crew on or sailing past some idyllic beach.
We're completing our circumnavigation of Ibiza (and Formentera) by heading West along the coast and back to where it all began. On the way, Port de Sant Miquel has a very picturesque beach surrounded by pine-covered cliffs, and there's a funky beach bar in Cala Salada, which is worth a stop if you make good time on your way to Sant Antoni.
And then it's time to return the boat – be sure to refuel at the fuelling berth before returning the boat to around the same place in the marina as you found her last week. Make the lines good and then high-five the rest of the crew for a job well done. What a skipper! You can stay on-board overnight tonight, and you'll check-out tomorrow morning. If you haven't yet explored Sant Antoni then it's a lively town which is perhaps best known for the amazing sunsets, as well as the Eden and Es Paradise night clubs and the Ibiza Rocks pool party.
Hopefully you've had a blissful week of sailing, sunbathing and exploring on these idyllic islands. If you've had a blast with this crew, then head to PlainSailing.com soon and check out where else you can go sailing! Have a safe trip home, and hopefully see you online soon :)

---
Sailing Conditions
 WHAT ARE THE WINDS LIKE?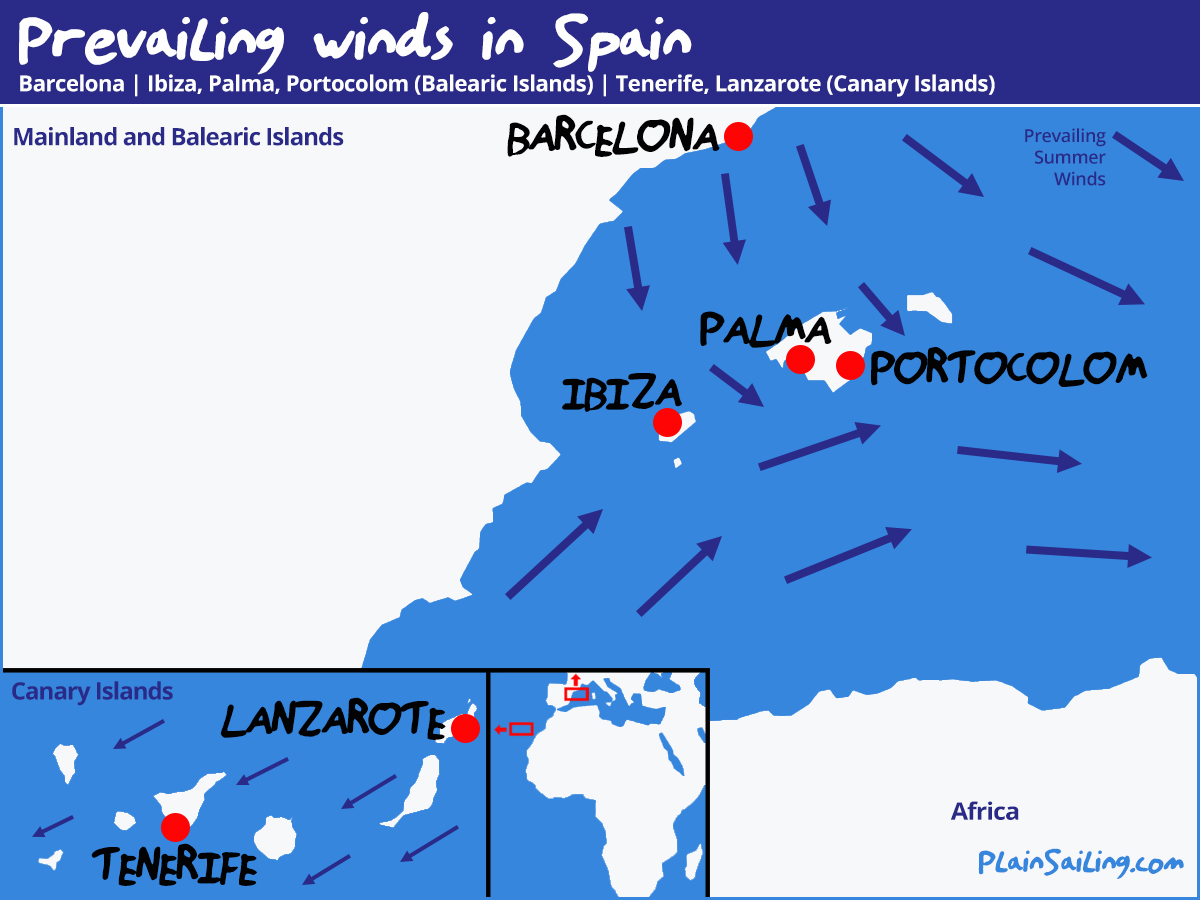 Being in the middle of the Mediterranean, Ibiza gets its fair share of winds, which is good news for sailors, as they are fairly reliably force 3 or force 4.
The Balearic islands are confusing for wind direction though, as prevailing winds can arrive from either the north, or from the south-west (or both) so you'll find yourself tinkering with the sails.
Regardless of where they arrive, the winds here eventually end up rushing east across the Mediterranean to travers Italy, Greece and Turkey.
Winds tend to be stronger here in the spring or the autumn than in the hot summer months, and in winter then the wind speed and direction tends to be less predictable, so it's important to check the forecast before setting sail.
 HOW HOT WILL IT BE? 


Like much of the Med, Ibiza has mild winters and hot summers. In fact, it's often sunny enough in mid-winter to get away with wearing just a t-shirt. Things get hotter from around Mid-April, and people hit the beaches from May to September, with peak holiday season being the school holidays in August, when temperatures above 30 degrees are not uncommon. There's still warm and pleasant sailing to be had right through to late October or even November.
 HOW WARM IS THE SEA? 


The water around Ibiza is always pretty warm. It might be a touch on the fresh side for swimming in winter and spring (unless you are a keen open-water swimmer), but things start to warm up from April, and by May the water is warm enough to jump in without thinking too hard about it. From June to October, the water is a pleasantly warm but refreshing temperature, and in August, the sea is warmer than your local an indoor swimming pool!
---
Marina Details - Es Nautic Sant Antoni de Portmany
Sant Antoni de Portmany is a quiet and beautiful part of Ibiza, away from the big crowds and nightclubs that the island is famous for. If you're looking for a place to spend a night or two before or after your charter then we recommend the Es Mitjorn hotel, located near to the marina.
The Es Nautic marina is a luxurious place to start or end your sailing adventure. It's a secure and well-sheltered marina with restaurants, bars and shops on-site or within very easy reach in the town of Sant Antoni de Portmany.
WEBSITE:
www.esnautic.com
|
ADDRESS:
Club Nautic Sant Antoni de Portmany, Paseo Marítimo, Ibiza, 07820
GETTING THERE: Es Nautic marina in Sant Antoni de Portmany is a quick and easy 20 minute drive from Ibiza airport - we can help arrange a private transfer. If you prefer public transport, then you'll need to get a bus to Ibiza town, and then another one across the island to Sant Antoni de Portmany.
FUELLING AT END: There's a fuelling berth in Es Nautic Sant Antoni de Portmany, so head there before returning your boat on the final day.
Loading Map Co-ordinates...
---
---
WHAT NEXT? Use the pink box to search for yachts or catamarans with LIVE pricing & availability - if you have any other questions or requests, get in touch via Live Chat, the Contact Form, or by phone.
---