Find a Boat
LIVE
Pricing & Availability
Search NOW
Sailing in the Dalmatian Islands
Sail to the heart of the Dalmatian Islands from Split, Kastela or Trogir, and you won't be disappointed!

The Dalmatian islands are located alongside the coast of the ancient Roman province of Dalmacia – that is, modern-day Croatia. Split is sitauted right in the very heart of them, so makes for a perfect starting point on any island discovery mission!
The Dalmatian Islands stretch for 250 nautical miles, from the islands near Pula in the North of Croatia, past the islands opposite Split and Trogir in the centre, and down to the islands near Dubrovnik in the South, and they ae fast becoming one of the most popular cruising grounds in the world. Sailing in Croatia is increasingly popular (second only to Greece in Europe) but boasts better and more modern marinas and sailing infrastructure than the Greeks. Here you'll find sunshine, reliable winds, line-of-sight sailing, and plenty of things to explore - which makes them the perfect place for a sailing holiday.
Among the Dalmatian islands, you'll find ancient Roman fortresses and medieval hilltop castles, a myriad of fishing villages, some of the best beaches in the world, as well as natural wonders (like the Blue cave at Bisevo) and wildlife galore. There's also waterfalls, national marine parks, vineyards, hidden palaces, and remote churches to be found.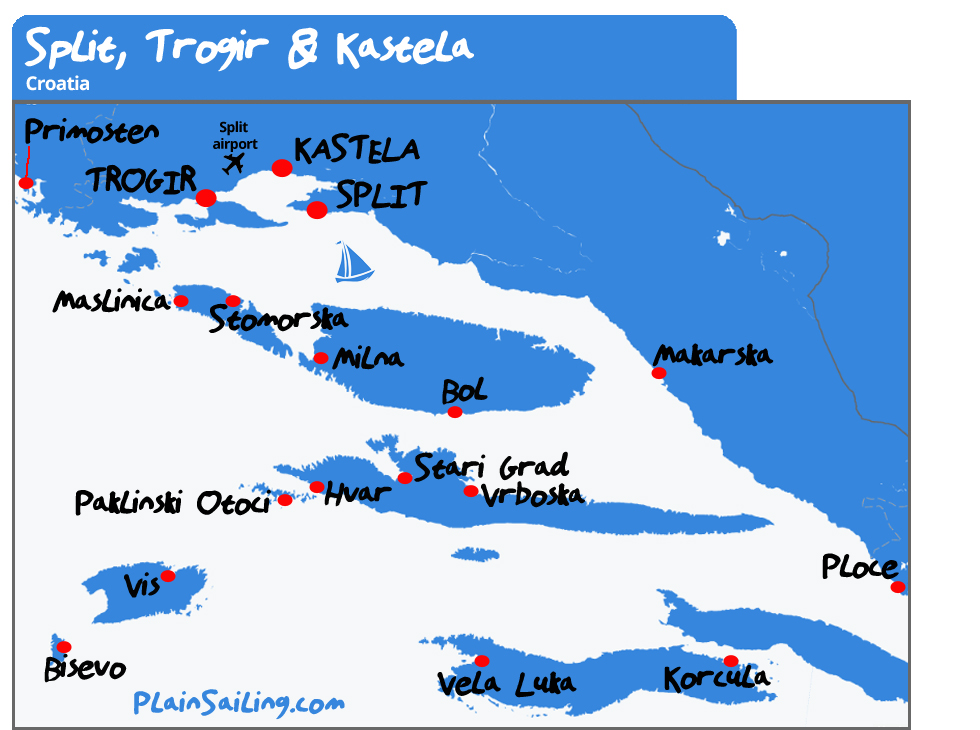 You can explore the Dalmatian islands from any of our eight bases in Croatia, with key arrival airports found at Pula (for Pula), Zadar (for Zadar, Biograd and Jezera), Split (for Trogir, Kastela and Split) and Dubrovnik (for Dubrovnik). All are brilliant places to start a holiday, and will give you an unforgettable sailing experience.
To find out more about the Dalmatian islands closest to each base, and which ones are worth sailing to, read our comprehensive destination guides, which include suggested sailing routes, what weather you can expect, what to see and do, where to eat and sleep, and much, much more:
If you need to know anything else, just grab us on Live Chat, give us a call, or get in touch via our contact form.
 
Tags: Dalmatian Islands Yacht Charter, Catamaran Charter in the Dalmatian Islands, Kastela, Split, Trogir