Find a Boat
LIVE
Pricing & Availability
Search NOW
Yacht & Catamaran Charter in Bahamas, Caribbean
We can help you find the perfect yacht or catamaran to sail in the Bahamas!

Sailing in the Bahamas
The Bahamas offer a taste of the Caribbean within just 80 nautical miles of the USA. The islands here are most famous for the stunning white palm-tree-lined beaches, clear turquoise seas, and outstanding shallows for snorkelling in or observing the vast array of tropical sealife – including the famous swimming pigs! There's beach bars, fantastic seafood cuisine, over 700 islands, and a history which includes Columbus (he landed in the Bahamas first) and pirates (Blackbeard himself roamed these parts)!
The Bahamas have beautiful sunshine, tropical warm seas, and the super-reliable trade winds throughout the sailing season - which runs from October to June – which makes for some fabulous sailing conditions. We can help you find and book your ideal yacht or catamaran, with one of our trusted Charter Partners - just get in touch or search in the pink box with live prices and availability!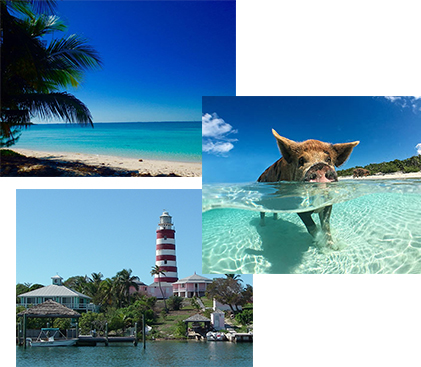 SAILING RATING: Beginner - The Abaco sea area is beautifully calm, navigation is easy and line-of-sight, and there are plenty of beaches and bays where you can throw down the anchor. You only need sufficient sailing experience (but no formal qualifications) to charter a boat here.
MUST-SEE: Check out our full suggested itinerary below. We'd highly recommend taking in the unbelievable beaches on Great Guana Cay, checking out the amazing wildlife – including swimming pigs – near Green Turtle Cay, and the historic Hope Town and fine beaches on Elbow Cay.
WHAT WE CAN OFFER: We have a great range of yachts and catamarans available for charter from our trusted Charter Partners, all available bareboat or Skippered. We can also arrange a Hostess, Personal Chef and other crew.
GETTING THERE: Our base in Marsh Harbour on the island of Great Abaco is just a six- minute drive from Marsh Harbour airport. We can help arrange private transfers.
WHY BOOK WITH US? We only work with the very best professional charter operators, who we have met, know, and trust to give you the same outstanding customer service as you'll get from PlainSailing.com.

WHAT NEXT? Use the pink box to search for yachts or catamarans with LIVE pricing & availability - if you have any other questions or requests, get in touch via Live Chat, the Contact Form, or by phone.

Why book with PlainSailing.com?
We're yacht and catamaran charter experts, and can find you the best boats in Greece, Croatia and anywhere else in the Med or Caribbean - yacht, catamaran or superyacht-bareboat, skippered or crewed

We're UK based, only work with the best Charter Companies, offer exceptional customer service from start to finish and will match any price!

Independent Service Rating based on
415
verified reviews.
1
6-day Sailing Itinerary in the Bahamas
Our base in Marsh Harbour is wonderfully located for exploring the Abaco sea, the sheltered sea area that links Great Abaco Island with all the nearby super-idyllic Cays (islands). Our suggested itinerary covers pretty much the full extent of the Abaco sea, and taking in all the best bits from your own private boat.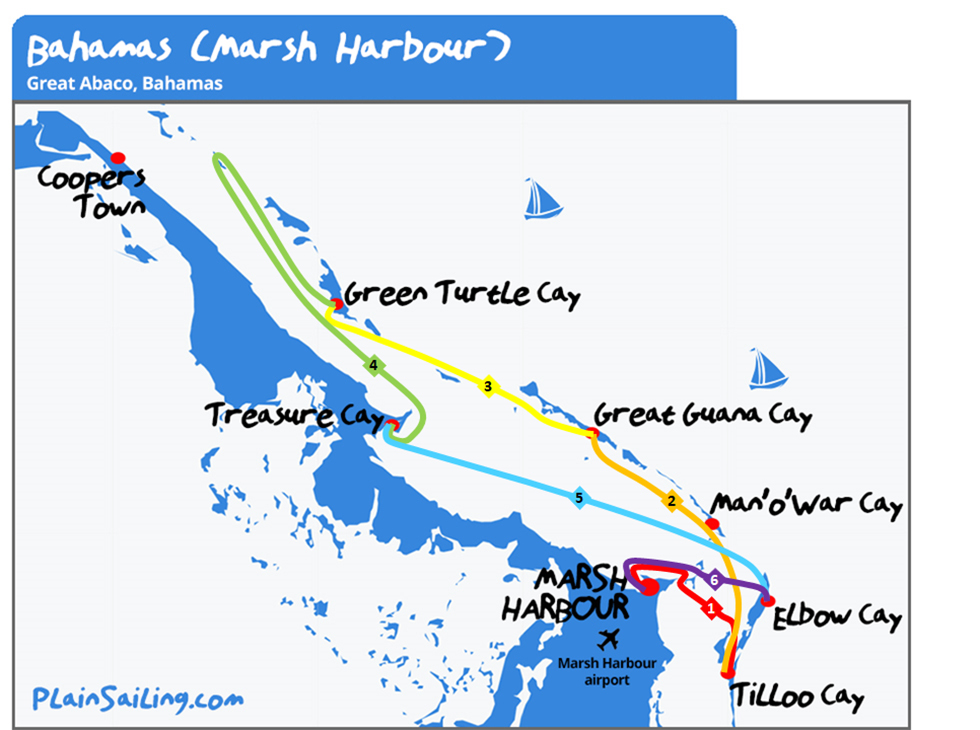 It's only a six-day itinerary because you're likely to check-in late on Saturday afternoon - so you'll set sail on Sunday morning. At the other end of the holiday, you'll need to get the boat back to Marsh Harbour on the Friday evening, but will stay on-board overnight and disembark on Saturday morning. That gives six days to be filled with glorious sailing, wonderful sunshine and making lifelong memories.
The Abaco sea area isn't massive, but this itinerary clocks up 91 nM, which means you can travel in style and at a very leisurely pace (normally we'd recommend 120 nM as a good 'holiday' pace). That works out as an average of 15 nM a day, which is 3-4 hours of sailing time, leaving lots of time for exploring your start or end points each day, for stopping for regular swim-breaks along the way, and generally feeling the Caribbean holiday vibe and taking things easy. (Incidentally, you'll need special permission from the charter company to take the boat out of the Abaco sea area, so do let us know if this is your plan.)

Day 1. Marsh Harbour to Tilloo Cay (via Tahiti Beach) – 10 nM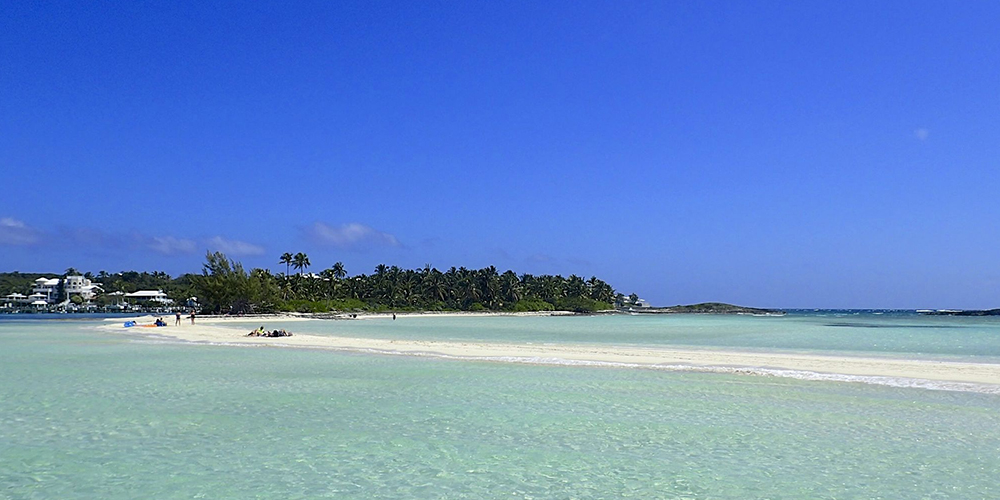 Good morning, Captain! It's another fine day for sailing in the Bahamas. Stow your provisions, call the crew on-board, and then let's embark on our Bahamian adventure. We'll find some of the most beautiful places on Earth and there's a strong chance you'll be keen to return to the Bahamas again soon!
Today is only a short hop to the 'out islands', which means you can take your time to get to grips with the boat and play with the ropes. Now would also be a good time to practice your Man Overboard procedures – but given the sea is 28 degrees, it won't even be a hardship on whoever you decide to throw in to rescue.
Our first port of call is 'Tahiti beach', on the south of Elbow Cay, which is one of the best beaches in the whole Abaco area and a fitting place as a first stop. Grab yourself a drink or a bite to eat from the floating Thirsty Cuda bar here.
You could easily spend the rest of the week here (or exploring Lubbers Quarters, the island opposite) and have an amazing time, but we're sailing further south and spending the night in a sheltered lagoon on nearby Tilloo Cay, a largely uninhabited, tranquil and remote island which is now also a nature reserve and a great place to spot tropical wildlife above and below the waterline (look out for dolphins and sea turtles). The owners of the island were planning a mega-resort, but changed their minds after spotting a pair of courting birds here, and decided to turn it into a nature park instead.

Day 2. Tilloo Cay to Great Guana Cay (via Man o' War) – 14 nM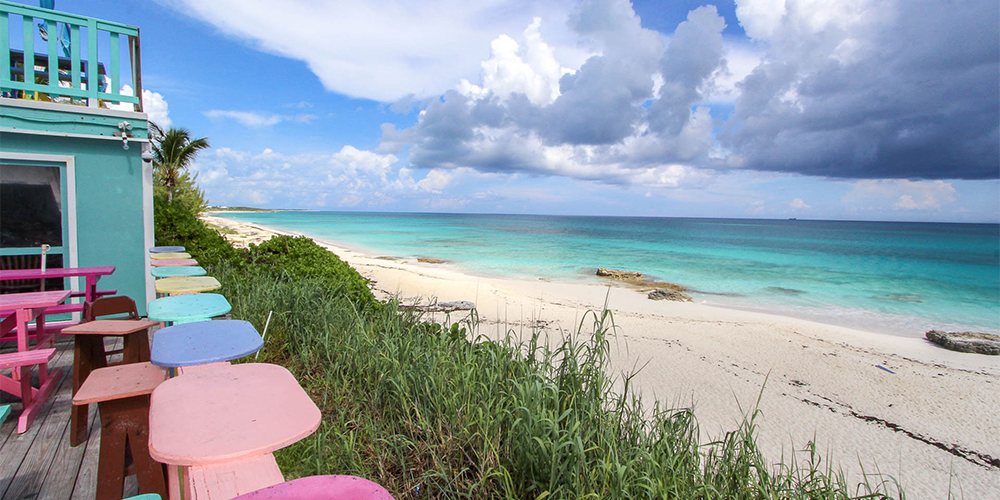 After a restful night, we're sailing back past Tahiti beach and the rest of Elbow Cay (but don't worry – we're returning here for the last night) and onwards north, likely reaching across the prevailing north-Easterly winds as we hop along the islands.
Elbow Cay was where Hurricane Dorian first hit land in September 2019 – Dorian was one of the most powerful and devastating hurricanes since records began, and certainly the worst natural disaster to hit the Bahamas - it completely decimated around 90% the buildings in the Abaco area, and killed 245 people.
On the way north you'll pass Man o' War Cay which is a beautiful place to stop, with an interesting history – there was nothing here until members of the British army fled here in 1798 after losing the American Civil war. In 1820 a shipwrecked sailor called Benjamin Albury swam ashore and eventually married a local farm girl – 200 years on, approximately 75% of the islands population are descendants of this couple! With four churches, it's a very religious place, and you also won't find a drop of alcohol on sale on the whole island.
But we're heading further north to Great Guana Cay, being careful to avoid the reef areas that surround the island and which make for some excellent snorkelling. We'd recommend mooring up in Orchid Bay or Fishers Bay and walking across the island to visit 'Nippers' the most famous bar in Abaco (and also the one with the most incredible views – Justin Bieber proposed here!) – but you can also go further north to the lavish (and controversial when it was built) Bakers Bay resort which has a marina.

Day 3. Great Guana Cay to Green Turtle Cay (via Noname Cay) – 14 nM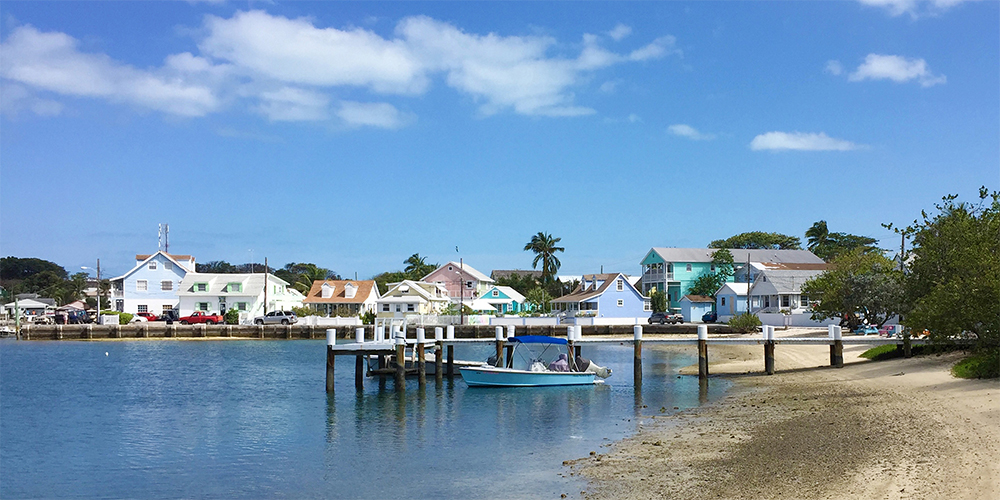 Arguably the best beach in the Bahamas is the beach on the Atlantic side of Great Guana Cay, which boasts seven miles of soft white sand and runs the length of the island, so it's potentially worth heading back to 'Nippers' bar there to re-admire the spectacular beach.
Then back on board and we're sailing northwards past Bakers Bay – this was once planned to be a Disneyland resort, but the water isn't deep enough around here for them to get cruise ships to it (so they built a resort on Castaway Island, south of Great Abaco, instead) – so this is now a golf resort for high-rollers and celebrities who fancy a break from it all.
Sail past Whale Cay, and the next Cay is known as Noname Cay – another idyllic island that was previously uninhabited, but is in the process of being developed for tourists. You'll probably spot a bit of a crowd near the beach who are all here to see the swimming pigs – similar to the more famous swimming pigs of Exumas elsewhere in the Bahamas. They're not native to the island, so who knows how they got there?!
There's plenty of places to moor up on Green Turtle Cay (or 'GTC' as it is also known), including near the small village of New Plymouth n the South. This is another settlement that dates back to defeated British soldiers fleeing after defeat in the American civil war – the soldiers here arrived from New England in the USA, so this is their second attempt at starting a new utopia. The tourist thing to do here is to head to the Blue Bee Bar for their Goombay Smash cocktail!

Day 4. Green Turtle Cay to Treasure Cay (via Ambergris Cay) – 25 nM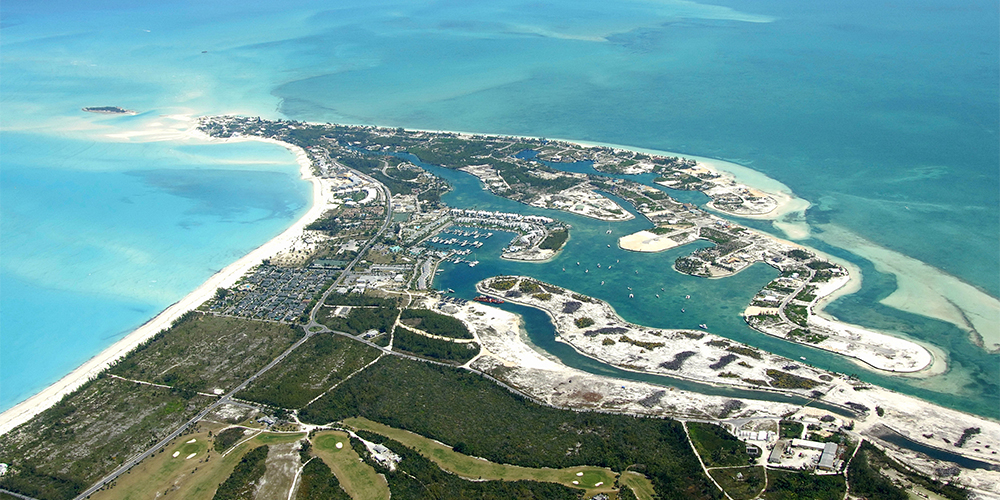 Another fine day to go sailing! And today is very much dedicated to the sailing and wildlife – our destination for the night is actually south of Green Turtle Cay, but we're sailing northwards to get the wind in our sails today. Green Turtle Cay used to be one of the Pirate Blackbeard's favourite places to hide, and the island and winds haven't changed too much since 1720, so imagine yourself on a 100-foot wooden warship with 300 men as you leave the bay today.
You can do as much (or as little) sailing as suits your needs (and turn around whenever you like), but we're heading to the remote Ambergris Cay to find some peace and solitude and get back to nature for a couple of hours. Green Turtle Cay used to have an abundance of green turtles, but sadly you now have to travel further afield to find them. There's no restaurants, bars or hotels there, but plenty of unspoilt land and you might find a couple of wild pineapples or coconuts.
So far on this trip we've sampled small anchorages, uninhabited islands, and small villages, so tonight is a look at the other side of the Bahamas – we're sailing back South, reaching across the prevailing winds, to Treasure Cay on Great Abaco island, where you'll find a resort comprising a grand beach hotel, golf course, yacht marina, luxury holiday apartments and a host of restaurants and bars all built up around a couple of outstanding Bahamian beaches.
Incidentally, if you wanted to develop an island for yourself, the uninhabited Powell Cay just north of here was on sale in 2020 for just $8m.

Day 5. Treasure Cay to Hope Town – 20 nM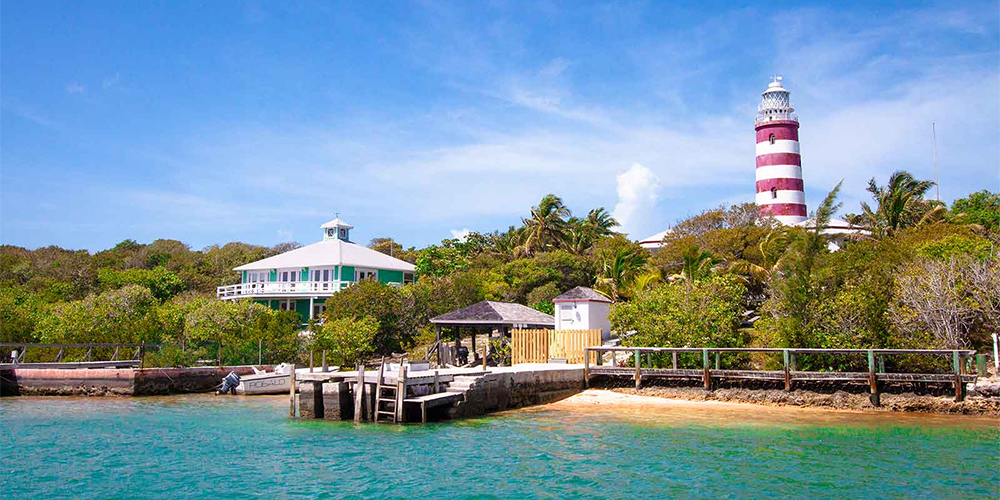 From one of the newest developments in the Bahamas, to one of the oldest – today we're sailing back South to Elbow Cay and the historic Hope Town, which was first settled in 1785 by one family escaping war in America and is now a pretty village with cute pastel coloured buildings and interesting architecture.
We'll be sailing across the prevailing wind, so it's possible to make this in one tack if you get your bearings right. There's the remote Fish Cay islands to check out on your way through the Abaco Sea, and you'll be guided into Hope Town by the famous lighthouse.
The people of Hope Town used to profit from rescuing ships wrecked on the nearby reef, so the installation of the lighthouse to keep boats safe was highly controversial when it was being built in 1860 – however, most of the 450 or so residents here are now very proud of it and are strongly against anyone fiddling with it: it is one of the few remaining lighthouses in the world that is still powered by kerosene (5 litres a night) and which requires a lighthouse keeper to be on duty overnight, turning a handle every few hours to keep things going.
If you haven't yet tried out the local Bahamian cuisine, then now is the time – there's lots of great local restaurants who will sort you out with conch fritters, grilled lobster, rice and peas, or deliciously fresh fish. Somewhat unbelievably, the TV show Scrubs recorded two episodes set (and filmed) in Hope Town, where you will be able to spot some local landmarks.

Day 6. Hope Town to Marsh Harbour – 8 nM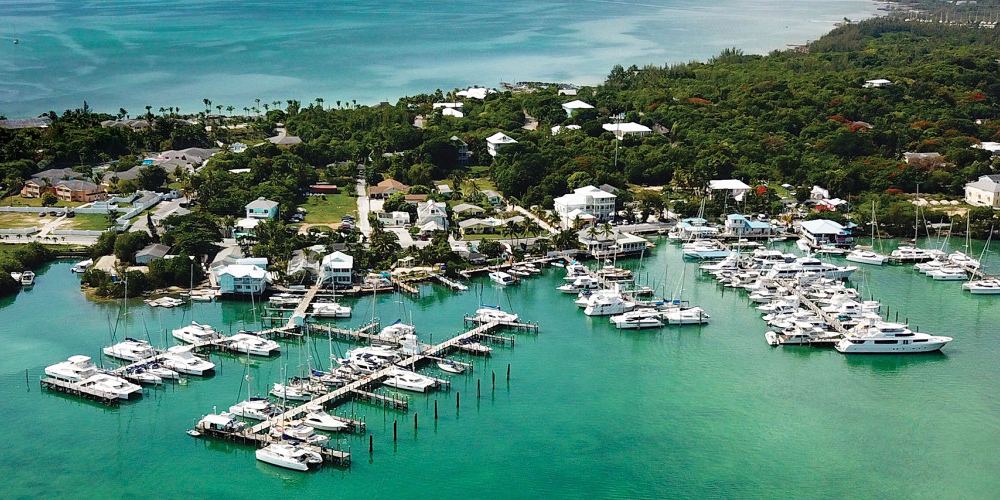 Oh wow. Somehow it's already the last day you'll be sailing this good ship, as you have to return her to the marina tonight (but can stay on her overnight and will disembark tomorrow morning).
It's only a short hop back over to Marsh Harbour, so you can take your time and enjoy one last day of relaxing and indulging yourself in what you like best this week: explore the old town of Hope Town, visit one of the local outstanding beaches, there's some fine places to snorkel on the Atlantic side of the Cay, you can eat real Bahamian food, or sit in a beach bar and take in the vibe, or sail somewhere remote and spot wildlife, or… whatever you fancy! Don't forget to take a team photo whilst you are at it.
When you're ready, we're sailing West, over Point Set Rock, past Mermaid Reef (another great place to snorkel) and round into Marsh Harbour. Pull in at the fuel berth to refill the tanks before mooring the boat up one last time.
Hopefully you've had an exhilarating but relaxing week of sailing in the beautiful Bahamas, and you're leaving here with many, many happy memories, and a better and closer friends than you arrived with. If sailing in the Bahamas isn't enough to put a smile on your face, I don't know what is!
And then it's time to head back to real life – have a safe trip home, and come and visit us at PlainSailing.com when you are ready to start planning your next adventure (or your return to the Bahamas!)
---
Sailing Conditions
 WHAT ARE THE WINDS LIKE?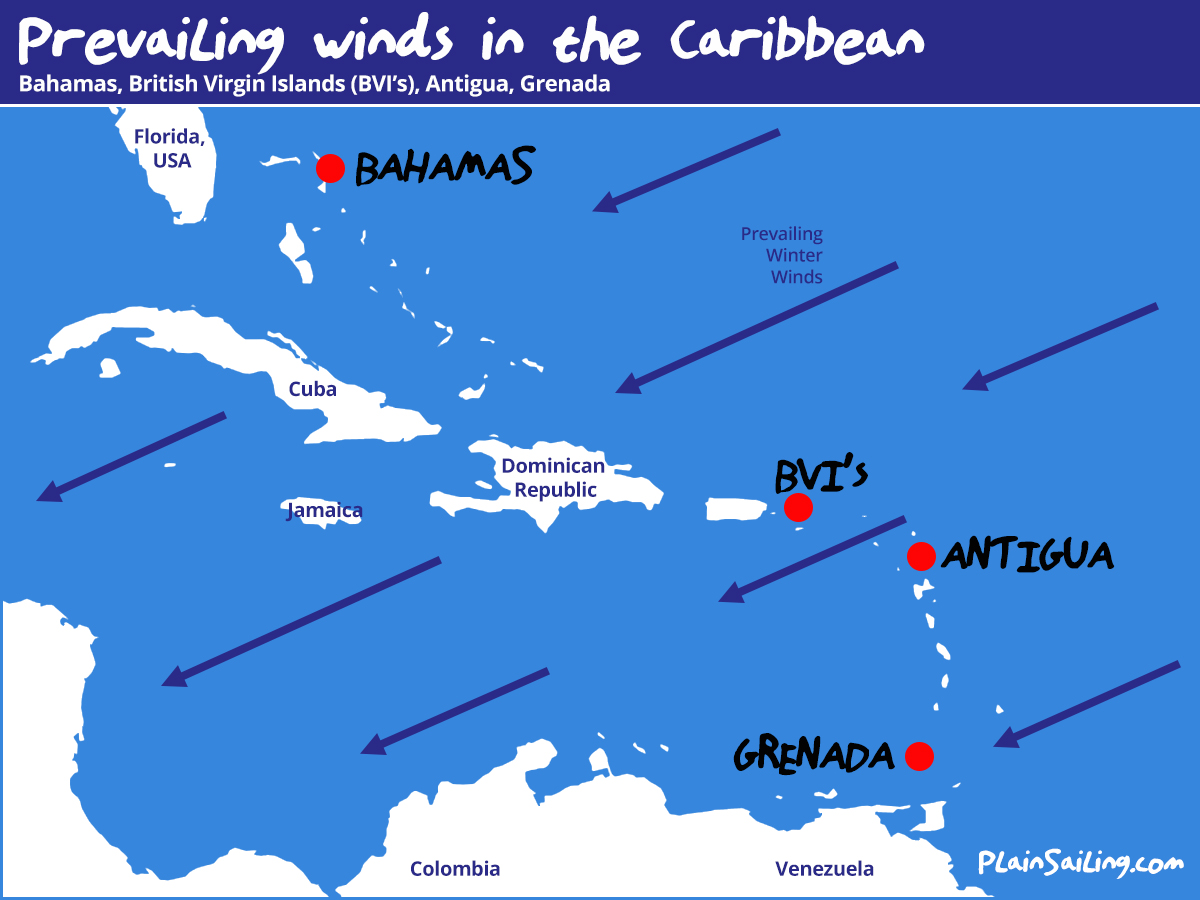 The Bahamas are on the receiving end of some serious trade winds which have been blowing reliably for hundreds of years, so you need to get the timing of your visit right, especially if you don't fancy trying to out-sail a hurricane!?
During the sailing season then you'll find there's a virtually guaranteed 10-15 knot wind, which usually arrives from the East or North-East, having travelled right across the Atlantic.
It's the same winds that brought intrepid explorers, including Columbus himself, across from Europe to discover the New World.
Outside of the sailing season (October to June) the weather is a bit more unpredictable, and you're more likely to come across rain (in the wet late-summer season) and hurricanes (in August and September), so do be sure to check the latest forecasts before setting sail or making your plans.
 HOW HOT WILL IT BE? 


You can go to the Bahamas at any time of the year and it will be t-shirt and flip-flops weather - the mildest it ever gets is the still over 20 degrees Celsius. The temperatures are hottest in July and August, which coincides with the wet or rainy season here, and late August to September is also the hurricane season. The peak sailing season here is December to March, when the sun is hot, but not too hot.
 HOW WARM IS THE SEA? 


Colourful tropical fish love to swim around the Bahamas, and, much as they undoubtedly love the Caribbean vibe, it's mainly to do with the temperature of the sea here – it's over 25 degrees Celsius all year round. That's warmer than an indoor swimming pool, and, with pristine turquoise waters and white sandy beaches, a lot more inviting. Don't forget to pack your swimming gear!
---
Marina Details - Conch Inn Marina, Bahamas
Conch Inn marina and hotel is a small, but well equipped marina based in Marsh Harbour. If you're after somewhere to spend the night before or after your charter, you could do worse than stay at the on-site Conch Inn hotel.
Marsh Harbour is superbly located for exploring the cays, beaches, bays and caves of the Abaco sea.
WEBSITE:
www.conchinn.com
| Conch Inn Marina, 700 Bay St, Marsh Harbour, Bahamas
GETTING THERE: Conch Inn marina in Marsh Harbour is just a six-minute drive from Marsh Harbour airport - we can help arrange a private transfer. There are no public transport options (but you can walk from the airport to the marina within a couple of hours).
PROVISIONING:
There's a decent-sized Price Right supermarket about a kilometre from the marina which should have everything you'll need for a week away at sea (
Stratton Dr, Marsh Harbour, Bahamas
)
FUELLING AT END: There's a fuelling berth in the Conch Inn marina – be sure to head there before returning your boat on the final day.
Loading Map Co-ordinates...
---
Blogs about Sailing in Bahamas
---
---
WHAT NEXT? Use the pink box to search for yachts or catamarans with LIVE pricing & availability - if you have any other questions or requests, get in touch via Live Chat, the Contact Form, or by phone.