Find a Boat
LIVE
Pricing & Availability
Search NOW
Yacht & Catamaran Charter in Göcek, Turkey
We can help you find the perfect yacht or catamaran to sail from Göcek!

Sailing from Gocek
Nestled in the heart of Gocek Bay, the bohemian town of Gocek is a fantastic place to start a sailing holiday – it has perfect sailing weather (sunshine, dependable winds), plenty of pristine coastline (and turquoise seas), and a plethora of exciting places to sail to and explore. The whole surrounding Gocek Bay area is a collection of islands and secluded bays, each seemingly with their own cute top-notch restaurant and jetty.
You could get away with just sailing in the sheltered Gocek Bay area, but if you want to get some stronger wind in your sails and nautical miles on your logbook then you can head north to Ekincik to see Turtle beach, the Dalyan mud-baths, or the Ancient city of Kaunos, or south past historic Fethiye and the famous Blue Lagoon to visit the epic sunken city of Kekova. We can help you find and book your ideal yacht or catamaran, with one of our trusted Charter Partners - just get in touch or search in the pink box with live prices and availability!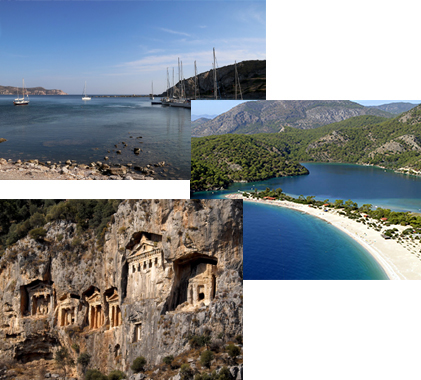 SAILING RATING: Beginner / Intermediate - You can find sailing to suit all levels of sailing in Turkey, with a mixture of quiet bay areas and more exposed coastline. You'll find even remote bays have places to moor up – like a restaurant-jetty or a mooring buoy, but it's useful to be comfortable using the anchor. Peak season is July to September, but sailing is pleasant here from March to October, and increasingly, November.
MUST-SEE: Check out our full suggested itinerary below, but from Gocek we'd highly recommend taking in the ancient city of Kaunos, the famous Blue Lagoon, and the beautiful and remote Kapi Creek.
WHAT WE CAN OFFER: We have a great range of yachts and catamarans available for charter from our trusted Charter Partners, all available bareboat or Skippered. We can also arrange a Hostess, Personal Chef and other crew.
GETTING THERE: The Marina is just a 25 minute drive from Dalaman airport, just over 2 hours drive from Bodrum airport, or just over 3 hours drive from Antalya airport. We can organise transfers for you - a 3-person taxi is c. €50 from Dalaman to Gocek. You could also land at nearby Rhodes or Kos in Greece and get a ferry across.
WHY BOOK WITH US? We only work with the very best professional charter operators, who we have met, know, and trust to give you the same outstanding customer service as you'll get from PlainSailing.com.

WHAT NEXT? Use the pink box to search for yachts or catamarans with LIVE pricing & availability - if you have any other questions or requests, get in touch via Live Chat, the Contact Form, or by phone.

Why book with PlainSailing.com?
We're yacht and catamaran charter experts, and can find you the best boats in Greece, Croatia and anywhere else in the Med or Caribbean - yacht, catamaran or superyacht-bareboat, skippered or crewed

We're UK based, only work with the best Charter Companies, offer exceptional customer service from start to finish and will match any price!

Independent Service Rating based on
431
verified reviews.
---
2
6-day Sailing Itinerary from Göcek
Gocek is a fantastic place to sail and offers a different sailing experience to Greece and Croatia – there aren't many massive marinas, so you'll find yourself in remote anchorages or on a restaurant jetty in a secluded bay each night. Often there is no charge for the mooring fees as long as you eat in the restaurant in the evening, and some places will even throw in breakfast for free!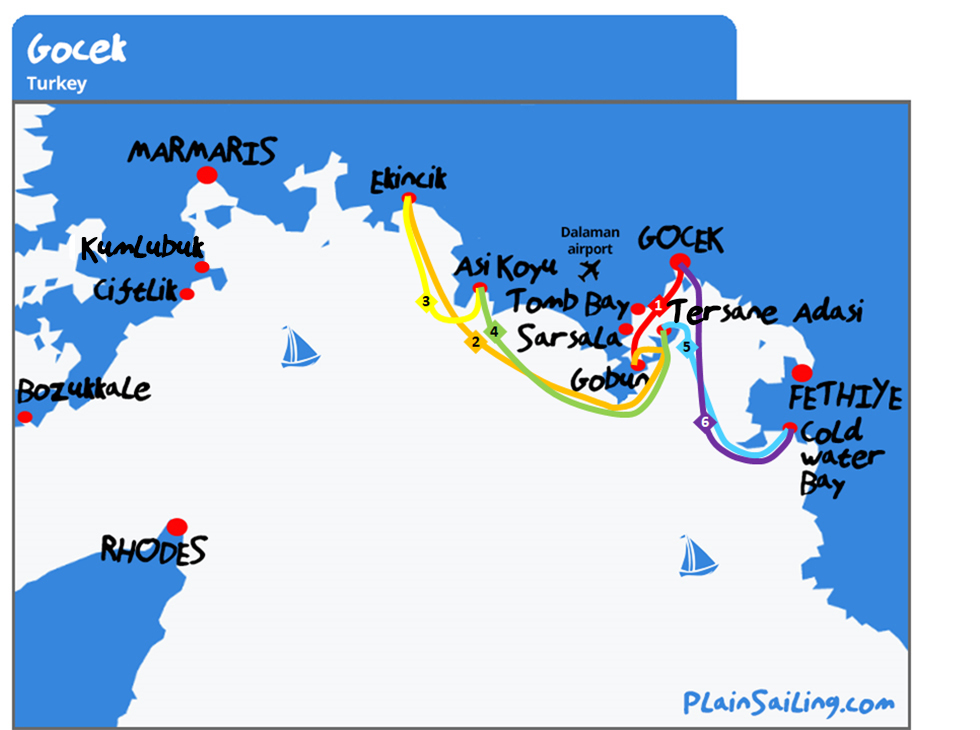 Our six-day itinerary of the area includes a few nights in the Gocek bay area, but we're also heading up and down the coast to see the best parts of the cruising ground and to give you plenty of sailing time – this itinerary clocks in at 100 nM, which means an average of 15-20 nautical miles a day. That translates into around 4 hours of proper sailing a day, which leaves plenty of time for exploring your start or end points, lounging around at a beach or bar somewhere at lunchtime, or just generally taking a leisurely pace.
It's six days (not seven) because you normally only get on board at 4pm on Saturday, and are required to be back at the marina on Friday evening (before checking-out on Saturday morning – which, assuming that you buy food and pack provisions on the first Saturday, and set off on your voyage first thing on Sunday morning, means six days of wonderful sailing.

Day 1. Gocek to Gobun (Kapi Creek) – 7 nM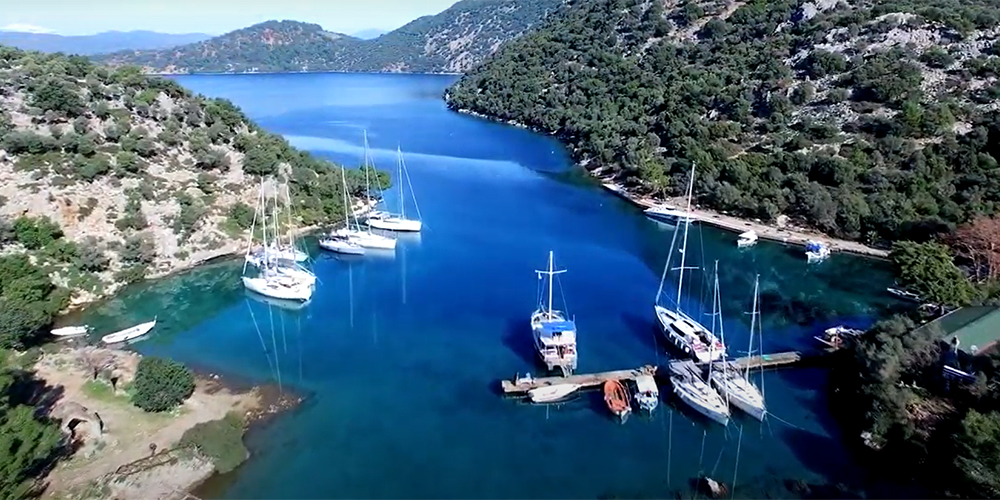 Welcome on board, Skipper! Make sure everyone is on-board and the provisions are safely stowed, and we'll make way. Today is the shortest leg of our trip, so you can take your time to feel your way around the controls, fully brief the crew (and get them practicing their tacking and gibing), and potentially even practice a 'Man overboard' drill.
We're darting around the Gocek Bay area – what a delightful place to sail – you'll likely be tacking and beating up the prevailing summer winds as we make our way to the best place in the area: Gobun bay, which is better known to the locals as Kapi Creek. If you arrive in the afternoon, you'll find olive groves to meander around, you could be tempted in to take a dip or, if you're keen to explore, you can summit the nearby hillside (it takes about an hour) to get stunning views across the bay area.
After the sun sets, the local restaurant (which you can only reach by boat) will sort you out with a fine meal, and you'll be able to find fellow-sailors to compare plans or swap your best sailing adventures with. Or just sit and get to know your crew. This is the life!

Day 2. Gobun (Kapi Creek) to Ekincik – 28 nM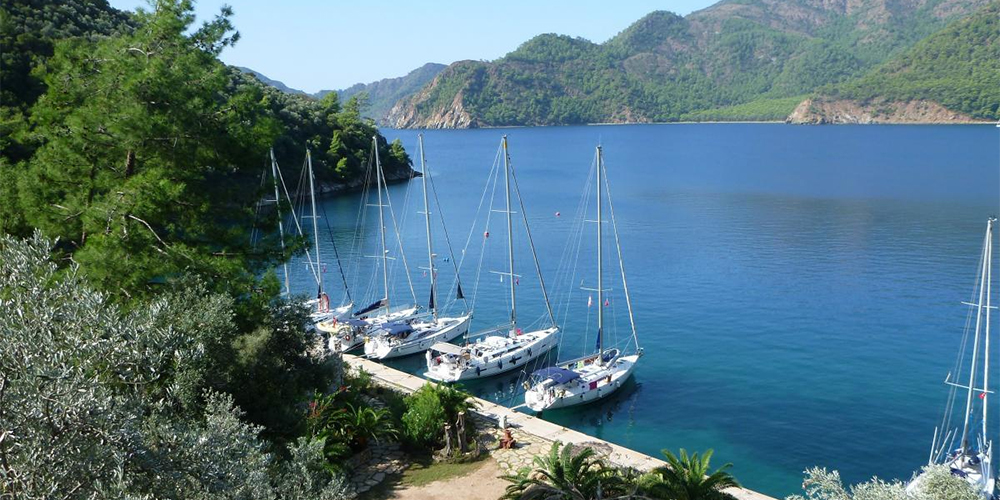 From the shortest leg to the longest leg, today we're getting our sail on and heading out of the Gocek Bay area (but don't worry – we will be back later in the week!) and beating our way up the prevailing winds, northwards up the Turkish coastline to Ekincik.
Ekincik itself is a pretty ex-fishing village with a brilliant beach, and it's another tranquil and beautiful place to spend the night, but the main reason we're here is so that you can get yourself set up for tomorrow – there are full and half-day boat trips which leave from Ekincik and head to take in the remarkable (and highly recommended) ruins of ancient Kaunos, the thermal mud baths at Dalyan (which they say take ten years off the age you look), or the natural wilderness of Iztuzu Beach – better known as Turtle beach, and the home of over 300 nesting couples of sea-turtles during breeding season.
Speak to one of the locals about arranging a tour and you can set off on one of their traditional riverboats tomorrow morning (you're not allowed to sail to Dalyan in your own boat as you need a special permit).

Day 3. Ekincik to Asi Koyu – 11 nM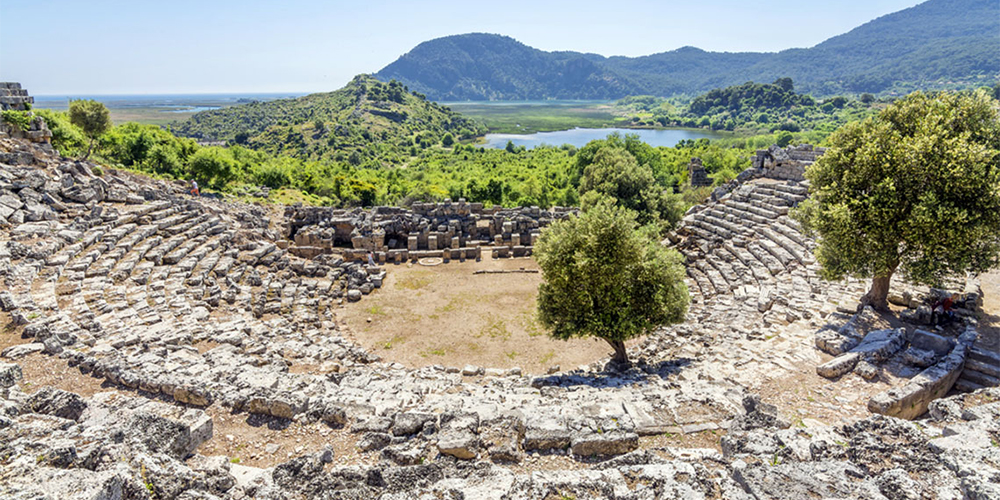 After testing the crew yesterday, and to give you time if you chose to head on one of the tours, today we're only hopping a short distance from Ekincik to another pristine and tranquil bay, Asi Koyu. It's just a lazy hop southwards down the coast, and you'll be sailing back past the Iztuzu beach, so be sure to watch out for sea-turtles.
Asi Koyu is a bit of a hidden gem – though you suspect that it's one of the most beautiful and unspoilt beaches or bays in Turkey precisely because it is so far off the beaten track for land-lubbing tourists (there's no main roads that head here, so getting here without your own boat is not easy).
There's a beach bar, but it's a romantic place to just sit on deck and relax under the stars. If you haven't yet sampled Turkish wine yet, then here is as good a place as any to give it a try: wine was invented in Turkey, and they've been making it for over 6,000 years, so they know a thing or two about it!

Day 4. Asi Koyu to Tersane Adasi – 21 nM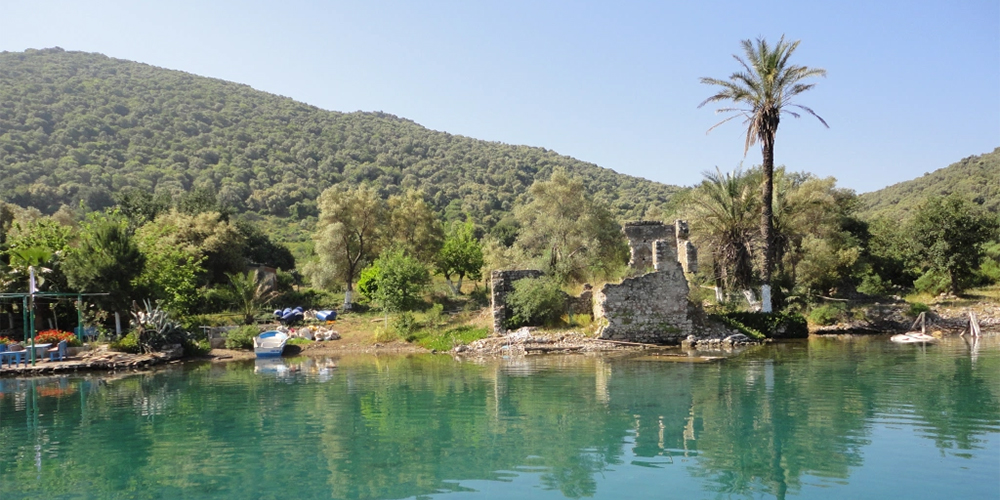 Today is another beautiful day for sailing (every day is a beautiful day for sailing!) We're sticking on our course from yesterday and heading back southwards to the Gocek Bay area, likely running or reaching along with the prevailing summer winds, to the island of Tersane Adasi.
Nowadays, it's an oasis of peace and calm, but Tersane Adasi (and the Gocek Bay area) was once the headquarters of the Ottaman Navy! 'Tersane' literally means 'dockyard' in Turkish, and this island is where they built all their finest ships. You can still spot hidden signs of this ancient former life, particularly if you're able to snorkel.
Interestingly, the history of Tersane island goes back further still – it is regularly name-checked in Ancient Greek literature (when it was called 'Telandros') and it is believed to be the final resting place of the heroic Glaucos, who fought in the battle of Troy!

Day 5. Tersane Adasi to Cold Water Bay – 16 nM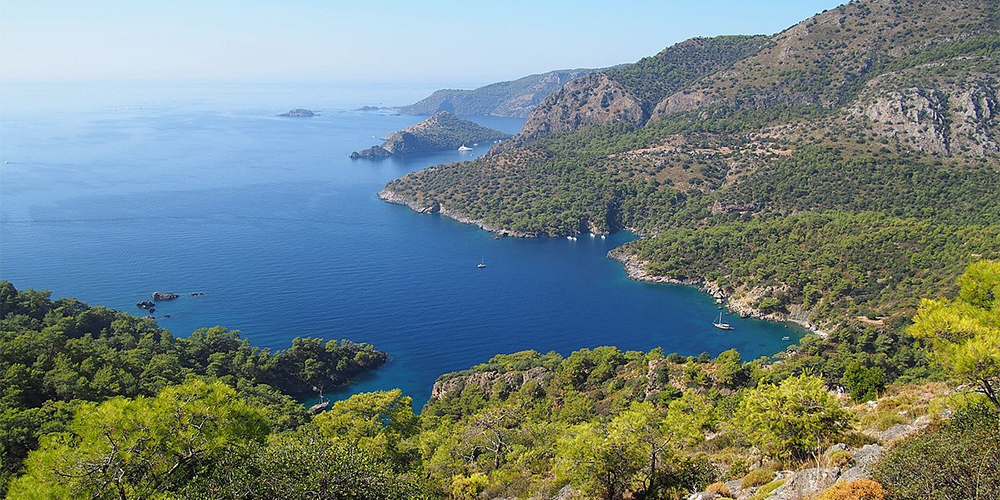 Our next port, Cold Water Bay, is so called because there are natural water springs that flow into the bay – though thankfully not too much colder, if you're a swimmer. Ships used to come here to fill up their water supplies as it was quicker (and often safer) than going into a harbour.
To get there, we're heading out south past the Fethiye headland, and you'll find the destination tucked just around the other side. If you have time, you should sail a little further south to check out the famous Blue Lagoon – an stunning lagoon which you have to see to believe (Google it).
If you're feeling energetic, then there's the curious ghost town of Kayakoy located a short walk above Cold Water Bay: the largely Greek population that lived here were forced out of their homes as part of a Greek-Turkish people swap in 1923. None of the Turkish people who arrived in exchange wanted to live in Kayakoy, so consequently the whole village of 500+ buildings was abandoned, and is now a creepy tourist attraction.

Day 6. Cold Water Bay to Gocek – 17 nM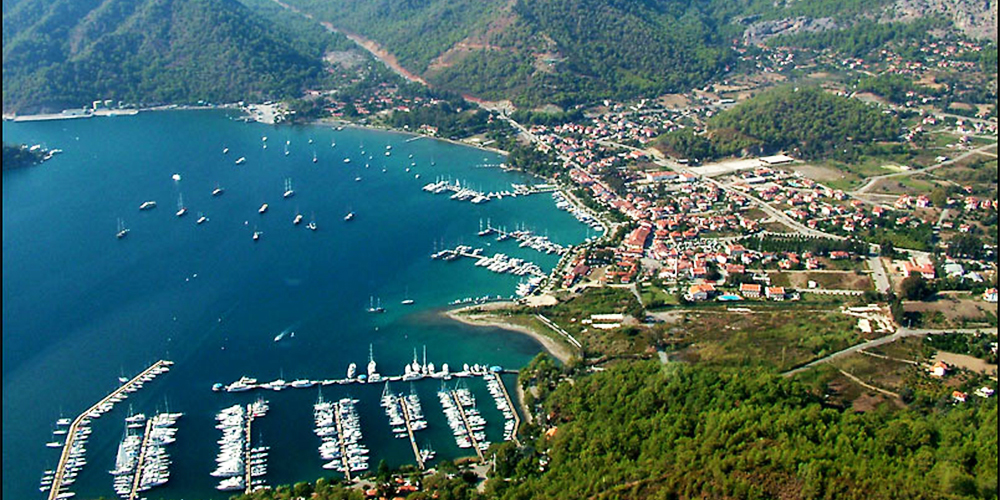 It feels like we'd only just started, but somehow today is the last day of our trip already. You'll moor the boat up back at base tonight, and disappear back to your normal boring non-sailor life tomorrow morning. Sigh. But worry not, because we still have another fine day of sailing ahead of us, the sun is shining, and this voyage is not done yet!
From Cold Water Bay, we're sailing back towards the Gocek Bay area - so you can maybe check out another couple of idyllic places you liked over there, go exploring for places to stay over at next year, or go in search of the ultimate background to a team photograph – before sailing onwards to Gocek, and all it's pretty sea-side restaurants. Moor up the boat pretty much where you found her, and then it's time to high-five the crew for (another) job well done!
If you haven't yet been out to Gocek yet then it is totally worth a stroll – there are lots of restaurants and bars along the long waterside promenade and there is a jovial holiday atmosphere – particularly with all the sailors back in town at the end of a great week of sailing.
Hopefully you've also had a great week of sailing, and you're leaving here with a multitude of happy memories, a sun tan, and better friends than you arrived here with. Many people who sail in Turkey once end up sailing here year on year, so maybe we'll see you again next summer? Otherwise, check out PlainSailing.com for more inspiration of places to sail. Have a safe trip home, and hopefully see you online soon :)

---
Sailing Conditions
 WHAT ARE THE WINDS LIKE?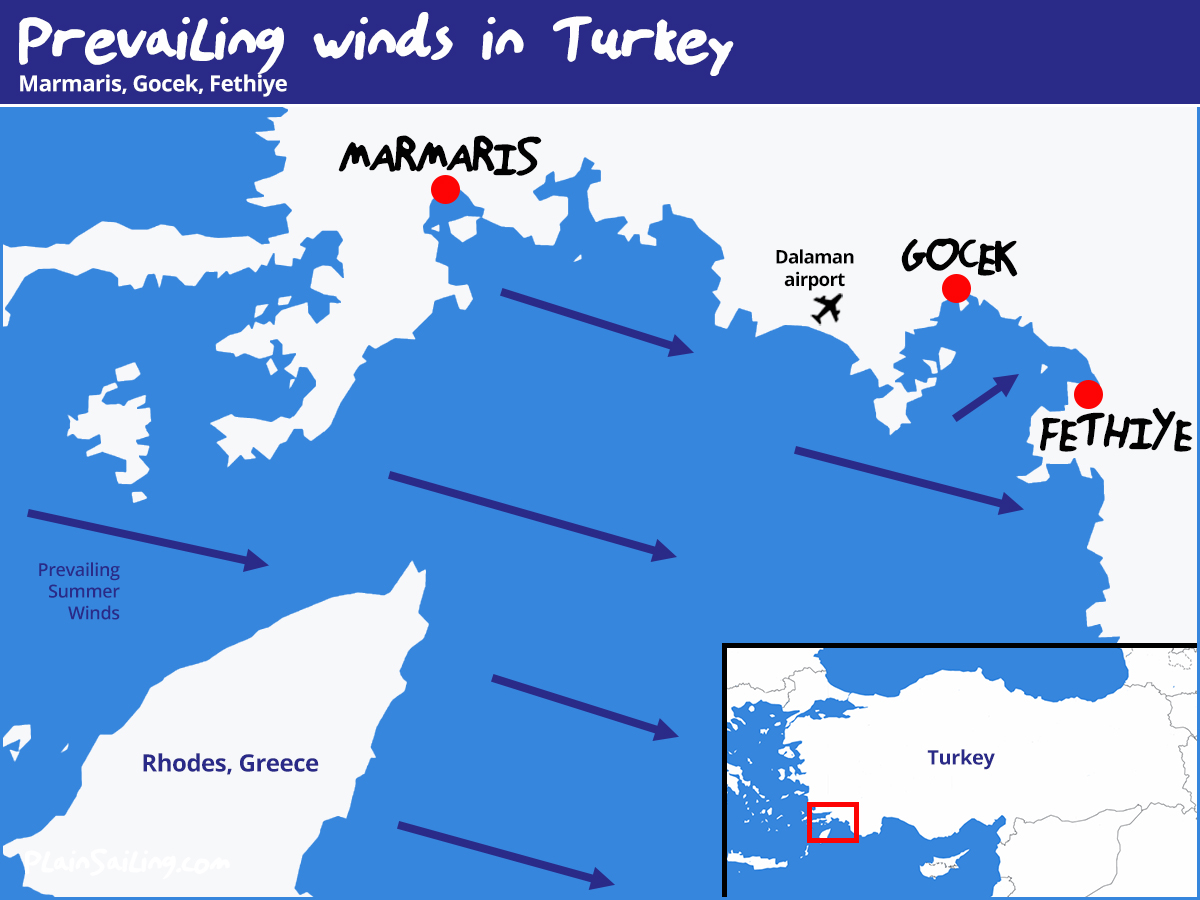 Turkey is a bit of a sailor's paradise because of the sunshine, pristine islands, and dependable winds. The prevailing summer winds in the sheltered Gocek Bay area arrive from the south-west, but when you're out in the wider Mediterranean then they blow across from France, over Italy, through Greece and down the Turkish coast to arrive from the north-west.
The prevailing winds are generally consistent, force 3 to 4 – which is absolutely perfect for sailing. You'll find occasional weather systems arrive from elsewhere, particularly in spring or autumn, so it is worth checking the forecast before you set sail.
And in winter, then winds can arrive from any direction and you might face icy cold Siberian winds from the north, or warm equatorial tropical storms from the south.
Wind strengths and speeds also vary during the year, but tend to be between force 3 to 5 during summer – which is ideal sailing conditions – or stronger if you head out to the Dodecanese island. Winds are slightly stronger in winter.
 HOW HOT WILL IT BE? 


Gocek gets over 300 days of glorious sunshine every year, and, with temperatures almost always above 10 degrees, there is practically no need for thick jumpers or heavy winter coats. You'll find it's t-shirt from May to October (which is roughly in line with the sailing season), and temperatures can get a bit sweltering in July and August – so you'll be glad to be out on the sea, or diving into it!
 HOW WARM IS THE SEA? 


The sea near Gocek never falls lower than 16 degrees (even in winter), which is warmer than the waters around the UK in August. By the time the sailing season starts in late April/early May then it's already a refreshing (but bearable) 20 degrees, by June it's at indoor swimming pool temperature (23 degrees), and by July and August, it's so wonderfully warm and inviting that even your gran would dive in.
---
Marina Details
Göcek is now the biggest yacht charter hub in Turkey, and simultaneous developments of brand new marinas means that there are six marinas in the area. The three main ones we use are the giant D-Marin Göcek at the south of the town, the swish Marinturk Göcek Village Port just to the North of the town, and the quieter Club Marina which is a little further around the coast, but which is connected to Gocek by a regular (and free) ferry-bus. All are modern developments with excellent facilities.
Charters are normally Saturday to Saturday, so you might need to stay a night or two on land before or after your charter. Göcek is a great place to while away the time, and the following hotels in Göcek village centre are highly recommended for being fantastic hotels, but reasonably priced: A&B Home Hotel or Villa Danlin Hotel.
---
---
---
WHAT NEXT? Use the pink box to search for yachts or catamarans with LIVE pricing & availability - if you have any other questions or requests, get in touch via Live Chat, the Contact Form, or by phone.