Find a Boat
LIVE
Pricing & Availability
Search NOW
Charter a yacht in England
We have incredible yachts ready to sail from the Solent (other bases available on request).

Sailing around England
England is unofficially the 'home of sailing' and it has a long and glorious tradition of building world-beating boats (literally – they had the best Navy in the World for hundreds of years), and for rearing fine sailors. Being an island, there is plenty of sea to play with in the UK, but it's the reliable winds that make it a sailing paradise.
The main sailing area in England is the Solent on the south coast, where there is more sunshine than rain, and the long warm summer days lend themselves to days of excitement on a boat, hopping around from one idyllic village to the next. The Isle of Wight is home to both the most important annual sailing regatta ('Cowes week' in August was started in 1826!) and the most prestigious race (the Round the Island yacht race).
There's outstanding scenery (cliffs, beaches, caves, rolling green hills), plenty of nature (dolphins, whales, sharks, seahorses…) in the water, and you'll find nautical history and sailing fanatics at every port of call.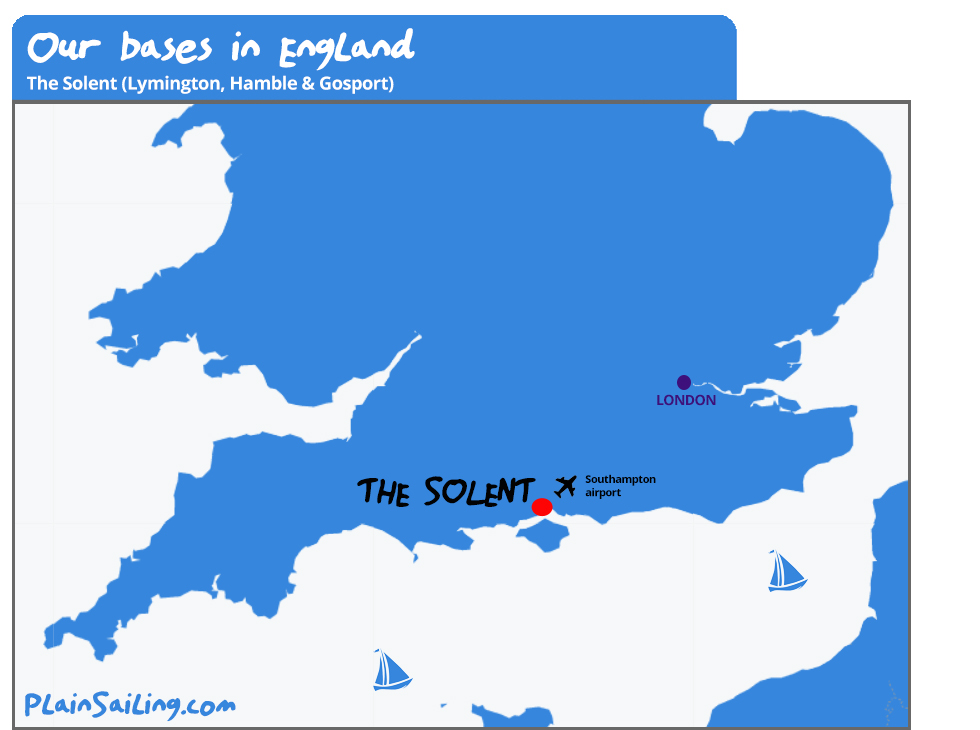 SAILING RATING:  Intermediate / Advanced - England offers excellent wind conditions, but you will also need to have a good understanding of tides and how they can affect your speed and course over the ground to get anywhere out here (sometimes literally). The season runs from April to October, with the peak season being in July and August (UK summer holiday season).
 WHEN TO GO:  The sailing season in England runs from March to November, with peak season being in the summer months. The weather in the Solent is generally pleasant, with sunshine more likely than rain for most of the season. Shorter 3-4 day weekend charters are possible in the off-peak - ask us if you are interested.
 MINIMUM QUALIFICATIONS:  You'll need RYA Day Skipper (or above) or your local equivalent to charter a boat in England - ask us if you are unsure of whether your qualification will be ok. Ideally, at least another member of the crew will also hold a sailing qualification or have sailing experience. If you're not qualified, we can find you a professional skipper.
 VISA REQUIREMENTS:  England is currently part of the UK and the EU, which means UK and EU passport holders can travel there at will. US and Australian passport holders do not need a visa unless planning to stay in Europe for longer than 90 days.
 GETTING THERE:  The Solent, on the South coast of England, is very accessible – it's within a 40 minute drive of Southampton airport, and within 2 hours drive of London airports. There are good public transport connections by rail and road to the rest of the UK. We can help arrange transfers to or from the marina, as well as helping you get provisions on board if your flight arrives late at night.
 
Charter a Yacht or Catamaran in England
We can help you find the ideal yacht for your sailing holiday in England (Sadly there are no charter catamarans up here yet). We only work with the very best professional charter operators in the area, who we have met, know, and who we trust to give you the same outstanding customer service as you'll get from PlainSailing.com.
Use the pink search box above to look for boats for yourself - they have live pricing and availability and you can filter the results to find your ideal boat - or start a Live Chat with our award-winning bookings team for help, advice, or anything else!
 
Where to sail in England
We charter yachts from the Solent area on the South coast of England. See below for ideas of where to sail when you get there (But be sure to check out our detailed destination guides to find out more).
 THE SOLENT 
Ideas of where to sail: The Solent offers a mix of inland and coastal sailing, with spectacular cliffs, fantastic beaches and rolling green hills offering a wonderful backdrop to your holiday. Island-hop to Cowes on the Isle of Wight - the unofficial home of sailing – sail around the 'Needles' of the world's most famous sailing race, sail inland to visit the picture-postcard village of Chichester or rural Beaulieu, or explore Yarmouth, Hamble, Poole or other destinations steeped in sailing history.
 
Cost of a Sailing Holiday in England?
Prices change depending upon what sort of boat you are chartering, and when you would like to charter, and yachting offers great value for money because the fee includes a full-day activity, a means of transport and your overnight accommodation!
Charters are normally in periods of a week, from Friday (check-in at 12pm) to Friday (check-out at 10am), though you're required to be back at the charter base on the Thursday evening. Short charters are also possible, even in peak season - either Friday to Sunday, or Monday to Friday. You can charter a 3-cabin yacht for as little as £1535 / week or a 4-cabin yacht from £2,165 / week - use the pink search box for live prices and availability.
|   | May / Oct | June / Sept | July / Aug |
| --- | --- | --- | --- |
| 3 Cabins | £1185 | £1535 | £2165 |
| 4 Cabins | £1580 | £1980 | £2885 |
 
In England, the yachts are chartered out on a 'leave-as-you-find' basis but you can book End Cleaning in advance if you prefer for someone else to do it for you. You will also need to pay a little extra if you want to rent bedding, towels, waterproofs and wellingtons! You'll also need to leave a security deposit on check-in (similar to a hire car, and usually placed as a pre-authorisation on a credit card).
You can also add transfers, an outboard motor, early check-in, security deposit insurance or other extras to your booking (if they are not already included) for an additional fee. We can also arrange for a Skipper, Hostess or Chef to be on board – in England, these normally cost an average of £200 / day, excluding tips.
 
Our English Sailing Destinations
Find out a lot more about our Scotland bases in our comprehensive destination guides, which also include details about suggested sailing routes, weather conditions, and recommended hotels, amongst a host of other useful information:
Tags: England yacht charter