Find a Boat
LIVE
Pricing & Availability
Search NOW
Montenegro Yacht and Catamaran Charter
We have incredible yachts and catamarans ready to sail from Tivat in Montenegro.

Sailing around Montenegro
Montenegro is a millionaire's playground, with stunning scenery, fine weather, and several brand new, state of the art, multi-billion pound luxury marina investments – one has the longest berth for Superyachts in the world (250m), whilst another is part of a resort with its own golf course, and six-star hotels.
Montenegro is now the fastest growing sailing ground in Europe, and one of the most exciting places to sail: the bay area near Kotor is central Europe's largest fjord, with mountains dominating over both sides of the bay, whilst out to sea, you'll find beaches, monuments, ancient cities and civilisations, cute fishing villages, churches on remote islands, World War concentration camps, royal palaces, and so much more.
If you're looking for somewhere new to sail, then why not get on the hottest ticket in Europe next summer, and come sailing in Montenegro. We can help you find and book your ideal yacht or catamaran!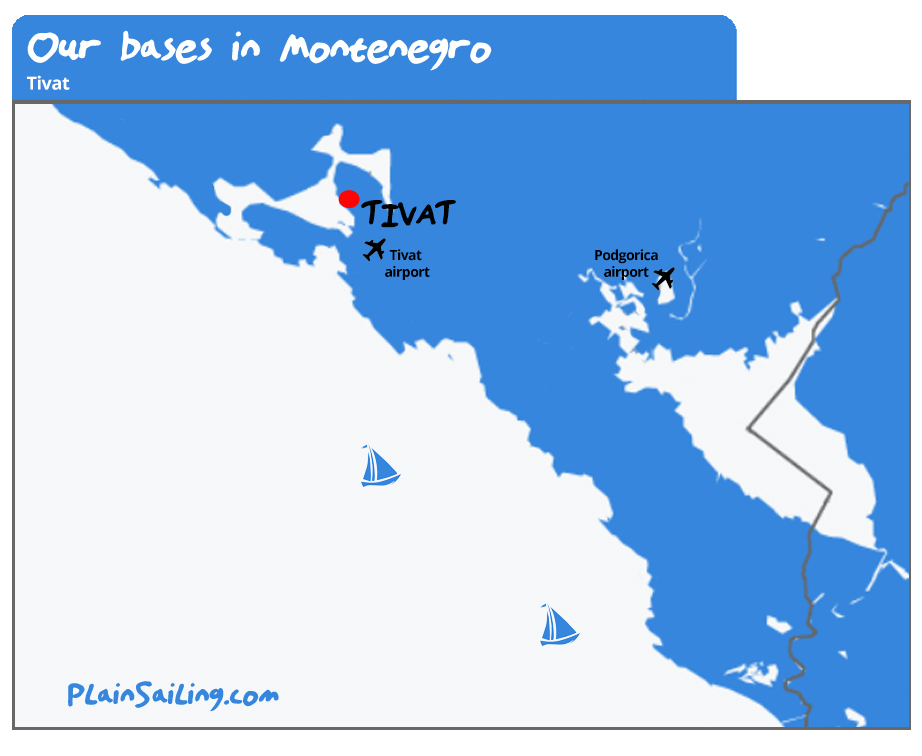 SAILING RATING:  Beginner - the Kotor bay area (where our base is) is a 90km fjord which provides a natural shelter, meaning it is a place for calm sailing and for enjoying the stunning mountainside views. Out in the open Adriatic sea, the winds are reliably stronger, (but not too strong), and it's easy to navigate by line of sight.
 WHEN TO GO:  The sailing season runs from mid-March through to mid-October, but the weather is pleasant and sheltered enough even in late winter (particularly within the Kotor bay area) – in fact, customers have chartered here over New Year in the past.
 MINIMUM QUALIFICATIONS:  You'll need an ICC (which you can convert from an RYA DaySkipper or equivalent) or above to charter a boat in Montenegro. If you're not qualified, we can find you a professional skipper.
 VISA REQUIREMENTS:  Montenegro is not part of the EU. UK, EU, US and Australian passport holders can travel and stay there for up to 90 days without a visa.
 GETTING THERE:  The easiest way to get to our Tivat base is to fly to the local Tivat airport, which is only a 10 minute drive away and which is very well connected to the rest of Europe (including multiple budget airlines). The other option would be to fly in to the capital of Montenegro, Podgorica, which is about 1h45 drive away. We can help arrange transfers to or from the marina, as well as helping you get provisions on board if your flight arrives late at night.
 
Charter a Yacht or Catamaran in Montenegro
We can help you find the ideal yacht or catamaran for your sailing holiday in Montenegro. We only work with the very best professional charter operators in the area, who we have met, know, and who we trust to give you the same outstanding customer service as you'll get from PlainSailing.com.
Use the pink search box above to look for boats for yourself – they have live pricing and availability and you can filter the results to find your ideal boat – or start a LiveChat with our award-winning bookings team for help, advice, or anything else!
 
Where to sail in Montenegro
We charter yachts and catamarans from one base in Montenegro, with boats are located at the prestigious Porto Montenegro marina in Tivat. See below for ideas of where to sail when you get there (But be sure to check out our detailed destination guides to find out more).
 TIVAT 
Ideas of where to sail: Starting at Tivat, you're already in the magnificent Kotor bay, so enjoy sailing between the mountains and checking out the very best marina facilities in the world right now. Follow the Cruise ships to the beautiful UNESCO world heritage town of Kotor (passing the famous 'Our Lady on the Rocks' church on the way), or sail down the coastline to find the best beaches, historic beach resorts, or the 2,000 years old ghost town of Stari Bar.
 
Cost of a Sailing Holiday in Montenegro?
Prices change depending upon what sort of boat you are chartering, and when you would like to charter, and yachting offers great value for money because the fee includes a full-day activity, a means of transport and your overnight accommodation!
Charters are normally in periods of a week, from Saturday (check-in at 5pm) to Saturday (check-out at 9am), though you're required to be back at the charter base on the Friday evening. You can charter a 3-cabin yacht for as little as €1,900 / week (including end cleaning), 4-cabin yacht from €2,400 / week, or catamarans from €3,600 / week - use the pink search box for live prices and availability.
|   | May / Oct | June / Sept | July / Aug |
| --- | --- | --- | --- |
| 3 Cabins | €1900 | €2400 | €3600 |
| 4 Cabins | €2600 | €3300 | €4700 |
| Catamaran | €3300 | €4100 | €5600 |
 
In addition to the charter fee, there is an end-cleaning fee to be paid, and you'll need to leave a security deposit on check-in (similar to a hire car, and usually placed as a pre-authorisation on a credit card).
You can also add transfers, an outboard motor, early check-in, security deposit insurance or other extras to your booking (if they are not already included) for an additional fee. We can also arrange for a Skipper, Hostess or Chef to be on board - in Italy, these normally cost an average of €1,190 per week, excluding tips.
 
Our Montenegrin Sailing Destinations
Find out a lot more about each of our bases in these comprehensive destination guides, which also include details about suggested sailing routes, weather conditions, and recommended hotels, amongst a host of other useful information:
Tags: Montenegro Yacht Charter, Bareboat and Skippered Yacht and Catamaran Charters