Find a Boat
LIVE
Pricing & Availability
Search NOW
Sailing in the Cyclades
Thinking of sailing in the Cyclades? Charter out of Athens or go further by sailing out of Lavrio!

The Cyclades islands are a vast collection of islands to the South of the Greek mainland where you'll find brilliant winds, delightful scenery and, of course, exceptional sunshine. The whole area is also blessed with crystal clear (and warm) waters, picturesque views, and astounding sunsets.
There's so much to see and do here that you could easily spend two weeks cruising the area (and you should if you can!) and still not see everything – and there is something for everyone, from incredible beaches, inspiring architecture, and everything from cute fishing villages to the decadent Mykonos, now one of the world's luxury capitals.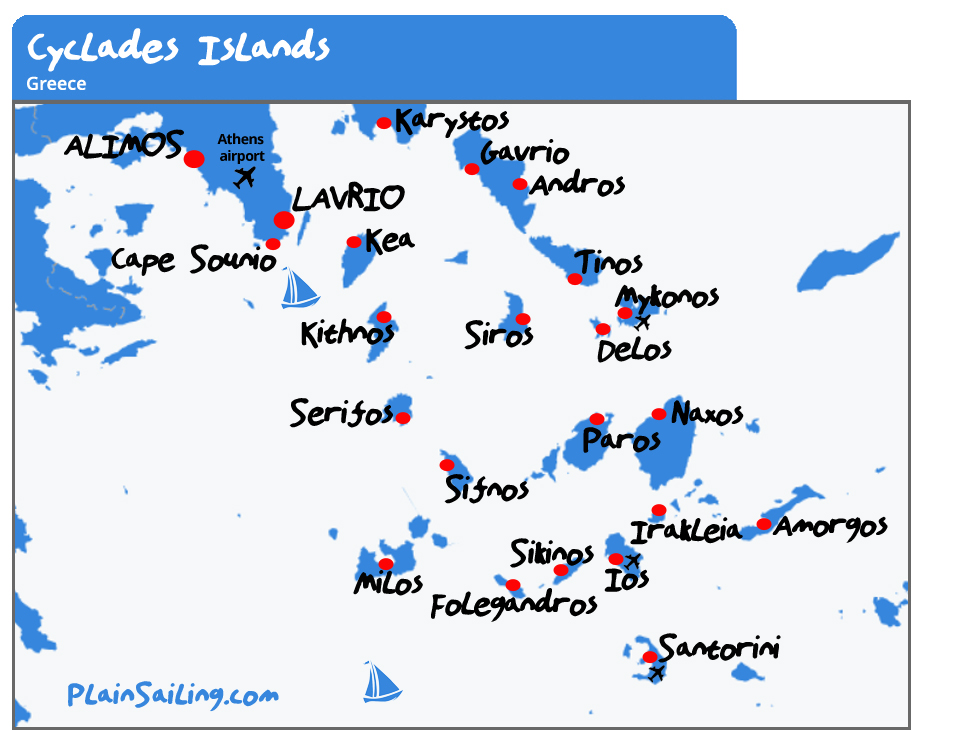 There's over 220 islands in the Cyclades, almost all worth visiting, including Kithnos (famous for its fine and picturesque beaches), Tinos (a tiny pilgrimage island with a gigantic cathedral), Mykonos (a favourite with the rich and famous), Delos (a birthplace for Greek gods, now home to enormous ancient ruins), Santorini (the most beautiful island in the world, with huge white cliffs), Siros (with grand venetian architecture), plus Serifos, Ios, Naxos, Thira, Nea… and so many more.
Traditionally you would explore the Cyclades from Athens, but a better option (saving you a day's sailing each way) is to charter from Lavrio, which is easily reached from Athens international airport.
If you need to know anything else, just grab us on Live Chat, give us a call, or get in touch via our contact form.
 
Tags: Cyclades Islands Yacht Charter, Bareboat Yacht Charter, Catamaran Charter in the Cyclades, Lavrio, Athens