Find a Boat
LIVE
Pricing & Availability
Search NOW
Yacht & Catamaran Charter in Grenada, Caribbean
We can help you find the perfect yacht or catamaran to sail from Grenada!

Sailing from Grenada
Grenada, or the 'Spice Isle' is a place that will excite all your senses, and it's an exhilarating place to explore. Less developed than the Leeward islands to the north, there's more tropical rainforest, rugged mountains, stunning waterfalls, white palm-lined beaches, and a clutch of incredibly idyllic islands - the Tobago Cays are so beautiful to sail to that they're possibly worth the airfare alone.
Along with ultra-reliable trade winds, there's warm seas and glorious sunny weather which make it a great place to be all year round - with the exception of August and September, which is hurricane season in the Caribbean, so best avoided. The sailing season runs from October to June (with December to March being peak season). We can help you find and book your ideal yacht or catamaran, with one of our trusted Charter Partners - just get in touch or search in the pink box with live prices and availability!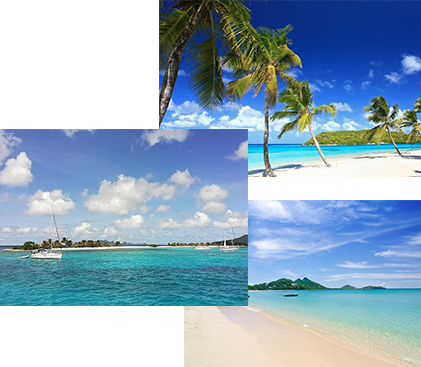 SAILING RATING: Intermediate - the trade winds and transatlantic currents make for some interesting sailing conditions when traversing between islands, so we'd recommend Grenada as a destination for more experienced sailors. There's also some reef to be aware of, which makes navigation a little trickier than in other parts of the Caribbean. You'll also need to be at ease with using the anchor to overnight.
MUST-SEE: Check out our full suggested itinerary below. We'd highly recommend taking in the incredible islands at Tobago Cays, the splendid remote beaches of Mayreau, and the relaxed beach-life of nearby Carriacou.
WHAT WE CAN OFFER: We have a great range of yachts and catamarans available for charter from our trusted Charter Partners, all available bareboat or Skippered. We can also arrange a Hostess, Personal Chef and other crew.
GETTING THERE: Our base in Saint George's is a short 15 minute drive from Grenada's Maurice Bishop International airport. We can help arrange private transfers.
WHY BOOK WITH US? We only work with the very best professional charter operators, who we have met, know, and trust to give you the same outstanding customer service as you'll get from PlainSailing.com.

WHAT NEXT? Use the pink box to search for yachts or catamarans with LIVE pricing & availability - if you have any other questions or requests, get in touch via Live Chat, the Contact Form, or by phone.

11
6-day Sailing Itinerary from Grenada
It's possible to sail around Grenada for the week and have an absolute blast – there's typical Caribbean beach bars, fresh lobster on the grill, incredible beaches, outstanding sunsets, superbly friendly locals, and coral reef, rainforests, wildlife and waterfalls. Which says a lot about how epic the places that we recommend sailing to in our suggested itinerary are – the Tobago Cays, in particular, are such a paradise of white sandy islets teeming with colourful tropical fish and sea-turtles, that they simply have to be seen to be believed. Nature at its finest.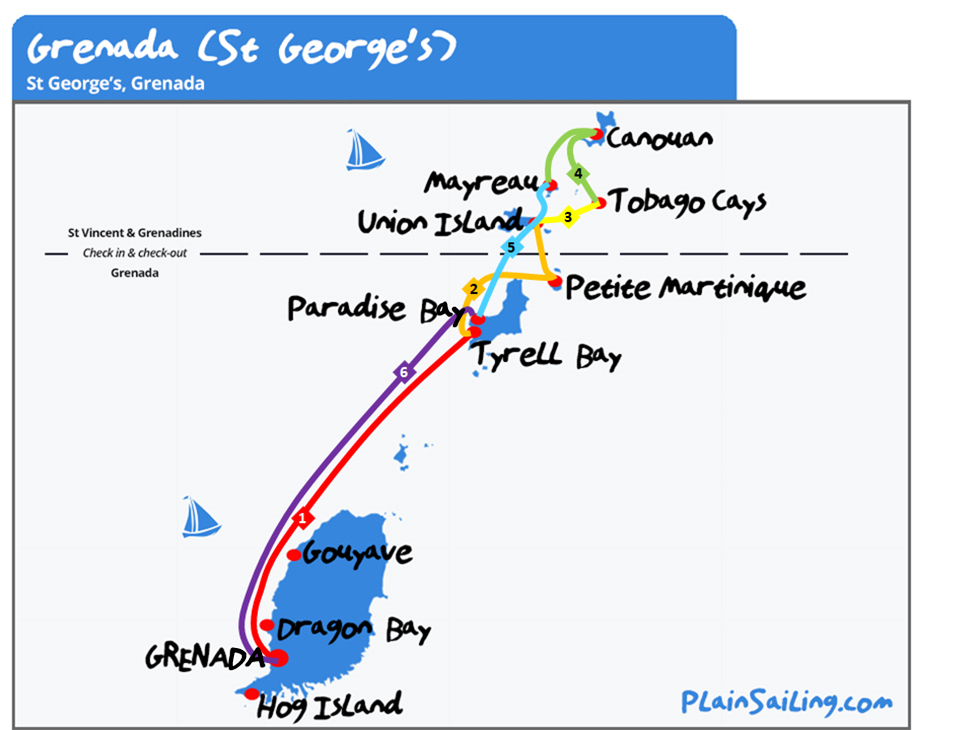 Our six day itinerary clocks in at 105 nM, with 60 nM spread over the first and last day of getting from Grenada to neighbouring (and wonderful) Carriacou and back, and then shorter spell-binding hops of 10-15 nM around the Grenadines, which gives you time for relaxing, snorkelling, and finding some of the best remote beaches in the world (and possibly have them all to yourself).
It's only six-days because you normally only get on-board late on Saturday afternoon, and have to return the boat to Grenada Yacht Club on the Friday evening (but stay on-board overnight, before checking out on Saturday morning) – which give six days of glorious Caribbean sailing to enjoy.
Grenada is a separate country form Saint Vincent & the Grenadines, so you'll need to clear international customs each time you switch between the two - our itinerary also makes it as simple and time-efficient a process as possible.

Day 1. St George's to Tyrell Bay – 31 nM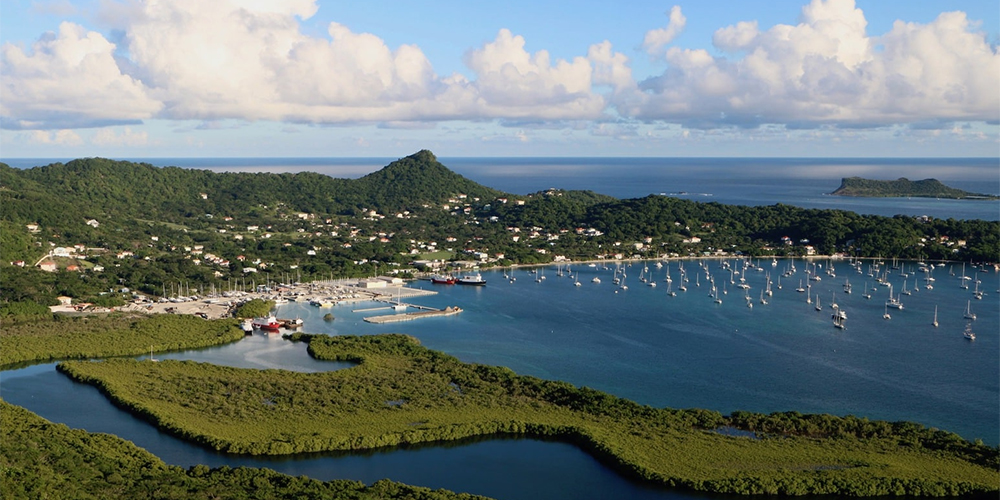 Good morning Captain! Welcome to the Spice Isle – and do we have an adventure for you! Get the crew on board, carefully stow all your provisions for the week, and then we'll nose out of the marina, turn starboard to follow the coast northwards, see what these sails can do!
Today is one of the longer days of sailing, though at 31 nM it hopefully shouldn't be too much of a slog and there should still be time to take a break on a beach, or in vibrant Gouyave on the way up. Tucked in the middle of the Northern coast of Grenada is 'Leapers Hill', so named because in 1652, under attack from French troops, the last remaining natives decided they would rather leap from here than surrender.
Then we're sailing northwards, likely reaching across the prevailing winds as we head past Caille Island and Ronde Island (the most expensive private island in the world – it was listed for sale at $100m in 2007) and up to Carriacou, a spectacular remote Caribbean island that is also known as 'Land of the Reefs'.
We're aiming to spend the night in Tyrell Bay, in the south-west. There's a newly built marina here, or you can anchor up in the bay - it is so sheltered that boats come and 'hide' here during the hurricane season – and take the dinghy to the nearest beach bar for some local rum punch whilst you enjoy watching the sunset.

Day 2. Tyrell Bay to Union Island (via Petite Martinique) – 11 nM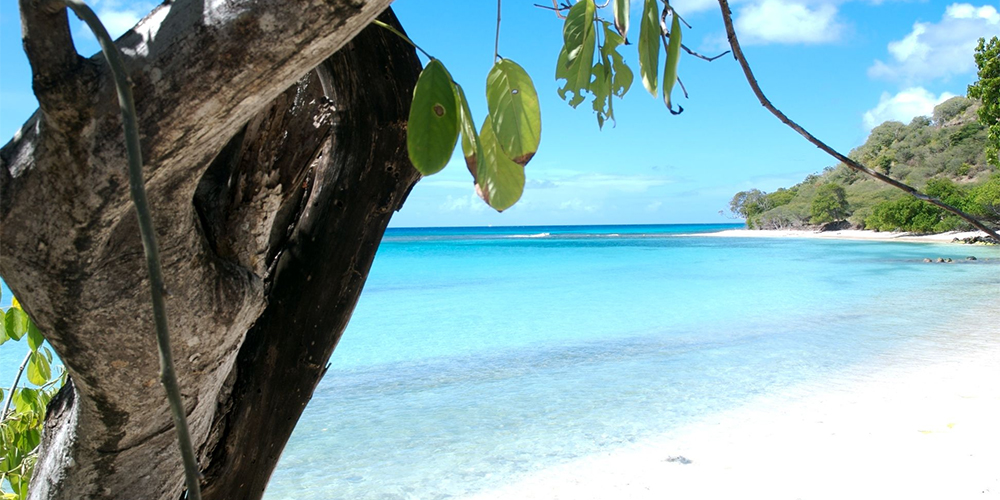 After a long day on board yesterday, we're taking things easy today (and the next few days) as we hop around these remote Caribbean islands. Carriacou is the northernmost of the Grenada Grenadine islands, so we'll need to negotiate the international border if we want to sail any further north (which we do). Head to 'Carriacou Marine' (the jetty on the south of Tyrell Bay where you'll need to present your boat documents to formally 'check-out' of Grenada before we can set sail today. It shouldn't take too long, but it depends.
Once you're cleared customs, we're heading northwards up the west coast of Carriacou – we're returning to Paradise Bay and Sandy Island on the last day, so hopefully you won't feel too guilty about sailing straight on by. There's plenty of other beaches along the coast and fine snorkelling to be had around here, but we're sailing to Petite Martinique (where you can marvel at the sands, play in the caves, or even hike up to the top of Mount Piton (230m above sea level) for amazing view over the islands.
From Petite Martinique, sail north past Morpion, which is a tiny sandy island with a single thatched umbrella on it. The umbrella regularly finds fame on Instagram, but isn't there to look funky or romantic – it was originally placed there so that sailors don't crash into the island!
And then we're sailing over to volcanic Union Island, in Saint Vincent & the Grenadines. We need to moor in Clifton (on the eastern side of the island), but if you've got time, it's cool to stop for a drink at Happy island just outside the harbour area. Once you're secured a berth, you'll need the whole crew to head to the Customs and Immigration (a square building practically in the middle of the waterfront) to register your arrival before you can explore the town.

Day 3. Union Island to Tobago Cays – 5 nM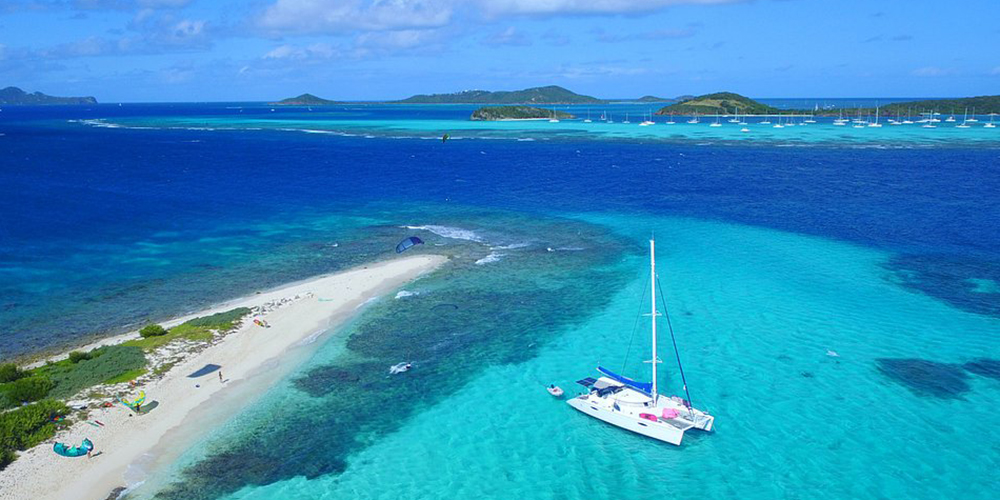 Union island is one of reputedly one of the friendliest islands in the Caribbean, and the place hasn't (yet) been spoilt by mass tourism, although it is getting increasingly popular with kite-surfers.
Today is not a big sailing day - so why not head into town to grab some battered fish or coconut bread for a traditional Saint Vincent breakfast – but it should hopefully be one of the most memorable, because the place we're headed to, Tobago Cays, is possibly the best place on earth.
That sounds like a bold statement, but the sun, sand, clear waters, and natural harmony of the flora (palm trees, banana trees) and fauna (sea turtles, an abundance of fish of every colour) makes this a place that cannot be replicated by man. There's unspoilt beauty everywhere you look, save for the odd mooring buoy. It's hard to put down in words, so google 'Tobago Cays Marine Park' and you can get some sort of idea of what is going on here. There's a turtle sanctuary, expanses of coral reef.
You can snorkel over the reef, take a hike to a viewpoint, or just sit quietly, breathe and take it all in. Petite Rameau island has a number of beach bars who will serve up fine fresh fish, and the jovial atmosphere as darkness descends makes this another happy, memorable and special place to rest a while.

Day 4. Tobago Cays to Mayreau (via Canouan) – 8 nM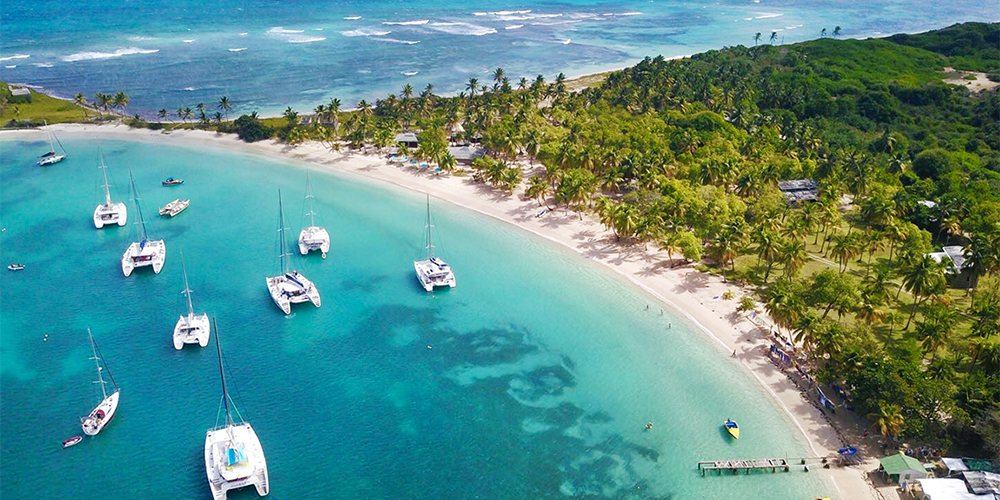 Today is all about you – it's your holiday, so you can choose what happens next. Some people say that two weeks in Tobago Cays wouldn't be enough, and that once you've properly relaxed, you won't want to move on – if this is you, then stay here and bask in your time off work – you deserve it.
Our official itinerary, however, gets in a little sailing. We're finishing up in Mayreau, which is still in Tobago Cays Marine Park (and not that far away), but to get some miles on the clock and some wind in the sails, we're heading northwards to check out the island of Canouan first, before coming back to spend a night in Salt Whistle Bay, on the north-western side of Mayreau.
Canouan is (another) remote and idyllic Caribbean island with outstanding beaches and a coral reef. It is notable because the locals here were so ferocious here that they were the only island in the Grenadines to fend off both the French and the British for over 200 years. Now it is an exclusive resort, complete with its own golf course.
And then we're bobbing back to the sheltered Salt Whistle bay, another superb beach, with an array of beach bars and grills to sit and muse as the sun sets, often accompanied by live Caribbean music. One of our favourites is 'Last Bar before the Jungle'.

Day 5. Mayreau to Paradise Bay (via Union Island) – 12 nM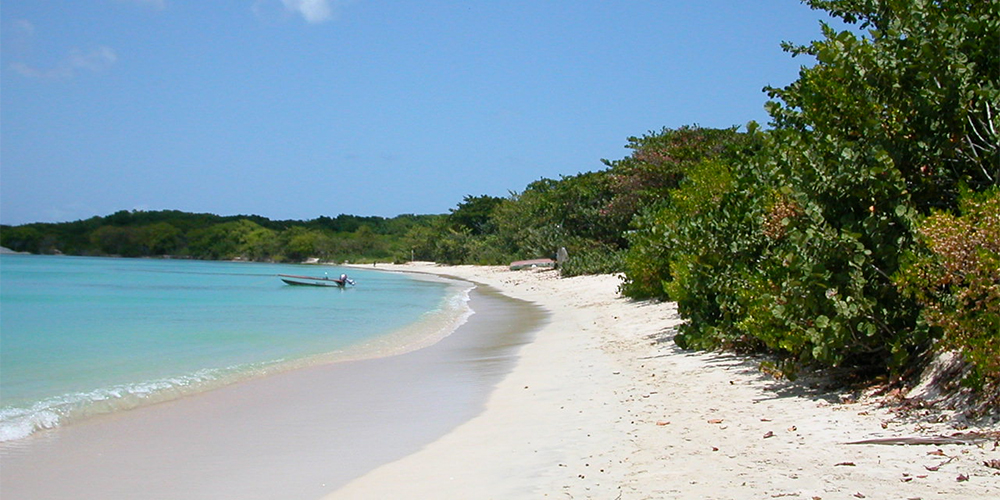 After a couple of days indulging yourself on the sandy lagoon of Tabago Cays, we're sailing away before you get too comfortable and laid back. It's not a massive amount of sailing, but you'll have to stop off at Clifton to complete clearance paperwork to leave Saint Vincent & the Grenadines, and then in Tyrell Bay on Carriacou to get processed back in to Grenada (though only the captain needs to attend the latter), but at least you know where you're heading now, so it should be a slick operation.
Sail down the western coast of Mayreau for more world class beaches, into Clifton, then out past Palm island (formerly Prune Island, but the resort there changed the name to Palm Island to make it sound nicer to tourists), and reaching down the west coast of Carriacou.
Sandy Island, just west of Carriacou, is another small slice of paradise – a deserted Caribbean island which is another exceptional place for swimming, snorkelling or lying underneath a palm tree – you'll need to pick up a mooring buoy as you're not allowed to anchor here.
We're spending the night tonight in Paradise Bay (opposite, where you'll find Paradise beach, but it's probably easiest to sail back round to Tyrell Bay to complete customs paperwork before you moor up for the night (mooring up here and then walking the 2km to the customs centre is possible, but frowned upon, and technically the crew are not allowed on land until the captain has clearance.

Day 6. Union Island to Saint George's – 35 nM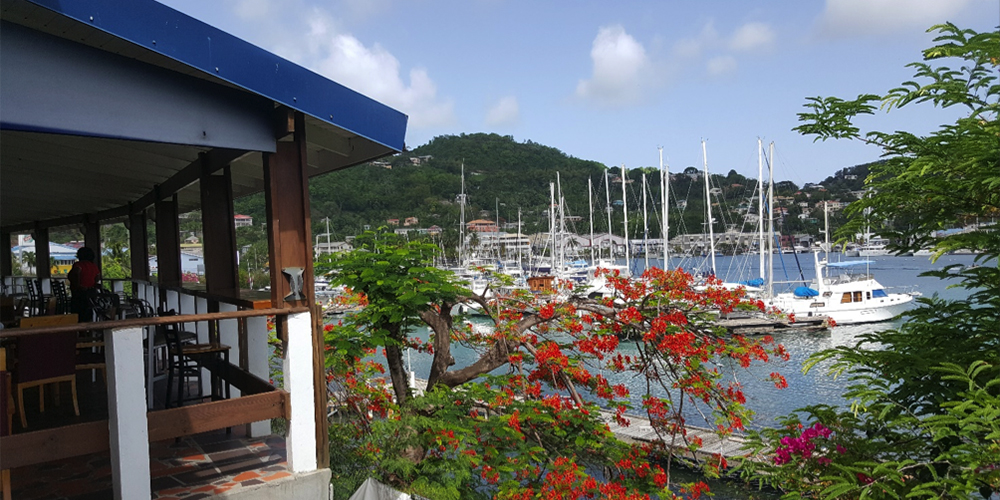 Ouch. There's no easy way to say this, but today is your last day of sailing. Tonight you'll need to be back at Grenada Yacht Club. You can stay on board tonight, but then you'll have to check out tomorrow morning. That means you'll need to remember to get your camera out for a couple of group pictures today.
Thankfully there's no customs paperwork to be completed, but there is a reasonable distance to make as we hop back southwards to the island of Grenada, so it's better not to dawdle.
If you're making good time, then Friday is market day in Gouvaye and you can get an idea of the local smells and tastes - they grow nutmeg and vanilla here, as well as some of the worlds' finest chocolate and rum, or you could visit the world's first underwater sculpture park (for snorkelers or scuba divers to enjoy) in Dragons Bay, just opposite the final headland before Saint George's.
Sadly, that might be all we have time for, so head to the fuel berth before returning the boat and mooring her up one last time. Great work skipper! Hopefully you had a truly memorable week at sea here, and you've bonded into a well-oiled crew.
If you haven't yet checked out St George's, then it is worth the trip to wander around the town. After a week of grilled seafood, you probably ought to try the national dish, which is 'Oil down', a meat and vegetable stew cooked in Coconut milk – it's one of the few dishes that can be made without any imported ingredients and tastes delicious.
---
Sailing Conditions
 WHAT ARE THE WINDS LIKE?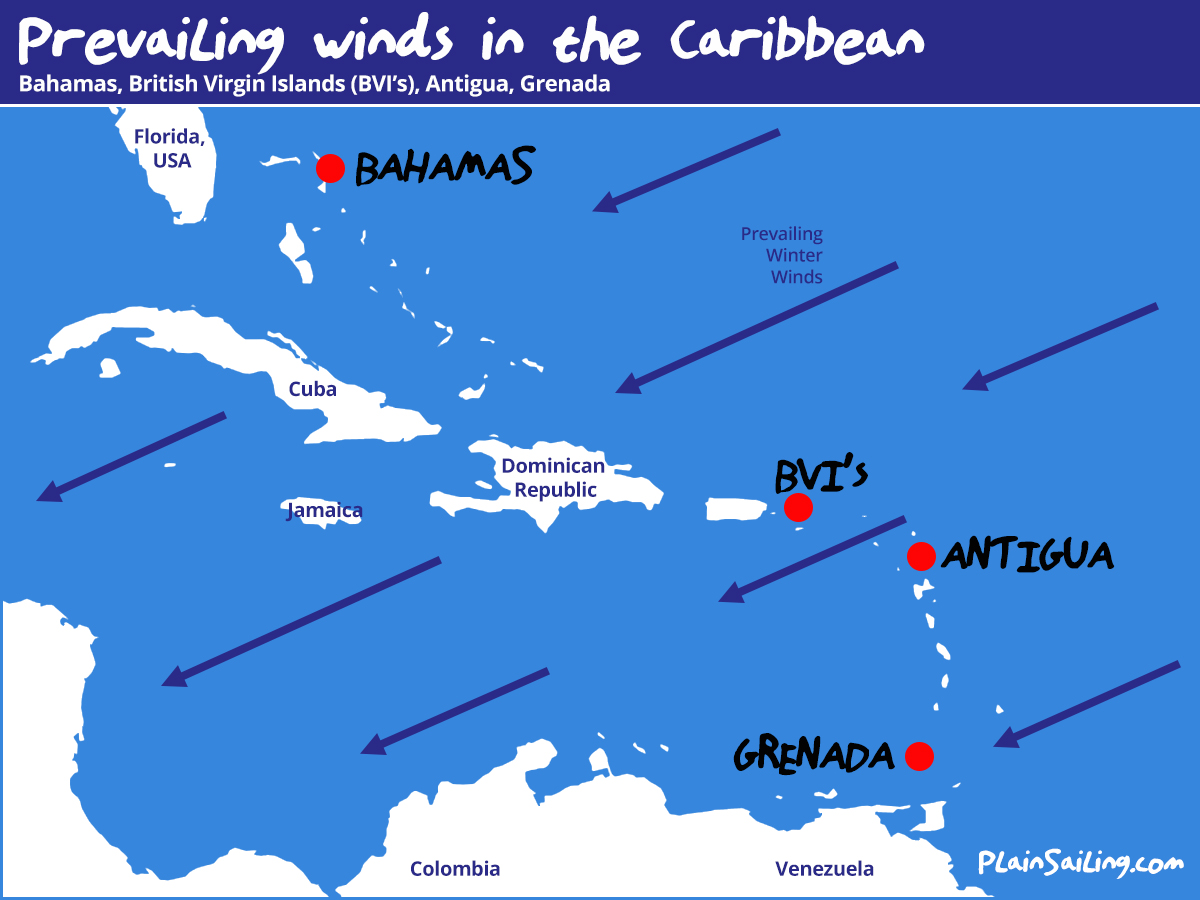 You can expect winds to arrive from the East or North-east, and they'll be somewhere between 11 and 15 knots. That's not so much a forecast as a fact, because the winds here are important global trade winds which have been blowing with that strength, and from that direction, for literally hundreds of years.
It's the same winds which brought Christopher Columbus himself across the Atlantic in 1492 (and he actually landed on Grenada in his third voyage in 1498), and many intrepid explorers since.
The reliable winds are a joy for sailors, and, coupled with the sun and the sea conditions, means Grenada has some exceptional sailing conditions.
During the hurricane season, August and September, there's the chance of extremely strong winds – Hurricane Ivan in 2004 had winds travelling at 165 mph - so this time of year is best avoided.
 HOW HOT WILL IT BE? 


Being located close to the equator, it's always summer in Grenada, and the sun is always shining, so you probably won't need to bring your thermals. Conditions are hot and humid, but the wind helps to alleviate the heat, so it never feels too stifling. The best time of the year to visit is December to March (which coincides with the peak sailing season), which are notably drier than later months, but you'll find t-shirt and shorts weather whenever you come here.
 HOW WARM IS THE SEA? 


Similar to the weather conditions, the sea conditions are also stuck in permanent summer – there is no winter cold spell where the water gets too cold for average swimmers to enjoy. In fact, at its coldest, the sea here is still warmer than the Mediterranean gets at its hottest, which means you'll find perfect conditions for starting the day with an early morning swim, stopping to dive into the enticing clear turquoise seas at lunch-time, or splashing around after arriving at each idyllic destination each night. Just dive in whenever you like!
---
Marina Details - Grenada Yacht Club
Grenada Yacht Club is based in a sheltered natural harbour just south of St George's, the capital of Grenada. This smaller marina is opposite the main Port Louis marina, and offers a friendlier start to a week away, with all the usual facilities, including a fuel berth and a bar.
There's a few hotels in St George's if you need to spend a night or two on the island ahead of or after your charter – our favourite is Carenage View Hotel, which is in walking distance of the marina.
GETTING THERE: Grenada Yacht club in Saint George's is only a 15 minute ride from the main international airport on the island (Maurice Bishop airport) - we can help arrange a private transfer. If you prefer public transport, then you'll need to get a bus to St George's from the airport, and then work your way across to the marina from there.
PROVISIONING:
The nearest decent-sized supermarket is the Foodland supermarket on the southern side of the harbour - you can probably see it from your boat (it's got an orange store-front), but is about a 10 minute away (
Kirani James Boulevard, St George's, Grenada
). Be aware that is it open till 8pm on Saturday, but closed on Sundays.
FUELLING AT END: There's a fuelling berth at Grenada Yacht Club, so be sure to refuel there before returning your boat on the final day.
Loading Map Co-ordinates...
---
---
WHAT NEXT? Use the pink box to search for yachts or catamarans with LIVE pricing & availability - if you have any other questions or requests, get in touch via Live Chat, the Contact Form, or by phone.
---