Find a Boat
LIVE
Pricing & Availability
Search NOW
Yacht & Catamaran Charter in the Solent, UK
We can help you find the perfect yacht or catamaran to sail in the Solent!

Sailing from the Solent
The Solent is the home of sailing, and an epic and historic place to sail - the boats built and sailed from here through the years have had a profound impact on the world – from Sir Francis Drake embarking on conquests, Lord Nelson's war galleons, to the Titanic (which began her maiden voyage here) and the D-day landings (and much more). Now it is home to the world's most important Sailing Regatta (Cowes), and the world's most famous sailing race (Round the Island).
The Solent offers a range of in-land and coastal sailing, with plenty of interesting and historic places to sail to and explore – like Cowes, Beaulieu, Chichester and Yarmouth – and you'll often be surrounded by magnificent cliffs, amazing beaches and lush rolling green hills. Coupled with reliable winds, predominant sunshine, and pleasant temperatures during the sailing season, the Solent is a fantastic place to charter a yacht! We can help you find and book your ideal yacht or catamaran, with one of our trusted Charter Partners - just get in touch or search in the pink box with live prices and availability!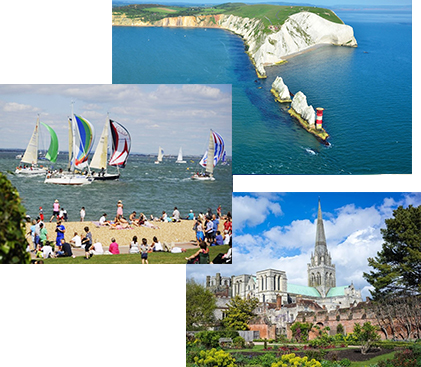 SAILING RATING: Intermediate / Advanced - England offers excellent wind conditions, but you will also need to have a good understanding of tides and how they can affect your speed and course over the ground to get anywhere (sometimes literally). The season runs from March to November, with the peak season being in July and August (UK summer holiday season).
MUST-SEE: Our full suggested itinerary is further down the page, but we'd highly recommend taking in the famous Needles off the Isle of Wight, the nautical village of Cowes, and the splendid Roman village of Chichester, with it's fantastic cathedral. There's also the Mary Rose ship at Gosport, or the picturesque Beaulieu, amongst many others!
WHAT WE CAN OFFER: We have a great range of yachts and catamarans available for charter from our trusted Charter Partners, all available bareboat or Skippered. We can also arrange a Hostess, Personal Chef and other crew.
GETTING THERE: We operate from three marinas in the Solent area, which are within a 40 minutes drive of the local Southampton airport, or within a 2 hours' drive from London airports. We can organise transfers for you if required – just ask.
WHY BOOK WITH US? We only work with the very best professional charter operators, who we have met, know, and trust to give you the same outstanding customer service as you'll get from PlainSailing.com.

WHAT NEXT? Use the pink box to search for yachts or catamarans in England. Sadly we don't currently have live availability and pricing for English yachts, but we'll do our best to get you the yacht you want - if you have any other questions or requests, get in touch via Live Chat, the Contact Form, or by phone.

6-day Sailing Itinerary in the Solent
The Solent is an intriguing place to sail, with dramatic cliffs, fantastic beaches and idyllic towns and villages, all steeped in centuries of nautical history. Throw in brilliant sailing conditions, lots of yachts in the giant marinas in the area, and you can see why they call this the home of sailing - plus practically everyone knows about sailing.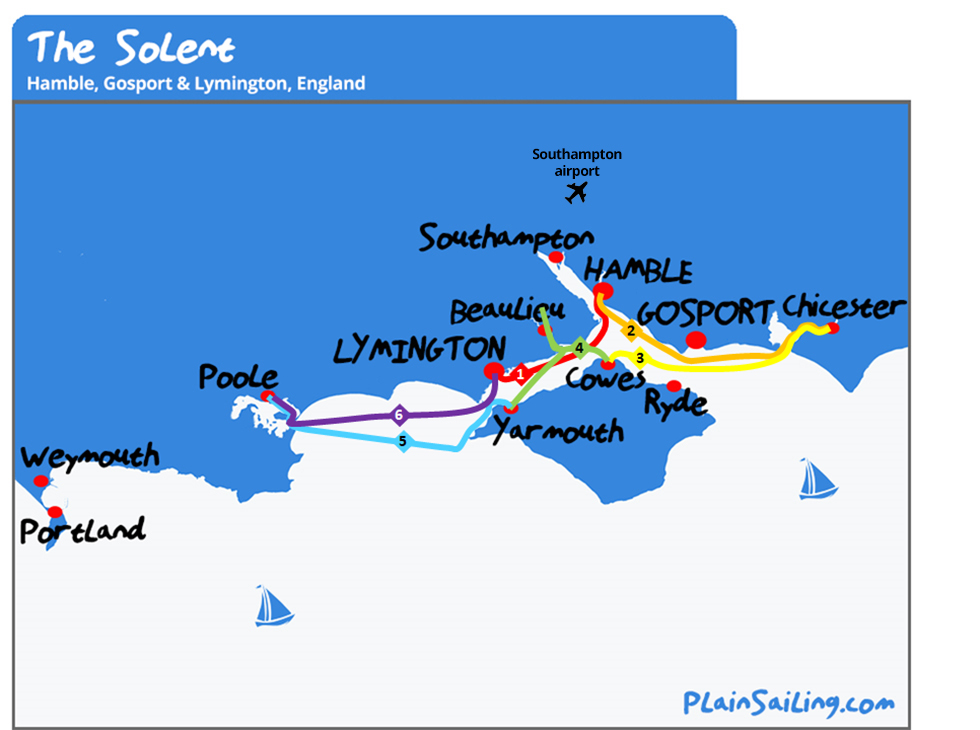 This six-day itinerary is just long enough to hit all the highlights – including Cowes, the Needles, Hamble, Chichester and Yarmouth, but there is plenty more to see besides. This covers 112 nM, which should mean you can take a leisurely pace (sailing 4-5 hours a day) and really explore each port you arrive at.
It's only a six-day itinerary because the odds are that you'll be busy getting provisions and getting familiar with the boat on the Friday you arrive, and you have to return to the home marina on the Thursday - but you can stay on board for a final night, before disembarking on Friday morning. This itinerary starts in our main marina base of Lymington, but you can obviously also start or end in Hamble (or substitute Hamble for Gosport) and sail the same circular route.

Day 1. Lymington to Hamble – 13 nM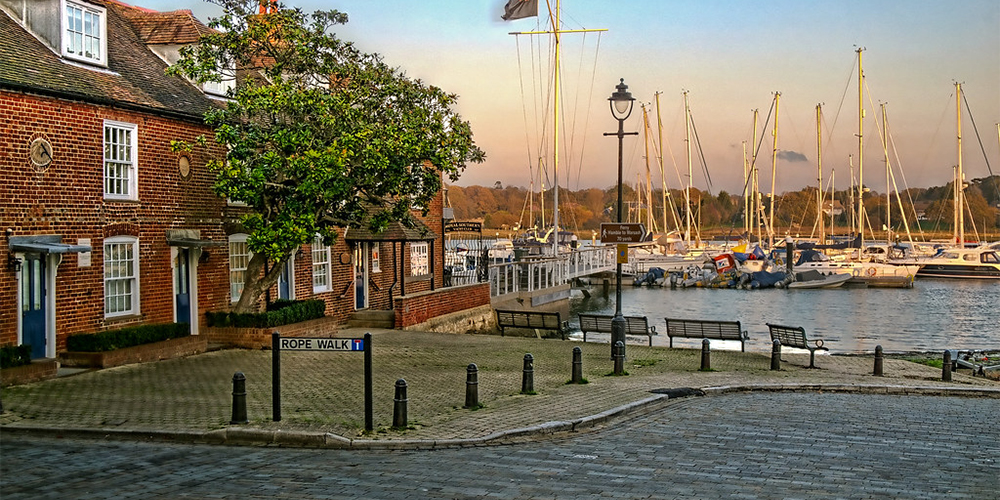 Good morning, Skipper, and how do you do? It's very nice to meet you! Make sure the crew and all your shopping are on-board, and then let's nose the good ship out of the marina and out on to the high seas!
Today we're just making a short hop to Hamble-le-rice, or Hamble as it's better known, which is a short run with the prevailing west-south-westerly summer wind away. Being a short leg means you can get familiar with the boat and give everyone a chance to take the helm - with an optional man overboard drill to act as a useful refresher.
Hamble is actually technically inland, and you sail up the river Hamble to take your pick from one of a number of well-protected marinas. The whole area will be bustling with sailors, and Hamble is a picturesque village with olde style English houses with thatched rooves and cobbled streets. There's plenty of great places to eat and drink here (many with beautiful settings by the waterside). Sailors have been stopping here for literally hundreds of years, so I am sure the buildings could share a tale or two.

Day 2. Hamble to Chichester (via Gosport) – 22 nM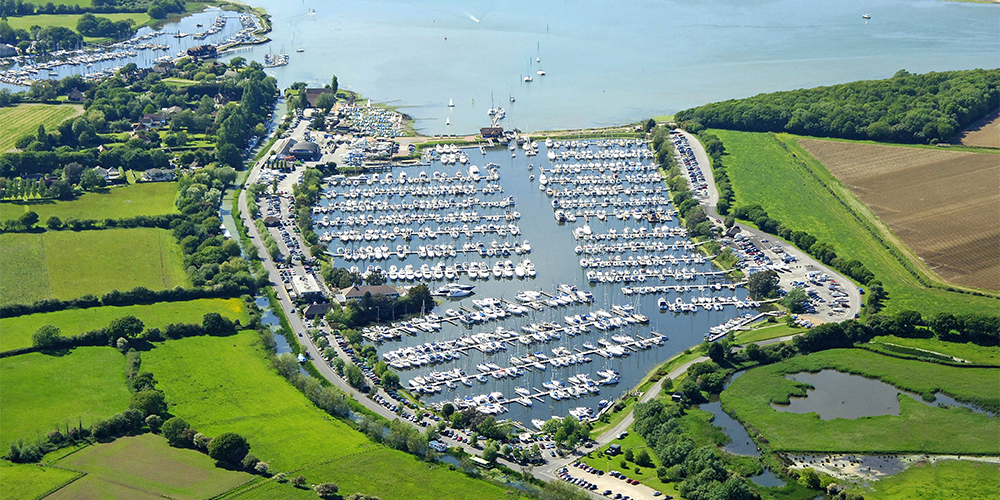 From one idyllic port to another. Today we're heading to the picture-postcard Chichester, which was founded by the Romans, no less, and which boasts a fine cathedral – it's a beautiful place to take a stroll.
From Hamble, we're heading back out to the English Channel (incidentally, the French just call it La Manche or 'the Channel') before tacking to port and following the prevailing wind east and along the south coast. Chichester is back inland, so you'll need to sail north past West Wittering village, and up the Ichenor reach to get to Chichester marina – a natural marina which, with space for over 1,000 berths, is also the biggest in England. Chichester is about a 5km walk away, or a ten-minute taxi ride, but there are beaches nearby if you prefer to relax.
If you have time, and you're interested, then you can take lunch in Gosport (Portsmouth) on the way where there's multiple maritime museums. At the very least, it's worth sailing into the area to have a close look at HMS Discovery (which was the famous English Naval General Lord Horatio Nelson's very own boat in the Battle of Trafalgar in 1805 – which he won) or the Mary Rose (Henry VIII's boat), which was sunk by the French in the Solent in 1545 (and retrieved in 1982).

Day 3. Chichester to Cowes – 19 nM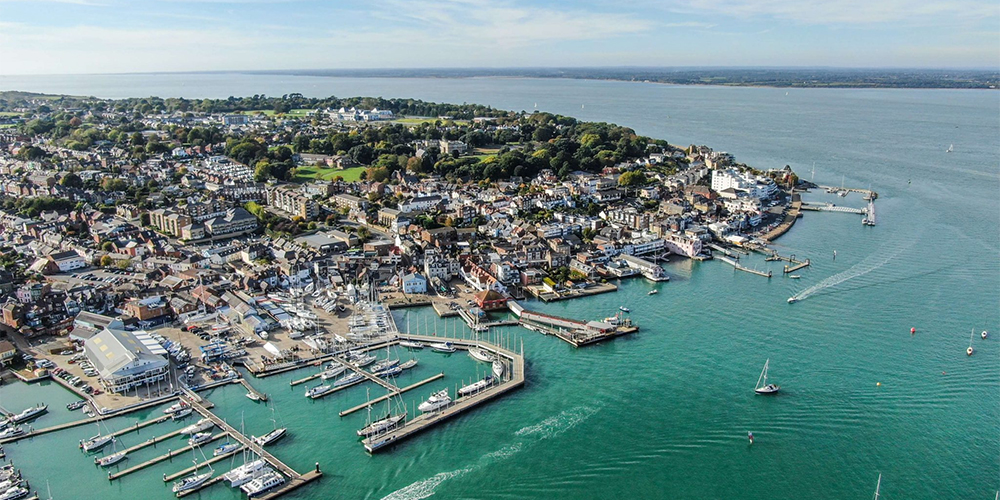 We've sampled the delights of inland sailing, but now it's time to do some island hopping! There's only a few islands in the Solent, but they make the count. The Isle of Wight is at the centre of the sailing area and is home to both Cowes (the capital of sailing in England) and the worlds' most famous sailing race – the annual Round the Island race is a one-day event when people sail the 55 nM around the Isle of Wight, anti-clockwise – there were 1,800 boats in the most recent running of the event!
To get to Cowes, we need to sail south and out of the Chichester harbour area (an 'Area of Outstanding Natural Beauty' and home to many seals) before tacking into the prevailing summer winds. The land on your nose is the Isle of Wight, and Cowes is on the northern tip of this diamond-shaped rock.
To get to a mooring in Cowes you'll need to get past the Cowes 'floating bridge' – a ferry service across the River Medina which has been in operation since 1720, and links the two sides of the village without the need for a 10 mile round-trip. It started as rowing boats, but is now a chain ferry which can also accommodate 20 or so cars. Cowes is a place any sailor will find interesting, and it has some of the finest seafood you'll ever find.

Day 4. Cowes to Yarmouth (via Beaulieu) – 16 nM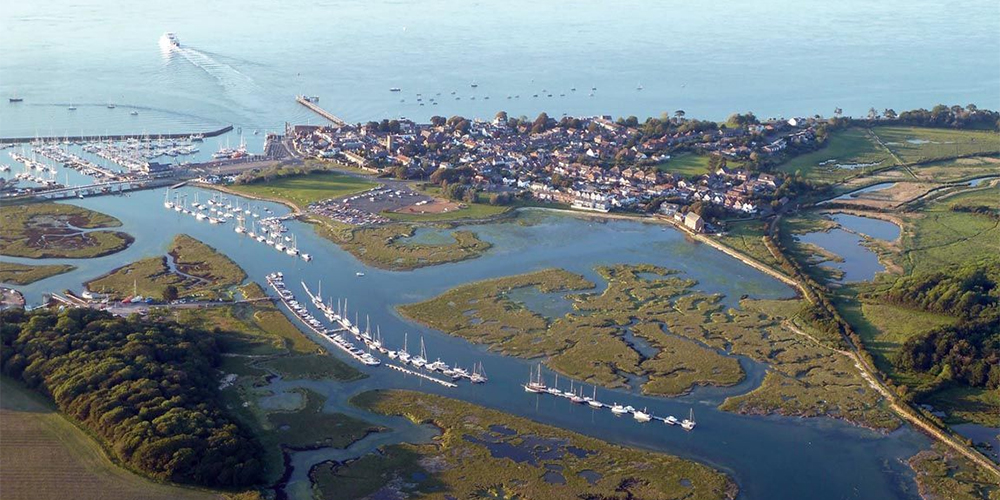 We're sticking on the Isle of Wight today – in the international sailing world, the island is too important to only spend a night here – but we're also mixing things up a little by sailing over to the UK Mainland and back again too (it's optional, but Beaulieu is totally worth the extra miles).
From Cowes, we're crossing the Solent (which is actually the name for the bit of water between England and the Isle of Wight) and sailing inland to visit Beaulieu. Beau Lieu is French for 'Beautiful place' and the Abbey and estate here certainly are! You'll need to moor at Bucklers Hard (an idyllic Georgian village which was also a place where they built ships – including three war galleons which were involved in the Battle of Trafalgar) and then stroll to the village and its wonderful Palace house from there.
Then we're back down the river and over the Solent again to Yarmouth, another pretty and nautical-obsessed town on the Isle of Wight.

Day 5. Yarmouth to Poole (via the Needles) – 20 nM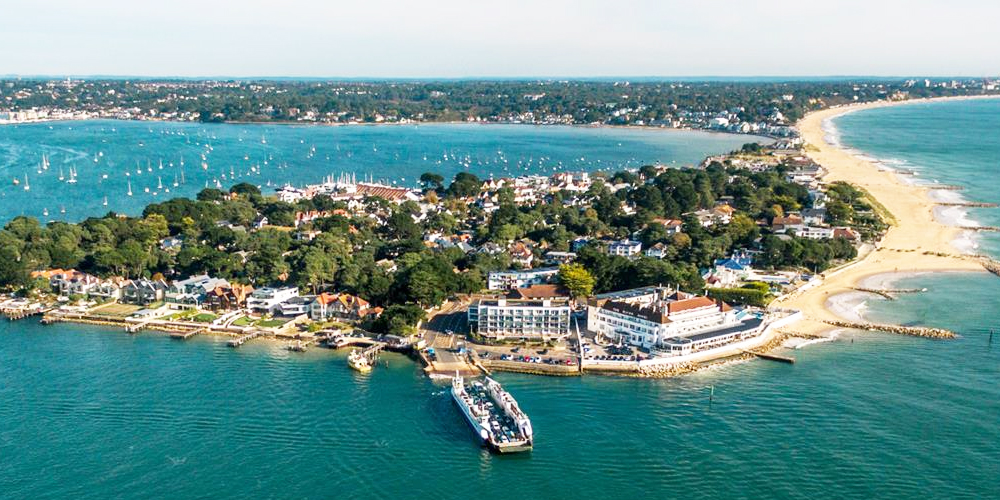 The most famous part of the Round the Island race is encountering 'the Needles' on the western tip of the Isle of Wight – the three (formerly four) chalk stacks are mainly there for (spectacular) decoration, as the tricky bit is judging how to make the turn around the lighthouse - getting it wrong can add hours to your time as you fight back up tides and winds.
It's made more complicated still by the wreck of the SS Varvassi (which ran aground here in 1947 when it was carrying a load of tangerines from Algiers to Southampton) – all 1,800 boats are aiming to squeeze through the 60m gap between the lighthouse and the wreck, but a fair number each year end the race here.
To get there for a closer look, we need to sail into the Solent then head west, tacking up the prevailing wind as we follow the magnificent coastline. Make the turn if you have the time, before setting a course pretty much due west for Poole, back on the UK mainland. Poole is a natural harbour area, and there is a vast amount of water 'inland' behind the gap in the coastline. The largest island in here is Brownsea Island, which is where the first ever Scout camp took place in 1907 – Scouting began as a small camp here for young teenage boys and the organisation now spans 216 countries and has over 50 million members!

Day 6. Poole to Lymington) – 22 nM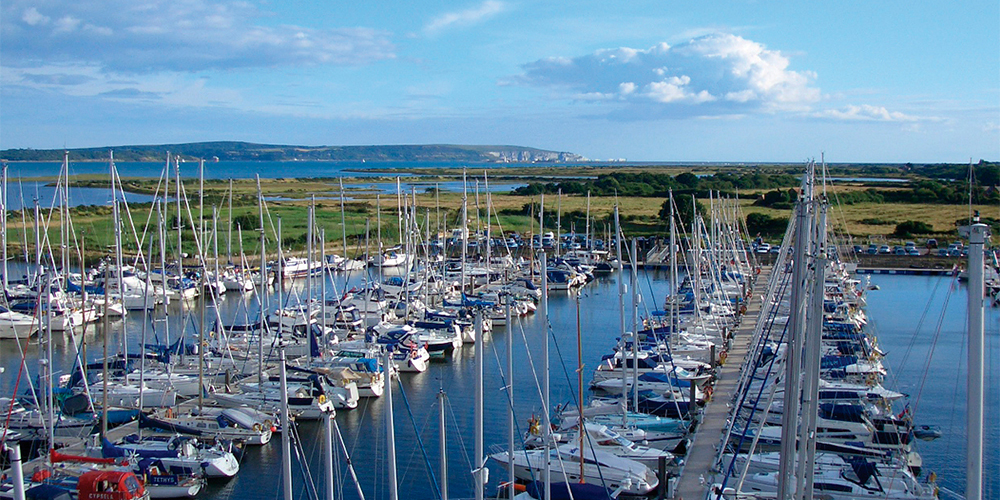 And all of a sudden, it's the last day. Terrible news. There's no need for a stiff upper lip though, as we've still got some sailing to do today! We're heading back east to the Solent and Lymington, running or reaching with the prevailing wind.
It will be hard not to spot Bournemouth beach on your port side, which is the UK's longest beach, and one of the best – there's over seven miles of delightful sandy beach, and over five million people visit it each year. They say the water is warmer here, so it might be worth throwing down the anchor for a quick dip if you haven't yet done so this week.
You'll sail past Hurst castle as you re-enter the Solent (built by Henry VIII to protect the Solent) which, for a number of years, housed the most powerful guns or weapons in the world! And then it's back to the marina. Don't forget to refill the fuel tanks before mooring her up one last time. You'll be able to stay on-board tonight, so there is still time to check out Lymington and have one last night with the crew before you head back to the real world.
Hopefully the weather has been kind to you, you've enjoyed exploring the beautiful Solent, and you're leaving with better friends than you arrived with. You might already have decided as a crew to come again next year, or maybe you fancy sailing somewhere new? In either case, head to PlainSailing.com to get some inspiration about places to sail from and to read the destination guides. Have a safe journey home, and we look forward to seeing you soon.

---
Sailing Conditions
 WHAT ARE THE WINDS LIKE?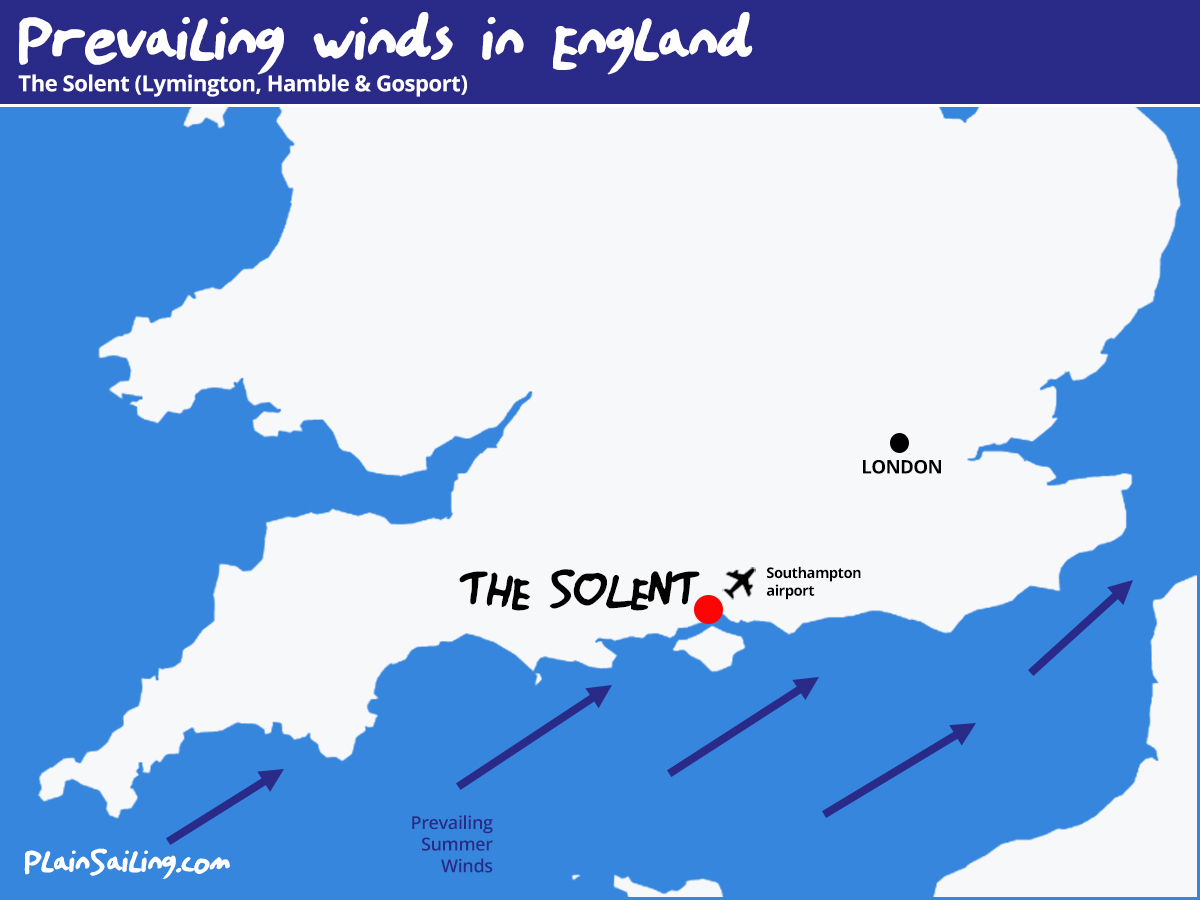 England claims to be the 'home of sailing', and certainly the sea-faring folk of this island nation have a long history of boats and water – despite its diminutive size, England had the world's strongest Navy for hundreds of years. At least part of the success must be due to the wind and weather conditions being perfect for mastering the art of sailing.
In the Solent the wind is at a steady Force 4 throughout the year, and it arrives almost always from a South-westerly direction, having raced right across the Atlantic before arriving on your sails. Whilst there are occasions where other weather systems will affect the wind conditions (notably when high or low pressures are above the Solent), these usually pass within a couple of days.
The added challenge of sailing out here is that you have to factor in the effect that tides will have on your course and speed over ground, and, in some cases whether you can enter or leave a harbour – so be sure to consider tides as well as checking the wind forecast.
 HOW HOT WILL IT BE? 


The South coast of England is a very pleasant place to be during the summer sailing season, with a comparably small amount of England's famous rainy grey conditions. Temperatures aren't blistering, but certainly warm enough to get by in shorts and t-shirt on a normal day. During winter, conditions are a little colder, so you'll need plenty of layers if you're sailing from November to April.
 HOW WARM IS THE SEA? 


The sea around England is connected to the vast Atlantic Ocean, which means that sea-temperatures don't hot up in the same way as you'll find in the enclosed Med - so it's not really a beach-holiday destination. It is still possible to go for a (short, cold) dip though. At its hottest, in August and September, the water hits 17 degrees, which is still very refreshing by anyone's standards.
---
Marina Details
We operate from a number of marinas in the Solent area - Hamble, Gosport and Lymington are all within 20 to 40 minutes drive of the local Southampton airport, or within a 2 hour drive from London airports, and are all fantastic jumping off points for exploring the area.
Charters typically start on a Friday, so if your flights don't quite match, you might need somewhere to stay on-land for a night or two - we recommend Landfall B&B or Royal Southern Yacht Club in Hamble, Spring Garden Guest House in Gosport, or The Bosun's Chair in Lymington.
---
---
WHAT NEXT? Use the pink box to search for yachts or catamarans in England. Sadly we don't currently have live availability and pricing for English yachts, but we'll do our best to get you the yacht you want - if you have any other questions or requests, get in touch via Live Chat, the Contact Form, or by phone.
---