Find a Boat
LIVE
Pricing & Availability
Search NOW
Yacht & Catamaran Charter in Volos, Greece
We can help you find the perfect yacht or catamaran to sail from Volos!

Sailing from Volos
The Sporades are a popular place to sail in Greece because of fine weather, good wind, and the sheer beauty of the islands - both the natural and the man-made will blow you away: you'll find some of the best beaches in Europe here, along with stunning cliffs and serene vineyards, plus outstanding architecture and incredibly picturesque ex-fishing villages.
Being on the mainland, Volos is easy to get to, and it's only a daysail away from delightful Skiathos, or even better Skopelos (where Mamma Mia was filmed). There's also plenty of scope to get off the beaten track in a marine nature reserve or to visit a crazy remote monastery. We can help you find and book your ideal yacht or catamaran, with one of our trusted Charter Partners - just get in touch or search in the pink box with live prices and availability!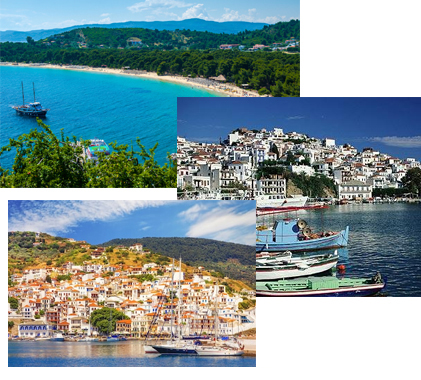 SAILING RATING: Beginner / Intermediate - With easy line-of-sight navigation, clear waters and light winds it's a great start point for novice sailors most of the year - though conditions can be more challenging in July & August when the Meltemi comes to play. Peak season is July & August, but you can sail here from March to October.
MUST-SEE: Our full suggested itinerary is further down the page, but we'd highly recommend taking in the vibrant towns of Skiathos, watching the sunset from Loutraki, and seeing why the film directors chose Skopelos to be the perfect, beautiful location for Mamma Mia.
WHAT WE CAN OFFER: We have a great range of yachts and catamarans available for charter from our trusted Charter Partners, all available bareboat or Skippered. We can also arrange a Hostess, Personal Chef and other crew.
GETTING THERE: The Marina is c. 35 minutes from Kos airport. We can organise transfers for you - a 4 person taxi is c. €50 - 60.
WHY BOOK WITH US? We only work with the very best professional charter operators, who we have met, know, and trust to give you the same outstanding customer service as you'll get from PlainSailing.com.

WHAT NEXT? Use the pink box to search for yachts or catamarans with LIVE pricing & availability - if you have any other questions or requests, get in touch via Live Chat, the Contact Form, or by phone.
Why book with PlainSailing.com?
We're yacht and catamaran charter experts, and can find you the best boats in Greece, Croatia and anywhere else in the Med or Caribbean - yacht, catamaran or superyacht-bareboat, skippered or crewed

We're UK based, only work with the best Charter Companies, offer exceptional customer service from start to finish and will match any price!

Independent Service Rating based on
431
verified reviews.
---
2
6-day Sailing Itinerary from Volos
Volos is located on mainland Greece, but that doesn';t mean that it isn't still an excellent base for exploring remote Greek islands and finding some tranquillity. In the immediate vicinity, Skiathos is famed for being popular with a young crowd, and it certainly has an energetic night-life. The next island along, Skopelos, has been described by some as being the most beautiful of all the Greek islands, though, despite it having been inhabited for thousands of years, it is perhaps most famous for being the filming location of the recent first Mamma Mia film.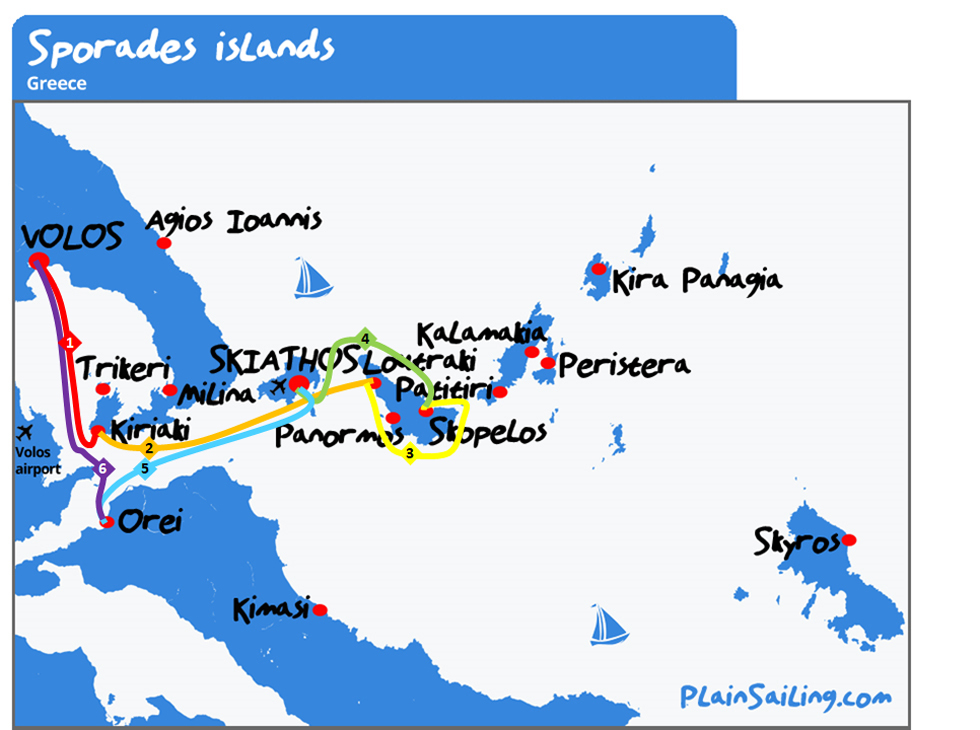 There aren't too many options of where to go when sailing from Volos, since it takes a day or two of sailing to get out into the Sporades islands proper, and then it's just a case of how many hours you want to sail per day or leg which can determine how far you can get. For a cruising holiday, we'd normally aim to be hitting somewhere between 17 and 27 nautical miles a day, which means about 4-5 hours of actual sailing and leaving plenty of time to explore your start and end points, or to stop, relax and splash about or have a long lunch in the middle.
This itinerary is a six day itinerary which takes in the best of the Sporades: the beauty of the islands and the beaches, and the best three places to spend the night (namely Skiathos, Skopelos and Loutraki, all for different reasons). In total, it's 127 nM, which means an average of about 21 nM a day, and a fairly leisurely pace. It's only six days because after checking in and getting everything on board it's unlikely you'll have time to do any significant sailing from the home base on your day of arrival – so chill, check out Volos, and we'll depart in the morning. And the boat needs to be returned on the Friday night (so you won't do any sailing on the day of checking out either).

Day 1. Volos to Kiriaki – 18 nM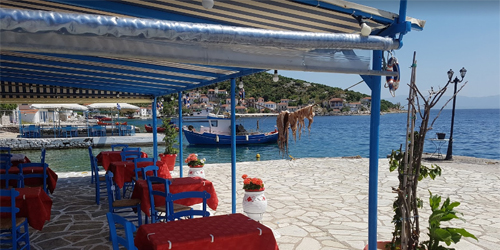 Ok, Captain, time to get your crew in order, and the ship out at sea. Make sure everyone on-board is aware of their duties, then let's slip the lines and get out of here! From Volos, we're heading pretty much due South for the day as we head out to sea. Volos is already fairly remote as far as Greek cities go, but we're going to get even smaller and more remote as the week progresses.
The prevailing wind is a North-easterly, around Force 3 or 4 (except when the Meltemi winds kick in for a few days at a time at the height of the season – so check the weather forecasts carefully if you're sailing in July and August). Being in a huge bay (the Pagasetic gulf, to be precise), the winds might not be so strong as you broad reach your way down, but you'll certainly feel the wind in your face once we get island hopping.
If time allows, you can nose into one of the bays around the island of Paleo Trikeri, where there's a couple of nice beaches, but otherwise we're following the coastline round, keeping it on our port side as we go around the headland, and then pulling in at the first marina you come to.
This is Kiriaki, a small, sleepy fishing village which is now a place for tourists who like to be off the beaten track and who enjoy the calm of the sea and the idyllic islands. There's a fine beach to while away the rest of the sunshine, or the local village of Trikeri is a short walk up to the top of the hill, where they serve the freshest of fresh fish in abundance, with fine views over the sea. This is the life...

Day 2. Kiriaki to Loutraki (Skopelos) – 28 nM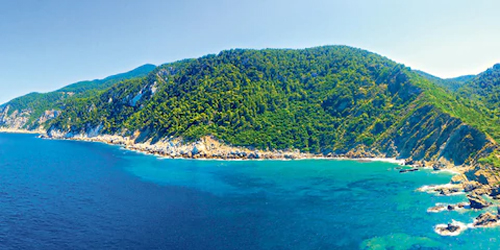 Having found your sea legs yesterday, and having drilled your crew into shape, today sees the longest leg of our voyage, and we'll likely be beating our way up the prevailing wind through most of the day, so if the crew haven't quite gotten the concept of what tacking is about, it's fair to say that they might do by the end of the day. Then again, if you're lucky, sometimes it's possible to make it all the way in a single close-hauled tack.
From Kiriaki, we're heading further along the coast and out, in a North-easterly direction. The island on the horizon is Skiathos, which we'll skirt around the South side of. We'll be coming back to later in the week (so feel free to have a quick nosey at Skiathos town as you go past). There are over 75 brilliant beaches dotted right around Skiathos island, so it might be a fine place to stop for lunch or a break.
Continuing further in the same direction, we're heading to the small marina at Loutraki, near Glossa, on the Western side of the island of Skopelos.
Loutraki is another remote village which people head to for the beauty and tranquillity of the area, and is most famous for being the filming location for the film 'Mamma Mia' – so watch it in advance to whet your appetite if you have the chance. There's a beautiful beach and a number of decent tavernas, or you can walk fifteen minutes to the nearby bigger, grander village of Glossa. Being on the West coast, Loutraki is a place where you can sit and enjoy watching the sunset, ideally with a well-earned drink.

Day 3. Loutraki to Skopelos – 17 nM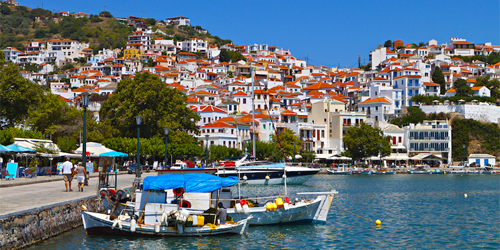 After the longer leg of sailing yesterday, we're just hopping around the coast today, which should give you plenty of time to explore one of the wonders of the Sporades – Skopelos town. From Loutraki, we're heading Northwards to the tip of Skopelos island, likely reaching against the prevailing wind. The wind can sometimes be slow when you're in the shadow of a hillside, so feel free to head a bit further off the coast to get some more speed. Once at the tip, we're going to follow the coastline down to the picturesque Skopelos town, keeping the coast on our starboard side.
If it's hot and sunny, you could check out the beaches at Agios Ioannis or Glysteri for a cooling break, but then onwards to the white-washed houses, narrow streets, medieval castles, monasteries and churches of the capital of the island.
Skopelos town is genuinely a wonder to behold, and the view of it from the sea is almost magical. Legend has it that the town was originally founded by the son of the God Dionysos and Princess Ariadne of Crete, who used the island as a giant vineyard – but it's main purpose now is for tourism (and growing olives). The town is a brilliant place to explore on foot, and you can get lost in the maze of cobbled streets and alleyways. There's a great range of tavernas and bars (and even a night club), as well as a good range of shops to get your provisions stocked up from. Life moves at quite a slow and relaxed pace, and Skopelos is a great place to sit and people-watch.

Day 4. Skopelos to Skiathos – 15 nM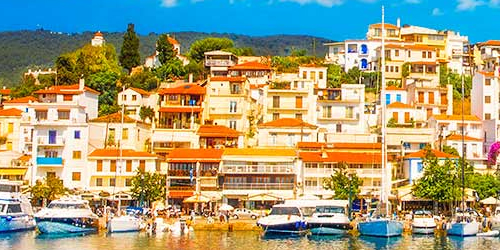 The biggest and best towns in the Sporades islands are sleepy Skopelos and sparkling Skiathos – both beautiful, the former is ideal for tranquillity and romantic strolls, whilst the latter has so many beaches and tourists that it positively bustles with activity, loudness, and throngs of people having lively fun - particularly during the holiday season. Reading those descriptions, it's no wonder that the Skiathos is favoured by young people, who have enticed bar and nightclub owners to come and set up here, and turned it into a place where the pace quickens dramatically after the sun sets.
Neighbouring islands, it's a fairly straightforward sail to get from one to the other, and there are ferries that make the journey on a regular basis. They normally head over the North of the island of Skopelos, so we're heading around the South. Head East out of the marina and keep the coastline on your starboard side as you follow it South, then West, then North. You'll notice you're sailing in all the directions, so you'll need to keep adjusting your sail trim to keep pace.
There's a few beaches and bays to explore – some have tavernas to grab a bite to eat, but there's also the chance that you'll spot seals and dolphins in others, if you keep a decent lookout. Once you';re past Panormos, you should be able to see Skiathos and can head in a North-westerly direction, reaching across the prevailing wind. Skiathos Town is on the starboard side of the island as you look at it, so head for that sort of area, then bimble your way into the marina, which is to the East of the old town.
Skiathos is a very pretty old town with plenty of bars, restaurants and shops, and if you're planning on having one big night with the whole crew, here is the place to do it.

Day 5. Skiathos to Orei – 24 nM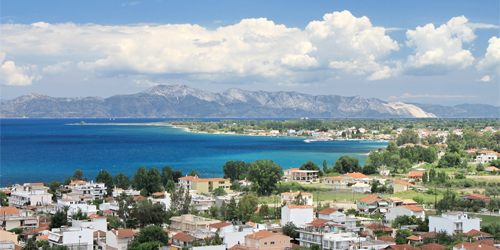 Hopefully you enjoyed the night in Skiathos and aren't feeling too worse for wear this morning. Unfortunately, after a few days of visiting the islands, it's time to start heading back to the mainland. This should give you a chance to really test how good you and your boat are at running with the wind, as it's likely the prevailing wind will be behind you for the vast majority of the leg. You obviously score bonus points for throwing in a goose-wing - you also win a kiss off the most beautiful member of the crew (you decide!)
We're heading South-west down the channel to a small farming village of Orei, which has been inhabited since around 5,000 BC, but is mainly notable for having a couple of historic castles and a giant marble statue of a bull. There's also a reasonable range of restaurants and bars on the waterfront, and if you're still interested in beaches, there's of course some of those within easy reach too, and a reef that is good for snorkelling and scuba diving.

Day 6. Orei to Volos – 25 nM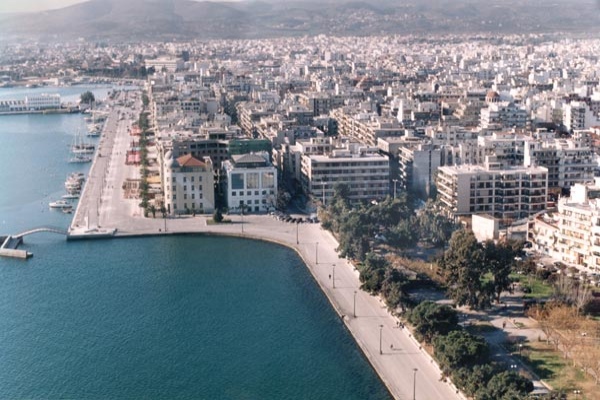 Wait, what?! How is it the last sailing day already?! It feels like only yesterday that we set off from Volos? Hopefully you will have enjoyed your holiday and the week of sailing, and your crew have all behaved. Thankfully, this isn't quite the end yet – there's a small matter of 25 nautical miles to cover before we return to living on dry land.
From Orei, it's almost a straight line Northwards to Volos, sailing up towards Kiriaki (where you spent the first night), and onwards into the Pagasetic gulf, then up to Volos. You'll likely be reaching against the prevailing wind, and it's possible to do it in one tack, but it's obviously more fun to put in a few tacks and to keep your crew on their toes, so maybe you can circumnavigate the island of Paleo Trikeri on the way?
Arriving back in Volos, you'll need to visit the fuel berth (which you should be able to spot by the long queue of other charter yachts also waiting to be refuelled, or it's on the south-west side of the fishing boat harbour, to the West of the marina). Once you're full, take the boat to about the area you got her from, moor her up one last time, and then salute the harbour-master as you shut down the engines. Someone will be along to inspect the boat tonight, but you'll be sleeping aboard tonight, and will complete the formal check-out tomorrow morning, before departing the boat, and letting her drift off into the sunset with another skipper and another crew.
If you've not yet seen much of Volos, then now is a good time to step ashore – it's a nice town in its own right, and there's enough to see, do, eat and drink to keep you busy And then you're off. Hopefully you're returning with really fond memories of the Sporades, with better friendships with all of the crew, and a giant smile on your face. Safe travels home, and we'll hopefully spot you on PlainSailing.com in a few weeks time as you start to plan your next big adventure. Godspeed.

---
Sailing Conditions
 WHAT ARE THE WINDS LIKE?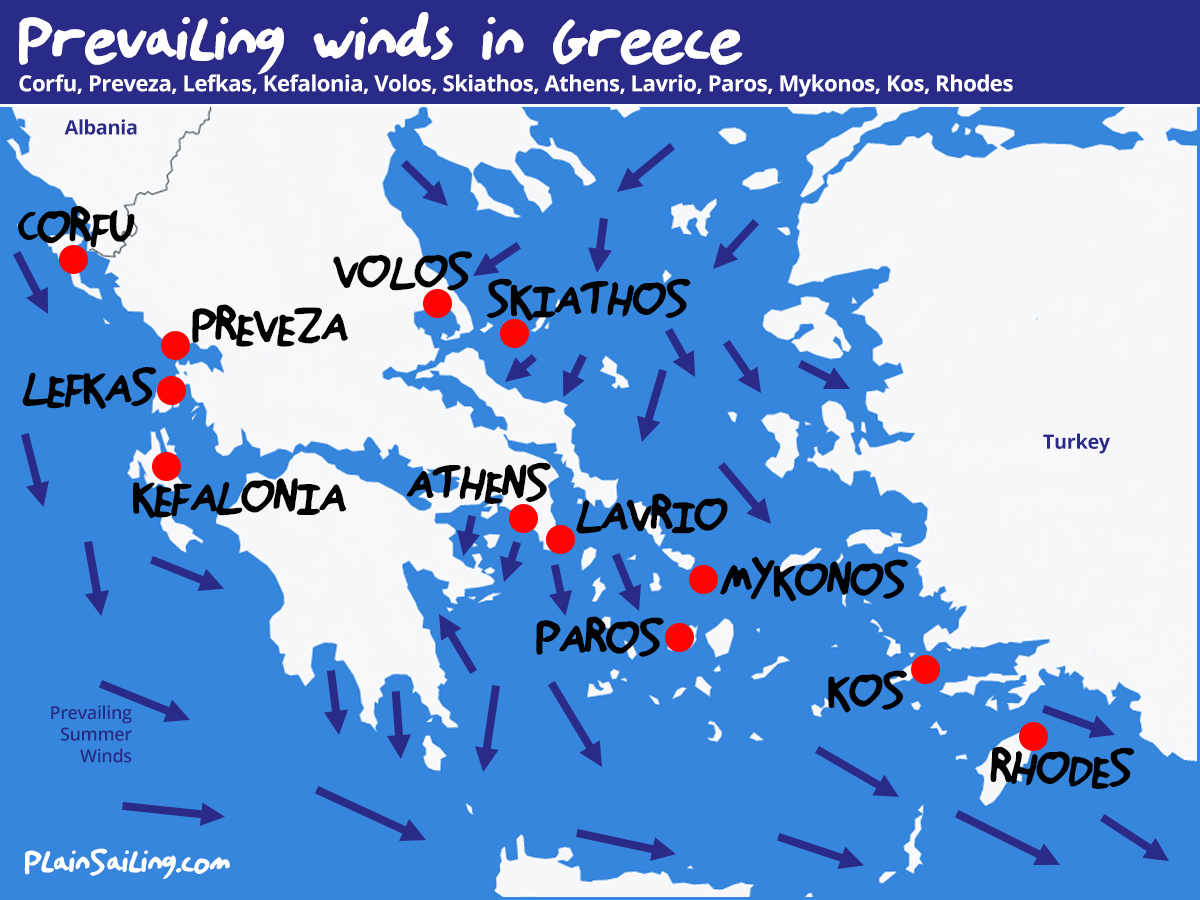 Aside from the beautiful islands and beaches, cute places to visit and delightful weather, the other thing that makes sailing from Volos so popular is the dependable winds.
In summer, the prevailing wind is a Force 3 or Force 4 which arrives from the North-east, and allows you to make decent speed and excellent progress from island to island (and to lay off the motor for the best parts of the day).
Things get more challenging later in the season, when the hot, seasonal Meltemi winds start to arrive – the are slightly stronger winds which arrive from the North or North-west from late June to August, and which can be anything from Force 5 to Force 8 (so make sure you check the weather forecast before setting sail on what looks like an innocent day!)
Generally, the Meltemi pass after a couple of days, and the prevailing North-easterly winds will return.
 HOW HOT WILL IT BE? 


Volos is 'hot, but not too hot' - whilst it is a warm place to live throughout the year, even at the peak of summer it struggles to get up beyond the low to mid-thirties. Things hot up from May to October, and between late June and early September, the weather is delightful: sunny and warm, but not so swelteringly warm that you'll be racing off to find pockets of shade to hide in..
 HOW WARM IS THE SEA? 


You already know that the weather is great in Volos all year round, so you might be surprised to hear that the sea is actually warmer than the air for about seven months of the year! For the sailing season, the sea is never below 20 degrees, which means you won't need to think twice before plunging into the crystal-clear waters. If you're there in August, then the 25-degree water will feel almost like a swimming pool!
---
Marina Details - Volos Port
Volos port is shared amongst commercial vessels, local fishermen, and, of course, sail tourism. All this makes the marina a hive of activity, and, coupled with locals and tourists enjoying an evening stroll along the marina road, the whole area seems alive. The facilities for sailors are a little dated (though it has all the usual amenities) but there's a whole townful of shops, restaurants and amenities which are within very easy reach, and you can even buy fish fresh direct from the fishermen each morning!
If your flights don't quite match that schedule, you might need to spend a day or two on dry land before getting aboard. We recommend the following places to stay: Hotel Phillipos, Aegli Hotel or the 4-star Volos Palace.
GETTING THERE:
Volos airport is located about 25 km to the south-west of Volos, and there are direct flights during the sailing season. The easiest way to get to the marina is via taxi or private transfer, which is around a 20-minute drive. It's also theoretically possible to get to the marina via public transport - buses take passengers to Volos town centre (and the marina is a short walk from there). The buses are scheduled to coincide with flight arrivals, and they often wait for delayed flights, so don't expect to go anywhere too fast (
check out the timetable
).
PROVISIONING:
You'll find a fair number of smaller supermarkets and mini-marts around the town, but if you're after somewhere to do a 'big shop', the nearest decent-sized supermarket (with a great range of produce) is the AB Vassilopoulos at
2as Noemvriou 107, Volos
, which is on the main road about 500m north-west of the marina.
FUELLING AT END: There is a fuelling berth in the Marina - head there before you head back to your home berth (there might be a queue...)
Loading Map Co-ordinates...
---
---
WHAT NEXT? Use the pink box to search for yachts or catamarans with LIVE pricing & availability - if you have any other questions or requests, get in touch via Live Chat, the Contact Form, or by phone.