Find a Boat
LIVE
Pricing & Availability
Search NOW
Yacht & Catamaran Charter in Tuscany, Italy
We can help you find the perfect yacht or catamaran to sail from Tuscany!

Sailing from Tuscany
Tuscany is renowned for its beautiful countryside, delicious cuisine and fine wine - but it also has a stunning coastline, and the seven islands of the Tuscan archipelago, which stretches across from Tuscany to Corsica, are known as 'the pearls of the Mediterranean' because of their incredible beauty. Between them, they offer beaches of all different kinds and colours, towering cliffs and rocky crags, picturesque villages, medieval hill-top castles, ancient ruins, and extravagant palaces, amongst so many other reasons to go.
Most famous is the island of Elba, where Napoleon Bonaparte was exiled for ten months. The entirety of it is not just a nature reserve, but also a UNESCO world heritage site, and it has so many marinas and secluded anchorages that one week isn't enough to see them all. We can help you find and book your ideal yacht or catamaran, with one of our trusted Charter Partners - just get in touch or search in the pink box with live prices and availability!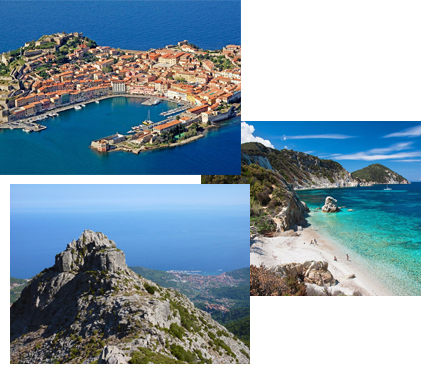 SAILING RATING: Intermediate - Italy offers more exciting sailing conditions than Greece and Croatia, but there are some places where it's useful (and a lot cheaper) to be comfortable using the anchor. Peak season is July & August, but you can sail here from March to October.
MUST-SEE: Our full suggested itinerary is further down the page, but we'd highly recommend taking in the beautiful natural harbour of Portoferraio, the incredible beaches of white, gold, red and black sand or pebbles, and teh ancient town of Marciana.
WHAT WE CAN OFFER: We have a great range of yachts and catamarans available for charter from our trusted Charter Partners, all available bareboat or Skippered. We can also arrange a Hostess, Personal Chef and other crew.
GETTING THERE: The Marina is just 1 hour from Pisa airport. We can organise transfers for you - a 4 person taxi is c. €95.
WHY BOOK WITH US? We only work with the very best professional charter operators, who we have met, know, and trust to give you the same outstanding customer service as you'll get from PlainSailing.com.

WHAT NEXT? Use the pink box to search for yachts or catamarans with LIVE pricing & availability - if you have any other questions or requests, get in touch via Live Chat, the Contact Form, or by phone.
Why book with PlainSailing.com?
We're yacht and catamaran charter experts, and can find you the best boats in Greece, Croatia and anywhere else in the Med or Caribbean - yacht, catamaran or superyacht-bareboat, skippered or crewed

We're UK based, only work with the best Charter Companies, offer exceptional customer service from start to finish and will match any price!

Independent Service Rating based on
431
verified reviews.
---
1
6-day Sailing Itinerary from Follonica, Tuscany
Our bases in Tuscany are well placed to explore the fantastic Tuscan archipelago, seven islands just off the Tuscan mainland, which are often called 'The pearls of the Mediterranean' and, legend has it, were dropped into the sea by Aphrodite herself. You could also sail across to Corsica, but at 60 nM, it's not worth considering if you are only on a short charter.
Our six-day itinerary covers 88 nM and heads anticlockwise around the largest and most beautiful of the islands - Elba. There's a multitude of villages, marinas, beaches and bays to visit, and the scenery offers a bit of everything, so you'll be surprised that you are still on the same small island. 88 nM is on the short side for distances to sail in a week – so it will be a leisurely week of sailing 3-4 hours a day - but the other islands aren't worth the effort and hours to get to and from, or worth missing parts of Elba for.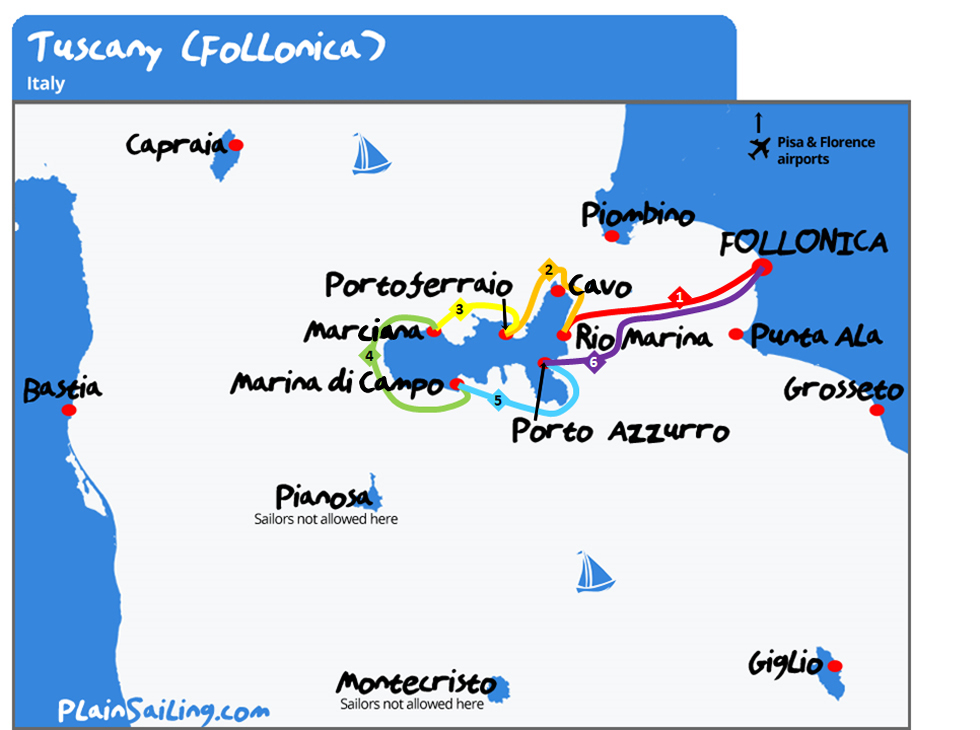 It's only a six-day itinerary as you'll likely only get on the boat on Saturday afternoon, so, once you've got your provisions and worked out a plan, you likely won't be able to do any purposeful sailing until Sunday morning. You'll also need to return the boat to the marina on Friday night for a diver inspection (but you can stay on board on Friday night, before departing on Saturday morning).

Day 1. Follonica to Rio Marina – 17 nM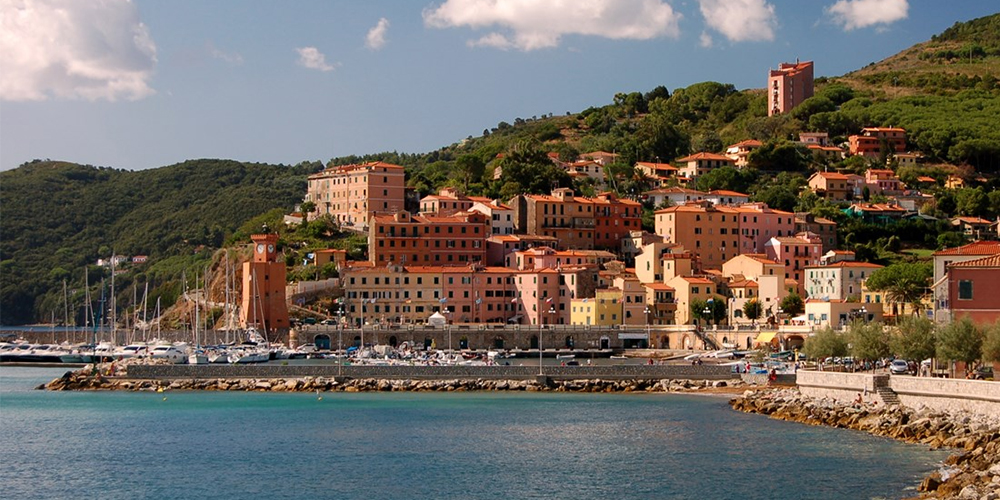 Welcome aboard, Captain! Assemble the crew, stow the provisions, and let's get things ship-shape! All of Tuscany is beautiful and picturesque (and makes great wine) but we're setting sail for a week exploring the most beautiful part of the region: Elba. Ease your way out of the marina, then get the sails up and point the nose of the bow towards Elba – the biggest, nearest and, indeed, only island on the horizon!
We're heading to the nearest part of it, Rio Marina, so it should be a straight-forward run or reach with the prevailing summer North Easterly winds, but throw in a few tacks to get your crew warmed up, and to let them work off a bit of steam.
Rio Marina is an old iron-mining town and the black beaches here are known as the 'Shining coast' because the sparkle that comes from the iron dust mixed in the sand. There's a mining museum in town if you're interested, and the town is also noted for its unmissable clock tower (if you get to the marina, it's so big, you honestly can't miss it!)

Day 2. Rio Marina to Portoferraio – 16 nM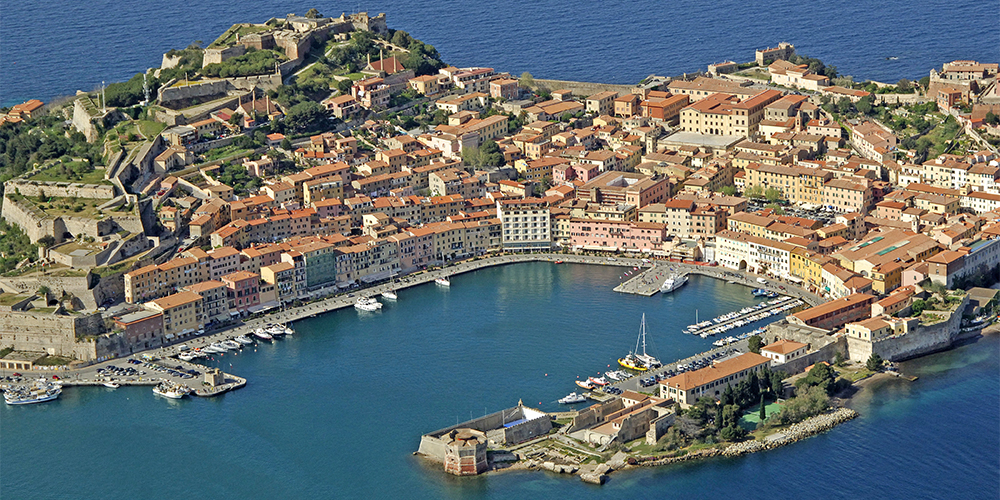 Today we're sailing from Rio Marina to Portoferraio, the main port and capital of Elba – the 'Iron port' is where most of the iron left the island in giant ships, and it's where most people arrive on the island today. It's a nice day of sailing in various directions to test out your crew and your sails, and you'll be able to get a good view at the white-sandy beaches of Cavo along the way.
Portoferraio was made the capital of the island when Napoleon Bonaparte was exiled here. He almost single-handedly developed the island from a back-water to a thriving commercial community, and the locals are proud to call him one of their own.
You can still visit the two houses he lived in whilst he was in the city, or there are a number of big forts to explore. Some historians also have theories that Jason and the famed Argonauts once landed on one of the nearby beaches!

Day 3. Portoferraio to Marciana – 8 nM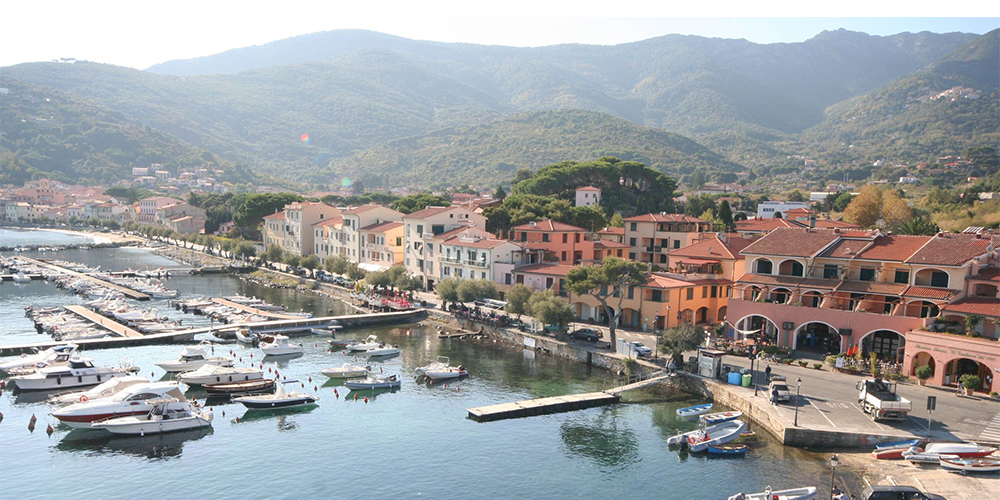 Whilst much has changed in the last few hundred years in Portoferraio, the view as you sail away from it will not be so different to what Napoleon himself saw when he was here, so imagine yourself commanding a navy as you leave the marina! We're continuing our anticlockwise circumnavigation of Elba, and rounding the headland to get to Marciana, running or broad reaching with the wind.
Marciana is actually made up of two villages: Marciana Marina on the coast, where you'll find a decent array of shops and restaurants centred around the marina, the famous Appiani watch-tower-cum-fort and a few nice beaches, and Marciana Alta, which is the hilltop town some 375m above – it looks idyllic, and there is a fort and the old mint to see, but it's hard work to get up there, so perhaps it is best viewed from a sun-lounger with a glass of the local white wine (which, by the way, is excellent!)

Day 4. Marciana to Marina di Campo – 15 nM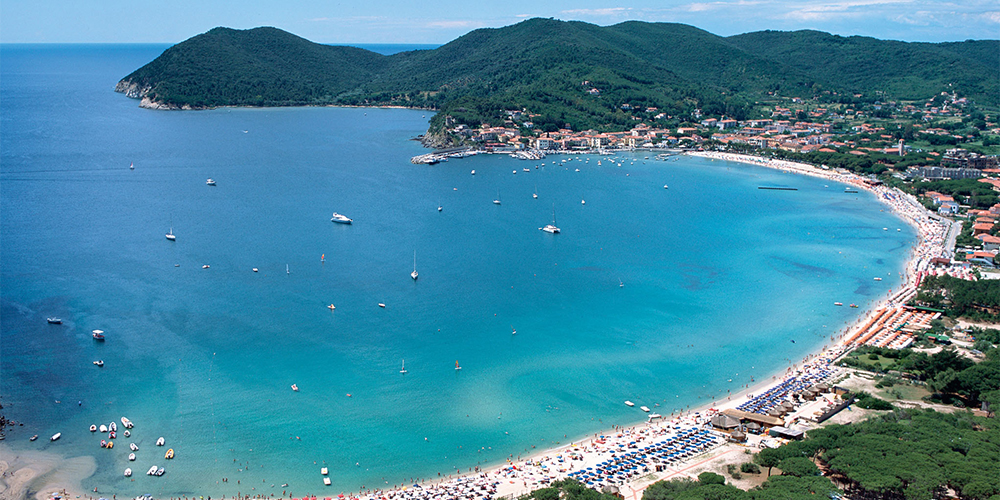 The most well-known village on Elba is possibly our next stop, Marina di Campo, which is because it is the most popular with tourists - thanks mainly to its almost unique 2km of sandy white beach – the water is only waist-high for about the first 50m of the sea, which makes it a brilliant beach for families with kids.
Getting there means we're flipping from the North to the South of Elba, essentially skirting around the bottom of the biggest mountain on the island, Monte Capanne, which is 1,019m tall. If anyone is bored of being on the boat, they could hike over the mountain and meet you on the other side – it's about 10 miles and a bit of a climb (but you could cheat and grab a cable-car from Marciana Alta to the summit).
If you're sailing, you'll pass the wreck of the Elviscot Italian cargo ship near Pomonte, which went down in 1972 on its way from Naples to Marseille and lies about 10m below the water-line. It's very popular with snorkelers and scuba divers – as is much of the coastline of Elba.

Day 5. Marina di Campo to Porto Azzurro – 7 nM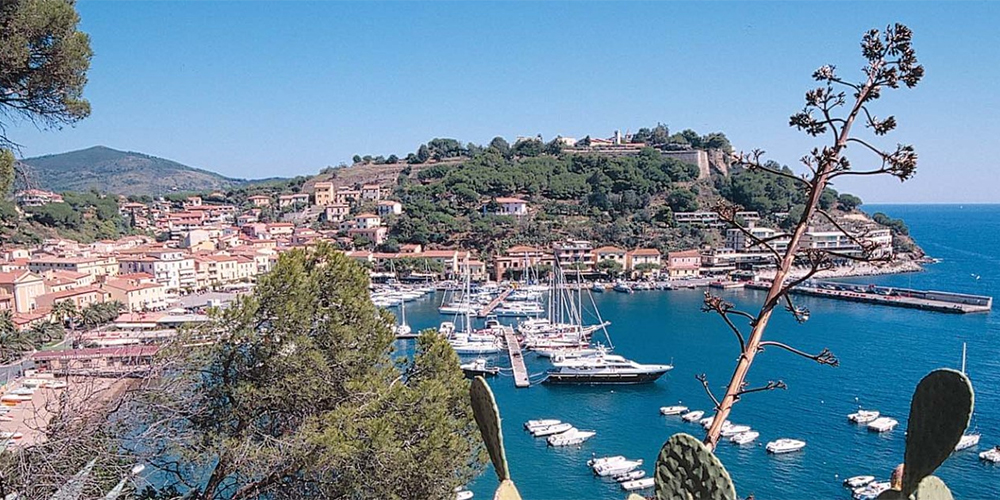 From a village built around a beach, to an historic village built around a marina – today we're sailing around to Porto Azzurro, home of the San Giacomo Fort. Elba's strategic location in the Med means there are an astonishing 12 different forts on the island, built by a mix of the Italians, Spanish (like this one) and even the English - plus there is the link to France with Napoleon. Locals claim that this cultural mix is why it is such a welcoming place for visitors from all around the world, but I'm not sure anywhere with 12 forts be classed as 'welcoming'?
The fishing village used to have a dubious reputation (and the only prison on the island), which is why they changed its name to 'Porto Azzurro' in the 1950's as an attempt to lure more tourists to the area – it worked: now you'll find a mix of holidaymakers who enjoy the history, the clear blue seas, and the beautiful old town.
Aside from the fort, there's also walks to the nearby Sanctuary of the Madonna di Monserrat, a remote hill-top church with stunning panoramas 3km away (built by a Spanish King in thanks to God for helping him land here during a terrible storm), or the green lake around the coast at Terranera.

Day 6. Porto Azzurro to Follonica – 19 nM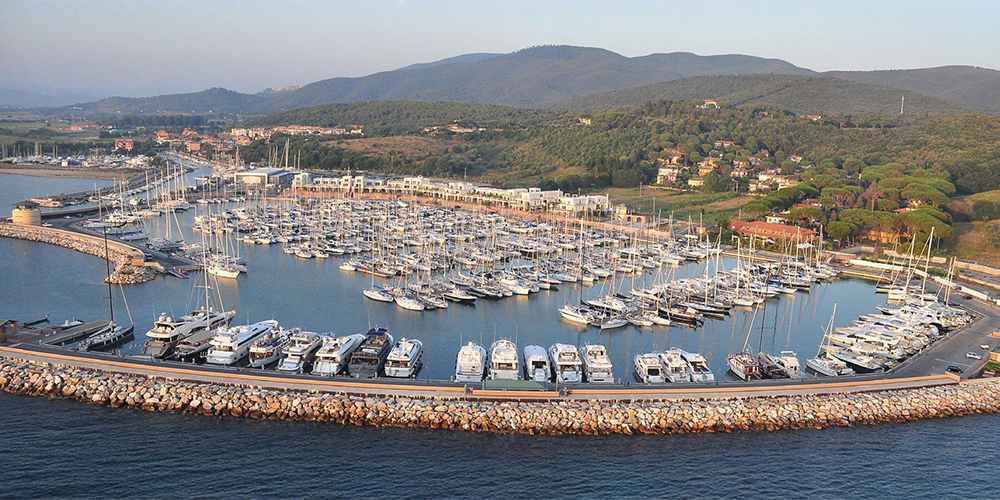 And so to our final day already. We've seen nearly all of the 165km of coastline of Elba, including its multi-coloured beaches, cliffs, mountains, lagoons and vineyards. We've explored fishing villages, mining towns, tourist towns, capital cities, churches, forts and shipwrecks. And of course, you will have enjoyed the sunshine, crystal clear turquoise seas, and delightful sailing – this really is the life, and Elba really is a magical place.
But now we're heading for home, likely tacking into the wind as we head back to the relative civilisation of the Tuscan mainland and the mega-marina at Follonica. You'll need to refuel the boat before you return her safely to where you found her. You can stay on-board overnight, and then disembark early tomorrow morning. As it's changeover, there should be a few sailors out and about tonight who you can exchange tales of your adventures.
And then the holiday is over. Have a safe journey home. Hopefully everyone got on well, you've strengthened friendships or family bonds, had a blast, and you're already talking about where you are going to go sailing next year! Head to PlainSailing.com and check out our other destination guides for inspiration, or to book another stellar voyage.

---
Sailing Conditions
 WHAT ARE THE WINDS LIKE?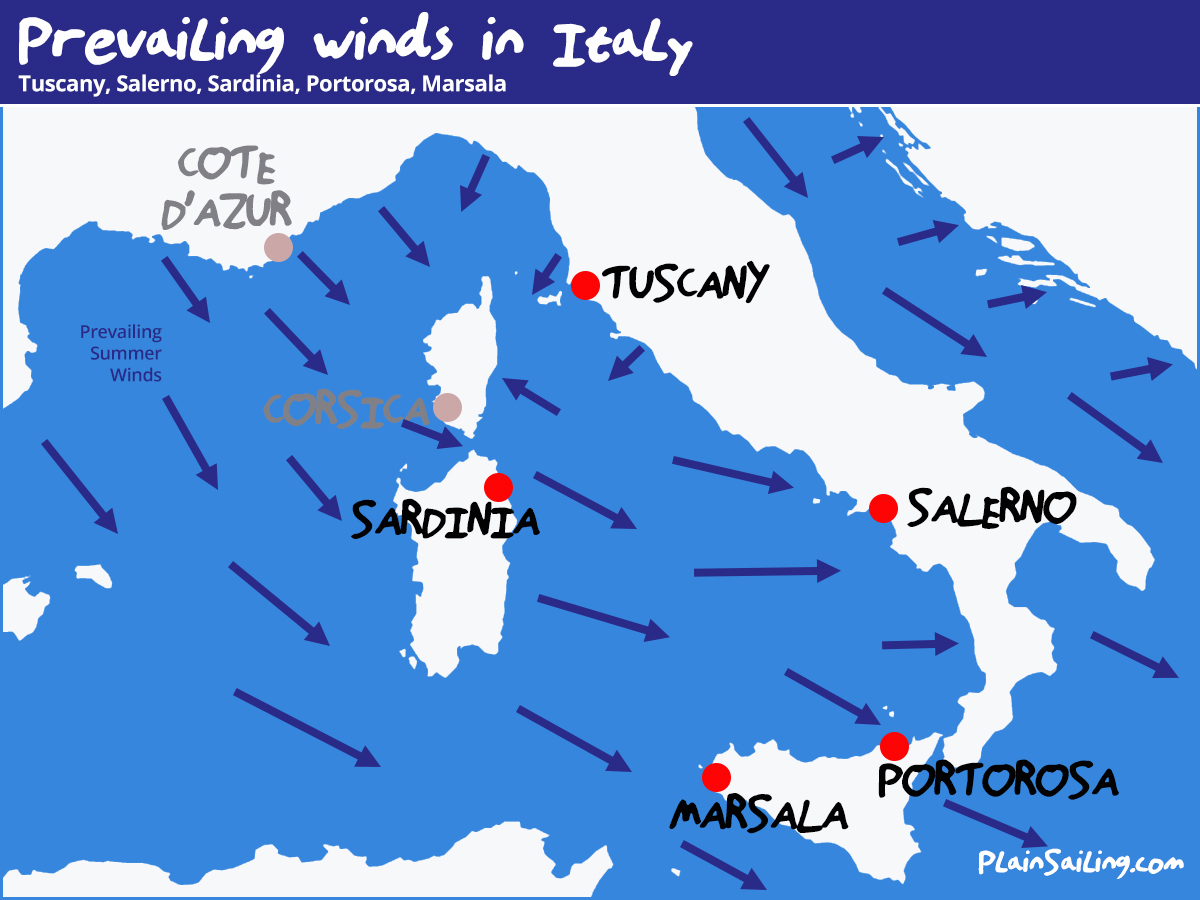 Tuscany is a great place to sail, and offers some relatively easy sailing for beginners - you'll find lighter breezes alongside the Italian mainland coast, usually arriving from the West or North-west, making transit fairly straight-forwards up and down the coast, and pleasant sailing conditions.
Things get a little more exciting for sailors as you get further out towards the islands of the Tuscan archipelago, as you notice that the wind starts to pick-up.
During the sailing season, the winds spins through the islands, and can arrive at you from any direction, though it's most likely to come from either the South-east or the North-west.
In winter, the sailing gets a little more challenging still - there is no real prevailing wind conditions, and the wind can be anything from non-existent to gale force.
 HOW HOT WILL IT BE? 


It will come as no surprise that the temperatures start to hot up towards July and August, though thankfully it tends not to get too hot, with the average temperatures still under 30 degrees. With a nice breeze from sailing it will feel very comfortable, and you'll be dreaming of being back there in the long winter months!  September and October are still warm enough for sailing.
 HOW WARM IS THE SEA? 


The sea is never too cold in Italy, as even in winter it still hits 14 or 15 degrees, though some might class that as a little 'too refreshing' to just jump in! Thankfully the sea gets warmer in the peak sailing season, opening up the water to other fun activities such as snorkelling, swimming, diving, dive-bombing and splashing each other (or just paddling if you prefer!)
---
Marina di Scarlino, Follonica
The modern and massive Marina di Scarlino is a short walk south from Follonica, has over 960 berths and is another fantastic example of a marina resort development - more than just a yacht marina, there's a hotel, 50+ holiday apartments, a swimming pool, a selection of shops and restaurants and even a pizzeria!
If you need to stay on dry land before or after your charter, we can recommend the fancy Resort Baia Aparthotel (in the marina) or the three-star Hotel La Darsena (nearby).
GETTING THERE: Being on the Italian mainland, our base in Tuscany, Follonica, is very well connected, and relatively easy to get to. Pisa airport is just over a an hour away (and we can arrange a transfer for you - just ask). You can also get to Follonica by getting the airport bus to Pisa town centre and then getting a train to Follonica. The marina is a 25 minute walk south of Follonica station. Further away, Florence is a transfer of one and three-quarter hours away.
PROVISIONING: There is a mini-market near the marina, but for your 'big shop' at the start of the week, you're better off heading to one of the supermarkets in Fallonica - we like the Conad on Via Cassarello, which is about 2 km from the marina.
FUELLING AT END: There is a fuelling berth in the Marina - head there before you head back to your home berth.
Loading Map Co-ordinates...
Castiglioncello
Castiglioncello is another big, grand modern marina in Italy, which has space for over 650 boats and which boasts about '360 degree hospitality' - there's wifi and decent toilet facilities, and, as well as a large supermarket in the marina, there's a whole 'commercial village' or shopping centre. There's also a range of multiple bars and restaurants to help you while away the hours and get set up for a week away at sea. You can also walk into the nearby town of Rosignano.
Charters are typically Saturday to Saturday, so you might need somewhere to spend the night near to the marina. If we're in the area, we head to La Marinella Hotel or Hotel Villa dei Gerani - both are nearby and offer views over the marina, and the latter also has its own private beach.
The 6-day itinerary above is for sailing from our main base in Follonica - if you were sailing from Castiglioncello, you would still head to check out Elba, but you could cut down the number of nights there and visit either the island of Capraia or the mainland marinas of Cecina or San Vincenzo on your way out or back.
WEBSITE: No website | ADDRESS: Marina Cala de' Medici, Via Agostino Straulino, 1, LI, 57016
GETTING THERE: You have a choice of nearby airports to arrve at to sail from Catiglioncello: Pisa (35 minute drive away) or Florence (1h25 away). PlainSailing.com can help arrange direct transfers to/from each airport, or public transport options are available. From Pisa, get the bus from the airport to the city, and then a train to Rosignano. From Florence, again head to the city centre, and from there you can board the same train which will wind through Pisa and Livorno and on to Rosignano. The distance from the train station to the marina is just under 1km.
PROVISIONING: Provisioning is easy - there's a large Coop supermarket which is just outside the secure marina area.
FUELLING AT END: There's a fuelling berth in Castiglioncello. Be sure to head there to refill your fuel tanks when returning your boat.
Loading Map Co-ordinates...
---
---
WHAT NEXT? Use the pink box to search for yachts or catamarans with LIVE pricing & availability - if you have any other questions or requests, get in touch via Live Chat, the Contact Form, or by phone.