Find a Boat
LIVE
Pricing & Availability
Search NOW
Yacht & Catamaran Charter in Portocolom, Mallorca
We can help you find the perfect yacht or catamaran to sail from Portocolom, Mallorca!

Sailing from Portocolom
Portocolom is superbly located to explore the East coast of Mallorca, which is the most exciting part of the island – it's here where you'll find the picture-postcard anchorages and instagrammable beaches that make it onto the covers of the holiday brochures. As well as brimming with natural beauty, there's reliable winds, virtually guaranteed sunshine, and a good collection of marinas and anchorages to overnight in.
There's lots to explore, including hopping to the islands of Menorca or the uninhabited natural wilderness of Cabrera, or even further afield, but there's so many nice places on the East coast of Mallorca that it isn't really worth the effort unless you are desperate to get the miles in. We can help you find and book your ideal yacht or catamaran, with one of our trusted Charter Partners - just get in touch or search in the pink box with live prices and availability!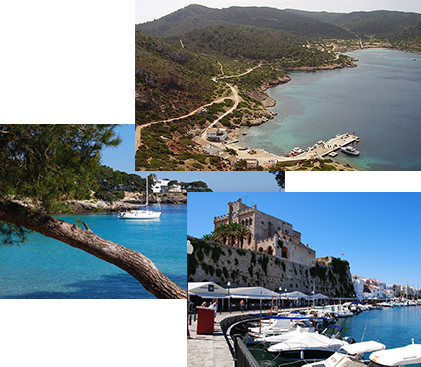 SAILING RATING: Beginner - the Balearic islands are in the Mediterranean sea, which means prefect sailing conditions for everyone. The water is warm and non-tidal, the winds are dependably strong, but rarely too strong, and navigation is easy. The trickiest bit is probably anchoring up in small calas, but there are plenty enough marinas around the coast if you prefer not to anchor.
MUST-SEE: Check out our full suggested itinerary below. We'd highly recommend taking in the natural wilderness of Cabrera, the lively and brilliant Cala D'Or, and the historic Ciutadella de Menorca.
WHAT WE CAN OFFER: We have a great range of yachts and catamarans available for charter from our trusted Charter Partners, all available bareboat or Skippered. We can also arrange a Hostess, Personal Chef and other crew.
GETTING THERE: The main Palma international airport is about a 35 minute drive from Portocolom. We can help arrange private transfers.
WHY BOOK WITH US? We only work with the very best professional charter operators, who we have met, know, and trust to give you the same outstanding customer service as you'll get from PlainSailing.com.

WHAT NEXT? Use the pink box to search for yachts or catamarans with LIVE pricing & availability - if you have any other questions or requests, get in touch via Live Chat, the Contact Form, or by phone.

Why book with PlainSailing.com?
We're yacht and catamaran charter experts, and can find you the best boats in Greece, Croatia and anywhere else in the Med or Caribbean - yacht, catamaran or superyacht-bareboat, skippered or crewed

We're UK based, only work with the best Charter Companies, offer exceptional customer service from start to finish and will match any price!

Independent Service Rating based on
415
verified reviews.
---
6-day Sailing Itinerary from Portocolom
If you're after sailing in the sunshine with reliable winds, pretty bays, sandy beaches and crystal clear waters, then you came to the right place – because that is exactly what you will get sailing from Portocolom. From here you can sail south and round to Palma (the capital of the island), head north to Alcudia, or hop over to Menorca, Cabrera or even Ibiza. It's possible to circumnavigate the whole of Mallorca in a week, but at 160 nM it's a bit of a slog.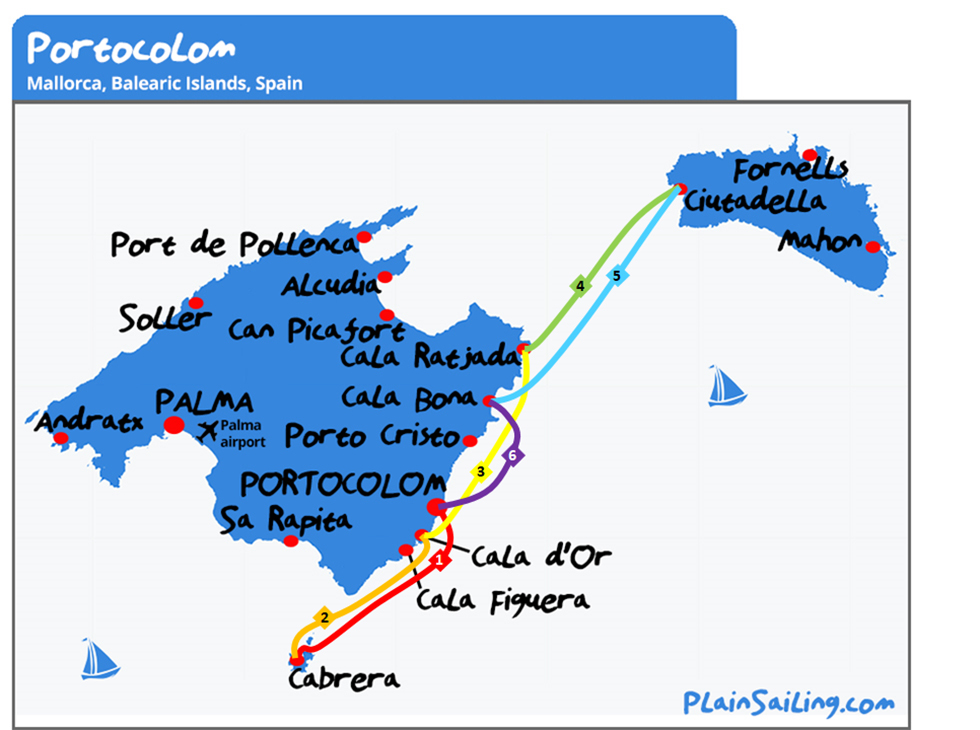 Our six-day itinerary from Portocolom is an island-hopping adventure, and the stunning East coast of Mallorca (the best coast on the island) is supplemented by the natural beauty of Cabrera and the historic town of Ciutadella on Menorca. It's 138 nM in total, sailing around 25 nM a day, which means sailing for around 5-6 hours a day. This leisurely pace means you'll have plenty of time to explore the start or end points in more depth, add extra stops for lunch or for diving in, or to just take your time and enjoy the journey.
It's only six days because it's likely you'll only get on-board in the late afternoon on Saturday, so would be able to get in any meaningful sailing until Sunday morning. The boat will need to returned back to Portocolom on Friday evening at the end of your charter (but you stay on board one last night, before checking out and disembarking the following morning). But what a six days it will be!

Day 1. Portocolom to Cabrera – 24 nM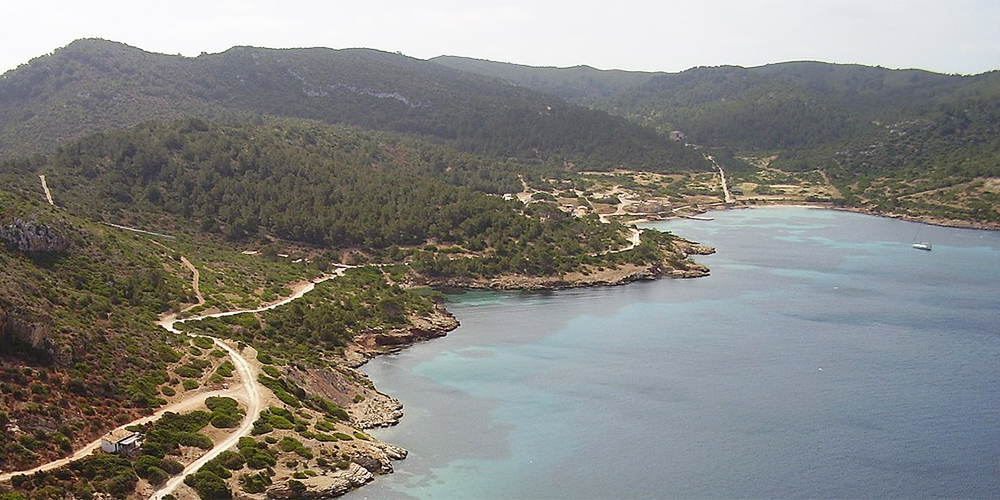 Buenos Dias, Capitan! Bienvenidos to the Balearic islands, and welcome aboard for a week of sailing adventures in the sunshine! Make sure all the crew are on board, and that you have enough food and drink for the next few days, then let's drop the lines, motor gently away from the pier, and get out of here! When you get out of Portocolom bay then turn to starboard and get the sails up – our destination for the night, Cabrera, is pretty much straight into the prevailing summer winds, so today will be a good day for practicing tacking and explaining how sails work to the rest of the crew.
Part of the charm of sailing here is about exploring the fantastic coastline and nosing into pretty looking calas for a quick break in-between all the sailing – and there are many along this coast.
Due to its remoteness, Cabrera is an uninhabited island which means that it is largely unspoilt and about as natural a place as you will find in the Med – plants, animals and birds all thrive here. It's now protected as a nature reserve, so to overnight here you will need to have pre-booked a spot, as places are limited (your charter company can help you do this). Cabrera is a very peaceful place to spend the night, way off the beaten track, and couldn't be further from the hustle and bustle of normal life – which makes it a great starting place for a sailing holiday.

Day 2. Cabrera to Cala D'Or – 20 nM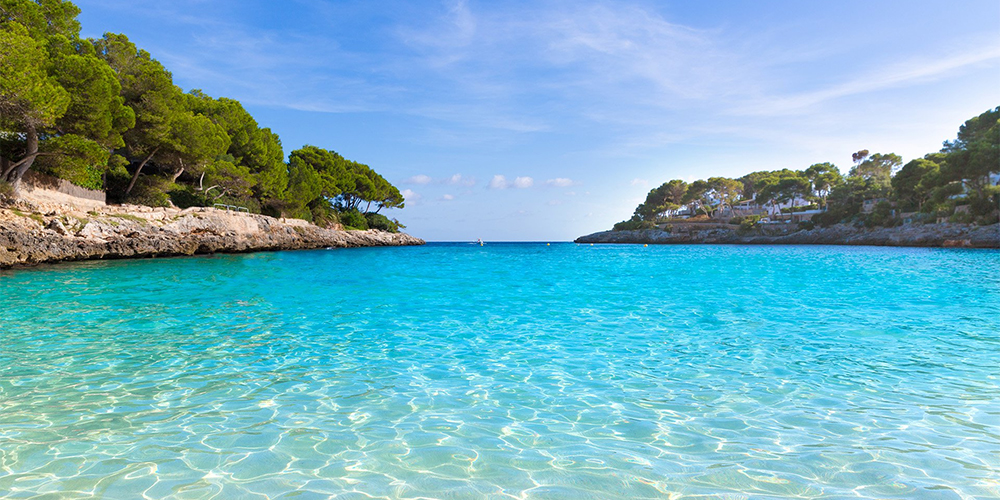 After a tranquil nights' sleep, we're heading back to Mallorca. The nearest island you'll sail past is the 'Illa de Conills' or 'Rabbit island' (see if you can spot one on there). Oddly enough, they have found evidence of a prehistoric human settlement on this island, but it seems to be an odd place to live, and I can't imagine they caught many dinosaurs.
Anyway, we're sailing onwards and upwards to Cala D'Or. The winds here get very confused as they arrive from the north to the west of Mallorca, then swing round to head off East, so you'll likely be tinkering with your sails as you bob towards the island, and then running with the wind up the East coast when you get around the corner.
We're heading to the sheltered cove of Cala D'Or ('Golden Cala' in English), which comprises three in-land bays (the marina is in the port side one as you enter). Once a cute fishing village, Cala D'Or is now popular with land-lubbing tourists, who are predominantly here for the seven picturesque golden sandy beaches, lush pine forests, and turquoise blue seas. There's plenty of options of places to eat or drink, and the town itself has managed to retain a fair chunk of authentic Mallorcan charm, so is worth a stroll.

Day 3. Cala D'Or to Cala Ratjada – 24 nM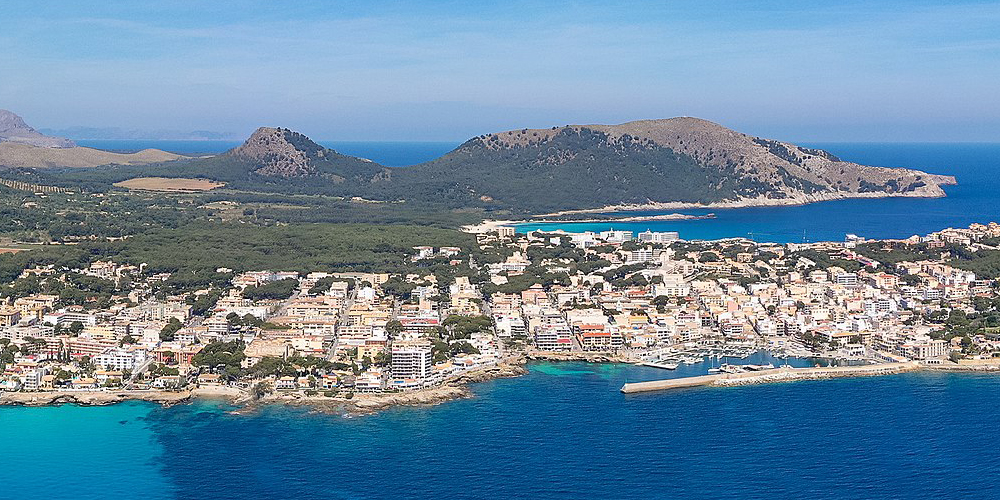 Most of the Mallorcan coastline is dedicated to tourism these days – for the obvious reason that it's a beautiful place to be, and worth travelling for. Today we're skipping from Cala D'Or, which is unashamedly centred around tourists up the coastline to Cala Ratjada, which is the nearest port to Menorca and still very much a working fishing village.
You'll still spot a few tourists, because it's right next to Cala Gat (which is arguably the best beach on the island), but much of the town is as it used to be before tourism arrived in the 1950's. To get there, we're running with the wind north-easterly up the coast, passing Portocolom amongst other calas. and onwards to Cala Ratjada, the most Eastern part of Mallorca, and the place where goods are sent to, and arrive from, neighbouring Menorca (which you can see on the horizon on a clear day – but don't worry, we're heading there next).
If you're feeling energetic, there's a fine view from Capdepera lighthouse (literally as far East as you can go on the island), or you can head to the Sa Torre sculpture gardens which include exhibits from some well-known sculptors including Henry Moore. As you'll probably work out from a walk around the town, the village is particularly well known for its lobster – it's locally-caught and delicious!

Day 4. Cala Ratjada to Ciutadella – 23 nM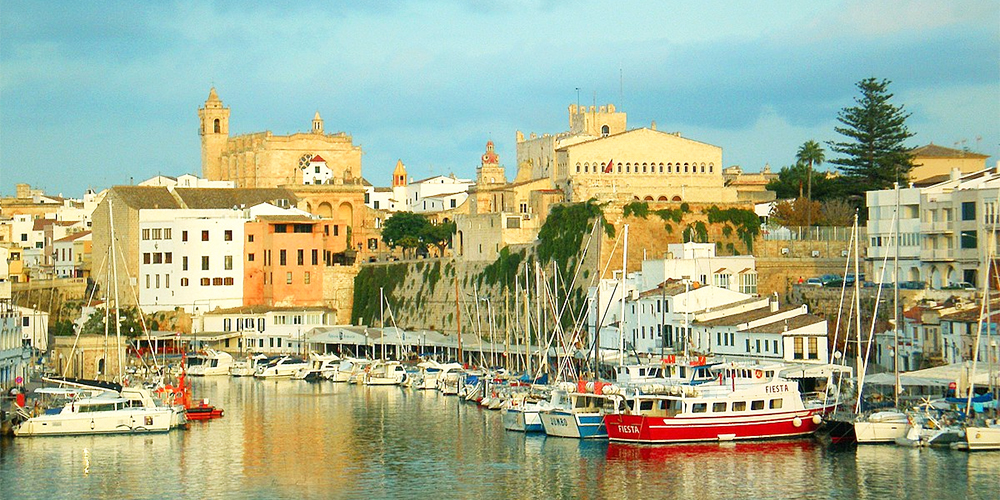 Cala Ratjada might have been an important port in Mallorca, but it is relatively insignificant compared to our next port of call, Ciutadella de Menorca, which at one time was a massively important trading town on the Med, and capital of the Balearic islands – and there is impressive architecture to prove it.
Being such an important town, it also has a gruesome history, as it has changed hands in bloody battles many times through the years – it has been held by the Carthaginians, Moors (for centuries), French and has even been won (and lost) as part of the British empire on three separate occasions. The most brutal takeover was by the Turks in 1558, who not only razed much of the buildings to the ground, but also took every single person they found on the island back to Istanbul, where they were sold as slaves.
Nowadays, the harbour is a peaceful place, and it is the centre-piece of a charming old town, with narrow atmospheric streets, fine churches, and welcoming plazas. It's largely unspoilt by tourism because the island was a Republican stronghold in the Spanish Civil war, and the Spanish nationalist dictator General Franco thought he was punishing them and their economy by not allowing them to build the sort of ugly high-rise tourist apartments and hotels which are commonplace across Spanish tourist resorts – in hindsight, perhaps not such a punishment after all.

Day 5. Ciutadella to Cala Bona – 32 nM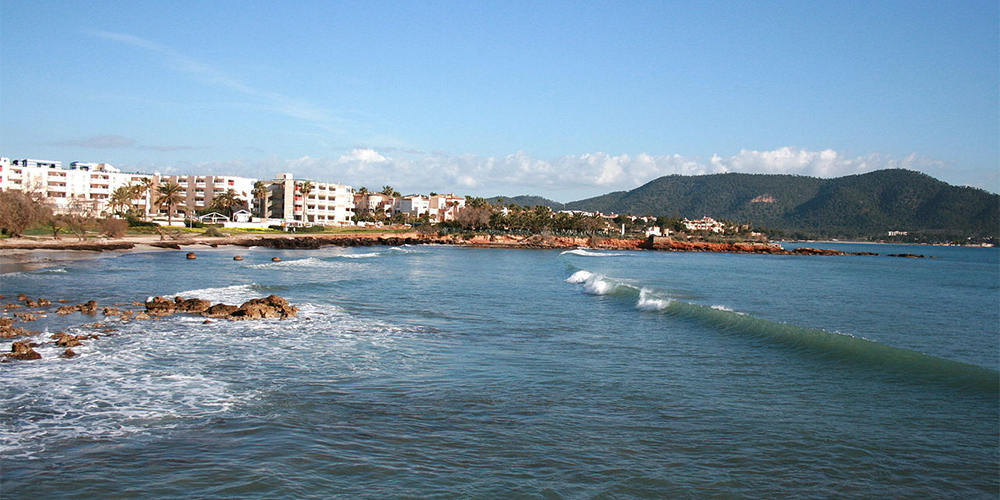 Today is the longest leg of sailing, and we're hopping our back to Mallorca, tacking up the prevailing summer winds, although, similar to the zone between Cabrera and Mallorca, the dominant winds can be from almost any direction here, and it can change every few minutes. It would be nice to sail to Mahon, capital of Menorca, but Ciutadella is a much nicer and more authentic place to visit if you're only there for one night.
We're sailing back past Cala Ratjada (nose in to Cala Gat for a swim if you have time – like I said, it is supposed to be the best beach on the island), and onwards down to Cala Bona, which as little as 60 years ago was a handful of wooden fishing buildings, but is now combined into a big tourist zone with neighbouring Cala Millor, with all the facilities, shops, restaurants and bars that that entails – as well as a reasonably modern marina.
There's a few nice beaches within walking distance, but there's also some nice bars along the waterfront, and even overlooking the marina, which are a pleasant place to sit and watch the world go by, particularly after a decent leg at sea.

Day 6. Cala Bona to Portocolom (via Porto Cristo) – 15 nM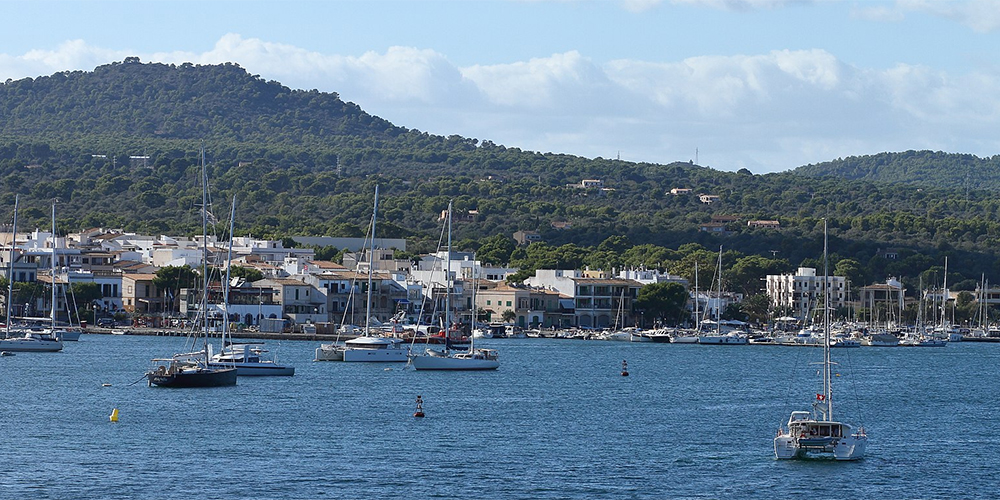 Wait, it's the last day already? Where did the time go?! That means that we have to get the boat tucked up back in Portocolom by this evening (but you can stay overnight on the boat and check out in the morning). It's not a huge distance to cover in a glorious day of sailing, which means you can take your time and sail at a leisurely pace. On the way, you can stop off at the wonderful town of Porto Cristo – so named because an abandoned fishing boat with a crucifix in got washed up on the shore here in 1260. If you stop here, then you'll be within 5km of where a certain Rafael Nadal, champion tennis player, was born (in Manacor), and he lives in a swanky villa in the area.
Then onwards to Portocolom, not forgetting to fill up at the fuel berth in the bay before returning the boat back to where you found her. Attached the lines, turn off the engine, and we're done. Hopefully you've had a fantastic week exploring Mallorca, eating the seafood, and enjoying time with your crew. The sign of a good sailing holiday is that you're already talking about where you want to go sailing together next time – in which case, check out the other places you can sail on PlainSailing.com.
If you haven't yet had chance to explore Portocolom, then it's a quiet small holiday town which has a few restaurants and bars. Most people come here to spend the day at Cala Marcal beach. And then it's time to leave the boat, taking with you the memories of a life at sea, and leaving with better friends than you arrived with. Have a safe trip home, and hopefully see you online soon :)

---
Sailing Conditions
 WHAT ARE THE WINDS LIKE?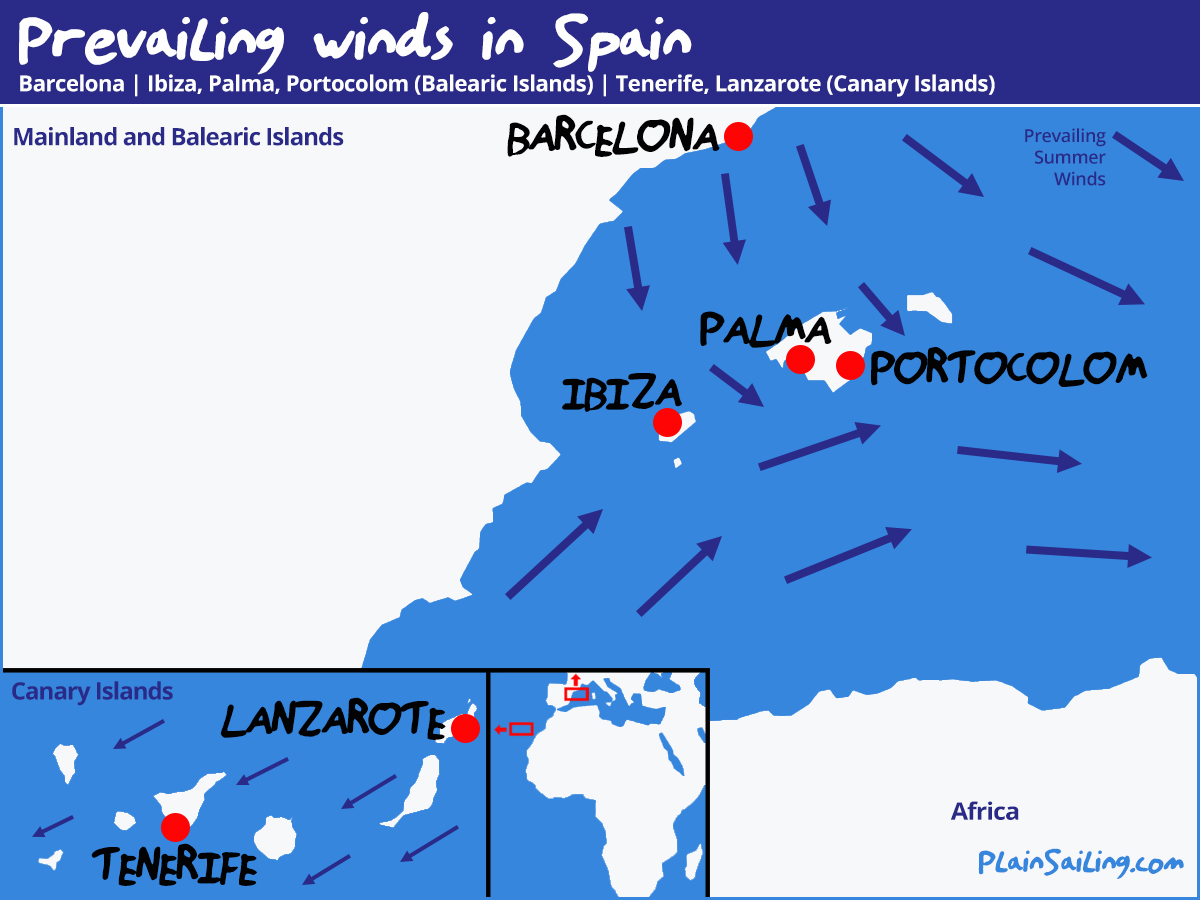 The winds in Mallorca are reliable in strength, but the direction they arrive at varies depending upon where you are on the island. On the North and South-western coast, they arrive from the North, but they swing round so that the winds you'll find on the South-east coast are coming from the West, and racing across the Mediterranean to Italy, Greece, and eventually Turkey.
Everywhere in between has a mixture between these two major winds, and the dominant wind can change by the minute if you're stationed somewhere between the two, like in Cabrera.
They're typically force 3 to force 4 throughout the year, and strongest in spring and autumn. In winter then there's no such thing as a prevailing wind, and the winds can arrive as cold winds rolling down from the Pyrenees mountains to the North, or as tropical winds from equatorial Africa from the south. Most weather systems tend to pass after a few days though.
 HOW HOT WILL IT BE? 


The weather in Portocolom is fantastic – there's sunshine pretty much all year round. It's t-shirt weather from around April, but things start hotting up from mid-May. It's warmer still in June, and in July and August then it's so hot and sunny that there is no excuse not to dive into the sea, or help yourself to a nice cool drink or an ice-cream. September and October are still pleasant times to sail.
 HOW WARM IS THE SEA? 


You can go for a dip in the water near Portocolom all year round – it never gets lower than 15 degrees in temperature, which is still warmer than parts of the UK get in mid-summer! The water is pretty fresh until April, but is bearable in May, comfortable to bathe in by June, and by July and August, it's almost like getting into a heated swimming pool. Sea temperatures lag behind the air temperatures, so the water is still warm enough to dive in in October.
---
Marina Details - Club Nautic Portocolom
Portocolom is a cute Mallorcan town. The main benefit of starting here over Palma is that it's a much better jumping off point for exploring either the East coast, hopping up to nearby Menorca, or sailing to the natural paradise of Cabrera. If you need somewhere to stay on-land in Portocolom, then we can recommend the Hostal HPC Portocolom, which is also the closest hotel to the marina.
Portocolom marina is a well sheltered marina tucked in a bay or cala away from the main Mallorcan coast. The marina and facilities here are ok, and the town is nearby, so there is everything you will need, plus great views out to sea.
WEBSITE:
cnportocolom.com
|
ADDRESS:
Club Nautic Portocolom, Carrer dels Pescadors, 23, Mallorca, 07670
GETTING THERE: Palma airport is the only airport on the island, which is about 50 minutes drive away - we can help with arranging a private transfer. If you wanted to arrive by public transport, you'd have to get a bus into Palma city-centre and change there for a bus to Portocolom (but beware that there are not many buses per day travelling from Palma to Portocolom).
FUELLING AT END: There's a fuelling berth in Portocolom, so head there before returning your boat on the final day.
Loading Map Co-ordinates...
---
---
WHAT NEXT? Use the pink box to search for yachts or catamarans with LIVE pricing & availability - if you have any other questions or requests, get in touch via Live Chat, the Contact Form, or by phone.