Why Book With Us?
Simple, straightforward process
Outstanding customer service
Friendly UK-based team
Pre-order food, kit or WiFi onboard
Join Our Mailing List
Charter a yacht in Scotland
Specialists in yacht charters across Scotland - from Inverness to Oban, and everywhere else in between! We can help you find the right yacht for your sailing trip!
---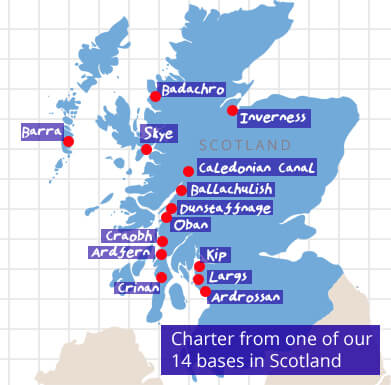 Happiness guaranteed. Charter from our trusted partners in 14 locations across the Scotland, the highlands and islands. UK based, we'll beat any price!
The winner of the Sailing Today 'Cruising ground of the year' in 2015, Scotland offers beauty and tranquillity coupled with exceptional sailing facilities.
At PlainSailing.com we charter yachts from 13 marinas across the country – from the west coast around the Clyde, to the Scottish islands of Oban and Skye, and the far north, from which you can charter a yacht to negotiate the Caledonian canal or set sail for Scandinavia!
With a proud history of boats, the Scottish marinas are very well geared up for sailing tourism, with the marina being a focal part of each area - often the best restaurant in the area is in the marina (and their fresh fish is invariably delicious)!
Being Scotland, we can't guarantee you sunshine, but we can guarantee some outstanding sailing, incredibly picturesque views, and fantastic hospitality. The Scots are renowned globally for their welcoming nature, and that rings true: wherever you land, you'll doubtless be greeted by a warm 'Hallooo'.
At PlainSailing.com, we also guarantee that you're getting a great price, and what's more, we'll beat any like-for-like quote. On top of that, we can find the right holiday for you: just contact us with your requirements and we'll find the right yacht and cruising area for you!
Sailing wise, the sea is tidal, so you might need to check your tide tables – particularly around inverness where a number of marinas can only be entered at certain times of the day. But that adds to the challenge and drama of sailing in Scotland. The winds are usually reliable and generally strong enough to enable you to get the boat heeling over.
All of our locations are excellent, but some of our favourite cruising areas are:
Clyde - [Charter from Largs] Bathe in the infinity pool at the luxury Portavadie resort, moor up for a distillery tour on the isle of Arran, or round the Mull of Kintyre. Longer trips could head to Northern Ireland.
West Coast islands – [Charter from Oban] Explore the myriad of west coast islands, including the amazingly colourful Tobermory, made famous by a BBC TV programme. Best for dolphin and whale watching.
Outer Islands - [Charter from Skye] Skye and Barra are beautiful remote islands where tranquillity and nature are in overwhelming abundance. Skye has mountains, beaches and charming harbour towns.
Inverness – [Charter from Inverness] The northern-most tip of Scotland, so hard to get to, but well worth the effort when you get there. The Caledonian canal offers inland sailing from Viking times, or brave the strong tides of the North sea.
Destinations
Tags: UK Yacht Charter, Scotland Yacht Charter, Bareboat and Skippered Scottish Yacht Charters