Find a Boat
LIVE
Pricing & Availability
Search NOW
Sailing in the Canary Islands
Extend your sailing season with a sail in the Canary Islands.

The weather is so nice in the Canary islands that the sailing season never ends – it possible to sail here literally all year long - and with the super-reliable trade winds, exhilarating sailing is virtually guaranteed. The tidal waters and relatively strong winds mean that we recommend sailing here for intermediate or advanced sailors.
Located some 600 nM from mainland Spain, this volcanic archipelago comprises eight main islands, including Tenerife and Lanzarote (where we have bases), and La Gomera, the island from which Christopher Columbus sailed west into the unknown, and five weeks later, arrived in the Caribbean – creating a sailing super-highway to the Americas.
As well as hundreds of years of nautical history, there's terrific volcanoes and giant cliffs to gaze up at in wonder, dolphins and whales to spot, exceptional beaches to relax on, cute villages to explore, and much more besides, coupled with excellent modern marina facilities and perma-sunshine.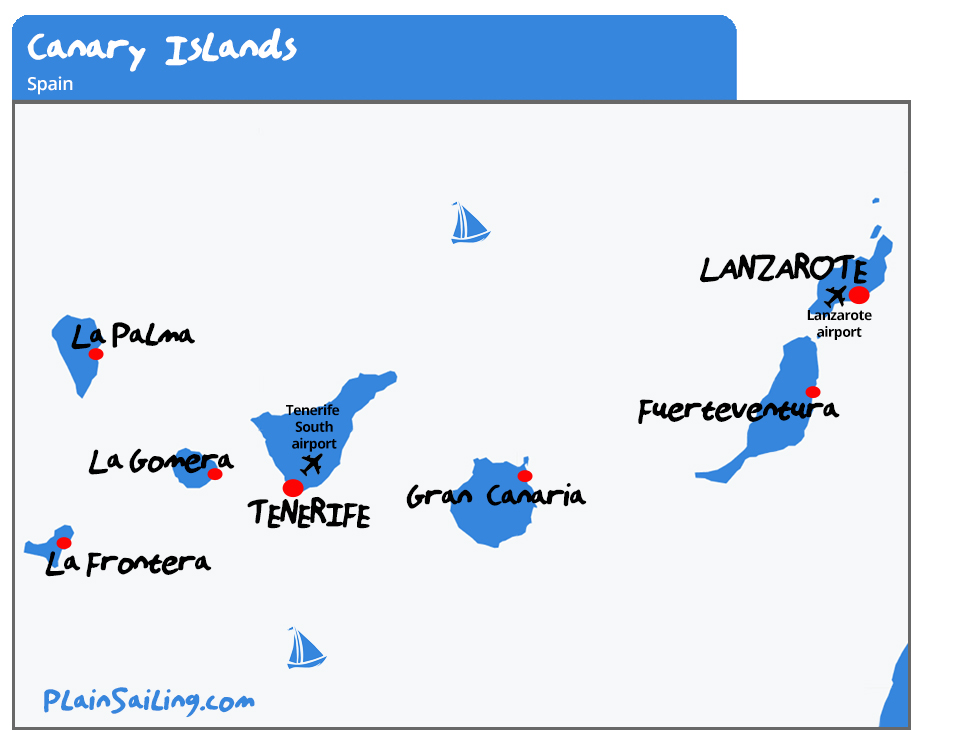 Some 12 million tourists visit the islands each year, but with the reliable winds, the best place to be in the Canary islands is on your own private yacht or catamaran, where in addition to everything the land-lubbing tourists get, you can island hop, get off the beaten track, and find your own adventure.
You can explore the Canary islands from our bases on Lanzarote (charter from the capital, Arrecife) and on Tenerife (charter from Las Galletas on the South coast). Both are located within a 15 minute drive of the main international airport on their island, and private transfers can be arranged.
To find out more about our bases in the Canary islands, and the places to sail to from each of them, then check out our comprehensive destination guides, which include a suggested sailing route, what winds and weather to expect, what to see and do, and much, much more:
If you need to know anything else, just grab us on Live Chat, give us a call, or get in touch via our contact form.
 
Tags: Canary Islands Yacht Charter, Catamaran Charter in the Canary Islands, Lanzarote, Tenerife, Arrecife