Find a Boat
LIVE
Pricing & Availability
Search NOW
Yacht & Catamaran Charter in Valletta, Malta
We can help you find the perfect yacht or catamaran to sail from Valletta!

Sailing from Valletta
Valletta has been a sailing destination for thousands of years, with it's location at the very heart of the Mediterranean Sea making it one of the most naval bases for everyone from the Romans to the Crusaders, to the modern day explorers.
And now, you can join them! We can help you find and book your ideal yacht or catamaran, with one of our trusted Charter Partners - just get in touch or search in the pink box with live prices and availability!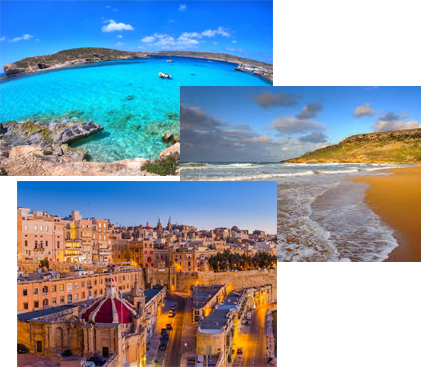 SAILING RATING: Intermediate - in general, there's moderate winds around the island, and the prettiest places to sail are well sheltered, but winds can pick up and the coastline can feel quite exposed. Peak season is July & August, but you can sail here from April to November.
MUST-SEE: We're working on our full suggested itinerary, but for now we'd highly recommend taking in the Blue and Crystal lagoons on Camino, the beautiful bays of Gozo, and of course the classic architecture of Valletta.
WHAT WE CAN OFFER: We have a great range of yachts and catamarans available for charter from our trusted Charter Partners, all available bareboat or Skippered. We can also arrange a Hostess, Personal Chef and other crew.
GETTING THERE: The Marina is c. 30 minutes from Malta's main airport. We can organise transfers for you - a 4 person taxi is c. €40 - 50.
WHY BOOK WITH US? We only work with the very best professional charter operators, who we have met, know, and trust to give you the same outstanding customer service as you'll get from PlainSailing.com.

WHAT NEXT? Use the pink box to search for yachts or catamarans with LIVE pricing & availability - if you have any other questions or requests, get in touch via Live Chat, the Contact Form, or by phone.
Why book with PlainSailing.com?
We're yacht and catamaran charter experts, and can find you the best boats in Greece, Croatia and anywhere else in the Med or Caribbean - yacht, catamaran or superyacht-bareboat, skippered or crewed

We're UK based, only work with the best Charter Companies, offer exceptional customer service from start to finish and will match any price!

Independent Service Rating based on
431
verified reviews.
---
6-day Sailing Itinerary from Valletta
Valletta is a beautiful place to sail, and, whilst there's only three main islands, there's enough variation to make it feel like you're island-hopping. Sicily looks close by, but it's 50 nautical miles away, and not really worth the slog when Malta has such a famously beautiful coastline.
Our six-day itinerary includes circumnavigating all the main islands, so that you can literally say that you've seen everything that Malta and Gozo have to offer. Sailing around all three is also the only way to get a decent sailing distance in – this itinerary clocks in at 86 nM, which should make for some leisurely paced sailing – the longest leg is only 22 nM, which means about 4-5 hours of purposeful sailing, which leaves plenty of time for exploring the area, bathing, stopping en-route for lunches, etc…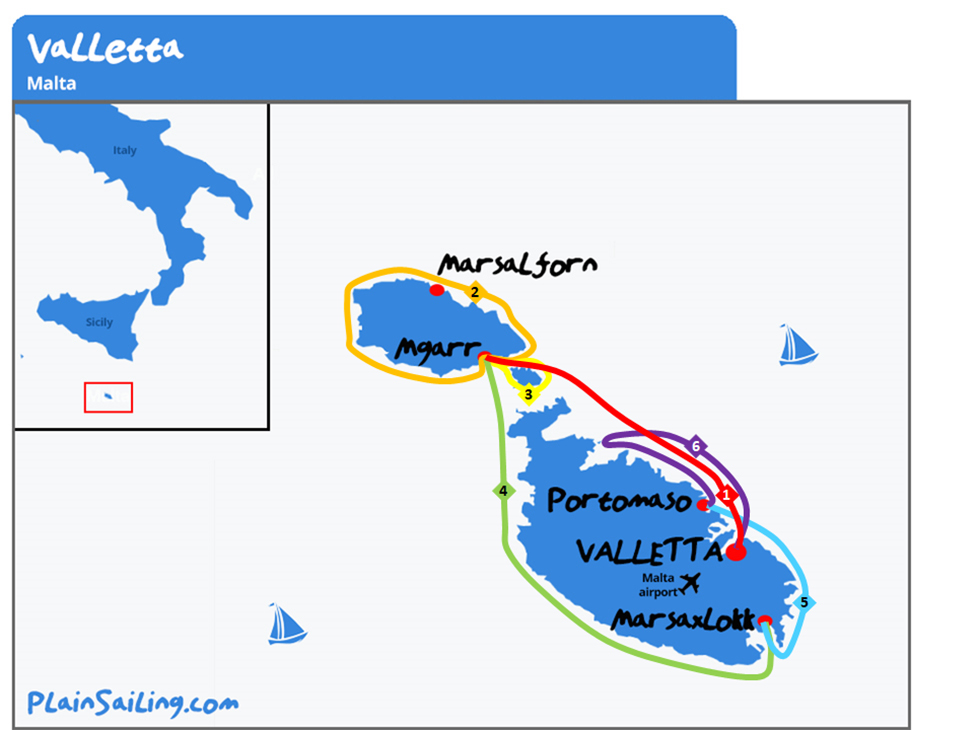 Every PlainSailing.com itinerary takes you to a marina each night – in this case, Malta doesn't have too many marinas, so we return to Mgarr marina (the best one in the area) for a number of nights, but you could easily substitute the marina for one of the local anchorages – like Mgarr ix-xini on Gozo, Mellieha bay on Malta, or even overnighting in the bays around Comino.
It's only a six-day itinerary because you probably won't be able to sail after boarding the boat on Saturday afternoon or early evening, and you'll have to return the boat to Valletta on Friday evening (before staying on-board overnight and disembarking first thing in the morning). This allows our operators to check the condition of the boats to make sure that they're still in one piece, and that there isn't any major work they need to do before the next set of holidaymakers arrive tomorrow.

Day 1. Valletta to Mgarr – 14 nM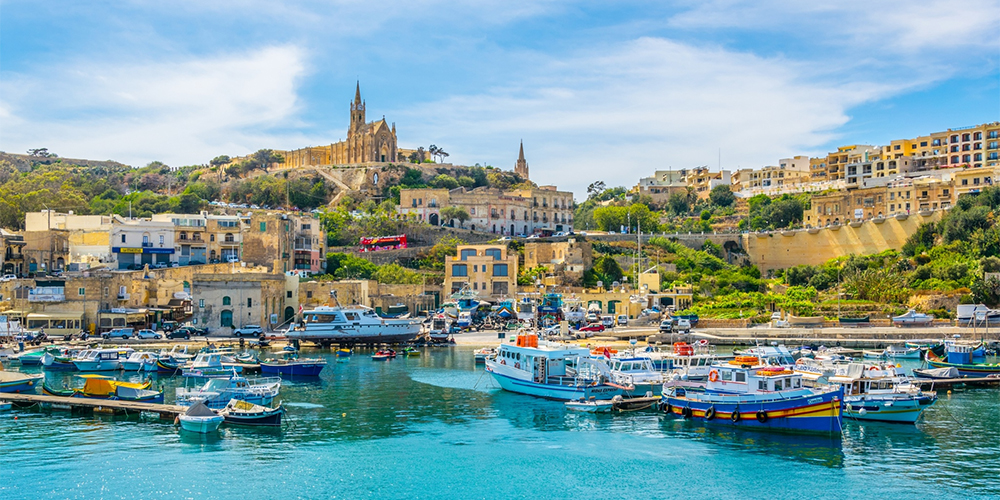 Bongu (Maltese for Hello), Captain! Hope you're feeling in the mood for some sailing: let's get the crew and the provisions on board, and get out of here. People have been sailing out of the Grand Harbour area in Malta for hundreds of years, and now it's our turn. Nose out and then point your good ship to port and we're heading up the coast, likely tacking up the prevailing summer wind.Today is a bit of a taster day to get you and the crew familiar with the boat, so feel free to throw in a few extra tacks than is strictly necessary to keep the crew on their toes. Now would also be a good day for a 'Man overboard' drill if any of the crew get a little restless.
Today we're heading to Mgarr Harbour on Gozo island, sailing past St Paul's island and the blue lagoon on Comino (both of which we'll be returning to explore in a bit more detail later in the week). Mgarr is a pretty harbour-town, which is dominated by Fort Chambray - which was originally planned to be the first part of a walled city like Valletta, but the local Gozitans (Be careful not to call them Maltese!) couldn't be bothered moving in from the nearby farms.
A ferry service has been running from here to Malta since 1241, so there's a decent range of places to eat, drink and relax.

Day 2. Mgarr to Mgarr (Sailing around Gozo) – 20 nM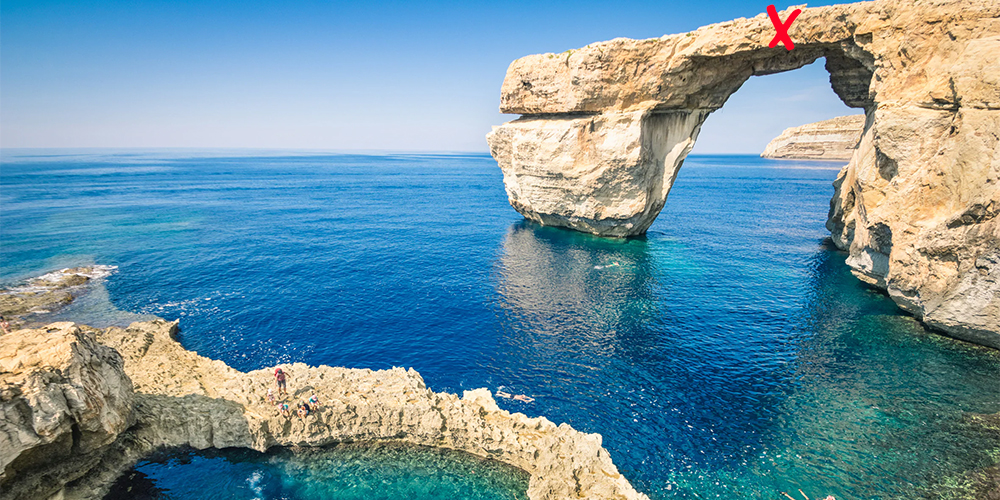 Gozo is the less developed sister of Malta, and basically shows what life was like in Malta back in the olden days, before the tourists arrived. Of course, tourists also come to Gozo now – mainly drawn by the authentic villages, scenic hillsides, superb beaches and snorkelling or diving. They also come for the history: believe it or not, the oldest standing structures in the world (the megalithic Ggantija temples from around 3,600 BC) are on central Gozo (and only about a 15 minute taxi-ride from Mgarr if you have time).
Today we're circumnavigating Gozo in its entirety, so take your pick of which beaches you stop at, or which bays to explore. There's also stunning cliffs to take in. Of note, Marsalforn beach on the north-east coast is the best beach (and now a popular tourist resort with land-lubbers), and Dwerjra bay on the west coast was the home of the Azure window, a 28m natural arch rock formation. It featured in the Dothraki wedding scenes in Game of Thrones and was the most popular landmark on Gozo until it collapsed in a storm in 2017.
Dwerjra bay also houses 'Fungus rock' – a large rock upon which the Knights Hospitaller found a specific fungus which they believed had healing powers. For several years, there was a knight stationed on top of this rock all year long to protect it – no seriously - and trespassers faced the threat of three years being an oarsman. As I'm sure you guessed from the lack of huge riches nearby, it turns out that it was just a rock with plain old fungus on it.

Day 3. Mgarr to Mgarr (Comino) – 7 nM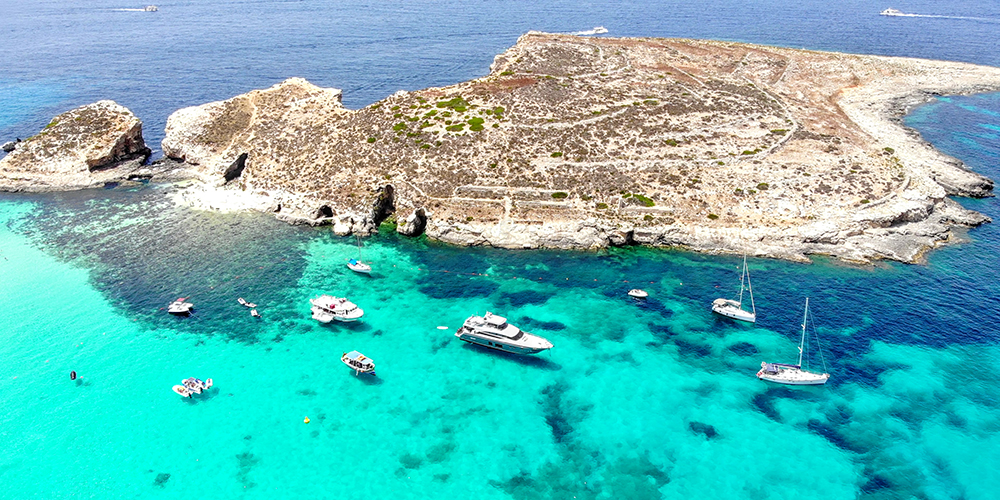 After testing the crew by sailing a full 360 degrees yesterday, it's time for a bit of a break – so we're sailing to Malta's famous Blue lagoon, the ultimate place for some rest and relaxation in the archipelago. It's a shallow area of sea which is so-called because it has crystal clear light-blue cyan waters. With its white sandy beaches, it's the sort of spectacular scene you normally find on the front cover of holiday brochures.
Luckily, Mgarr harbour is only a short hop away from the Blue Lagoon (which is located between the islands of Camino and Caminotto)¬ so you can get there nice and early to secure one of the best spots to anchor the boat whilst you swim, snorkel and generally splash about (anchoring is allowed here overnight too). Be sure to sail once around the island on the way back to Mgarr.
Comino has been farmland, a hunting ground, hospital, quarantine zone, prison and battleground in its time. Nowadays it has three permanent residents (the fourth died in 2017), and a policeman and priest who commute from Gozo. Of note, there's St Mary's lookout tower, built in 1618 as an early-warning system to spot enemy ships on the horizon.

Day 4. Mgarr to Marsaxlokk – 22 nM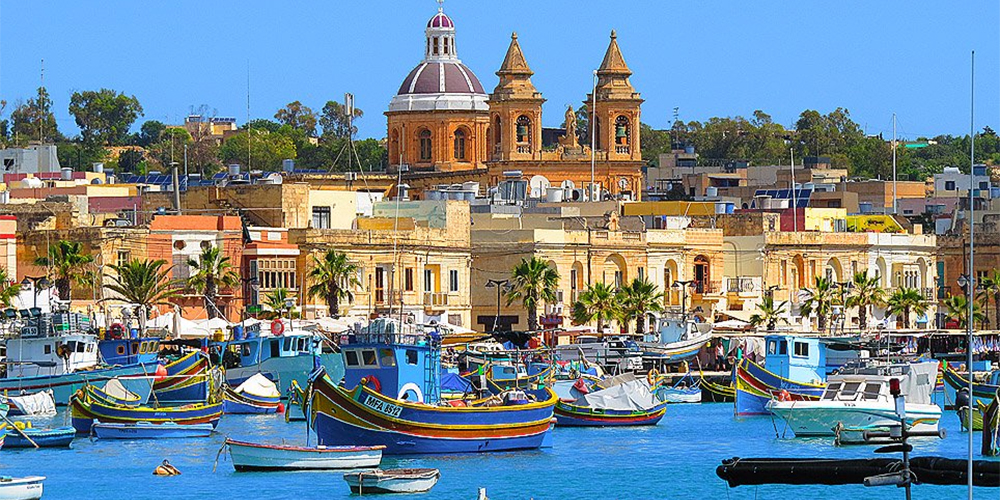 After completing a lap of Gozo and Comino, we just need to sail around Malta itself, so we're heading down the wild west coast of Malta today to finish up in the colourful fishing village of Marsaxlokk, where the locals are waiting to give you a fine welcome.
En-route, at Anchor Bay you can check out 'Popeye Village' - in the days before CGI, they built houses, jettys and all the trimmings of 'Sweethaven' village as a set for filming the 1980 Popeye film starring Robin Williams. It is still standing and is one of the most popular tourist attractions in Malta!
There's a couple of beaches between Mgarr and Marsaxlokk, but you'll be running the boat with the prevailing wind alongside past towering cliffs (and the Blue grotto caves). Marsaxlokk is a little port bustling with old-school painted wooden 'Luzzi' fishing vessels. It's a beautiful place to sit and relax at sunset, and it's here that you'll find the best seafood on the island. Interestingly, in the 1930's Marsaxlokk was an airport-hub for flying-boats as part of the British Empire (dignitaries landed, connected and refuelled here en-route to Zimbabwe and South Africa), and in 1989 Ronald Reagan and Michael Gorbachev met and declared the end of the Cold war from a boat moored in this bay!

Day 5. Marsaxlokk to Portomaso – 11 nM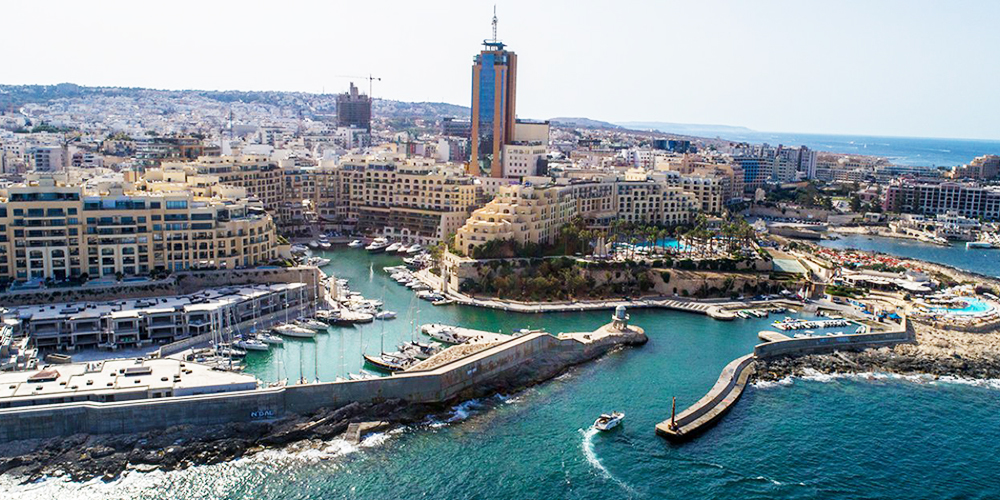 And now for something completely different: from the ancient village of Marsaxlokk, we're heading to the ultra-modern Portomaso, a new multi-billion-pound entertainment district in Malta. It's the home to luxury apartments, hotels, fine dining restaurants, and a high-rolling casino, all built around a swish new marina. Portomaso is also the home of Malta's tallest building - though the Portomaso tower is still only 97 metres tall, I suspect the people who work in the offices here have the best views on the island.
If you've not yet sampled Maltese wine, then get a bottle on-board tonight: you won't find it on sale outside of Malta because the wine here is literally so good that they don't let it leave the island (and they don't have enough grapes to waste it on making bad wine). In fact, Malta imports over £25m of wine a year to keep everyone's glasses full.

Day 6. Portomaso to Valletta (via St Pauls islands) – 12 nM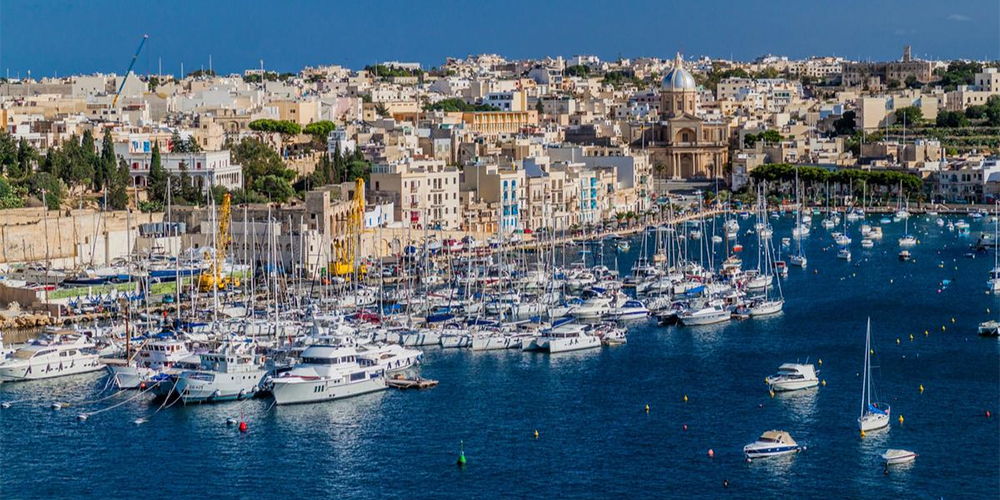 Oh no. Time has flown by and it's already our last day – later this afternoon you'll need to return and refuel the boat, before heading back to life on dry land from tomorrow morning. But let's stay positive, because there is still some sailing to be done!
Today we're heading to see another of Malta's most famous sights – St Paul's island. The island is so-called because it is believed to be the island where the vessel which Saint Paul was captive on (to be taken from Jerusalem to Caesar in Rome) was shipwrecked (ref: The Acts of the Apostles, chapter 28 in the Bible). The local population treated him with "unusual kindness" and he healed many sick during a 3 month stay in Malta. A statue of Saint Paul has been on the island since 1845, and the Pope John Paul II visited the island in 1990.
You can check out the golden sands of Saint George's bay (FYI Saint George never landed here, nor healed any sick), before reaching across or running with the prevailing wind back to the Grand Harbour of Valletta, where you can moor up the boat one last time.
Tonight it's worth visiting the old town of Valletta if you haven't already – it's a grand old town with a rich history – or stick around the harbour area and you'll find some other sailors to swap sailing stories with. Hopefully you've had a wonderful and relaxing holiday this week, you're leaving with even better friends than you arrived with, and you're already planning your next sailing adventure: check out PlainSailing.com if you need any inspiration! Safe travels, and hopefully see you soon :)
---
Sailing Conditions
 WHAT ARE THE WINDS LIKE?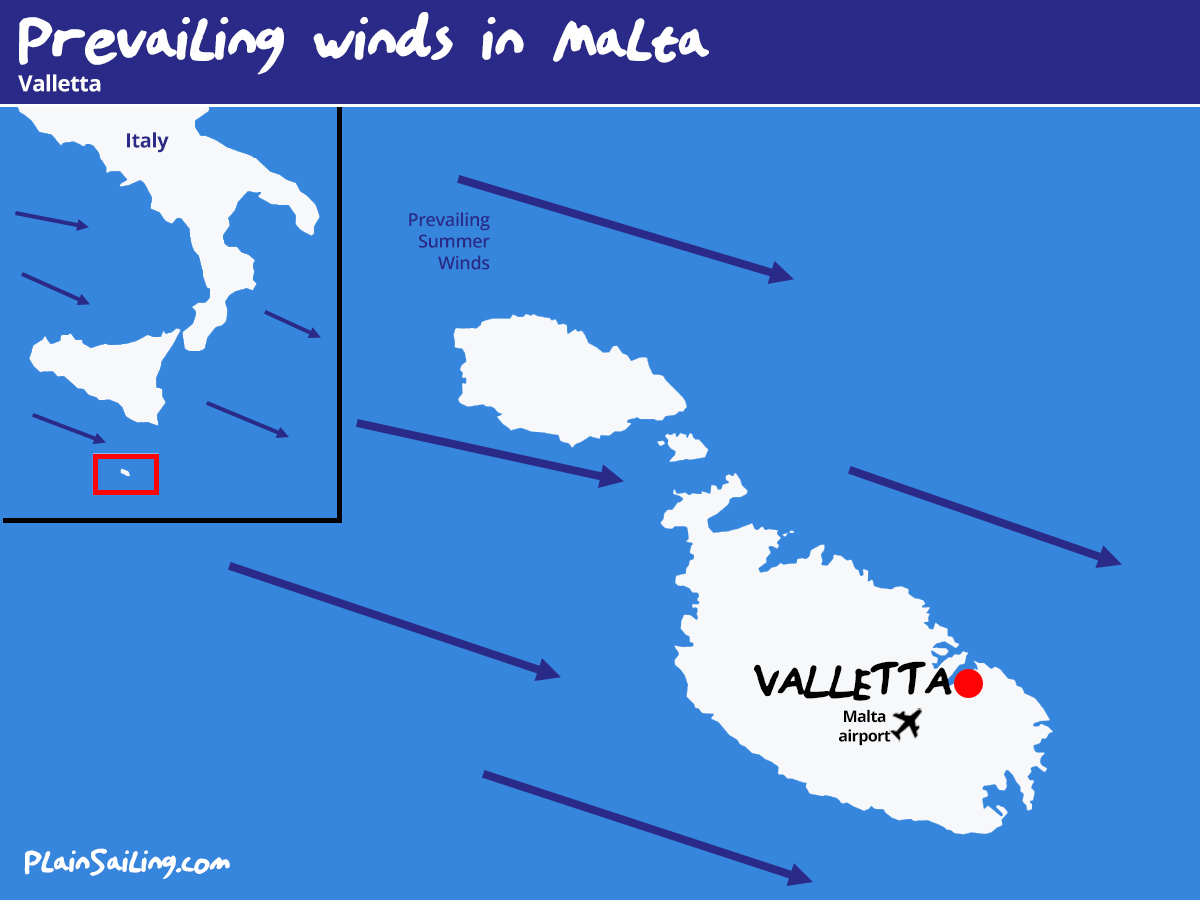 Being out in the open sea, there's usually plenty of wind blowing across the Maltese islands, and it can arrive from almost any direction.
The prevailing winds in summer are from the North-west (which is one of the reasons why you won't find any marinas on the western coasts of the islands) – the winds predominantly blow across the Mediterranean from Southern France to Turkey.
But that is not to say that there aren't odd days or weather systems which means winds arrive from other directions – including winds from Equatorial Africa which bring balmy weather (and sometimes sand).
Wind speeds vary during the year, but are reliably force 4 to 6 during the summer season, which runs from March to October, making it perfect for sailing. If you're heading out there out of season then you need to be aware that the winds can be much stronger and a lot less predictable during winter!
 HOW HOT WILL IT BE? 


Malta is on the Southern border of Europe, and is blessed with beautiful weather pretty much all year round – there's sunshine every day, and the locals probably don't have big thick winter coats. You can get by with just a t-shirt from April onwards, and you'll be glad you are on a boat in July and August, as the wind will take away some of the heat – perfect weather for diving in!
 HOW WARM IS THE SEA? 


The sea never drops below 16 degrees even in the height of winter, so you can technically go for a swim all year round, but it becomes more enjoyable as the year goes on. It's still 'fresh' in May, but hits 22 degrees in June (about indoor swimming pool temperature) before peaking at a super-inviting 27 degrees in August.
---
Marina Details - Kalkara Marina, Valletta
Kalkara marina is based in Kalkara creek, which is, in turn, based in Valletta's Grand Harbour area. It's a modern marina with toilet and shower facilities, and it's well-located for exploring Malta and Gozo. The marina is close to the fantastic Saint Angelo fort, and whilst you can see Valletta town and waterfront across the water, it's a long walk as you have to walk all the way around the Grand Harbour.
If your flights mean that you're spending a night or two in Malta before or after your charter, then the nearest reasonable hotels or guesthouses to the marina are Le Marguerite or Villa Del Porto. Alternatively, we like the Casa Asti in Valletta.
GETTING THERE: The marina is around 8km from the main Malta Luqa International airport, and it takes aproximately 25 minutes in a private taxi (which PlainSailing.com can help to arrange - just ask!). It's also possible to make the journey by public transport: the X4 bus from the airport winds its way to Kalkara.
PROVISIONING: The nearest supermarket of an notable size are the Scotts and Chain supermarkets which are about 3km away from the marina in Fgura (close enough to walk there, but it is worth getting a taxi back to the marina).
FUELLING AT END: There is a mobile fuel truck at Kalkara Marina - either watch out for it, or head to the Marina Office to book it to come to you.
Loading Map Co-ordinates...
---
---
WHAT NEXT? Use the pink box to search for yachts or catamarans with LIVE pricing & availability - if you have any other questions or requests, get in touch via Live Chat, the Contact Form, or by phone.