Why Book With Us?
Simple, straightforward process
Outstanding customer service
Friendly UK-based team
Pre-order food, kit or WiFi onboard
Join Our Mailing List
Yacht & Catamaran Charter in Valletta, Malta
Looking to sail in Malta? Search to find and book your ideal boat, or read everything you need to know: prevailing winds, where to sail, how to get there and more!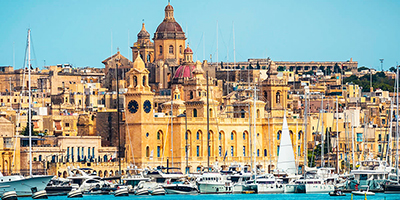 There's so many great places to explore from Valletta that there really is something for everyone, and you could come here year on year and still sail to somewhere new and exciting.
---
---
10
---
Sailing Conditions
What is the Current Weather in Valletta?
If you're off sailing in a couple of days, you might be interested to know what the 7 day forecast is - our handy widget below should give you a good idea, though once you're out there we recommend using windguru.cz. 
---
Our Guide to Valletta
Valletta has been a sailing destination for thousands of years, with it's location at the very heart of the Mediterranean Sea making it one of the most naval bases for everyone from the Romans to the Crusaders, to the modern day explorers. And now, you can join them!

Full destination guide to follow.
---
Getting to the Marina
Coming soon...


This page last updated: December 2019
We do our best to keep this information as up-to-date and accurate as possible, but obviously we can't be everywhere at once. If you are aware that any information on this page is incorrect, please let us know by emailing marina@plainsailing.com.
---
---