Find a Boat
LIVE
Pricing & Availability
Search NOW
France Yacht and Catamaran Charter
We have incredible yachts and catamarans ready to sail from Corsica & Saint Tropez in France!

Sailing around France
France. The land of the Oooh La La. You probably don't immediately think of it as a sailing destination, but it's the lustre of Monte Carlo, Monaco and Saint Tropez - sailing destinations, all - which have arguably made the French Riviera the jewel in the crown of French tourism. Landlubbing tourists come to spend time watching boats in the marinas, and to enjoy the nautical atmosphere.
Being in the Mediterranean, the weather is fine, the winds are reliable, the seas are crystal clear and calm, and the food is impeccable - which makes exploring the south of France a perfect destination for a sailor. And there is plenty to explore - from fine beaches and secluded bays, historic and ancient monuments, mountainous and unspoilt Corsica, right through to champagne bars, beach parties, and partying with beautiful people well into the night.
If you're looking for a new sailing experience in the Mediterranean, and want somewhere vibrant and classy, then France is a beautiful place to sail, and the perfect place to relax. We can help you find and book your ideal yacht or catamaran!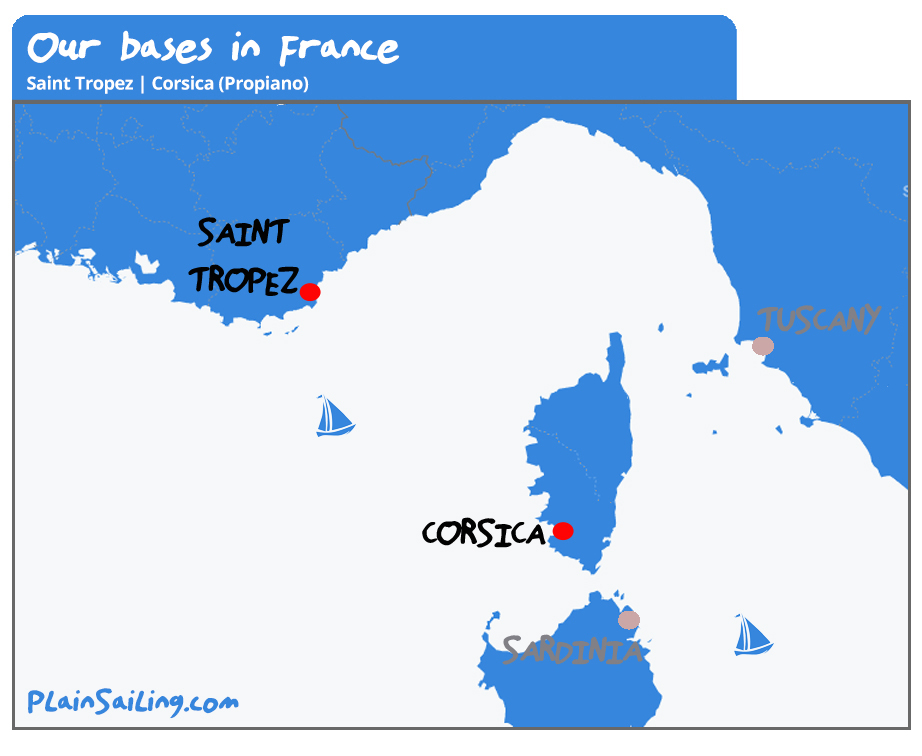 SAILING RATING:  Intermediate - The French Riviera is a splendid place to sail and explore, but winds can be somewhat unpredictable, and with hot stormy weather a couple of times a year, there is some risk that you'll encounter stronger winds than you would like. Navigation up and down the coast is easy, and whilst it is a very popular place to sail, there's also enough marinas and berths to accommodate everyone.
 WHEN TO GO:  The sailing season runs from March to October, with peak season (the hottest weather and the highest charter fees) in July and August, when the marinas are jam packed with people who like to be seen on a yacht (but it's not so busy once you're out of the marina - some people charter boats just to sit on them!). Things also get very busy on the water around the Monaco Formula 1 Grand Prix, which is usually in late May.
 MINIMUM QUALIFICATIONS:  You'll need an ICC (which you can convert from an RYA DaySkipper or equivalent) or above to charter a boat in France. If you're not qualified, we can find you a professional skipper.
 VISA REQUIREMENTS:  France is part of the EU, which means UK and EU passport holders can travel there at will. US and Australian passport holders do not need a visa unless planning to stay in Europe for longer than 90 days.
 GETTING THERE:  France is in the heart of Europe and has lots of excellent connections via air, road and rail to the rest of Europe. We can help arrange transfers to or from the marina, as well as helping you get provisions on board if your flight arrives late at night.
The nearest airports for sailing from our Saint Tropez base (which is a couple of miles away from Saint Tropez village, in Cogolin) are Toulon airport (60 minutes drive away), Nice airport (90 minutes drive) and Marseille airport (120 minutes drive). For Corsica, it's best to land in either Ajaccio airport or Figari airport - both of which are approximately 60 minutes drive away.
 
Charter a Yacht or Catamaran in France
We can help you find the ideal yacht or catamaran for your sailing holiday in France. We only work with the very best professional charter operators in the area, who we have met, know, and who we trust to give you the same outstanding customer service as you'll get from PlainSailing.com.
Use the pink search box above to look for boats for yourself - they have live pricing and availability and you can filter the results to find your ideal boat - or start a Live Chat with our award-winning bookings team for help, advice, or anything else!
 
Where to sail in France
We charter yachts and catamarans from two bases in France - from Saint Tropez in the French Riviera on the French mainland, and from Propiano in Corsica, birthplace of Napoleon. See below for ideas of where to sail when you get there (But be sure to check out our detailed destination guides to find out more).
 SAINT TROPEZ 
Ideas of where to sail: The French Riviera is as famous for its fine beaches and sunshine as it is for decadence and luxury and the finer things in life. Sailing up and down the coast, you can visit Cannes, Nice, Monaco, Antibes, and a host of other town famous in their own right, and beloved of the rich and famous. Obviously, the best way to arrive at each port in style is on your own yacht or catamaran. Or head the other direction to the solitude and splendid nature of Porquerolles.
 CORSICA 
Ideas of where to sail: If you're sailing in Corsica, you have to head to the incredible cliff-top Medieval town of Bonifacio, complete with its own natural harbour that cuts into the base of the cliffs. You can sail by the ex-island-jail of Cavallo (now a super-exclusive resort), or visit the picture-postcard old town of Porto Vecchio for winding streets and cute piazzas.
 
Cost of a Sailing Holiday in France?
Prices change depending upon what sort of boat you are chartering, and when you would like to charter, and yachting offers great value for money because the fee includes a full-day activity, a means of transport and your overnight accommodation!
Charters are normally in periods of a week, from Saturday (check-in at 5pm) to Saturday (check-out at 9am), though you're required to be back at the charter base on the Friday evening. You can charter a 3-cabin yacht for as little as €1,450 / week (including end cleaning), 4-cabin yacht from €2,400 / week, or catamarans from €3,300 / week - use the pink search box for live prices and availability. 
|   | May / Oct | June / Sept | July / Aug |
| --- | --- | --- | --- |
| 3 Cabins | €1450 | €2400 | €3300 |
| 4 Cabins | €1750 | €3200 | €4100 |
| Catamaran | €2500 | €4200 | €5650 |
 
In addition to the charter fee, there is an end-cleaning fee to be paid, and you'll need to leave a security deposit on check-in (similar to a hire car, and usually placed as a pre-authorisation on a credit card).
You can also add transfers, an outboard motor, early check-in, security deposit insurance or other extras to your booking (if they are not already included) for an additional fee. We can also arrange for a Skipper, Hostess or Chef to be on board - in France, these normally cost an average of €1,260 per week, excluding tips.
 
Our French Sailing Destinations
Find out a lot more about each of our bases in these comprehensive destination guides, which also include details about suggested sailing routes, weather conditions, and recommended hotels, amongst a host of other useful information:
Tags: France Yacht Charter, Bareboat, Skippered, Yacht and Catamaran Charters, France Catamaran Charter, French Charters