Find a Boat
LIVE
Pricing & Availability
Search NOW
Yacht & Catamaran Charter in Skiathos, Greece
We can help you find the perfect yacht or catamaran to sail from Skiathos!

Sailing from Skiathos
Skiathos has such incredible scenery and weather that it's a major tourist island for landlubbers, but it's also a phenomenal place to sail from. You can join the crowds by slickly mooring your yacht just off the heaving beaches, or completely escape them by heading off to nearby Skopelos (where Mamma Mia was filmed, and which is, incredibly, even more beautiful than Skiathos!) or further afield to the quiet fishing village of Patitiri or the super remote anchorage at Kira Panagia, where you'll share the bay with dolphins and seals.
There's almost always glorious sunshine from May to October, reliable winds, and it's easy to explore the rest of the Sporades from here - which makes it the perfect starting point for your sailing holiday! We can help you find and book your ideal yacht or catamaran, with one of our trusted Charter Partners - just get in touch or search in the pink box with live prices and availability!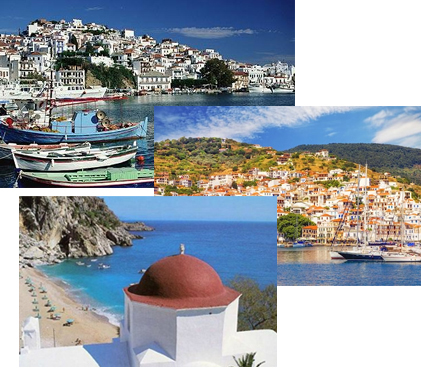 SAILING RATING: Beginner / Intermediate - With easy line-of-sight navigation, clear waters and light winds it's a great start point for novice sailors most of the year - though conditions can be more challenging in July & August when the Meltemi comes to play. Peak season is July & August, but you can sail here from March to October.
MUST-SEE: Our full suggested itinerary is further down the page, but we'd highly recommend taking in the stunning island of Skopelos (made famous by Mamma Mia), watching the sunset from Loutraki, and getting away from it all at the quiet anchorage of Kira Panagia.
WHAT WE CAN OFFER: We have a great range of yachts and catamarans available for charter from our trusted Charter Partners, all available bareboat or Skippered. We can also arrange a Hostess, Personal Chef and other crew.
GETTING THERE: The Marina is c. 35 minutes from Kos airport. We can organise transfers for you - a 4 person taxi is c. €50 - 60.
WHY BOOK WITH US? We only work with the very best professional charter operators, who we have met, know, and trust to give you the same outstanding customer service as you'll get from PlainSailing.com.

WHAT NEXT? Use the pink box to search for yachts or catamarans with LIVE pricing & availability - if you have any other questions or requests, get in touch via Live Chat, the Contact Form, or by phone.
11
6-day Sailing Itinerary from Skiathos
Skiathos is a brilliant starting point for discovering the Sporades islands – and there is much to discover! There are 14 islands which make up the Sporades islands - it would be great to sail around them all inside a week, but given the distances involved, it's simply impossible, unless you sail all day, every day, from dusk till dawn. And that would leave little or no time for exploring the villages, beaches, bays, cliffs, monasteries, tavernas and bars along the way, and it wouldn't feel like much of a holiday!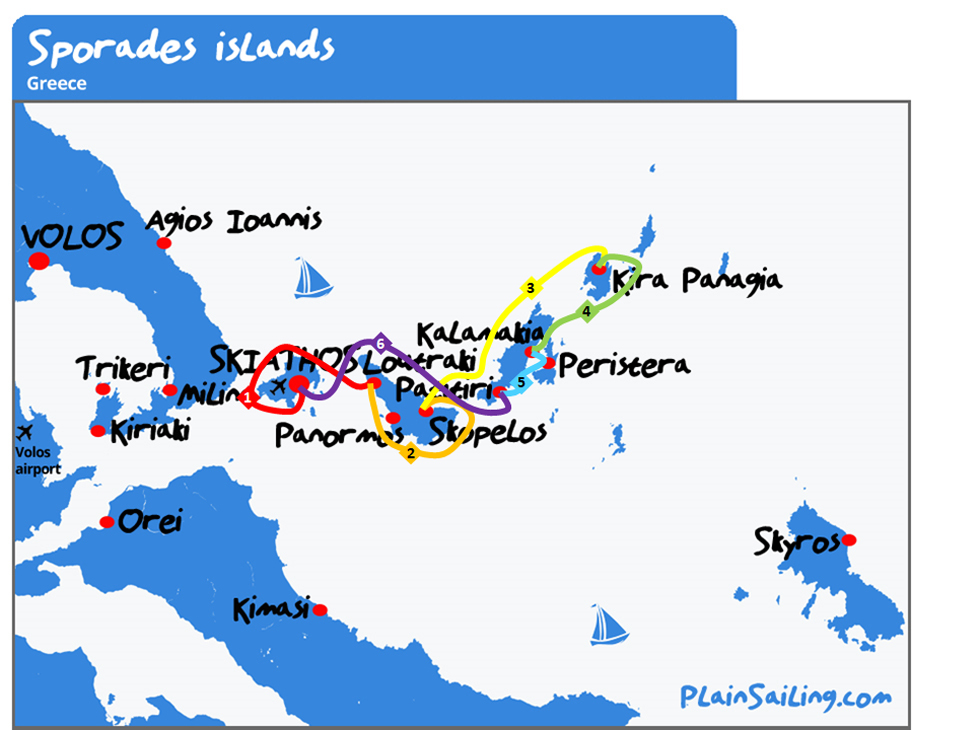 Our suggested six-day itinerary instead focusses on hitting the best islands within easy reach of Skiathos, and offers a mix of big and small villages, remote anchorages, beaches and hillsides. It's only six days because it's likely that, after checking in and getting everything sorted for a week away at sea, there won't be much time to get the sails up and make way to a destination. It's better to rest up and enjoy Skiathos for the night, and we'll set sail first thing on Sunday morning. You'll need to return the boat to Skiathos on Friday night (to make sure that it can be ready in time for the next group of holidaymakers) so you won't be able to sail on the day you check-out either.
The islands being reasonably close, it's not as easy as you think to get a decent amount of sailing miles in there, but this route clocks in at 108 nautical miles, which means an average of around 18 nM a day. Yachts and cats can travel at 5-6 knots, so that means you should be able to do the sailing in about four hours of meaningful sailing a day, which leaves plenty of time for leisurely meal-times, spending time exploring the things you find interesting at the start and end points each day, or spending time adventuring in bays and finding beaches on the way. You are on holiday, after all...

Day 1. Skiathos to Loutraki (Skopelos) – 21 nM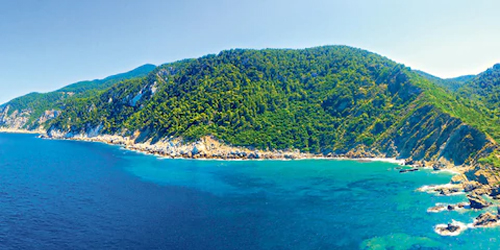 Here we go! Whether you're a regular sailor, or if this is likely to be your only time on a yacht this year, welcome aboard. Get everyone on-board, with all your provisions, and then let's slip the lines and get out of here.
If you look to your port side as you leave Skiathos marina, it possible to see our destination in the distance on the nearest island because it's only a few miles away in a straight line – however, we're on a sailing holiday, and we want to get some sailing in and get to grips with the boat, so we're going the long way around, basically circumnavigating the whole island of Skiathos.
We'll start by heading South-west, keeping the coast on your starboard side, as we work our way round. As well as practicing sailing at pretty much all the points of sail, you'll be able to get more of an idea about what Skiathos is all about. You'll pass a multitude of beaches, including the ever-popular Koukounaries beach on the South-west, the party beach of Big banana beach and the neighbouring nudist Little banana beach on the West coast, and the beautiful Lalaria beach on the North of the island. Stop a while at one of the smaller beaches if you fancy, or if things are getting hot.
From Lalaria beach, we're going to hop across due East to Skopelos island, and the small fishing village of Loutraki. Loutraki is a beautiful little village, and the local beach was made famous by being the shooting location for the recent Mamma Mia film. There's a couple of tavernas here (or more up the hill in the nearby village of Glossa), but the best thing to do here is to settle down and watch the sun setting over the island of Skiathos. Glorious.

Day 2. Loutraki to Skopelos – 17 nM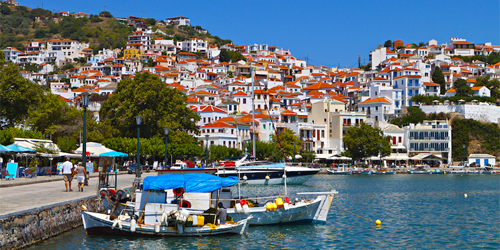 After enjoying the delights of Loutraki beach and the small-village feel of the place, we're heading to the capital and namesake of Skopelos island. People have been living in Skopelos Town for thousands of years, and, thanks to its strategic location, it has grown into a magnificent and elegant town which is a joy to stroll around and explore. From the sea, it looks idyllic, with classic white-washed houses, an abundance of greenery, and narrow dusty roads making the town look about as Greek as they come.
To get there, we're sailing North from Loutraki to the northernmost tip of Skopelos island, likely reaching against the prevailing wind. Once you're round the top of the island, it's a single tack and a broad reach to follow the coastline South-east to Skopelos Town, which you'll find nestled in the bottom half of the island. One the way you'll pass plenty enough bays and beaches, which might be worth a look – the most popular are Agios Ioannis and Glysteri.
Pulling into Skopelos Town might well be the highlight of your trip, with the town surrounding the marina like a giant amphitheatre, so get your camera handy. Now is also a good time to try to remember to take a group shot of your crew!
Once focussed on fishing and growing vines and olives, nowadays, Skopelos is principally a tourist town, with people flocking here from around the world, and some arguing that it is the most beautiful island in the Mediterranean. That said, it attracts a different crowd to those in Skiathos, and you'll find it a relaxing place to be, and it's said that people actually walk slower here. There's a good range of shops and services, and it's worth stocking up because we're going remote for the next couple of days.

Day 3. Skopelos to Kira Panagia – 24 nM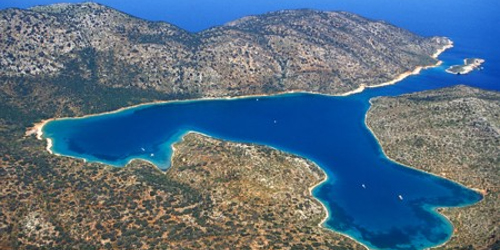 The trip from Skopelos to Kira Panagia is the longest leg on this itinerary at 24 nautical miles, but it will feel like you have gone to another planet. We're leaving man-made beauty and civilisation to head to an anchorage on a remote and unspoilt island. There's no shops there, so make sure you have plenty of food and drink to see you through the night.
From Skopelos, we're heading north-east, into the prevailing wind, and basically sailing along the length of the West side of Alonissos island, then onwards to Kira Panagia. You should be beating your way up the wind, and by the end of the day you should have a well-trained crew, and you'll understand the boat so much that you'll be communicating about tacks by just nodding at each other.
The best and most sheltered anchorage on the island of Kira Panagia is on the North of the island, where there's a narrow channel that leads into a large bay area, which has plenty of space for throwing down the anchor, and good holding conditions. Pay attention to your charts and plotter when sailing the narrow channel inwards as there are some shallow reefs along one side.
Kira Panagia is part of the Alonissos national marine park, and it is a very tranquil place to rest awhile. The only building on the whole island is a monastery. It was originally built in the 16th century and renovated in 2017, but there has been something on that site for much longer (there are graves outside which date back to 500 AD), and there are a couple of signs that a couple of Roman and ancient Greek buildings were once built on the island.

Day 4. Kira Panagia to Kalamakia (Alonissos) – 16 nM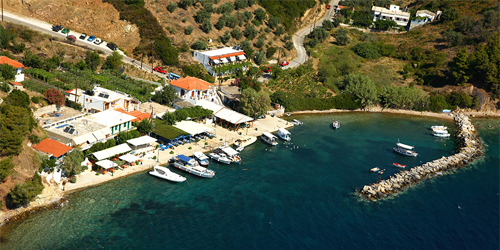 Are you bored of the sound of silence yet? We're going to head somewhere with a little more life (but not too much). From Kira Panagia, head Northwards back out of the bay, then due East. If you've gotten a taste for remote churches and monasteries, then you're in luck – you'll also find them on nearby Gioura and Pappous, and you'll score double points if you dig out the binoculars and spot them both.
From the bay on the South of Gioura, head South-west and head around the south side of Kira Panagia, enjoying the wilderness of it all. Continue South-west, running with the prevailing wind, to the Eastern side of Alonissos, and our destination, Kalamakia, is halfway down on your starboard side.
Kalamakia is a quiet fishing village with a population of just 66 people which has some amazing fish restaurants along the waterfront, a small beach, and a pretty view overlooking the channel to nearby Peristera.

Day 5. Kalamakia to Patitiri (Alonissos) – 11 nM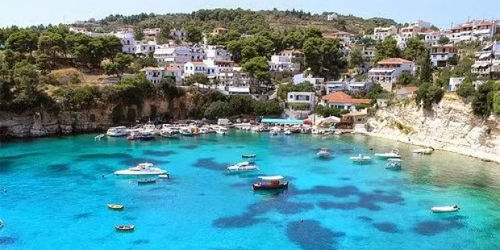 If you've not yet fallen in love with the Sporades, then perhaps today will be the day. We're not going on a long sail, but take a look around you and be sure to enjoy the views and the peace and quiet of the islands in the sunshine. We're actually sailing to two places today as we bimble around the Alonissos national marine park. Firstly, sailing East to the small bay on the South side of the top half of the island of Peristera (that will make sense to you when you get the charts out), which is the island you'll have been able to see from Kalamakia.
Peristera is like a nature reserve. It's completely uninhabited (save for a few shepherds who tend to their flock every once in a while), and overrun with wildlife. The bay you're in should have monk seals swimming and flopping around, plus plenty of birds (look out for Falcons), sea-turtles and it's possible to spot dolphins in the Alonissos national marine park (if you haven't already). The island is also famous for an ancient shipwreck that was found opposite the town of Steni Vela which dates back to 500 BC – it's an ancient Greek cargo ship which was heading to Skopelos with 1,500 vases of wine from Halkidiki. You need scuba gear to see it properly, but it's only 30m below, and the crystal-clear waters mean you can spot something down there.
From Peristera, we're heading to the picture-postcard Patitiri, further south-west down the coast of Alonissos. The prevailing wind should be behind you as you run with the wind down the straight, and it's only a short sail away.
You'll find the pretty town of Patitiri nestled in between the pine trees. It's a relatively modern village that was only built in 1965 – people moved here after a nearby town was destroyed in an earthquake. It's a delightful place to sit, reflect and people watch, and the people here don't seem to have a care in the world. As well as a few Tavernas, there's a couple of bakeries and a mini-market, and a small beach. The marina tends to fill up quickly in peak season, but you can also anchor in the south side of the bay.

Day 6. Patitiri to Skiathos – 21 nM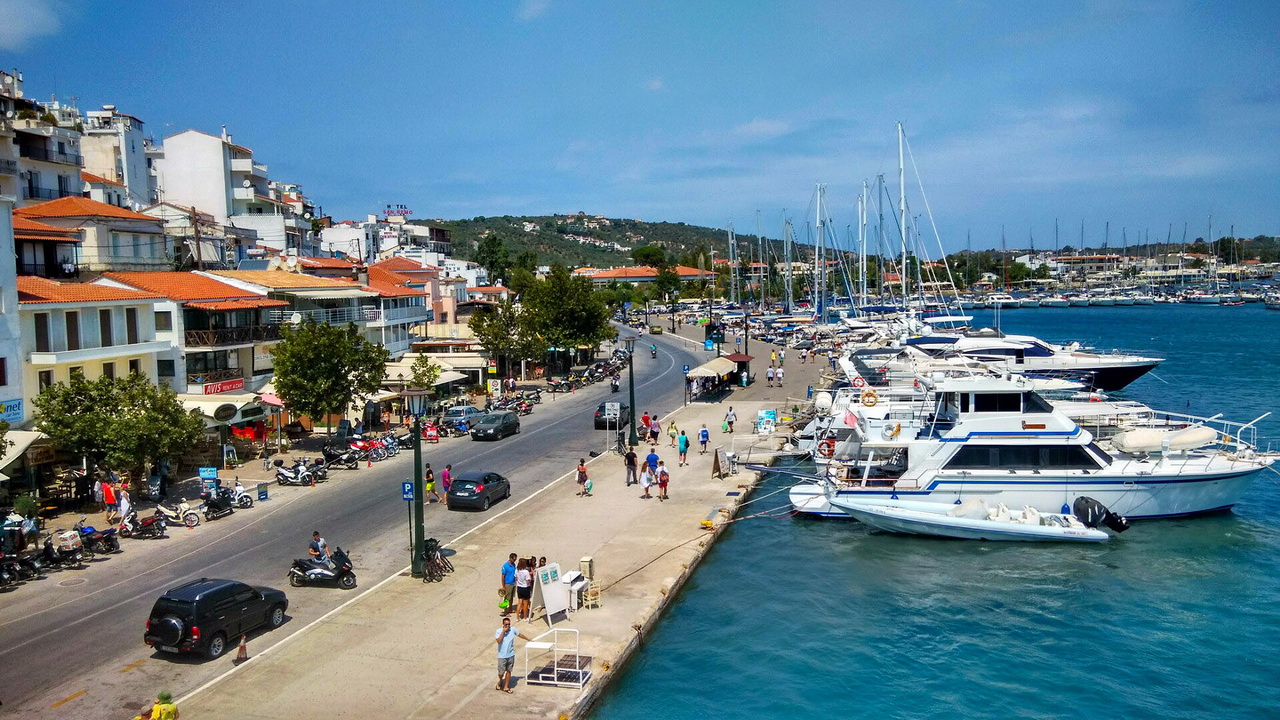 >
Oh no – the last day! Hopefully you've had a brilliant holiday enjoying the sunshine, sailing, and the scenery – the Sporades really are a special place to sail. Hopefully all the crew have behaved themselves and you'll be leaving Greece with more or even better friends than you arrived with – which is always the sign of a good holiday.
Over the past few days we've gone from an uninhabited island to a small village (Kalamakia) to a big village (Patitiri) and now it's time to return to the sights and sounds of a town (Skiathos). Skiathos is obviously still a world away from being a big city, but it will feel big and busy after the last few days, and you won't be able to believe the constant noise.
From Patitiri the journey is a simple hop around the South side of Skopelos island, and up to Skiathos. You could also go to Skopelos and over the northern side of it, but going around on the south side of the island means that we'll have completed a circumnavigation of all four of the main islands we have visited on this itinerary, and seen all there is to see on each island. The first half of the leg will see you running with the prevailing wind (bonus points for throwing in a goose-wing, by the way), before reaching across the wind to Skiathos when you get beyond Skopelos island. Work your way back into the marina, returning the yacht to the vague area you picked her up from, make the lines good, shut down the engines, and we're done. High-five the rest of the crew for doing a great job!
There's no fuel berth in Skiathos marina – usually a mobile tanker will come around at some point, but check how your charter operator would like you to refuel. Someone will come along and inspect the boat (often with a diver to look at the hull), but you'll still be able to sleep on-board tonight, before checking-out and returning to dry land proper in the morning.
If you've not had chance to explore Skiathos then now is the time to get out there. It's a lively place to be all week, but Fridays are particularly boisterous affairs as a lot of the package operators (both for sailing and for beach holidays) have changeover day on Saturday, so this will be a lot of people's last night. Have a safe trip home, thanks for the memories, and we'll count on you to be at PlainSailing.com soon – to start to plan your next great adventure!

---
Sailing Conditions
 WHAT ARE THE WINDS LIKE?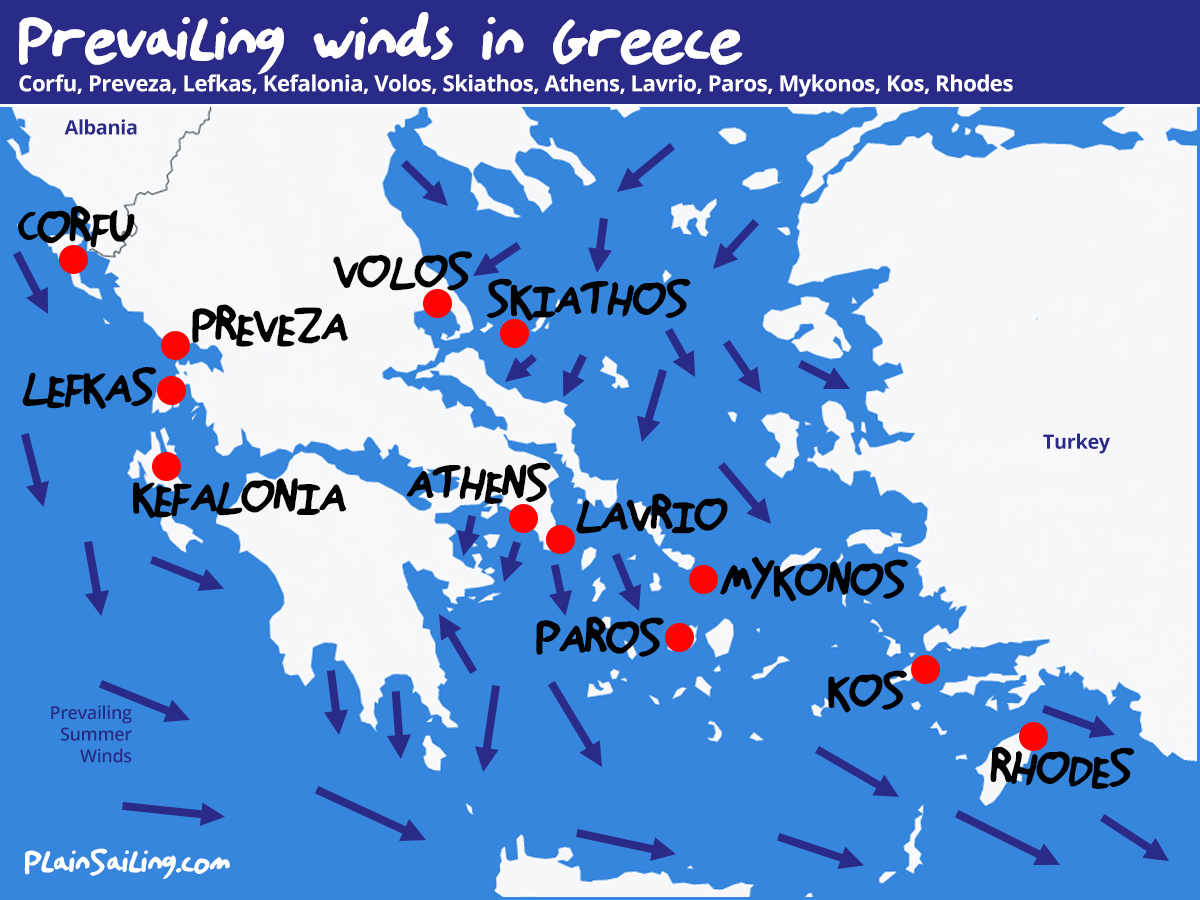 The Sporades islands are an interesting and exhilarating place to sail. The prevailing winds arrive from the North-east, with a fairly reliable Force 3 to 4 throughout the season, but things get more interesting when the hot summer Meltemi winds start to kick in – these are strong seasonal summer winds which can arrive from the North or North-west in July and August.
The Meltemi winds tend to arrive for 2-3 days at a time, and when they do arrive, they can be anywhere from Force 5 to Force 8 (hence needing to check the weather before heading out – don't just assume it will be a perfect day for sailing if you don't appreciate this sort of drama!). They're strongest in August.
There's not really any such thing as prevailing winds in winter, and weather systems are as likely to arrive from the tropical regions to the South of the Med as they are from the cold mountain passes to the North. But the temperature is still warm, and sailing can still be pleasant.
 HOW HOT WILL IT BE? 


Skiathos is a major tourist destination because it has exceptional weather, so it should be no surprise to you that it's hot and sunny throughout much of the year. From April to November expect average temperatures of over 15 degrees, and above 20 degrees from June to September. Thankfully, whilst the mercury rises in July and August (and at mid-day, it can easily reach the low thirties), the temperatures in Skiathos never tend to get overbearingly hot.
 HOW WARM IS THE SEA? 


The sea near Skiathos rarely falls below 15 degrees Celsius, which means it's bearable to swim in all year round – and, indeed, that's warmer than the sea in some parts of Northern Europe ever get all year-round. The sea is above 20 degrees from May to October, so Skiathos is a good place to head in the off-season, when you'll get lower prices, but still be able to enjoy jumping into the Aegean off the back of your boat.
---
Marina Details - Skiathos Marina
Skiathos marina is located just five minutes walk away from the old town of Skiathos, which is a popular tourist town offering everything a sailor could wish for: places to pick up supplies, a myriad of bars and restaurants, and lively nightlife.
If your flights land on a Friday or Sunday, you'll be looking for a place to stay on dry land before you start or after you finish your holiday. When we're in town, we like the Babis Hotel, Skiathos Somnia or (if the boss is paying!) Skiathos Luxury Living.
WEBSITE: No website | ADDRESS: Skiathos Port, Paraliakos, Skiathos, 37002
GETTING THERE:
You can reach Skiathos by sea (from Athens or Volos), but it's easiest to arrive at the local airport, which receives aeroplanes from right across Europe. The airport is only 3km from Skiathos town (and the marina), so getting to your yacht or catamaran is super easy.
We can arrange transfers for you
(just ask), or you can just grab a local taxi for the circa five minute journey. There are also local buses which go via the airport, but they don't have a fixed timetable, and they're infrequent because it's so easy to get there by taxi. If you can't afford the taxi, then it's possible to walk the 3km to town (if you don't have too many bags, and it's not too hot, etc!)
PROVISIONING:
There are a number of mini-markets near the marina, but the nearest supermarket of a decent size is the Asteras-Spar supermarket about 400m away (in the opposite direction to the old town), which will sort you out for practically everything. The road it's on doesn't have a name, but follow the main road from the sea-front past the bus station and onwards (
see it on a map
)
FUELLING AT END: There is a mobile fuel truck in the Marina - either watch out for it, or head to the Marina Office to book him to come to you.
Loading Map Co-ordinates...
---
---
WHAT NEXT? Use the pink box to search for yachts or catamarans with LIVE pricing & availability - if you have any other questions or requests, get in touch via Live Chat, the Contact Form, or by phone.
---