Find a Boat
LIVE
Pricing & Availability
Search NOW
Yacht & Catamaran Charter in Salerno, Italy
We can help you find the perfect yacht or catamaran to sail from Salerno, Italy!

Sailing from Salerno, Italy
With sunshine, outstanding food, and so many places to see or be seen, then sailing from Salerno is possible the ultimate sailing holiday. With the stunning beauty of the Amalfi coast, Sorrento and Ischia, the elegance and luxury of Capri, the brooding Vesuvius and the ancient volcanic ruins of Herculaneum and Pompeii, you'll find so many instagrammable scenes that you'll almost need to bring along a second smartphone!
The Amalfi coast, with its picturesque hill-climbing villages, colourful flowers, clear waters and fine beaches, is famous for being one of the most beautiful coastlines in the world, and literally millions of people flock to it every year - but it's even better when viewed from your own private yacht or catamaran. We can help you find and book your ideal yacht or catamaran, with one of our trusted Charter Partners - just get in touch or search in the pink box with live prices and availability!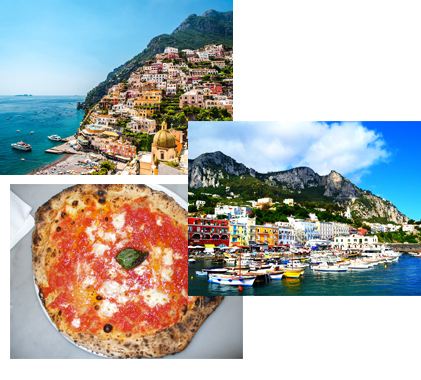 SAILING RATING: Intermediate - Italy offers more exciting sailing conditions than Greece and Croatia, but there are some places where it's useful (and a lot cheaper) to be comfortable using the anchor. Peak season is July & August, but you can sail here from March to October.
MUST-SEE: Our full suggested itinerary is further down the page, but we'd highly recommend taking in the incredible views of the Amalfi Coast, the places the A-List Celebs go on their holidays in Capri, and the birthplace of Pizza in Spaccanapoli, Naples.
WHAT WE CAN OFFER: We have a great range of yachts and catamarans available for charter from our trusted Charter Partners, all available bareboat or Skippered. We can also arrange a Hostess, Personal Chef and other crew.
GETTING THERE: The Marina is c. 25 minutes from Salerno airport (for domestic flights) or Naples Capodichino airport, which is about an hour away. We can organise transfers for you - a 4 person taxi is c. €125.
WHY BOOK WITH US? We only work with the very best professional charter operators, who we have met, know, and trust to give you the same outstanding customer service as you'll get from PlainSailing.com.

WHAT NEXT? Use the pink box to search for yachts or catamarans with LIVE pricing & availability - if you have any other questions or requests, get in touch via Live Chat, the Contact Form, or by phone.
Why book with PlainSailing.com?
We're yacht and catamaran charter experts, and can find you the best boats in Greece, Croatia and anywhere else in the Med or Caribbean - yacht, catamaran or superyacht-bareboat, skippered or crewed

We're UK based, only work with the best Charter Companies, offer exceptional customer service from start to finish and will match any price!

Independent Service Rating based on
415
verified reviews.
6-day Sailing Itinerary from Salerno
Salerno is ideally located for the Amalfi coastline, which is known for its remarkable beauty throughout the world. From a boat, you'll be able to enjoy all the views, but without having to worry about winding narrow roads or over-crowded streets, and there's something cool about being able to say that you have sailed in to Sorrento, Amalfi or Positano.
Out in the bay of Naples there's the famously extravagant Capri, plus the fine beaches and crystal-clear waters of Procida and Ischia, and, of course, Naples itself, with the world's best pizza. You'll be able to see brooding volcanic Vesuvius throughout, and history lovers will enjoy visiting Pompeii or Herculaneum, which were both destroyed by volcanic activity in AD 79.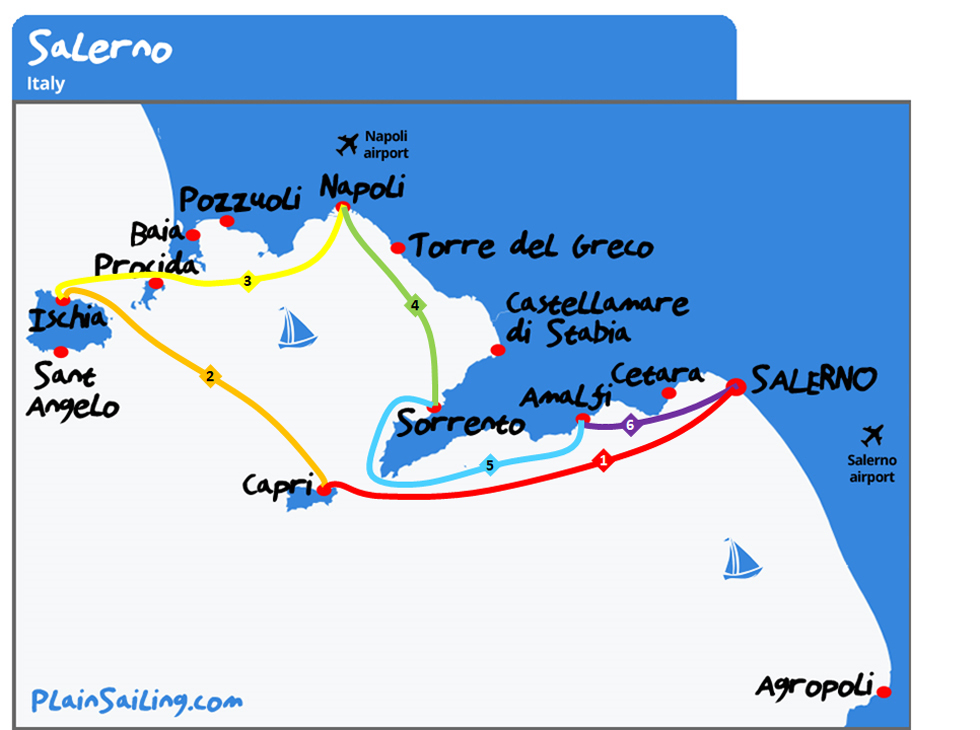 Our six-day itinerary covers 97 nM and takes in as many of the highlights of the area as possible in such a short timeframe. It's only covers six days because you'll normally only be able to board the boat in the late afternoon on the first Saturday, and will have to be back in the marina for Friday night (but you can sleep in the marina for the night, before disembarking first thing on Saturday morning). This sailing distance also means that you can go at a leisurely pace for the week – you'll likely be sailing for 4-5 hours a day, so you can take your time to explore your start and end points.

Day 1. Salerno to Capri – 26 nM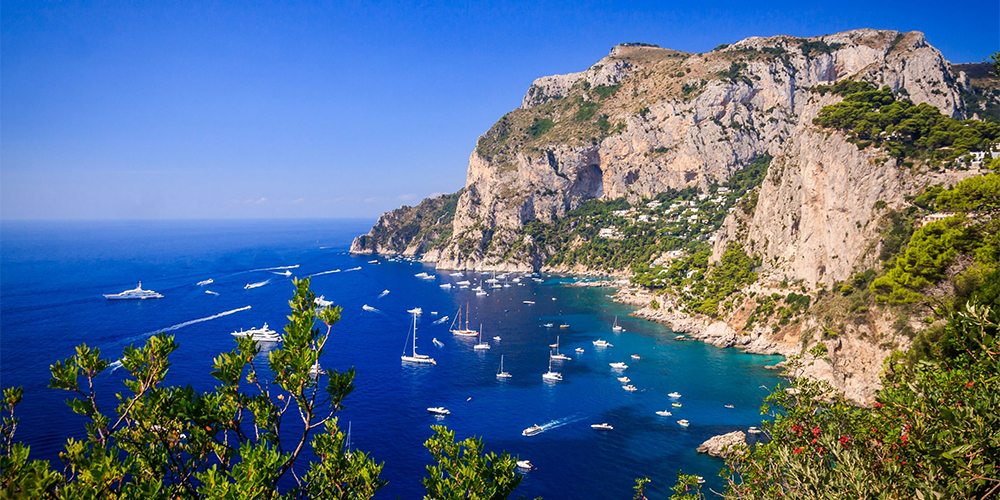 Buon giorno, Signor Skipper! Get the crew and all your supplies on board, fire up the engines, and let's get out of here – we have the beautiful Amalfi coast to explore! Nose out of the marina, and then we're heading West, following the coast to our destination for the night, Capri. Assuming the weather is clear and sunny like it is for most of the year, you should be able to see Capri in the distance on the nose of the boat. It's worth pre-booking a berth if you're planning to stay in the Marina Grande on the north of Capri, or getting there as early as possible if you the weather allows you to anchor in Marina Piccola on the south, which also gives you the chance to sail through the Faraglioni sea-stacks.
Today is the longest leg of sailing, to get us out to the islands before everyone else gets there, and you'll be likely tacking up in the prevailing summer winds. Looking out for Amalfi and Positano on your way past – both are crazy famous with land-lubbing tourists (which you can visit on the way back later this week).
Capri is famous for being a bolt-hole for the rich and famous, and it has been attracting A-list Hollywood celebrities for decades. As a result, it boasts extravagant upmarket hotels and shops (Did you need to buy any new Gucci shoes?), a certain je ne sais qua, and is a decadent (but expensive) place to spend the evening.

Day 2. Capri to Ischia – 17 nM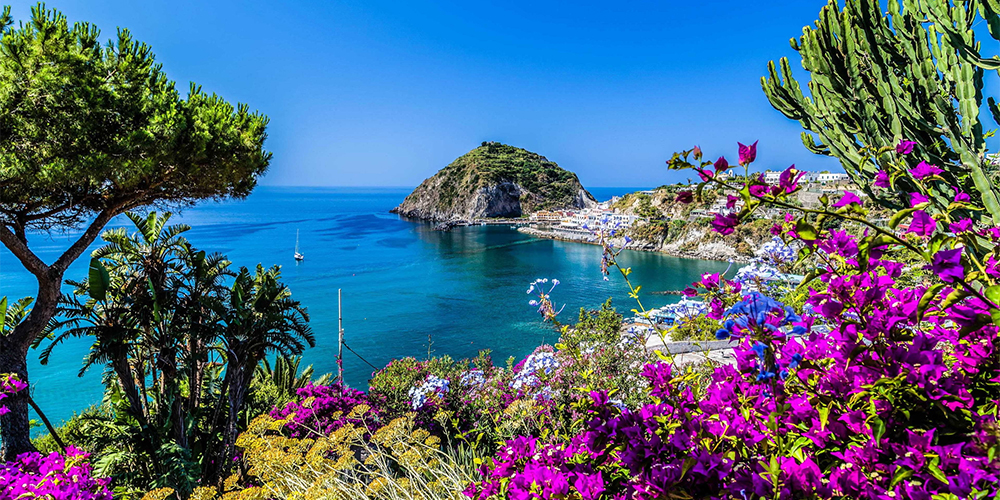 Capri is an island that people come from literally all over the world to see – whereas Ischia, our next port of call, is an island where the local Italians go for their holidays. Many say it is better than Capri, and it is certainly less crowded, more natural, and less overpriced. It's particularly popular with 'wellness' tourists, who enjoy rejuvenating themselves in the thermal baths and volcanic muds - German Chancellor Angela Merkel is a regular visitor.
The crew can relax a bit today as, in the prevailing summer winds, it's possible to make the journey across the bay of Naples in a single close-hauled tack. You'll get a spectacular view of the volcano Vesuvius on the mainland throughout – it last erupted in AD 79 and they do expect it to erupt again at some point – though hopefully not this week!
Most of the marinas are on the North of Ischia, which means that you can sail past the islands' most famous landmark – the Aragonese castle, just off the east coast, which was originally built in 474 BC and was strong enough to keep the Romans at bay for 150 years!

Day 3. Ischia to Napoli – 12 nM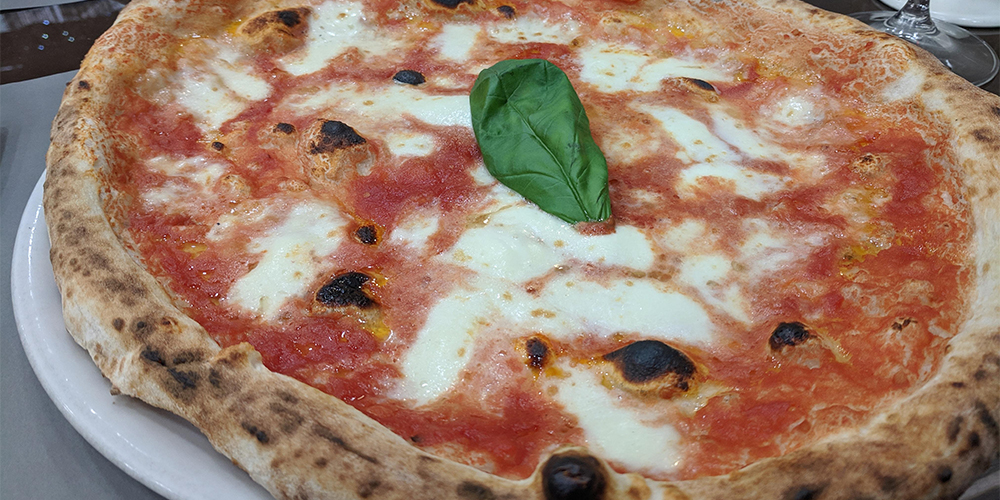 The famed Roman poet Virgil coined the phrase 'See Naples and die' to mean that you simply must go and visit the stupendous and beautiful city. That was in 30 BC, and the city is still an exciting place to go. Incidentally, the same phrase was also ironically popular in the 1400's - Naples was rife with Syphilis and thus, if you went to see Naples, there was a chance that it might literally be the last thing you did.
Nowadays, the city is most famous for inventing Pizza (which is something that you simply must try), for being lucky enough to have Maradona playing (and winning things) for the local football team, and for Vesuvius and the accompanying ruins of Pompeii and Herculaneum).
It's just a short hop from Ischia back to the mainland with a following wind, which means there is time to stop at the neighbouring island of Procida. Corricella, with a hillside of colourful harbourside houses on the south of the island is worth a quick visit or a sail-by.

Day 4. Napoli to Sorrento – 15 nM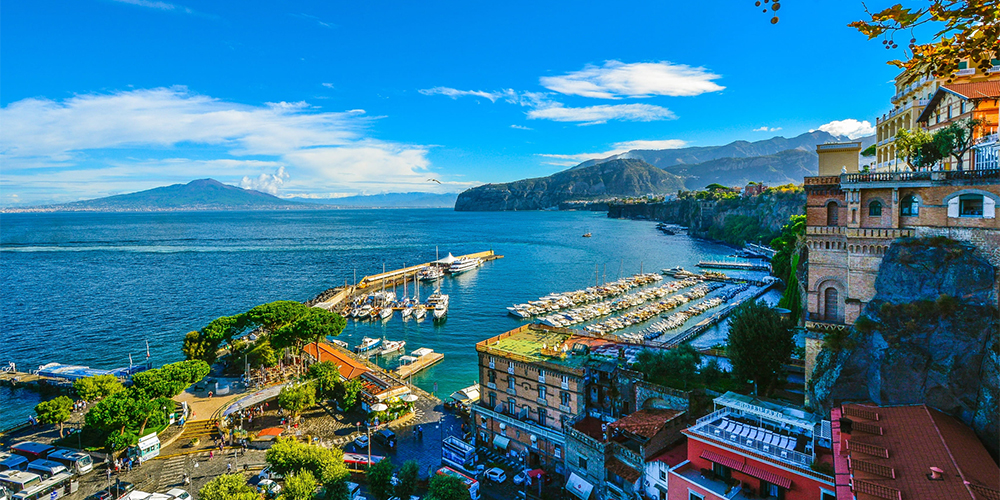 It's unusual to head to a big city on a sailing holiday, but there are plenty of other places to sail if you fancied a nature retreat. This itinerary is unashamedly based on the assumption that you're most likely to want to sail from Salerno if you really want to get out and see the Amalfi coast from the freedom of a boat – so the itinerary is practically chosen for us!
From Naples, we're traversing the bay of Naples - still under the watchful eye of Vesuvius, which seems incredibly close to such a big city. The Roman city of Herculaneum, which was destroyed in 79AD, was actually a sea-side town, complete with boat-houses, but coast has built up in the meantime and it is now 400m inland.
There's a marina at the foot of the cliffs in Sorrento, and from there it's just a short (but steep) walk up to the beloved narrow market streets of one of Italy's biggest tourist attractions. Sorrento was visited by Charles Dickens, Lord Byron, and Keats (amongst others), and is also where they invented Limoncello...

Day 5. Sorrento to Amalfi – 19 nM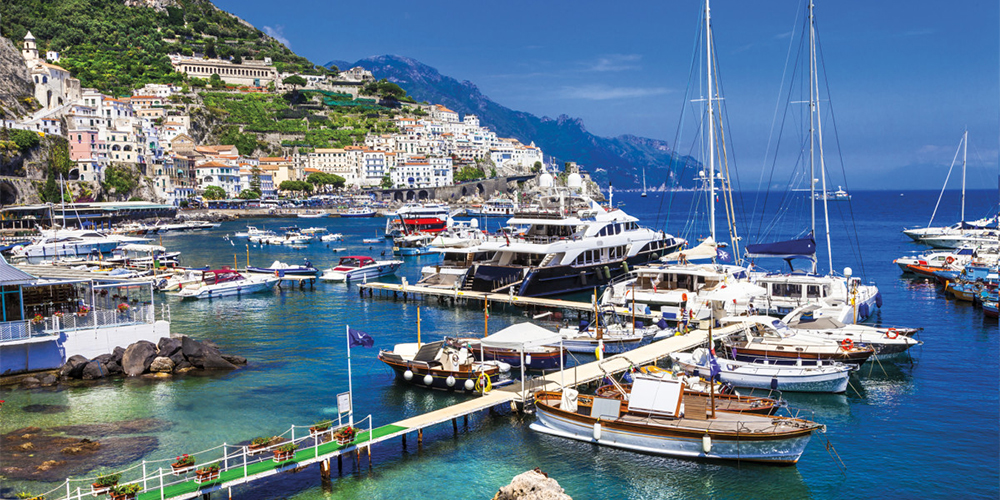 It doesn't really matter what the wind is doing today - from Sorrento we're sailing in pretty much every direction as we wheel north and west, then south and east to sail along the Amalfi coast: a steep cliff-lined coastline with a winding road, crazy buildings, and stunning views, and now a UNESCO World Heritage site.
It's worth setting off early to allow time to check out Positano (just nose the boat towards the town and someone will come and offer you a mooring buoy and a boat-taxi to the town). Positano, like Amalfi, is a very cute hill-side village packed with ancient villas, and swarming with tourists (in a nice way).
Then it's onwards to Amalfi, where one of the local ormeggiatori will board your boat to help moor it up in the impossibly narrow berths (and help you get it out again in the morning – don't worry!)

Day 6. Amalfi to Salerno – 10 nM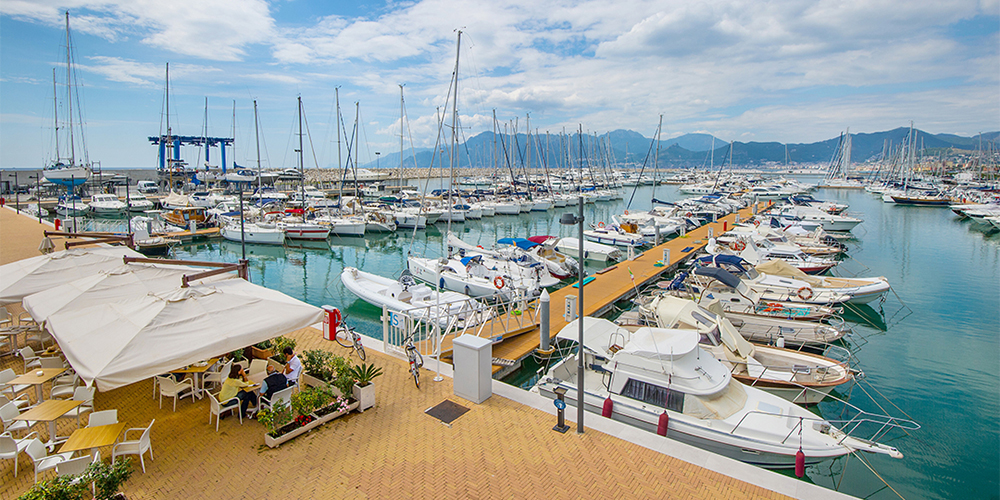 And all of a sudden it's our final day. Take one last stroll out to Amalfi – it's one of the reasons you chose this itinerary – to grab a gelato or some fried fish before the tourists start to descend on the town. Then it's only a short journey running with the prevailing summer wind to get back to Salerno. Be sure to refill the fuel tanks on your way back into the marina, and then moor your boat up in a similar space to where you first found her. You can stay on-board for the night, and then disembark early tomorrow morning.
If you've not yet been to Salerno, it's an ancient city with roots which pre-date the ancient Greeks. More recently, it played host to both the Italian King and Government when it was designated the temporary capital city of Italy for a short spell during the second world war, and is now famous for its thriving port, pleasing 'lungomare' coastal walkway, and the architecturally stunning cathedral (with a crypt holding the remains of Saint Matthew and Pope Gregory VII). It's also a University town, so there should be a reasonably lively nightlife on a Friday night!
And then it's time for your fellowship of crewmates to part ways. Hopefully you've had a fantastic week of sunshine, sailing and exhilarating exploring of the famous Amalfi coast and bay of Naples, and you're leaving the holiday with even better friends than you started with. Have a safe flight home, and head to PlainSailing.com when you're ready to start planning your next adventure!

---
Sailing Conditions
 WHAT ARE THE WINDS LIKE?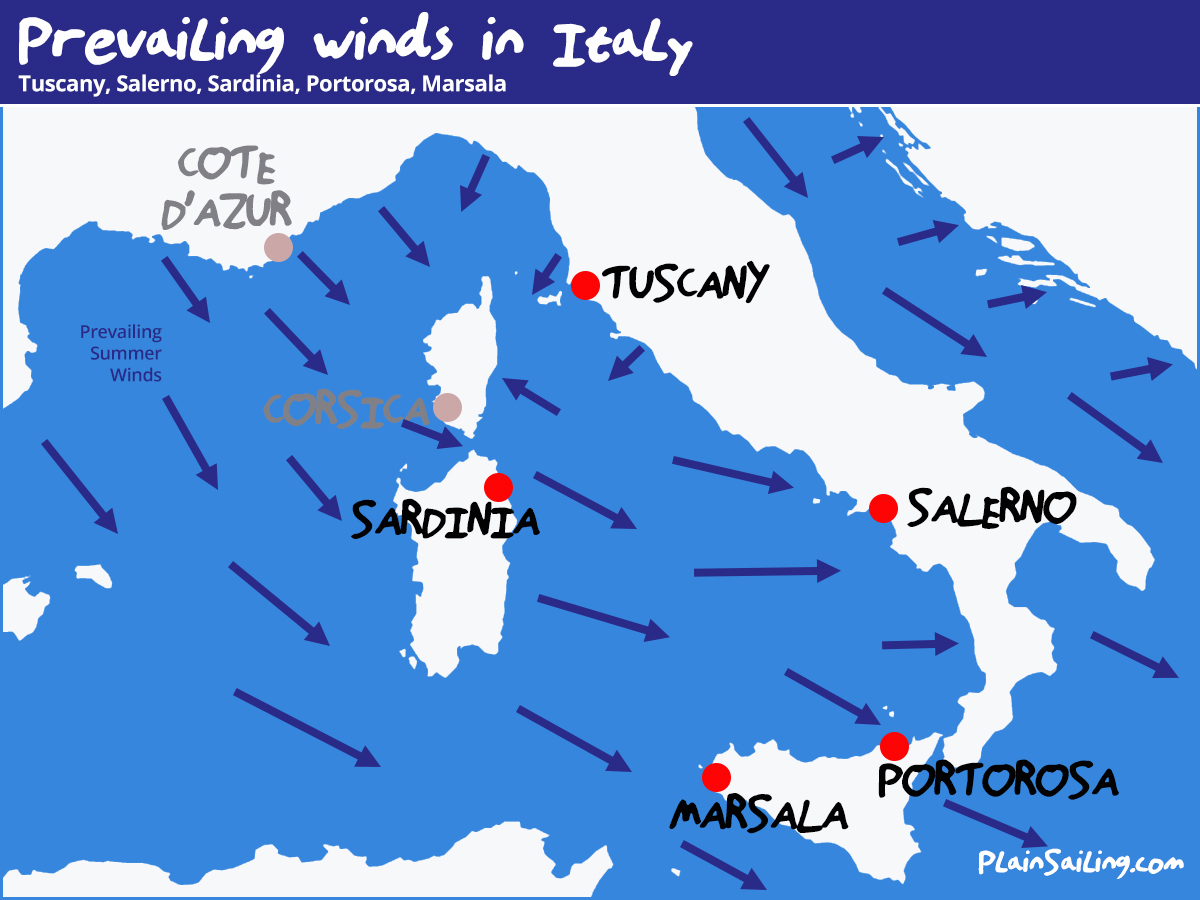 People come sailing along the Amalfi coast for the incredible views and fine food, sunshine, beaches, and the chance to visit some famous places, like Amalfi, Capri and Sorrento.
If you're a thrill-seeker looking to heel the boat over all day, and set record speeds then you probably need to have a re-think. The winds are not as strong as you would find out in the centre of the Med, which means sailing may feel a little slow, and you're unlikely to need to reef up too regularly - though that just gives you even more time to truly appreciate the beauty around you!
The average wind is a force 2-3, and the prevailing wind direction from April to July is from the North-west, before it swings round to arrive predominantly from the East for the remainder of the year.
You'll be getting your kicks from the stunning scenery rather than from sailing on the wild side, but it's still incredibly rewarding, and we highly recommend it!
 HOW HOT WILL IT BE? 


The south of Italy heats up pretty quickly from April, with May's average figures pushing over 20 degrees.  In July and August it can occasionally be scorching, but for the most part it's just under 30 degrees, and perfect sailing weather.  It's still pretty warm in October and November, allowing customers to extend the sailing season too.  Enjoy!
 HOW WARM IS THE SEA? 


After June you basically have no reason to think twice before jumping straight in to the sea from the side of your boat - it will be over 24 degrees, which is about the temperatures that indoor swimming pool operate at here in the UK!  It's a brilliant way to cool off after a hard day's sailing (or even just a hard day of barking orders at your crew!?)
---
Marina d'Arechi, Salerno
The Marina d'Arechi is a €120m purpose built 'marina resort' which was completed in 2016. It's a few kilometres south of Salerno, can house over 1,000 boats, and has not just all the basics (electricity, water, fuel, waste disposal, launderette), but also all the mod-cons (there's free wifi throughout, and a small shopping village in the marina which includes a Patisserie, a fitness centre, a private beach, car rental facilities, free bicycle hire, and even a baby club and baby sitting service).
If you need to stay a night on land, then we can recommend staying at the Villa Costiera Salerno B&B (which also has a couple of apartments for bigger groups) or the very reasonably priced local 4* Mediterranea Hotel & Conference.
GETTING THERE: The nearest airport to Marina d'Arechi in Salerno is Salerno airport, which is only 25km away, but is principally a domestic Italian airport, so you're most likely to arrive at Napoli or Naples Capodichino airport, which is 60km away, and takes about an hour by road (PlainSailing.com can help arrange transfers - just ask). Alternatively, you could get an airport bus to Naples city centre, and then get a train to Salerno before changing onto another train there for Arechi, which is a further 7km down the coast.
PROVISIONING: There is a mini-market inside the marina but the best place to do your 'big shop' is probably the Carrefour on via Gaetano del Mercato - it's about a kilometre from the Marina so you might need a taxi back.
FUELLING AT END: There is a fuelling berth in the Marina - head there before you head back to your home berth.
Loading Map Co-ordinates...
---
Port of Salerno
The Port of Salerno is a fairly basic marina, but it more than makes up for that with it's fine location, right in the heart of Salerno - so bars, restaurants, shops, and other facilities are all within a short walk - as is the beautfiul old town, a reasonable beach, and the lungomare sea-side promenade.
If your flights aren't on a Saturday, then you might want to add a couple of days on land to the start or the end of your holiday - you could stay in Naples or Sorrento, or, if you are set on Salerno, we normally head to one of these bed and breakfasts near to the marina: B&B Centro Storico near to the old town, or B&B Margherita, which has a view over the marina and also has a number of two bedroom apartments which might suit your crew.
WEBSITE: No website | ADDRESS: Porto di Salerno, Via Molo Manfredi, SA, 84121
GETTING THERE: The nearest airport is technically Salerno airport, but it is a domestic Italian airport, so it's probably easiest to arrive in Naples Capodichino airport, which is around 50km away (60 minutes in a private transfer - which PlainSailing.com arrange - just ask). You can also arrive via public transport - get an airport bus to Naples city centre, and then get your choice of a train or bus onwards to Salerno. The marina is about 1km from the train station, so it is walkable if you don't have too many heavy bags.
PROVISIONING: You'll find lots of smaller shops and supermarkets around the town. The nearest one to the marina of a reasonable size is the Carrefour Express on Piazza S. Agostino (the marina side of the old town)
FUELLING AT END: The nearest fuel berth is in the Porto Turistico about 1km East of the Port of Salerno - head there before returning the boat :)
Loading Map Co-ordinates...
---
---
---
WHAT NEXT? Use the pink box to search for yachts or catamarans with LIVE pricing & availability - if you have any other questions or requests, get in touch via Live Chat, the Contact Form, or by phone.