Why Book With Us?
Simple, straightforward process
Outstanding customer service
Friendly UK-based team
Pre-order food, kit or WiFi onboard
Join Our Mailing List
Yacht & Catamaran Charter in Salerno, Italy
Looking to sail from Salerno, Italy? Search to find and book your ideal boat, or read everything you need to know: prevailing winds, where to sail, how to get there and more!

With sunshine, outstanding food, and so many places to see or be seen, then sailing from Salerno is possible the ultimate sailing holiday. With the stunning beauty of the Amalfi coast, Sorrento and Ischia, the elegance and luxury of Capri, the brooding Vesuvius and the ancient volcanic ruins of Herculaneum and Pompeii, you'll find so many instagrammable scenes that you'll almost need to bring along a second smartphone!
The Amalfi coast, with its picturesque hill-climbing villages, colourful flowers, clear waters and fine beaches, is famous for being one of the most beautiful coastlines in the world, and literally millions of people flock to it every year - but it's even better when viewed from your own private yacht or catamaran.
Capri is best known for being a luxurious bolt-hole for the rich and famous, and is a place where you can stop off for Gucci shoes or a new Dolce & Gabbana dress, as well as fine views out into the Med and the bay of Naples.
And you won't find any better food in the whole of Italy than in Naples - the home of the best pizza in the world (Honestly! You need to try it!), the tastiest gelato, the finest wine, the fruitiest Limoncello... If you want to treat yourself, you should seriously consider sailing from Salerno for your next holiday!
---
---
10
---
Sailing from Salerno
Salerno is ideally located for the Amalfi coastline, which heads west from Salerno and features the historic towns of Amalfi and Positano - towns which are known for their remarkable beauty throughout the world. From a boat, you'll be able to enjoy all the views, but without having to worry about winding narrow roads or over-crowded streets. There's even a marina in Amalfi, if you feel drawn in for the night (though it is on the top side of marina fees in the Med).
Further along the coast you can sail out to Capri, and island famous for extravagance - either berth in the marina grande, or pick up a mooring buoy in the marina piccolo before heading on land to sample the finer things in life on the island. There's also a blue grotto which is worth the visit if you are passing.
Crossing the bay of Naples, you'll find the islands of Ischia and Procida, which are where Italians come to spend the holidays - both offer fine beaches, crystal clear waters, and enchanting places to relax awhile, including the Castello Aragonese.
It's also worth berthing in Naples itself for the pizza, the main piazza's, and the crazy old town Spaccanapoli, with it's narrow streets and bustling life. Further round the bay, you can moor up to spend a few hours visiting the historic sights of Pompeii or Herculaneum, then you can imagine urgently sailing away from the brooding Vesuvius, which hovers over the whole bay, as if it was 79 AD.
The last notable port of call is Sorrento, a place that most of you will have heard of already, which is famous for being a land-lubbing tourist resort and the home of Limoncello. People rave about it, and it's always impressive to say "I sailed there".
We have exclusive rates on the local Imray Charts or you can check out our very own sailing distance calculator to check distances and easily plan your route before you go.
Top 3 things to see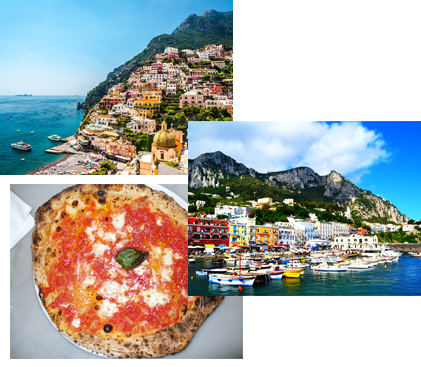 Check out our 6-day itinerary below, or if you're planning your own itinerary, here's our top 3 places to visit in the area:
Amalfi coast (2 nM from Salerno)
A stunningly beautiful coastline which will take your breath away! Colourful flowers, dramatic cliffs, villages of delightful terracotta buildings: wow!
Capri (25 nM from Salerno)
An thrilling island which is beloved of A-list celebrities (amongst many fans) and features fine restaurants and luxury hotels. Also the home of luxury shopping, a funicular railway and a cable-car!
Naples (39 nM from Salerno)
The place where they literally invented pizza, and they still make the best pizza in the world. The old town is a lively place to stroll around.
Suggested 6-day itinerary
Our six-day itinerary covers 97 nM and takes in as many of the highlights of the area as possible in such a short timeframe, and includes sailing up and down the Amalfi coast, Capri, Ischia, Napoli and Sorrento.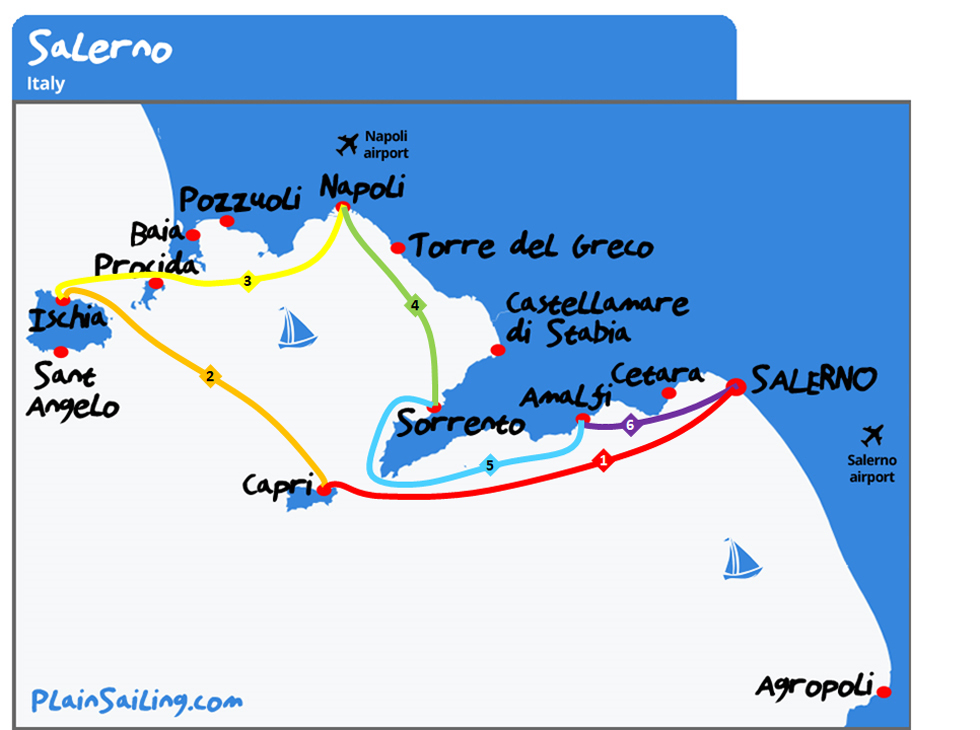 Day 1. Salerno to Capri – 26 nM
Day 2. Capri to Ischia – 17 nM
Day 3. Ischia to Napoli – 12 nM
Day 4. Napoli to Sorrento – 15 nM
Day 5. Sorrento to Amalfi – 19 nM
Day 6. Amalfi to Salerno – 10 nM
---
Sailing Conditions
What temperature will it be?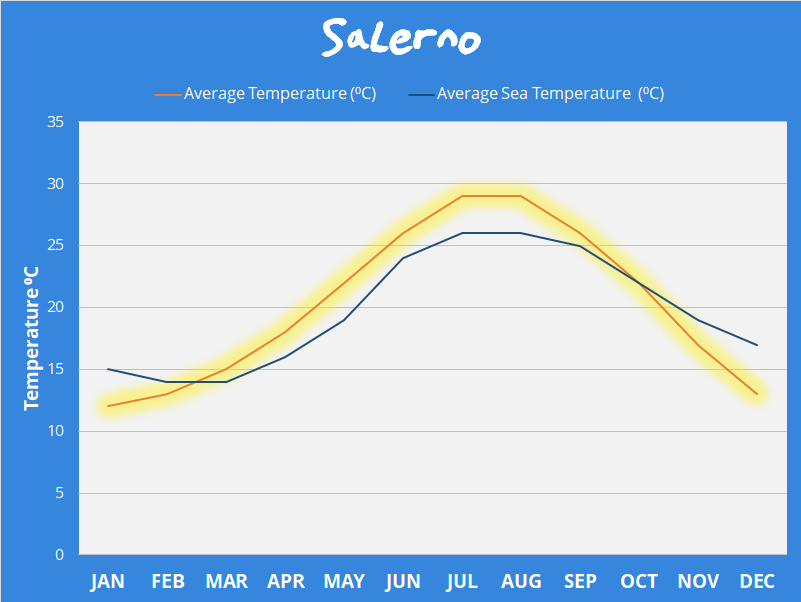 See the graph for weather averages.
What is the wind like?
People come sailing along the Amalfi coast for the incredible views and fine food, sunshine, beaches, and the chance to visit some famous places, like Amalfi, Capri and Sorrento.
The winds are not as strong as you would find out in the centre of the Med, which means sailing may feel a little slow, and you're unlikely to need to reef up too regularly. The average wind is a force 2-3, and the prevailing wind direction from April to July is from the North-west, before it swings round to arrive predominantly from the East for the remainder of the year.
What is the Current Weather in Salerno?
If you're off sailing in a couple of days, you might be interested to know what the 7 day forecast is - our handy widget below should give you a good idea, though once you're out there we recommend using windguru.cz. 
---
Our Guide to Salerno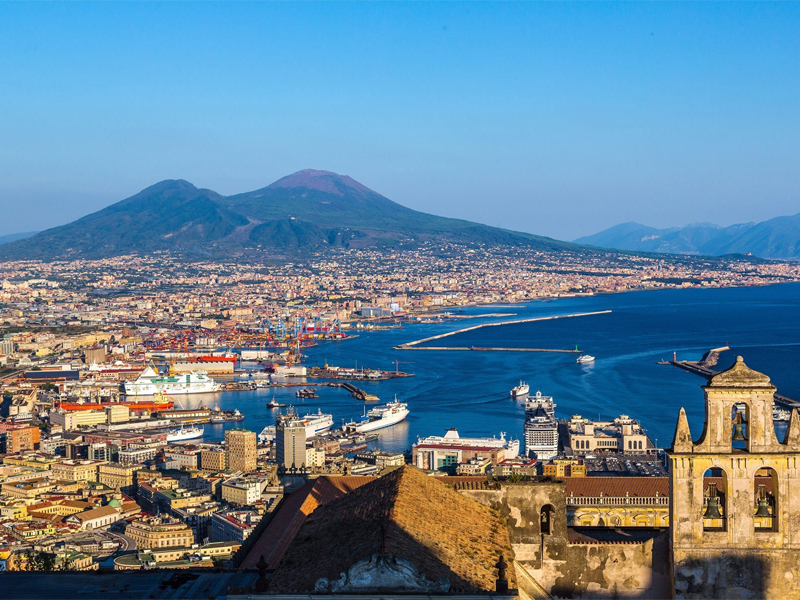 Being close to Naples, Capri, Sorrento and the Amalfi coast, you wouldn't expect there to be much about Salerno - but you would be wrong. The city has been standing for over a thousand years and has multiple claims to fame - it was the home of the first medical school in the world, and was the seat of the Italian King during the World Wars.
The city features a one medieval old town with traditional narrow streets and cobbled floors, a hilltop medieval castle, a gigantic cathedral, and a sea-front promenade, where you can enjoy the views out to sea with an ice cream and a stroll.
A little further afield, there's Pompeii (an ancient Roman settlement which got destroyed by the nearby volcano Vesuvius in 79 AD) and the ruins of the ancient Greek settlement of Paestum, plus the Amalfi coast is on the doorstep, there's beaches, and you can easily head into Napoli, the world capital of Pizza, in about 40 minutes.
---
Marina Details
Marina d'Arechi
The Marina d'Arechi is a €120m purpose built 'marina resort' which was completed in 2016. It's a few kilometres south of Salerno, can house over 1,000 boats, and has not just all the basics (electricity, water, fuel, waste disposal, launderette), but also all the mod-cons (there's free wifi throughout, and a small shopping village in the marina which includes a Patisserie, a fitness centre, a private beach, car rental facilities, free bicycle hire, and even a baby club and baby sitting service).
From the marina, it's also only a short walk to Arechi town centre, where you'll find the train station to get into Salerno, and beyond.
AWAITING MARINA MAP
| | |
| --- | --- |
| Website: | www.marinadarechi.com |
| Address: | Marina d'Arechi, Via Salvador Allende, 84131 Salerno, Italy |
| Long / Latitude: | N 40° 38'744. E 14° 48'64 |
| Telephone: | 0039 (0) 892 788 801 |
| VHF Channel | 74 |
| Walk-ashore berths: | 1,000 |
| Facilities: | Baby club, Boatyard, Car rental, Chandler, Electrical supply, Fitness centre, Fresh water, Fuel: Diesel, Fuel: Petrol, Launderette, Parking, Private beach, Pub / Restaurant, Sailing school, Sailmaker, Shop / Supermarket, Showers, Toilets, Telephone, Visitors berths, Wifi |
---
Getting to the Marina
Loading Map Co-ordinates...
The nearest airport to Marina d'Arechi in Salerno is Salerno airport, which is only 25km away, but is principally a domestic Italian airport, so you're most likely to arrive at Napoli or Naples Capodichino airport, which is 60km away, and takes about an hour by road (PlainSailing.com can help arrange transfers - just ask).
An alternative to a private transfer would be to get an airport bus to Naples city centre, and then get a train to Salerno before changing onto another train there for Arechi, which is a further 7km down the coast.
This page last updated: September 2018
We do our best to keep this information as up-to-date and accurate as possible, but obviously we can't be everywhere at once. If you are aware that any information on this page is incorrect, please let us know by emailing marina@plainsailing.com.
---
---