Why Book With Us?
Simple, straightforward process
Outstanding customer service
Friendly UK-based team
Pre-order food, kit or WiFi onboard
Join Our Mailing List
Greece Yacht and Catamaran Charter
We'll help you find the right Yacht Charter in Greece! We have yachts and catamarans ready to sail 10 bases across Greece.
---


Charter a Yacht or Catamaran
Charter bareboat or skippered yachts or catamarans from our Charter Partners (who we have met, know and trust) and we can guarantee we'll have the best price.  Plus we're UK based, so if you have any questions just give us a call or catch us on LiveChat!
Sailing around Greece
With clear waters, blue skies, beaches, almost perennial sunshine, and over 1,400 islands to explore, Greece is pretty much perfect as a sailing holiday destination, and Plainsailing.com can make it happen - whether it is a bareboat yacht charter, chartering a catamaran, or simply jumping aboard and leaving the actual sailing to a skipper.
Famous for its ancient history as being a global super-power a couple of thousand years ago, and leading the way to civilisation, Greece has a long and glorious history of boats and sailing, so it's no surprise that they are superbly set up for sail-tourism: each island has a harbour or marina with all the facilities you'll need, and there are countless anchorages and beautiful bays to stop in – some so far from the beaten path that they don't have roads or cars yet, and where you're unlikely to meet any other tourists.
Sailing wise, the sea is non-tidal (which reduces the need for complex mathematics to be employed before you get out the sails) and, whilst the wind is unlikely to see you breaking speed records, is generally reliable and consistent enough to keep you above six knots.
Arguably the toughest part of sailing in Greece is working out where to sail?! There are six key sets of islands which make up the cruising area, each with hundreds of islands to navigate, meaning that Greece is a country that you can keep coming back year on year for sailing holidays without visiting the same places or ever getting bored. Wherever you go, you'll encounter pretty old towns, welcoming marinas and jaw dropping scenery.
Where to Sail in Greece?
You can use our handy 'Sailing in the Med Decision Tree' to find out where might suit you best, or pick from our mini reviews below:
What is the Weather like in Greece?
One of the main reasons that Greece is super-popular as a sailing destination is the weather – it has beautiful and dependable sunshine almost all year long, and the temperature seldom falls below 10 degrees, and, during the traditional sailing season (April to September), temperatures tend to be over 20 degrees.  The sailing season is also blessed with warm sea temperatures, which means that if the sunshine gets too much, you can drop the anchor and dive in!
During the peak season (July/August), temperatures can get a little stifling, and it's not unusual for the mercury to hit the high thirties for at least a couple of days each year.  Thankfully, this mid-summer heat is complemented by a regional summer wind which gives a welcome refreshment (as well as offering another reason to go sailing!)
Average temperatures and sea temperatures for Greece:
Average Temp and Sea Temp in Greece

APR

MAY

JUN

JUL

AUG

SEP

OCT

 IONIAN
 Average Temp (⁰C)
15
18
23
25
25
23
19
 Average Sea Temp (⁰C)
17
21
23
25
25
25
22
 ARGO-SARONIC

 Average Temp (⁰C)

16
21
26
29
29
24
20
 Average Sea Temp (⁰C)
16
19
22
24
25
24
22
 CYCLADES
 Average Temp (⁰C)
15
19
23
26
25
23
19
 Average Sea Temp (⁰C)
16
19
22
24
24
24
22
 SPORADES
 Average Temp (⁰C)
15
19
23
26
25
22
18
 Average Sea Temp (⁰C)
15
18
22
24
25
24
21
 DODECANESE
 Average Temp (⁰C)
17
20
24
26
27
25
21
 Average Sea Temp (⁰C)
17
19
21
23
25
24
22
Sailing Conditions in Greece
Greece's long history in sail-tourism (and a brilliant infrastructure as a result) and the fact that there are so many islands to explore in the sunshine would not mean much unless there was actually a chance for sailors to get the sails out – so you'll be glad to hear that winds are very well suited to sailing, and that even a beginner should be able to get up a good pace of knots in Greece.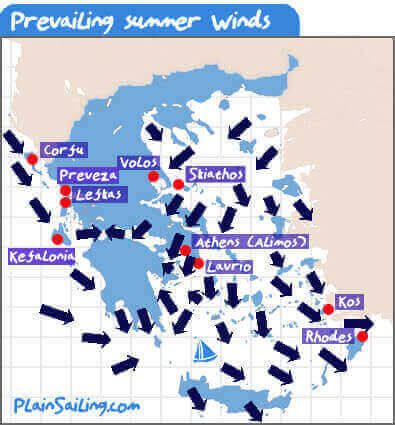 Covering such a vast area of the Mediterranean Sea, there are all sorts of weather systems in play, and the weather is difficult to predict, but here are general themes for the winds in each area:
Ionian Islands (Corfu/Lefkas/Preveza/Kefalonia) – winds are generally light in the morning and only tend to get going once the sun has started shining, and similarly die down shortly after sunset.  In May to September, you can expect north-westerly winds coming down the coastline of between force 4 and 5 (11-20 knots) in the afternoons, which should be enough wind to heel over.
Argo-Saronic Islands (Athens) – Because the islands are somewhat sheltered by the mainland, you'll find the lightest winds in Greece in the Argo-saronic – particularly in April and May, though you'll find the winds are still strong enough to make it worth putting the sails up (but not enough to make you worry about strapping everything in). 
This is also the zone where there is no real prevailing wind direction until later in the season, when there's some added oomph from the northern Meltemi winds, though there are pockets days when the Scirocco winds from the South blow hardest, so do check the local forecasts,
Cyclades Islands (Lavrio) – because they aren't protected so much by the mainland, you'll find the strongest winds in Greece rushing around the Cyclades islands.  In summer, you should find decent force 4 or 5 (11-22 knots) northerly winds all day long, although they'll be strongest in the afternoon when the Meltemi winds (which race from areas of high pressure in Eastern Europe to southern Turkey) can make wind speeds pick up to force 6 or even 7 (23 – 33 knots), before the wind dies down in the evening. 
The Meltemi are at their strongest in July and August, when they help to take some of the heat out of stifling temperatures.  The winds help to make good, challenging sailing conditions, though be prepared to throw in a few reefs.
Sporades Islands (Skiathos/Volos) – in April and May, the prevailing wind in the Sporades is a force 3 or 4 (7-16 knots) from the north-east, but things hot up from mid-June when the seasonal Meltemi winds kick in and you can expect winds from the north and north-west with speeds of force 5 (16 – 22 knots) or higher.  Wind speeds are at their most exhilarating but challenging in August, and gusts can be particularly strong.
Dodecanese Islands (Kos/Rhodes) - arguably the most pleasant and reliable winds in Greece are to be found around the Dodecanese, where they're usually consistently blowing at force 4 to 5 (11-22 knots) from the north-west all day long.  During July and August, the Dodecanese are affected by the summer seasonal Meltimi winds, which means the wind can also arrive from the north.  Contrary to other islands of Greece, you'll often find the wind blowing well after the sun has gone down, so make sure the lines are tight if you don't want clanking ropes to keep you up all night! 
Cost of Chartering a Yacht in Greece?
The cost of chartering in Greece varies by what time of the season it is, the length and age of yacht or catamaran you'd like to charter, how long you'd like to charter for, and whether or not you want a skipper.
The sailing season proper runs from May to September, though it is possible to charter all year round.  In low season, you might be able to charter for short or long periods, but during the peak season (July and August), when demand and prices are their highest, you'll only be able to charter a yacht for a full week, from Saturday to Saturday.Below is a table which gives week-long bareboat charter prices for a 3 or 4 cabin yacht or a 4 cabin Catamaran. 
 Average Charter Prices

MAY
AUGUST
Price (from)
per head
Price (from)
per head
 3-cabin yacht (6 berths)
€1020
€170
€1530
€255
 4-cabin yacht (8 berths)
€1231
€154
€1998
€250
 Catamaran (8 berths)
€2309
€289
€4990
€624
You'll also need to pay a mandatory end-cleaning fee of about €100 - €200 at the end of your charter (sometimes called a transit log).  Most yachts will allow people to sleep in the saloon area, but a week is a long time to be 'homeless' on a boat, so the prices listed are for everyone to sleep in a cabin, and you can add in optional wifi for about €50 a week or an outboard motor for about €80 - €100 a week (the prices vary by operator).
If you want a skipper, you should add about a further €1,050 for the week (or €150 a day), and don't forget you'll need to get an extra cabin on your yacht or catamaran for them to sleep in!
In addition, you'll need to pay a refundable security deposit on a credit card (similar to a car hire) upon check-in.
In general, May and September offer the best value for sailors, when charter fees can be less than half the price of chartering out the same boat in the peak season, and the weather is still warm enough to wear t-shirts and flip-flops.
Book a Yacht / Catamaran Charter
Use our search function (on the left-hand side of this page) to find your charter yachts or catamarans available in Greece, and filter the results to find your ideal boat.  We have LIVE, real-time availability on all of our yachts and catamarans in Greece, and you can book one in a matter of clicks and with an industry-leading 30% deposit. 
If you have any questions, give our award-winning UK-based team a call on our freephone number or catch them on the LiveChat – they'll be able to answer your questions and to recommend a yacht or catamaran for you!
Destinations
Tags: Yacht Charter Greece, Greek Yacht Charter, Chartering a yacht in Greece, Renting a Catamaran in Greece, Greek Sailing Options, Catamaran Charter in Greece, Bareboat Sailing Greece