Find a Yacht
No need for quotes - search now for boats with LIVE pricing and availability
Why Book With Us?
Simple, straightforward process
Outstanding customer service
Friendly UK-based team
Pre-order food, kit or WiFi onboard
Never beaten on price!
Join Our Mailing List
Yacht & Catamaran Charter in Jezera, Croatia
Looking to sail from Jezera? Search to find and book your ideal boat, or read everything you need to know: prevailing winds, where to sail, what to see, where to eat or sleep, how to get here and more!
READY TO BOOK!
ALL our yachts have REAL-TIME pricing & availability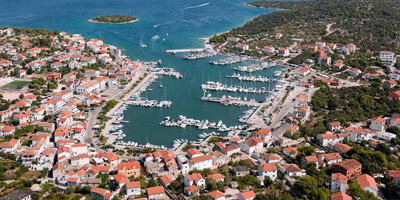 ---
---
Our Guide to Jezera
Jezera Marina
Jezera marina is an impressive and award-winning marina with all the trappings you would expect from a modern Croatian marina – there's wifi, a restaurant, a bureau de change, and even a swimming pool for visitors - on top of all the usual toilet, launderette, mini-market and refuelling facilities. It's just a short walk to the historic Jezera town, where there's churches, bars and taverna's, and the whole of Murter island is famous for its amazing beaches.
Jezera
Jezera is based on Murter island, which is connected to the Croatian mainland courtesy of a massive road bridge. Jezera is the second largest town on the island (behind Murter town), but is believed to be the oldest settlement on the island, and, like much of the settlements on the Croatian coastline, is believed to have been originally established by the Romans. Whilst there are some historic relics, the area is best known for its array of excellent beaches, and the quality of its locally caught fish.
Getting to Murter island is fairly straightforward – the island is located between Split and Zadar airports, and you can get a transfer by road from the airport to Jezera for a reasonable price (ask for details).
Things to see and do
Murter island has a rich history, with historic buildings and churches dating back to Roman times to explore. Perhaps the most exciting are the ruins at the old Roman settlement of Colentum. Most locals, however, head to Murter for the beaches – with Slanica Cove being widely regarded as the best beach on the island (and, indeed, in the top ten for the whole of Croatia). Outside of tourism, Murter is a modern town with all the shops you might need, whilst Jezera is more of a cute fishing village – and fishing is still an important and thriving part of the island to this day.
Local Events / Festivals
If you know of, or would like to advertise, an event, please let us know at marina@plainsailing.com
Eating and Drinking
Coming soon... :)
Your Recommendations
No recommendations yet – if you have a recommendation for a place to drink, eat or visit, that you know others will love too, please email it to marina@plainsailing.com! :)
Where to Sail
Jezera is a part of the incredible sailing playground that is the Kornati islands, which offer an immense range of beaches, secluded bays and cute island villages, as well as picturesque views, fine food, and dependable sunshine for most of the year. If that isn't enough for you, Jezera is also pretty exceptionally located to allow you to take your pick of sailing north to the islands around Zadar, or south down to historic Trogir in just a few days of sailing – both of which are very pleasurable voyages.
Your Recommended Journeys
Where have you set sail to from Trogir? Email us at marina@plainsailing.com
Marina Details
ACI Marina
| | |
| --- | --- |
| Website: | www.aci-marinas.com/en/ |
| Address: | ACI Jezera, Obala sv. Ivana 47 E, 22242 Jezera, Croatia |
| Long / Latitude: | N 43° 47' E 15° 39' |
| Telephone: | 0038 52243 9295 |
| Fax: | 0038 52243 9294 |
| Email: | m.jezera@ac-club.hr |
| VHF: | Channel 17 |
| | |
| Walk-ashore berths: | 233 |
| Rates: | |
| | |
| Facilities: | Bottled gas, Bureau de change, Café / Bar, Electrical supply, Fresh water, Fuel: Diesel, Fuel: Petrol, Laundry facilities, Maintenance and repair shop (and crane and dry-dock), Parking, Restaurant, Shop / Supermarket, Showers, Supermarket, Swimming pool, Toilets, Telephone, Visitors berths, Wi Fi |
Marina Reviews
No reviews yet – if you have a review of this marina please email it to marina@plainsailing.com
We do our best to keep this information as up-to-date and accurate as possible, but obviously we can't be everywhere at once. If you are aware that any information on this page is incorrect, please let us know by emailing marina@plainsailing.com.
Marina Map
Getting to the Marina
Loading Map Co-ordinates...
Jezera is easily accessible by road, with Murter island being linked to the mainland via a road bridge. The nearest airports of Split and Zadar serve many budget airlines, including Ryanair, and are less than two hours drive away – transfers can be arranged at a reasonable fare – please ask us for details.
Public transport is an option to arrive at Jezera from the airports, but involves heading into Split or Zadar town centres and then catching a bus along the coast, which can be very time consuming, and some services to Murter island only run once a day.
---