Find a Boat
LIVE
Pricing & Availability
Search NOW
Malta Yacht and Catamaran Charter
We have incredible yachts and catamarans ready to sail from Valletta in Malta.

Sailing around Malta
Malta is slap-bang in the middle of the Mediterranean sea and has been a port of call for sailors for millennia, and is a place best explored from your own boat. We can help you find and book your ideal yacht or catamaran in Malta, so that you can tour the spectacular coastline of historic Malta and the spectacular nearby islands of Gozo and Camino.
Malta is an idyllic place to sail, with pristine beaches and bays, crystal clear waters, stunning lagoons, delightful sunshine, dependable winds, and, despite being a collection of small islands, there's plenty enough marinas and anchorages to spend the night to keep things new and interesting for a week or two.
With over 5,000 years of history, there's also plenty to see and do on land, from castles and prehistoric churches to colourful traditional fishing villages.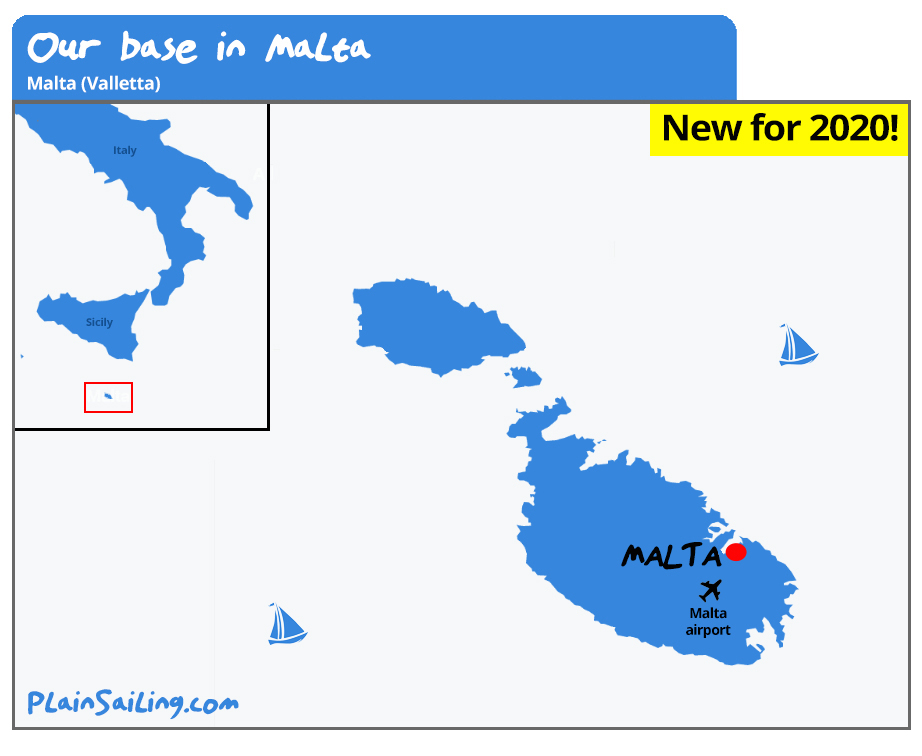 SAILING RATING:  Intermediate - in general, there's moderate winds around the island, and the prettiest places to sail are well sheltered, but winds can pick up and the coastline can feel quite exposed, so it is worth having some experience.
 WHEN TO GO:  The sailing season runs from April to November, with peak season being in July and August, but the weather is good enough all year round to sail out of season reasonable comfortably. There's sunshine and moderate winds throughout the season.
 MINIMUM QUALIFICATIONS:  You'll need RYA DaySkipper (or above) or your local equivalent to charter a boat in Malta. If you're not qualified, we can find you a professional skipper.
 VISA REQUIREMENTS:  Malta is part of the EU, which means UK and EU passport holders can travel there at will. US and Australian passport holders do not need a visa unless planning to stay in Europe for longer than 90 days.
 GETTING THERE:  Malta has an international airport and is well connected to mainland Europe and the UK. The marina is just a short 20 minute drive from the airport. We can help arrange transfers to or from the marina, as well as helping you get provisions on board if your flight arrives late at night.
 
Charter a Yacht or Catamaran in Malta
We can help you find the ideal yacht or catamaran for your sailing holiday in Malta. We only work with the very best professional charter operators in the area, who we have met, know, and who we trust to give you the same outstanding customer service as you'll get from PlainSailing.com.
Use the pink search box above to look for boats for yourself - they have live pricing and availability and you can filter the results to find your ideal boat - or start a Live Chat with our award-winning bookings team for help, advice, or anything else!
 
Where to sail in Malta
We charter yachts and catamarans from one base in Malta - from Kalkara Marina, in the outskirts of Valletta, on the North coast of Malta.
 VALLETTA 
Ideas of where to sail: A circumnavigation of Malta, Gozo and Camino is around 60 nautical miles, so you can sail and explore the whole area in some depth in a full week. The Blue and Crystal lagoons on Camino are beautiful, there's golden beaches galore, Gozo offers bays with stunning cliffs, and you'll find traditional (non-touristy) places to visit along the wild West coast of Malta.
 
Cost of a Sailing Holiday in Malta?
Prices change depending upon what sort of boat you are chartering, and when you would like to charter, and yachting offers great value for money because the fee includes a full-day activity, a means of transport and your overnight accommodation!
Charters are normally in periods of a week, from Saturday (check-in at 5pm) to Saturday (check-out at 9am), though you're required to be back at the charter base on the Friday evening. You can charter a 3-cabin yacht for as little as €1,600 / week (including end cleaning), 4-cabin yacht from €2,100 / week, or catamarans from €3,900 / week - use the pink search box for live prices and availability.
|   | May / Oct | June / Sept | July / Aug |
| --- | --- | --- | --- |
| 3 Cabins | €1600 | €1900 | €2300 |
| 4 Cabins | €2100 | €2500 | €2800 |
| Catamaran | €3900 | €4800 | €5200 |
 
In addition to the charter fee, there is an end-cleaning fee to be paid, and you'll need to leave a security deposit on check-in (similar to a hire car, and usually placed as a pre-authorisation on a credit card).  You'll also need to pay the Mooring fees for any nights you spend in a marina.
You can also add transfers, an outboard motor, early check-in, security deposit insurance or other extras to your booking (if they are not already included) for an additional fee.  We can also arrange for a Skipper, Hostess or Chef to be on board - in Malta, these normally cost an average of €1,260 per week, excluding tips.
 
Our Malta Sailing Destinations
Find out a lot more about our Malta bases in our comprehensive destination guides, which also include details about suggested sailing routes, weather conditions, and recommended hotels, amongst a host of other useful information:
Tags: Malta Yacht Charter, Bareboat, Skippered, Yacht and Catamaran Charters, Malta Catamaran Charter