Find a Boat
LIVE
Pricing & Availability
Search NOW
Yacht & Catamaran Charter in Corsica, France
We can help you find the perfect yacht or catamaran to sail from Corsica!

Sailing from Corsica
If you're after beautiful white sandy beaches, turquoise blue seas, magnificent rugged landscapes, unspoilt countrysides, historic old towns, sunshine and sailing, then why not head to our base at Propiano in beautiful Corsica? The birthplace and home sailing ground of Napoleon Bonaparte, Corsica has long been a popular place for sailing, with reliable winds (which can arrive from almost any direction), and plenty of spectacular places to see - including the breath-taking town of Bonifacio, which sits atop huge limestone cliffs, and the delightful old town of Porto Vecchio - amongst so many other places.
The sun shines, the sea, wind and sailing are superb, the food is delicious, the locals are welcoming, and there's plenty of well appointed marina's and secluded anchorages to spend the night. If you're looking for somewhere beautiful to sail, then get yourself to Corsica! We can help you find and book your ideal yacht or catamaran, with one of our trusted Charter Partners - just get in touch or search in the pink box with live prices and availability!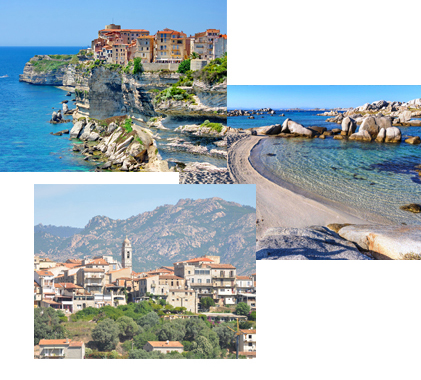 SAILING RATING: Intermediate - The French Riviera is a splendid place to sail and explore, but winds can be somewhat unpredictable, and with hot stormy weather a couple of times a year, there is some risk that you'll encounter stronger winds than you would like. Peak season is July & August, but you can sail here from March to October.
MUST-SEE: Our full suggested itinerary is further down the page, but we'd highly recommend taking in the amazing medieval clifftop village of Bonifacio, the idyllic island of Cavallo, and the picture-postcard old town of Porto Vecchio.
WHAT WE CAN OFFER: We have a great range of yachts and catamarans available for charter from our trusted Charter Partners, all available bareboat or Skippered. We can also arrange a Hostess, Personal Chef and other crew.
GETTING THERE: The Marina is around an hour from either airport. We can organise transfers for you - a 4 person taxi is c. €160 - 180.
WHY BOOK WITH US? We only work with the very best professional charter operators, who we have met, know, and trust to give you the same outstanding customer service as you'll get from PlainSailing.com.

WHAT NEXT? Use the pink box to search for yachts or catamarans with LIVE pricing & availability - if you have any other questions or requests, get in touch via Live Chat, the Contact Form, or by phone.
Why book with PlainSailing.com?
We're yacht and catamaran charter experts, and can find you the best boats in Greece, Croatia and anywhere else in the Med or Caribbean - yacht, catamaran or superyacht-bareboat, skippered or crewed

We're UK based, only work with the best Charter Companies, offer exceptional customer service from start to finish and will match any price!

Independent Service Rating based on
415
verified reviews.
6-day Sailing Itinerary from Corsica
Corsica is renowned for it's beautiful but rugged landscape, fine beaches, and turquoise seas - and you can find them in almost any direction you choose to sail. It's quicker to sail anti-clockwise around the island, though it's a voyage of 240 nautical miles, so probably a bit ambitious if you're only on a one week charter.
From Propiano, our recommended route is to along the South coast of Corsica, taking in the cliff-top town of Bonifacio, and the ancient winding streets of Porto Vecchio, as well as some simply stunning beaches and bays along the way. You could also hop over to the Maddalena islands just off Sardinia, which are beguiling - though be aware that you'll need to pay for a license to sail there. Finally, you can also sail northwards to the capital of Corsica, Ajaccio, which is a beautiful old town. When you're sailing in the harbour, it's crazy to think that Napoleon has been here, doing the exact same thing.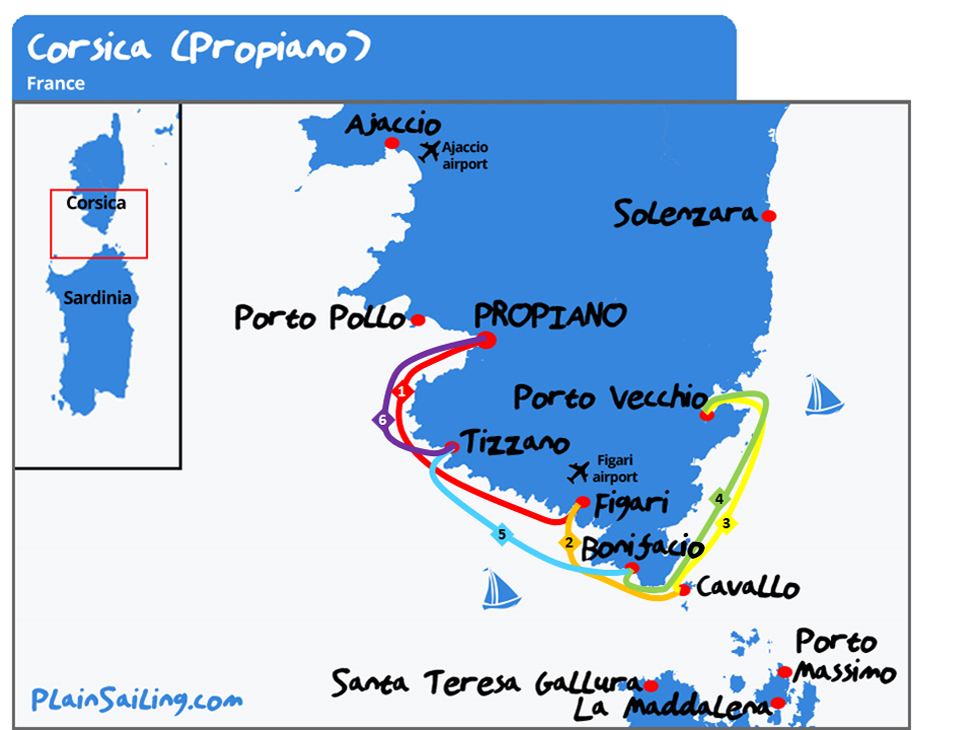 Our six-day itinerary covers 118 nM and heads southwards around the Corsican coast, passing a multitude of superb beaches and bays, and visiting the must-see places in the area - like Bonifacio and Porto Vecchio. It's also possible to sail over to Sardinia and the Maddelena islands, but if you wanted to see them then it is easier to charter from Sardinia, and the Corsican coastline is just as stunning.
It's a six-day itinerary because you'll check-in in the late afternoon on the first Saturday, and will need to get provisions and everyone one board, and get familiar with the boat, so you likely won't be sailing until Sunday morning. You'll also need to return the boat to the home marina on the Friday evening, so that they can check the boat is all in one piece. You can stay on-board for Friday night, before formally checking out first thing on Saturday morning.
118 nM over 6 days works out at about 20 nM a day, which is roughly 4 hours or so of sailing – giving plenty of time to explore the start or finish points each day, to have a lazy meal somewhere, or to stop en-route to dive in or play.

Day 1. Propiano to Figari – 26 nM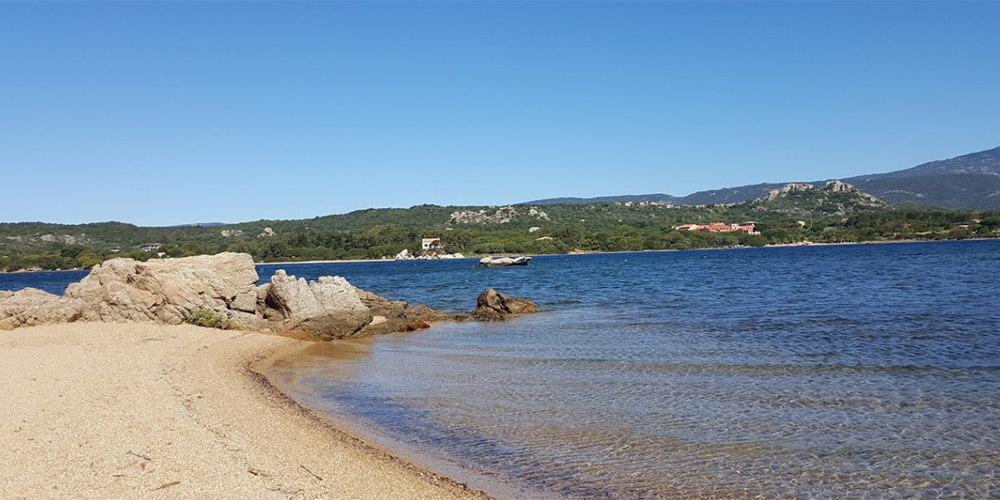 Wash up the breakfast pots, make sure the shopping is stowed and that everyone is on board, and then let's get this show on the road! Loose the lines and then we're heading out into the Mediterranean. Today we're sailing in lots of different directions as we work our way west, then south, then East around the headland, and then northwards into our port for the night in Figari – so your crew will have plenty of time to practice different tacks and points of sail against the prevailing summer North-westerly winds.
Figari is a small and welcoming village with a cute town centre and a reputation for making the finest wines in Corsica. They have been making their own wine for over 2,500 years here – so they know what they are doing! – and it is well worth sampling a glass or two, for scientific purposes.

Day 2. Figari to Cavallo – 14 nM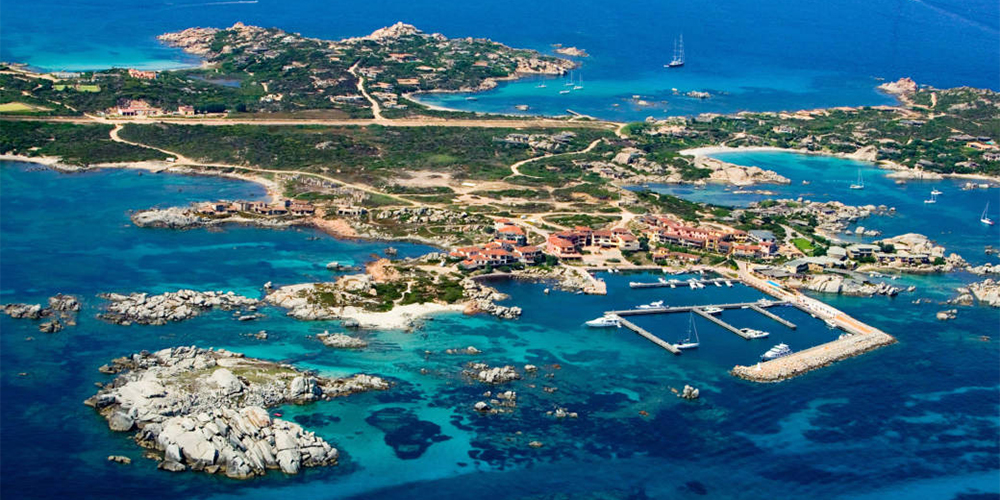 Be sure to check the weather forecast before you set sail today, as we're heading through the Bonifacio Strait, where winds can double or triple in speed as they get forced between Corsica and Sardinia. It's not as dramatic as it sounds now that we have modern boats and instruments, but it used to cause chaos in ancient times – such that there were rumours that Sirens lived in these parts. If one of your crew bought some ear-plugs, they may yet come in handy!
We're sailing south-eastwards, with the wind behind us, past the ever-impressive Bonifacio town (but don't worry, we're coming back to get a closer look later on), and onwards to the island of Cavallo. You might never have heard of it, but it is known as the 'Mustique of the Med' and this small island is particularly popular with A-list celebrities who want to get away from it all.
It is, however, possible that you might have seen part of Cavallo before though – the Romans were so impressed with the quality of the marble here that they shipped vast quantities of it back to Rome, where it was used for their grandest statues.

Day 3. Cavallo to Porto Vecchio – 20 nM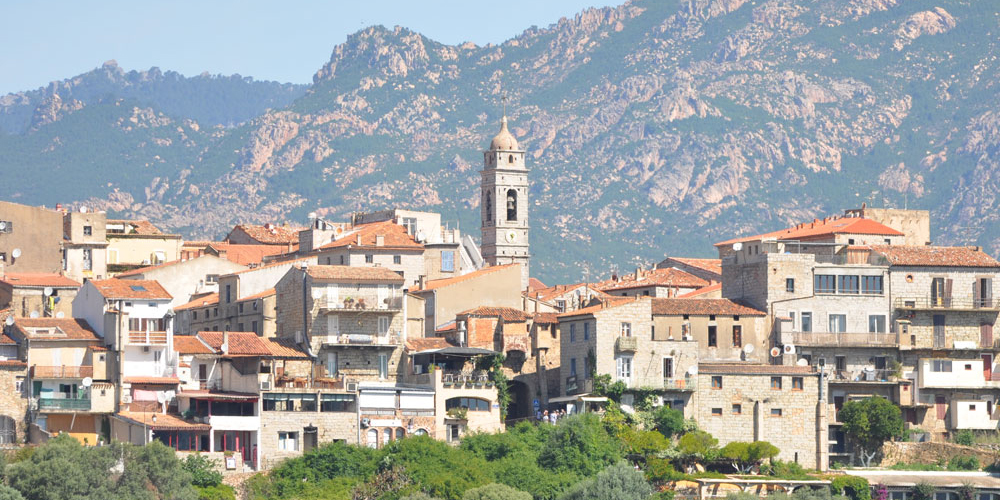 From Cavallo, we're heading to one of the highlights of Corsica, Porto Vecchio – people flock here from across the Med on day-trips, and it is popular with land-lubbing tourists. And it's easy to see why – it has a mix of unspoilt beaches, a stunning medieval old town (complete with narrow winding streets of shops) based near the main marina, some fine architecture, and plenty of places to sit and enjoy the superb views back out to sea. Interestingly, it has an Italian name ('old port') which is because Corsica was a part of Italy until 1729, and they never bothered to rename it something French.
To get there, we're sailing northwards. There's no real prevailing summer winds here - the wind could arrive from any angle, and it changes if you get closer to the coastline. If you stay out at sea a little, then it gives you time to appreciate the cliffs and mountains of Corsica. The island has the second highest mountain in the Med (after Mount Etna on Sicily).

Day 4. Porto Vecchio to Bonifacio – 25 nM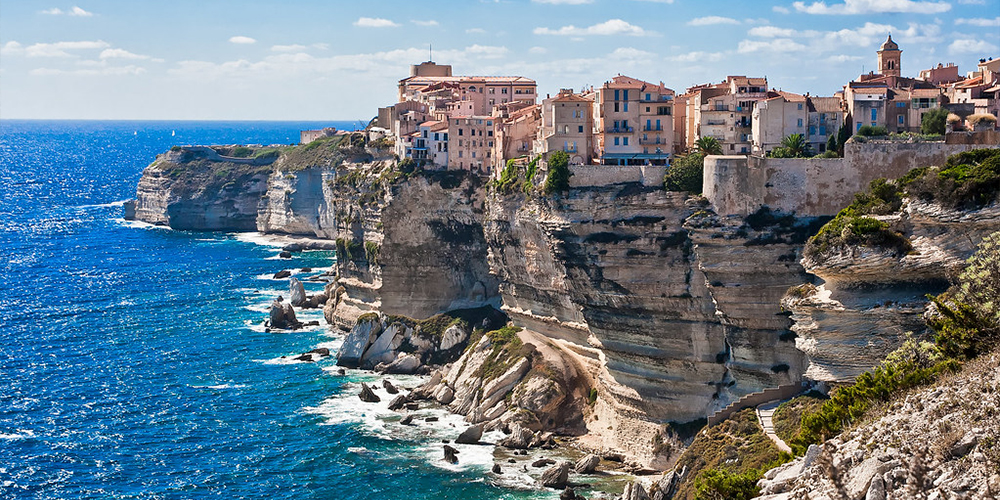 It's time to turn around and head back for home. A full lap of Corsica is about 240 nM, which would be best attempted when you have 2 or more weeks to spare. That means sailing back past Cavallo, and back through the Bonifacio strait (heading into the wind this time) before nipping in to the idyllic and historic marina at Bonifacio. The natural harbour here is surrounded by cliffs and is impressive enough even without the medieval castle perched on the cliffs above it.
It's a bit of a hike up from the marina to the cliff-top, but totally worth the effort to for the outstanding views and the chance to get up close to the citadel and meander around the medieval old town. If your legs are feeling up to it, you can head down L'Escalier du Roi d'Aragon which are a set of 187 steps which have been carved out of the ancient rock – legend has it that they were built overnight so that the King of Aragon, after arriving late at night, could climb to the town for breakfast!

Day 5. Bonifacio to Tizzano – 19 nM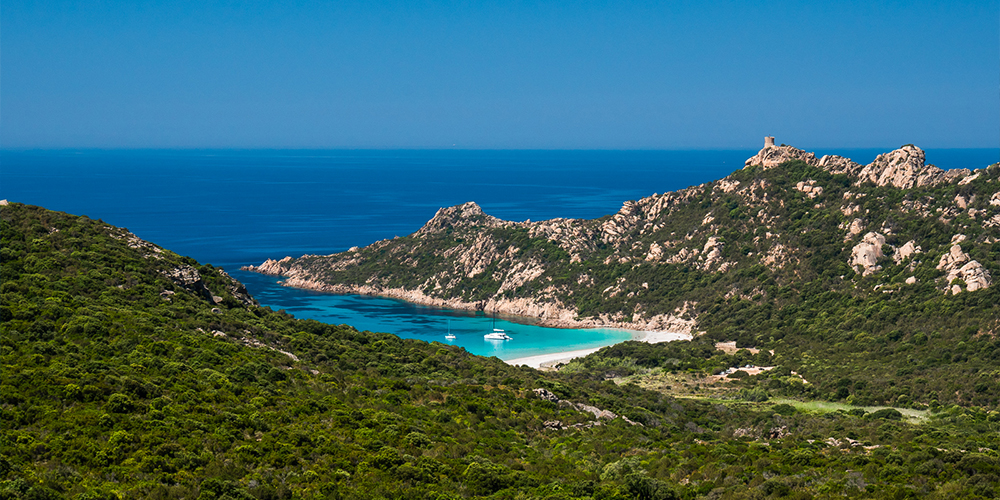 Bonifacio also has links to France's favourite son: Napoleon Bonaparte. He was born in Corsica, and spent some time living in Bonifacio when he was preparing troops for his first ever naval skirmish (in the nearby Maddalena islands). There's a plaque to mark where he lived. The view of Bonifacio citadel from the sea will not have been much different in his times than how it looks today.
From Bonifacio, we're turning back into the wind and tacking our way up to Tizzano, for a different kind of natural beauty. Tizzano is a quiet village at the end of a long unspoilt sandy bay, with fine beaches, sand dunes, turquoise seas, and very welcoming locals. It's a wonderful place to relax away from crowds of tourists.

Day 6. Tizzano to Propriano – 14 nM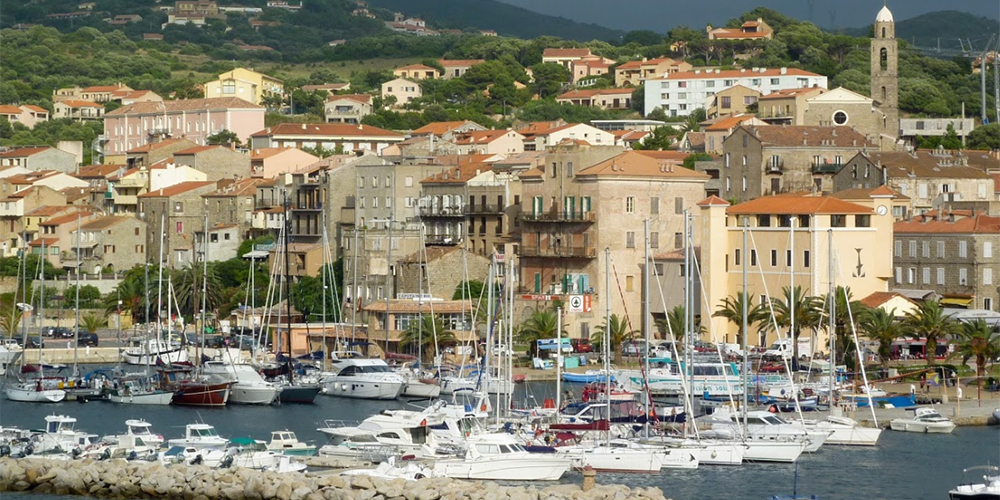 How is it the last day already? It feels like only yesterday that we set off from Propiano, but that it where we're heading to today. You've seen the best of Corsica: the stunning views; the amazing beaches, mountains and islands; the old towns, the clifftop towns, the fancy resorts, and the quiet, unassuming, authentic villages. Sailing-wise, you've also navigated the Strait of Bonifacio (twice!) which is something to impress your sailing friends back home.
It's only a short hop north and eastwards around the coastline to return to Propiano, going into the prevailing wind, and then finishing with the wind behind you. There's a fuel berth in the marina which is where you need to head to refuel the boat (charter boats are usually chartered on a full-to-full basis), before mooring up for one final time.
Propiano isn't exactly a party city, but the bars and restaurants will be lively enough on a Friday night, and you should be able to spot some other sailors who you can share tales of your epic week with.
You'll need to check-out on Saturday morning, before heading to the airport and returning to the 'real' world. Hopefully you're returning at the head of a happy crew, and leaving with better friends than you arrived with. If you've already decided to do this all again next year then head to PlainSailing.com and see where else we can charter you a boat. Safe Travels!

---
Sailing Conditions
 WHAT ARE THE WINDS LIKE?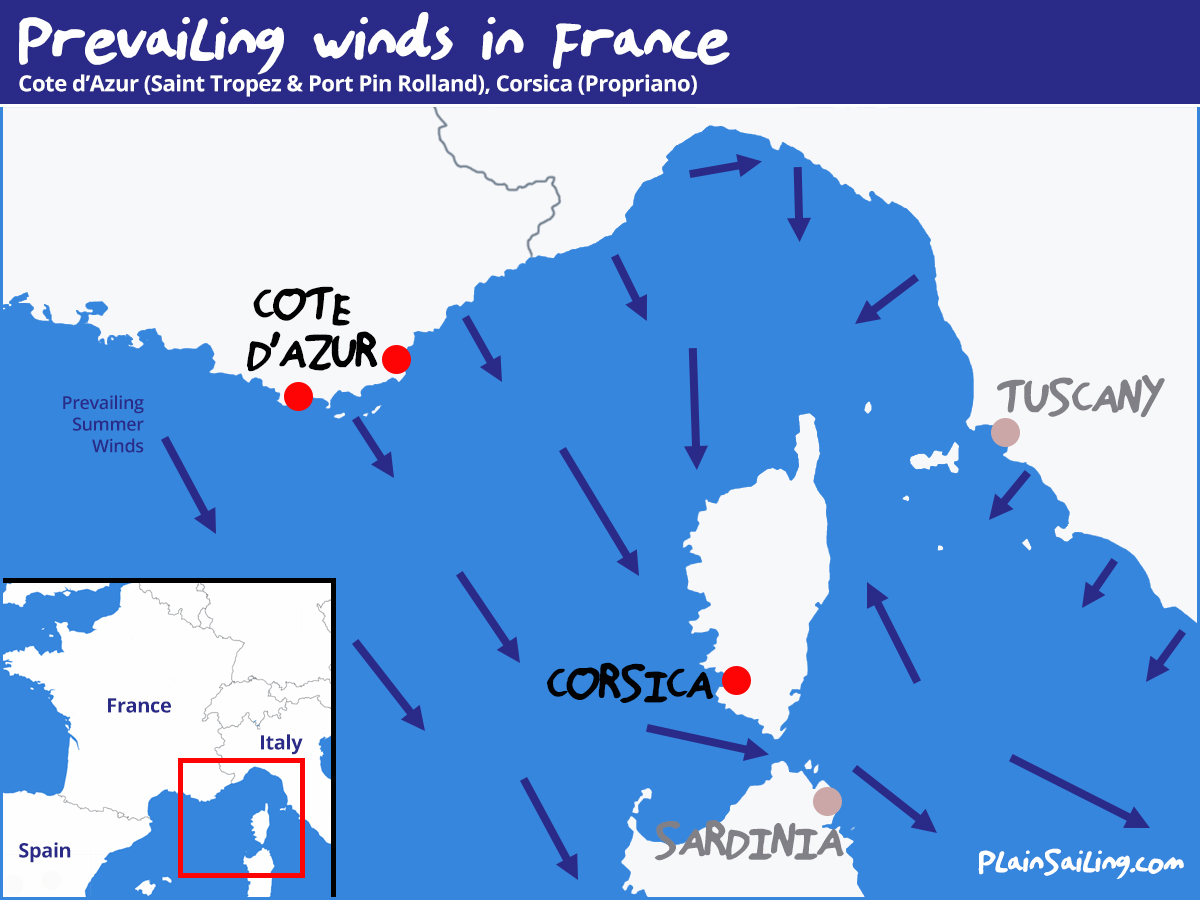 Whilst sailing in France is (for the most part) a joy, there are occasional times when it can be tricky and a little unpredictable - the wind can arrive in Corsica from pretty much any direction, and the island is affected by Tramontana, Mistral, Grecale, Levante, Scirocco, Libeccio and Ponente winds!  Thankfully, the winds pass quickly, and they are usually only around for a day or two at a time, so you can be back on the water sooner rather than later!
In general, winds arrive from the North-west, which makes it easier and faster to circumnavigate the island in an anti-clockwise direction, which is the traditional route if you want to go all the way around.
You'll likely find the strongest winds at the cape at the North of the island, and in the Bonifacio strait (between Corsica and Sardinia) - check the forecasts first as the winds can reach very high speeds - often it is fairly mild in summer, but it can be particularly strong the in winter season.
 HOW HOT WILL IT BE? 


In spite of being in the middle of the Med, you might be surprised to know that Corsica doesn't ever get too hot, with the height of summer only tipping the mercury up to 22 degrees. There are occasional spells where it can be (much) hotter than this, but for the most part it is very pleasant.
 HOW WARM IS THE SEA? 


The sea around Corsica never gets too cold (by UK standards anyway!?), with the sea rarely getting colder than 14 degrees.  Fast forward to the height of the season an it's a full 10 degrees warmer, with the same temperature as an indoor swimming pool.  Can you think of a better way to cool off after a days' sailing?
---
Marina Details - Propiano
The Port de Plaisance in Propiano (also called the 'Porto Valincu' by locals) is located on the South-west coast of Corsica, and has space for 429 boats. It's right in the centre of town, so shops, restaurants and bars are all within eye-sight of the marina, and, being well sheltered from winds arriving in practically all directions, it's a comfortable place to stay. As you'd expect, the marina has water, fuel and electricity on tap, as well as wifi and a launderette.
If you need a place to rest your head before your charter begins, then we recommend the Hotel Beach and Hotel Le Lido, which are both very close to the marina (and the beach).
WEBSITE: No website | ADDRESS: Port de Plaisance, Propiano, Corsica, 20110
GETTING THERE: The nearest airports to Propiano are Ajaccio (the capital of Corsica) and Figari (a budget-airline base in the South of Corsica) - both are about one hours drive away. PlainSailing.com can help to arrange transfers to and from the marina, or you can grab a taxi or uber at the airport. If you prefer to travel by public transport, there are also two buses a day between Ajaccio airport and Propiano, (but there are no direct public transport connections to Figari airport).
PROVISIONING:
There's a few mini-markets in Propiano town. The one with the best range of stock is the Spar on
Rue du 9 Septembre
.
Loading Map Co-ordinates...
---
---
---
WHAT NEXT? Use the pink box to search for yachts or catamarans with LIVE pricing & availability - if you have any other questions or requests, get in touch via Live Chat, the Contact Form, or by phone.