Why Book With Us?
Simple, straightforward process
Outstanding customer service
Friendly UK-based team
Pre-order food, kit or WiFi onboard
Join Our Mailing List
Yacht & Catamaran Charter in Corsica, France
Looking to sail from Corsica? Search to find and book your ideal boat, or read everything you need to know: prevailing winds, where to sail, how to get there and more!



If you're after beautiful white sandy beaches, turquoise blue seas, magnificent rugged landscapes, unspoilt countrysides, historic old towns, sunshine and sailing, then why not head to our base at Propiano in beautiful Corsica?
The birthplace and home sailing ground of Napoleon Bonaparte, Corsica has long been a popular place for sailing, with reliable winds (which can arrive from almost any direction), and plenty of spectacular places to see - including Bonifacio, a breath-taking town which sits atop huge limestone cliffs, the delightful old town of Porto Vecchio, the holiday paradise of Cavallo, and the wealthy and elegant Ajaccio, capital of the island - amongst so many other places. It's about 240 nautical miles to circumnavigate if you have the time, or you could sail down to nearby Sardinia and revel in the La Maddalena archipelago.
The sun shines, the sea, wind and sailing are superb, the food is delicious, the locals are welcoming, and there's plenty of well appointed marina's and secluded anchorages to spend the night. If you're looking for somewhere beautiful to sail, then get yourself to Corsica
---
---
Sailing from Corsica
Corsica is renowned for it's beautiful but rugged landscape, fine beaches, and turquoise seas - and you can find them in almost any direction you choose to sail. It's quicker to sail anti-clockwise around the island, though it's a voyage of 240 nautical miles, so probably a bit ambitious if you're only on a one week charter.
From Propiano, our recommended route is to along the South coast of Corsica, taking in the cliff-top town of Bonifacio, and the ancient winding streets of Porto Vecchio, as well as some simply stunning beaches and bays along the way. You could also hop over to the Maddalena islands just off Sardinia, which are beguiling - though be aware that you'll need to pay for a license to sail there.
You can also sail northwards to the capital of Corsica, Ajaccio, which is a beautiful old town. When you're sailing in the harbour, it's crazy to think that Napoleon has been here, doing the exact same thing.
We have exclusive rates on the local Imray Charts or you can check out our very own sailing distance calculator to check distances and easily plan your route before you go.
Top 3 things to see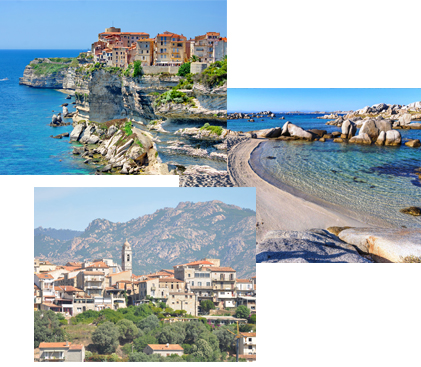 Check out our 6-day itinerary below, or if you're planning your own itinerary, here's our top 3 places to visit in the area:
Bonifacio (32 nM from Propiano)
An amazing medieval clifftop village with views to Sardinia, which has to be seen to be believed. The marina is surrounded by huge limestone cliffs!
Cavallo (36 nM from Propiano)
An idyllic island which, in it's time, has been used for holding Roman prisoners, for exporting statue-grade marble to Florence and Rome, and as a private playboy-style island resort for the super-rich and super-famous.
Porto Vecchio (55 nM from Propiano)
A picture-postcard old town, with historic buildings, winding streets, cute piazzas, and superb views out to sea - plus excellent sea food, and within a short walk of outstanding beaches.
Suggested 6-day itinerary
Our six-day itinerary covers 118 nM and heads southwards around the Corsican coast, passing a multitude of superb beaches and bays, and visiting the must-see places in the area - like Bonifacio and Porto Vecchio. It's also possible to sail over to Sardinia and the Maddelena islands, but if you wanted to see them then it is easier to charter from Sardinia, and the Corsican coastline is just as stunning.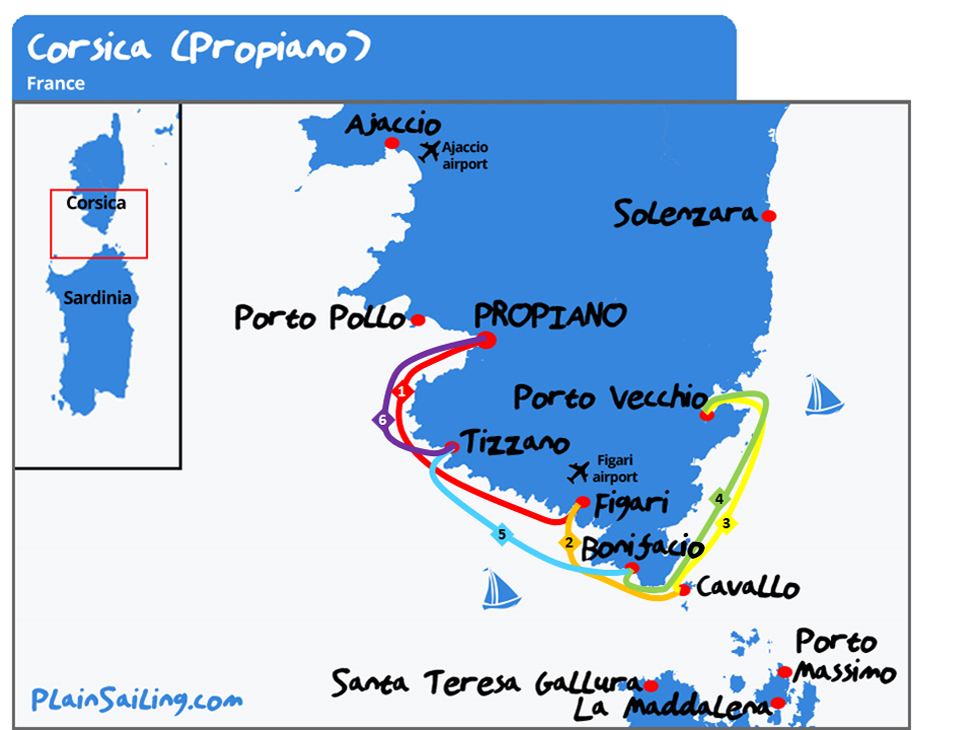 Day 1. Propiano to Figari – 26 nM
Day 2. Figari to Cavallo – 14 nM
Day 3. Cavallo to Porto Vecchio – 20 nM
Day 4. Porto Vecchio to Bonifacio – 25 nM
Day 5. Bonifacio to Tizzano – 19 nM
Day 6. Tizzano to Propriano – 14 nM
---
Sailing Conditions
What temperature will it be?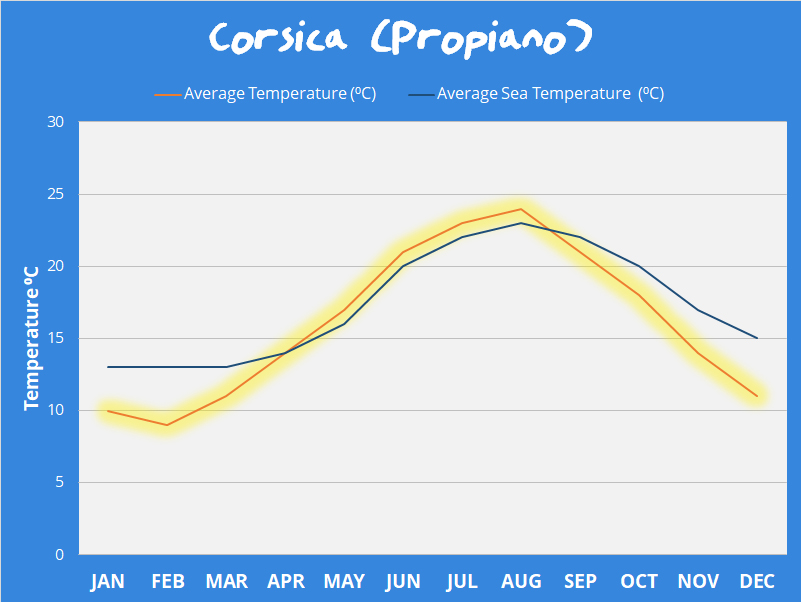 See the graph for weather averages.
What is the wind like?
The wind can arrive in Corsica from pretty much any direction, and the island is affected by Tramontana, Mistral, Grecale, Levante, Scirocco, Libeccio and Ponente winds, though often for only a day or two at a time. In general, winds arrive from the North-west, which makes it easier and faster to circumnavigate the island in an anti-clockwise direction.
You'll likely find the strongest winds at the cape at the North of the island, and in the Bonifacio strait (between Corsica and Sardinia) - check the forecasts first as the winds can reach very high speeds, particularly in winter.
What is the Current Weather in Corsica?
If you're off sailing in a couple of days, you might be interested to know what the 7 day forecast is - our handy widget below should give you a good idea, though once you're out there we recommend using windguru.cz. 
---
Our Guide to Corsica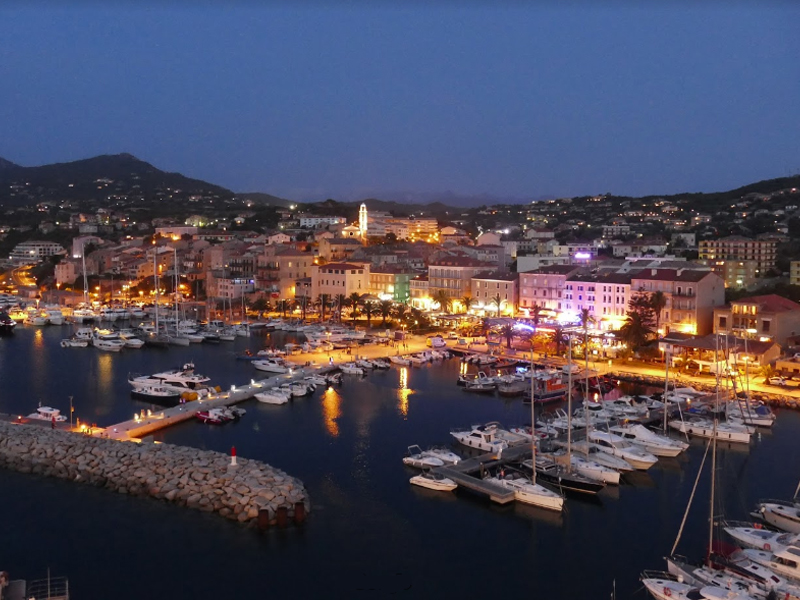 Propiano was once an important trading port in the Mediterranean, but is now more of a sleepy town and backwater in Corsica which only really comes to life in July and August, thanks to a growing tourist trade. Whilst there are historic buildings, the town itself doesn't have any real 'wow' factor - but that's not to say that there aren't nice places to sit and eat or drink, and the slow pace of life is ideal for relaxing.
There's a few wonderful quiet places to sunbathe, but if you're in search of things to do, then there's the ancient neolithic settlement of Filitosa a few kilometers to the north, or the ancient medieval hill town of Sartene to the north - both of which are worth a look.
The town has everything you'll need, and is a pleasant place to spend a couple of days to start or end a holiday.
---
Marina Details
Propiano
The Port de Plaisance in Propiano (also called the 'Porto Valincu' by locals) is located on the South-west coast of Corsica, and has space for 429 boats. It's right in the centre of town, so shops, restaurants and bars are all within eye-sight of the marina, and, being well sheltered from winds arriving in practically all directions, it's a comfortable place to stay. As you'd expect, the marina has water, fuel and electricity on tap, as well as wifi and a launderette.
AWAITING MARINA MAP
| | |
| --- | --- |
| Address: | Le Port de Plaisance, Propiano, Corsica |
| Long / Latitude: | N 41° 40'44. E 8° 54'18 |
| Telephone: | 0033 (0)495 761 040 |
| VHF Channel | 9 |
| Walk-ashore berths: | 429 |
| Facilities: | Boatyard, Chandler, Electrical supply, Fresh water, Fuel: Diesel, Fuel: Petrol, Launderette, Parking, Pub / Restaurant, Shop / Supermarket, Showers, Toilets, Telephone, Visitors berths, Wifi |
---
Getting to the Marina
Loading Map Co-ordinates...
The nearest airports to Propiano are Ajaccio (the capital of Corsica) and Figari (a budget-airline base in the South of Corsica) - both are about one hours drive away. PlainSailing.com can help to arrange transfers to and from the marina, or you can grab a taxi or uber at the airport.
If you prefer to travel by public transport, there are also two buses a day between Ajaccio airport and Propiano, (but there are no direct public transport connections to Figari airport).
This page last updated: September 2018
We do our best to keep this information as up-to-date and accurate as possible, but obviously we can't be everywhere at once. If you are aware that any information on this page is incorrect, please let us know by emailing marina@plainsailing.com.
---
---