Find a Boat
LIVE
Pricing & Availability
Search NOW
Italy Yacht and Catamaran Charter
We have incredible yachts and catamarans ready to sail from 4 bases across Italy!

Sailing around Italy
Sailing in Italy is an idyllic way to spend the summer - there's splendid views, glorious sunshine, reliable winds, and plenty to explore - including volcanoes, beaches and ancient harbours. Of course, there's also outstanding food and wine when you're on land, which makes any holiday doubly spell-binding.
Italy is the third most popular cruising ground in Europe for charter boats, with multiple clusters of islands to hop around and a coastline of such immense beauty that over there are over 10 million visitors to places like the Amalfi coast, Cinque Terre or Portofino - and that's not even including the fine beaches - and the coastline is even more special and incredible when viewed from your own yacht or catamaran!
Don't just dream of sailing along the Amalfi coast to throw down the anchor in glamorous Capri, or visiting the pristine Maddalena islands (where Nelson once stationed his naval ships to battle Napoleon) and the exclusive Costa Smeralda, or sampling fresh pasta, the best pizza in the world, or Limoncello made from the local trees in Sicily - get out there and do it! We can help you find and book your ideal yacht or catamaran!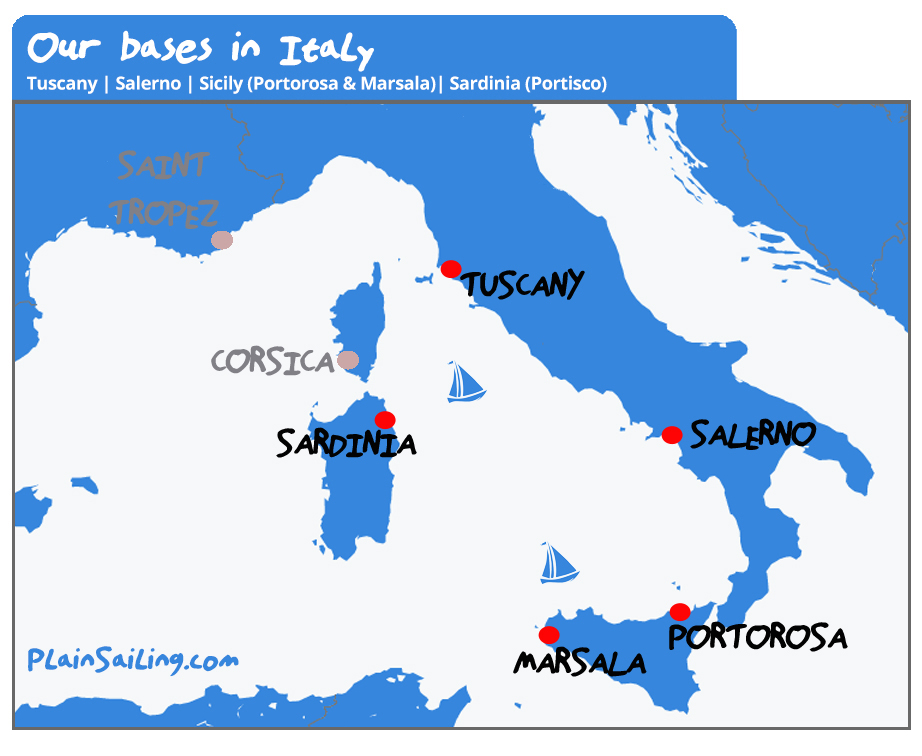 SAILING RATING:  Intermediate - Italy offers more exciting sailing conditions than Greece and Croatia, particularly a couple of miles away from the coast. There are outstanding marina facilities covering much of the coast, but there are some places where it's useful (and a lot cheaper) to be use the anchor. Navigation is simple and by line-of-sight, and many marinas have ormeggiatori who will board and park your boat for you, to take the stress out of mooring up.
 WHEN TO GO:  The sailing season officially begins in late March, and runs through to the end of October. In recent years, the weather has been unusually warm in October. August is when you'll find the hottest temperatures and the highest prices, as all of the Italians go on holiday. It's also when marinas become so jam-packed that it is well worth booking a space in a marina in advance.
 MINIMUM QUALIFICATIONS:  You'll need an ICC (which you can convert from an RYA DaySkipper or equivalent) or above to charter a boat in Italy. If you're not qualified, we can find you a professional skipper.
 VISA REQUIREMENTS:  Italy is part of the EU, which means UK and EU passport holders can travel there at will. US and Australian passport holders do not need a visa unless planning to stay in Europe for longer than 90 days.
 GETTING THERE:  There are multiple airports across Italy - it's a very popular tourist destination and many regional airports have excellent connections to the rest of Europe. Public transport around the country is fast, efficient and cost-effective, though we can also arrange transfers which are typically faster and easier (though admittedly more expensive).
Our base in Tuscany, is within an hour's drive of Pisa airport, but also reachable via airports in Florence or Rome. The nearest airport to Salerno is Naples International airport, but it's also possible to get there via Rome, which is only an hour from Naples on the Train. For Sardinia, the nearest airport is Olbia airport, in the north of the island, which is only a 20 minute transfer from the marina. In Sicily, landing at Palermo airport will get you within an hours drive of the marina in Marsala, whilst Catania airport is recommended for sailing from Portorosa, but is still a two hour drive away.
 
Charter a Yacht or Catamaran in Italy
We can help you find the ideal yacht or catamaran for your sailing holiday in Italy. We only work with the very best professional charter operators in the area, who we have met, know, and who we trust to give you the same outstanding customer service as you'll get from PlainSailing.com.
Use the pink search box above to look for boats for yourself - they have live pricing and availability and you can filter the results to find your ideal boat - or start a Live Chat with our award-winning bookings team for help, advice, or anything else!
 
Where to sail in Italy
We charter yachts and catamarans from five bases in Italy - On the Italian mainland, there's Tuscany in the north for exploring the Tuscan archipelago, and Salerno in the south for the renowned Amalfi coast. We also have a base in Sardinia, for the Maddalena isles (and up to Corsica if you like), and in Sicily, there's Portorosa for diving to the Aeolian isles to the north and Marsala for the Egadi isles to the west. See below for ideas of where to sail when you get there (But be sure to check out our detailed destination guides to find out more).
 TUSCANY (Tuscan Archipalago) 
Ideas of where to sail: All the islands of the Tuscan archipelago form one of the biggest National Parks in the world. It's possible to sail around beautiful Elba in a week, taking in the fantastic beaches, impressive scenery, and checking out the wonderful natural harbour of Portoferraio and picturesque Marciana. You could also sail over to Corsica and Sardinia.
 SALERNO (Amalfi Coast) 
Ideas of where to sail: One of the highlights of sailing from Salerno is the stunning Amalfi coast, with buildings, churches and winding roads built along the steep coastline. You can impress your friends (and yourself) by anchoring up and stepping on to exclusive Capri, visit the colourful villages Procida, or sail to Naples to try the world's best pizza. All in the sunshine and under the shadow of the brooding Vesuvius volcano.
 SARDINIA 
Ideas of where to sail: Our base in Portisco is well-placed for exploring the Costa Smeralda, home of surreal white beaches, turquoise seas, designer goods, and exquisite food - it has been a secret haunt of A-list celebrities for decades. The nearby Maddalena islands offer a tranquillity and beauty, with plenty of bays to explore or anchor at. Further afield, the cliff-top town of Bonifacio is the best thing about Corsica, and it is within easy reach.
 PORTOROSA (Aeolian islands) 
Ideas of where to sail: From Portorosa you can either explore the historic tourist towns along the Sicilian coast or hop around the nine Aeolian islands, including the volcanic Vulcano (where you can even walk up to the crater) and Stromboli, the pumice stone island of Lipari, and the unspoilt Panarea.
 MARSALA (Egadi islands) 
Ideas of where to sail: You can sail up or down the Sicilian coast, or heading a few nautical miles west, there are the five mountainous Egadi (Aegadian) islands, comprising largely unspoilt beaches and caves along with authentic and ancient coastal settlements - from neolithic Levanzo with its cave paintings, to the fishing village of Favignana, where you'll find the tastiest and freshest tuna in the Med. Head to Marettimo to find some tranquillity well off the beaten track.
 
Cost of a Sailing Holiday in Italy?
Prices change depending upon what sort of boat you are chartering, and when you would like to charter, and yachting offers great value for money because the fee includes a full-day activity, a means of transport and your overnight accommodation!
Charters are normally in periods of a week, from Saturday (check-in at 5pm) to Saturday (check-out at 9am), though you're required to be back at the charter base on the Friday evening. You can charter a 3-cabin yacht for as little as €1,200 / week (including end cleaning), 4-cabin yacht from €1,700 / week, or catamarans from €2,250 / week - use the pink search box for live prices and availability. 
|   | May / Oct | June / Sept | July / Aug |
| --- | --- | --- | --- |
| 3 Cabins | €1200 | €1700 | €2250 |
| 4 Cabins | €1550 | €2000 | €2750 |
| Catamaran | €2100 | €2500 | €3750 |
 
In addition to the charter fee, there is an end-cleaning fee to be paid, and you'll need to leave a security deposit on check-in (similar to a hire car, and usually placed as a pre-authorisation on a credit card).
You can also add transfers, an outboard motor, early check-in, security deposit insurance or other extras to your booking (if they are not already included) for an additional fee. We can also arrange for a Skipper, Hostess or Chef to be on board - in Italy, these normally cost an average of €1,190 per week, excluding tips.
 
Our Italian Sailing Destinations
Find out a lot more about each of our bases in these comprehensive destination guides, which also include details about suggested sailing routes, weather conditions, and recommended hotels, amongst a host of other useful information:
Tags: Italy Yacht Charter, Bareboat, Skippered, Yacht and Catamaran Charters, Italy Catamaran Charter