Find a Boat
LIVE
Pricing & Availability
Search NOW
Caribbean Yacht and Catamaran Charter
We have incredible yachts and catamarans ready to sail from the Bahamas, BVIs, Antigua and Grenada in the Caribbean!

Sailing around the Caribbean
The Caribbean – the islands that sailing holidays were invented for. Outstanding sunshine all year round, super-warm turquoise blue seas, gorgeous white sandy beaches (complete with palm trees, of course), superb cuisine, kind and friendly locals, and a relaxed vibe and rhythm of life which is perfectly complemented by the local rum… If you don't enjoy sailing here, then you won't enjoy it anywhere!
On top of all the above, there's trade winds which blow reliably strongly throughout the sailing season, calm waters, reefs to snorkel, and a myriad of exciting things to see, glorious bays to throw down the anchor or pick up a mooring buoy, beach bars to watch the sun set, and, being so remote, plenty of wildlife to spot – from dolphins and sea turtles all the way through to flamingos and swimming pigs!
If you want somewhere incredible to go sailing, then the Caribbean is the place for you. We can help you find and book your ideal yacht or catamaran!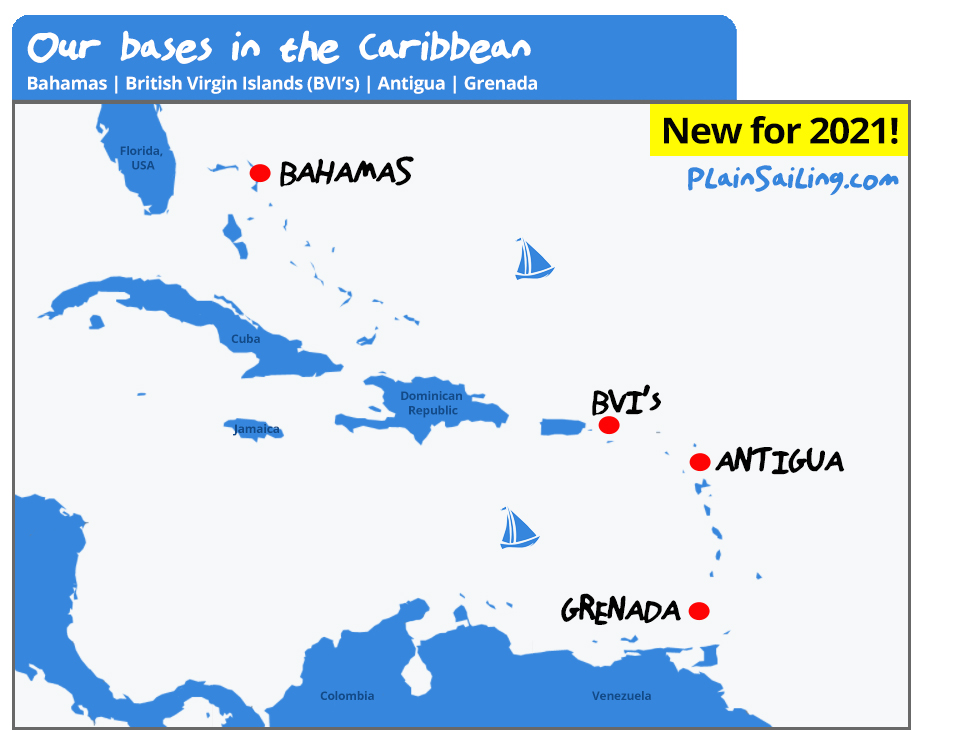 SAILING RATING:  Beginner / Intermediate - The seas are beautifully calm and navigation is easy. Beginners will love BVIs and the Bahamas, but there are some trickier areas around Antigua or Grenada where attention is required to get into or out of tight bays, and to avoid coral reef.
 WHEN TO GO:  The sailing season runs October to June, with the peak season being from January to March (when you'll find the nicest weather, but also the busiest crowds and the highest charter fees – but there are also price hikes for Christmas and Easter). August and September are the hurricane season, which is best avoided.
 MINIMUM QUALIFICATIONS:  You don't need a formal sailing qualification to sail in the Caribbean (but it helps) - we can also accept bookings from Skippers based on their sailing experience (we'll need a copy of the Skippers' log book on booking). If you're not qualified, we can find you a professional skipper.
 VISA REQUIREMENTS:  No visa is required for citizens of the UK, US, Australian or most European and Commonwealth countries to any of our bases in the Caribbean (as long as they are not planning to stay longer than 90 days).
 GETTING THERE:  A number of major airlines can help to get you to the Caribbean. It's about a 10 hour flight from Europe to the Caribbean, and it's likely that you'll need to connect onto a smaller island-hopping plane in Antigua, Barbados, Miami (or even Cuba, Dominican Republic or Jamaica). We can help arrange transfers to or from the marina, as well as helping you get provisions on board if your flight arrives late at night.
Our base in the Bahamas (Marsh Harbour) is a six-minute drive from Marsh Harbour airport, on Grand Abaco island. In the British Virgin Islands (BVIs), it's a 25-minute drive from Tortola airport to our base in Road Town. For Antigua, it's about a 30-minute drive from the main VC Bird airport to our base in Jolly Harbour, and for Grenada our base in St George's is only a 15-minute drive from the main Grenada Maurice Bishop airport. We can help arrange transfers to or from the marina, as well as helping you get provisions on board if your flight arrives late at night.
 
Charter a Yacht or Catamaran the Caribbean
We can help you find the ideal yacht or catamaran for your sailing holiday in the Caribbean. We only work with the very best professional charter operators in the area, who we have met, know, and who we trust to give you the same outstanding customer service as you'll get from PlainSailing.com.
Use the pink search box above to look for boats for yourself - they have live pricing and availability and you can filter the results to find your ideal boat - or start a Live Chat with our award-winning bookings team for help, advice, or anything else!
 
Where to sail in the Caribbean
We charter yachts and catamarans from four bases in the Caribbean, which covers each of the four main island groups – the Bahamas (charter from Great Abaco), the Virgin Islands (charter from Tortola in the BVI's), the Leeward Islands (charter from Antigua) and the Windwards Islands (charter from Grenada). They all benefit from reliable trade winds, glorious sunshine and clear warm seas - which make for some exhilarating sailing See below for ideas of where to sail when you get there (But be sure to check out our detailed destination guides to find out more).
 THE BAHAMAS 
Ideas of where to sail: Our base in Marsh Harbour on Great Abaco island is perfectly located for navigating the extent of the sheltered Abaco Sea, taking in the remote tropical islands, observing the wildlife (including swimming pigs), relaxing on impeccable beaches, visiting historic towns (set up by British soldiers fleeing defeat in the American Civil war) and frequenting beach bars and barbecues. You haven't been on holiday properly until you've been to the Bahamas.
 THE BRITISH VIRGIN ISLANDS (BVIs) 
Ideas of where to sail: The most popular sailing ground in the world – and possibly the best. The Virgin Islands, formerly the land of the pirates, is where you'll find pristine white sandy beaches lined with palm trees, warm turquoise blue seas teeming with tropical fish, dolphins and flamingos. You can sail to exclusive islands, feast on conch fritters, and visit the world's most famous apres-sailing beach bars for cocktails in the sun on the best beaches in the world. This is the life!
 ANTIGUA 
Ideas of where to sail: Antigua is an island with 40 nM of fantastic coastline, featuring incredible beaches, beautiful bays and outstanding anchorages. You can bathe on some of the world's top beaches, survey the naval headquarters once commanded by Lord Admiral Nelson (now a UNESCO world heritage site), hike to epic viewpoints, and find fortresses, wildlife, and coral-reef teeming with colourful sealife. Or hop over to other Leeward islands like Barbuda, St Kitts & Nevis and Guadeloupe.
 GRENADA 
Ideas of where to sail: You could happily spend a week sailing around Grenada, but it even better to hop over to explore the stunning grenadine islands, including the Tobago Cays, which are alternatively known as 'Paradise on earth'. There's beauty everywhere you look, and the remote, unspoilt islands are the perfect backdrop for a wonderful sailing holiday.  
Cost of a Sailing Holiday in the Caribbean?
Prices change depending upon what sort of boat you are chartering, and when you would like to charter, and yachting offers great value for money because the fee includes a full-day activity, a means of transport and your overnight accommodation!
Charters are normally in periods of a week, from Saturday (check-in at 5pm) to Saturday (check-out at 9am), though you're required to be back at the charter base on the Friday evening. You can charter a 3-cabin yacht for as little as €2,100 / week (including end cleaning), 4-cabin yacht from €2,400 / week, or catamarans from €3,100 / week - use the pink search box for live prices and availability.
|   | May / Oct | June / Sept | July / Aug |
| --- | --- | --- | --- |
| 3 Cabins | €2100 | €2600 | €2900 |
| 4 Cabins | €2400 | €2800 | €3400 |
| Catamaran | €3100 | €3500 | €3800 |
 
In addition to the charter fee, there is an end-cleaning fee to be paid, and you'll need to leave a security deposit on check-in (similar to a hire car, and usually placed as a pre-authorisation on a credit card).
You can also add transfers, an outboard motor, early check-in, security deposit insurance or other extras to your booking (if they are not already included) for an additional fee. We can also arrange for a Skipper, Hostess or Chef to be on board - in the Caribbean, these normally cost an average of €1,190 per week, excluding tips.
 
Our Caribbean Sailing Destinations
Find out a lot more about each of our bases in these comprehensive destination guides, which also include details about suggested sailing routes, weather conditions, and recommended hotels, amongst a host of other useful information:
Tags: Yacht Charter Caribbean, Caribbean Yacht Charter, Chartering a yacht in the Caribbean, Renting a Catamaran in the Caribbean, British Virgin Islands, Grenada, Antigua, Bahamas, Caribbean Catamaran Charter