Find a Boat
LIVE
Pricing & Availability
Search NOW
Yacht & Catamaran Charter in Palma, Mallorca
We can help you find the perfect yacht or catamaran to sail from Palma, Mallorca!

Sailing from Palma
Mallorca is a fine place to sail, with a coastline that seems to be made up almost exclusively of superb beaches and incredibly picturesque calas, complete with turquoise blue water and funky-coloured sea-life. There's fine anchorages and excellent marina facilities, and interesting exciting places to see, great weather, and reliable winds. It's a sailor's paradise.
From Palma you can hop around the Balearic islands: the natural wilderness of Cabrera and the UNESCO protected oasis of Menorca are within easy reach, and it's possible to get down to Ibiza at a slog. Alternatively, you can circumnavigate the whole 160 nM of Mallorca in a week, taking in all 365 of its beaches. We can help you find and book your ideal yacht or catamaran, with one of our trusted Charter Partners - just get in touch or search in the pink box with live prices and availability!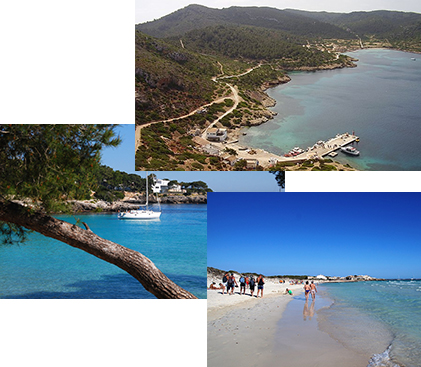 SAILING RATING: Beginner - the Balearic islands, like much of the Mediterranean, has simple line-of-sight navigation, low to medium winds, plenty of sheltered marinas and calas (anchorages), and non-tidal waters – which make it a perfect cruising ground for beginners and above.
MUST-SEE: Check out our full suggested itinerary below. We'd highly recommend taking in the natural beauty of Cabrera, the lively Cala D'Or, and the stunning white sandy beach at Sa Rapita.
WHAT WE CAN OFFER: We have a great range of yachts and catamarans available for charter from our trusted Charter Partners, all available bareboat or Skippered. We can also arrange a Hostess, Personal Chef and other crew.
GETTING THERE: The international Palma airport is just a 15 minute drive away from the marinas we operate from. We can help arrange private transfers.
WHY BOOK WITH US? We only work with the very best professional charter operators, who we have met, know, and trust to give you the same outstanding customer service as you'll get from PlainSailing.com.

WHAT NEXT? Use the pink box to search for yachts or catamarans with LIVE pricing & availability - if you have any other questions or requests, get in touch via Live Chat, the Contact Form, or by phone.

Why book with PlainSailing.com?
We're yacht and catamaran charter experts, and can find you the best boats in Greece, Croatia and anywhere else in the Med or Caribbean - yacht, catamaran or superyacht-bareboat, skippered or crewed

We're UK based, only work with the best Charter Companies, offer exceptional customer service from start to finish and will match any price!

Independent Service Rating based on
428
verified reviews.
---
6-day Sailing Itinerary from Palma
Palma is the capital of Mallorca, and located close to the international airport, so it's a convenient and well-connected place to set sail from. From Palma you can circumnavigate the whole island (but at 160 nM it's a bit of a slog to do it in one week), head up either side of the Mallorcan coast (though the Eastern side is better), hop over to nearby Cabrera or Menorca, or even traverse 56 nM to Ibiza or the Spanish mainland. Each direction offers warm seas, generally reliable winds, and exciting places to discover.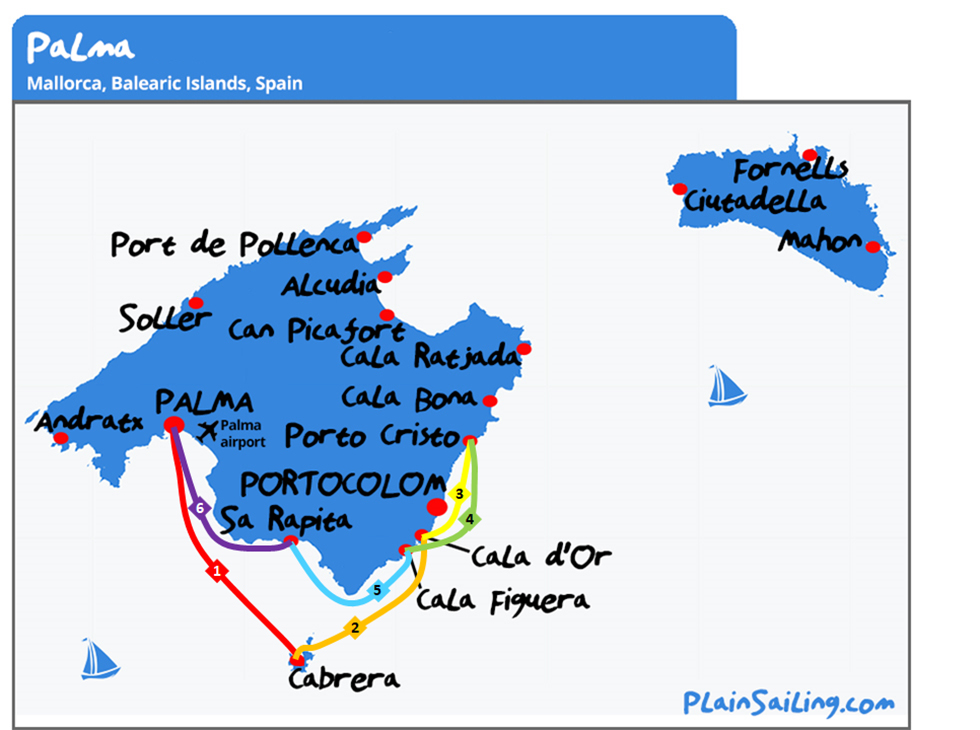 Our suggested six-day itinerary from Palma includes island hopping to the natural wilderness of Cabrera, as well as the stunning calas and marinas along the East coast, which is the best part of the Mallorcan coastline. In total, there's 114 nM of sailing, which means sailing around 20 – 25 nM a day, or an average of 4-5 hours of sailing a day. That makes for a leisurely holiday pace, with time to explore at the start or end of the day, or to stop for long sunny lunches.
Our itinerary is only six days because you're unlikely to sail on the first Saturday (you only get on the boat from mid to late afternoon), and it takes time to get the provisions and the crew on board so you'll likely only be able to set off bright and early on Sunday morning. At the other end of the week, the boat will need to be back in Palma for Friday evening, though you can stay on-board for one last night, before disembarking on Saturday morning.

Day 1. Palma to Cabrera – 28 nM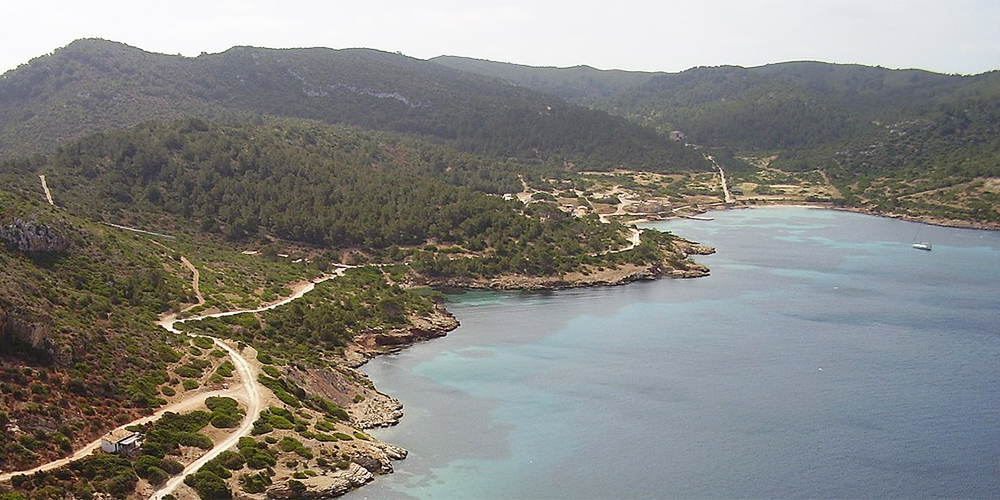 Hola! Welcome on board, Captain. I hope you've chosen your crew wisely, and that they'll be a credit to you this week! Get everyone on board, check that the provisions are safely stowed, and then let's set sail on a Spanish adventure. Vamanos!
Today is the longest leg of our trip, which should help to get your crew licked into shape, and to give everyone a chance of taking the helm. You'll need to have been organised before the trip, as our first port of call, Cabrera, is a natural wilderness and you'll need to have pre-booked a spot on the island if you want to stay overnight (If you haven't then sail this itinerary backwards and get Cabrera booked in for your last night – your charter company will be able to sort this for you).
We're sailing out and south to Cabrera, pretty much running with the prevailing summer winds which arrive from the north and sort of swirl around the island before rushing onwards towards Sicily. Cabrera is an uninhabited island, and, due to its remoteness, pretty much always has been – which means that the natural coast, plants, birds and animals are unspoilt and thriving. It's a Special Protection Area by law to try and keep it that way (and a fascinating place to spend the night).

Day 2. Cabrera to Cala D'Or – 20 nM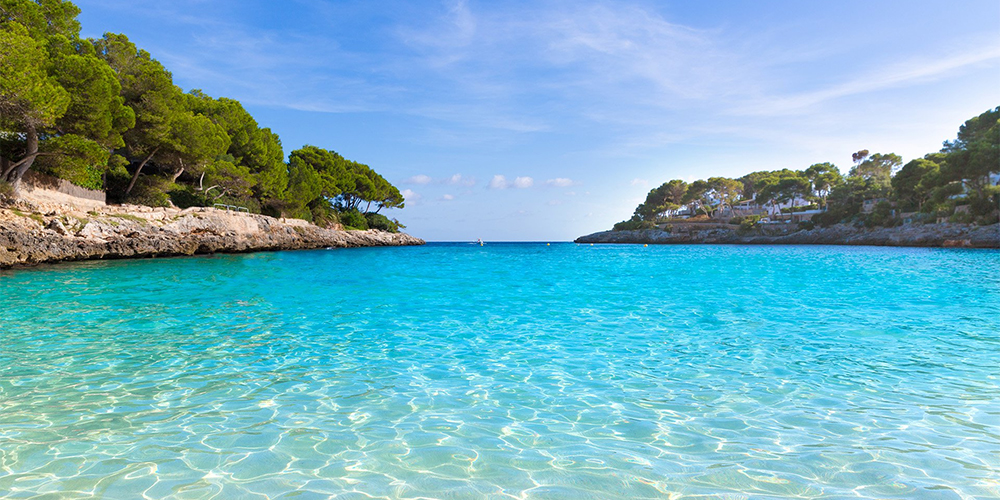 After a peaceful nights' sleep, we're sailing back to Mallorca, tacking up into the prevailing wind, nipping past 'Illa de Conills' (or 'Rabbit island', where they have, believe it or not, found evidence of a prehistoric settlement) and onwards up to the East coast of Mallorca to Cala D'Or.
Once a cute fishing village, Cala D'Or, which is a complex of three inland bays and seven beaches, is now a popular destination with land-lubbing tourists, who appreciate the picturesque golden sands, pine forests and clear blue seas. The marina is in the bay on your port side as you enter the bay area.
As well as the beaches, Cala D'Or has a great range of restaurants, bars, and places to sit and enjoy the sunshine, and, although there are quite a number of fancy hotels in the area, the town has managed to retain an authentic Mallorcan charm.

Day 3. Cala D'Or to Porto Cristo – 12 nM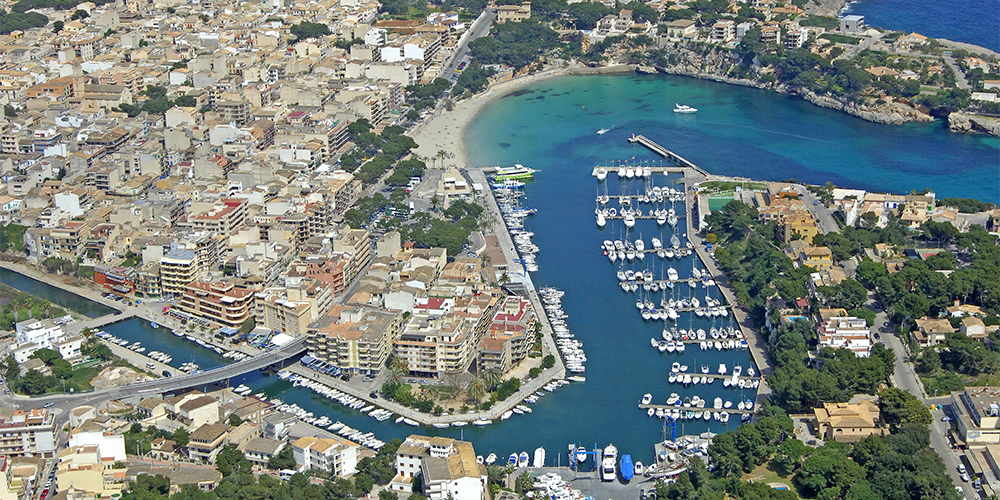 Part of the charm of sailing the Mallorcan coastline is stopping and nosing into some of the calas or bays you sail past on your way from one port to another, and stopping for a quick swim, snorkel, drink or a bite to eat. Today is a perfect chance to try it out as we're only on a short 12 nM sail up the coast to Porto Cristo. It's fairly straightforward sailing, running with the prevailing wind, and passing Cala Marcal, Portocolom and Cala Romantica along the way.
Porto Cristo was so named in 1260, when a driverless fishing boat containing only a crucifix was washed up on the shore here. Porto Cristo is also popular with (quieter) tourists, but it is different to the other towns along the coast because it also continues to be a working fishing village – and you'll taste some of the freshest fish in the Med here.
In terms of tourist attractions, there's some nice beaches nearby, as well as some caves where you'll be able to wonder at the size of some stalactites and stalagmites, but it's nice just to stroll around the town and admire the pretty old buildings. Of note, Porto Cristo is 5km from where a certain Rafael Nadal, was born (in Manacor).

Day 4. Porto Cristo to Cala Figuera – 16 nM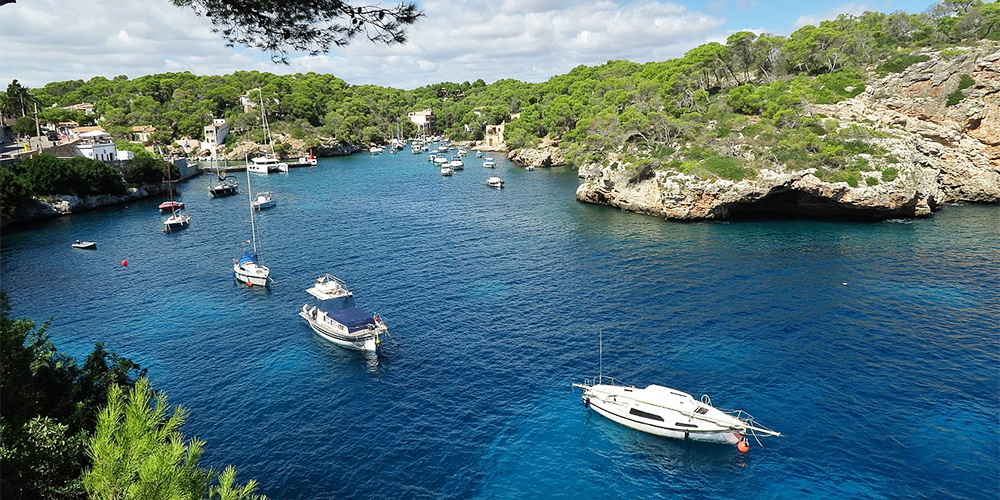 Porto Cristo is our furthest point from Palma, and at this point of the holiday, sad though it is, pointing the nose of the boat in the other direction and starting to head for home. It's sure gone quickly, but don't worry - there are still three days of sailing to go. We're sailing back southwards along the beautiful coastline, tacking into the prevailing wind and hopping into each idyllic cala. This is the life.
Our end point for the day is Cala Figuera, which is a natural harbour. In contrast to the rest of the coastline, and mainly owing to the fact that it is 4km from the nearest sandy beach, this cute little fishing village is pretty much a town for the locals (or for rich Spaniards who have second-homes here), so it is about as authentic as you can get: with whitewashed buildings down to the shore, and local fishermen mending their nets on the pavements.
On the way, there's two hidden gems of beaches in the nearby Cala Mondrago (the next bay after Portopetro), which surely have some of the clearest water in the Med. There aren't too many visitor berths in Cala Figuera, though, so if your here in August, you might prefer to get moored up sooner rather than later. There's a decent choice of fantastic (seafood) restaurants if you stroll around the village.

Day 5. Cala Figuera to Sa Rapita – 15 nM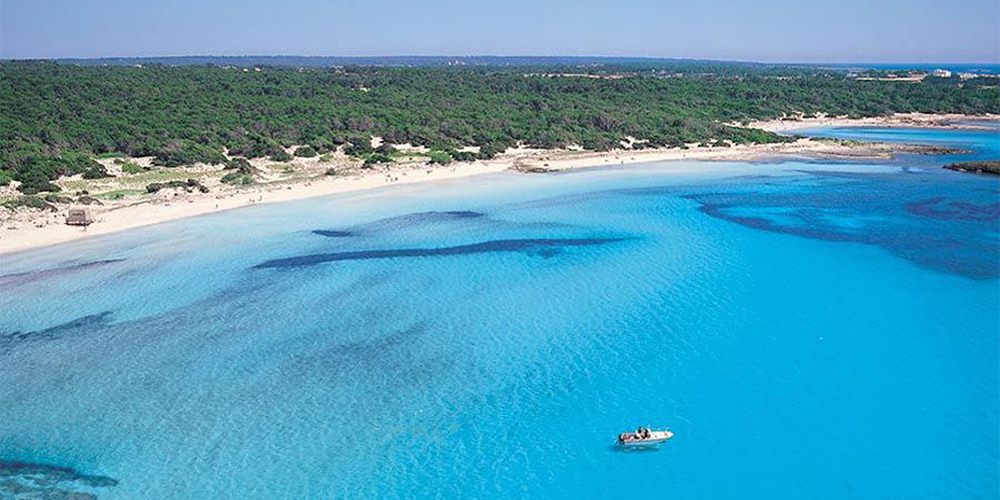 It's another sunny day, and another fine day to go sailing. We're heading out of Cala Figuera and tacking into the prevailing summer wind, following the coastline back South then West, and sailing in pretty much every direction.
Eventually you'll sail up past a headland-town of Colonia de Sant Jordi, famous for manufacturing high-grade salt, which marks the start of the best beach in Mallorca: Es Trenc. It's three kilometres of fine white sand and turquoise seas, reminiscent of places in the Caribbean. There's plenty of space for everyone – particularly as it's quite difficult (and slow) to get to the beach by car.
Take a dip, then head to Sa Rapita marina, where you'll notice the 'Son Duri' watchtower, which was once a part of a key defence system for Palma – for 300 years from 1595 there were (at least) two men stationed here, day and night, watching the horizon, ready to light their beacon at the first sign of any trouble arriving by sea. Similar to Lord of the Rings, this triggered the neighbouring beacons to be lit, passing a message back to Palma to prepare the troops for battle.

Day 6. Sa Rapita to Palma – 23 nM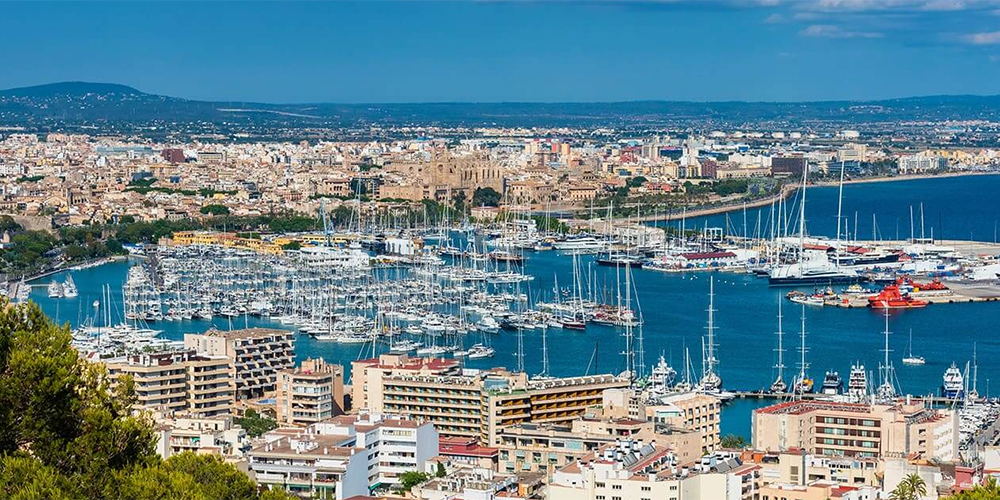 And all of a sudden, it's the last day of the adventure. Sad face. That went fast. But there's still plenty of sailing to be done today, so make the most of it. If you haven't gotten any team photos yet, then don't forget to get them today. Today we're sailing west then north and round into the bay of Palma and back to the marina. If you've got time, then there's a great beach at Les Merevalles just to the east of Palma which is worth a look.
You'll need to refuel the boat on arrival in the port area of Mallorca, then it's time to head back to the marina and to moor the boat up for one last time. You can stay on board tonight, before disembarking tomorrow morning. If you haven't yet explored Palma itself, then it's a historic city with a fine old town which is packed with magnificent architecture – including the cathedral which dates back to 1229. There's bars, tapas restaurants, ice cream shops and you'll find most luxury brands have a store here somewhere.
Hopefully you've had a wonderful time here in Mallorca, and you're leaving with even better friends than you arrived with, as well as a sackful of wonderful memories of your time on-board. If you've had a really good time, then maybe you're already thinking about where you all want to go sailing together next year – in which case, head to PlainSailing.com and see where else you can charter from with us. Have a safe trip home, and hopefully we'll see you online soon!

---
Sailing Conditions
 WHAT ARE THE WINDS LIKE?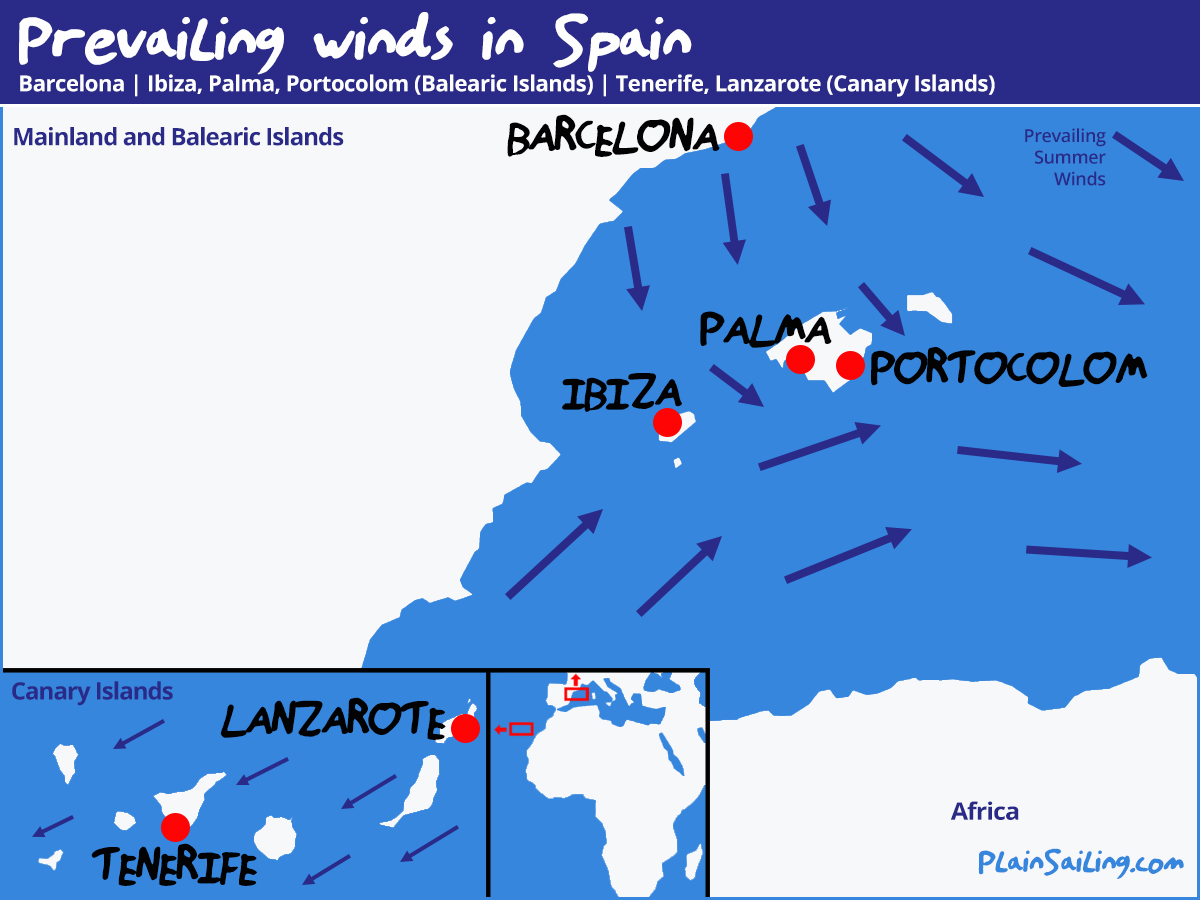 The Catalan coast has quite reliable winds and sunshine – which makes it an optimal place for sailing.
The winds around Mallorca are interesting and unusual. Whilst they are reliably strong, the direction from which they arrive at depends very much upon where on the island you are. In summer, the prevailing winds principally rush down from the north, from the Spanish mainland, then whip around both sides of the island before heading off East to Italy, Greece, and eventually Turkey.
That means that as you go around the island, you'll find that the wind direction changes, so you'll find that you're constantly trimming and re-trimming your sails – which is good news if you enjoy tinkering with the sails.
The wind tends to be stronger in spring and autumn, and in winter, the wind can arrive from pretty much any direction, so do pay attention to the weather forecasts.
 HOW HOT WILL IT BE? 


Mallorca never gets too cold, even in the middle of winter. The temperatures rise to t-shirt weather from late April, and from then on, the weather is set virtually permanently to glorious sunshine – which is what tempts land-lubbing tourists from across Europe to come and sit on the beach. In August, temperatures can often reach over 30 degrees, which will make taking a dip in the sea even more inviting.
 HOW WARM IS THE SEA? 


Like the weather, the water near Mallorca is pretty much nice all year long. The sea will feel a little fresh (but not unbearably cold) in Winter, but temperatures pick up from May (when taking a dip won't seem a bad idea), and welcoming from June to October, where there's really no excuse for not diving in. In August, the water is warmer than you'll find in a heated indoor swimming pool!
---
Marina Details
Palma is the capital of Mallorca, which has been welcoming sailors for hundreds of years. You'll get the chance to explore the old town at the start or end of your holiday - there's a fair chance that you'll have a good view of the castle from your boat!
If you need somewhere to stay near the marina, then we recommend the Dalt Murada for chartering from La Lonja marina or Sercotel Hotel Zurburan if you're starting from Marina Palma Cuarentena, but there are lots of hotels in Palma, though the ones on the sea-front tend to be expensive.
---
---
---
WHAT NEXT? Use the pink box to search for yachts or catamarans with LIVE pricing & availability - if you have any other questions or requests, get in touch via Live Chat, the Contact Form, or by phone.