Find a Boat
LIVE
Pricing & Availability
Search NOW
Turkey Yacht and Catamaran Charter
We have incredible yachts and catamarans ready to sail from Marmaris, Gocek and Fethiye!

Sailing around Turkey
Turkey is a fantastic place to sail, and we can help you find and book your ideal yacht or catamaran. There's sunshine for 300 days a year, reliable prevailing winds (particularly after lunchtime), and it's an interesting and exciting place to explore by boat. You'll find turquoise blue seas and idyllic bays, fine restaurants, as well as plenty of historic buildings and fortresses, each telling their own tale.
With fewer boats on the water, the sailing area is less crowded than Greece and Croatia - so there is no mid-afternoon rush to find a berth, even in high season. In many bays you'll find restaurant pontoons (which are low cost or even free if you eat in the restaurant) and mooring buoys, and the Turkish people are exceptionally friendly.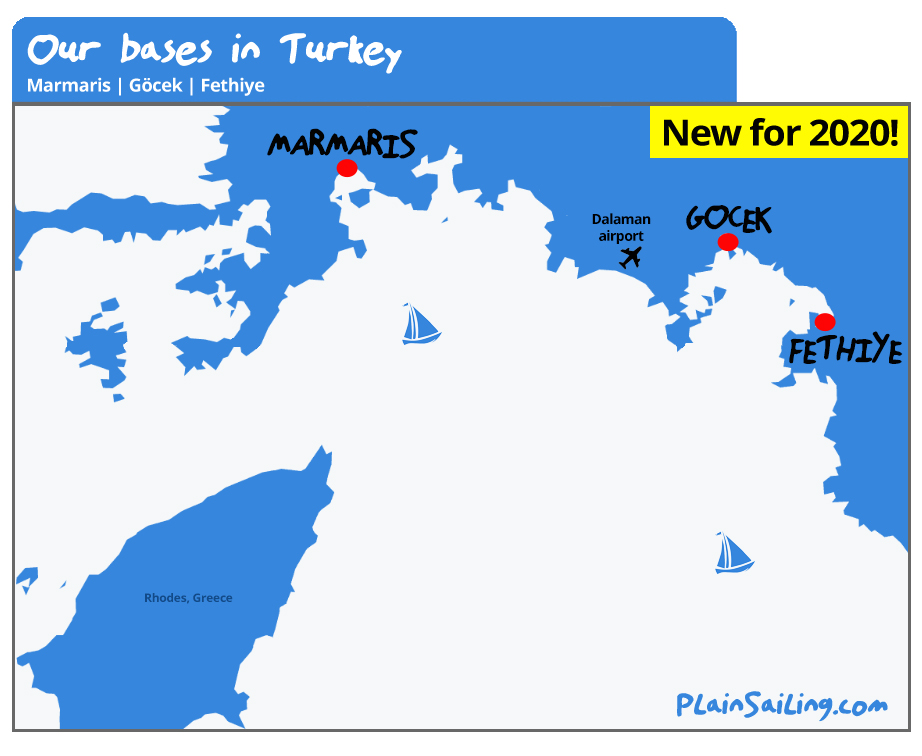 SAILING RATING:  Beginner / Intermediate - The sailing area is non-tidal, with line of sight navigation, which makes it suitable for all sailors. New or novice sailors can explore the sheltered Gocek and Marmaris bay areas, whilst there are stronger winds if you head West of Marmaris to Datca, or South of Gocek and Fethiye to Kas.
 WHEN TO GO:  The sailing season runs from March to November, with peak season being in July and August. There is reliable sunshine and good winds throughout the season.
 MINIMUM QUALIFICATIONS:  You'll need RYA DaySkipper or similar to charter a boat in Turkey. It is recommended to have a valid VHF certificate. If you're not qualified, we can find you a professional skipper.
 VISA REQUIREMENTS:  UK and US passport holders require a Visa to visit Turkey, which should be obtained in advance. EU passport holders can visit Turkey without a visa for 90 days.
 GETTING THERE:  The best airport to fly to is Dalaman, which is closest to all three of our bases (25 minute road transfer to Gocek, 50 minutes to Fethiye, or 1h25 to Marmaris). You could also fly to Bodrum (1h45 to Marmaris, 2h15 to Gocek and 2h40 to Fethiye), or Antalya (2h50 to Fethiye or 3h15 to Gocek). We can help arrange transfers to or from the marina, as well as helping you get provisions on board if your flight arrives late at night. An alternative would be to fly to the Greek islands of Rhodes or Kos and to get the regular ferry from there across to Marmaris or Fethiye.
 
Charter a Yacht or Catamaran in Turkey
We can help you find the ideal yacht or catamaran for your sailing holiday in Turkey. We only work with the very best professional charter operators in the area, who we have met, know, and who we trust to give you the same outstanding customer service as you'll get from PlainSailing.com.
Use the pink search box above to look for boats for yourself - they have live pricing and availability and you can filter the results to find your ideal boat - or start a Live Chat with our award-winning bookings team for help, advice, or anything else!
 
Where to sail in Turkey
We charter yachts and catamarans from three bases in Turkey - Marmaris, Gocek, and Fethiye. See below for ideas of where to sail when you get there (But be sure to check out our detailed destination guides to find out more).
 MARMARIS 
Ideas of where to sail: Paradise island is on the doorstep when sailing from Marmaris, and you can fill your itinerary with unspoilt bays and beaches - like Serce Limani, Sogut, Selimiye, and the ancient village of Bozukkale.
 GOCEK 
Ideas of where to sail: The Gocek bay area has 12 unspoilt islands which are perfect for sailing and swimming around. Further afield, you could visit historic Fethiye, the idyllic blue lagoon of Oludeniz to the South, or the thermal and mud baths of Ekincik to the North.
 FETHIYE 
Ideas of where to sail: Fethiye is well placed for sailing north to the largely unspoilt Gocek bay area, or South to the blue lagoon of Oludeniz, the scuba-heaven of Kas, or check out the sunken city of Kekova.
 
Cost of a Sailing Holiday in Turkey?
Prices change depending upon what sort of boat you are chartering, and when you would like to charter, and yachting offers great value for money because the fee includes a full-day activity, a means of transport and your overnight accommodation!
Charters are normally in periods of a week, from Saturday (check-in at 5pm) to Saturday (check-out at 9am), though you're required to be back at the charter base on the Friday evening. Prices change depending upon what sort of boat you are chartering, and when you would like to charter. You can charter a 3-cabin yacht for as little as €1,100 / week (including end cleaning), 4-cabin yacht from €1,800 / week, or catamarans from €2,400 / week - use the pink box above for live prices and availability.
|   | May / Oct | June / Sept | July / Aug |
| --- | --- | --- | --- |
| 3 Cabins | €1100 | €1500 | €2000 |
| 4 Cabins | €1800 | €1990 | €2480 |
| Catamaran | €2400 | €3015 | €4100 |
 
In addition to the charter fee, there is an end-cleaning fee to be paid, and you'll need to leave a security deposit on check-in (similar to a hire car, and usually placed as a pre-authorisation on a credit card).  You'll also need to pay for fuel and Mooring fees for any night spent in the Marina.
You can also add transfers, an outboard motor, early check-in, security deposit insurance or other extras to your booking (if they are not already included) for an additional fee.  We can also arrange for a Skipper, Hostess or Chef to be on board - in Turkey, these normally cost an average of €1,260 per week, excluding tips.
 
Our Turkish Sailing Destinations
Find out a lot more about each of our bases in these comprehensive destination guides, which also include details about suggested sailing routes, weather conditions, and recommended hotels, amongst a host of other useful information:
Tags: Turkey Yacht Charter, Bareboat, Skippered, Yacht and Catamaran Charters, Turkey Catamaran Charter