Find a Boat
LIVE
Pricing & Availability
Search NOW
Yacht & Catamaran Charter in Split, Croatia
We can help you find the perfect yacht or catamaran to sail from Split!

Sailing from Split
Split is a great place for a sailing holiday because it has glorious weather, reliable winds, great sailing infrastructure, and, of course, plenty of places to explore. From Split you can choose whether to visit the nearby castles of Kastela and the delightful UNESCO world heritage island-town of Trogir, or to head further afield to the islands which dot along the Croatian coast - the attractive Milna, the hill-top castle of Hvar, the carnival atmosphere of Paklinski Otoci, the fortifications of Vis, the agriculture of Maslinica, and the natural beauty of the blue cave at Bisevo, amongst many others.
With so much to see and experience, it's no wonder that this is the most popular sailing area in Croatia - and whether you're chartering with a skipper or bareboat, on a Yacht or a Catamaran, we can help you find and book your ideal boat - just get in touch or search in the pink box with live prices and availability!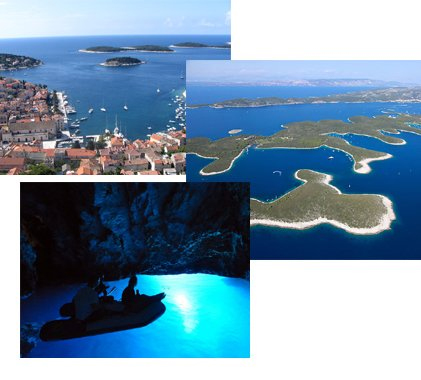 SAILING RATING: Beginner - With easy line-of-sight navigation, clear waters and light winds it's a great start point for sailors (and an easy cruising ground for experienced ones). Peak season is July & August, but you can sail here from March to October.
MUST-SEE: Our full suggested itinerary is further down the page, but we'd highly recommend taking in the medieval hilltop castle of Hvar the paradise sailors-only bay of Paklinski Otoci, and the sparking neon-blue cave in Bisevo.
WHAT WE CAN OFFER: We have a great range of yachts and catamarans available for charter from our trusted Charter Partners, all available bareboat or Skippered. We can also arrange a Hostess, Personal Chef and other crew.
GETTING THERE: The Marina is c. 45 minutes from Split International airport. We can organise transfers for you - a 4 person taxi is c. €50 - 60.
WHY BOOK WITH US? We only work with the very best professional charter operators, who we have met, know, and trust to give you the same outstanding customer service as you'll get from PlainSailing.com.

WHAT NEXT? Use the pink box to search for yachts or catamarans with LIVE pricing & availability - if you have any other questions or requests, get in touch via Live Chat, the Contact Form, or by phone.
Why book with PlainSailing.com?
We're yacht and catamaran charter experts, and can find you the best boats in Greece, Croatia and anywhere else in the Med or Caribbean - yacht, catamaran or superyacht-bareboat, skippered or crewed

We're UK based, only work with the best Charter Companies, offer exceptional customer service from start to finish and will match any price!

Independent Service Rating based on
431
verified reviews.
---
3
6-day Sailing Itinerary from Split
Our 6-day itinerary takes in the best parts of the cruising area, from natural wonders like the blue cave in Bisevo to the equally beautiful and impressive town of Hvar, the sailors paradise of Paklinski Otoci, plus cute fishing villages galore.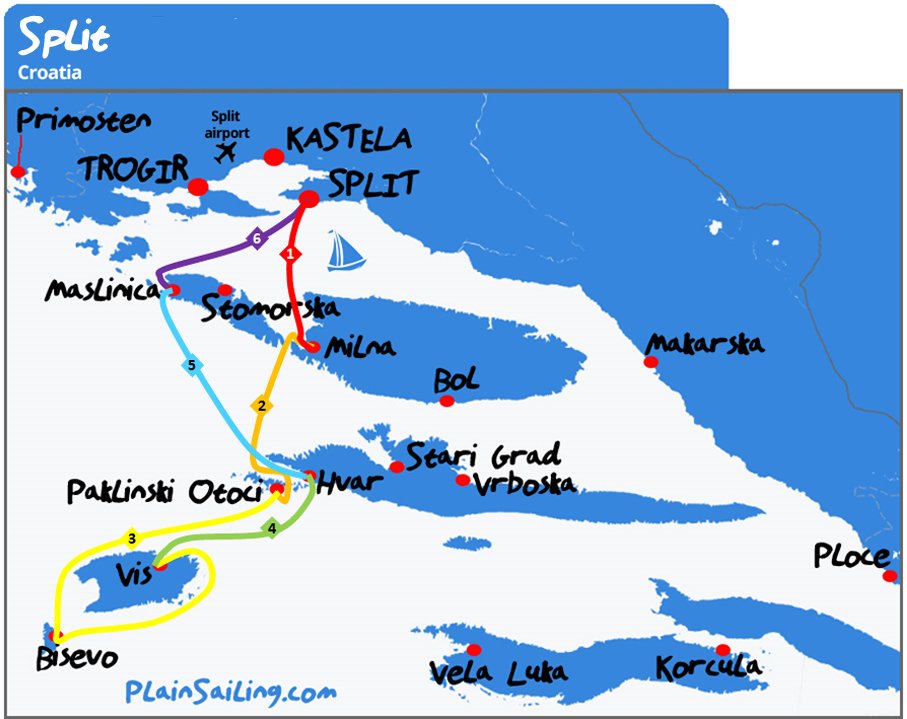 It's only a 6-day itinerary because usually after checking in to the yacht, you often won't have much time to do a meaningful sail, and it finishes in Split on the Friday night because that's when you'll need to get your yacht returned to the marina by, so that the yacht can be inspected (but you'll still sleep on it for the night).
In total, it clocks in at 107 nM across the week, which, at an average speed of 4-5 knots, means sailing for around 4-6 hours a day, giving you time to take breaks in bays or beaches as you pass them, to explore your start or end-points a little deeper, or just to take your time doing the shopping.

Day 1. Split to Milna – 14 nM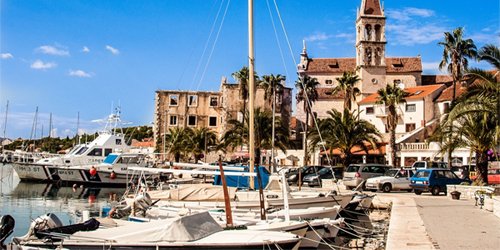 Stow the cups and saucers, batten down the hatches, forget that people are watching you as you perform your first manoeuvre to get out of the marina, and let's get out there and get the sails up!
The first day is fairly straight forward as you'll basically be heading due South to the first island you see once you're beyond the mainland. You'll be beating up and tacking against the prevailing wind as you head towards Milna, a small and charming old fishing village on the island of Brac where we're headed for the night.
Milna was once a key part of the Venetian empire, and much of its fine architecture (including an impressive clock tower) dates back to the 16th century. The town itself has narrow streets, and there is a reasonable choice of places to eat or drink.

Day 2. Milna to Paklinski Otoci – 15 nM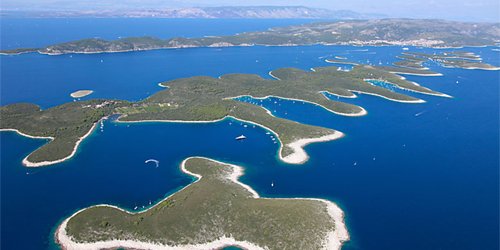 On the second day, we're heading in the same direction of due South (with a few kinks here and there), which means you'll still be sailing upwind close-hauled and/or beating your way along in the prevailing wind as you hop South to Hvar before nudging East and then weaving through the islands to get to one of our favourite places to stay in the whole of the Med: Paklinski Otoci.
This place is a bay which is only accessible by yacht, but which has an incredible six bars and restaurants alongside a fantastic beach. It's a great place to play, relax, eat, drink and mingle with other sailors, and there's a couple of bars which do some amazing cocktails!
If there's no space in the bay (it can get full quite quickly in peak season), then you can moor up in nearby Palmezana (on the other side of the island) and walk across, but it's not quite the same, and you don't get the same atmosphere of being central to the action. If bars are your thing, there's another small unnamed bay which has two bars in (but no roads) - you'll find it on the part of the south coast of Hvar island which you pass on the way down today, and it's well worth stopping there for lunch, a swim, or a drink.

Day 3. Paklinski Otoci to Vis – 37 or 10 nM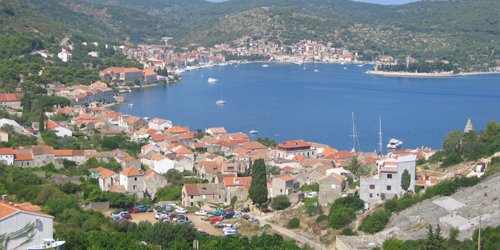 After a fishing village and a carnival atmosphere, our next port of call is a natural wonder – the blue cave of Bisevo. At 37nm, this is the longest day of sailing, though there are a couple of get-outs if you aren't making as much way as you'd like, and if you prefer not to visit the cave, the actual distance between Paklinski Otoci and Vis is only about 10 nM.
From Paklinski Otoci, you're bearing South-west to the top of the nearest island (which you should be able to see on the horizion), reaching across the prevailing wind. When you're passing Vis, you can make a call as to whether to head round to Bisevo, where there's a cave which, thanks to a natural light phenomenon, seems to be full of brilliant blue neon water. It's a crazy place to see, and even crazier to swim in.
The only way to see the cave is by the dedicated tourist boats. Since there's nowhere to moor up, you're better splitting up into two groups so that you can leave someone at the helm to keep the yacht out of any trouble whilst the other group visit the cave, then switching over. There is an entrance fee to be paid and there is sometimes quite a wait. Don't forget to take some pictures to show your friends (the lighting effect can be captured well enough on a camera). After visiting the cave, head North-east to follow the South coast of the island back around to Vis (or there is an option to stop in Rukovac bay if you're pushed for time and the wind is blowing in the right direction).
Vis has been a town since around 4 BC, when it was founded by the Greeks, and it has since been under the rule of most of the major empires – including the Romans, Byzantine, Venetians, Ottomans, the Austro-Hungarians, French, and even the British empires (indeed, there is even a British war cemetery). Keep your eye out for a local species of palm tree that grows only on Vis.

Day 4. Vis to Hvar – 13 nM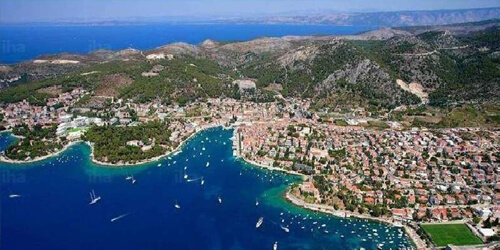 After a long day at sea, the trip to the next destination, Hvar, is just a short 13 nM hop to the North-west. This change of direction marks the mid-point of the week, and also means that you should have the wind behind you as you make your way back past Paklinski Otoci and onwards to Hvar.
If you have your binoculars out, you should be able to spot Hvar castle (on the top of the hill, above Hvar town) from some distance. It's an impressive place to visit when you arrive on land, and totally worth the 30 minute hike up the hillside - the panoramic view from the top of the hill is simply outstanding.
If there's no space in Hvar, you could moor up in Palmezana, across the water from Hvar, and grab a water taxi to Hvar from the marina.
Once famous for being a party town, Hvar has calmed down a little, but it still has a good reputation for lively nightlife, coupled with some of the finest restaurants in the whole of Croatia, and a picturesque old town (if you have a camera-enthusiast in your crew, then double the time it will take to walk to the castle).

Day 5. Hvar to Maslinica – 18 nM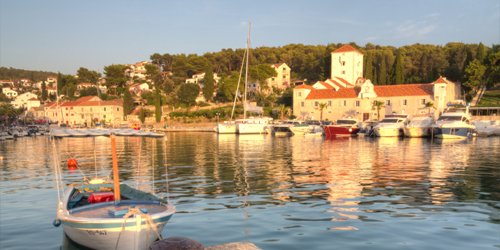 Hvar is only a small town, but it will feel like a city compared to our next port of call. Maslinica has won awards for being the best tourist spot in the Med with fewer than 1,000 inhabitants – thanks mainly to its fine beaches, pine tree forests and general unspoilt beauty. It's also famous for the quality of its local produce, and is widely regarded to have the tastiest honey, the best schnapps, and the fruitiest wine in the whole of Croatia. All are certainly worth sampling.
From Hvar, you'll get the chance to try the sails heading in a North-western direction, which should see you reaching across the prevailing wind. It's a long stint on this bearing, which means it should be a good time for reading or sun-bathing, assuming the waves aren't too big (and they shouldn't be).
Interestingly, Maslinica began life as a holiday retreat for some rich aristocrats – such was their wealth that they built their own castle to prevent being attacked by pirates!

Day 6. Maslinica to Split – 13 nM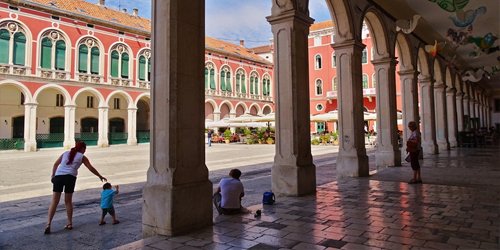 Disappointingly, this is the final day of the itinerary, and you'll end up back in Split by 5pm, when you'll need to check the boat back in for an inspection, with a full tank of fuel. But that doesn't mean that you can't have fun and enjoy the last few hours of sun, sea and sailing in style.
The sailing time from Maslinica to Split is 2-3 hours, so you have time to check out some of the beaches and bays around Solta island before bearing North-east, reaching with the wind behind you and with Split on your bow. You'll need to head to the fuelling station in the main harbour in Split (where you'll likely find a queue of other charter boats) before returning the boat back to where you picked it up from.
You'll still be on the boat for one last night, and are just a short walk from Split Old Town, where there's a strip of bars along the waterfront, a fantastic range of eateries, and even a nightclub. The whole place will be full of sailors on their last night (just like you), as well as the usual tourists, who probably wouldn't even know what a fender was!?
Hopefully you will've had a brilliant week on your yacht or catamaran, and you will've learnt new things, made (better) friends, and enjoyed everything that Croatia has to offer. When you're home, you can start to plan your next voyage with PlainSailing.com – there's hundreds more islands in Croatia and Greece, plus Italy, France and Montenegro that are just waiting for you!

---
Sailing Conditions
 WHAT ARE THE WINDS LIKE?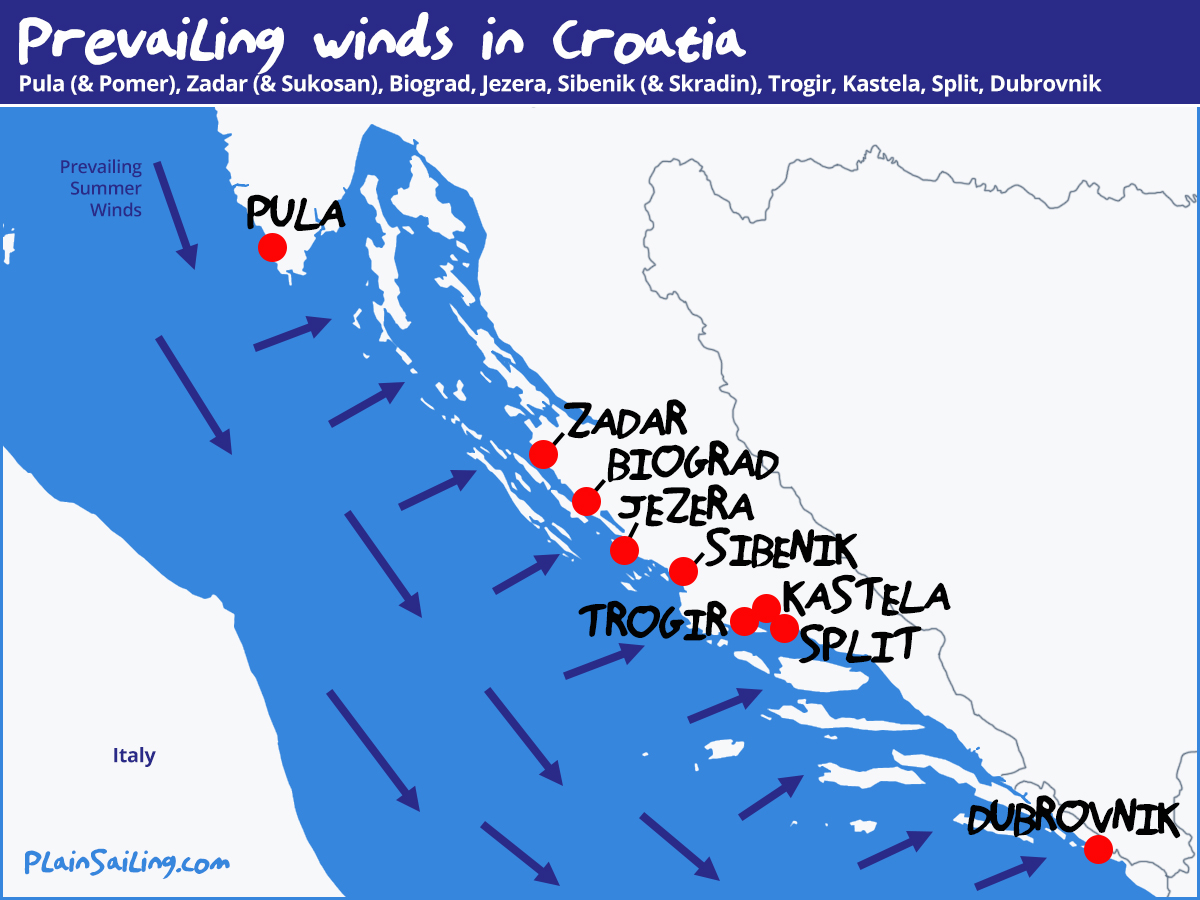 Winds in the area around Split are remarkably reliable, and at the height of the season, it's almost possible to tell the time from them - there's a morning wind from 9am to mid-day, which will allow you to get the sails up as soon as you leave the marina, followed by a period of eerie silence (local sailors say that the wind is having it's lunch), before returning stronger after 2pm until sunset.
This does give you a good opportunity to spoil yourselves at lunch-time, with quick stop-overs at restaurants in towns, or in beautiful bays very much the order of the day! (or maybe even an afternoon nap?) The wind soon starts to pick back up again though, and your sails will be billowing again in no time!
In the summer, the prevailing wind is landward in the afternoon – the sun heats the land, which causes the air above it to rise, which, in turn, pulls wind across the sea.  The wind can be anywhere from Force 3 to Force 6 during the day, but disappears to a light breeze in the evenings.
 HOW HOT WILL IT BE? 


As you would expect being a little further north than Greece, Croatia is a little colder throughout the year, meaning it can be cold in the winter, but also that it's never as stiflingly hot in peak season. The sunshine in Croatia is pretty much guaranteed from May to September, and, coupled with pretty reliable winds, it's no wonder Croatia is gaining so much popularity as a cruising destination.
 HOW WARM IS THE SEA? 


Just as the air temperature warms up to perfection for the sailing season, so too does the sea temperature – with the water hitting 25 degrees at the peak of the sailing season, making it the ideal temperature for throwing down the anchor and diving in. Less enticing, perhaps, is the sea temperature from October to May, when 15 degrees will feel about as comfortable as a cold bath.
---
Marina Details - ACI Marina, Split
The ACI marina in Split is well located for both exploring the town to city of Split (which is just a few minutes' walk away), and for enjoying the sunshine on a perfectly maintained local beach (which is even closer).
If you're staying in the area before or after your charter, we can recommend these places that are close to the marina: Galeria Valeria Seaside Hotel or Hotel Jadran.
GETTING THERE:
Split Marina is very easily accessible from Split airport, which is about 25km or 30 minute car drive away. Transfers can usually be arranged reasonably cheaply (check out our
blog on Transfer Fees
), or there is a car park at the Marina if you're driving. There are buses that go every hour into the centre of Split from the airport, which is just a short 400m walk through the centre of the Old Town to the marina.
PROVISIONING:
There's a mini-market in the marina, but the nearest supermarket of a reasonable size is the Konzum supermarket about 400m from the marina, on the main road into the city centre on
Obala kneza Branimira 8, 21000, Split
.
FUELLING AT END: There is a fuelling berth in the Marina - head there before you head back to your home berth (there might be a queue...)
Loading Map Co-ordinates...
---
---
WHAT NEXT? Use the pink box to search for yachts or catamarans with LIVE pricing & availability - if you have any other questions or requests, get in touch via Live Chat, the Contact Form, or by phone.