Find a Boat
LIVE
Pricing & Availability
Search NOW
Yacht & Catamaran Charter in the BVI, Caribbean
We can help you find the perfect yacht or catamaran to sail in the British Virgin Islands.

Sailing in the British Virgin Islands / BVI
The British Virgin Islands or BVI are the most popular sailing destination in the Caribbean (and possibly the world) – thanks mainly to their incredible beauty, easy-going seas, plentiful sunshine, reliable trade winds, and vast array of anchorages and ports to overnight. They're a collection of 60+ idyllic islands with white beaches, palm trees, clear turquoise seas, welcoming locals and thriving wildlife (including flamingos). This is sailing in paradise.
There's local rum, fantastic local cuisine, and history-wise, the classic book 'Treasure Island' was based here, you'll find plenty of names which cast back to the days when pirates roamed the seas, and the main sheltered sea area is named after the legendary British Explorer Sir Francis Drake who patrolled here in the late 1500's.
The sailing season runs from October to June, with peak season being December to early March. We can help you find and book your ideal yacht or catamaran, with one of our trusted Charter Partners - just get in touch or search in the pink box with live prices and availability!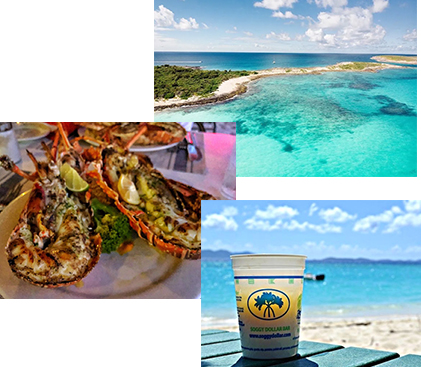 SAILING RATING: Beginner - the sea is beautifully sheltered in-between the islands, and the winds are reliably not too strong, so the area is suitable for adventurous beginners. Navigation is also straightforward line-of-sight and there are many safe bays, anchorages and marinas to hole up in overnight.
MUST-SEE: Check out our full suggested itinerary below. We'd highly recommend taking in the incredible sound on Virgin Gorda, sampling the delicious lobster on Anegada, and grabbing a Painkiller cocktail at the Soggy Dollar Bar on Jost Van Dyke.
WHAT WE CAN OFFER: We have a great range of yachts and catamarans available for charter from our trusted Charter Partners, all available bareboat or Skippered. We can also arrange a Hostess, Personal Chef and other crew.
GETTING THERE: Our base in Road Town on Tortola island is a short 25 minute drive from the main Tortola airport. We can help arrange private transfers.
WHY BOOK WITH US? We only work with the very best professional charter operators, who we have met, know, and trust to give you the same outstanding customer service as you'll get from PlainSailing.com.

WHAT NEXT? Use the pink box to search for yachts or catamarans with LIVE pricing & availability - if you have any other questions or requests, get in touch via Live Chat, the Contact Form, or by phone.

Why book with PlainSailing.com?
We're yacht and catamaran charter experts, and can find you the best boats in Greece, Croatia and anywhere else in the Med or Caribbean - yacht, catamaran or superyacht-bareboat, skippered or crewed

We're UK based, only work with the best Charter Companies, offer exceptional customer service from start to finish and will match any price!

Independent Service Rating based on
415
verified reviews.
1
---
6-day Sailing Itinerary in the British Virgin Islands / BVI
The BVI are enough to make anyone fall in love with sailing. Described variously as 'Paradise on earth' and 'Nature's little secret', this is a place that has to be seen to be believed – with white palm-lined sandy beaches and perfect turquoise seas, every photo you take will look stunning!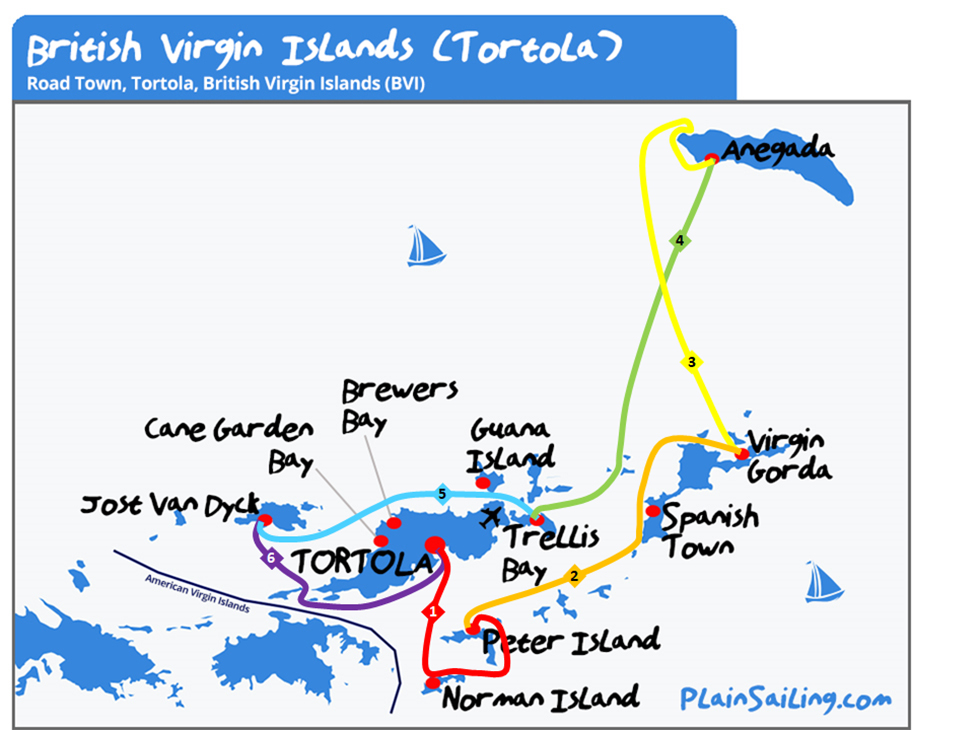 Our six-day itinerary from Tortola takes in all the key islands - including some that you will never want to leave – and covers 99 nM of sailing, which means sailing for around 3-4 hours each day and leaves plenty of time to relax, snorkel, or explore your start, end or mid-points in more depth. In contrast to other PlainSailing.com itineraries, this itinerary doesn't end in a marina each night – in most anchorages you will be able to anchor, find a mooring buoy, or there will be some spaces on small jetties, often owned by restaurants.
Though located adjacent to the US Virgin Islands, there's a myriad of paperwork to undertake if you want to take the boat over the border, so it is simply not worth doing – and there is already more than enough to explore in the BVI's to keep you busy for a week (or ideally, longer). It's only a six-day itinerary as you'll likely only get onto the boat late on Saturday afternoon - so won't be able to set sail until Sunday morning – and you'll need to be get the boat back to the base on the Friday evening before you depart (but you can stay on her overnight for one last night, before departing in the morning) - that means six days of wonderful sailing!

Day 1. Road Town to Peter Island (via Norman Island) – 14 nM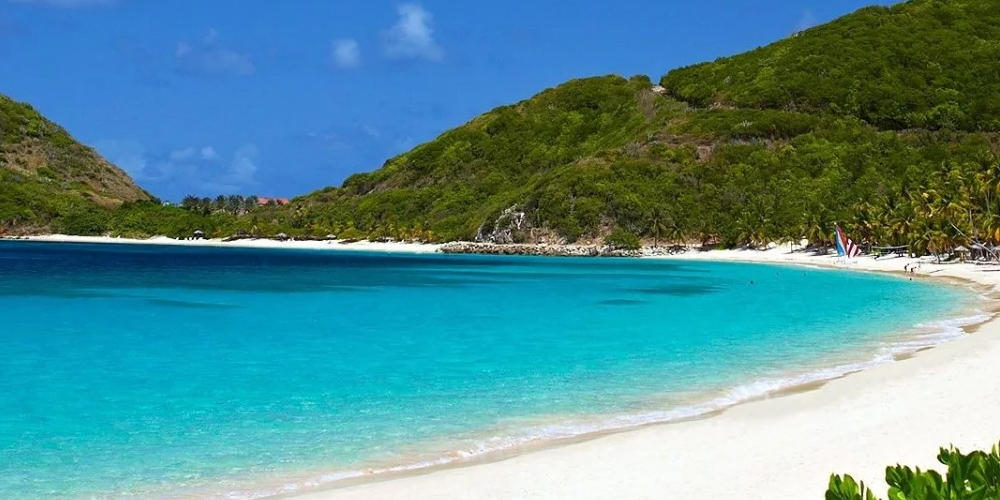 Good morning, Skipper and welcome to the BVI: the most beautiful place to sail on earth. Hopefully the crew didn't sample too much of the (delicious) local rum last night, you've got your provisions on board, completed the pre-sailing briefing, and are all ready to set sail.
Today we're easing our way out of the marina and heading south in search of adventure in the Sir Francis Drake channel and beyond. Once out in the channel, the Easterly winds should pick up and we're heading across the winds down to the north side of Norman Island. If you're into snorkelling, then you could stop off at 'the Indians' a handful of small islands a few hundred metres due west of Pelican Island, and one of the top places to snorkel in the BVI.
Norman island is the believed to be the setting for the classic book 'Treasure Island' by Robert Louis Stevenson, and you can well imagine life on the island when exploring the coves and beaches here (albeit without the presence of buccaneering pirates) – not too much has changed in the last few hundred years to be honest. Willy T's floating bar in the Bight bay is a renowned place to stop for a drink or lunch.
After checking out Norman island, we're hopping over to the neighbouring Peter Island and the idyllic 'Deadman's Bay' which was named after the 15 pirates expelled from Blackbeard's crew who perished here, but is now one of the most spectacular and romantic beaches in the world. Watch out for sea turtles cruising around in the bay.

Day 2. Peter Island to Virgin Gorda – 18 nM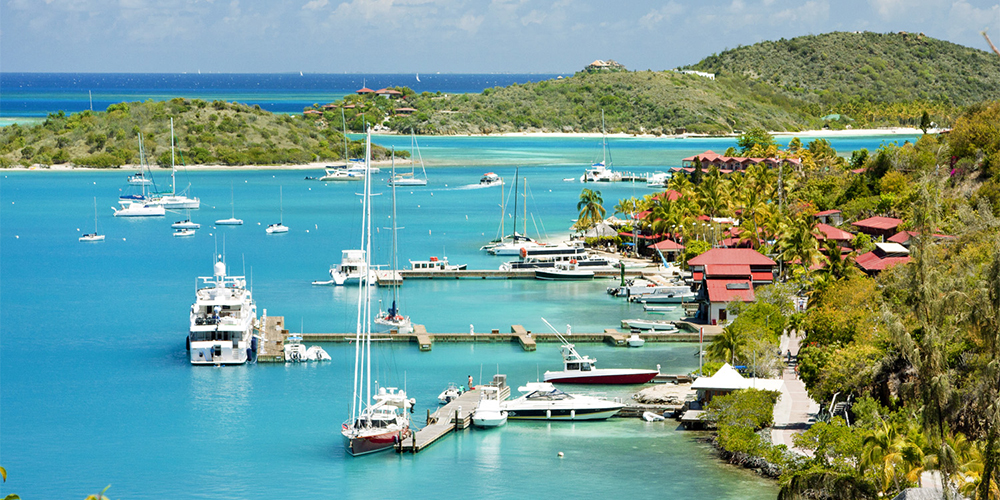 No doubt the sun, sea, sand and holiday vibe will have fully relaxed you by now, and the office will feel a world away. When you're ready, we're tacking up the wind (and the Sir Francis Drake channel), passing Dead Chest island along the way.
If you came here for snorkelling, then you could stop by the wreck of the RMS Rhone, near Salt Island, which sank in a hurricane in 1867, is 12m below the water-line, and offers an interesting glimpse into the past, even though large chunks of the boat are covered in coral.
Sailing further north, one of the main sightseeing destinations in the BVI is 'the Baths' on the southern tip of Virgin Gorda island – these are giant volcanic granite boulders which create a series of fun grottoes, rock pools and caves. The whole area is now a National Park and there is still a sense of wonder even though there are a lot of land-lubbing tourists here.
Then we're sailing up along the coast of Virgin Gorda, passing Spanish Town (the second biggest town of the BVI and famous for its copper mine), to overnight in the large bay area at the north of the island - there's plenty of places to anchor or pick up a mooring buoy, but our favourite is the Bitter End Yacht Club (on the East, just below Saba Rock and Prickly Pear Island), which has space for 25 yachts to moor up on pontoons if you are early enough. Incidentally, this is where Sir Francis Drake assembled his ships prior to an attack on Spanish-owned Puerto Rico.

Day 3. Virgin Gorda to Anegada (via Cow Wreck beach) – 19 nM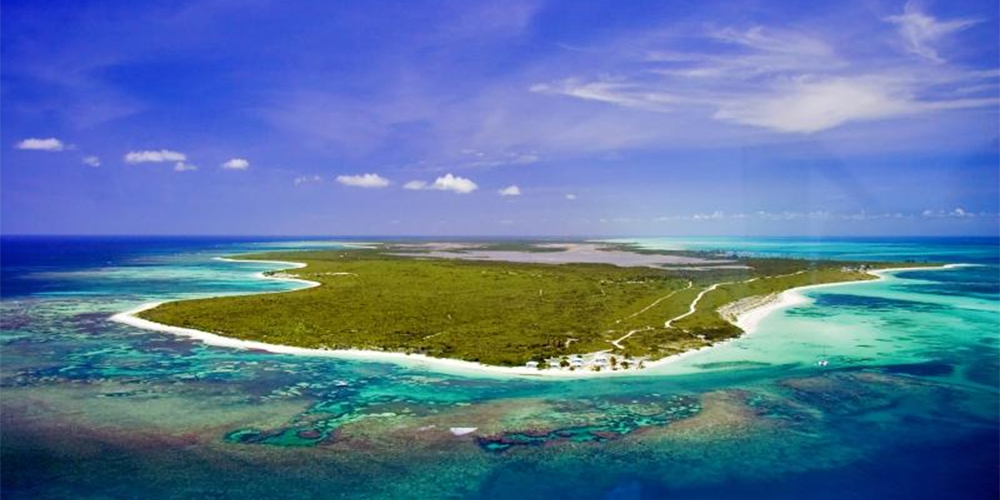 Sadly we can't stay on Virgin Gorda as we're off adventuring north to Anegada, the only non-volcanic island in the BVI (its constitution is coral and limestone), and the island with the best beaches in the archipelago.
To get there, it's likely a beam reach across the prevailing winds. If you sail to the East of Prickly Pear Island you'll sail straight past Necker Island, which is owned by UK Billionaire Sir Richard Branson, who is now possibly most famous for being in tax exile from the UK.
The very best beach in the BVI is called 'Cow wreck beach' which you will find on the western side of the top of Anegada island, so it makes sense to head there to see it for yourself before tucking back round to the leeward side of the island to a pontoon near Setting point' to watch the sunset – beware of coral reef when navigating the island.
The island is also famous for its barbecued Anegada Lobster – "the best lobster in the Caribbean" - so be sure to give it a try (you usually need to call the restaurant and pre-order it a few hours in advance). If you like it enough, there is an 'lobster festival' in Anegada in November each year!

Day 4. Anegada to Trellis Bay (via Dog Islands) – 20 nM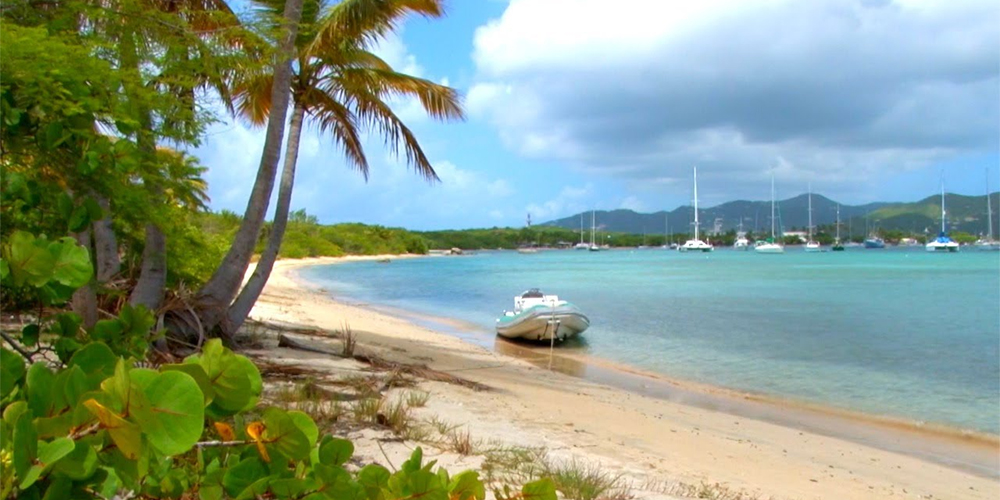 Anegada is not just home to the best beaches and lobster in the BVI – it's also the only place to spot wild flamingos – you can either walk inland to the salt-pods to see them, or sail 1 nM East to 'Flamingo pond lookout' where you can pause for a moment to check them out from the binoculars on the top of the lookout post.
Once you've marvelled at the birds then we're sailing back south-west to finish the night in Trellis Bay, just north of Tortola airport. To get there you'll likely be jibing down the prevailing wind, so it's more pleasant to head via the Dog islands for a spot of snorkelling and tranquillity. This collection of tiny islands sadly aren't inhabited by dogs – they got their name because the first people that came here thought they were though. In fact, the 'barking' noises were actually monk seals, and they were so tasty, and their skin and blubber so useful, that there are no longer any more here today.
Trellis Bay (and the airport) are on Beef Island, just north of Tortola, but now connected by road bridge. The bay is a beautiful place to rest up for the night, and boasts a number of beach restaurants and bars, and possibly the world's only beach art gallery. If you happen to be here for the monthly Full Moon party then you are in for a treat!

Day 5. Trellis Bay to Jost Van Dyke – 14 nM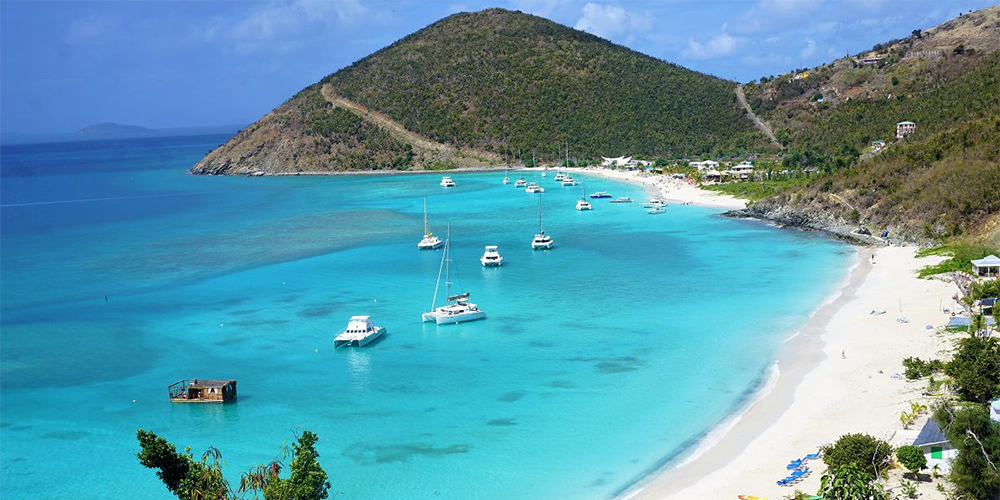 Another fine day for sailing! Our destination tonight, the Great Harbour / White Bay on Jost Van Dyke island is probably the one that people who have been sailing in the BVI rave about the most – it's (another) idyllic island and the beach bars here are famous, including the Soggy Dollar Bar (which invented the 'Painkiller cocktail) and Foxy's Taboo (on the East coast of the island).
Named after a Dutch pirate, Jost Van Dyke (or 'JVD' or 'Jost' for short) is some way off the beaten track, but has some history: it was once a cotton plantation with over 400 slaves. In 2017 Hurricane Irma flattened virtually all of the buildings on the island.
To get there it, we're sailing around the northern side of Tortola. On the way it's worth checking out Guana Island, which is a private island owned by nature enthusiasts and is said to have more species of flora and fauna than any other island on the planet. Of note, there's flamingos, iguanas and wild tortoise, as well as seven perfect white beaches, three reef areas, and seas absolutely teeming with colourful tropical fish. There's also plenty of other amazing beaches to check out on Tortola, like Brewers Bay (home to Sea-turtles and Manta Rays), Shark Bay (home to Pelicans) and Cane Garden Bay (another contender for 'Best Beach in the Caribbean' and there is a Rum distillery here).

Day 6. Jost Van Dyke to Road Town – 14 nM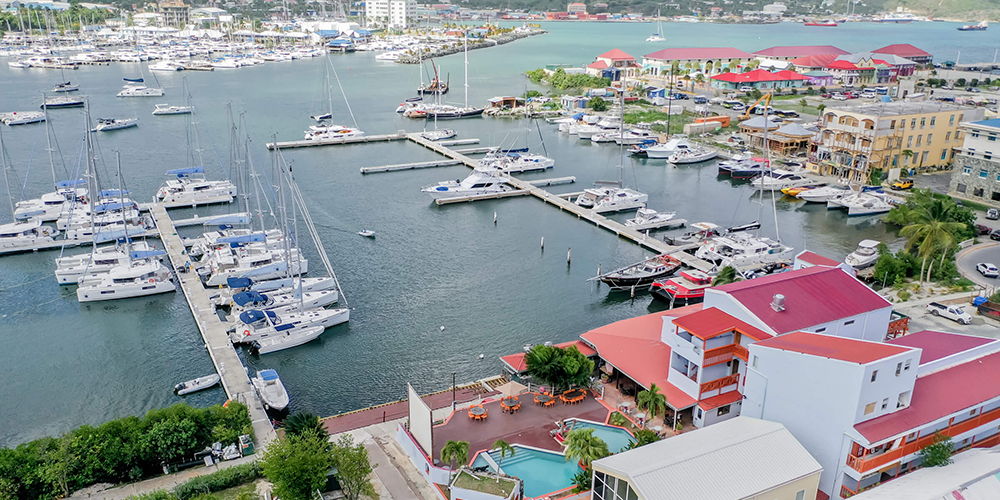 Oh no! How is it the last day already? Time really does fly when you're having fun. Sadly, all good things must come to an end, and by the end of today we'll be safely tucked up back in Road Town, Tortola, where you'll overnight before disembarking the boat in the morning. If you haven't yet taken a photo of the crew, then today is the day to do it.
But we still have another great day of sailing and exploration ahead of us - we're completing our circumnavigation of Tortola by heading South to 'thread the needle' by sailing between Great Thatch and Little Thatch islands before heading East along the South coast of Tortola. You can admire the island of St John, but it's officially part of the US Virgin Islands, and there is a lot of paperwork you'll need to do if you wanted to land there.
You'll pass the large tourist resort of Nanny Cay, and beautiful Sea Cow Bay, as you head up the prevailing wind, keeping the coast of Tortola on your port side, before heading for home. Remember to refuel the boat before you moor her up for one last time. Nicely done, Captain.
If you haven't yet explored Tortola then there's obviously plenty of outstanding beaches, or for something different you could hike up to the top of Mount Sage for fantastic views over the cruising ground. Road Town is also a nice enough place to explore, and will feel like a giant civilisation after a week of sailing around the islands – of note, you probably ought to head to 'Pussers' English Pub which is now an institution on the island and celebrates the bygone days when Sailors in the Royal (British) Navy were given a ration of 1 pint (568 ml) of Rum per day! There should be plenty of other sailors there to share tales of your sailing adventures with.
And then it's back to reality after a week of fantasy sailing in the BVI. Hopefully you have had a blissful week in the sunshine, the crew have all gotten on, and you've created yourself some memories that you can treasure forever. Have a safe onward journey, and head to PlainSailing.com when you're ready to start planning your next adventure!
---
Sailing Conditions
 WHAT ARE THE WINDS LIKE?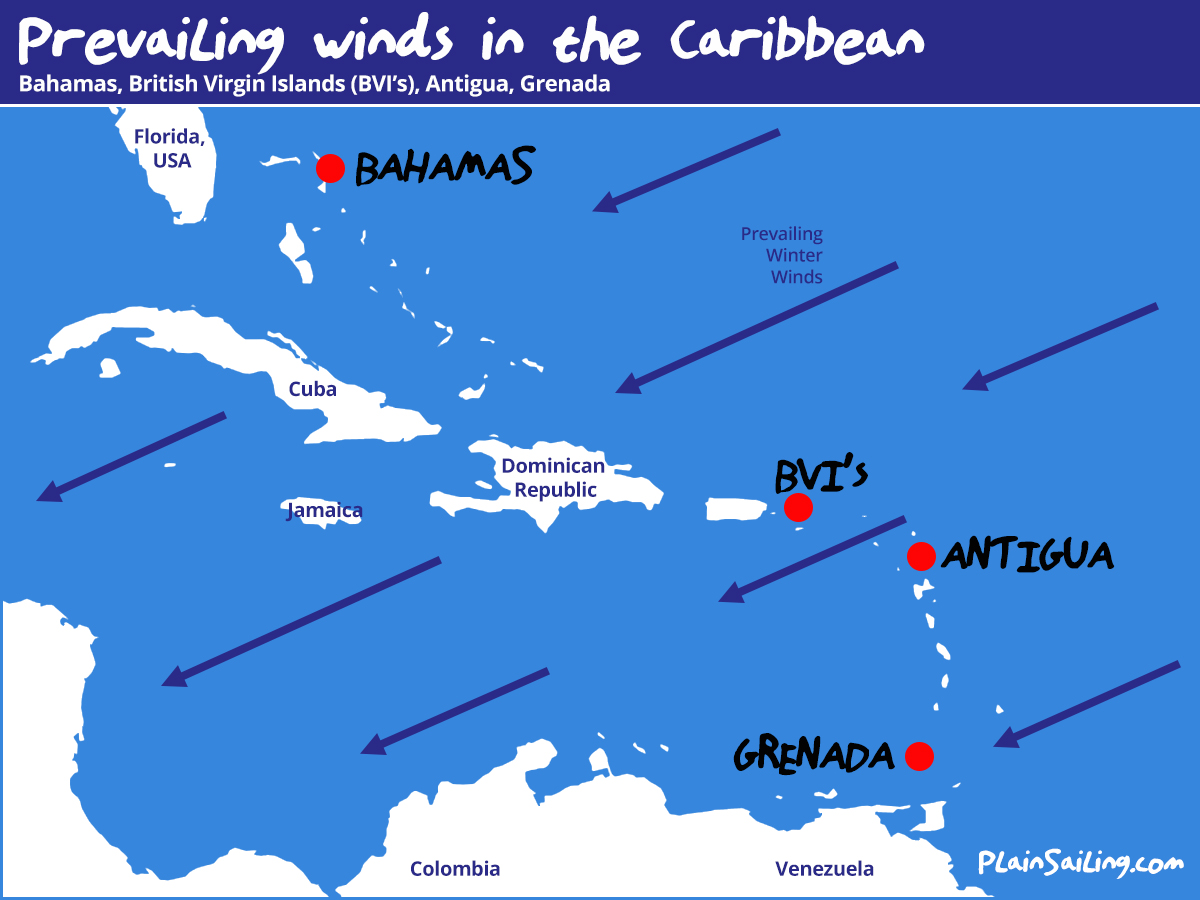 The BVI are blessed to have the transatlantic trade winds arriving on their doorstep, and it's these winds that propelled Sir Francis Drake across the seas all those years ago.
They arrive from the East or North-east all year round and are consistently around force 4 (11-14 knots), though sometimes stronger around late December when the 'Christmas trades' kick in.
All of which makes for very reliable and relatively simple sailing, without too many surprises (though of course you should still keep a firm grip on what the local weather forecasters are saying!)
If you're planning on sailing outside of the conventional sailing season (which runs October to June), you should be aware that August and September is hurricane season here and there's the chance of meeting some strong and destructive winds, which are best avoided - steer clear if you can!
 HOW HOT WILL IT BE? 


The sun shines blissfully in the BVI virtually all year long, so you'll likely need flip flops and sun tan lotion whatever time of year you choose to sail here. Temperatures are in the mid to high twenties (in degrees Celsius) which is a pleasant temperature to relax on deck or on the glorious white sandy beaches, and which contributes to the happy holiday vibe here.
 HOW WARM IS THE SEA? 


The constant blissful sunshine leads to constant blissful sea-temperatures, with the sea never falling below 26 degrees Celsius all year long. For context, 26 degrees is warmer than most indoor swimming pools, and warmer than most parts of the Med get even at the height of summer - so it's an open invitation to dive in (or to grab your snorkel).
---
---
---
WHAT NEXT? Use the pink box to search for yachts or catamarans with LIVE pricing & availability - if you have any other questions or requests, get in touch via Live Chat, the Contact Form, or by phone.