Find a Yacht
LIVE
Pricing & Availability
Search NOW
https://plainsailing.com/blog/bvis-is-all-about-picking-up-buoys
BVIs is all about picking up buoys...
Wednesday, 6th July 2022
In the BVIs, the most convenient place to overnight is on a mooring buoy – but these are next level mooring buoys, which you can book online!
When the weather is perfect, often the most stressful part of sailing is the starting and stopping – calculating how to lay the anchor, or manoeuvring around tight marina or up against stone walls.
Luckily, in the BVIs they've worked out a solution to that problem – there are mooring buoys dotted all over the islands which are easy to hook up to, secured to the ocean floor, and, even better for tech savvy sailors, they can be booked online, so there's no worry about whether there'll still be one available whatever time you arrive.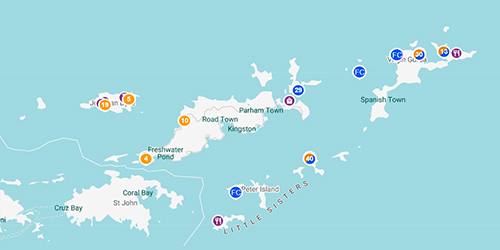 Mooring buoys all over!
Sailors in the BVIs will quickly get familiar with BoatyBall, which manages a host of mooring buoys right across the islands – from Jost van Dyke to Anegada, and an ever-growing number of places in between.
The mooring buoys are all numbered and branded, which makes them easy to spot, they cost from just $30 a night and are in some of the most idyllic, interesting and spectacular bays in the BVIs – Cooper Island, Laverack Bay: you name it, there will be a BoatyBall nearby!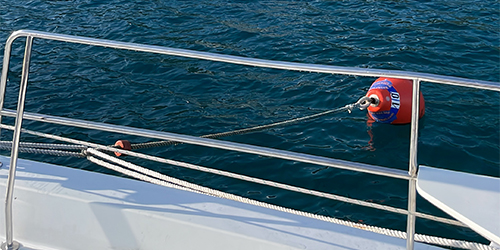 Get it booked. Simple.
Arguably the most exciting thing about them is that, whilst a small number are available on a first-come, first-served basis, the vast majority can be pre-booked - so you can book one in the morning, and then take your time and meander your way to it during the day, without worrying about racing to get there, or praying that there will still be one available.
Better still, you can even choose exactly which one you want to book – from being right next to the shore, or on the outskirts of the mooring buoy fields, so that you can get an easier pick-up.
Another great feature is that you don't need to be mega-organised when you're booking them - it's literally impossible to book them before 7am on the day, which suits a more leisurely holiday (albeit it suits early risers better than those who like to lie in). But overall, BoatyBalls - we loved them!
Sold it you yet?
Be sure to check out our destination guides to find out a LOT more about sailing in the BVIs, or search in the pink box for yachts and catamarans available for charter in the BVIs with live pricing and availability, or contact our award-winning Customer team through LiveChat, UK Freephone or email!
Want more like this?
This is part of our 'Destination Highlights' week of blogs focussing on sailing in the BVIs - including What's the difference between sailing in the BVIs and the Med, Top 5 places to sail in the BVIs, and why sailing in the BVIs is all about picking up buoys. You might also be interested in checking out our similar Destination Highlights: Montenegro, Destination Highlights: Croatia, Destination Highlights: Greece, Destination Highlights: Italy, Destination Highlights: Malta, Destination Highlights: Scotland, Destination Highlights: Bahamas, Destination Highlights: Spain and Destination Highlights: France blog series from previous months!
Plainsailing.com
Plainsailing.com