Find a Boat
LIVE
Pricing & Availability
Search NOW
Yacht & Catamaran Charter in Fethiye, Turkey
We can help you find the perfect yacht or catamaran to sail from Fethiye!

Sailing from Fethiye
Fethiye is a wonderful place to sail, with fine weather, blue skies, and dependable winds. There's also so much to see and do from here that one week isn't nearly enough and you'll likely decide you have to come back sail from here all over again - there's island-hopping, secluded bays, and incredible history, coupled with outstanding hospitality and brilliant Turkish cuisine.
If you wanted a tranquil sailing holiday, then this is the place for you: the cruising ground is choc-full of small bays, reachable only by boat, each one somehow with its own local restaurant and jetty (often free if you eat at the restaurant) to make life super easy. There's turquoise blue seas to swim in, lost cities and coastlines to snorkel, ancient civilizations to marvel – do we need to go on…? We can help you find and book your ideal yacht or catamaran, with one of our trusted Charter Partners - just get in touch or search in the pink box with live prices and availability!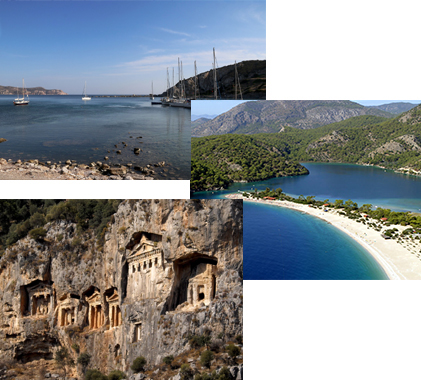 SAILING RATING: Beginner / Intermediate - You can find sailing to suit all levels of sailing in Turkey, with a mixture of quiet bay areas and more exposed coastline. You'll find even remote bays have places to moor up – like a restaurant-jetty or a mooring buoy, but it's useful to be comfortable using the anchor. Peak season is July to September, but sailing is pleasant here from March to October, and increasingly, November.
MUST-SEE: Check out our full suggested itinerary below, but from Fethiye there's the 12 idyllic islands of Gocek Bay to explore, the famous Blue lagoon at Oludeniz, ancient Kaunos and the thermal Dalyan mud baths up north, or the sunken city of Kekova to the South..
WHAT WE CAN OFFER: We have a great range of yachts and catamarans available for charter from our trusted Charter Partners, all available bareboat or Skippered. We can also arrange a Hostess, Personal Chef and other crew.
GETTING THERE: The Marina is a short 50 minute drive from Dalaman airport, or just under 3 hours from Bodrum or Antalya airports. We can organise transfers for you - a 3-person taxi is c. €55 from Dalaman to Fethiye. You could also land at nearby Rhodes or Kos in Greece and get a ferry across.
WHY BOOK WITH US? We only work with the very best professional charter operators, who we have met, know, and trust to give you the same outstanding customer service as you'll get from PlainSailing.com.

WHAT NEXT? Use the pink box to search for yachts or catamarans with LIVE pricing & availability - if you have any other questions or requests, get in touch via Live Chat, the Contact Form, or by phone.
Why book with PlainSailing.com?
We're yacht and catamaran charter experts, and can find you the best boats in Greece, Croatia and anywhere else in the Med or Caribbean - yacht, catamaran or superyacht-bareboat, skippered or crewed

We're UK based, only work with the best Charter Companies, offer exceptional customer service from start to finish and will match any price!

Independent Service Rating based on
428
verified reviews.
---
2
6-day Sailing Itinerary from Fethiye
There's nothing quite like sailing in Turkey, and Fethiye is an ideal jumping off point to find the secluded bays (each often complete with their own cute restaurant and jetty), idyllic sights, ancient history, glorious nature, and, of course fantastic Turkish food, drink and hospitality.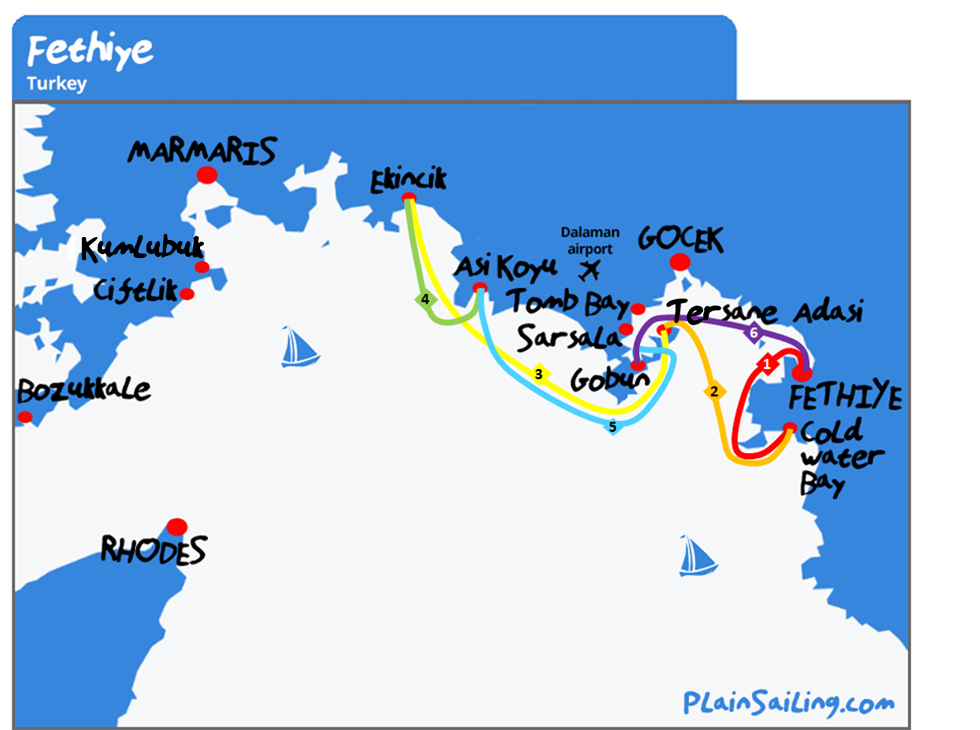 You could easily have a superb week on a yacht sailing in just the Gocek Bay area, but this is a sailing holiday, so we've included highlights from the wider area so that you can get some nautical miles in. Our six-day itinerary clocks in at 103 nM, which still means a leisurely pace of life and sailing (an average of 4-5 hours of purposeful sailing a day, leaving plenty of time to explore your start, end or mid-points in some depth).
It's only a six-day itinerary because you won't normally take charge of the boat until late on Saturday afternoon, and you'll have to return the boat to the marina by 6pm on your final Friday evening (before staying overnight and disembarking in the morning) – which means 6 days of sailing.

Day 1. Fethiye to Cold Water Bay – 15 nM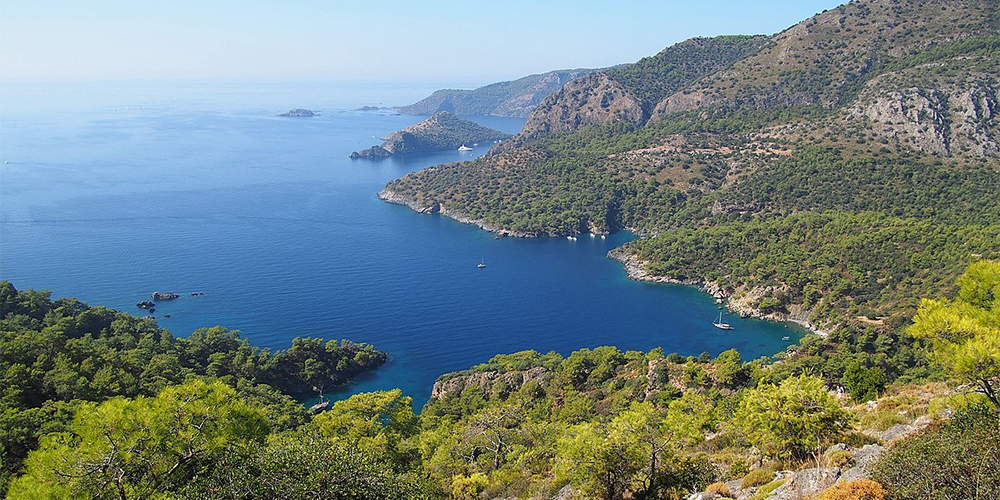 Good morning, Captain! Are you ready for an adventure? Assemble the crew, get some provisions on board, and then let's get this good ship a-sailing! Today is perfect for getting yourself back into the groove: we'll be sailing in almost every possible direction as we loop around the headland to the south of Fethiye. Training is also a good excuse for 'Man overboard' drills, so tell get your second in command to wear his trunks!
Nose out, and we're heading west, south, east, then north to Cold Water Bay. Ideally, it's worth going slightly further round the coast to the beaches of Oludeniz, where there's the stunning Blue Lagoon – a wonder of modern nature, and my words won't really do it justice – google it or search it on Instagram and you will get the idea.
Cold Water Bay is so called because there's (cold) freshwater springs which also feed into the sea here – the water is colder here, but not so cold to put you off diving in. If you're after a bit of an explore, you can hike to the abandoned ghost town of Kayakoy on the hillside above: the Greeks that used to live here were forced out by a Greek-Turkish people-exchange in 1923, but Turkish people refused to move into the town because of fears that it was haunted by the ghosts of Greek soldiers. The bay also featured as a filming location for Russell Crowe's 2014 film 'The Water Diviner'.

Day 2. Cold Water Bay to Tersane Adasi – 15 nM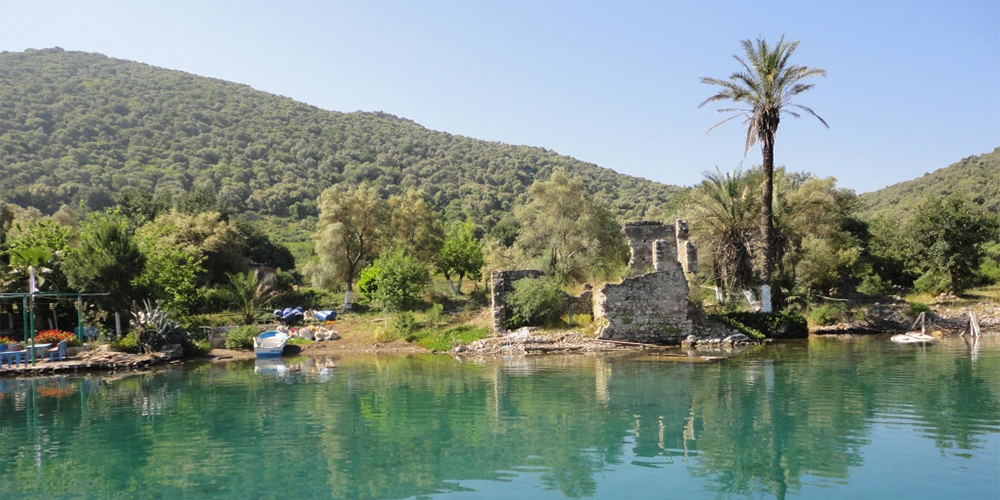 After the delights of Cold Water Bay, we're heading north to Gocek Bay, likely tacking into and then running with the prevailing winds as you head into the bay. The whole bay area looks like an oasis of peace, calm and tranquillity now, but it was once a giant naval base for the Ottoman empire!
The name of the biggest island, Tersane Adasi, where we are spending the night, literally means 'Dockyard' in Turkish, and this is where they used to build their ships. There's not much evidence of this on the ground, but you should spot all sorts of things if you don a snorkel and flippers.
Going further back in time, the Ancient Greeks called the island 'Telandros' and it is believed to be the resting place for the mythical Glaucus, who fought in the Battle of Troy. The island is now uninhabited, but there's a restaurant for sailors, and you'll spot more abandoned Greek houses, a couple of churches, some old orchards, and a decent number of wild goats.

Day 3. Tersane Adasi to Ekincik – 28 nM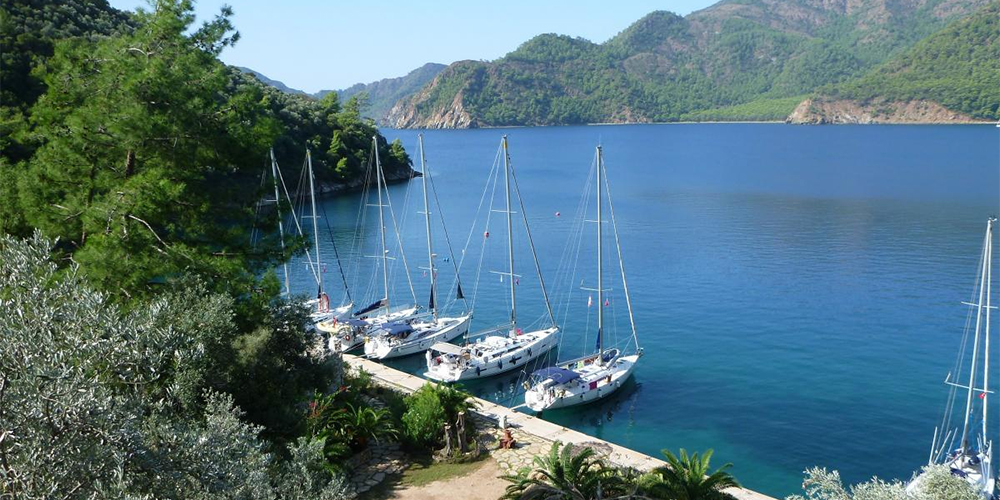 Today is the longest leg of our journey, but at 28 nautical miles, it hopefully shouldn't feel like too much of a slog. We're leaving Gocek bay, but will return here later in the week. It would be tempting to stay here and relax, but then you literally wouldn't get any sailing done!
Once out of the bay area, head north to Ekincik, tacking up the prevailing wind. Ekincik in itself is a nice enough place to stay, with the lush surroundings of pine trees ascending up mountainous slopes, but we're mainly here to give you time to get yourself set up for tomorrow – there's a number of local sites which are worth taking a half-day boat tour to go and visit, which you can arrange in Ekincik.
There's the (highly recommended) ancient town of Kaunos to explore, ancient Lycian tombs to wonder at, plus the thermal mud baths of Dalyan (which are reputed to take a decade off the age you look), and, for nature lovers, there's Turtle island (Iztuzu beach) which is the nesting ground for 600 sea turtles during the breeding season. The only way you can see them is on an organised tour, as boats are not allowed to sail up to Dalyan, but it is possible to see all three in a morning or afternoon.

Day 4. Ekincik to Asi Koyu – 11 nM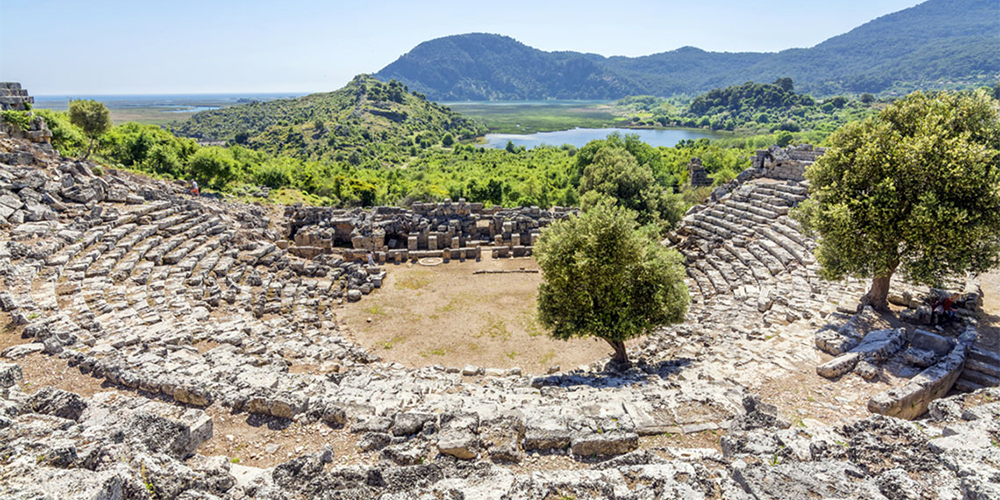 We've scheduled in a short leg today to reward the crew for their efforts yesterday, and to give you time to explore the local area this morning, if that's what you chose to do. It's just a short, lazy hop back down the coast (and going back past Iztuzu beach) to Asi Koyu.
It's possible to make most of the distance in a single tack if you wanted to give most of the crew the afternoon off to sunbathe, sit and read, generally relax or play. Once you've pointed the Helm in the right direction, then perhaps you might even fancy a brief sit down yourself, Captain, and get someone to fetch you some snacks?
Asi Koyu is another beautiful remote bay – this one is regarded as one of the best-kept secrets in the Med, as it's so difficult for land-lubbers to get here, being so well off the beaten track. There's a beach bar and it's a romantic place to spend the night. Enjoy the company of the people you are with. This is the life!

Day 5. Asi Koyu to Gobun (Kapi Creek) – 21 nM

From one beautiful bay to another – we're bearing south to the Gocek bay area where we'll head to the wonderful Gobun (which is better known as Kapi Creek Bay). There's a restaurant jetty in this idyllic location with space for 30 or so boats to stay the night.
If you're feeling energetic on arrival, then you can hike up the nearby hillside – it takes about an hour to reach the summit, but the views out over the water are spectacular – but if not, then you can stroll around the local olive groves, take a dip, or just rest up and wait for the sunset to arrive.
The restaurant here, overlooking the water and the boats, is wonderful and makes for a brilliant evening setting (and probably a good time to grab a team photo). Now is also a good time to sample the local Turkish wine (Turkey invented wine, don't you know? They've been making wine here for over 6,000 years!) and to swap stories of your sailing adventures with the other sailors at the bar.

Day 6. Gobun (Kapi Creek) to Fethiye – 13 nM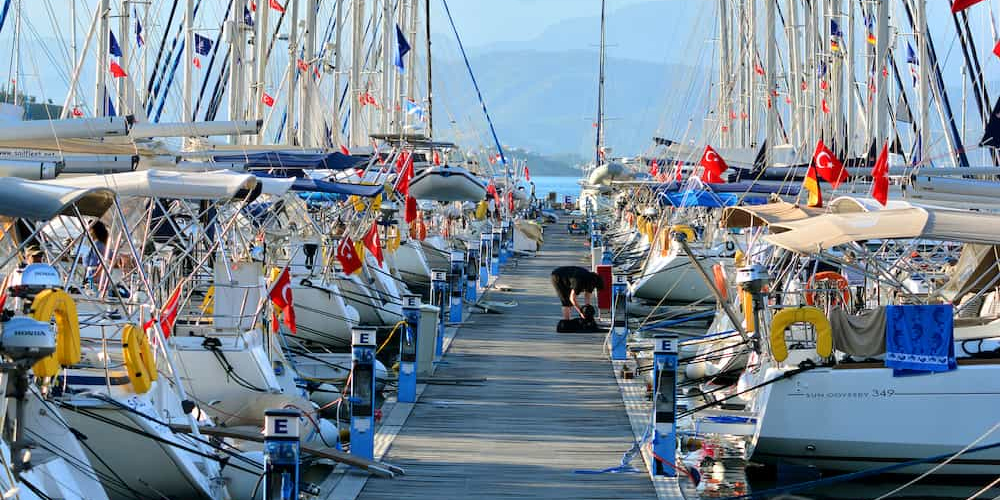 It's disappointing, but somehow, today is it the last day already. But don't think too much about going back to your other life, because you're still on holiday and we've got another day of wonderful sailing to do - today is all about following your whims: we don't have too much ground to cover, so feel free to explore the Gocek bay area and find amazing places to swim, have lunch, or even places to stop next year. There's so many cute looking bays and restaurants that it's difficult to choose.
Once you've had your fill of Turquoise blue waters, pristine islands, etc… then you can reach back across the bay to Fethiye. Don't forget to refuel as you re-enter the marina, and then park the boat up pretty much where you found her. You can stay on-board for another night, but then you'll need to check-out early tomorrow morning.
If you haven't yet toured Fethiye then it is worth a wander around, It's a bit of a tourist town in its own right – the main sights being the 2,400 year old Amintas rock tombs above town or ancient Roman sarcophagi dotted around the town. There;s a good range of places to eat and drink though.
Hopefully the crew have all gotten on nicely for the week, you've had an exceptional week of sailing and fun, and you've really enjoyed your Turkish adventure! There's a fair chance that you've already decided that you're coming back to Turkey so come back to PlainSailing.com once you have agreed dates (same time next year?), or to explore where else we can find you a charter boat. Have a safe trip home!

---
Sailing Conditions
 WHAT ARE THE WINDS LIKE?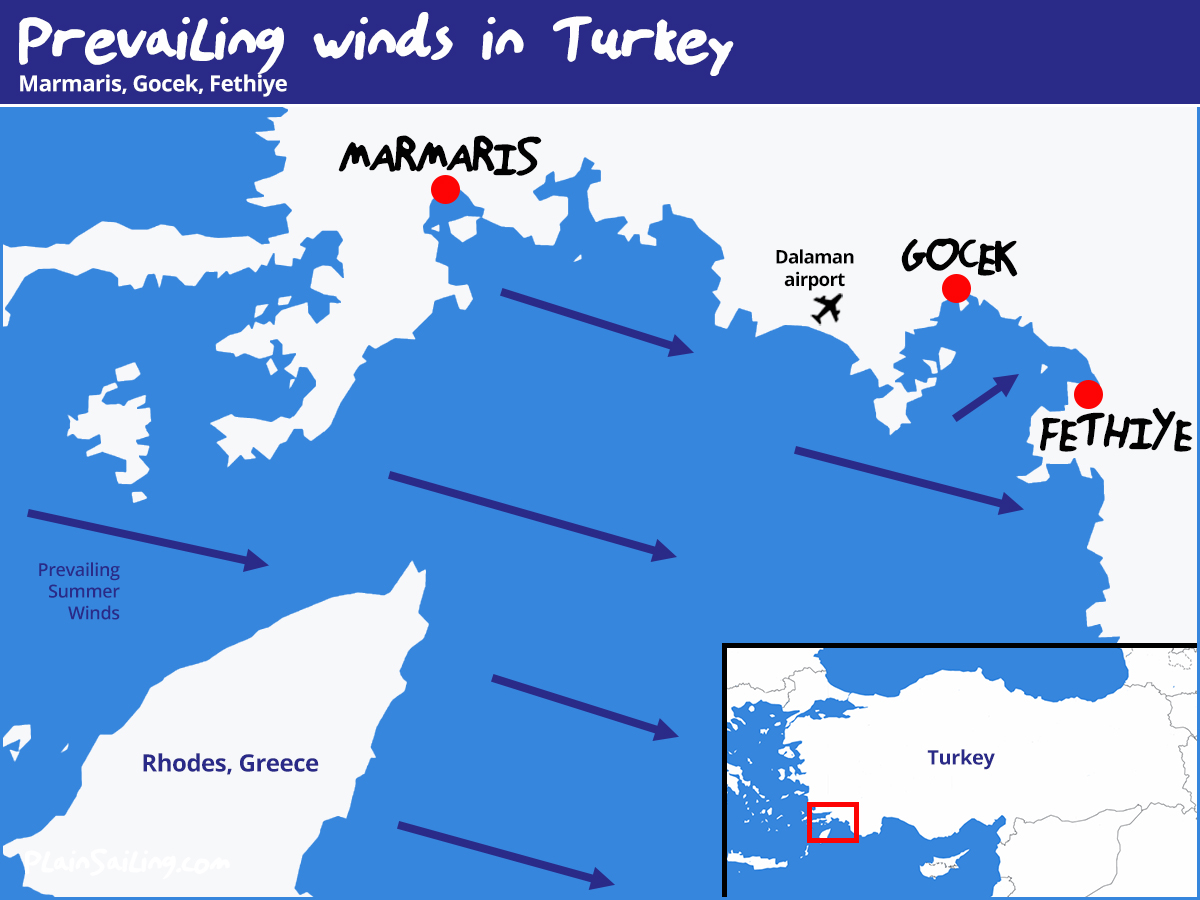 It's not by chance that Turkey is popular with sailors! It has stable and dependable summer-season winds, Force 3 or 4, which have been used by sailors in the Med for literally thousands of years.
Sailing from Fethiye, you'll notice different winds playing on your sails when you get out of the sheltered Gocek Bay area (where milder winds predominantly arrive from the south-west) into the wider Mediterranean (where stronger winds sweep across the Med from southern France and arrive from the west) – which means you'll get some great practice at trimming your sails.
In winter, winds can arrive from almost any direction, and can bring (briefly) anything from cold Siberian temperatures to tropical equatorial storms – so it is always wise to check the forecast.
Wind strengths and speeds also vary during the year, but tend to be between force 3 to 5 during summer – which is ideal sailing conditions – or stronger if you head out to the Dodecanese island. Winds are slightly stronger in winter.
 HOW HOT WILL IT BE? 


Turkey has amazing weather and sunshine pretty much all year round – which is why you can comfortably sail here as early as April and as late as November. It starts to get hotter from late May, and peaks in July and August, when temperatures can be a bit stifling (but you don't really notice them so much when you are out at sea, and it makes diving in the sea very refreshing!)
 HOW WARM IS THE SEA? 


The sea in this part of the Med never drops below 16 degrees, so it's possible to swim here even in winter – though you may prefer to wait until May or June when the temperatures start to rise. From June to October, the sea is about the temperature of an indoor swimming pool (or warmer!), which means there's only one answer to the question 'shall we stop for a quick dip?'
---
ECE Marina, Fethiye
The ECE marina is a cute, well functioning marina on the outskirts of Fethiye. It has everything you'd expect of a marina - like decent toilet facilities, wifi, bars and restaurants - plus an on-site supermarket, swimming pool, Spa and wellness centre. It has space for 460 boats.
If your flights don't work out perfectly for the weekly Saturday to Saturday charters, then you might need somewhere to rest your head on land for a night or two. We recommend the Alesta Yacht Hotel (literally opposite the marina), or the Minu Hotel as a budget option.
WEBSITE:
www.ecesaray.com.tr
|
ADDRESS:
ECE Marina, Karagözler, Fevzi Çakmak Cd, Fethiye/Muğla, 48300
GETTING THERE: The nearest airport to Fethiye is Dalaman international airport, which is only a 50 minute drive away. We can help arrange a private transfer from the airport direct to the marina - just ask - or there are two buses a day from the airport to Fethiye centre, which is only a short walk or taxi-ride away. It's also feasibly possible to land at Bodrum or Antalya and sail from Fethiye, but you're looking at a 2-3 hour drive.
PROVISIONING: There's a Carrefour in the marina which is just about big enough to have everything you'll need for the week ahead, or head towards town to the bigger (and cheaper) Migros supermarket at Cumhuriyet Mah, Atatürk Cd. They can arrange delivery of the heavier items to the marina for you.
FUELLING AT END: There's a fuelling berth in ECE marina, so head there before returning your boat on the final day.
Loading Map Co-ordinates...
Mai Yacht Club Fethiye
Mai Yacht Club is a smaller, boutique marina just down the road from ECE Marina, with space for just 35 yachts. There is parking available which makes it easy to get provisions and baggage on board, as well as a small on-site cafe. It's just 5 minutes walk from the Old Town.
WEBSITE:
maiyachtclub.com
|
ADDRESS:
Mai Yacht Club, Karagözler, Fevzi Çakmak Cd, Fethiye/Muğla, 48300
GETTING THERE: The nearest airport to Fethiye is Dalaman international airport, which is only a 50 minute drive away. We can help arrange a private transfer from the airport direct to the marina - just ask.
PROVISIONING: There's a Carrefour in the ECE marina which has all the essentials, or head towards town to the bigger (and cheaper) Migros supermarket at Cumhuriyet Mah, Atatürk Cd. They can arrange delivery of the heavier items to the marina for you.
FUELLING AT END: The nearest fuelling berth is in ECE marina, so head there before returning your boat on the final day.
Loading Map Co-ordinates...
---
---
WHAT NEXT? Use the pink box to search for yachts or catamarans with LIVE pricing & availability - if you have any other questions or requests, get in touch via Live Chat, the Contact Form, or by phone.