Find a Yacht
LIVE
Pricing & Availability
Search NOW
https://plainsailing.com/blog/top-5-places-to-sail-to-in-turkey
Top 5 places to sail to in Turkey
Wednesday, 30th November 2022
Our sailing experts give a list of their favourite places to sail to from Gocek, Fetiye and Marmaris.
I know, I know. Truth be told, there's absolutely loads of great places to sail to along the Turkish coast, and there will no doubt be some people who disagree, but here's our experts' top picks of places to sail to on your next yacht or catamaran charter in Turkey (in no order):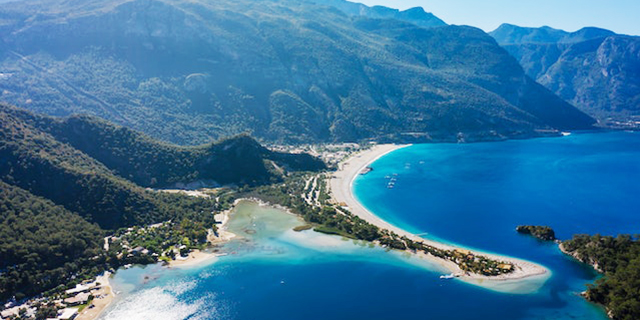 Blue Lagoon, Oludeniz
The famous blue lagoon in Turkey is just south of Fethiye and is as picturesque a beach as you can possibly imagine – so you'll likely have already seen it all over travel brochures without even knowing where it was. The shallow clear turquoise blue waters are lovely and warm to bathe in, the white sandy beaches are wonderful, and the whole area is now a nature reserve. Just perfect. If you're feeling brave, you can try paragliding over the lagoon and landing on the beach!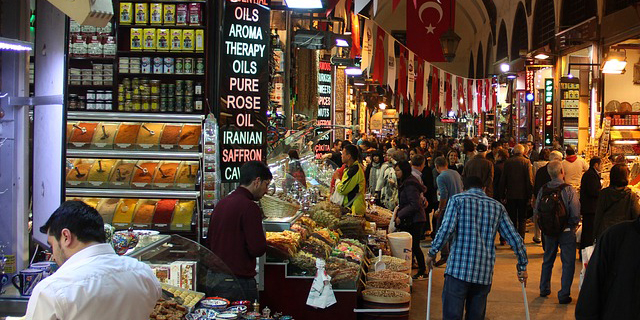 The old markets, Fethiye
Moor up in Fethiye and then head into the old town, where you'll find the fabulous Turkish markets, which are among the biggest in Turkey. They say it's possible to buy quite literally anything here, and there's so many smells and flavours, and so much colour, that it's an exciting experience even if you don't want to buy anything. Check out the live sea-life (which you can buy to be cooked at a restaurant next door) and oriental wares, buy a bag of spices, and get an adrenaline rush from haggling over prices.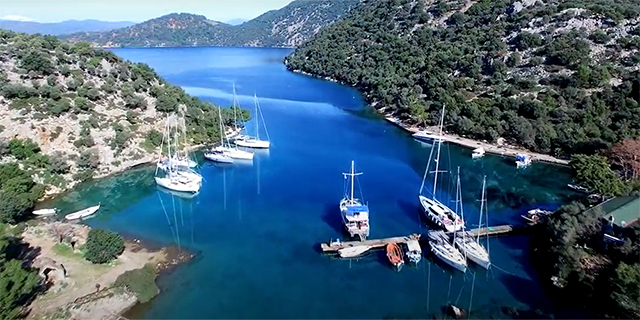 Kapi Creek, Gocek Bay
One of the best, if not THE best, places to eat in Turkey – a fantastic seafront bar and restaurant nestled quietly in a beautiful bay near Gocek. The restaurant is set up with its own moorings, and their traditional Turkish food is second to none. The perfect place to relax and watch the sunset after a day of sailing - well worth booking in advance if you know you will be in the area, as this is a popular place to spend the night.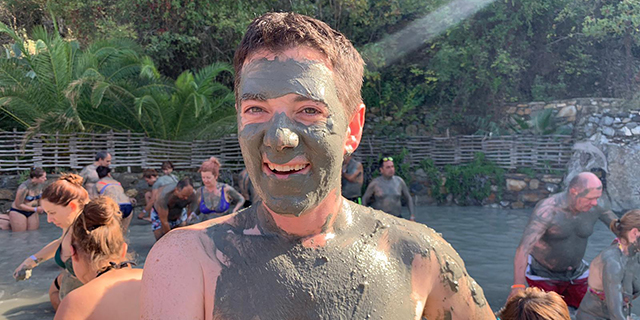 Dalyan mud baths
The mud baths of Dalyan are a memorable place to sail to – though you'll have to sail to nearby Ekincik and then get a licensed tour boat to take you from there on an inland adventure past the ancient civilization of Kaunos and on to the healing mud baths. People have been flocking to the warm mud here for centuries, and it is reputed to make you look 10 years younger. Love it or hate it, the feel of the mud on your face, the smell of the sulphur in the hot pools, and whole experience here will certainly be a talking point when you get home.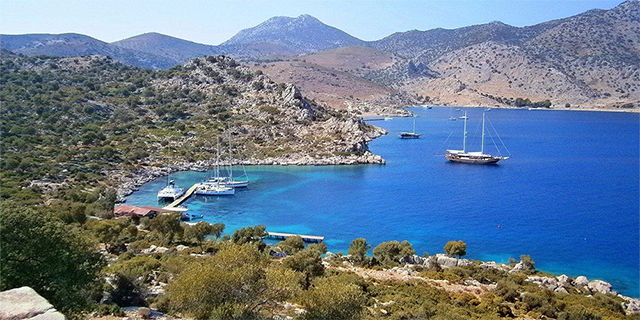 Bozukkale
The site of a huge and strategically very important fortress built in 700 BC, this bay once housed the Turkish navy as they kept a close eye on ships heading to and from nearby Rhodes (which you can see on a clear day). Sadly, 'Bozukkale' translates literally to 'ruined castle', and the bay has long since been abandoned, though you can still explore some of 2m thick stone walls and other battlements. There is a restaurant here during the sailing season, but there's no road access, so it's a little off the beaten track and you can only really arrive by boat at this natural wilderness and its delightful beach. Look out for dolphins and sea-turtles in the area.
Sold it you yet?
Be sure to check out our destination guides to find out a LOT more about sailing in Turkey, or search in the pink box for yachts and catamarans available for charter in Turkey with live pricing and availability, or contact our award-winning Customer team through LiveChat, UK Freephone or email!
Want more like this?
This is part of our 'Destination Highlights' week of blogs focussing on sailing in the Turkey - including Turkey v Greece / Croatia, Top 5 places to sail to in Turkey, and FAQ's about sailing in Turkey. You might also be interested in checking out our similar Destination Highlights: BVIs, Destination Highlights: Montenegro, Destination Highlights: Croatia, Destination Highlights: Greece, Destination Highlights: Italy, Destination Highlights: Malta, Destination Highlights: Scotland, Destination Highlights: Bahamas, Destination Highlights: Spain and Destination Highlights: France blog series from previous months!
Plainsailing.com
Plainsailing.com