Find a Yacht
LIVE
Pricing & Availability
Search NOW
Yacht & Catamaran Charter in Marmaris, Turkey
We can help you find the perfect yacht or catamaran to sail from Marmaris!

Sailing from Marmaris
Marmaris has all the right ingredients to be a stunning place to sail: sunshine, reliable winds, crystal clear seas, and plenty of interesting places to sail to: either heading west to find secluded bays and stronger winds out in the Med, or heading east past 'Paradise island' and finding small restaurants dotted in the hundreds of idyllic bays along the coast. There's also revered mud-baths, ancient civilisations, blue lagoons, sea-turtles and other wildlife galore, and superb cuisine. What a place to sail!
Marmaris itself is a bit of a tourist resort for land-lubbers, so it is well connected to Europe, particularly during the summer months, when hundreds of flights a day arrive at the local Dalaman airport. Sailing is possible even as late as November, when there's still good temperatures, and when the waters and winds are quieter than the main season. We can help you find and book your ideal yacht or catamaran, with one of our trusted Charter Partners - just get in touch or search in the pink box with live prices and availability!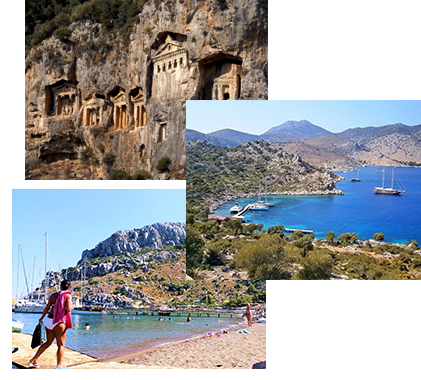 SAILING RATING: Beginner / Intermediate - You can find sailing to suit all levels of sailing in Turkey, with a mixture of quiet bay areas and more exposed coastline. You'll find even remote bays have places to moor up – like a restaurant-jetty or a mooring buoy, but it's useful to be comfortable using the anchor. Peak season is July to September, but sailing is pleasant here from March to October, and increasingly, November.
MUST-SEE: Check out our full suggested itinerary below, but from Marmaris we'd highly recommend taking in the ancient temples of Kaunos, the castle ruins and stunning views at Bozukkale, and the welcoming beaches of Ciftlik.
WHAT WE CAN OFFER: We have a great range of yachts and catamarans available for charter from our trusted Charter Partners, all available bareboat or Skippered. We can also arrange a Hostess, Personal Chef and other crew.
GETTING THERE: The Marina is 1h25 drive from Dalaman airport and or 1h45 drive from Bodrum airport. We can organise transfers for you - a 3-person taxi is c. €55 from Dalaman to Marmaris. You could also land at nearby Rhodes or Kos in Greece and get a ferry across.
WHY BOOK WITH US? We only work with the very best professional charter operators, who we have met, know, and trust to give you the same outstanding customer service as you'll get from PlainSailing.com.

WHAT NEXT? Use the pink box to search for yachts or catamarans with LIVE pricing & availability - if you have any other questions or requests, get in touch via Live Chat, the Contact Form, or by phone.
1
6-day Sailing Itinerary from Marmaris
Marmaris is a fantastic place for a sailing holiday, and the absence of giant marinas means that it offers something different from Croatia and Greece – but something just as exciting. From Marmaris you can head west to the Dodecanese and the surrounding rugged coastline, or head east along the Turkish coast to find beaches, ancient settlements and mud-baths.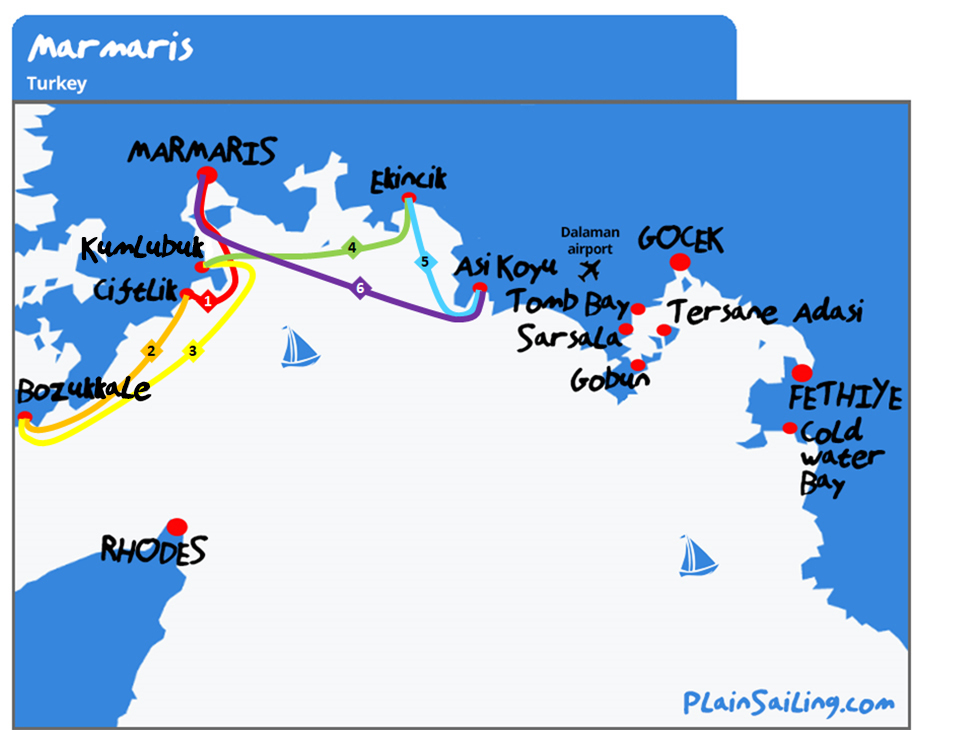 Our six-day itinerary does a bit of both. In total, it's 100 nM, which is a nice length for leisurely sailing: you'll likely only need to be doing meaningful sailing for 4-5 hours a day, which leaves plenty of time for exploring, eating, playing or swimming, and gives you the flexibility to start late, spend three hours in a bay for lunch-time, or arrive in time to spend an afternoon somewhere.
It's only a six-day itinerary because you can normally only get on the boat in the late afternoon on the first Saturday and you'll spend the first day getting provisions in and getting familiar with the boat before setting off on Sunday morning. At the end of the week, you'll need to get the boat back to Marmaris on Friday evening, before spending a final night on-board and then checking-out on Saturday morning.

Day 1. Marmaris to Ciftlik – 13 nM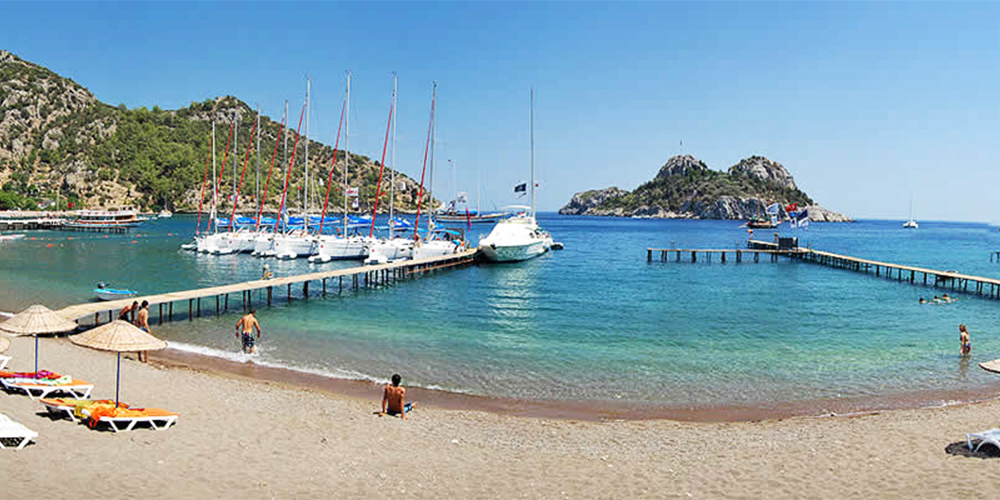 Merhaba (Turkish for hello), Captain! Let's get ready to sail: get food and drink safely stowed, then grab the crew together so that we can slip the lines and get out of here. Gentle nose the boat out – easy does it – and then you can get the sails up as we work our way along the sprawling beaches of Marmaris, dodging the odd traditional wooden Gulet as we make way out past Paradise Island (the forested island on your port side, though it isn't really an island).
At the far end of Marmaris, look out for the Dolphinarium (the last place in Europe where you can visit captive dolphins – they are widely banned as people think Dolphins are too intelligent to be caged. This Dophinarium is run by a wilflife charity which offers the chance to swim with them to support their work.
We're heading south then west, getting away from the hordes of tourists to the quiet bay of Ciftlik, where, nestled at the bottom of the steep mountains, you'll find a fine sandy beach, four restaurants (complete with their own moorings, including water and electricity connections – a couple also offer wifi). It's a place you can only really reach by boat, and it's a great place to spend the night!

Day 2. Ciftlik to Bozzukale – 15 nM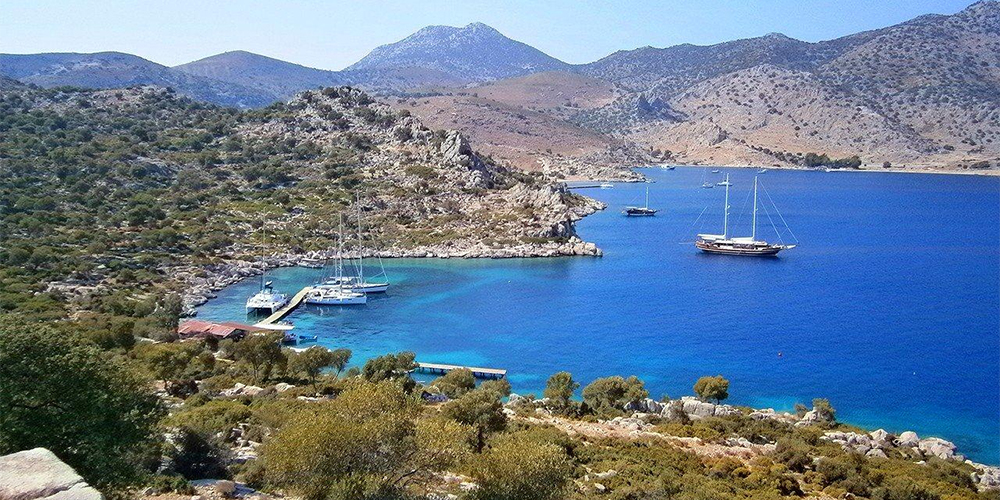 From Ciftlik, we're heading further west, likely reaching up the prevailing wind. If you have time, then you should check out Gebekse Koyu (a narrow spit which juts out into the sea, giving pristine turquoise seas on both sides of the beach – very instagrammable, and if you can't make your friends jealous of your sailing exploits with a picture taken here, then you probably never will) and Serce Limani (a natural bay which, unbelievably, was the headquarters of the Turkish Navy over 1,000 years ago – several wrecks from here are now in the Bodrum museum).
We're continuing on to Bozzukale to spend the night. It's a secluded and beautiful bay with a selection of restaurants, mooring buoys (with free taxi services to dry land) and a public jetty. Aside from the nature (sea turtles are regular visitors to the bay, amongst others), you can hike to the ruins of an ancient castle, which is situated on the hillside above the bay and offers a good look-out to check if people in Rhodes are plotting anything nasty (as well as superlative views out to sea). In fact, Bozzukale means 'ruined castle' in Turkish.

Day 3. Bozzukale to Kumlubuk – 21 nM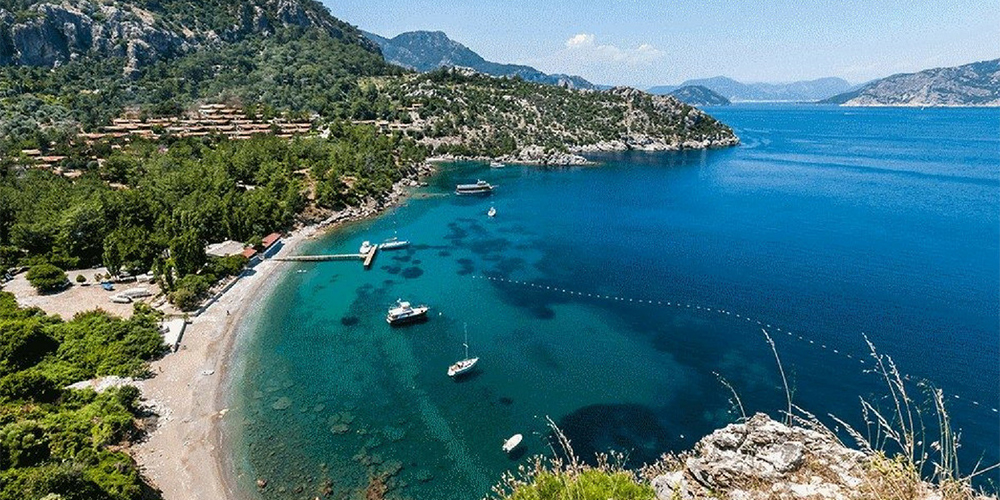 From Bozzukale, you can head further west to the gulf of Hisaronu, or even over to the Greek Dodecanese islands (but beware there's a rigmarole of time-consuming international paperwork to complete if you do, so it's not worth it if you're only chartering for a week). Today, we're doing neither, as we head back east to the village of Kumlubuk.
In Kumlubuk, you'll find delightfully warm crystal clear seas, sandy beaches, and plenty of places to relax and enjoy life. There's also the largely ruined ancient settlement of Amos to visit if you fancy a hike, and if you're bored of Turkish fayre (how could you be?), then you might be pleased to know that you can find one the best Chinese restaurants in Turkey here, complete with two chefs from Szechuan.

Day 4. Kumlubuk to Ekincik – 16 nM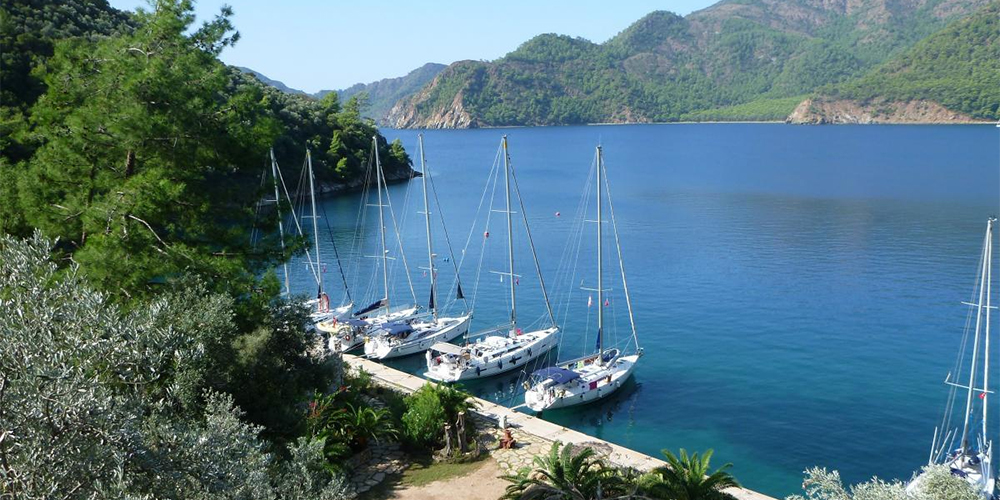 We're going past the bay of Marmaris today, so you'll notice a lot more traffic out on the water as we run with the prevailing wind. There will likely be some 'party boats' which ferry tourists around the local islands accompanied by loud music – this is what some people think sailing is like…!
We're spending the night in Ekincik, a well-protected bay which offers the usual lush semi-mountainous pine-tree forests and turquoise sea surroundings, peace and quiet, and a handful of restaurants and bars. It's nice enough, but the main reason we're here is to give you time to get yourselves set up for tomorrow...
From here, you can join a small locally organised tour boat which will take you through the reeds to the ruins of the ancient and prestigious city of Kaunos (highly recommended), the mud-baths of Dalyan (the mud here is alleged to take years off your age) or Iztzu beach ('turtle beach' where you'll find hundreds of turtles during the breeding season). It's possible to do all three in a morning or afternoon. (NB: You are not allowed to sail up to Dalyan yourselves).

Day 5. Ekincik to Asi Koyu – 11 nM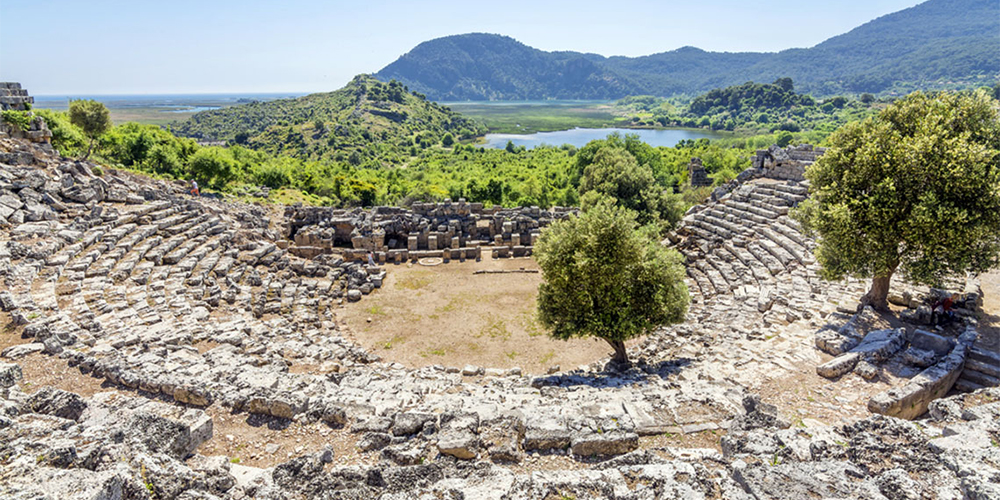 Today is only a short leg because there's a chance that you went exploring the local area this morning, but we're still making way as we reach across the wind to nearby Asi Koyu, a remote bay which is off the beaten track, and is noted as one of the hidden gems of the Turkish coastline – it's a secluded place, and is a good place to snorkel.
There is a beach-bar in the bay, but this romantic setting is perfect for sampling the local wines, which are underrated - Turkey can actually stake two claims to be the birthplace of wine: grapes grow wild here and wine-making equipment found in present-day Armenia dates back to 4,100 BC (but they estimate that vines and wine have been cultivated since about 12,000 BC!)
The second claim is that in Genesis in the bible, Noah, after 40 days of floods on his ark, 'planted a vineyard' – the ark is reported to have landed near Mount Ararat, in Turkey. Many people have tried to find the ark (a bit like the Loch Ness monster) and some believe it is buried under the permanent snow-cap on Mount Ararat itself. Discuss.

Day 6. Asi Koyu to Marmaris – 24 nM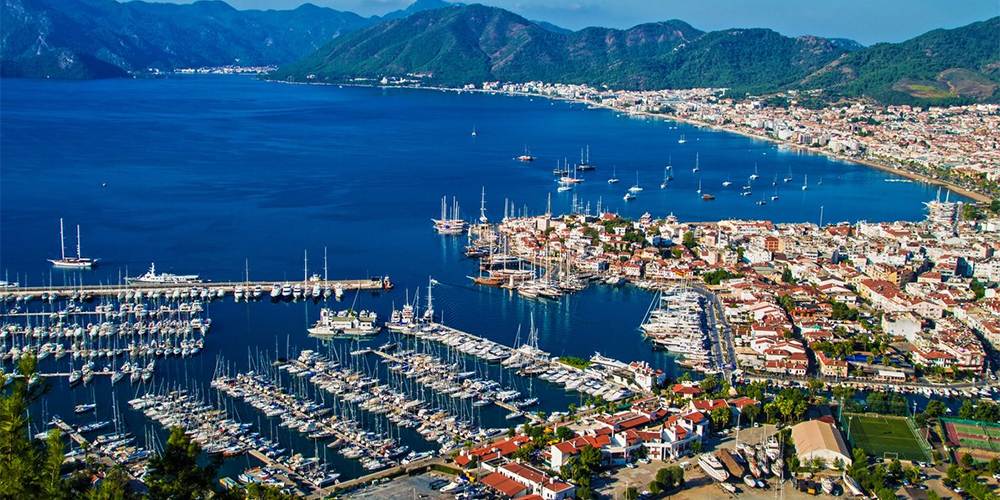 And all of a sudden, it's our final day of sailing. By the end of the day, the boat needs to have visited the fuel berth and be nestled safely back in Netsel marina in Marmaris (though you'll still be able to stay on her tonight, before disembarking early tomorrow morning).
But don't worry – we still have a day of epic sailing in the sunshine to do first. Today is the longest leg, though at 24 nM, it hopefully shouldn't feel like too much of a slog. You'll likely be tacking up the prevailing wind with Paradise Island and, behind it, Marmaris, on the nose of the boat for the duration.
Maybe now is the time to get team-photo to remember this trip by: you can choose from the sea or a coastal backdrop, or you could even try and get one as you sail past Marmaris beach or castle.If you haven't yet ventured into Marmaris itself, then it is worth a walk around: it has a long history and there are the modern day souks to haggle in, well-manicured beaches, and a lively bar atmosphere, particularly after sunset.
And then the holiday is over. Hopefully you've enjoyed exploring the orient, everyone got on well, and you're leaving with even better friends than you arrived with. When you're ready to start planning your next sailing adventure, head to PlainSailing.com! Safe travels, and hopefully see you soon :)

---
Sailing Conditions
 WHAT ARE THE WINDS LIKE?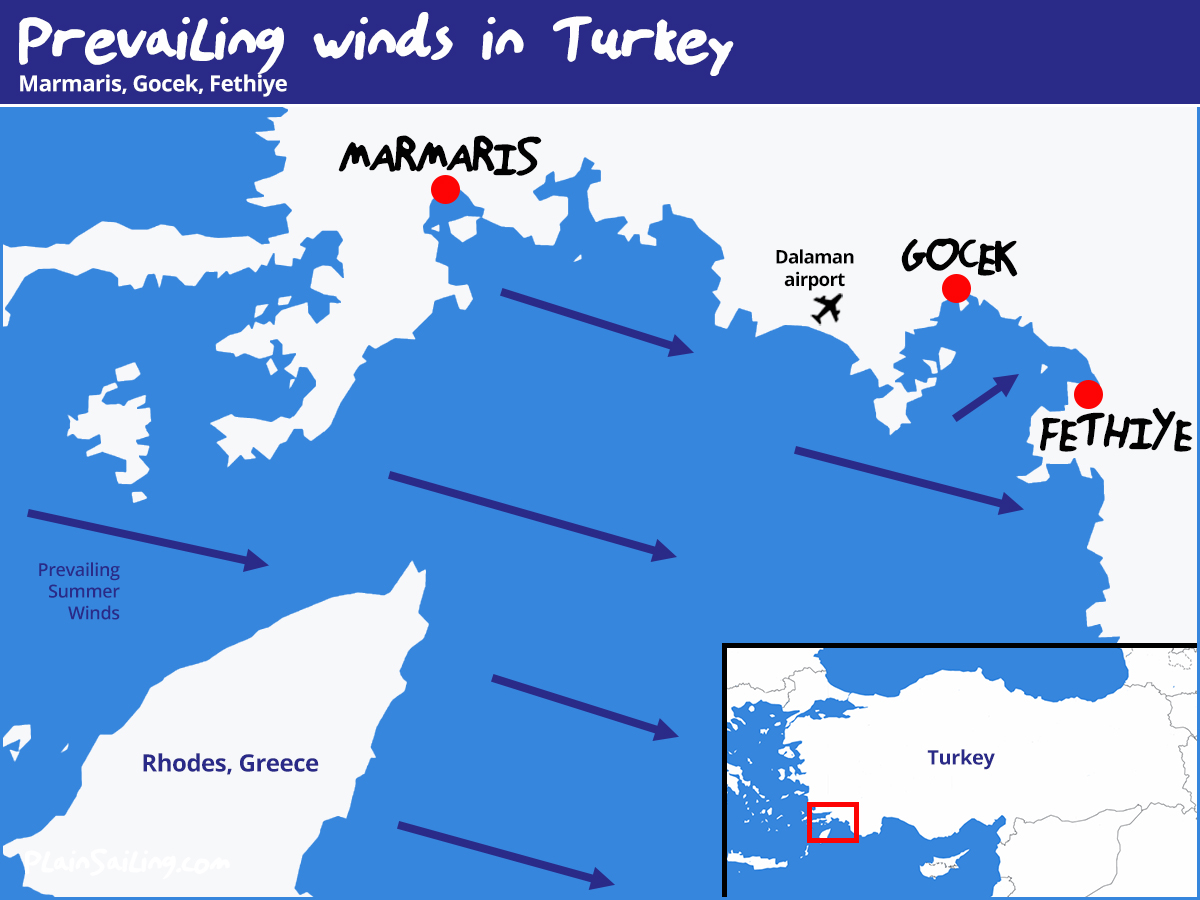 The prevailing summer winds around Marmaris arrive from a west-north-west direction, having travelled from southern France and over Italy, which means that the bays along the coastline near Marmaris are generally very well protected for anchoring and mooring up.
This makes it a little bit easier for last-minute changes of plan, when you see a cute littel bay, or hear something good about the taverna nearby, as here are plenty of spots to moor up without feeling too exposed.
In spring and autumn, other weather systems can also play a part for a few days at a time, so you might find winds arriving from the South. At the height of winter, winds can seemingly arrive from any direction.
Wind strengths and speeds also vary during the year, but tend to be between force 3 to 5 during summer – which is ideal sailing conditions – or stronger if you head out to the Dodecanese island. Winds are slightly stronger in winter.
 HOW HOT WILL IT BE? 


Turkey is blessed with glorious sunshine virtually all year round, and it's possible to get a sun-tan there as early as March or as late as November. Predictably, July and August are the hottest parts of the year – if you're sailing then, then you will certainly be glad that you are on a boat for both the sea-breeze and the ability to hop into the Med for a quick dip to cool down.
 HOW WARM IS THE SEA? 


The sea near Marmaris is always above 16 degrees, which is about as warm as the waters around the UK ever get, even in summer. By May, it's possible to 'enjoy' being in the sea, in June then they hit the temperature of an indoor swimming pool, and in July, August and September, they're the perfect temperature for just diving in (without even having to think about it).  
---
Marina Details - Netsel Marina, Marmaris
Marmaris Netsel marina is one of the biggest marinas in the Med, with space for over 830 boats. It's located within handy walking distance of the old town and the beaches, but it boasts so many facilities (tennis courts, swimming pool, a 40 store shopping-centre, a supermarket and multiple bars and restaurants) that you could get away without ever leaving the marina. And if you do want to explore the local area, there's also a car hire desk on-site. In short, it has everything you need for a pleasant start or end to the holiday, and it's busy in a nice way.
If your flights don't land or depart on a Saturday, and you need somewhere to spend a night or two before or after your charter, then we recommend staying at the Sunset Marmaris boutique hotel (the closest hotel to the marina), or the Blue Yacht Marina Aparthotel (which also offer 4 person apartments at great prices).
WEBSITE:
www.netselmarina.com
|
ADDRESS:
Netsel Marmaris Marina, Sarıana Mah., M.Münir Elgin Bulvarı 38/2, Marmaris/Muğla, 48700
GETTING THERE: The nearest airport is Dalaman international airport, which is well connected to UK and mainland Europe throughout the year. It's a 1h25 drive from the airport to the marina - we can help arrange a private transfer, or you can head to the taxi pick-up area in the airport. It is possible to make the transfer from the airport to the marina by public transport, but there are only two buses a day which connect to Marmaris, they go the long way around, and then it's about a 20 minute walk from the bus station. You can also arrive via Bodrum airport - it's a 1h45 private transfer, or 3h35 by bus.
PROVISIONING: There's a reasonable sized Migros supermarket at the town-side of the marina (along with all sorts of other boutique stores and even a Starbucks), so getting provisions (and fancy new sailing gear) is relatively quick and easy.
FUELLING AT END: There's a fuelling berth in Marmaris Netsel marina, so head there before returning your boat on the final day.
Loading Map Co-ordinates...
---
---
WHAT NEXT? Use the pink box to search for yachts or catamarans with LIVE pricing & availability - if you have any other questions or requests, get in touch via Live Chat, the Contact Form, or by phone.
---