Find a Boat
LIVE
Pricing & Availability
Search NOW
Yacht & Catamaran Charter in Tenerife, Spain
We can help you find the perfect yacht or catamaran to sail from Tenerife!

Sailing from Tenerife
People have been sailing in the Canaries for literally centuries – including the world's most famous sailor, Christopher Columbus, who set off from La Gomera in 1492 and literally didn't know what he would find (after five weeks at sea, he arrived in America). From Tenerife you can follow in his footsteps and sail to nearby La Gomera for yourself.
But you can also find plenty of fantastic towns, volcanic views, and beaches galore (which is one of the reasons why Tenerife is so popular with land-lubbing tourists), accompanied by reliable trade winds and virtually guaranteed sunshine whenever you choose to come - you can sail here all through the year. We can help you find and book your ideal yacht or catamaran, with one of our trusted Charter Partners - just get in touch or search in the pink box with live prices and availability!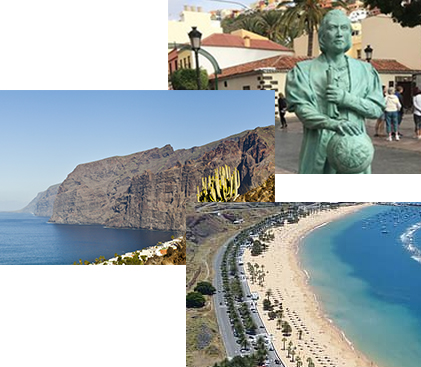 SAILING RATING: Intermediate / Advanced - there's tidal waters and the chance for strong winds in the Canary islands, so we'd recommend Tenerife as a destination for more experienced sailors who have a good understanding of tides and are comfortable with reefing up their sails.
MUST-SEE: Check out our full suggested itinerary below. We'd highly recommend taking in San Sebastian on La Gomera to re-tread the steps of Christopher Columbus, sailing past the giant cliffs of Los Gigantes, and the fantastic beaches of Los Cristianos or Costa Adeje.
WHAT WE CAN OFFER: We have a great range of yachts and catamarans available for charter from our trusted Charter Partners, all available bareboat or Skippered. We can also arrange a Hostess, Personal Chef and other crew.
GETTING THERE: It's easiest to fly to Tenerife South airport, and our base in Las Galletas is just a 10 minute drive away from there. We can help arrange private transfers.
WHY BOOK WITH US? We only work with the very best professional charter operators, who we have met, know, and trust to give you the same outstanding customer service as you'll get from PlainSailing.com.

WHAT NEXT? Use the pink box to search for yachts or catamarans with LIVE pricing & availability - if you have any other questions or requests, get in touch via Live Chat, the Contact Form, or by phone.

6-day Sailing Itinerary from Tenerife
There's enough cute places to explore on Tenerife itself that you don't need to visit any of the other Canary islands, but it's fun to island-hop to nearby La Gomera (where Christopher Columbus himself set sail for America the first time), and the islands Gran Canaria and La Frontera are just about close enough to sail to, but possibly not worth the slog.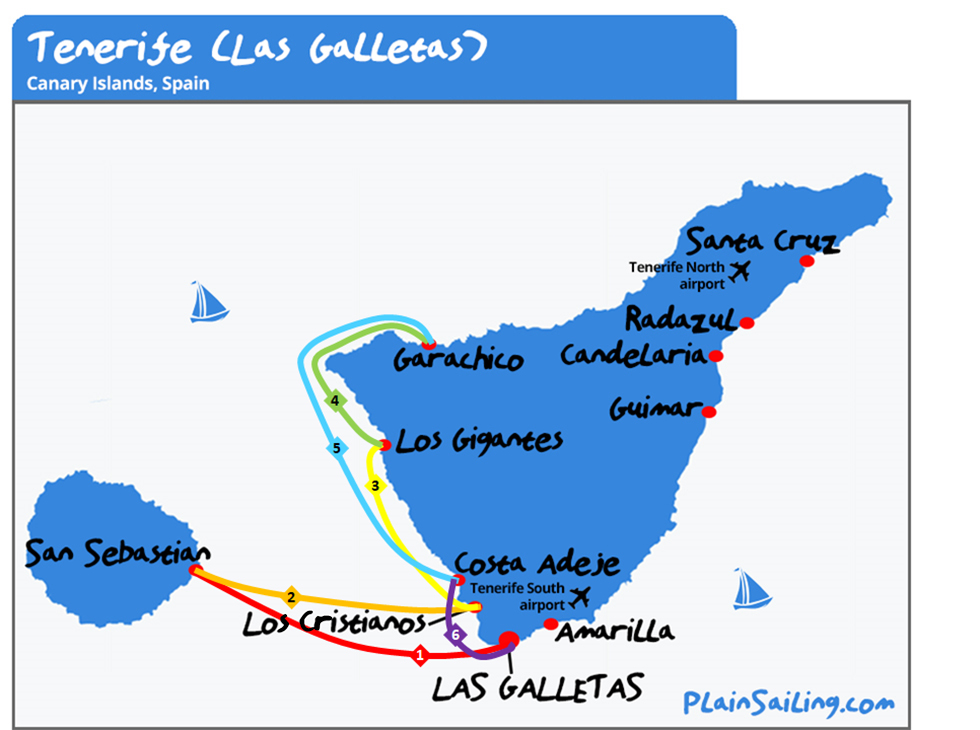 Our six-day itinerary takes in the highlights of sailing in the area, including island-hopping to San Sebastian on La Gomera, then sailing up the idyllic south-west coastline of Tenerife to Garachico, which was the capital of the Canaries until its harbour got destroyed by a volcanic eruption in 1706. The itinerary also takes in the inimitable Los Cristianos, with its party atmosphere. It clocks in at 116 nM, which is a nice amount of leisurely holiday sailing – it's an average of 20 nM a day, which is about 4-5 hours at sea, which means plenty of time to explore, play, eat, swim, hike, sleep, sunbathe or dance.
We've only devised a six-day itinerary for your weeklong holiday because you'll only be able to get on the boat late on Saturday afternoon, so odds are you'll only be able to set sail on Sunday morning after getting provisions on board. At the end of the week, you'll need to return the boat to Las Galletas on the Friday evening, then staying on-board for one last night before checking out and disembarking on Saturday morning.

Day 1. Las Galletas to San Sebastian – 24 nM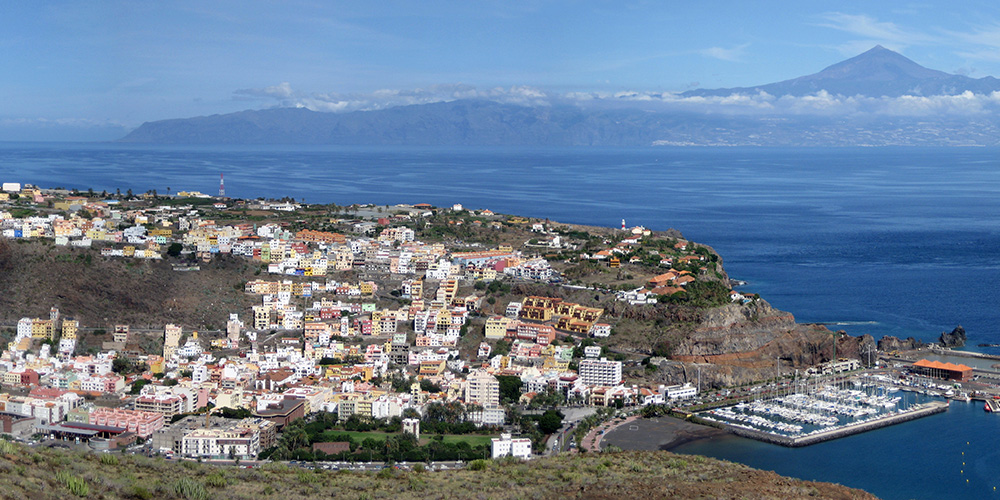 Hola, Signor! Bienvenidos, Skipper, to Tenerife, the largest and most important of the Canary islands. The name of the island is derived from the Spanish words for 'snowy mountain' which relates to snow-covered mount Teide, the active volcano at the centre of the island, which, at 3,718m above sea-level, is the highest point in Spain.
Get your crew on board, your provisions stowed safely below deck, and then let's drop the lines and get out there. Today we're island hopping over to La Gomera, and the remote town of San Sebastian there. The prevailing wind arrives from the north-east, so you'll likely be reaching across the wind to get there. You can probably do it in one tack, but it's worth taking to the time to get the crew licked in to shape.
La Gomera is where Christopher Columbus took a leap of faith that the earth was round – in 1492 he sailed his boat due west from here, into the unknown. He was hoping to sail to India, but could have ended up anywhere. After five weeks at sea, he came across America, and the rest, as they say, is history. But it all started here, and there's a museum in the building where he stayed here, and a statue of him in the town to pose for a photograph next to. San Sebastian itself is a colourful little town with beaches, towers, museums and even a replica giant 'Christ the redeemer' statue to explore, as well as a good range of places to eat and drink.

Day 2. San Sebastian to Los Cristianos – 22 nM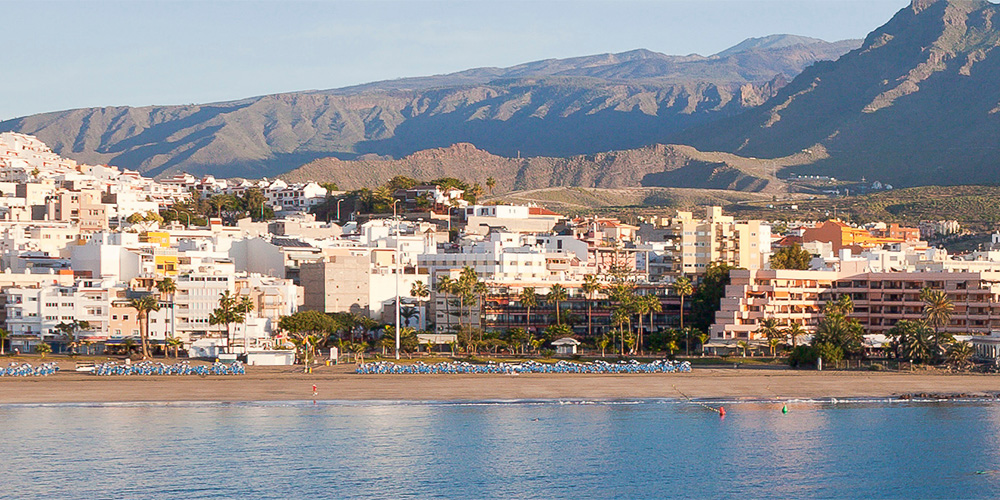 The town, port and hillside of San Sebastian haven't changed all that much, so what you see as you set off is about the same as Columbus himself saw in 1492. Today we're hopping back to Tenerife, likely close-hauled as we work our way up the prevailing wind, to the town of Los Cristianos.
Los Cristianos used to be a cute little fishing town. It got its first break into tourism in the 1950's when a Swedish TV personality retired here citing health benefits, which encouraged lot more people from around the world to come and convalesce here. Slowly it got built up, and, when the South airport opened in the late 1970's, the two golden beaches here meant that tourism sky-rocketed. Thankfully for the locals, it's a quiet type of tourist who comes here to see the authentic Canarian town clustered around a pretty harbour area - the neighbouring Playa de las Americas is favoured by night-clubbers and 18-30 holidaymakers who party well into the night.
Tenerife welcomes over 5 million tourists a year, with many of them heading to the south coast – which means that there's everything you will ever need here, as well as all manner of things to do outside of relaxing on a beach – there's zoo's, sightseeing trips, and even the world's best water park ('Siam') within a taxi ride of Los Cristianos.

Day 3. Los Cristianos to Los Gigantes – 15 nM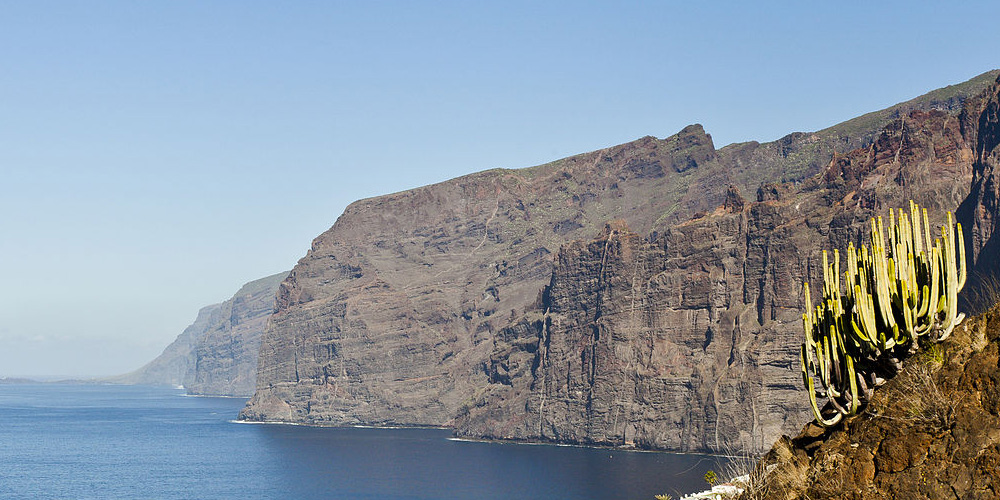 Los Cristianos is known for its beaches – our next destination, Acantilados de Los Gigantes, or just 'Los Gigantes' ('The giants') is famous for its massive 800m cliffs which plunge vertically down into the Atlantic ocean. There are paid-for boat trips you can take from the local marina, but obviously, you already have your own boat: they're best viewed from sea-level, when you can marvel at the sheer height of them.
The whole town revolves around the marina, and there's a decent collection of harbour-front restaurants and bars, overlooking the sea and out to La Gomera. If you're feeling energetic, you can march up the hill for an alternative view of the cliffs, but beware that it's harder work than it looks, so you might be better off taking some time out on the beach with black volcanic sand instead.
To get here, we're just sailing north up the coast-line – watch out for dolphins, whales and sea-turtles as they can often be spotted swimming around here.

Day 4. Los Gigantes to Garachico – 18 nM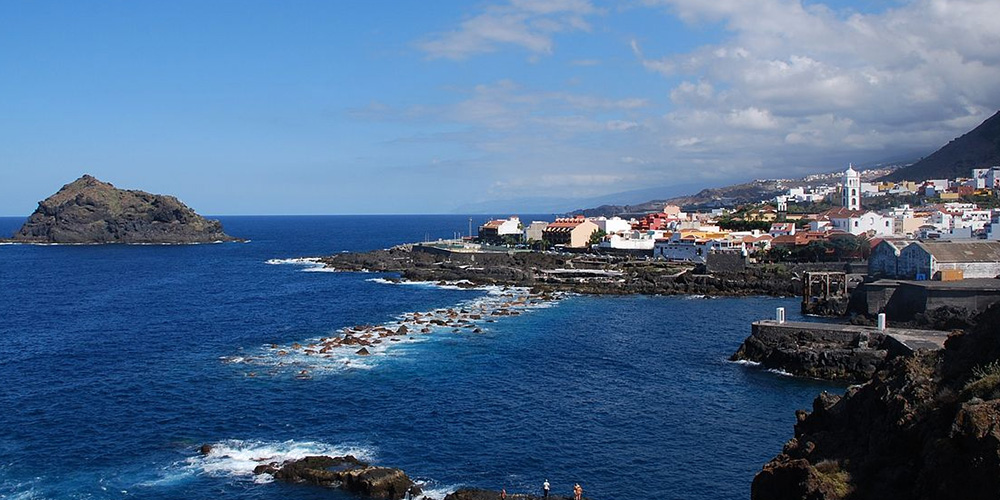 It's another sunny day, and we've got places to explore! Today we're headed to the delightful town of Garachico, which was once brimming with the wealth and prosperity that comes with being the capital and main port of this key strategic island in the Atlantic. Business boomed until a volcanic eruption in 1706 destroyed most of the town and completely filled the welcoming natural harbour here. The boats went elsewhere, and Garachico reinvented itself as a quiet backwater.
After sailing north up the coast, you'll probably have to tack your way up the west coast to Garachico in the prevailing winds to get to the new marina here at the north of the town.
Largely ignored by the tourist boom because it doesn't have nice golden sandy beaches, Garachico has retained its own identity. Ironically, the main attraction here now is playing in the huge natural rock pools which have formed in or around the lava in the harbour from that eruption. There's also San Miguel castle (built 1575, and one of the few buildings that survived), churches, and the picturesque Plaza de la Liberdad to check out.

Day 5. Garachico to Costa Adeje – 29 nM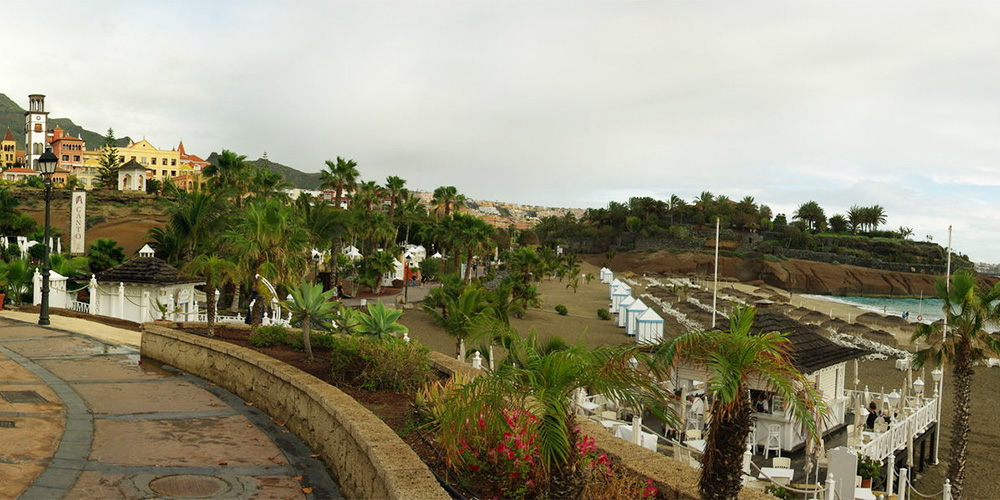 Garachico is as far away from Las Galletas as we are going on this voyage, so it's time to turn the boat around and head back towards home. That means running with the prevailing wind down to the stripey red and white Punta de Teno lighthouse, and then reaching across it as you work your way south along the coastline.
Today is the longest leg of sailing, but at 29 nM, it shouldn't feel too painful. Tonight we're stopping at Costa Adeje, which is the upmarket resort along the south coast – it's here where you'll find 5+ star boutique hotels, luxury spas, fine dining restaurants and all sorts of chic designer goods stores. There's even a local golf course, which must use up a serious amount of water and energy to keep in condition in this climate.
The marina, which is relatively new and one of the best in the Canary islands, is right in the heart of the town, and there's a number of amazing beaches within easy reach. As well as the usual beach activities, you'll find people hiring jet-ski's, kite surfing and water-skiing, taking private motor-yacht trips to La Gomera, or helicopter rides along the coast.

Day 6. Costa Adeje to Las Galletas – 8 nM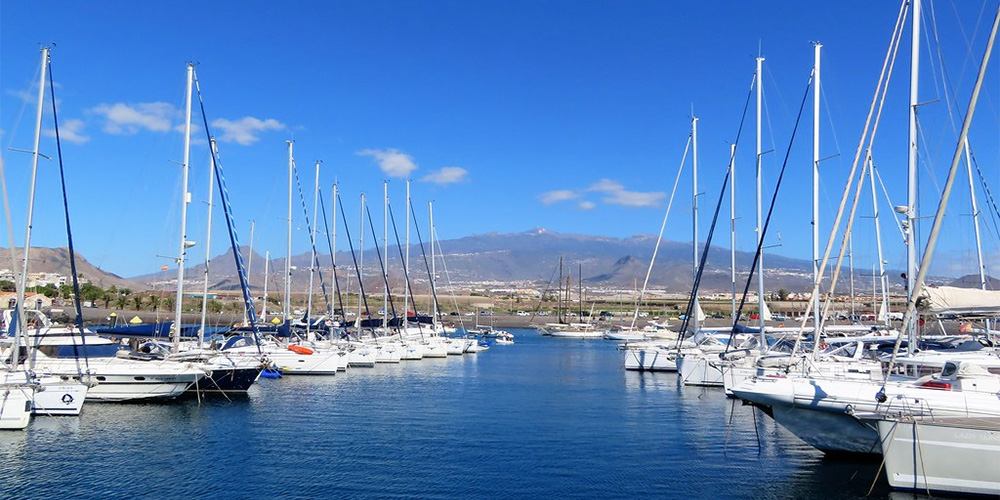 And so, sadly, to our last day of sailing. Didn't that go quick? After the long day we did yesterday, there's only a short distance to cover to get back to Las Galletas marina. You'll need to be there for this evening, but can stay on-board the boat overnight and disembark on Saturday morning.
As it's a short day, you could stay and explore Costa Adeje, get envious looks from the land-lubbing tourists when you throw the anchor down opposite Playa de las Americas, or revisit Los Cristianos for lunch and to while away the hours. Then it's time to sail back, and moor up the boat one last time – remembering to refuel at the fuelling berth on your way in to Las Galletas marina.
If you haven't yet explored Las Galletas, then it is a quiet fishing village and very much a town for the locals – there aren't any giant hotels or resorts here, so it's a bit of 'real' Tenerife. There's beaches, or you can take a coast hike to one of the nearby lighthouses before settling down for some of the freshest fish. There will likely be some other sailors around and about who you can exchange tales of your sailing adventures with.
Hopefully you've had a fantastic week, the crew all got on nicely, and you're already starting to think about where you're going to go sailing next year – in which case, head to PlainSailing.com to see where else you can sail with us! It's been a pleasure to sail with you. Have a safe trip home, and hopefully see you online soon :)

---
Sailing Conditions
 WHAT ARE THE WINDS LIKE?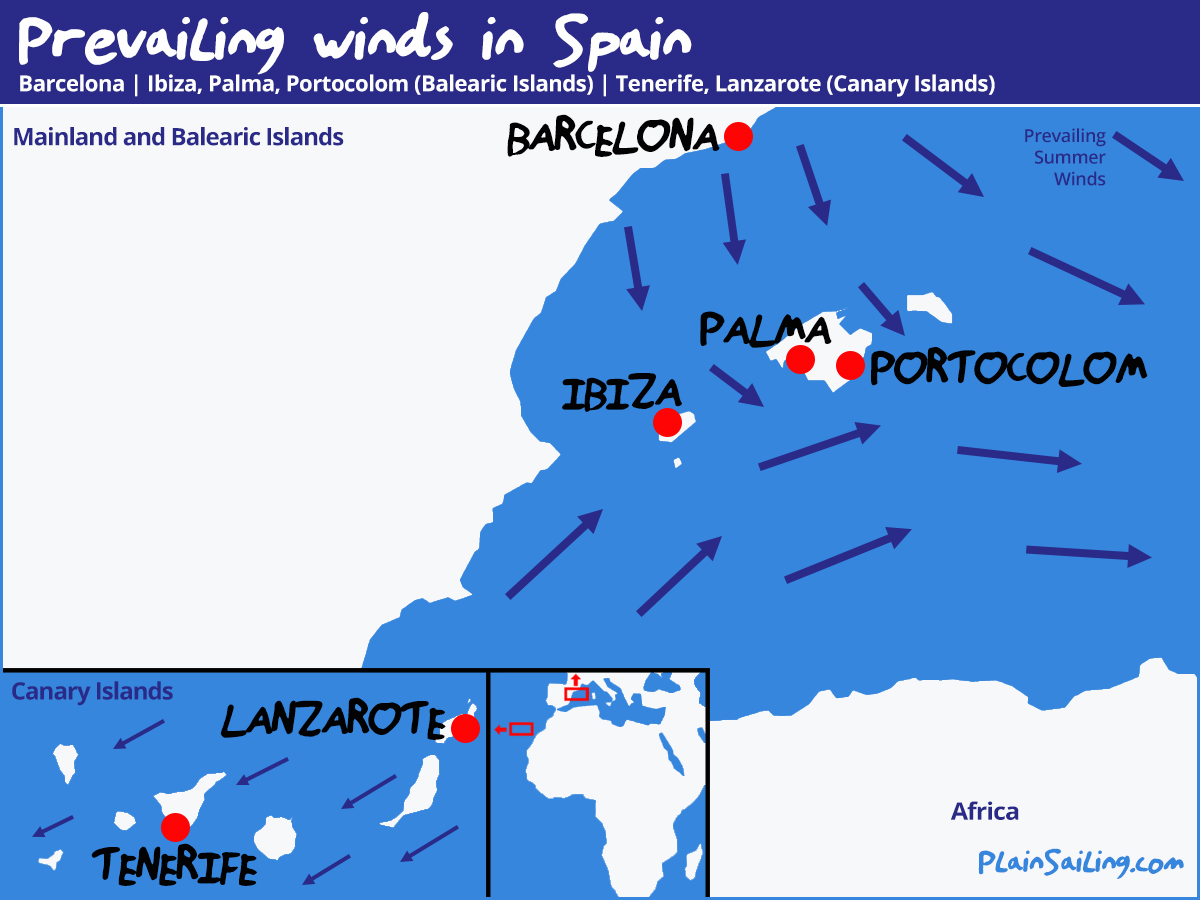 The winds in the Canary islands are as reliable as they come – they're the trade winds which have been used for centuries by to get from Europe to America, and continue to be used today: almost every transatlantic trip will start at one of the Canary islands - including the annual ARC transatlantic yacht race. From here. It's just a few weeks of sleep-deprived nights and huge waves to the Caribbean and the Americas.
The winds arrive from the north-east throughout the year, and make sailing a swift and efficient mode of transport to get in and around the islands. There are occasions where the winds pick up in speed, so care should be taken to make sure you have the right amount of power in your sails – which is why we recommend sailing from Tenerife for intermediate sailors, who are comfortable in more challenging conditions.
The winds do make for some exhilarating sailing though - sailing purists will enjoy being on the water here more than they enjoy sitting on the beach or in a bar, so you might struggle to get them to take the boat in at the end of each day!
 HOW HOT WILL IT BE? 


It's warm and sunny in Tenerife all the way through the year – which is one of the reasons why the sailing season never stops, as it's pleasant all year long. You can get away with wearing a t-shirt even in the middle of summer, when the temperature is almost always above 17 degrees (which is about as warm as Manchester gets during the summer). In June and July things get a little hotter, and temperatures above 30 degrees aren't uncommon.
 HOW WARM IS THE SEA? 


Despite being in the middle of the Atlantic ocean, sea temperatures are impressively warm all year long, and never dip below 19 degrees – which is not cold by anyone's standards, and is about as warm as the Mediterranean in May. From May to November, the sea is even nicer – 22 degrees is about the same temperature as an indoor swimming pool – so it won't feel freezing on entry, and there's no excuses for not jumping in.
---
Marina Details - Marina del Sur (Las Galletas)
Marina del Sur is well protected from the prevailing North-easterly winds, and is a comfortable place to start a sailing holiday - there's reasonable toilet and shower facilities, free wifi, and the local town is well versed in hosting groups of jolly sailors.
If you're after somewhere to stay at the start or end of the charter, then the only hotel in the vicinity of the marina is the Hotel Palia Don Pedro.
WEBSITE:
marinadelsur.es
|
ADDRESS:
Marina del Sur, Paseo Espigon las Galletas, 1, Santa Cruz de Tenerife, 38640
GETTING THERE: Marina del Sur is only a 15 minute drive from the (main tourist) Tenerife South airport - we can help arrange a private transfer. Travelling by public transport is possible, but it involves catching three different buses, and it would make an arduous start to a holiday. It's just over a 2 hour journey to the marina if you land at the Tenerife North airport.
PROVISIONING:
There's a number of mini-markets in the local Las Galletas village (but you'll need to go further afield for a big supermarket). The nearest to the marina is called 'Siempre Fresco' (
Calle Maria del Carmen Garcia, 36, 38631 Arona
).
FUELLING AT END: There's a fuelling berth in Marina del Sur, so head there before returning your boat on the final day.
Loading Map Co-ordinates...
---
---
WHAT NEXT? Use the pink box to search for yachts or catamarans with LIVE pricing & availability - if you have any other questions or requests, get in touch via Live Chat, the Contact Form, or by phone.
---