Find a Boat
LIVE
Pricing & Availability
Search NOW
Sailing in the Ionian Islands
One of the most popular (& most famous) cruising grounds in the World!

Famous for their outstanding weather and stunning scenery, as well as their reliable winds during the summer sailing season, it's no wonder the Ionian makes for such a compelling Sailing destination.
The Ionian islands cover a distance of around 300 nM from top to bottom, so it would be impossible to cover them all in a weeklong charter – which means you'll have to choose between the North Ionian or the South Ionian (or go for 2 weeks!)
To explore the North Ionian, you can charter bareboat or skippered yachts or catamarans from our bases in Corfu, Preveza and Lefkas (arriving at Corfu or Preveza airport). The North Ionian encompasses historic Corfu, picture-postcard Parga, and the stunning Paxi islands.  The main base in the north is Corfu, with the main marina based in Gouvia, whilch has over 1000 walk-ashore berths, and offers the most competitive prices simply because there are so many operators out there.
For the South Ionian, you're best off heading to Preveza, Lefkas or Kefalonia (you can fly into Preveza or Kefalonia airport).  The South Ionian include the enchanting Kefalonia (the most beautiful island in the world?), splendid beaches of Meganissi and Sivota, and Ithaki, the legendary home of the mythical Odysseus (the Sirens were also based in the Ionian in ancient Greek mythology, but they're rarely seen today).  Again, the best prices are found at the biggest base in the area - in this case Lefkas.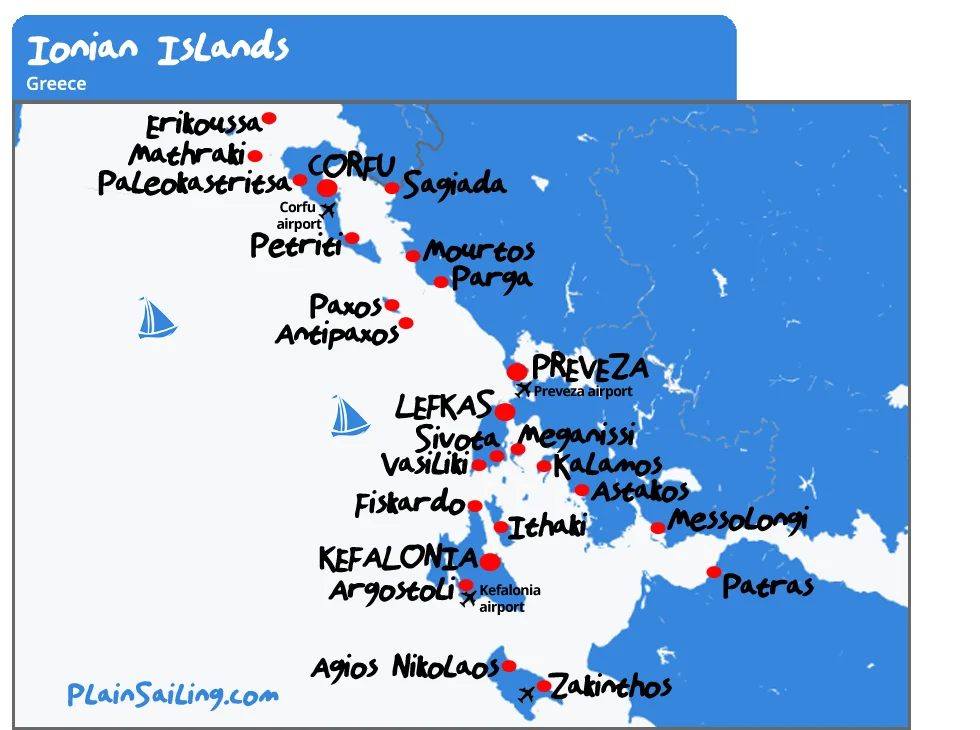 Check out our destination guides below to get a lot more information on what sailing is like from each base (including prevailing wind and weather conditions, suggested itinerary, and what to see or do on land, where to eat, and even where to sleep!)
If you need to know anything else, just grab us on Live Chat, give us a call, or get in touch via our contact form.
 
Tags: Ionian Islands Yacht Charter, Catamaran Charter in Ionian, Corfu, Lefkas, Preveza, Kefalonia