Find a Boat
LIVE
Pricing & Availability
Search NOW
Croatia Yacht and Catamaran Charter
We have incredible yachts and catamarans ready to sail from 8 bases across Croatia.

Sailing around Croatia
With a coastline over 1,700km long, countless splendid islands to explore, plenty of interesting and historic buildings, interesting wildlife, and dependable sunny weather, it should come as no surprise that Croatia ranks alongside Greece as one of the go-to places to head in a yacht.
With many historic links to Italy, Croatia has a multitude of beautiful ancient settlements which were developed by the Romans and are now UNESCO world heritage sites - like Trogir, Korcula and Dubrovnik. The country also boasts a number of marine nature reserves which preserve the local wildlife and help much of them to retain their unspoilt appearance - making them great places to take a dip or to spend the night.
Whilst sailing has been popular in Greece for eons, sail tourism is relatively new in Croatia - meaning new facilities with wider berths for mooring, and all the mod cons in each marina! If you're keen to try it all out, we can help you find and book your ideal yacht or catamaran!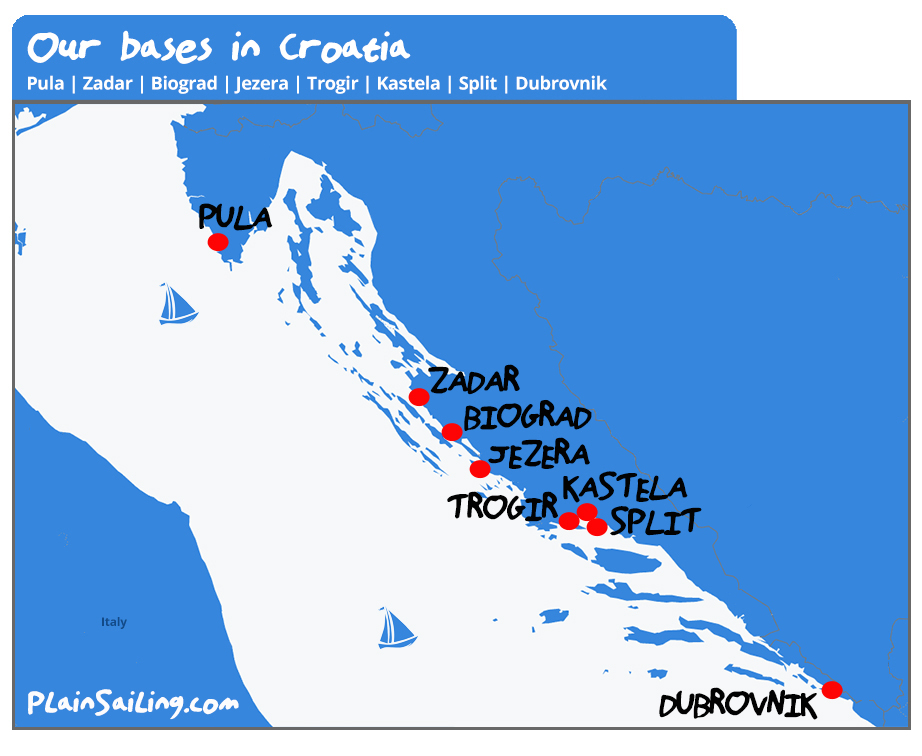 SAILING RATING:  Beginner - Croatia is an ideal starting point for chartering a yacht abroad: navigation is simple and by line of sight, the waters are clear and warm, and the winds are ideal for sailing: reliable and strong enough, but not too strong. There are many large marinas, meaning it is not too stressful to find a space and get moored up. You'll soon feel at home here!
 WHEN TO GO:  The sailing season officially begins in March, but the sea isn't warm enough for swimming to be 'fun' until mid-May. You'll find good weather and sunshine pretty much right through to the end of October. Peak season is July and August, when you'll find charter fees are most expensive, and marinas are most packed.
 MINIMUM QUALIFICATIONS:  You'll need an ICC (which you can convert from an RYA DaySkipper or equivalent) or above to charter a boat in Croatia, and further qualifications if you want to charter a big catamaran. In addition, one of the crew will need a VHF qualification. If you're not qualified, we can find you a professional skipper.
 VISA REQUIREMENTS:  Croatia is part of the EU, which means UK and EU passport holders can travel there at will. US and Australian passport holders do not need a visa unless planning to stay in Europe for longer than 90 days.
 GETTING THERE:  There are a number of airports right across Greece, and many are well connected to the rest of Europe, particularly during the summer. There are four main airports along the Croatian coast, all of which are well connected to the rest of Europe: Pula, Zadar, Split and Dubrovnik. It's also possible to fly in to the capital city, Zagreb, but it's at least a couple of hours drive or train to get to the coast.
In the North of Croatia, our marinas in Pula are all within 20-30 minutes of drive from Pula Airport. Similarly, in the South, our base in Dubrovnik is only a 35 minute drive from Dubrovnik airport.
The rest of our bases can be reached from either Zadar or Split airports, with transfer times varying from 10-15 minutes if you land at the nearest airport up to 90 minutes if you land at the airport furthest away. We'd recommend Zadar airport for sailing from Zadar, Biograd and Jezera (for which it's a 20, 40 and 60 minute transfer) and Split airport for sailing from Trogir, Kastela or Split (Trogir and Kastela are actually closer to Split airport than Split itself, and all within a 20 minute transfer). We can help arrange transfers to or from the marina, as well as helping you get provisions on board if your flight arrives late at night.
 
Charter a Yacht or Catamaran in Croatia
We can help you find the ideal yacht or catamaran for your sailing holiday in Croatia. We only work with the very best professional charter operators in the area, who we have met, know, and who we trust to give you the same outstanding customer service as you'll get from PlainSailing.com.
Use the pink search box above to look for boats for yourself - they have live pricing and availability and you can filter the results to find your ideal boat - or start a Live Chat with our award-winning bookings team for help, advice, or anything else!
 
Where to sail in Croatia
We charter yachts and catamarans from eight bases in Croatia - Pula in the north, Zadar, Biograd and Jezera for the Kornati islands, Trogir, Kastela and Split for exploring the Dalmatian islands, including Hvar and Vis, and Dubrovnik in the South. See below for ideas of where to sail when you get there (But be sure to check out our detailed destination guides to find out more).
 PULA 
Ideas of where to sail: The quietest sailing ground in Croatia. You can take in opulent Rovinj and the magnificent Brijuni isles (once a Royal retreat, now a national park and home to an island safari/zoo), before sailing to the quiet wilderness of Susak or Cres, or sailing the ancient Roman canal at Osor.
 ZADAR, BIOGRAD, and JEZERA (Kornati islands) 
Ideas of where to sail: You're well positioned to explore the 89 largely unspoilt Kornati islands - a national marine park teeming with wildlife and nature. Go dolphin or turtle spotting, find a quiet bay all to yourself, or hole up in one of the purpose-built remote marinas out there. You're also within sailing distance of the stunning Krka waterfalls at Skradin, the most perfectly heart-shaped 'Lovers island' near Biograd, or take in the many ancient Roman fishing villages which scatter the coastline.
 SPLIT, TROGIR, and KASTELA (Dalmatian islands) 
Ideas of where to sail: The Dalmatian islands are the most popular place to sail in Croatia for a reason - they offer pretty much everything. There's beaches and anchorages, plus medieval island-towns like Trogir, party and foodie capitals like Paklinski Otoci and Hvar (complete with magnificent hilltop castles), natural wonders like the Blue Cave at Bisevo, historic towns like Vis or Stari Grad, and charming villages like Milna and Maslinica. Where do you start?
 DUBROVNIK 
Ideas of where to sail: The obvious place to head is Korcula, a spellbinding medieval island town and once the home of intrepid explorer Marco Polo. You could explore the Elaphiti islands en-route for snorkelling, colourful fish and pristine beaches - you can avoid all the tourists when you have your own boat. Or moor up in Trstenik, in Croatia's wine country, and sample their best produce.
 
Cost of a Sailing Holiday in Croatia?
Prices change depending upon what sort of boat you are chartering, and when you would like to charter, and yachting offers great value for money because the fee includes a full-day activity, a means of transport and your overnight accommodation!
Charters are normally in periods of a week, from Saturday (check-in at 5pm) to Saturday (check-out at 9am), though you're required to be back at the charter base on the Friday evening. You can charter a 3-cabin yacht for as little as €850 / week (including end cleaning), 4-cabin yacht from €1,100 / week, or catamarans from €1,600 / week - use the pink search box for live prices and availability.
|   | May / Oct | June / Sept | July / Aug |
| --- | --- | --- | --- |
| 3 Cabins | €850 | €1100 | €1600 |
| 4 Cabins | €1100 | €1850 | €2250 |
| Catamaran | €1750 | €2400 | €4100 |
 
In addition to the charter fee, there is an end-cleaning fee to be paid, and you'll need to leave a security deposit on check-in (similar to a hire car, and usually placed as a pre-authorisation on a credit card).  Marina fees in Croatia are a little more expensive than Greece.
You can also add transfers, an outboard motor, early check-in, security deposit insurance or other extras to your booking (if they are not already included) for an additional fee. We can also arrange for a Skipper, Hostess or Chef to be on board - in Croatia, these normally cost an average of €1,190 per week, excluding tips.
 
Our Croatian Sailing Destinations
Find out a lot more about each of our bases in these comprehensive destination guides, which also include details about suggested sailing routes, weather conditions, and recommended hotels, amongst a host of other useful information:
Tags: Yacht Charter Croatia, Croatian Yacht Charter, Chartering a yacht in Croatia, Renting a Catamaran Croatia, Dalmation Coast Sailing Options, Croatia Catamaran Charter