Why Book With Us?
Simple, straightforward process
Outstanding customer service
Friendly UK-based team
Pre-order food, kit or WiFi onboard
Join Our Mailing List
Croatia Yacht and Catamaran Charter
We'll help you find the right Yacht Charter in Croatia! We have yachts and catamarans ready to sail from 8 bases in Croatia.
---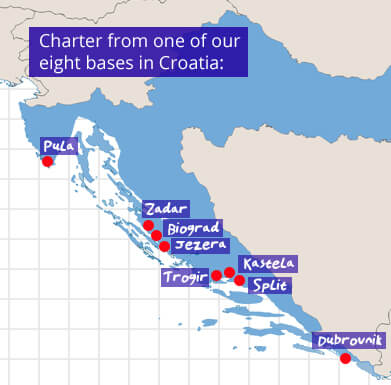 Charter a Yacht or Catamaran in Croatia
Charter bareboat or skippered yachts or catamarans from our professional Charter Partners (who we have met, know and trust) and we can guarantee we'll have the best price.  Plus we're UK based, so if you have any questions just give us a call or catch us on LiveChat!
Sailing around Croatia
With a coastline over 1,700km long, countless splendid islands to explore, and dependable sunny weather (it is as far South as Italy), it should come as no surprise that it ranks alongside Greece as one of the go-to places to head in a yacht.  And whilst sailing has been popular in Greece for eons, sail tourism is relatively new in Croatia – meaning that a lot of the facilities are newly developed, and many more are already on their way.
New facilities means wider berths for mooring, new bars and restaurants on-marina, and all the mod cons – including wifi! The only real downside to Croatian yachting versus Greece is that mooring fees are a little higher in Croatia than Greece.
Being so close, there are many historic links to Italy, and Croatia has a multitude of ancient settlements which were developed by the Romans - as well as a number of castles and fortifications which have been used to fight them off.  It is a land that has been fought over for centuries – including, most recently, in 1991, when the siege of Dubrovnik saw huge destruction to the city (but did eventually lead to independence).
Sailing-wise, in the winter, the winds can be a little colder and a lot more challenging, but the summer brings a reliable wind which will see you filling your sails and making good way up and down the coast.  Croatia boasts a number of marine nature reserves which preserve the local wildlife and help much of them to retain their unspoilt appearance – making them great places to take a dip or to spend the night.
Where to Sail in Croatia?
You can use our handy 'Sailing in the Med Decision Tree' to find out where might suit you best! :)
You can charter a yacht from a number of places along the Croatian coast, including Zadar an intriguing city which was founded by the Romans and Venetians, and which still has an ancient Roman forum, Biograd and Jezera in the North, and Dubrovnik in the South – which has a spectacular Old Town which is currently most famous for being the set of Game of Thrones – as well as a number of marina's based around the capital Split (incuding Kastela and Trogir), or in lively pre-historic city of Pula.
Zadar, Split, Dubrovnik and Pula are all easy to arrive at by air, with all four offering scheduled and charter flights from across Europe (including some budget airlines) throughout the year, and with multiple daily flights during the summer season, when temperatures can hit upwards of 30 degrees.
If you charter near Split, the sheer number of yachts you will see heading out towards the islands of Brac and Vis on the day after changeover can be quite breathtaking – there are literally hundreds of boats, all making for the party island of Hvar, or the secluded and exclusive bars at Pakleni Otoci: both scenes of beauty which are not to be missed.
What is the Weather like in Croatia?
Croatia is a popular tourist destination because it has very dependable glorious sunshine during the sailing season, without ever getting as stiflingly hot as Greece or the Canaries – it's unlikely you'll find temperatures in the high thirties in Croatia.  In winter, Croatia has a maritime climate and is on the cold side of mild.  If you're sailing in October to April, the weather can be very changeable and cold alpine winds from the north or stormy seas from the south can arrive at a moments notice.
Sea temperatures reach a comfortable 18 degrees in May, and a warm 24 or 25 degrees by the height of the season, which makes them optimal for taking a dip, or digging out the snorkel!
As far as winds go, they are fairly reliably force 3 to force 6 during the sailing season, which makes them ideal winds for cruising sailors, particularly once the sun heats up.
Average Temp & Sea Temp in Croatia

APR

MAY

JUN

JUL

AUG

SEP

OCT

 PULA

 Average Temp (⁰C)

13
18
22
24
23
19
16

 Average Sea Temp (⁰C)

14
18
22
24
25
22
19

 ZADAR

 Average Temp (⁰C)

14
19
22
25
25
22
17

 Average Sea Temp (⁰C)

14
18
22
24
25
22
19

 SPLIT

 Average Temp (⁰C)

13
18
21
25
24
21
17

 Average Sea Temp (⁰C)

15
18
22
24
25
23
20

 DUBROVNIK

 Average Temp (⁰C)

14
18
22
25
25
22
18

 Average Sea Temp (⁰C)

15
18
22
24
25
23
21
Sailing Conditions in Croatia
Croatia offers sun, sea and sailing, with reliable winds powering the ever-growing sail-tourism regime.  It was named the Cruising Ground of the year by Sailing Today in 2015, and new marinas, regattas and yacht charter operations seem to be being announced and set up each week.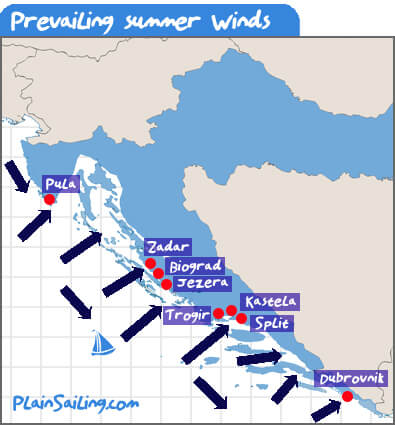 The vast majority of the country is coastal, which means there is plenty enough to keep you busy even if you just stuck to the mainland.  Of course, Croatia is also made up of 1,700 islands to explore, including a number in marine nature and wildlife parks like the Kornati and some which are so far off the beaten track that you'd be surprised if you saw another person near there, let alone another tourist.
In general, sailing conditions are best from April to September, when the sunshine starts to hot up.  That's because the main Mistral winds are driven by the sun – as the air over the land warms and rises, the colder air at sea rushes towards the land.  This causes a dependable wind which heads from the sea to the land. 
The speed of the wind will vary depending upon the temperature difference between the land and the sea, but the wind is so dependable that you can almost set your watch by it: it will pick up in the morning from 9am to mid-day.  At mid-day, local sailors will tell you that the wind goes to lunch, but is then comes back stronger than ever at about 3pm ('after coffee') to fill sails until sunset.  After sun-down, the opposite effect takes place, with lighter Bura winds rolling from the land to the sea.
There are local variations, and, being so close to the mountains and at the end of the Adriatic sea corridor, there are a number of other, smaller winds which can make an impact for a day or so, but these tend to be more common outside the normal sailing season.
Cost of Chartering a Yacht in Croatia?
Chartering a yacht or catamaran in Croatia tends to be cheaper than in Greece, but the Croats make up for some of it with higher marina fees.  Charter fees are still dependent upon what time of year you're chartering, and what type, age and size of yacht you're hoping to charter.  And, of course, there are additional supplements to be paid if you want a skipper, outboard motor, wifi, or other toys on-board.
The Croatian sailing season is from May to September, although yachts and catamarans are available all year round. 
Yachts are chartered in weeks, typically from Saturday to Saturday, with yachts being available from about 3pm on the Saturday of arrival, and requiring check-out by 9am on the day of departure (and usually you will be required to return to the base marina on the Friday night so that they can inspect the outside of the boat before you check-out).  In the low season, short or long charters or even one-way charters might be available – please ask our team.
Below is a table which gives average week-long bareboat charter prices for a 3 or 4 cabin yacht or a 4 cabin Catamaran. 
 Average Charter Prices
MAY
AUGUST
Price (from)
per head
Price (from)
per head
 3-cabin yacht (6 berths)
€712
€119
€1640
€273
 4-cabin yacht (8 berths)
€1040
€130
€1995
€249
 Catamaran (8 berths)
€1425
€178
€4114
€514
In addition to this, you'll need to pay a mandatory end-cleaning fee of about €100 - €200 at the end of your charter (sometimes called a transit log).  Almost all the yachts and catamarans will allow people to sleep in the saloon area, but the prices listed assume that there is a bed in a cabin for everyone.  In general, yachting offers great value for money because the fee includes a full-day activity, a means of transport and your overnight accommodation.  Wifi varies by operator, but is usually about €30 - 60 a week, and an outboard motor will set you back about €70 - €100 a week.
If you need a skipper, that will add about €1,050 further to the costs for the week (or €150 a day), and you'll also need to make sure you think of the skipper when selecting the boat – they will also need their own cabin on-board to sleep in!
Be aware that a refundable security deposit is required on a credit card (similar to a car hire), though we now off Security Deposit Insurance for those who would rather pay a fixed amount up-front instead.
In general, the best value times of year to go sailing are May and September, when charter fees are much lower than in the peak season - even though it is the same boat - and the sunshine is still warm enough to allow you to get by in a t-shirts and flip-flops.
Book a Yacht / Catamaran Charter
It's simple to book a yacht or catamaran in Croatia – just use our search function (on the left of this page) to display charter yachts or catamarans available in Croatia, then use our filters to optimise and narrow down the results to find your perfect boat – with air conditioning, bow thrusters, wifi or a TV.
We have LIVE, real-time availability for all the yachts and catamarans listed in Croatia, so you can just search and book a charter in a matter of clicks and with just 30% deposit.
If you have any questions, why not give us a call on our freephone hotline, or catch us on the LiveChat – our award-winning UK-based team will be able to answer your questions and to recommend a yacht or catamaran for you!
Tags: Yacht Charter Croatia, Croatian Yacht Charter, Chartering a yacht in Croatia, Renting a Catamaran Croatia, Dalmation Coast Sailing Options, Croatia Catamaran Charter